CV Templates That Win Jobs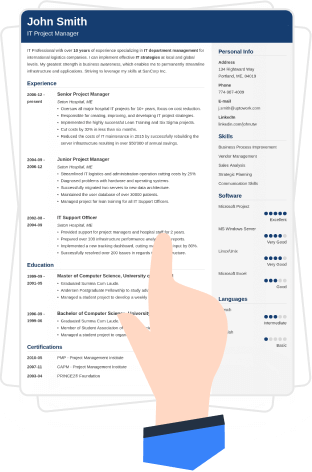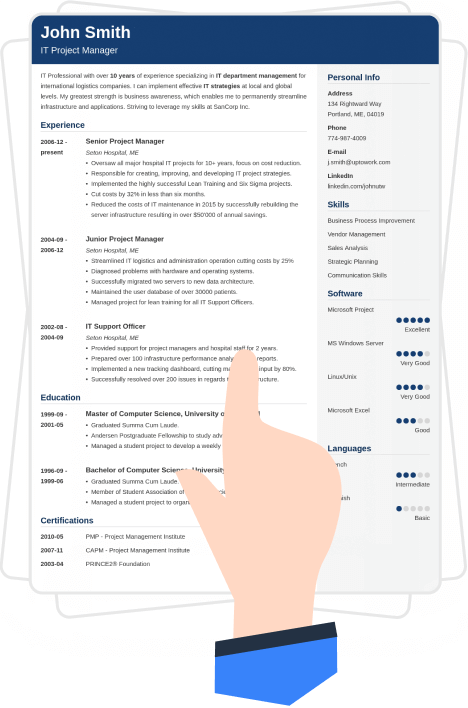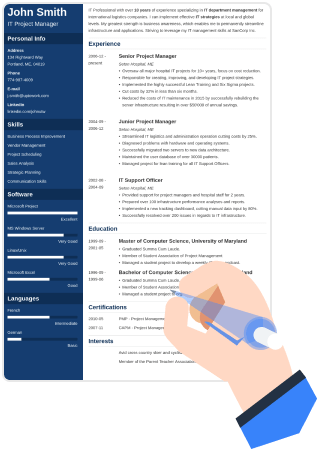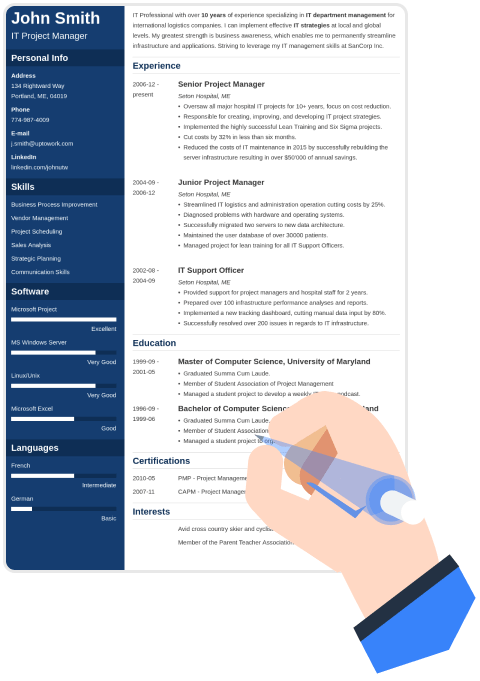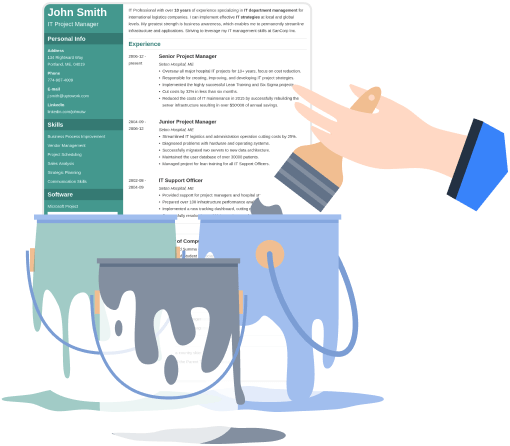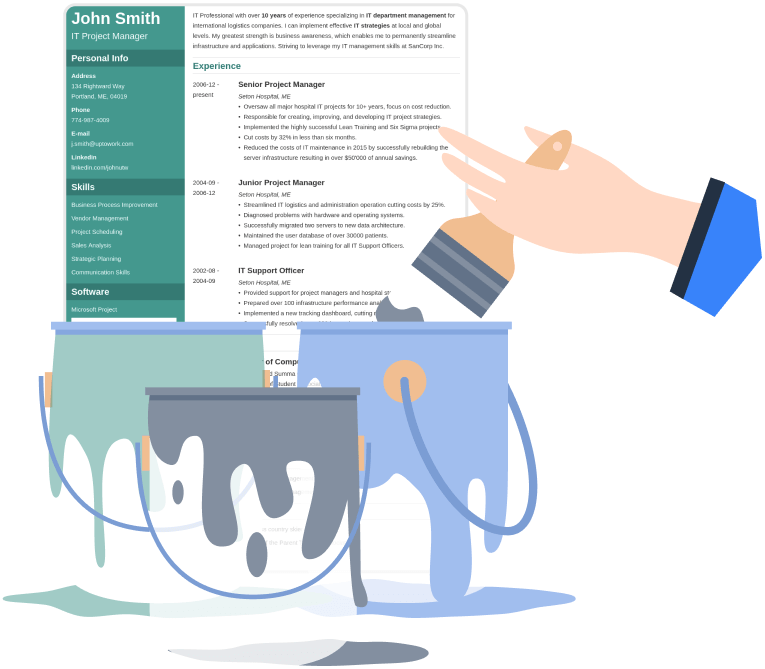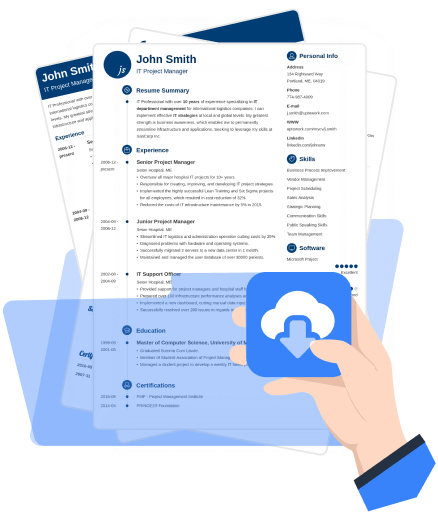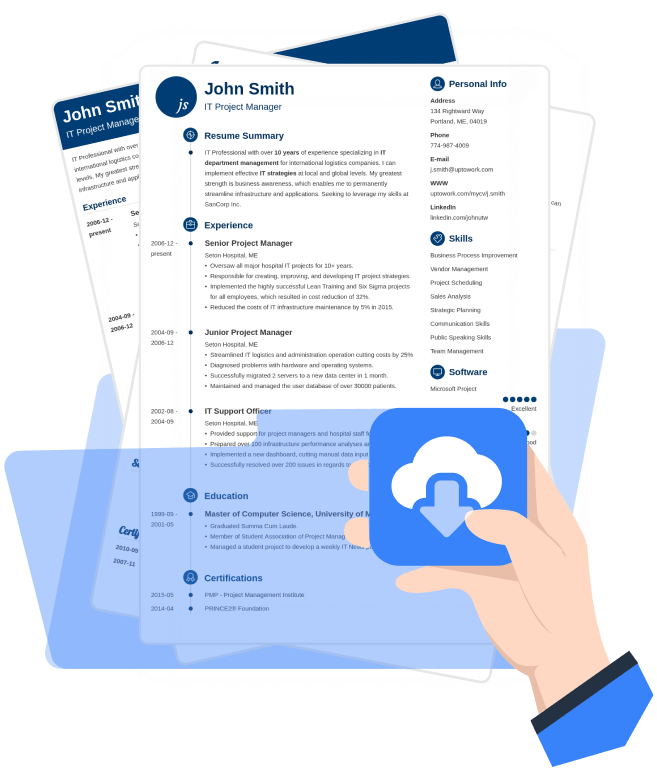 Choose a CV template.
Let us help you fill it out.
Personalize the looks and layout.
Download in DOC or PDF.
Create My CV Now
Choose the right CV template:
Cubic
Perhaps the most advanced CV design from Zety. It has the full package: color shading, double-column layout, and stylish icons to make navigation easier.
Tech
Science
Engineering
Cascade
Classy-yet-contemporary. Dynamic and full of information without unnecessary noise.
Corporate jobs
Sales
Customer service
Concept
A perfect CV template if you want to shift the focus to your career progression: the layout is built around a highly visible timeline.
Experienced candidates
Marketing
Public relations
Crisp
Making the impossible, possible. Saving space while staying minimalist: two columns let you squeeze in more info, the white space creates breathing room.
Project management
Healthcare
Front desk
Diamond
A tad on the more traditional side, this CV template focuses mostly on the job history and highlights your job titles.
Business and finance
Engineering
Managerial jobs
Enfold
A very similar design to Cascade, the chief focus is your summary and the side-column with skills.
Creative jobs
Graphic design
Advertising
Iconic
Icons used in this one add a creative touch and draw recruiters' eyes to where you want them to go.
Students
Entry-level jobs
Academic applications
Influx
One of the more conservative CV templates on our offer. Ideal if you want to highlight your professionalism.
Law
Education
Academia
Initials
Simple yet unique: the initials on top add a touch of personal branding and a youthful vibe.
Start-up jobs
IT
Social media
Minimo
As the name implies, this one is pretty minimalist with a focus on perfect readability.
Entry-level jobs
Hospitality
General labor
Modern
Modern CV template with subtle blocks of color in the header, footer, and section titles.
Software/IT
Business and finance
Advertising
Muse
Visual CV template. Another one of our two-column CV designs helping to save space and organize information.
General labor
Food service
Manufacturing
Nanica
Traditional CV template. Use this layout if you apply for jobs in a more corporate environment.
Real estate
Business and finance
Administrative jobs
Newcast
Basic CV template. Ideal for applications where an ATS is likely to be used for scanning CVs.
No experience candidates
Career changers
Returning to workforce
Primo
Infographic CV template based on a timeline and a few extra graphic elements.
Media and entertainment
Arts
Beauty and wellness
Simple
Simple CV template. Easy-to-read but not too boring.
Legal services
Federal jobs
Office clerks
Valera
Unique CV template sure to capture every reader's attention and not let go for a long time.
Marketing
Sales
Consulting
Vibes
Sleek CV template. An uncluttered look with some extra polish.
Software/IT
Construction
Maintenance and repair
CV Designs rated "Excellent" by 2,700+ customers:
Zety's templates = a CV ready in minutes, not hours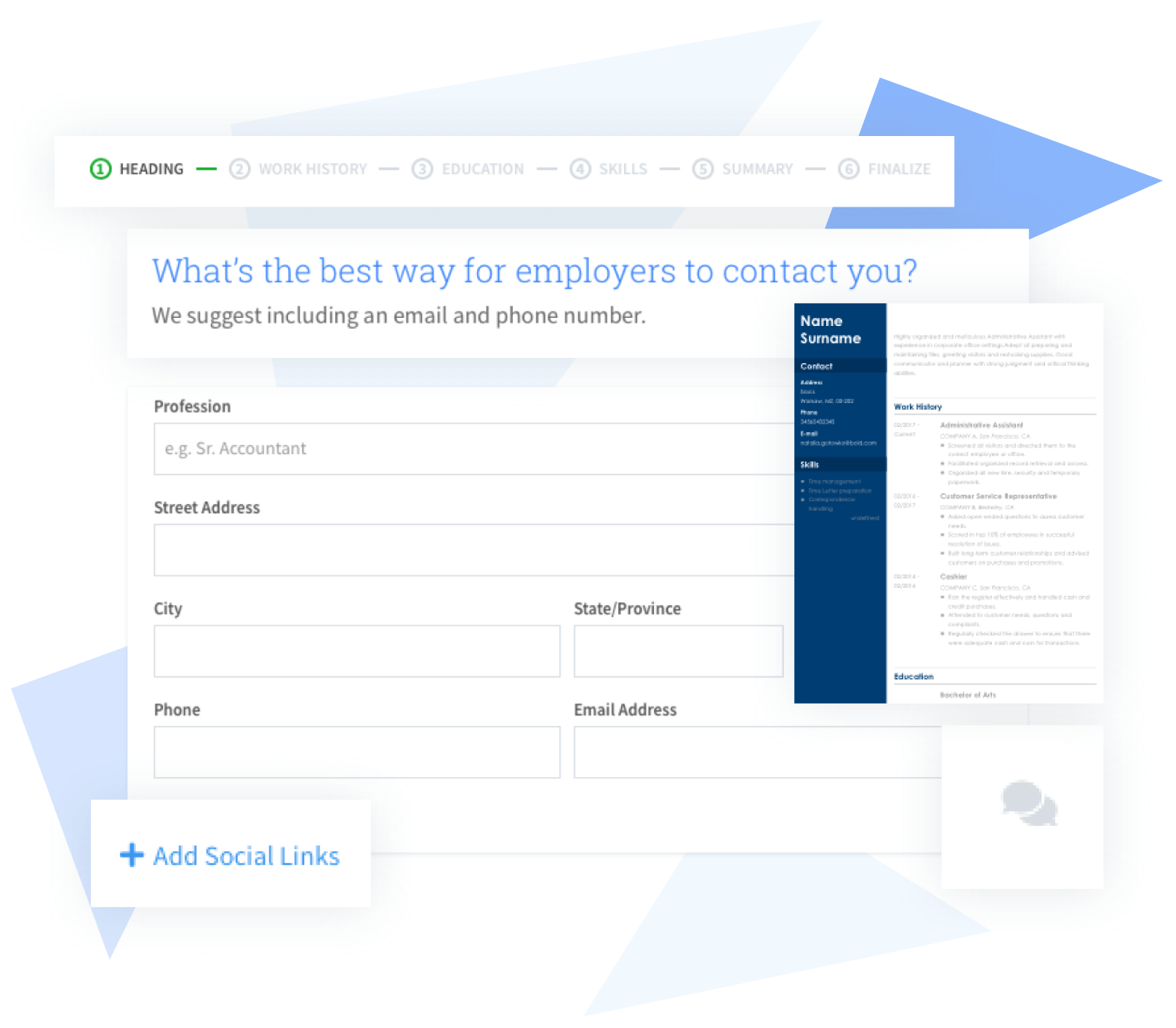 List your personal information.
Enter your full name and your profession.

Let our helpful wizard provide you with pitch-perfect CV content based on your job title.
Fill out the work experience section.
Only list the basic stuff: company name and job title.

Use AI-generated bullet points with job descriptions that match your career.

Select information that accurately describes your experience and add it to your CV with a single click.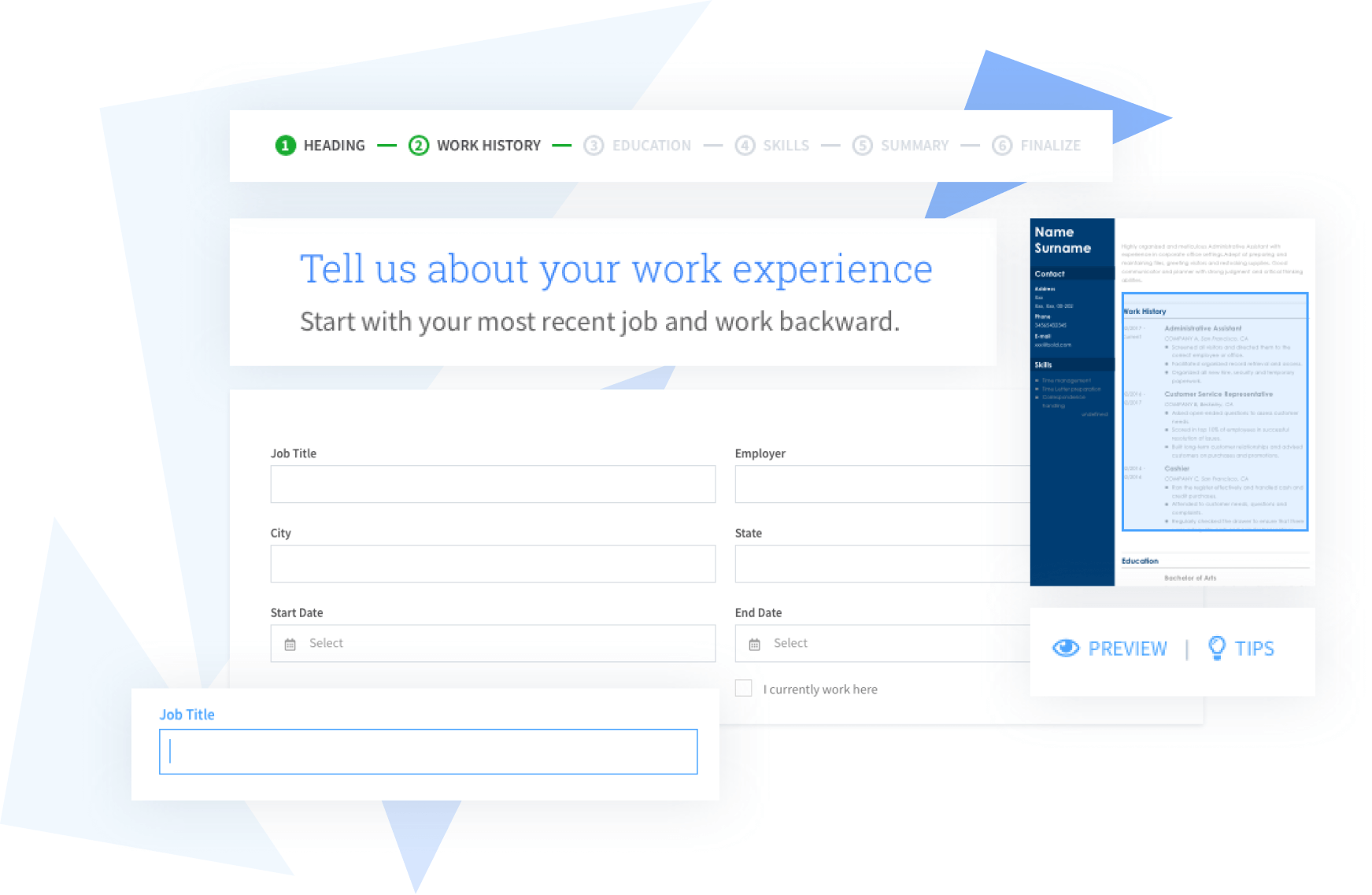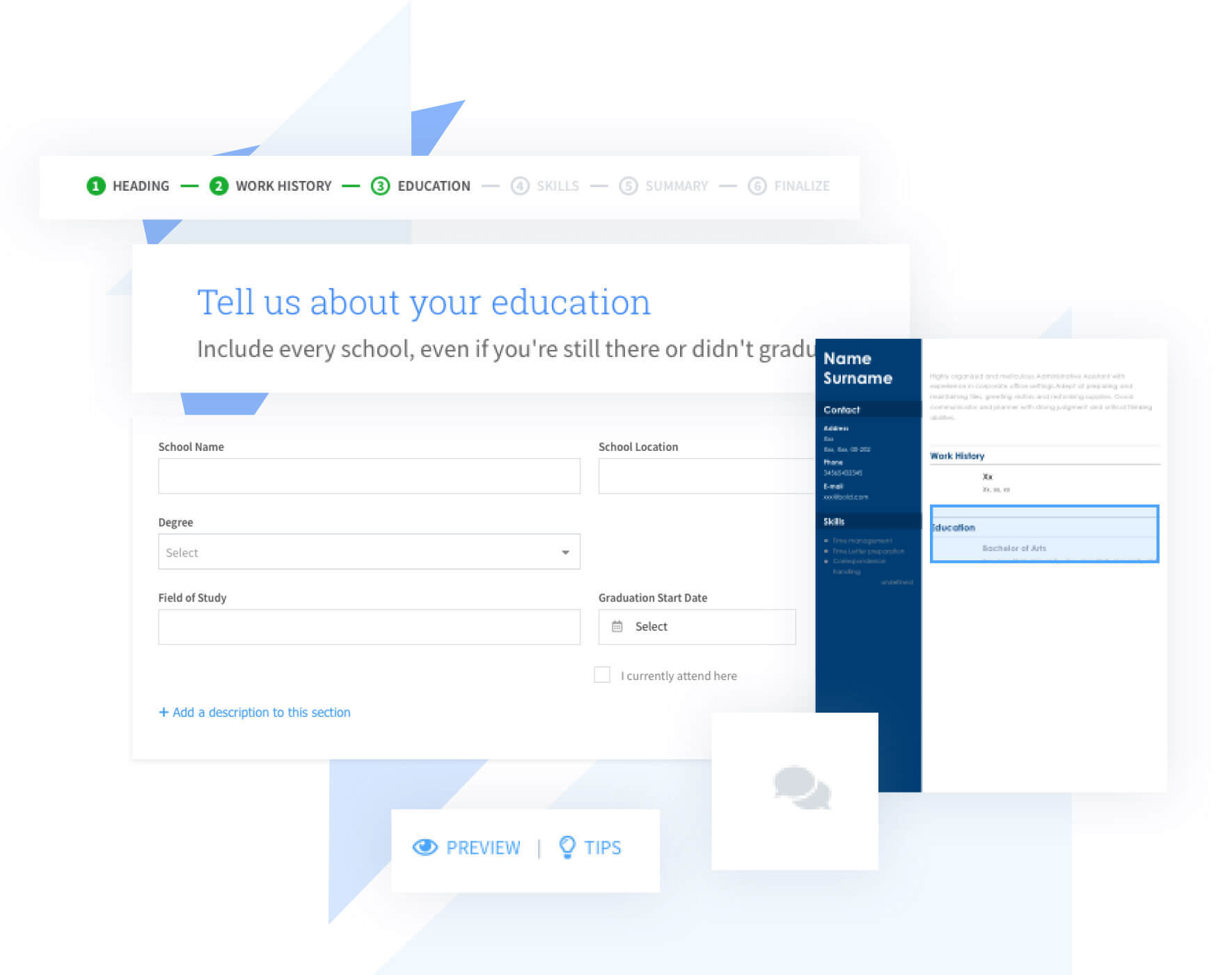 Enter your education.
Type in the name of your school or university.

Select your degree from an auto-populated dropdown menu.
Highlight the right skills.
The Zety CV maker will give you a list of the most relevant skills to choose from.

Each CV template has been optimized to make the skills section stand out.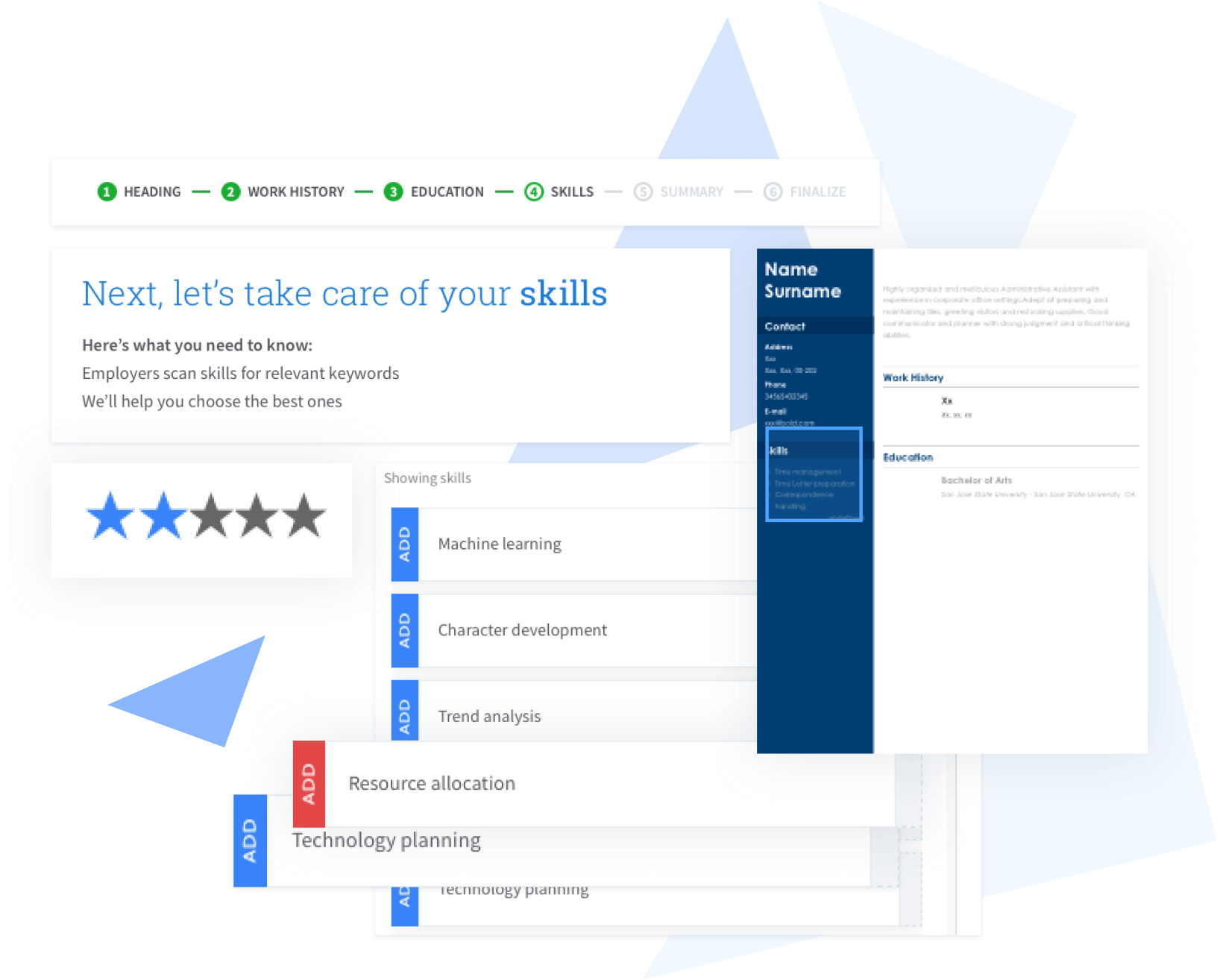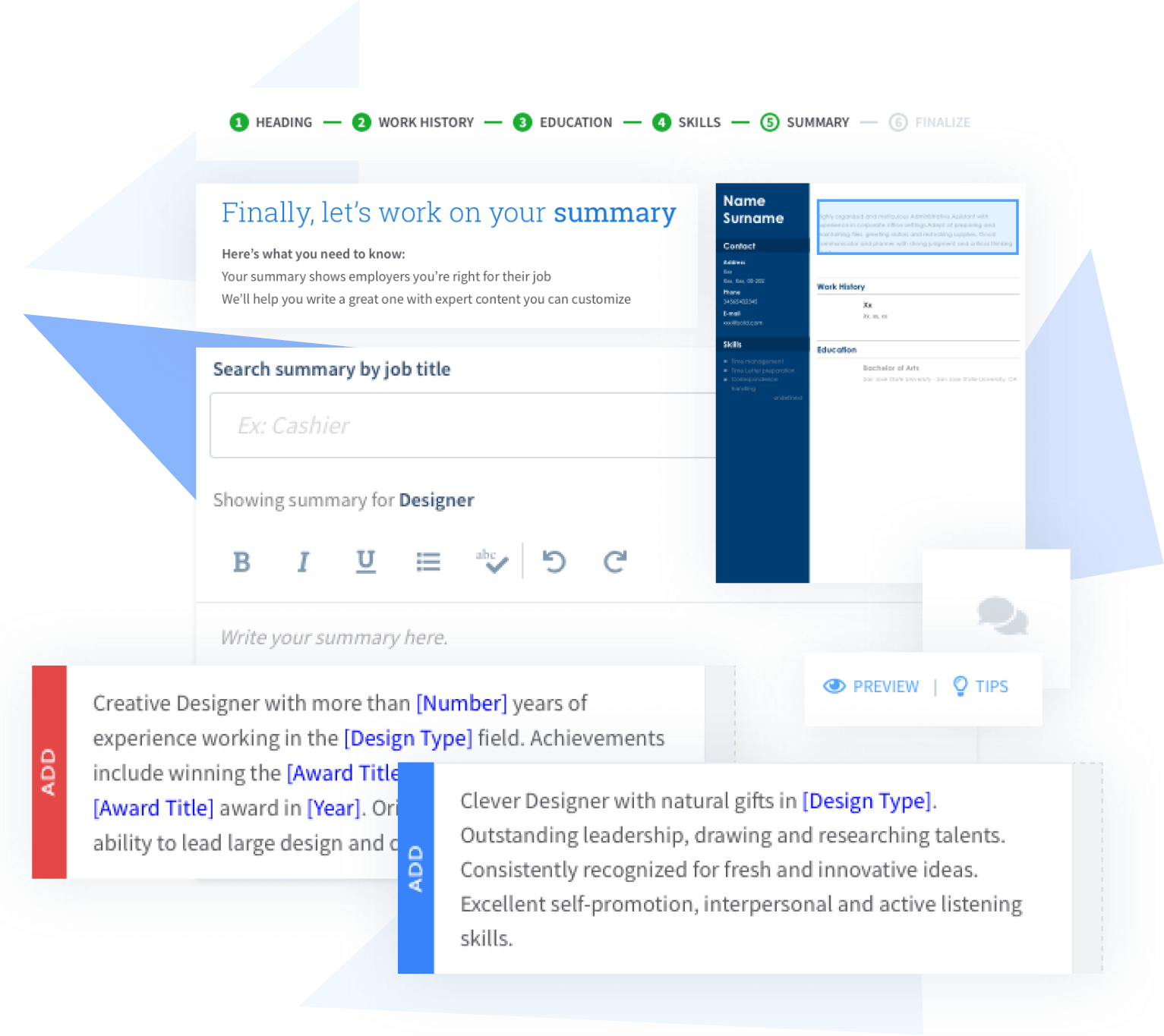 Top your CV with a good summary.
Can't seem to find the right words? Our CV generator will suggest a summary for your CV based on the rest of the sections.
Customize your CV template.
One-size-fits-all fits no one. Every CV template can be fully customized: you can rearrange and add sections, change fonts, colors, or even line spacing.

Want to switch the template entirely? You can do it in one click, the formatting will always stay perfect.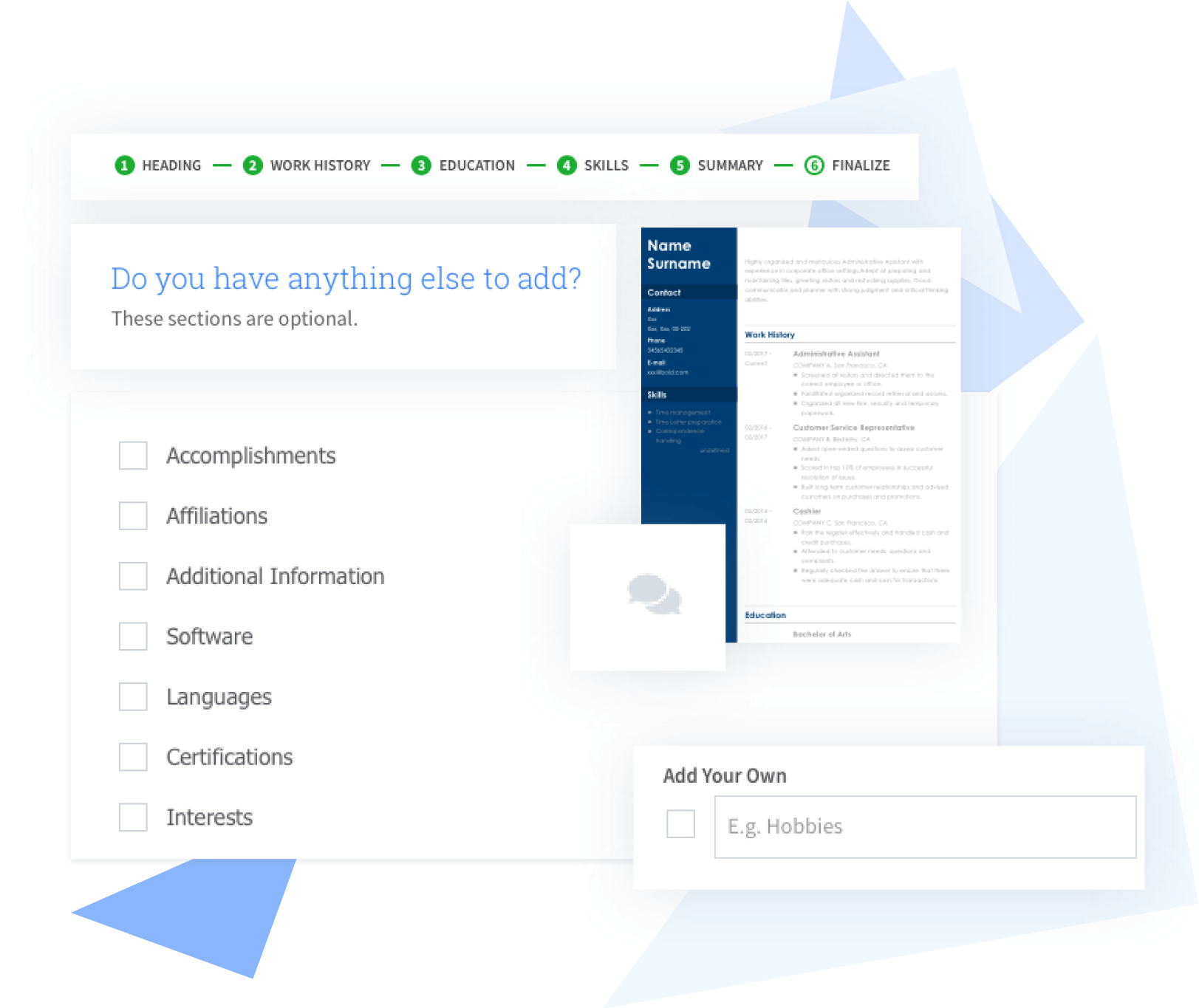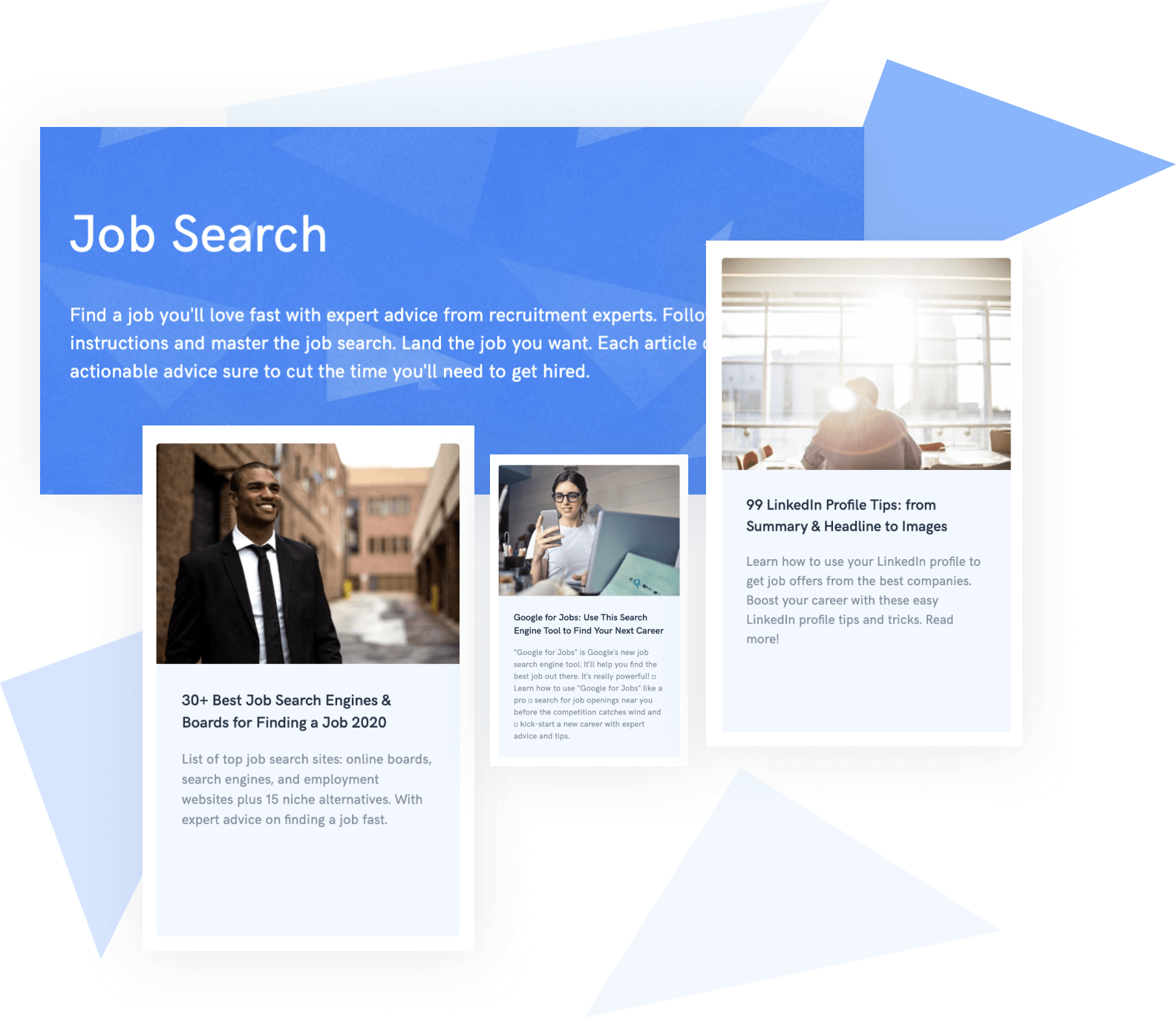 Get out there and land a new job.
And that's it. Your CV is ready to send.

Make sure to visit our blog for tips on job interviews—you'll need them!
Remember:
You can try out all the templates for free. Pay only if you like what you get.
CV Templates 14-Day Trial
Don't want to commit just yet? Test Zety for 14 days.
Get access to all features of our tool with the 14-day trial.
Create my resume
Free Resume Template to Copy and Use
Contact Information
[Your Name]
[Your Job Title]
[Email Address]
[Phone Number]
[LinkedIn]
[Optional: Personal Website, Twitter, Other Relevant Links]
Resume Summary Statement
Dependable/Detail-oriented/Creative[Your Job Title] with [X] years of experience in [Your Industry/Niche]. Helped [increase revenue/cut costs/train employees/other achievements] by [X]%. Looking to join [Company Name] to ensure[highest customer happiness scores/a steady boost in ROI/prompt project delivery/other metrics and KPIs you hope to deliver for the prospective employer].
Work Experience/Job Description
[Your Job Title]
[Company Name]
[2012–2019]
Use bullet points to describe your work history.
Add up to 6 bullet points. Focus on what applies to the job you're trying to land, don't cram your resume with unnecessary details.
Don't just list your responsibilities. Focus on your achievements!
Maybe you saved your company money? Boosted sales? Optimized processes? Trained new employees? Show it off! Have a look:
Responsible for [your responsibilities].
[Boosted sales/cut costs] by [X]% through implementing a new system of [invoicing/project management/procurement, etc.]
[Your Previous Job Title]
[Previous Company Name]
[2008–2012]
List your jobs in reverse-chronological order. Start with your current or most recent position, then follow it with the one before it, and so on.
As you go back in time, limit the number of bullet points under each entry. Employers are more interested in what you've been doing in the last few years, not in the dim and distant past.
Don't list over 15 years of relevant work experience on your resume.
Education
[BA/MA in Your Major]
[University Name]
[Graduation Year]
Not much experience? Leverage your academic achievements. Include your GPA if it's higher than 3.5, mention extracurricular activities.
If you have a lot of professional experience, limit your education section to your highest degree.
Skills
[Skill #1: Advanced]
[Skill #2: Advanced]
[Skill #3: Basic]
Additional Resume Sections
[Certifications]
[Volunteer Experience]
[Conference Participation]
[Hobbies and Interests]
Create a Resume Now
Best resume templates
for a job or academia
A resume template is a blank form you fill in with contact information, work experience, skills, and education. Easier said than done. Most free MS Word resume template formats fall apart as soon as you start typing. But not Zety. Pick Zety and stop struggling. Focus on what matters: telling your story in a way that gets you the job.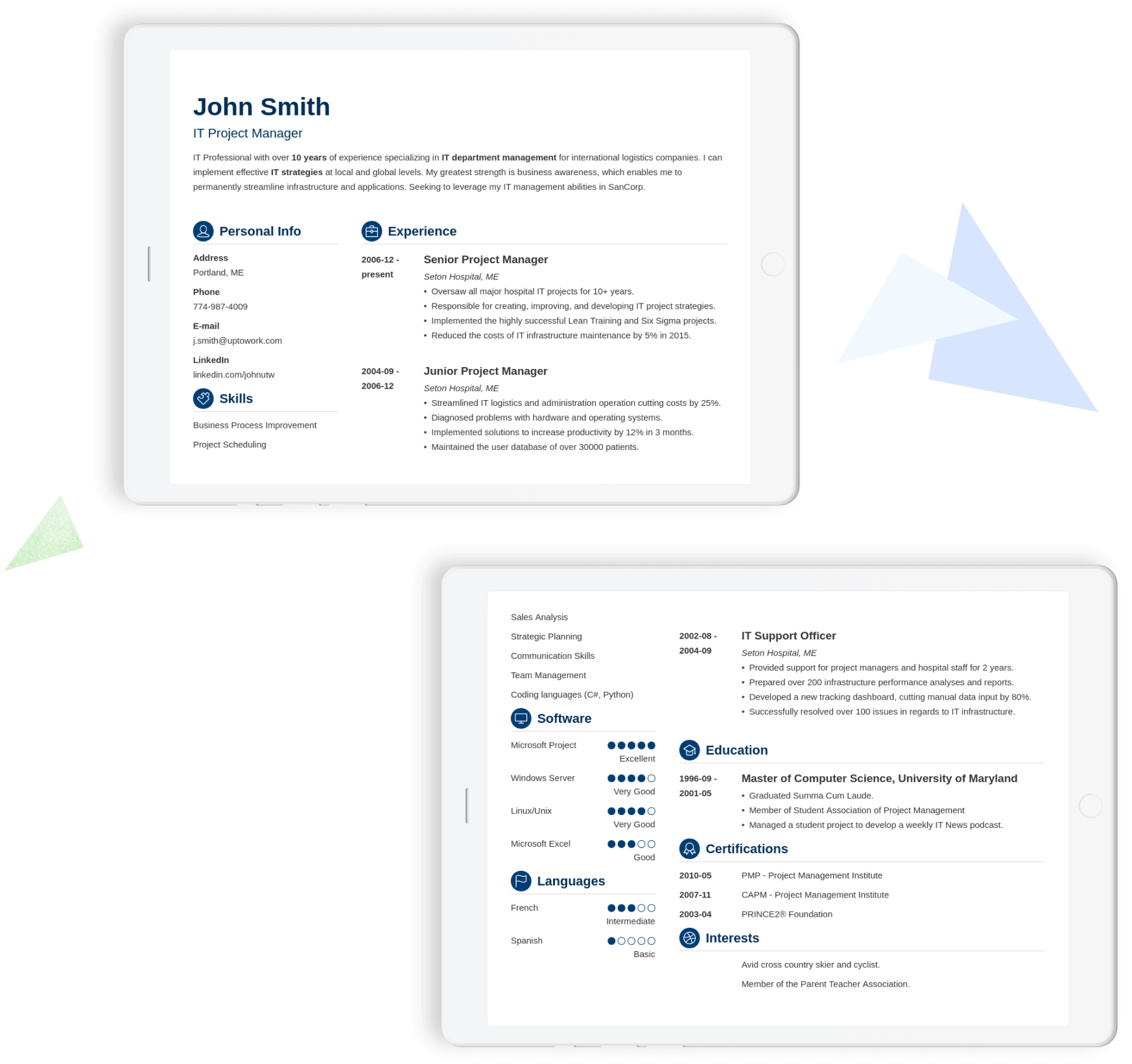 Attractive design
Each resume format template is designed to draw attention to your assets. Highlight your career summary to hook the employer. Use icons to save valuable space. Pick a single or two column design to balance whitespace and wordcount. Show your mastery of skills by using graphs. Fit two pages on one.
Ease of use
Go beyond downloadable resume templates that never seem to work. Pick a design you like, focus on the content, and let Zety take care of the rest. Our resume wizard will guide you through the process with helpful tips and examples. Building a resume with Zety is as simple as online shopping—just click an item you like and put in on your resume.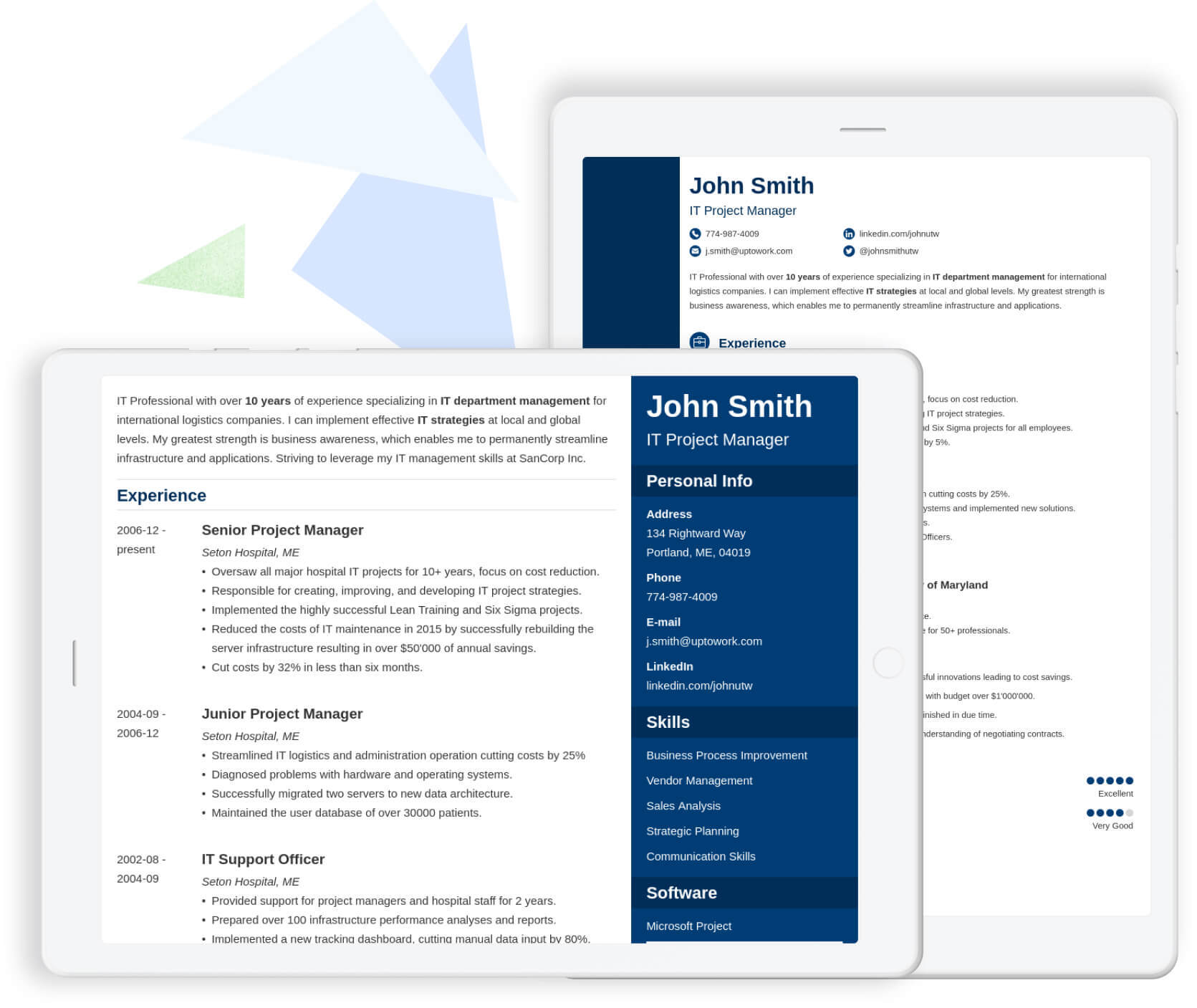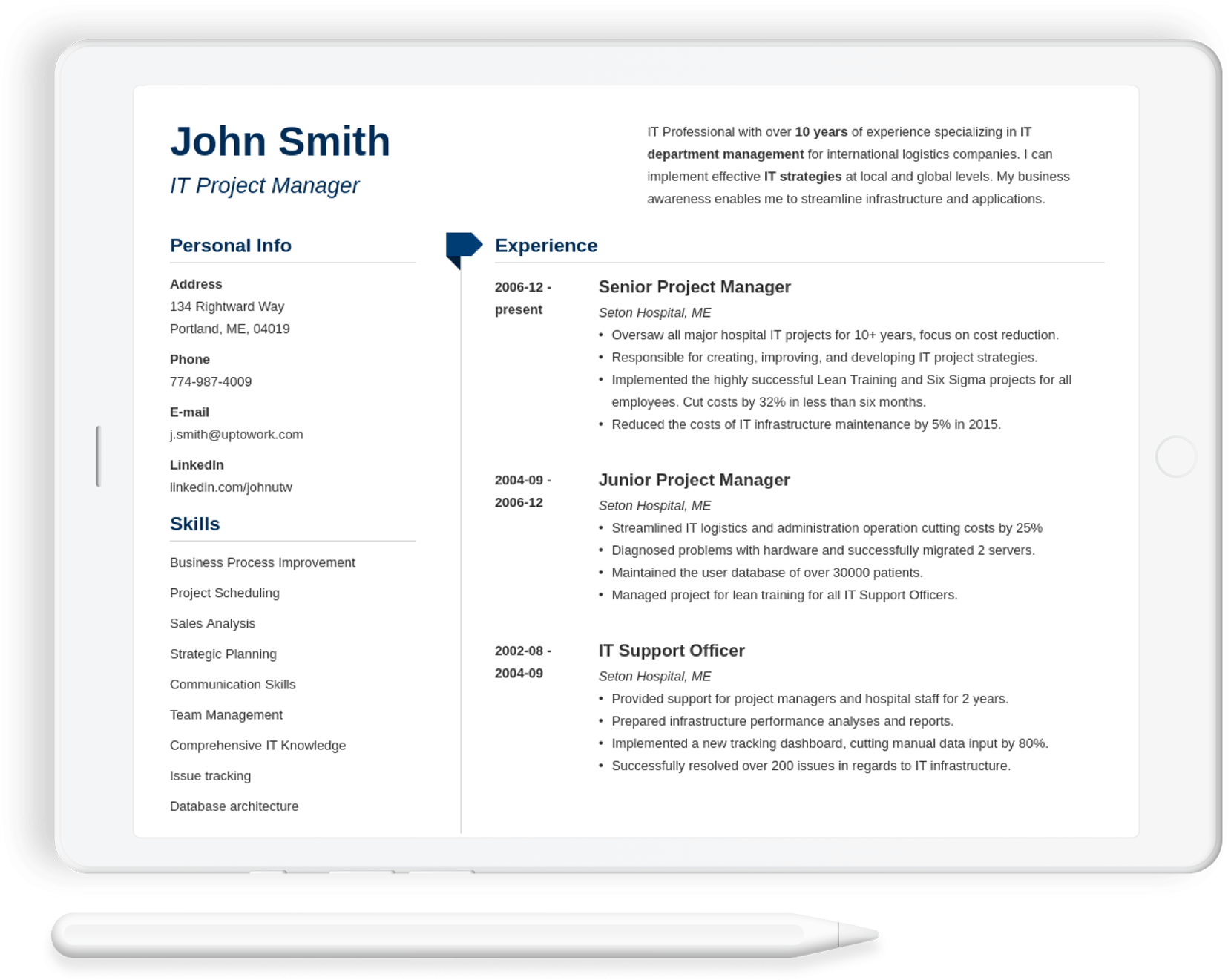 Speed
Our users have saved hours of valuable time by picking a resume format template on Zety. You should be out there building a career, not a resume. Save time by choosing a professional layout, follow our resume wizard app, and download an attractive resume in minutes. And create a cover letter while you're at it to boost your chances of having your resume read.
Confidence boost
It's not just about looks. Filling out a resume with the Zety resume builder is fast, easy, and effective. Add optimized content with a single click to build your resume. Start from scratch or upload your old resume sample and give it a makeover in 5 minutes. Update the template, tweak the content with ready-made bullet points, get hired faster than anyone else.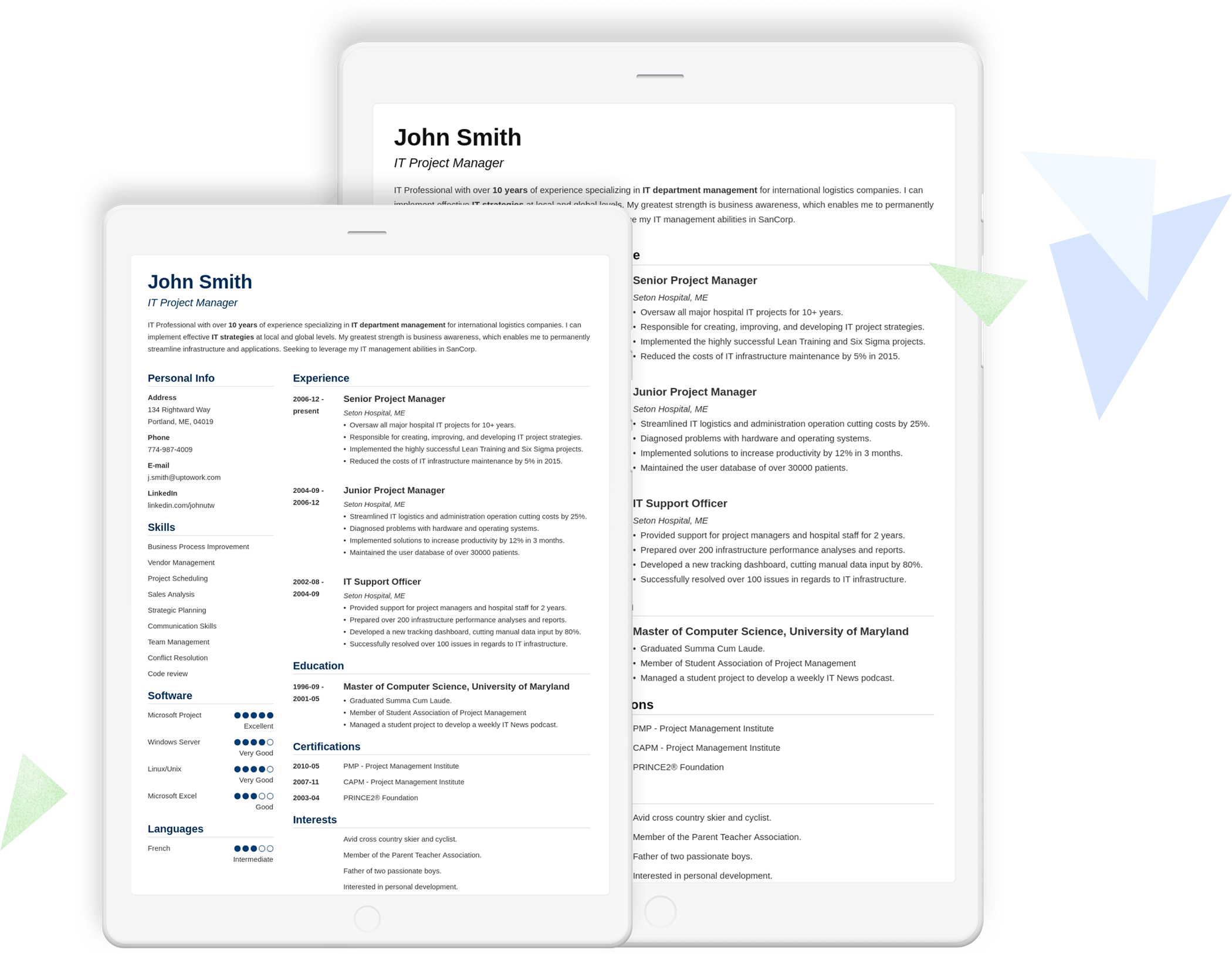 Proven effectiveness
Our customers haven't simply updated their resumes. They've updated their lives. With the right balance between creativity and tradition, Zety's templates for resumes have been optimized for readability and scanability. Hiring managers and recruitment software alike will have no trouble recognizing you for who you are—the perfect candidate.