How to List Publications on Resume or CV (+ Template)
Your publications show your mettle, but how do you show them to the powers that be? Use this guide to see how to list publications on a resume, plus CV publications and research.
Should I include publications on my resume? Of course, you should! Especially if they're required. Or if you know they'll impress the hiring team.
But are you aware that the way in which you list those publications matters just as much as the publications themselves? Luckily, our article can give you chapter and verse on resume & CV publication rules.
This guide will show you:
How to list publications on a resume with clear examples.
How to cite CV publications properly.
How to list research on a resume.
Where to put publications on a resume to get noticed.
Want to save time and have your resume ready in 5 minutes? Try our resume builder. It's fast and easy to use. Plus, you'll get ready-made content to add with one click. See 20+ resume templates and create your resume here.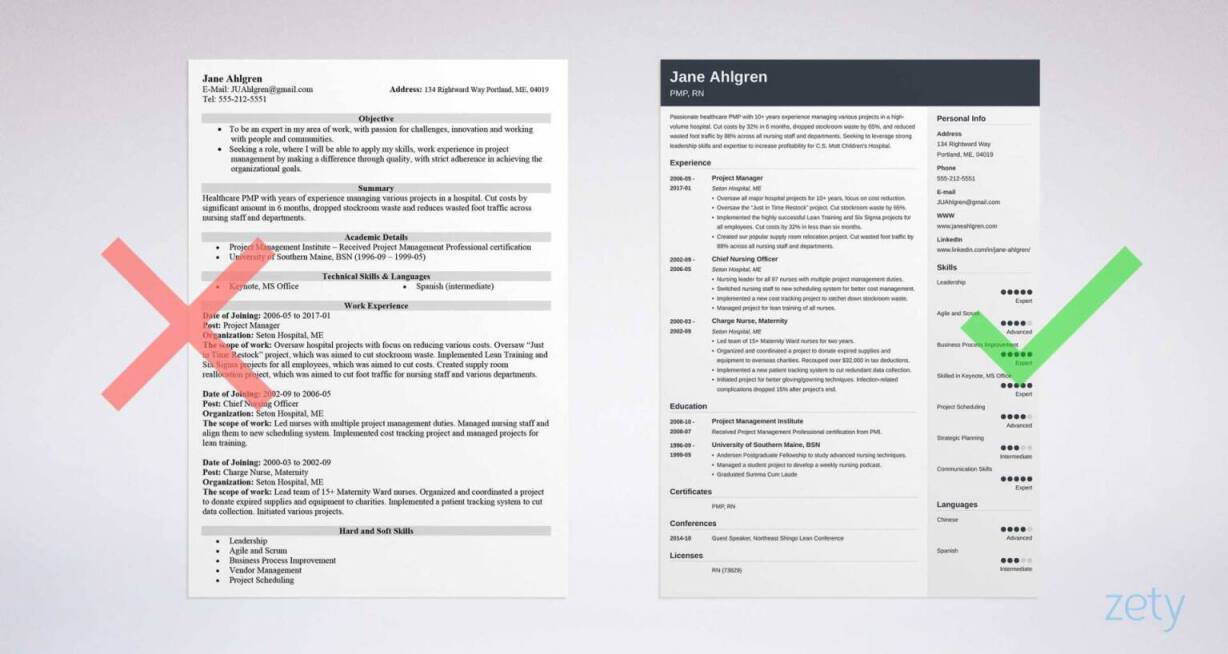 Sample resume made with our builder—See more resume examples here.
1. How to List Publications on a Resume
"This applicant is solid." Your goal: To make the hiring team see that. Knowing how to put publications on a resume can help. Use these quick resume publication format tips:
Publications on a Resume Guideline
Put them in a separate resume section called "Publications."
Add your publications section below your education.
Include each publication in a new bullet point.
List the year and title.
Add the name of the magazine, website, or journal.
Stick with publications that show required skills.
Need help? See this example:
Publications on Resume Example
Let's say you're applying for a web design job that needs skills in information architecture, JavaScript, and SEO.
Publications & Appearances
"One of a Kind Design," Web Design Book, Poulin Publishing, 2018
"Website Design in 2019," A List Apart, June 2019
"Usable

Information Architecture

," SitePoint, Feb 2019
"Cutting the Bloat from

JavaScript

," Tutorialzine Nov 2018
"How to Design Websites for Conversion," Speckyboy Dec 2017
Speaker: "Web Design with

SEO

in Mind," Covalence Conference, 2019
That's how to cite a publication in a resume.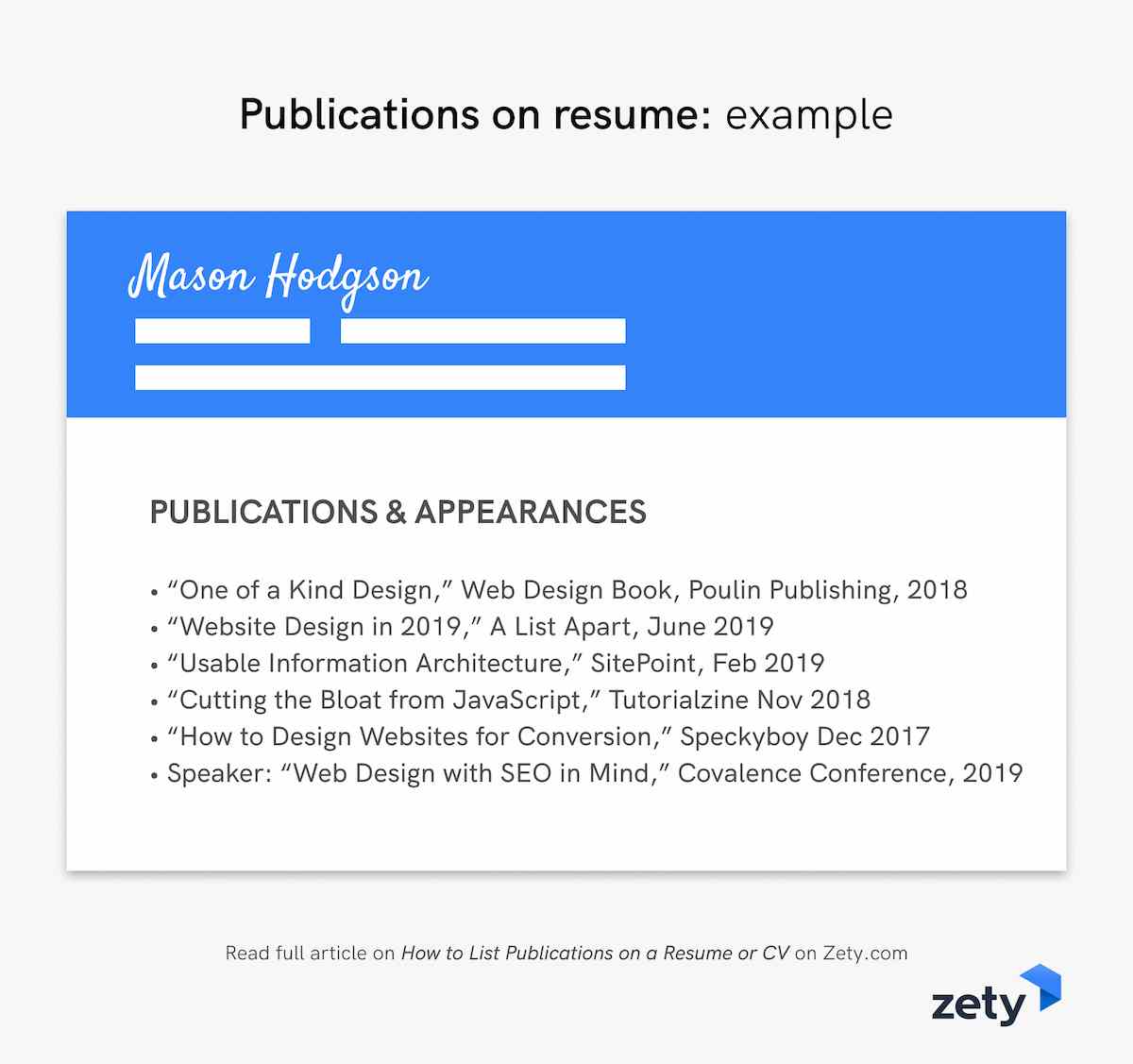 Note: You don't need all your publications in a resume. Just add the most-fitting few.
Only got a couple publications? Put them in an "additional activities" resume section.
Pro Tip: If the publication title doesn't show your key skills, use the topic. Example: They want SEO skills and you say, "Article about SEO Best Practices, TechCrunch."
You need to know how to list publications on a resume. But what about education? Achievements? See our guides:
2. How to List Publications on a CV
What about academic CV publications? Publish or perish, right? In a CV, publications are all-important.
Follow these CV publications format tips:
How to List Publications on a CV
List peer-reviewed publications first.
Show books first, then book chapters.
Include peer-reviewed journal articles next.
Next, add contributions to well-respected outlets.
List other non-peer-reviewed publications last.
Use MLA format. Write author names first, then title and publication.
Last, add information about volume and issue.
Need an example of how to cite publications in CVs? Here you go:
CV Publications Example
Publications
Leadbetter, C. and Locklin, G. "5G as Disruptive Technology." Journal of Applied Technology 86.5 (2015): 118-25.
Farazi, L. and Marden, K. "Turbulence and Viscosity Models in Engineering." AIAA Journal 86.5 (2017): 95-107.
Diversi, K. and Johnson, S. "Textual and visual programming environments and the end user." International Symposium on End User Development 7898 (2014): 22-29.
The MLA format goes like this:
[LAST NAME], [FIRST INITIAL]. "[ARTICLE TITLE]." [JOURNAL NAME] [VOLUME NUMBER].[ISSUE NUMBER] ([YEAR]): [PAGES]
Note:
If you're in the psychology field, use APA style instead:
Publications
Doherty, S. Bower, B. Job burnout and the young parent. Journal of Applied Psychology 15 (5): 38-49. 2016
Reiss, D. Pezmont, E. A boredom and anxiety scale. Psychological Reports 73 (7): 115-32. 2015
Hiltz, J. Naor, Predictors of happiness in millennials. Journal of Basic and Applied Psychology (In press)
Doherty, S. Bower, B. Overweight children and parenting style. Manuscript submitted for publication.
APA format goes like this:
[LAST NAME], [FIRST INITIAL]. [ARTICLE TITLE]. [JOURNAL NAME] [VOLUME NUMBER] ([ISSUE NUMBER]) [PAGES]. [YEAR]
Note:
If your article has been submitted but not accepted yet, add, "Manuscript submitted for publication." Then cut the journal name.
Pro Tip: Article accepted but not published? Just add "(In press)" after the author names. Then leave off the issue number.
Are you writing an academic resume or CV? See our guide: Academic CV: Example, Template & Writing Guide
And to see what the difference in meaning between a resume and a CV is, see this guide: The Difference Between a CV & Resume Explained
When making a resume in our builder, drag & drop bullet points, skills, and auto-fill the boring stuff. Spell check? Check. Start building a professional resume template here for free.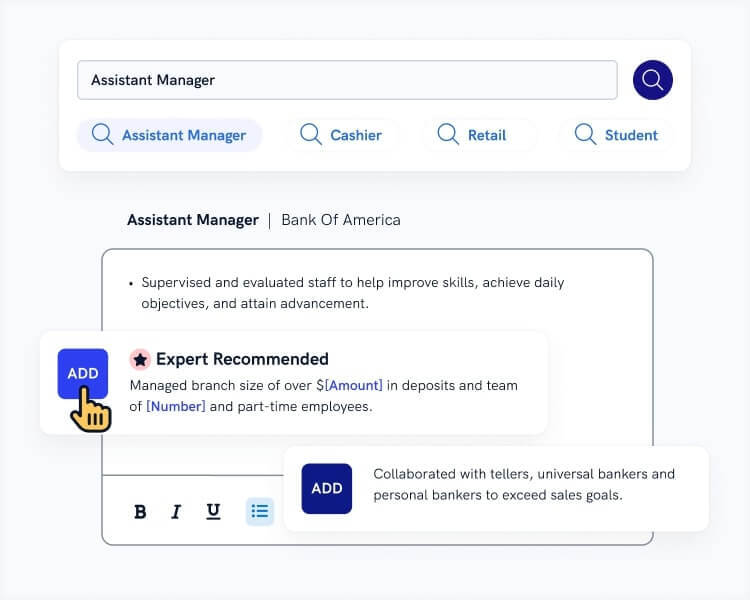 When you're done, our easy resume builder will score your resume and our resume checker will tell you exactly how to make it better.
3. How to Put Research on Your Resume
What about research in resumes? That helps, especially if research is a key job duty. It helps to highlight your specific accomplishments and accentuate the impact you had with your exploration.
Here's how to add it:
How to List Research on Resumes
Add research to your resume after your experience and education sections. If you have a lot of it and it's relevant to the job, put it in a special section called "research." List each research project in a different bullet point.
Research
Conducted review of 157 social psychology abstracts for study published in The Journal of Social Psychology. Commended by author for efficiency.
Developed research project to find 200+ low-competition, high-volume SEO terms. Contributed to 28% increase in traffic in 10 months.
Analyzed development of foraging behavior in American grey squirrels using custom-created software.
Note:
Add numbers to your bullet points that show achievement, not just activity.
If you've only got a little experience, add it to an "additional activities" section.
Pro Tip: If you're experienced, only list major research positions like full-time researcher or research assistant. With less experience, list everything.
What else should you include in a resume besides your publications? See our guide: What to Put on a Resume (20+ Good Things You Should Include to Win)
Key Takeaway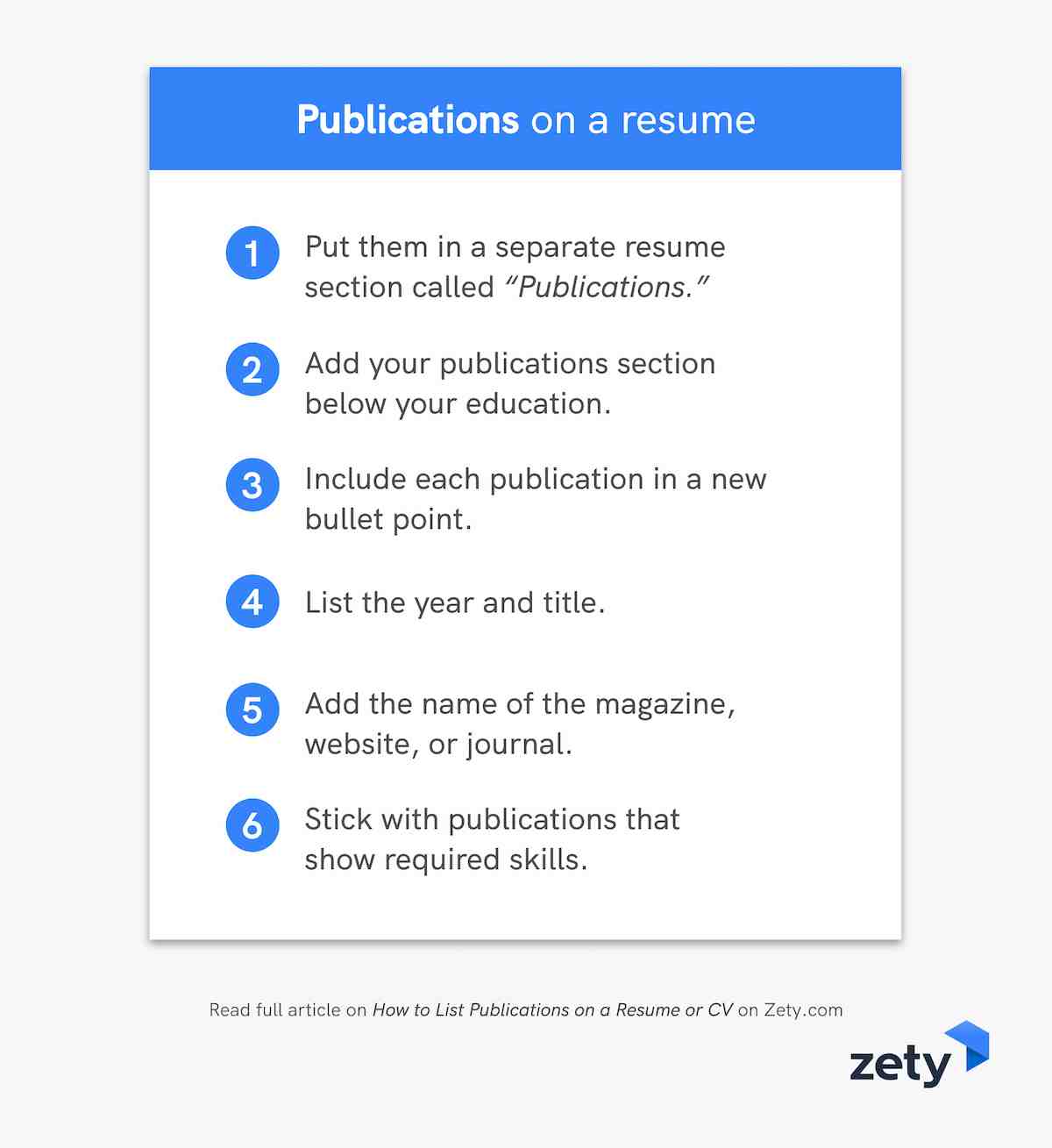 Summary: How to list publications on a resume:
Cite publications in resumes for jobs in a separate section.
Make sure they're relevant to the job.
List CV publications with either MLA or APA style.
Mention research on a resume in its own section, unless you've only got a little.
Plus, a great cover letter that matches your resume will give you an advantage over other candidates. You can write it in our cover letter builder here. Here's what it may look like: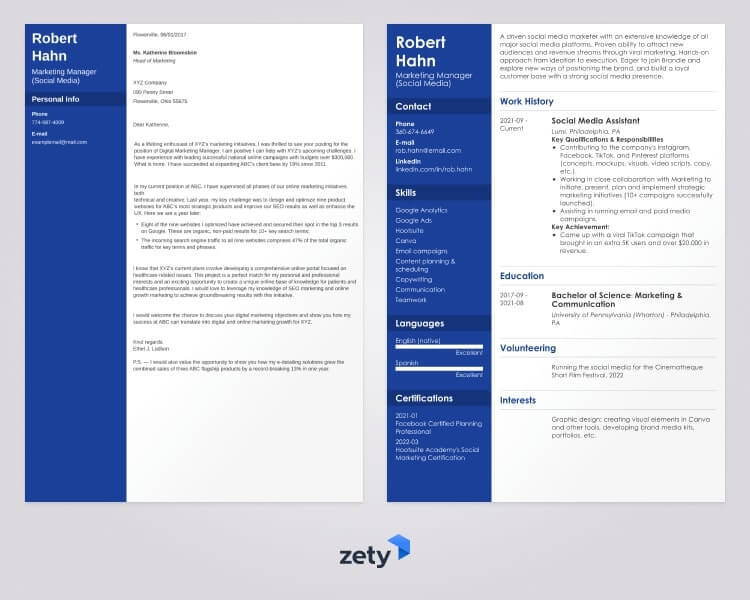 See more cover letter templates and start writing.
Still have questions about how to put publications on a resume? Got a slightly different question about CV publications? Give us a shout in the comments. We'd love to talk about it!
About Zety's Editorial Process
This article has been reviewed by our editorial team to make sure it follows Zety's editorial guidelines. We're committed to sharing our expertise and giving you trustworthy career advice tailored to your needs. High-quality content is what brings over 40 million readers to our site every year. But we don't stop there. Our team conducts original research to understand the job market better, and we pride ourselves on being quoted by top universities and prime media outlets from around the world.
Sources