You're in search of the best resume templates, because nil satis nisi optimum.
"Nothing but the best is good enough," the Latin motto states, and nothing but the best is good enough for you, either.
You want the best job, of course, so you won't settle for anything less than the greatest resume template to use as you apply for it.
Well, you're in luck.
Together with my partner in crime, Luiza, with her discerning eye and flair for creativity, we set out across the internet in search of the best resume examples out there so you don't have to.
Some are ours, some are theirs, but all of them are among the best resume templates to be found on the web.
This best resume templates guide will show you:
Over a dozen best resume template examples better than 9 out of 10 other resumes.
Samples of the finest resume layouts from all over the internet.
Our top picks of the greatest templates for resumes available online.
1
Cascade Template by Zety
Want to save time and have your modern resume ready in 5 minutes? Try our resume builder. It's fast and easy to use. Plus, you'll get tips and right vs. wrong examples while writing your resume. See 20+ resume templates and create your resume here.
One of our users, Nikos, had this to say:
[I used] a nice template I found on Zety. My resume is now one page long, not three. With the same stuff.
Note: we have designed all our resume templates to be ATS-scannable.
This is one of our pride-and-joys here at Zety - the outstanding Cascade resume template created using our resume builder.
Check out the nifty bar graph for your skills and language sections. Also, a sidebar! Furthermore, it's got subtle shading differences in the green (or whichever color you choose) but distinct black and white for the text for readability.
Dozens of color combinations make this modern resume template an instant hit with candidates and recruiters alike.
Cascade is included along with many others in our resume builder. With our resume builder, you can create the best resume simply and quickly.
2
The Floral Resume Template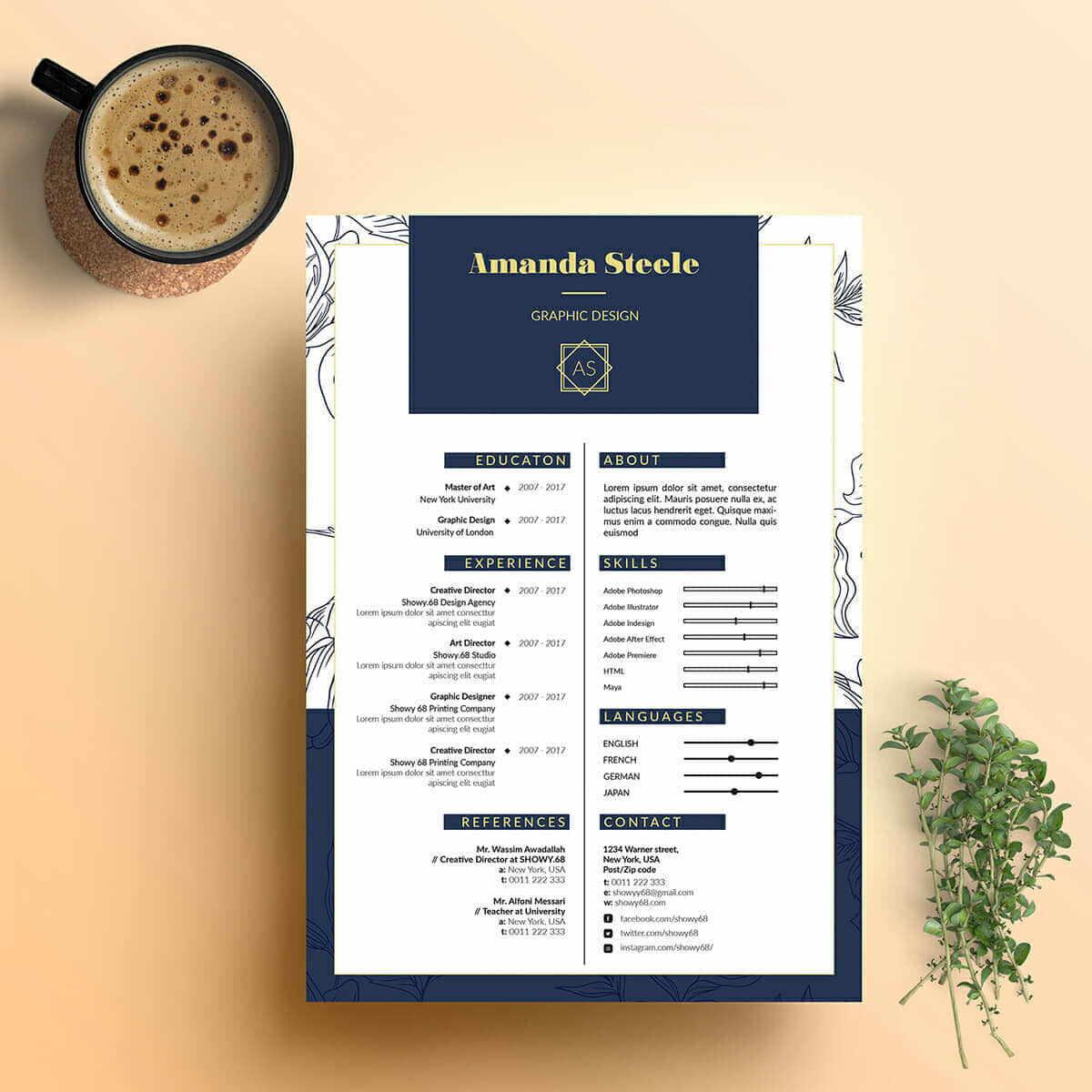 The "Floral Resume Template / CV Template / Letterhead" by Do Anh Nguyet is just as described. A stenciled, flowery look makes up the background area of the header and top half of this resume, while a dark background frames the bottom half.
That same deep blue is used in the centered header to showcase your name, a brief title or branding statement, and a logo. Below that, your first-rate resume template is divided straight down the middle, giving you two even columns to give you plenty of room to win them over.
This terrific resume design is available as both Microsoft Word .DOCX and Adobe Illustrator. On top of that, you get the free resume fonts and icons you see here so you'll be able to make something similarly awesome. You can find this modern resume template with this link on Behance.
Check out our curated list of free templates to download: Free Resume Templates: 17 Downloadable Resume Templates to Use.
3
The Piccadilly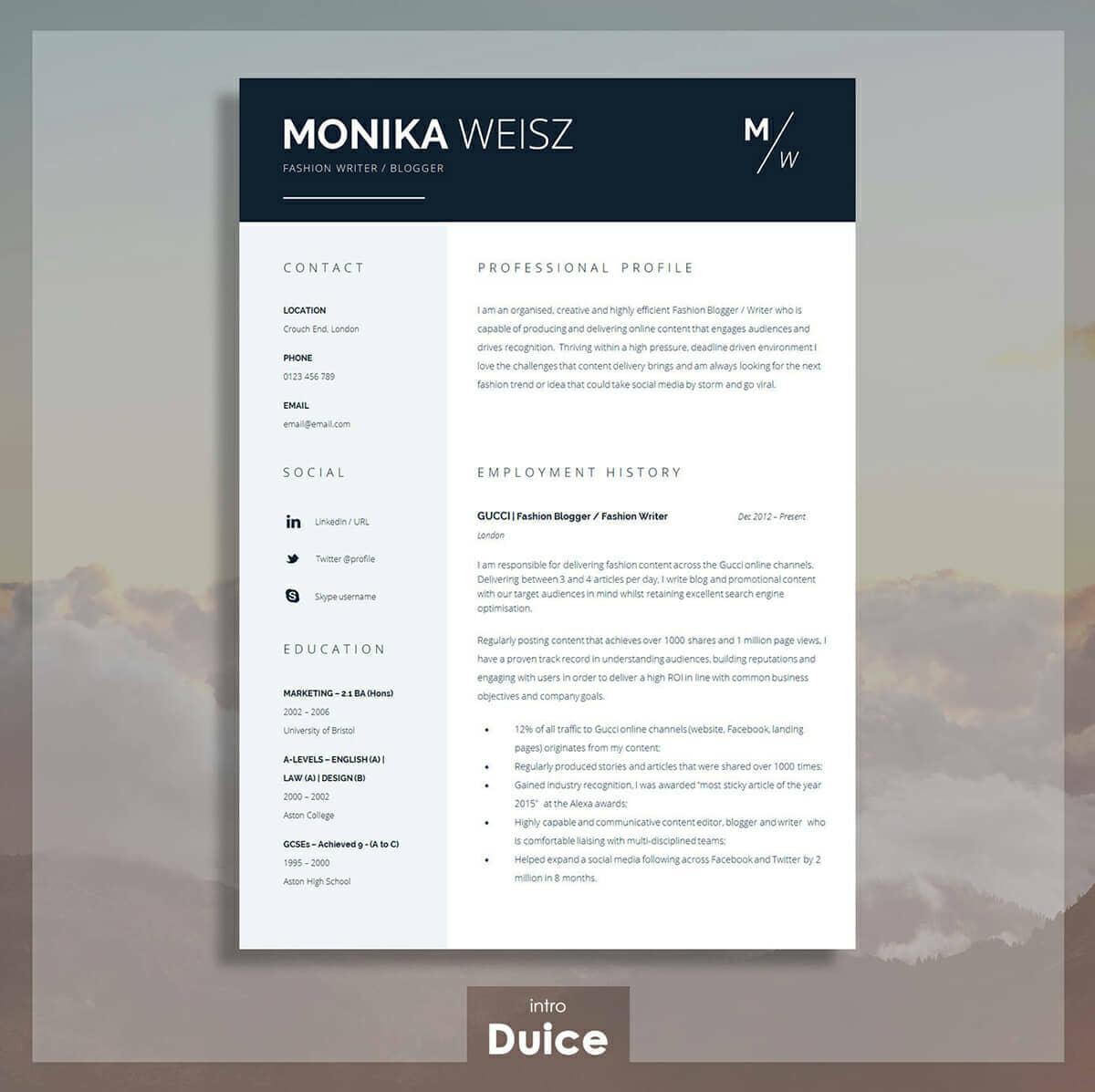 The "Piccadilly" CV template is one of the best resume examples out there. Created by the London-based team at introDuice, it is simple, modern, and stylish - what more could you want?
A large bar header starts the document off, where you can catch the hiring manager's attention with your name, stylized initials, and a concise branding statement or resume title. A 2-column body area layout gives you more real estate to work with as you are resume building.
This one is available as an immediate download for MS Word (Mac or PC / A4 & Letter sizes). Here's the link to this template on Etsy.
4
Black & Yellow, Black & Yellow, Black & Yellow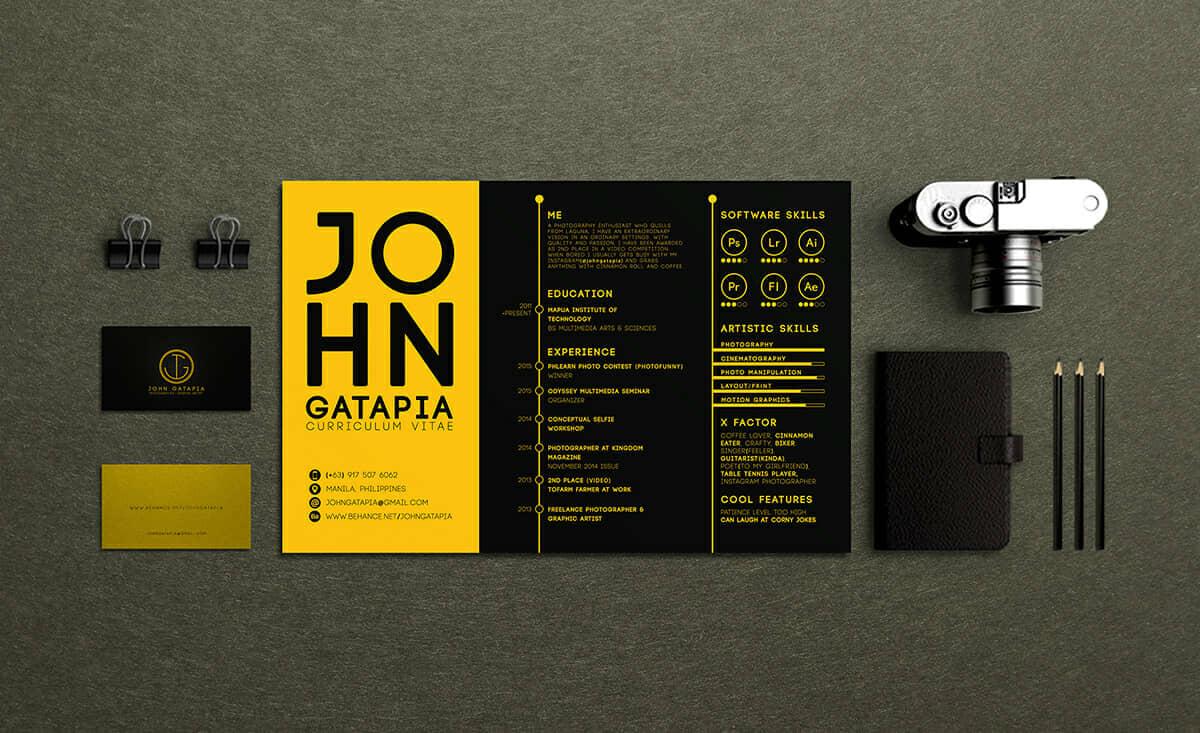 The "Creative Curriculum Vitae / Resume" by John Gatapia on Behance is a complete package with a horizontally-aligned template for resumes and business card templates, as well. The yellow-on-black color scheme really lets your resume stand out in the sea of white that the hiring managers are used to - just prepare yourself for the cost of printing this!
Here's the link to this template.
This template is one of the best in part because it's quite modern. Check out other contemporary ones: Modern Resume Templates & 18 Examples [A Complete Guide].
5
The Hub & Spoke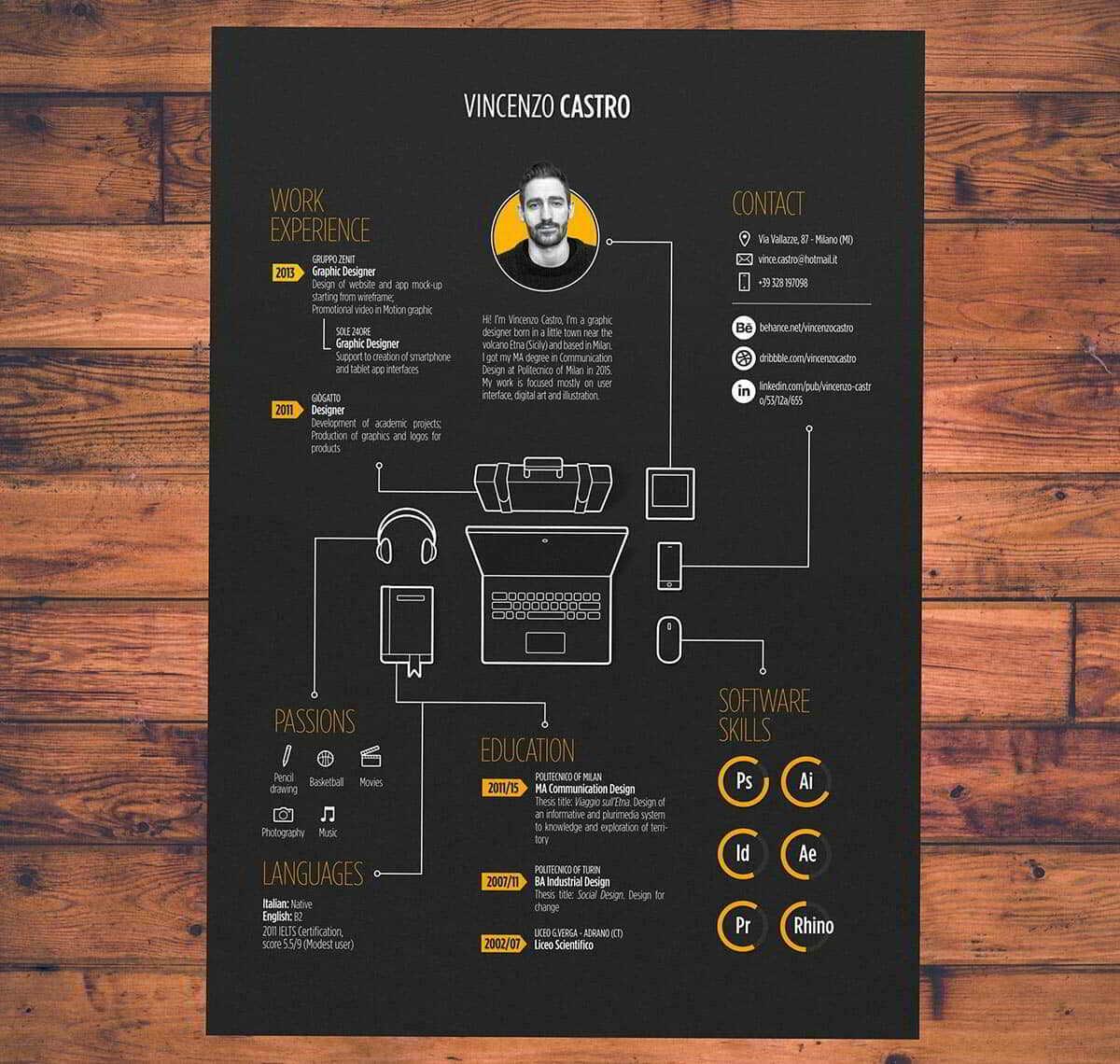 Vincenzo Castro might not have named this one too creatively, but he saved all that creativity for the actual product. The "Curriculum Vitae" still places your name and contact info at the top, but that's just about where the similarities with traditional resumes end.
Centered around a grouping of tech icons, lines lead the way all around to point out different aspects of your hireability. This one is available as a download for Adobe InDesign and Photoshop. Here's the link to this template on Behance.
6
Trianglified Traits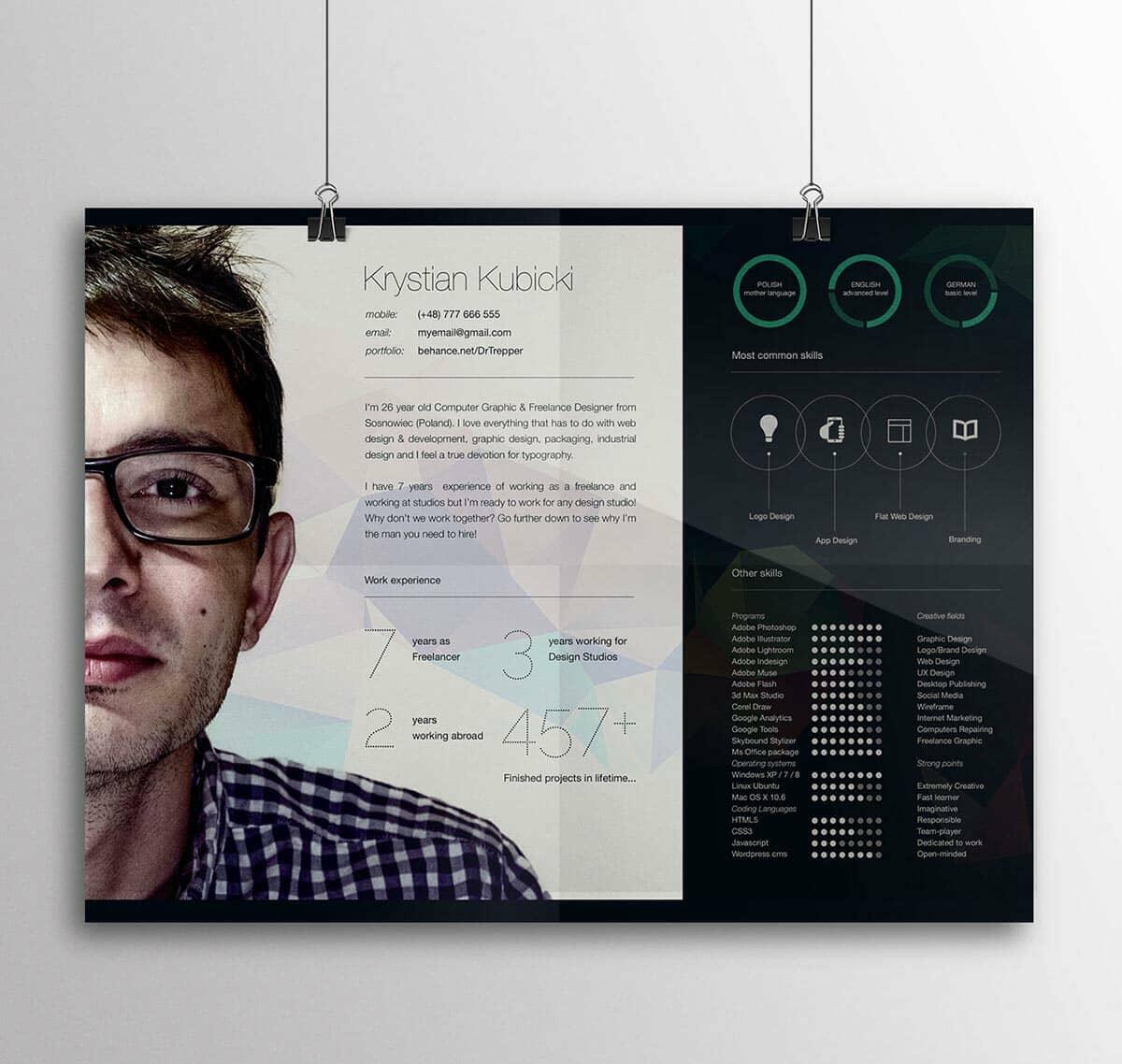 Krystian Kubicki's "CV/Resume project" on Behance is just gorgeous. A subdued, trianglified background allows your skills and achievements to stand out. A perfect professional resume with photo layout, the large half profile taking up the left really makes this one stand out. His choice of icons and circle graphs make this one second to none.
Here's the link to this template on Behance.
Being creative on a resume like this one is tough, but our guide and examples make it easy: Creative Resume Templates & 15+ Examples [A Complete Guide].
7
Pastel Diamonds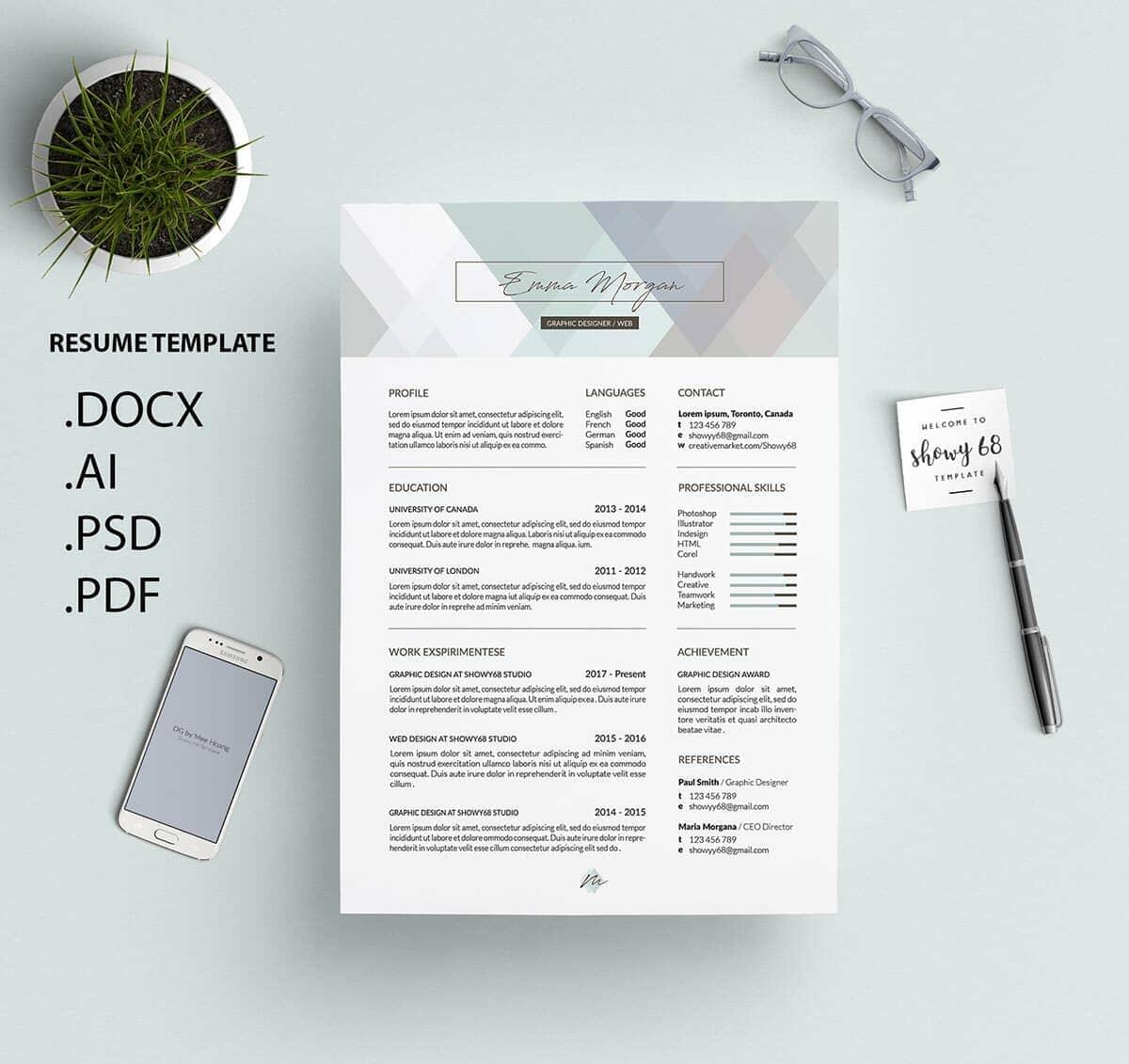 "Crystal Pastel Resume Template / CV Template" by Mee Hoang on Behance is simply one of the most premium templates for resumes out there. A gorgeous, subdued header made up of a colorful diamond pattern frames your name and subtitle, while the body with right-hand sidebar gives you ample room to make your case.
Here's the link to this template on Behance. It can be used as a Microsoft Word resume or Adobe Illustrator.
8
An Executive Resume Template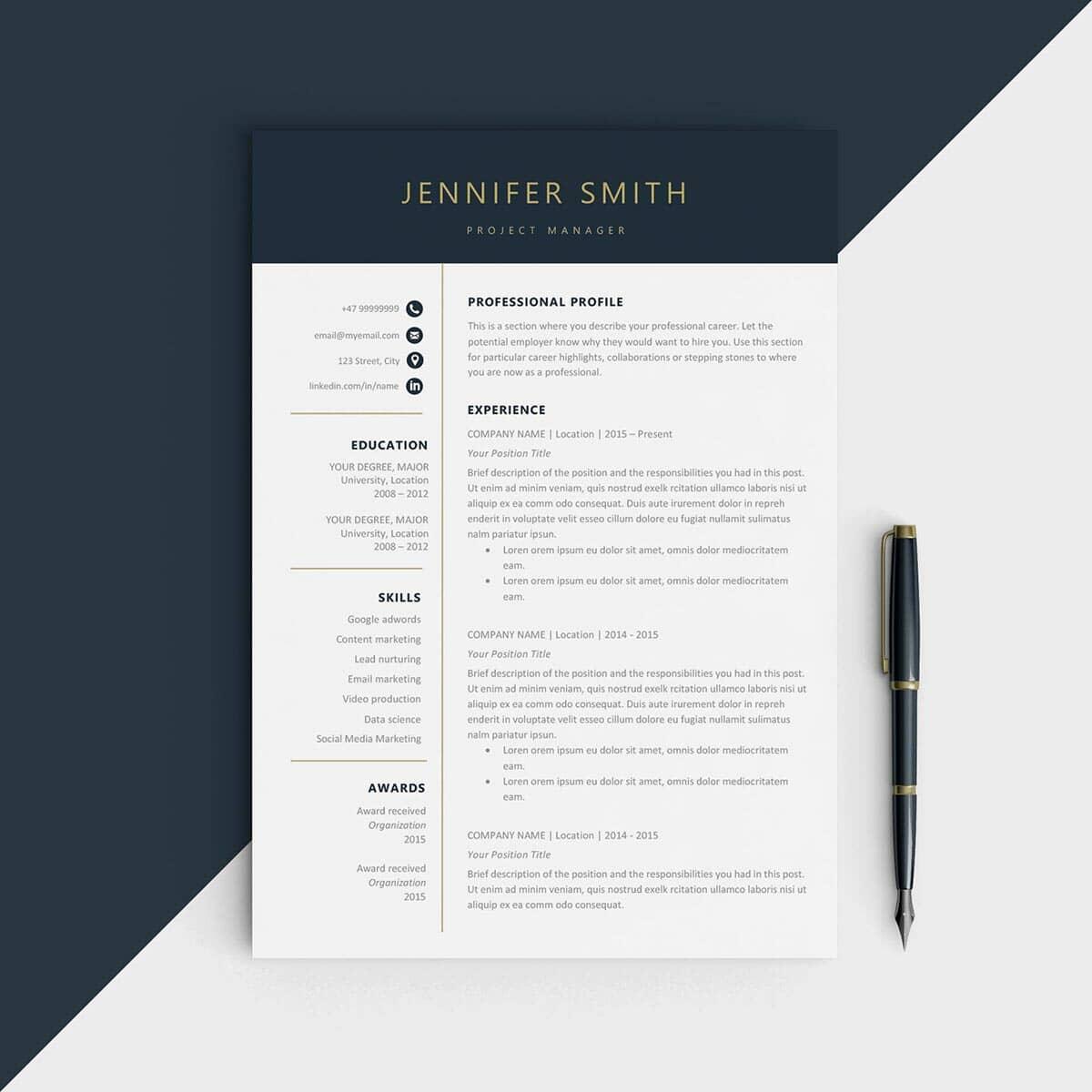 This version of "Modern resume template" is one from the ComelyDesignStudio on Etsy. This template just screams "executive material," and the blue and gold accents add a vintage touch to this contemporary design. A neat, two-column layout separates your short-form content from your longer information.
Find this top-notch resume example at Etsy at this link.
9
Crisp Template by Zety
If you're looking for the best resume layout examples, you can't go wrong with the clean Crisp design made using our resume builder. Like Cascade, it also has a left-hand sidebar, but a full-width header area up top for your name, title, and resume summary or objective.
The skills and language sections have creative colored circles which detail your level of each. Icons make it easy to focus on each individual resume section.
It incorporates a white background, black text, and a theme color of your choice for heading titles and icons, or reverse that, if you wish, with many color combinations to choose from for this primo resume template.
Crisp is included along with many others in our resume builder. With our resume builder, you can create the greatest resume simply and quickly.
10
Clean, Clever, and Clear
The "Clean Resume & Cover Letter" is a fine resume template by Mohsin Kabir. The three-color palette differentiates the items in the sidebar from the important bits in the center, while the third color adds some creative flair. Space for a profile photo makes this resume template an ideal choice for modern-day job hunting.
Find this great modern resume example and cover letter (see our cover letter tips) at Behance at this link.
11
The Perseus Resume Template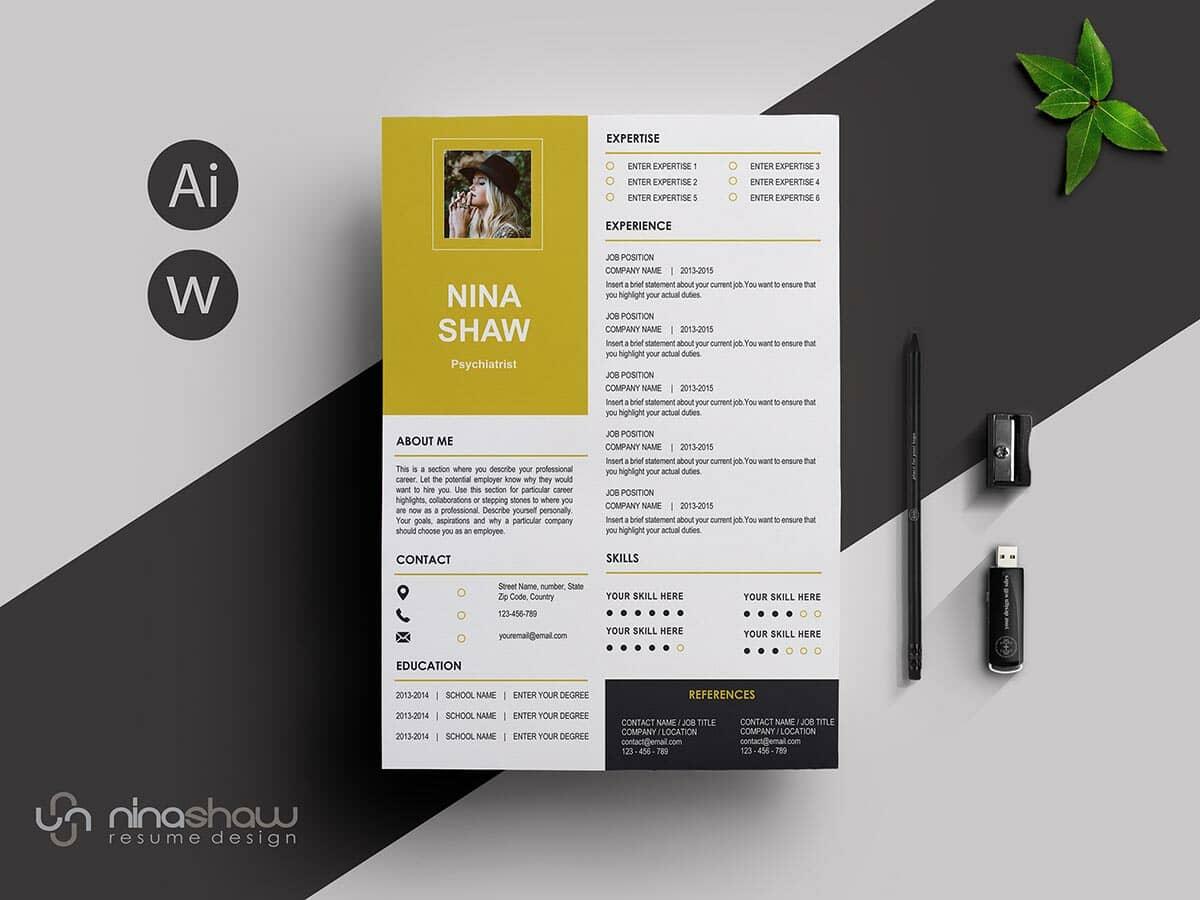 The "Perseus Resume Template" by Nina Shaw over at Creative Market is one of the best choices for making a resume. It has a header and footer area like most resumes, but this one left-aligns the header while right-aligning the footer, making it quite unique while still functional.
Here's the link to this incomparable template on Creative Market.
12
Vibes Template by Zety
With a name like "Vibes," you know it's inspired. It's one of ours, but it definitely has some of the most innovative features out on the resume-writing market.
A very well-designed resume template, it has the full-width header for your name, title, and heading statement. A left-hand sidebar promotes your skills and achievements as a bar graph. Square icons make it easy for the hiring manager to locate each unique resume section. You'll be certain to get the interview with this one!
Vibes is included along with many others in our resume builder. With our resume builder, you can create a resume simply and quickly.
13
Iconic Fog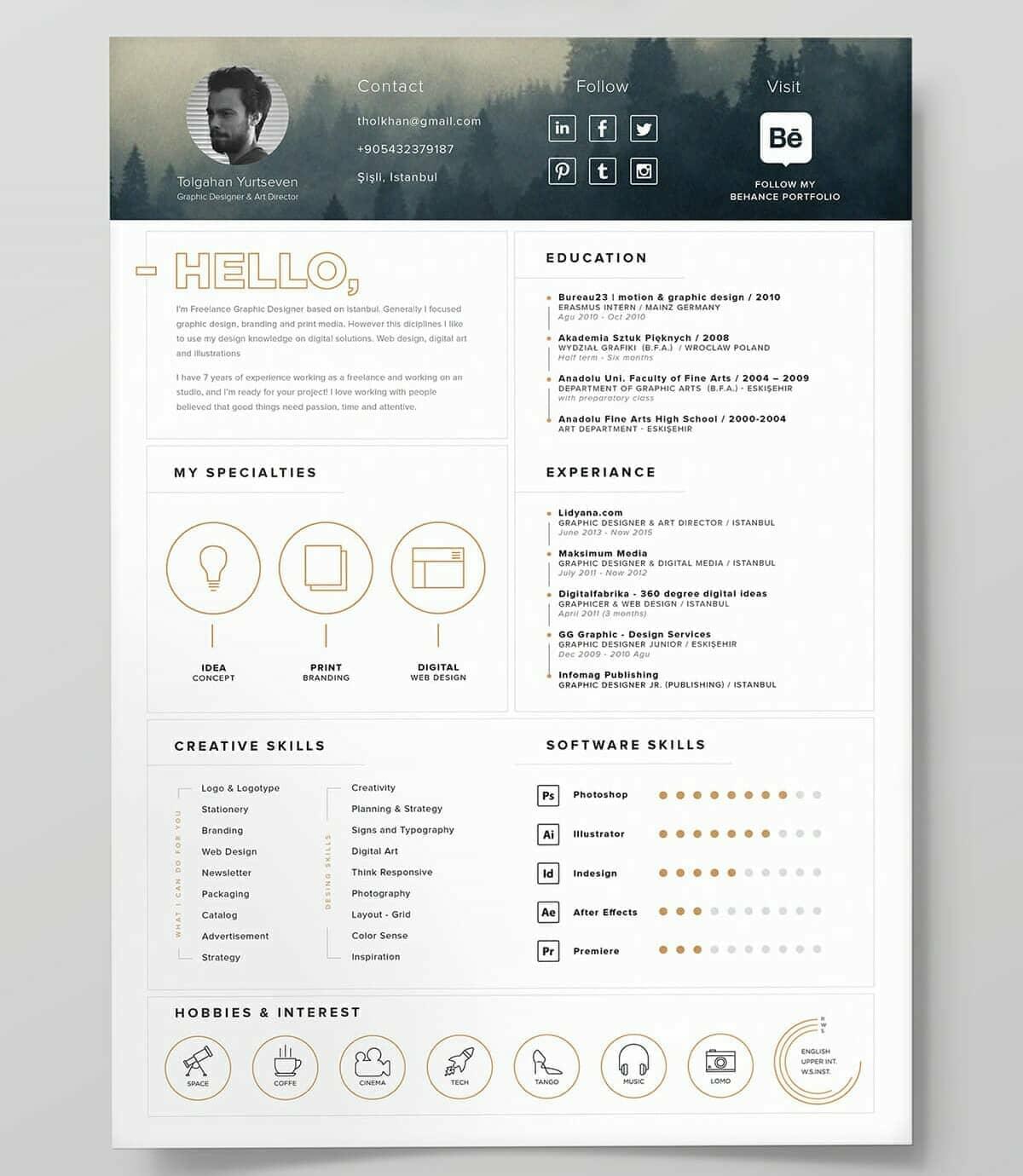 Tolgahan Yurtseven's "FREE Resume Template + Icons" on Behance throws rules out the window - you can switch back and forth between having a full-width area or split it for a two- or three-column resume layout, depending on whether you want to list things horizontally or vertically.
The header area allows you to add an artistic background image to enclose your contact details. Your education and work experience section is given a timeline appearance to show career and academic progression. Icons near the footer show instead of tell about your hobbies and interests.
Here's the link to this free resume template download for Adobe Illustrator and Adobe Photoshop at Behance.
14
Minimal & Modern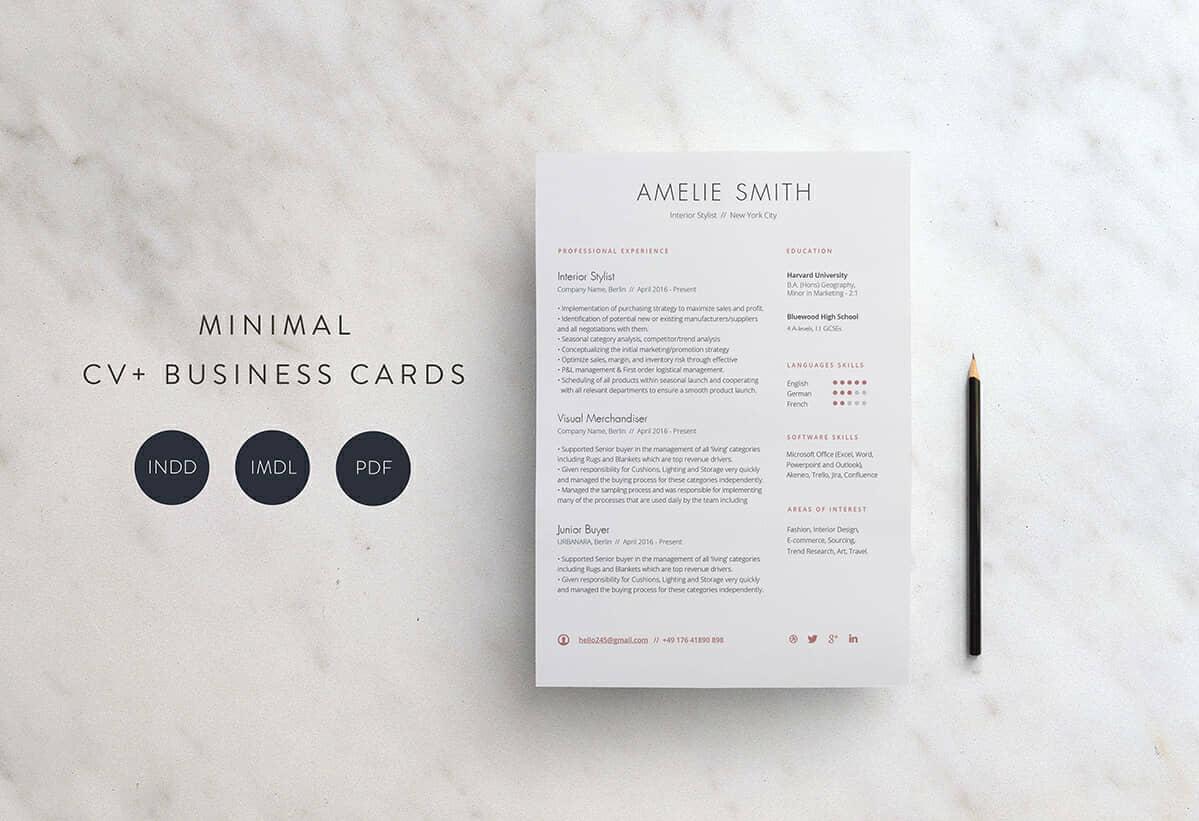 The "Modern A4 Resume CV Template" by Aréto Studio is a complete resume-making package: It includes a two-page resume template in the A4 size, typefaces, icons, an adjustable color palette, INDD and IMDL files, and matching business card templates.
Here's the link to this downloadable PDF template at Creative Market.
Basic templates for resumes don't have to sacrifice quality. Check out more of them: Basic Resume Templates (15+ Examples to Download & Use Now).
15
Pastel Blocks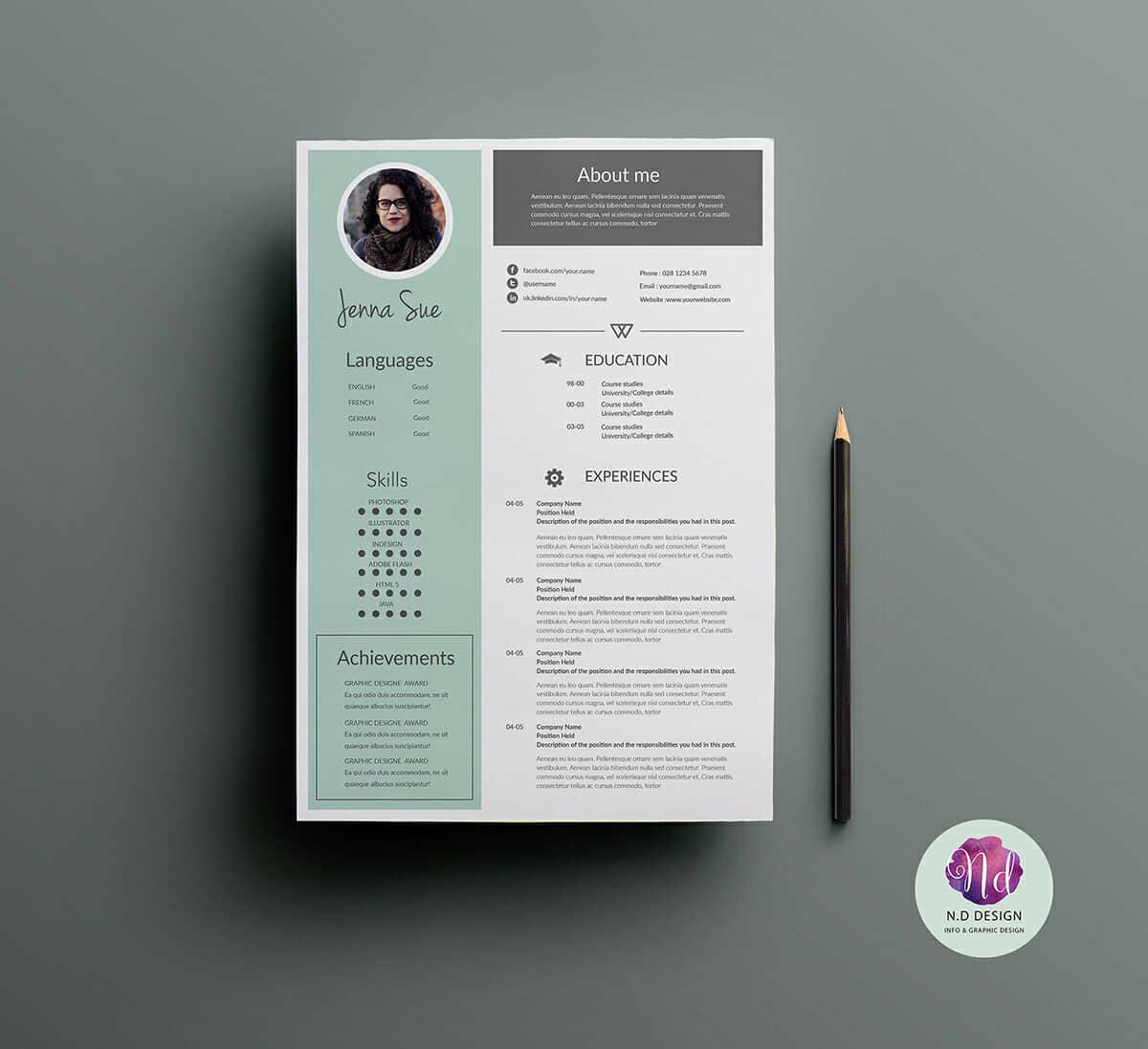 Last but certainly not least, Nhung Nguyen's "Modern CV Template" is exactly as she says, but not over the top. A two-tone, two-column resume format, this one is one of the best resumes we've seen. Unique to this resume template (in this article), she separates her achievements from her experience section, bordering the former to stress their importance and visibility.
Find this great resume example as a download for Adobe Illustrator at this link.
Done with creating your amazing resume? Make sure you didn't miss anything that could cost you the job of your dreams! Get our handy free checklist: 46 Things You Need To Do Before You Send Your Resume
Key Takeaway
Leave this article, but keep these in mind:
Do you have any other free resume templates that are amazing and deserve a mention?

Let us know in the comments below and we'll be happy to consider adding your template to our list of best resumes or answer any question you might have. Thanks for reading!