Best Resume Templates in 2023 (10+ Picks to Use Now)
The best resume templates aren't just about fancy looks. They have to be sleek and professional. Their layout needs to show off your value. Here's what'll help.
The best resume templates are:
Easy to read for recruiters.
Optimized to be ATS-compatible.
Designed to fit 2-3 pages on 1 without compromising quality.
Formatted to highlight essential information about the candidate.
Attractive with or without a photo.
Paired with an equally good matching cover letter template.
Want to save time and have your resume ready in 5 minutes? Try our resume builder. It's fast and easy to use. Plus, you'll get ready-made content to add with one click. See 20+ resume templates and create your resume here.
Sample resume made with our builder—See more resume examples here.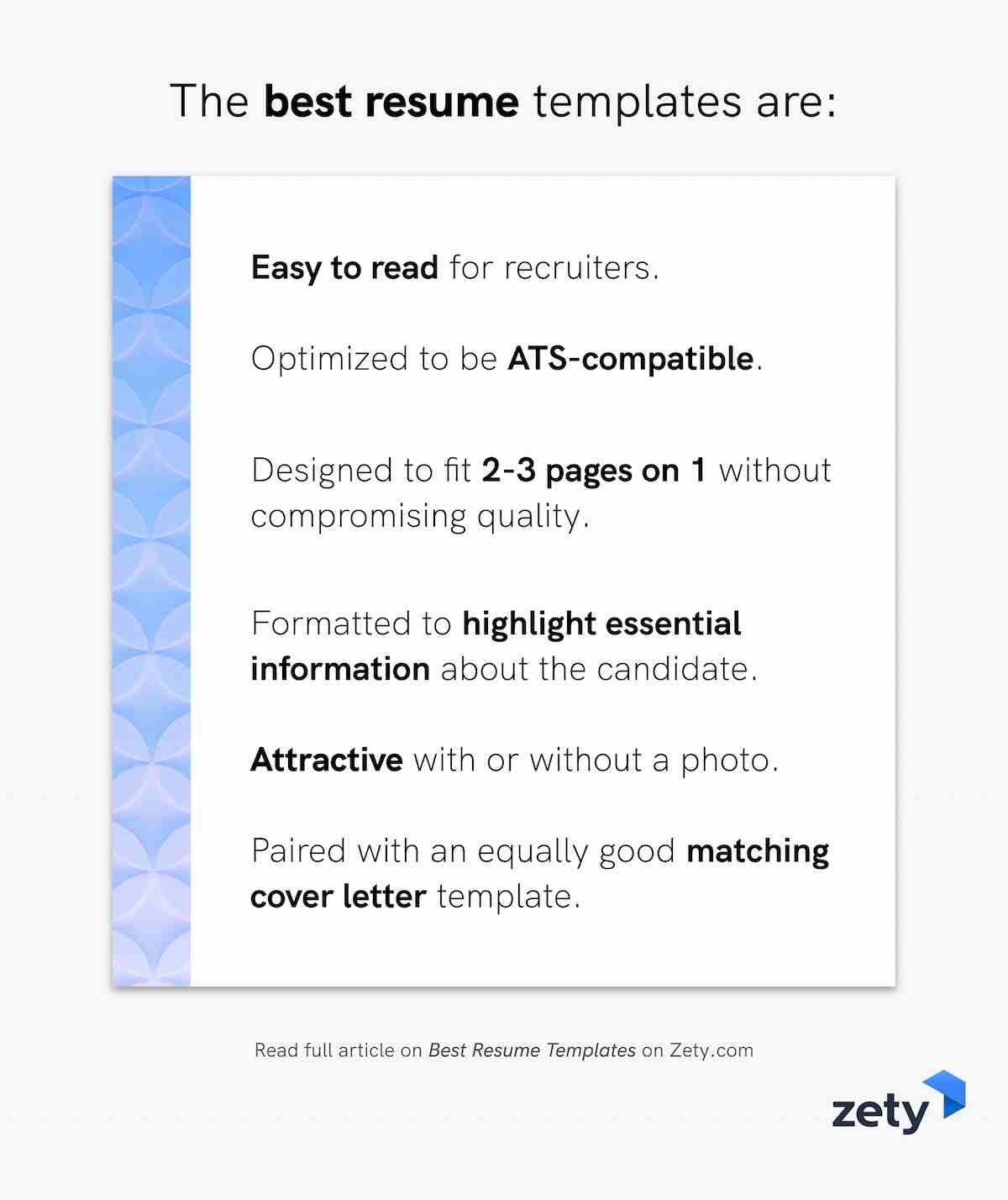 All of the resume and CV template examples you'll see on this list meet and exceed these requirements. Each of them is ATS-friendly and lets you choose from 400 color combinations. And, most importantly, you'll find out which one is the best for you: your situation, the job you're targetting, and your personal taste.
14 Best Resume Templates in 2023:
Here's a list of the finest resume designs you can download to boost your job search. Below each template, you'll see a list of recommendations on who can benefit most from a given resume design.
Cubic
Cubic is a high-quality resume template which is a real crowd favorite here at Zety, and it isn't hard to see why. It's super easy for HR managers to quickly scan and pick out important info. And, the subtle color scheme isn't over the top like so many other resume templates available online.
Sample resume made with our builder — See 20+ resume templates here
Your name and title take pride of place in the resume header, so your professional info is sure to shine. Then the right-hand sidebar lets you showcase your skills, languages and software proficiency.
And it's smart, too: using a two-column resume format means you can fit up to 30% more text on one page than in a regular resume written in Word.
Finally, we add a touch of infographics. "Health bar" style circles for your languages and skills allow you to showcase your knowledge and abilities with real visual impact. Definitely one of the best CV templates out there!
Recommended for marketing and supervisory positions

| | | |
| --- | --- | --- |
| Best For: | Great For: | Good For: |
| | | |
| | | |
| | | |
Newcast
Newcast is a fresh take on the traditional resume—with our fresh twist on a design classic you can be sure you'll have the best resume template in the pile.
Pick the Newcast resume template
This single-column resume template helps recruiters to scan your CV by highlighting section headings with unique icons of your choice. And the generous full-width layout allows ample room to make your pitch in your resume summary or resume objective.
Then simple but effective bar graphs visualize your hard and soft skills to help let the recruiter know you've got what it takes.
Recommended for medical and business professions

| | | |
| --- | --- | --- |
| Best For: | Great For: | Good For: |
| | | |
| | | |
| | | |
Diamond
This jewel of a sample isn't just one of the best resume examples—it's also one of our most creative resume templates. Like the name says, diamonds punctuate the key areas: section headings, skills, and the bullet points for your work history area.
Pick the Diamond resume template
Hiring managers will breathe a sigh of relief when they get to your resume, with its easy on the eye top-down format. Apart from being one of the best resume templates for college students and interns, this CV layout is also perfect for accounting and legal professionals.
What if a one page resume template just won't cut it? Keep that employment timeline going by adding a second page. Forget battling Google Docs or Microsoft Office trying to make something even half this good—it only takes minutes to edit and download this great resume template and a matching cover letter template from our builder.
Recommended for customer support, finance, and legal professions

| | | |
| --- | --- | --- |
| Best For: | Great For: | Good For: |
| | | |
| | | |
| | | |
Enfold
Enfold is the perfect functional resume template for candidates looking for a clear sense of separation in their resume style. The right-hand sidebar neatly contains all of the short-form text in a clear and visually appealing format.
Pick the Enfold resume template
You'll have plenty of room to list communication skills, technical skills, and other relevant skills—all in neat progress bar form. The resume languages section gets the same infographic-friendly treatment.
On the left, the personal statement takes its rightful place front and center. Then below that, you get plenty of room to show off your relevant work experience, job titles, education, and certifications.
This two-column resume template is a great way of including more info on one page than you could with an ordinary resume written in Word or Google Docs. Cut down on size without impacting quality!
Recommended for marketing and data-related applicants

| | | |
| --- | --- | --- |
| Best For: | Great For: | Good For: |
| | | |
| | | |
| | | |
Pro Tip: Looking for free resume templates? Remember, sometimes the best things in life aren't free. Choose a free resume templates, whether for Adobe Photoshop or MS Word, and it won't necessarily be compatible with ATS software—and that will kill your chances of getting an interview. You've been warned!
Vibes
Vibes is a unique resume template with some strikingly unique features to help you land your next job.
Pick the Vibes resume template
You begin with a full-width header containing your name, title, and personal statement. Then, it progresses into a space-saving two-column body. The left-hand sidebar contains your personal info, skills and achievements. And those attractive square icons make it easy for the hiring manager to scan.
No need to struggle with Microsoft Office for hours with this template—in just minutes you can easily create a one or two-page resume template with our resume builder. You'll get the interview for your dream job in a flash with this great resume template!
Recommended for management and marketing professionals

| | | |
| --- | --- | --- |
| Best For: | Great For: | Good For: |
| | | |
| | | |
| | | |
Muse
Muse is a perfect resume template for every career, but it's particularly good for those who lead teams or work with data.
What makes it one of the best resume templates out there? The two-column format creates generous white space to help draw the eye of the reader. Then the right-hand sidebar shows off your professional skills in block format. Finally, we added some handy little arrow ribbons to help point recruiters to each essential resume section.
Don't spend hours trawling through Etsy trying to find the perfect executive CV template. Choose Muse and you'll be set!
Recommended for data and management-related fields

| | | |
| --- | --- | --- |
| Best For: | Great For: | Good For: |
| | | |
| | | |
| | | |
Concept
Concept is the best resume template for candidates who want a chronological resume that puts things in perspective. It has some creative infographic resume features combined with a traditional layout for a truly innovative feel.
Pick the Concept resume template
This great resume template leaves the sidebar to the left blank for all but the most important dates for a simple and clean timeline resume. The sidebar's color also becomes the accent color for the heading areas on the right, adding another level of visual sophistication.
So if you're making a career change or writing an executive resume, this great CV template is the perfect choice.
Recommended for food service and information technology

| | | |
| --- | --- | --- |
| Best For: | Great For: | Good For: |
| | | |
| | | |
| | | |
Crisp
Crisp is a great resume template that follows a twin-column layout. Just like Muse, it has a left-hand sidebar for short-form texts, such as your contact info, skills, languages, and hobbies and interests.
Pick the Crisp resume template
A full page width header gives allows extra space for your career summary or objective. Then, in the main body area on your right, you run wild with your long-form text, such as your employment history, education resume section, or certifications.
This minimalist resume template has a white background, black text, enhanced by an accent color of your choice. And you'll have plenty of options to consider, with hundreds of color combinations to choose from.
Recommended for managers and food service workers

| | | |
| --- | --- | --- |
| Best For: | Great For: | Good For: |
| | | |
| | | |
| | | |
Pro Tip: Be careful before deciding to use infographic resume templates. Infographics make for creative and modern resume templates, but overdo it and those images will confuse both ATS software and busy recruiters who are trying to scan your content as fast as possible.
Influx
Influx resume template's design is a firm favorite for general business owners, blue-collar workers, marketing candidates, and finance workers. We think it's ideal for corporate positions, whether on an American resume or a European CV.
Pick the Influx resume template
Here's what makes it one of the best resume templates: your name, branding statement, and contact information are placed neatly in on top of the page, highlighted by a color of your choosing. That makes your name impossible to miss, and very hard to forget. Below that, the single-column resume layout gives you ample room to talk up your experience and achievements.
Recruiters and hiring managers will love this great resume template for its clean, easy-to-read design that saves them valuable reading time.
Recommended for general business, sales, and finance

| | | |
| --- | --- | --- |
| Best For: | Great For: | Good For: |
| | | |
| | | |
| | | |
Modern
Modern couldn't be better named. It's simply among the most modern resume template samples. A real beauty with special features to boot:
Pick the Modern resume template
A square progress bar neatly visualizes your language proficiency and skill levels. Then ribbon-style icons pick out each subheading to help draw the HR manager's eye to the section they need.
Finally, this superb resume template gives you a clean design throughout with plenty of color combinations to allow a personalized touch. Customize this one now in our resume builder, download it in minutes, and get your job search done with a perfect template that showcases all your professional strengths. And like all of our resumes, a matching cover letter template is available, too.
Recommended for medicine and gastronomy

| | | |
| --- | --- | --- |
| Best For: | Great For: | Good For: |
| | | |
| | | |
| | | |
Iconic
Iconic is one of the most downloaded resume templates for those in creative fields and engineering alike, and it isn't hard to see why. Don't search Hloom for a professional CV template when the perfect layout is available right here on Zety.
Pick the Iconic resume template
This is the best resume template for lovers of minimalism. It's structured like a resume outline, which puts your information in a neat and tidy order. It also has plenty of white space to help frame your content. Then the all-important section headings get a boost from customized icons to help guide the recruiter's eye.
With a wealth of icons and more than 10 of the best resume fonts to choose from, this one immediately takes its place among the very best visual resume templates on the market.
Recommended for creative workers and engineers

| | | |
| --- | --- | --- |
| Best For: | Great For: | Good For: |
| | | |
| | | |
| | | |
When making a resume in our builder, drag & drop bullet points, skills, and auto-fill the boring stuff. Spell check? Check. Start building a professional resume template here for free.
When you're done, Zety's resume builder will score your resume and our resume checker will tell you exactly how to make it better.
Simple
Simple is a resume template that couldn't be better named. It's pure minimal goodness and as with any simple resume template worth it's name, it puts contents at the forefront. This one is ideal for your next job search, whether you're entry-level or a seasoned veteran.
Pick the Simple resume template
The top of the page starts the resume off with the full-width treatment, giving you generous space to set out your career goals or CV summary. Then, it branches off into two columns, with one-third on the left and the remainder on the right, for the longer text content.
Pick from hundreds of resume color options to really make this high-quality resume template your own. Quite simply one of the best templates for resumes you'll find anywhere!
Recommended for education, creative, and hospitality industry applicants

| | | |
| --- | --- | --- |
| Best For: | Great For: | Good For: |
| | | |
| | | |
| | | |
Pro Tip: For most resume formats, there's no need to include social media links. However, do include a link to your LinkedIn profile. LinkedIn is very important when job hunting, don't forget it!
Initials
Initials is a great resume template that adds a unique visual twist in the form of... your initials! A great alternative to a photo, which tends to cause problems. Yes, its named for that tasteful seal next to your name where your initials will go, but recruiters will love it for showcasing a long, detailed work history.
Pick the Initials resume template
It has two columns at first glance, but look closer and the right column has a mini-column of its own—that dedicated space easily allows the hiring manager to drill down into your past employment. Same goes for education, certifications, and every other section where dates are involved.
Ace your next job application with this perfect resume template.
Recommended for administrative and medical employees

| | | |
| --- | --- | --- |
| Best For: | Great For: | Good For: |
| | | |
| | | |
| | | |
Cascade
Cascade is easily one of the best professional resume templates available online. It's a creative and modern resume template which is just right for IT professionals, educators, and job seekers in creative industries alike.
Pick the Cascade resume template
On the left, an innovative bar graph sets out your skills and language attainments below your resume contact info. Subtle but effective shading differences in the color of your choice really help to make that sidebar pop.
Then, thanks to the dual-column layout, you've got ample real estate to show off your work history, education, volunteer experience, and more. Combine that with the wide range of customization options in our builder and you've got the perfect CV template and an instant hit.
Recommended for IT and education positions

| | | |
| --- | --- | --- |
| Best For: | Great For: | Good For: |
| | | |
| | | |
| | | |
There are even more great resume templates just waiting for you to try them out in the resume builder, so jump right in and check them out. Different color schemes, easy layout tweaks, and a wealth of ready-made content awaits. Not to mention perfectly matching cover letter templates available in our cover letter generator.
Key Takeaway
There are a lot of poor-quality, badly-designed and hard to use resume templates out there.
Don't get stuck with the wrong one.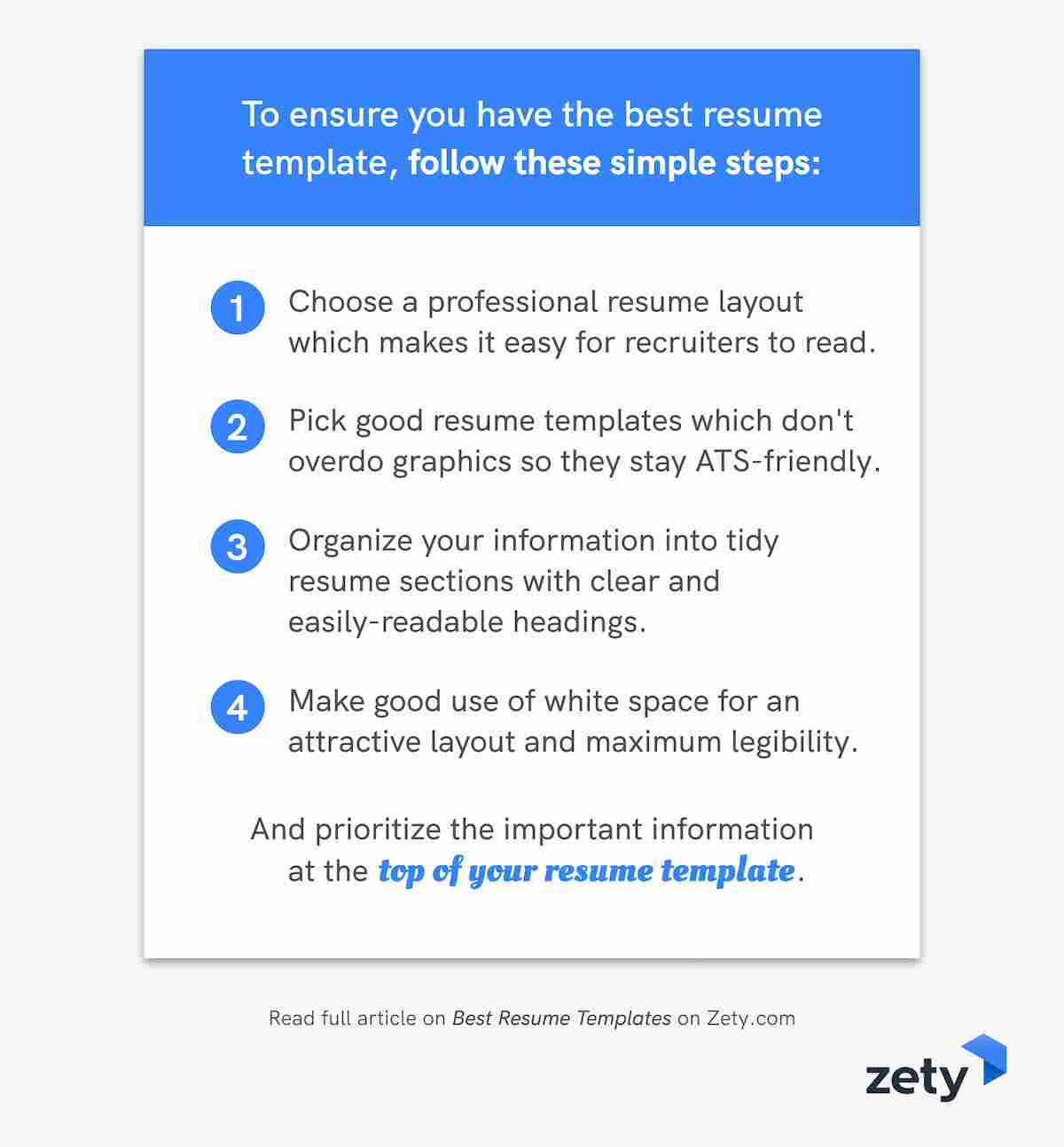 To ensure you have the best resume template, follow these simple steps:
Choose a professional resume layout which makes it easy for recruiters to read.
Pick good resume templates which don't overdo graphics so they stay ATS-friendly.
Organize your information into tidy resume sections with clear and easily-readable headings.
Make good use of white space for an attractive layout and maximum legibility.
Prioritize the important information at the top of your CV template.
And remember, the contents of your resume or CV matter more than the design. With the help of our guides, you'll learn how to write a resume and how to make a CV in no time!

One final thing:

Don't forget to pair it up with a matching cover letter template!
Plus, a great cover letter that matches your resume will give you an advantage over other candidates. You can write it in our cover letter builder here. Here's what it may look like:
See more cover letter templates and start writing.
About Zety's Editorial Process
This article has been reviewed by our editorial team to make sure it follows Zety's editorial guidelines. We're committed to sharing our expertise and giving you trustworthy career advice tailored to your needs. High-quality content is what brings over 40 million readers to our site every year. But we don't stop there. Our team conducts original research to understand the job market better, and we pride ourselves on being quoted by top universities and prime media outlets from around the world.
Frequently Asked Questions about Best Resume Templates
Which builder has the best resume templates?
These are the builders with best resume templates in 2023:
LiveCareer
Resume Genius
MyPerfectResume
ResumeLab
ResumeNow
EnhanCV
ResumeHelp
ResumeNerd
Wozber
Resumonk
VisualCV
Kickresume
FlowCV
For more details, see our post on the best online resume builders.
What does the best resume template look like?
The best resume templates present your information in a clear, concise way, in keeping with the right resume format (which, for most candidates, will be the reverse-chronological resume layout). They use the correct resume margins and spacing, and include enough white space to guide the reader's eye. It's also important for a professional resume template to be ATS-friendly.
Are Zety's resume templates ATS-compliant?
Yes, all Zety resume templates are ATS-friendly. This means that ATS (Applicant Tracking System) software can open, read, and parse the document, which is essential if you want your resume to reach the recruiter. ATS-friendly resumes include keywords that match the job ad, as well as relevant work experience and professional skills. The best resume type for ATS-compliant documents is a reverse-chronological resume, as it's much easier to scan than a functional resume.
What's the best cover letter template for my resume?
The cover letter design should always match the resume format to keep your job application neat and professional. Zety has 18+ cover letter templates at your disposal—feel free to use them!
What's the best way to fill my resume template?
The easiest way to create your resume is to use the resume builder, which will guide you every step of the way. You can also check our resume examples to see how to fill the resume for your particular job. Below, you can find a quick how to write a resume guide, in 8 simple steps:
Choose the right resume format.
Add your contact information and personal details.
Start with a resume profile section (resume summary or resume objective)
List your relevant work experience & key achievements.
List your education correctly.
Include additional resume sections such as hobbies, internships, certifications and awards, or volunteer work.
Don't forget to include a cover letter!
Got more questions about how to choose the best resume template? Not sure if the resume or CV template you've chosen is best for your situation? Hit us up in the comments below and we'll answer your question. Thanks for reading!