Crafting the perfect HVAC technician resume can feel like trying to fix an ancient furnace without a manual. But don't sweat it! We're here to help you forge a resume so hot it'll make hiring managers scramble for their AC units.
Together, we'll ensure your resume highlights your expertise like a well-maintained air duct.
This guide will show you:
A HVAC resume example better than 9 out of 10 others.
How to write an HVAC tech resume that gets more interviews.
Tips and examples of how to put skills and achievements on a resume for HVAC jobs.
How to describe your experience on a resume for HVAC techs to get any job you want.
Want to save time and have your resume ready in 5 minutes? Try our resume builder. It's fast and easy to use. Plus, you'll get ready-made content to add with one click. See 20+ resume templates and create your resume here.
Sample HVAC Resume—See more resume examples here.
Thinking you might drop the snips and make the switch? See these other guides:
Hvac resume example
Kyle Foyt
HVAC Technician
765-327-8970
kylefoyt@email.com
linkedin.com/in/kyle.foyt
Summary
Motivated HVAC Technician with 5+ years of experience in diagnosing and repairing air conditioning systems for both residential and commercial customers. Aiming to apply my expertise in refrigeration, electrical cooling systems, and maintenance operations to the role of HVAC Technician at FusionCore Technologies to help improve customer experience. Key achievements include successfully reducing customer complaints by 25% and increasing the efficiency of maintenance operations by 10%.
Experience
HVAC Technician
Shift Innovations – Augusta, GA
July 2015–Present
Key Qualifications & Responsibilities
Install, repair and maintain HVAC equipment for commercial buildings following state regulations and safety standards.
Perform preventive maintenance on all AC units to ensure they are running efficiently with minimal disruption.
Test mechanical components of the heating system such as motors, relays, switches, humidifiers using appropriate tools including multimeter volt ohm meters etc.
Developed new maintenance procedures.
Key Achievement:
Successfully reduced customer complaints by 25% by implementing improved maintenance procedures.
HVAC Installer
Wing Systems – Augusta, GA
July 2011–June 2015
Key Qualifications & Responsibilities
Installed new heating and cooling systems for residential customers according to customer specifications utilizing power tools such as saws or drills.
Collaborate closely with team members to meet job timelines within budget while ensuring quality workmanship standards are met every time.
Coordinate between contractors and subcontractors to resolve any conflicts promptly while ensuring safety protocols are followed throughout the project duration.
Key Achievement:
Completed over 200 projects within budget and on time without compromising on safe working practices or quality standards.
Education
High School Diploma
Richmond Hill High School – Richmond Hill, GA
August 2007–June 2011
Relevant Extracurricular Activities
Volunteered at a homeless shelter providing meals once a week during summers 2008–2011.
Member of the school's basketball team 2010–2011.
Academic Achievements:
Received Certificate of Excellence for maintaining an academic average above 95% throughout high school tenure.
Skills
Refrigeration systems repair
Ductwork installation
Electrical cooling systems
Preventive maintenance
Problem solving
Time management
Communication
Interpersonal skills
Certifications
EPA Universal – Refrigeration Certification, U.S Environmental Protection Agency, 2018
OSHA 10-Hour Construction Safety Certificate, OSHA, 2016
Certified Air Conditioning Contractor (CACC), Georgia Department of Licensing 2013
Awards
Awarded Employee Of The Month at Shift Innovations 2019
Membership
Member American Society Of Heating Refrigeration And Air Conditioning Engineers since 2017.
Languages
Interests
Amateur Astronomy—I have been an amateur astronomer since 2016 when I built my own telescope. I also participate in star-gazing events regularly whenever possible.
1
What's the Best Format for an HVAC Resume?
HVAC resume format is crucial.
With the wrong layout, your resume is like spaghetti ductwork—hard to follow.
Pick a trusted HVAC tech resume layout like the reverse-chronological resume format. It condenses your best moments first.
To economize the page, use white space, big headings, and the best resume fonts.
Finally, save your HVAC sales resume as a PDF. Today's computers can read PDFs. Plus, they won't go all moldy in transit like MS Word resumes.
One warning: check the job offer. If it puts a damper on PDF resumes, don't send one.
Pro Tip: Just getting into HVAC jobs from another career? Use the combination resume format. It pulls in your transferable accomplishments from non-HVAC jobs.
Need other HVAC resume format choices? See our guide: 3 Resume Formats: How to Choose the Best One [Examples]
2
HVAC Resume Summary or Resume Objective
Here's a bad dream:
You send off 50 HVAC specialists' resumes. For a week, your phone's as silent as a duct in shoulder season.
This bad dream comes true because there's:
Too many applicants and
Most managers just glance at resumes, then pick a few to read in depth.
So—turn that glance into, "Hey, this girl knows her stuff."
How?
With an HVAC resume objective or resume summary.
A resume summary wows the HVAC manager with experience. Use it if you were installing ducts back when HFC was just a concept.
A resume objective shows you're motivated and you'll work hard. Write one if your experience doesn't register.
Here's the secret that'll get you hired:
Install either with a metric ton of measurable achievements.
These two senior HVAC/R resume examples show how.
HVAC Resume Examples [Resume Summaries]
The first of our senior HVAC/R resume samples is clogged:
wrong
HVAC tech with solid work ethic and 3 years of experience. Responsible for all duties and HVAC responsibilities at Tri City HVAC and Electric. Skilled in HVAC systems knowledge, installation, and repair.
Not exactly full of stachybotrys, but it won't blow in a cubic mile of interview requests.
So—do like the next of our HVAC tech resume examples:
right
Hard-working HVAC/R Master Service Technician with 3+ years of experience. Seeking to elevate the customer experience at FlowGo HVAC. Have installed 128 home systems, most as lead tech. Handled 800+ service calls, building strong customer relationships, growing annual revenue 10%.
That flows. Those accomplishments and numbers heat it up.
Don't have that kind of experience? See the junior HVAC resume examples below.
Two Entry-Level HVAC Resume Objectives
If your HVAC experience is still in boxes, write an HVAC resume objective.
In the R22 days, that meant showing passion and a strong work ethic. The next of our HVAC service resume objectives does that:
wrong
Energetic HVAC/R master tech, skilled in sales, repair, installs, electrical work, and HVAC safety standards. Very hard worker, good listener, and I have my own tools.
She's motivated. But so are lots of experienced HVAC techs.
Is she doomed?
Nope.
She can add measurable achievements even if she's never held a ductwork job.
Follow the next of our entry-level HVAC resume examples:
right
Hard-working HVAC/R tech, skilled in sales, repair, and installs, seeking to do great work for Tri City HVAC and Electric. Commended by manager as unpaid helper at Paul Pratisnak HVAC for tackling every dirty job nobody wanted. Assisted with HVAC install in 5,000 sq/ft animal shelter. Filled in as apprentice at Johnson Controls.
Whoosh. You just flew in like Superbender and stole the hiring manager's tin heart.
But what if you have no experience to put on HVAC tech or HVAC engineer resumes?
That's up next.
In an HVAC sales resume, keep track of your sales and list them as quantifiable data. ($700,000 in sales off my truck in 2017 for example.)
Jason
HVAC Service Tech, Rochester, MN
Pro Tip: Don't have an HVAC license? Apply to local mom 'n' pops. They're more likely to hire you with no degree, and many will chip in for school costs.
When making a resume in our builder, drag & drop bullet points, skills, and auto-fill the boring stuff. Spell check? Check. Start building a professional resume template here for free.
When you're done, our professional resume builder will score your resume and our resume checker will tell you exactly how to make it better.
Want an HVAC tech resume objective more powerful than a 20,000 CFM blower? Use the sample HVAC specialist resume up top. Plus, see our guides:
A Resume Professional Summary Statement that Gets Recruiters Hooked
20+ Career Objectives for a Resume - Examples and How-To Guide
3
How to Describe Your HVAC Experience
"Wow, let's hire this one."
Your HVAC resume should show the manager you know your way around a leak detector.
But what goes in your resume bullets?
You don't want more clutter than the World Trade Center's refrigeration plant.
But you don't want so few details you could cover them with a squirt of Great Stuff.
So—start with your most recent HVAC job. Add 3-5 resume bullet points.
Use the first of our professional HVAC technician resume examples as your schematic.
HVAC Resume Examples [Experience]
One of these sample HVAC install resume experience sections is hot:
right
Tri City HVAC and Electric
HVAC/R Tech
2016–2018
Led a team of 2 HVAC techs on repairs/installs in busy HVAC business.
Handled 700 service calls with 97% customer satisfaction.
Performed 78 full system installs, most on 2,000+ sq/ft structures.
Commended 4x by manager for willingness to handle any dirty job.
Boiling! Those accomplishments with numbers show you're basically Superman with a psychrometer.
But snip out those achievements and:
wrong
Tri City HVAC and Electric
HVAC/R Tech
2016–2018
Responsible for repairs and installs in a busy HVAC business.
Handled service calls, assessing and repairing residential and commercial HVAC systems.
Used sales skills to sell new products and systems to customers.
That HVAC service resume example isn't absolute zero, but it's close.
And if you have no experience at HVAC jobs?
See these entry-level HVAC resume examples.
How to Write a Resume for HVAC with no Experience
"Nobody is hiring! I have no experience!"
You're crying out in the wilderness, but there's a cure.
You can get experience while you earn money, then trade it for great HVAC jobs.
Do:
Fill-in work for mom 'n' pops
Piecework as an HVAC helper
Part-time work for local building inspectors
Apprentice work for a big company like Johnson Controls
No big company will hire an HVAC tech with no experience. So, call the tiny HVAC places in your area. Send each one a resume and cover letter.
Convince them you'll work very hard. You'll start so far down at the bottom you're practically inside the condensate pump.
Do that, and your entry-level resume for HVAC jobs will shine like a newly duct-trucked system.
Our next entry-level HVAC tech resume samples show how.
Two Entry-Level HVAC Resume Samples [No Experience]
The first of these entry-level HVAC resume examples has a tiny ΔT:
wrong
HVAC Experience: I'm still trying to find my first job. If you hire me I'll be very grateful and I'll work extra hard.
Other Experience:
School cafeteria worker
Shelf stocker
Ew. That applicant probably thinks "dry bulb" is an onion.
So—add details like this HVAC service resume example:
right
HVAC Experience
2017–2018
Unpaid helper, part time, Paul Pratisnak HVAC Inc.
Assisted with install of HVAC system in 5,000 sq/ft animal shelter.
Fill-in HVAC apprentice, Johnson Controls. Became "go to" helper for jobs nobody else wanted.
Ding! That applicant knows ventilation systems aren't just a place for Bruce Willis to crawl around in.
Be specific, as in: successful in upselling complete system replacement on 85% of service call repairs quoted at $200 or less.
Todd
HVAC Service Manager, Myrtle Beach, SC
Pro Tip: Having trouble getting HVAC jobs near you? Try starting as an install helper. You won't need as much experience on your HVAC resume. You can work your way up fast.
Don't freeze out the employer with boring language in your resume for HVAC jobs. Switch him on instead with action words. See our guide: 240 Resume Action Words, Power Words and Buzzwords to Use (and Avoid)
4
Is Your Education Section Leaking Coolant? It Might Be
Do you really need education on an HVAC resume?
Every resume needs education.
It's there like a free Super Bowl ad. Don't waste the space.
List:
School Name and Location
Years in School
Degree
Then plug in achievements that fit the job.
The next HVAC master tech resume examples show the differential:
HVAC Resume Examples [Education]
Both these HVAC resume samples are for a job that needs skills in electrical work, installs, repair, and physical fitness.
right
HVAC/R Tech Program
Penn Foster Career School
2013–2014
Excelled in electrical work and HVAC installation coursework.
Commended by professor for repair and tool skills.
Pleasantville High School
2009–2013
Varsity football team, starting player.
Pursued a passion for vocational/technical classes.
Volunteer builder on new 500 sq/ft stadium concession stand/office.
That's 50 million BTUs.
Now go plain Jane:
wrong
HVAC/R Tech Program
Penn Foster Career School
2013–2014
Completed all HVAC tech training.
Graduated with B+ average.
Whoops. Not interested in getting hired?
Pro Tip: Should you go to HVAC school? In some states it's a must. In others, if you're strapped for cash you can start low on the totem pole. Some employers will then pay for school.
Teach your HVAC resume education section a thing or two. See our guide: How to Put Your Education on a Resume [Tips & Examples]
5
How to Put Skills on a Resume for an HVAC
It comes down to this:
If you can show the right skills, you're hired.
So what's the big mistake on most HVAC resumes?
They show all the skills.
That's like tossing 100 duct sections in the basement and hoping the house gets cold. You need to connect them or they won't do anything.
The professional HVAC service resume examples below show the plan.
HVAC Resume Examples [Skills]
Pretend the manager put this in the HVAC job description:
Required HVAC Skills: (1) Installs, (2) Sales, (3) Service
Put those in your HVAC resume skills list, plus a couple.
Then say:
Performed 50 home (1) installs in team of 2 HVAC techs.
Built strong relationships with 20+ service clients, leading directly to (2) sales and repeat business worth $7,000 per year.
Successfully completed an average of 20 (3) service calls per week.
Do that and you'll expand into the job like spray foam.
Start with the HVAC skills for resumes below.
List of Skills to Put on an HVAC Resume
Here's an HVAC resume skills list of great keywords for your resume, but—
Source your keywords in HVAC job descriptions online. Pay special attention to the job offer you're applying to.
HVAC Resume Skills

| | |
| --- | --- |
| Soft Skills | Hard Skills |
| Interpersonal Skills | HVAC Systems |
| Troubleshooting | Repair |
| Communication | Installation |
| Collaboration | Electrician Skills |
| Physically Fit | Sales |
| Customer Service | Controls |
| Active Learning | HVAC Safety Standards |
| Judgement | Testing Equipment Skills |
| Detail Oriented | Tool Skills |
| Perceptiveness | Government Regulation Knowledge |
Pro Tip: Writing an HVAC service resume? Include past work that shows your skills with electrical testing equipment and hand tools, plus customer service skills.
Charge your HVAC resume skills section up to 10 million PSI. See our guide: +30 Best Examples of What Skills to Put on a Resume (Proven Tips)
6
How to Show Certifications on a Resume
"Uh-oh. She's not certified."
Do you need a certification on HVAC resumes?
In some states, yes. Even if it's not required, a certificate is still a good idea.
If you've got a cert or license, don't bury it.
Put it:
At the top of your HVAC engineer or HVAC sales resume, near your name
At the beginning of your resume summary
In a special "Certification" section
Then even if the manager skims your resume for HVAC jobs, he'll know you make the grade.
Certification
NJ State HVAC License, Division of Consumer Affairs
Got other certifications like a NATE cert or EPA 608 cert? Put them in another section below "education." That way you don't clutter up your all-important HVAC tech license.
Additional Certifications
NATE Certification
EPA 608 Certification
HVAC Excellence Certification
Pro Tip: What states require HVAC certifications on a resume? Here's a handy list of where your resume for HVAC jobs will (or won't) need licensing.
Want a list of certifications to help boost your HVAC resume? See our guide: How to Include Certifications on a Resume
7
Add these Things and Give Your Resume More Airflow
The hiring manager is nodding.
You've got experience and education.
But he's still not calling you.
Why not? He's not sure if you're a good employee. So—he'll look through the 90 other resumes on his desk to see if somebody jumps out.
Jump out. Do it with special "other" resume sections only a few applicants get right.
Let's take two sample HVAC resume sections.
HVAC Resume Examples [Other Sections]
The first of our HVAC resume examples has a sucking hole:
wrong
Bowling
Fishing
Smoking meat
Do any of those prove you're good at HVAC?
Instead, add a heat pump to your resume for HVAC jobs like this:
right
Additional Activities
Member, NJACCA
Volunteer 2x per month building homes for Habitat for Humanity.
Work out in gym 3x per week to stay in shape.
Toasty. Your professional HVAC resume will make the hiring manager call you in the middle of the night.
Have you gone to conferences? Written articles? Led trainings or taught classes? Those all look great on an HVAC engineer resume or HVAC sales resume.
Pro Tip: Are you writing an HVAC controls resume? In your "other" bullets, show you're a great troubleshooter. If you're trying for the sales side, show your people skills.
Not sure what bells & whistles to weld onto your HVAC engineer resume or HVAC master tech resume? See our guide: +20 Best Examples of Hobbies & Interests To Put on a Resume (5 Tips)
8
What About an HVAC Cover Letter?
Some "experts" say you don't need to send a cover letter with an HVAC resume.
They're right 60% of the time.
If you're shooting for 100%, write an HVAC cover letter. But—
A cover letter that says, "Here's my HVAC tech resume" is trashbound.
Instead, connect to the employer like a heat exchanger.
Reiterate the needs shown in the job offer.
Prove you'll do the job like Iron Man in coveralls.
This short example HVAC cover letter aces it:
I want to work at FlowGo HVAC Inc. for three reasons. You do the best quality work, which means you get more and higher-paying clients, which means you have the best equipment and treat your employees like gold.
The key item for me is "best quality work." I delivered that for two years at Tri City, handling 700+ service calls and 78 full system installs with 97% customer satisfaction. I'm no stranger to hard work, which is why my manager commended me four times for...
Always end a cover letter with an offer. Try, "Can we set aside some time to discuss ideas to increase your sales by 25% in the next six months?"
Pro Tip: Writing an entry-level HVAC resume and cover letter? Convince the hiring manager you'll work hard and take every grimy job they toss your way.
Plus, a great cover letter that matches your resume will give you an advantage over other candidates. You can write it in our cover letter builder here. Here's what it may look like: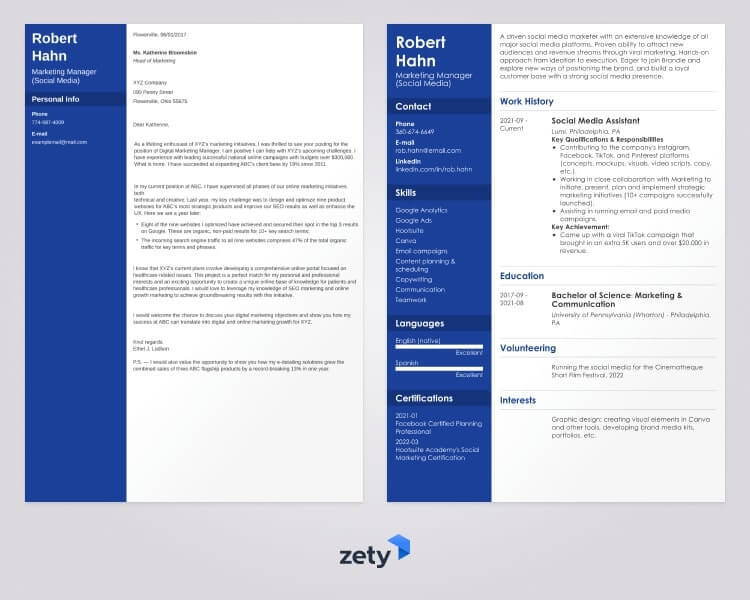 See more cover letter templates and start writing.
Want a great template for your HVAC cover letter? See our guide: How To Write A Cover Letter in 8 Simple Steps (+12 Examples)
9
Do This Before You Add Contact Info to a Resume
How do you add contact info to your resume?
Start with:
Full Name
Updated Phone Number
Professional Email Address
Like this:
Maci Sciota, HVAC/R Master Tech, maci.sciota@gmail.com, 201-542-6539
For a "professional email address," use john.doe@gmail.com, not TommyBoyCoolzAndHeatsIt239487924@yahoo.com.
Check your social media presence too. If the employer looks you up on Facebook, will he find those Burning Man pics from five years ago?
Pro Tip: In an HVAC interview, be able to talk confidently about concepts like subcooling, superheat, or troubleshooting steps. Be honest when you're stumped.
A good HVAC resume is like a good-looking install. If it looks nice, everyone assumes the guts are perfect too. Get yours gleaming with our guide: How to Write a Resume that Gets You the Job [+Samples]
Key Takeaway
Here's a recap of how to write an HVAC resume that cooks:
Write an HVAC resume objective or resume summary. Package yours with radiant achievements.
Read the job description like your life depends on it. Vacuum-seal your HVAC tech resume bullets to it with measurable accomplishments.
Add other sections that prove you're not just another tin cutter. List certifications, memberships, and interests that show you fit the work.
Write an effective HVAC cover letter. Show you understand the employer's needs and you'll stand out like a red-hot Energy Star logo.
Do you have questions on how to write a great resume for HVAC jobs? Not sure how to describe your skills or achievements? Give us a shout in the comments! We'd be happy to reply.
Looking for help on writing resumes for positions similar to this one? These guides could come in handy:
About Zety's Editorial Process
This article has been reviewed by our editorial team to make sure it follows Zety's editorial guidelines. We're committed to sharing our expertise and giving you trustworthy career advice tailored to your needs. High-quality content is what brings over 40 million readers to our site every year. But we don't stop there. Our team conducts original research to understand the job market better, and we pride ourselves on being quoted by top universities and prime media outlets from around the world.