Here are the best job search sites, ranked. But first—
It's the modern age. Your job hunt is no longer sneaker-powered.
You've got AI, the internet, and 4 billion years of evolution on your side.
The problem?
So does everybody else.
That means you're up against a million or so of your closest friends.
Plus, you'll need to cut through an impenetrable mass of spam.
Here's the good news:
Once you know how to use the best job search engines, you'll skate through to a finish line of interviews and land your dream job fast.
This guide will show you:
The best job sites, ranked for easy use.
How to use the top job search websites to get more interviews.
Tips to cut the spam and waiting from the best job websites.
Alternatives to even the best job boards that can boost you to a great job now.
15 Top Job Search Engines
Here comes your new career. Your new life.
This list of 15 top job search engines has everything you need for a quick and painless pathway to employment.
Below the list, you'll find tips for how to use each site.
You'll also see a second list of specialty-specific job boards.
Finally, don't miss the valuable finale on great alternatives to job-finding websites.
1. Indeed Jobs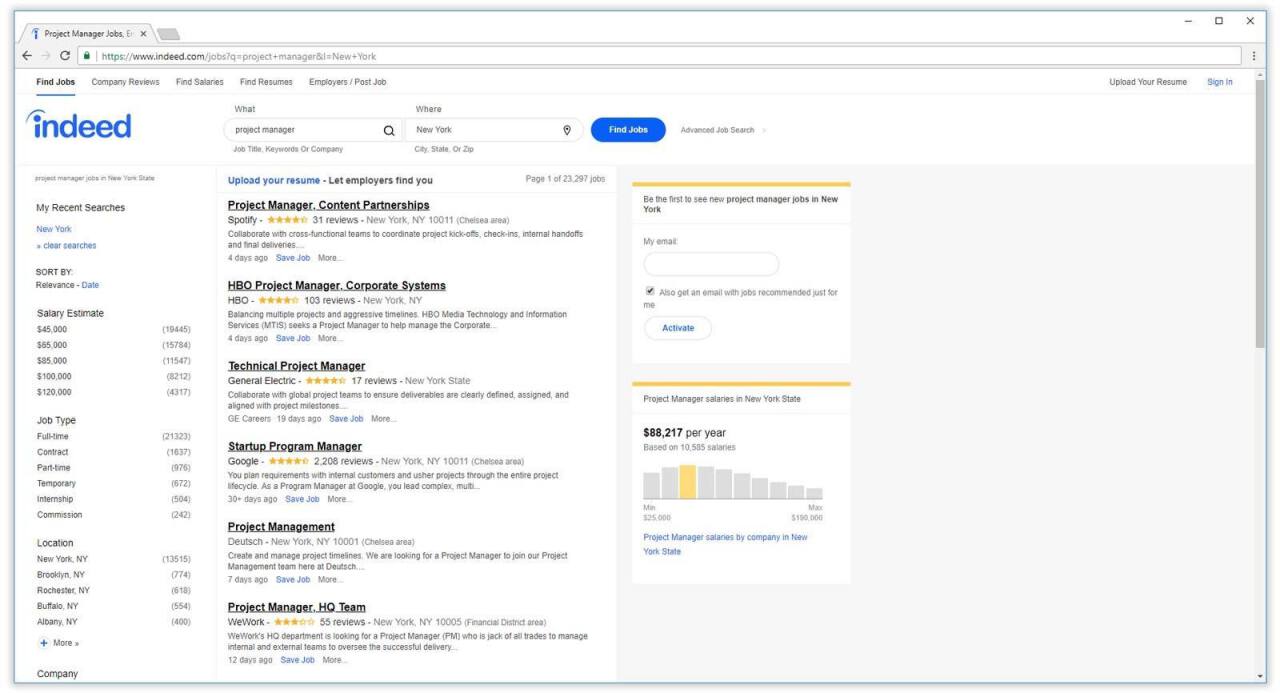 Indeed is the most popular of the top job sites. It scrapes thousands of jobs from company hiring pages. Some employers also post openings there directly.
Just type in a job title and location. Upload a resume and register for single-click apply. Get notified when new jobs appear that match your saved job searches.
2. Glassdoor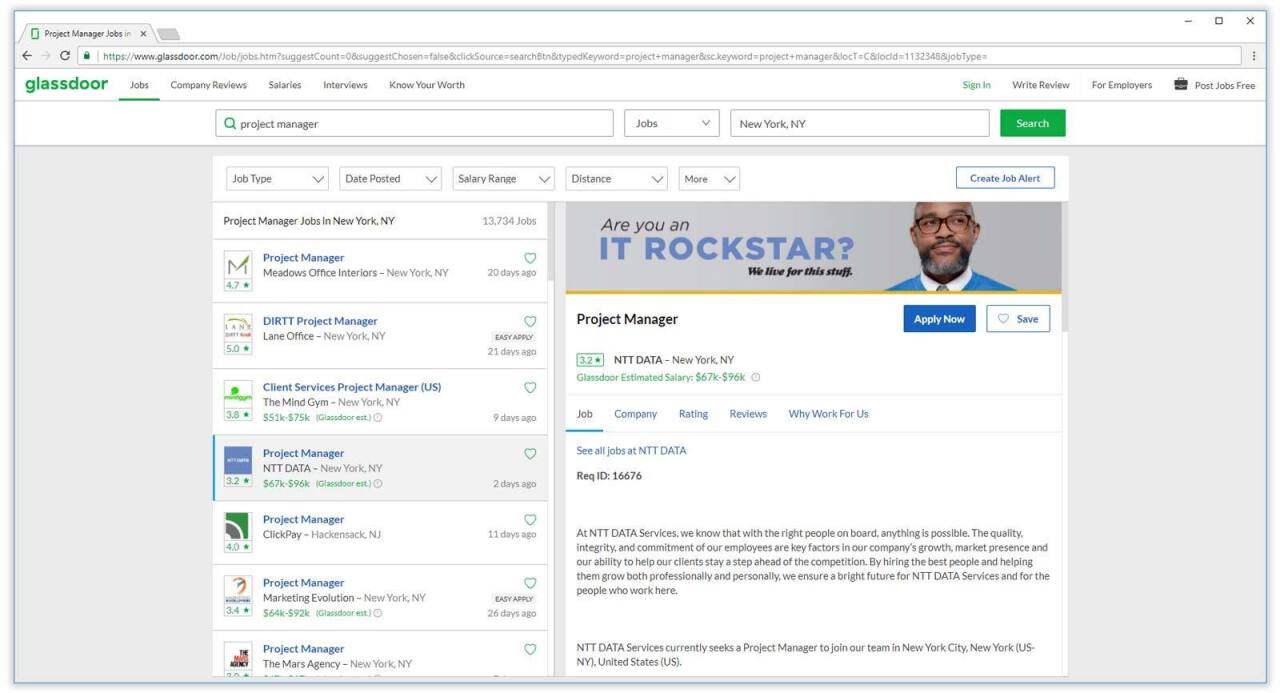 Wait, isn't Glassdoor just for learning salaries? It's also one of the best job search engines around. Combine the two and you're in business (literally).
This site has a great, slick interface. Save job searches and get notified so you can hunt employment while you sleep.
3. LinkedIn Job Search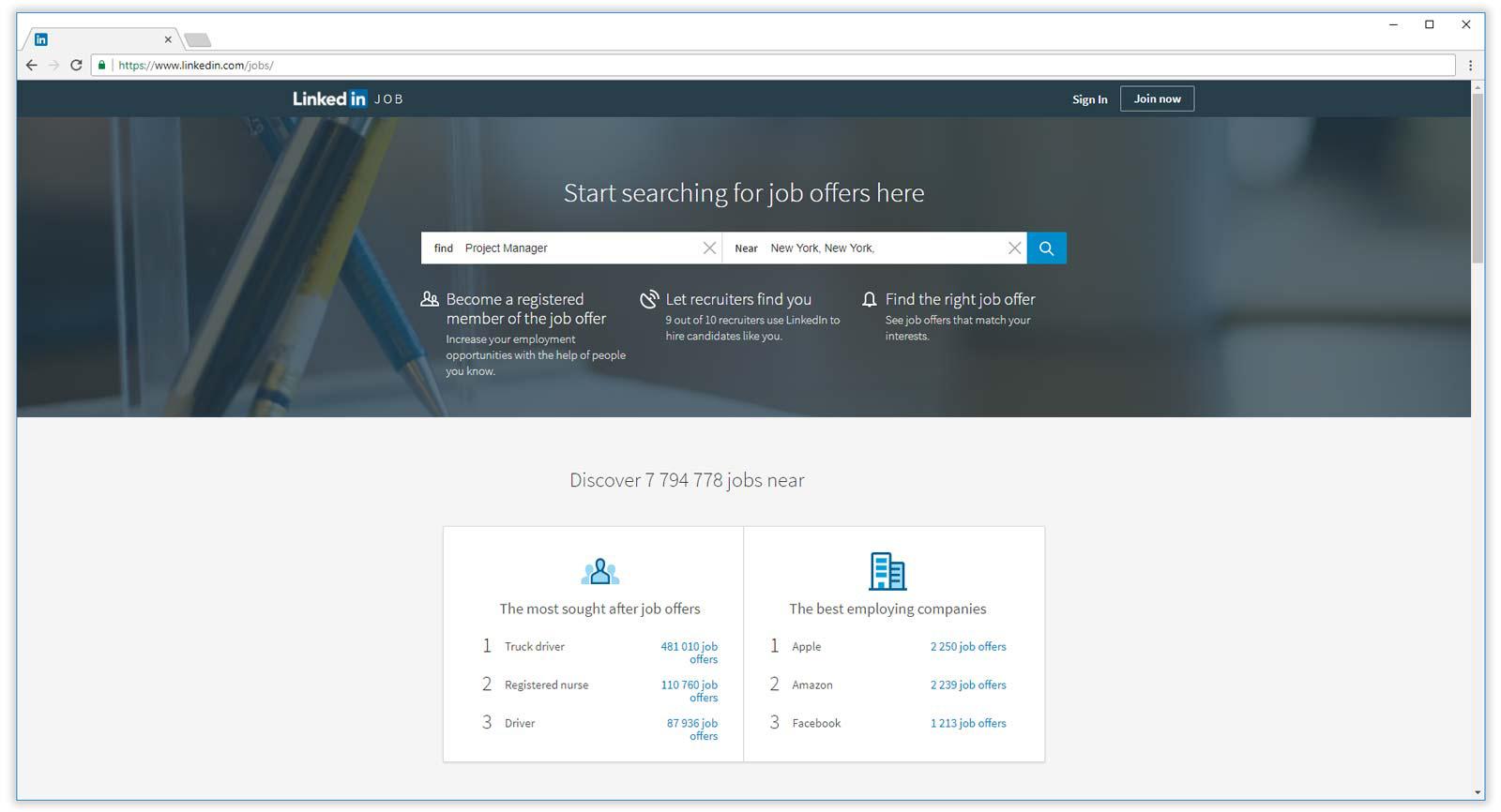 LinkedIn earns its rep as one of the best job search websites with two key functions.
First, it delivers great job listings. Second, it bootstraps your networking outreach. Users can post rich profiles and connect with key industry power players with a click.
4. Google for Jobs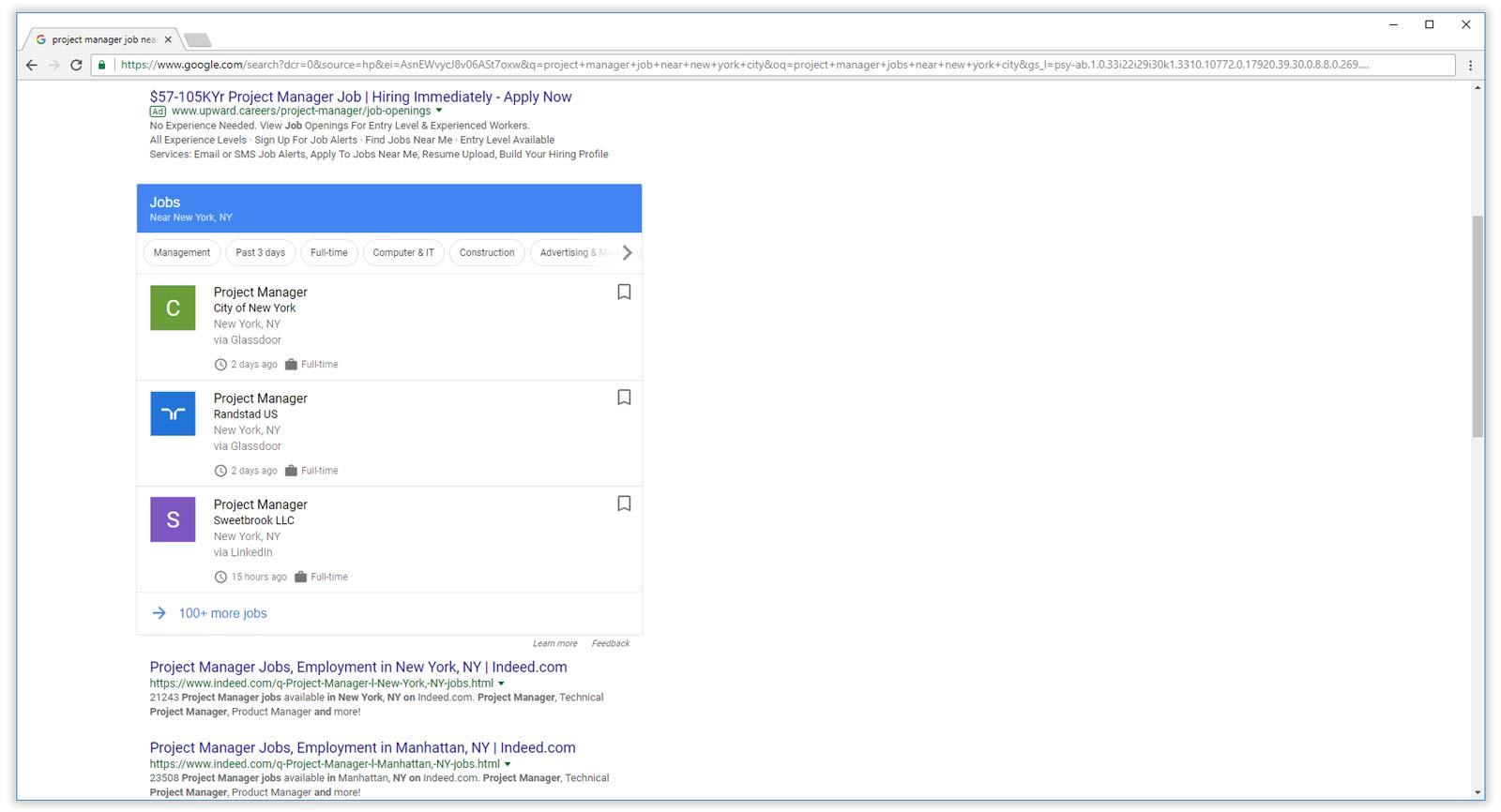 This new entry to the best online job sites brings Google's big-brain AI to the table. This one-ring-to-rule-them-all job search engine scrubs all the others to find listings.
To use it, do a Google search for a job title + "job." Google serves up a list of matching openings near you. Click the big blue bar to refine locations and other details.
This is just a quick review, but if you really want to make the most of Google for jobs, you need to read: Google for Jobs: Use This Search Engine Tool to Find Your Next Career
5. Monster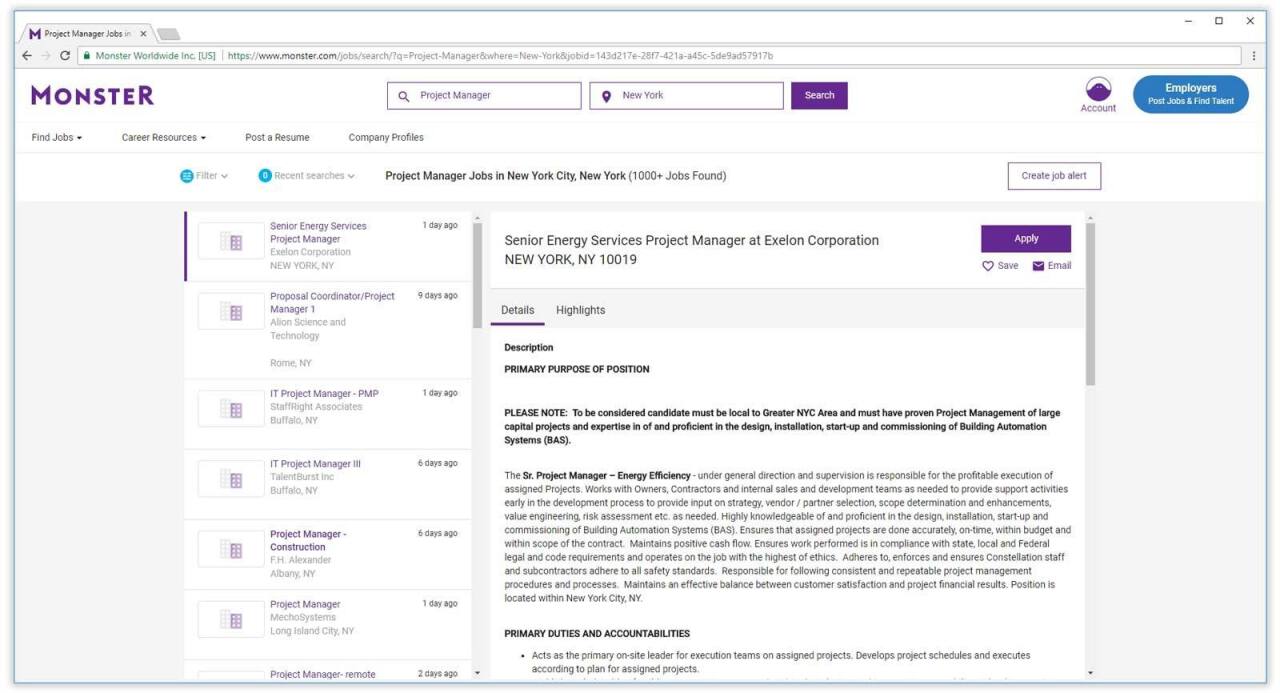 Monster job search gets a lot of hate among top job sites users for its high spam rate.
That said, there's a lot of good here. It's got a great job selection. Plus it lets you block your resume from current employers.
6. ZipRecruiter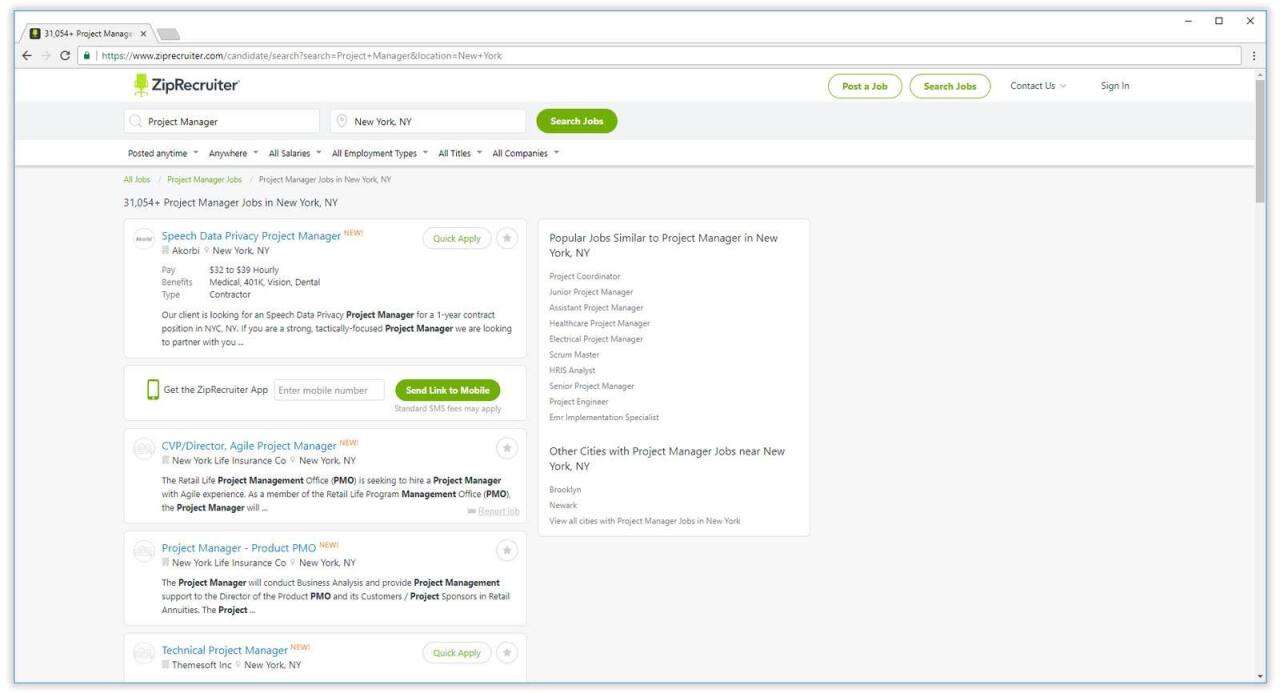 ZipRecruiter boasts over 8 million jobs. While the one-click application saves time, customizing your resume to each new job will get more interviews.
The perks are messaging with employers and a handy notifications setup. According to user reviews, search capability may be somewhat lacking.
7. SimplyHired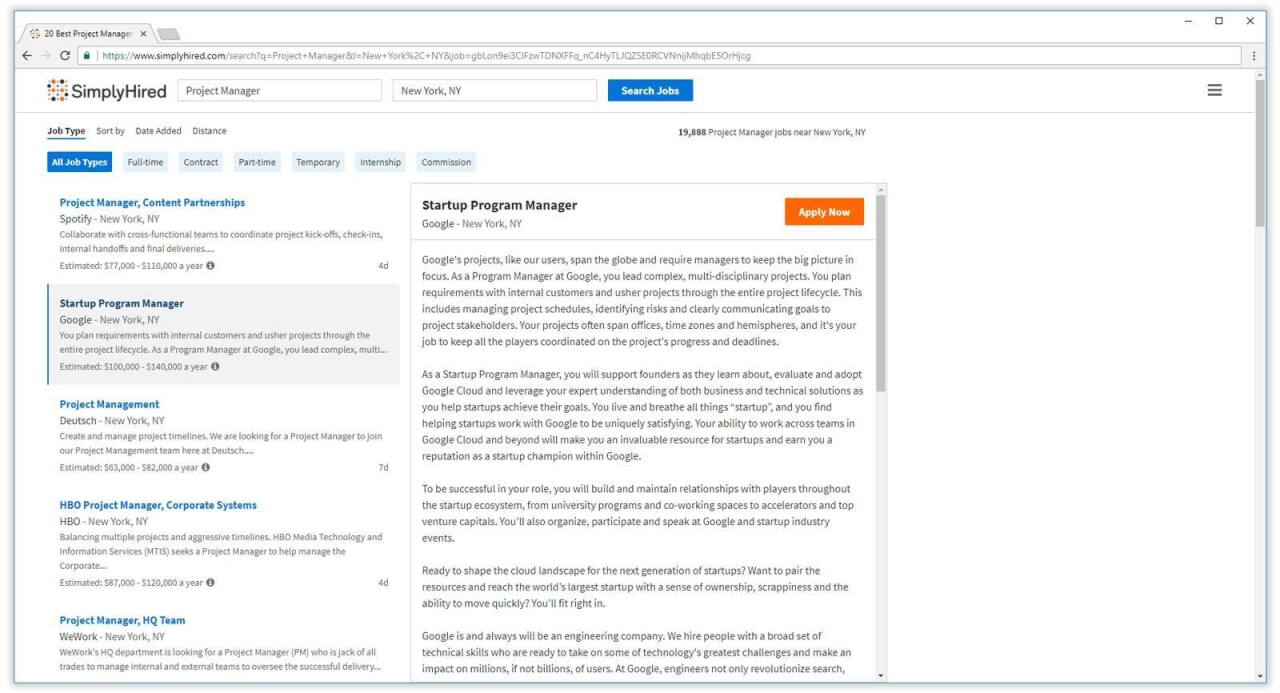 After the 5 best job websites above, do you really need the others? That said, SimplyHired is a popular site with a slick interface.
This site's listings don't seem quite as relevant as the rest. It's a crowd-pleaser anyway, thanks to a large pool of offers and handy mobile app.
8. CareerBuilder
Next on our list of best job boards, CareerBuilder can match jobs to your resume keywords. Their Hire Insider tool also gives a detailed report of how you compete with other applicants.
The site's Career Tests can help assess your strategy. A heavy ads scheme subtracts from the experience.
9. Snag (Formerly Snagajob)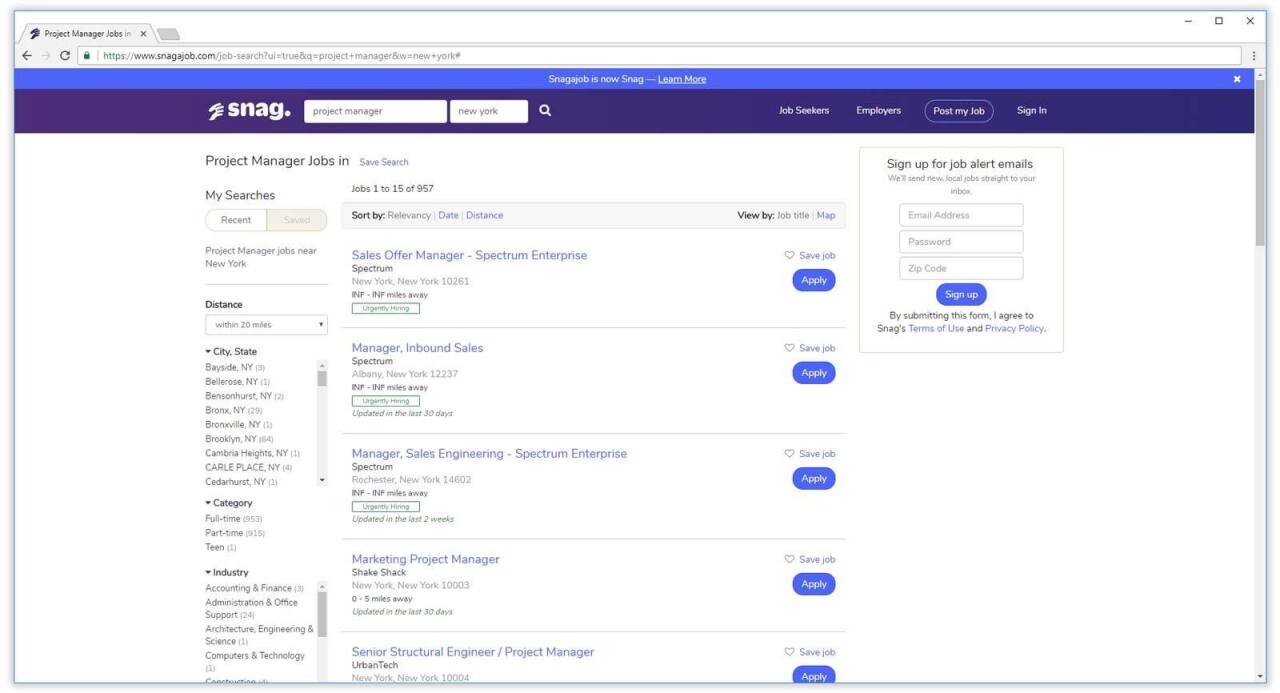 Looking for hourly work? Snag might be your fav of all the top job sites. It specializes in non-salary positions.
Their coolest feature? When they don't find matching jobs, they provide surprisingly appropriate near-misses.
10. LinkUp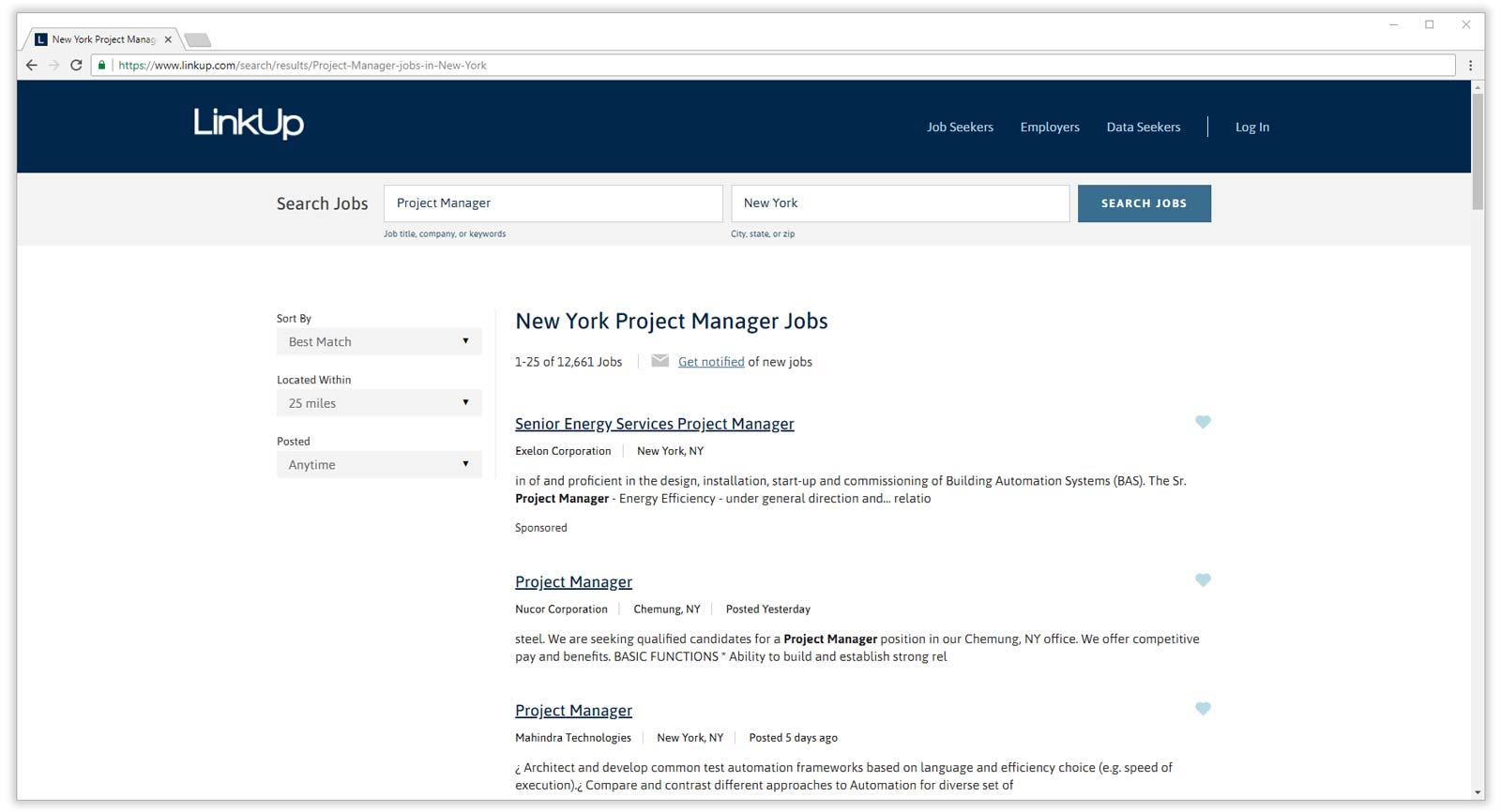 LinkUp makes the list of best job search engines by adding a great anti-spam twist. Tired of fakey listings or offers from five years ago? LinkUp has your back.
Every opening on this great job site is verified accurate by actual human beings. Tools like automated job search make the process fast and easy.
11. Craigslist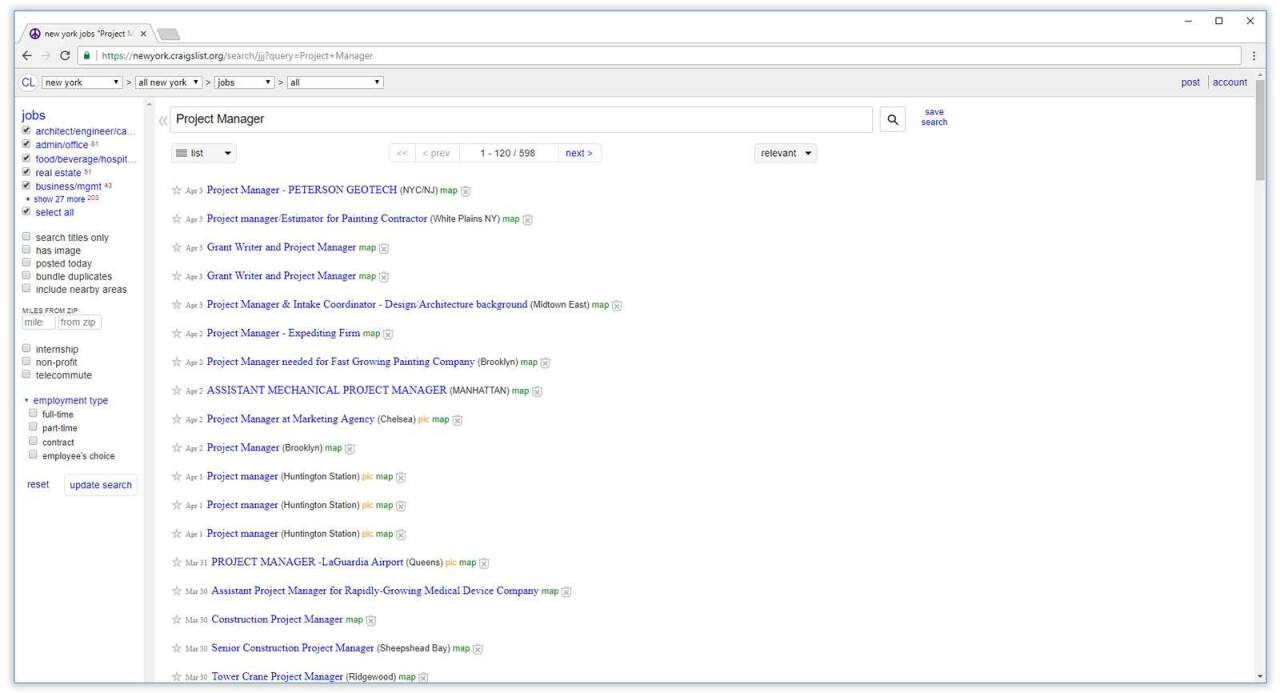 Eh? Craigslist? Yep—the much vilified online classifieds site gets lots of love among the job search websites. Why?
Employers tend to shudder at the spam on big job sites. That makes Craigslist a nice homespun option. It's kind of like the old time print classifieds.
12. US.jobs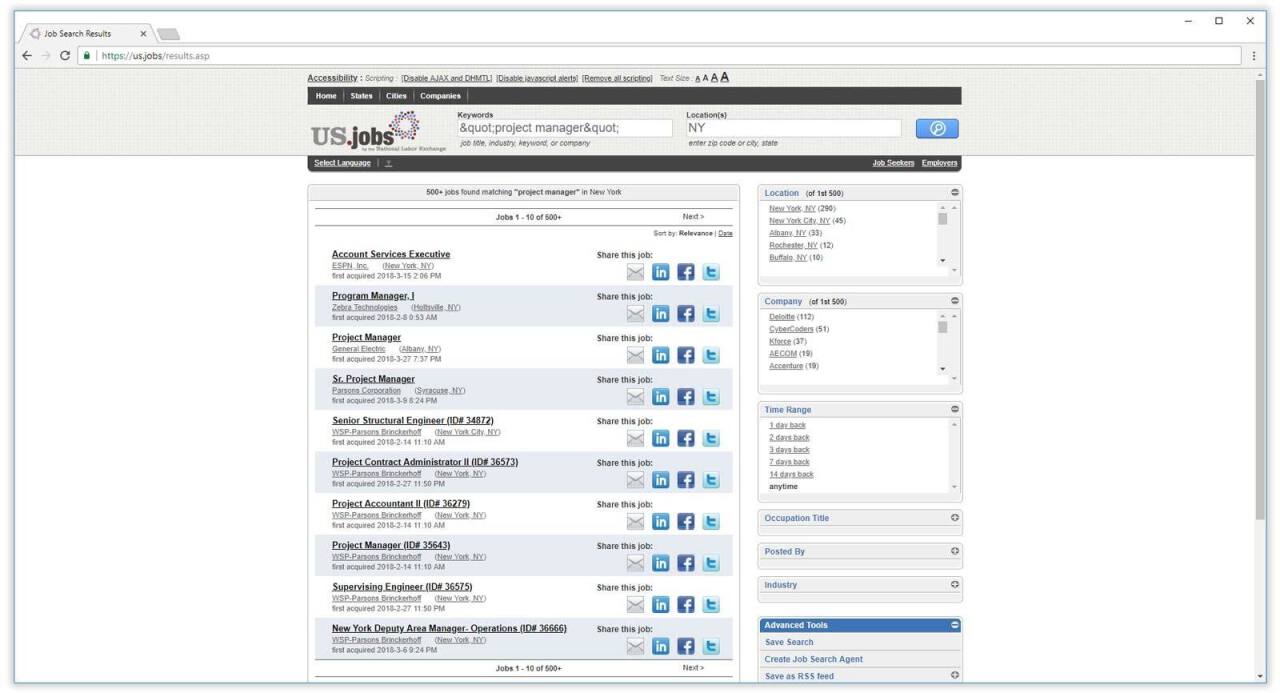 US.jobs is the job boards arm of the National Association of State Workforce Agencies (NASWA).
It's got an easy interface and very little spam. It also packs a Veterans Job Search for military-to-civilian job seekers.
13. Robert Half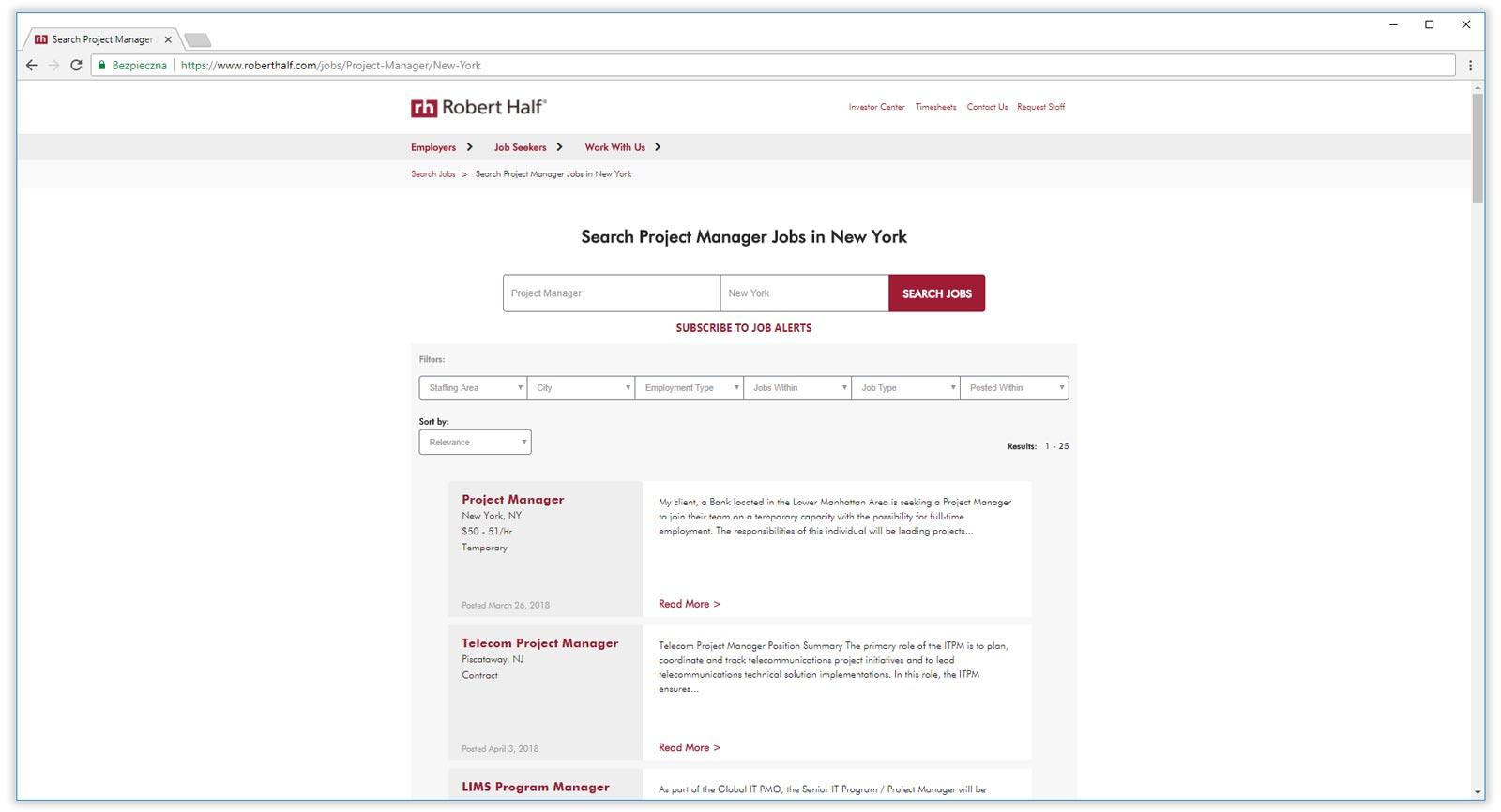 RobertHalf is primarily a staffing agency. It also hosts one of the more popular job search engines.
Their job finder website's selection is thinner than other job websites. Some users also complain their scattershot approach may irritate potential employers.
14. Job.com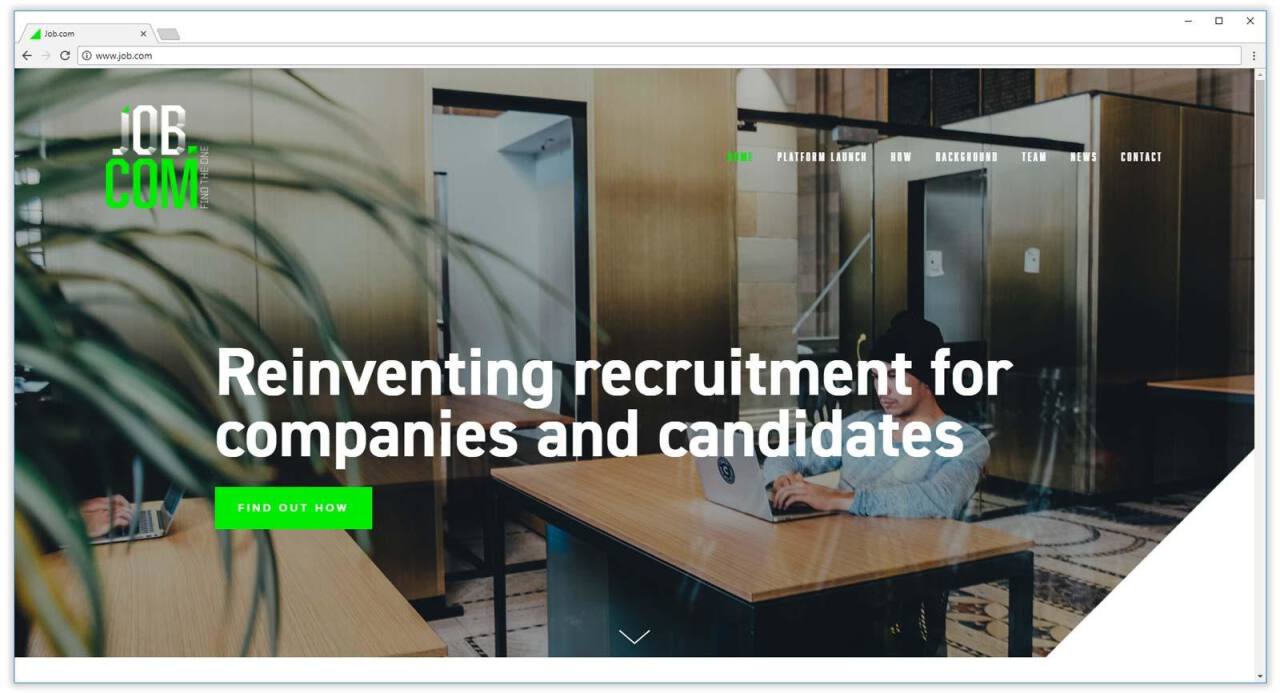 Job.com is unique among the top job search websites. It uses blockchain tech derived from bitcoin code.
Upload a resume, get instant job matches, apply, and communicate directly with employers. The different approach is worth a try.
15. USAjobs.gov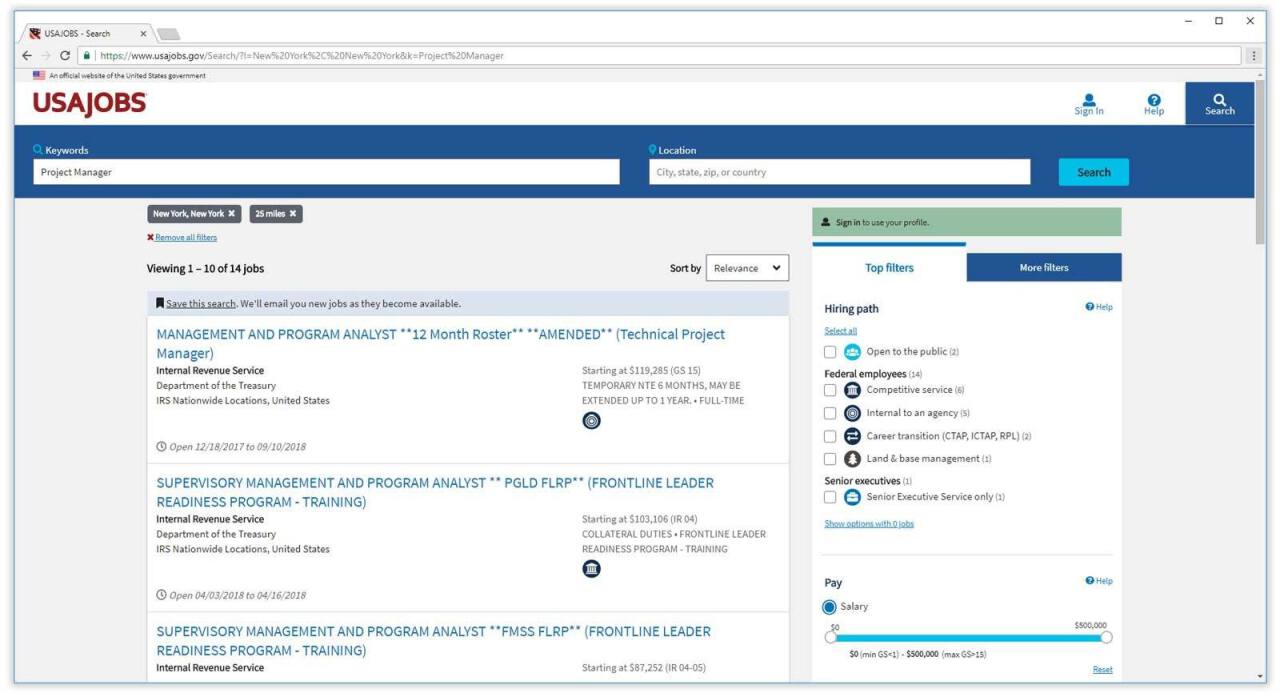 USAjobs.gov is the U.S. government's answer to the best job boards. It lets you search more than 2.7 million federal positions in any career you can imagine.
One refreshing touch? Publicly-listed exact salary figures.
Looking for more top job sites?
You really won't find any other general job finding websites. Any other portals are powered by the ones shown here.
That said, we've got a great list of 15 career-specific job search websites below. In it, you'll find job sites that list only tech jobs, only restaurant jobs, and so on.
Pro Tip: Don't just "set it and forget it" when it comes to online job boards. Search and apply at least weekly. Employers respond to recently-active users first.
The scattershot approach to job websites will shower you with spam and hide you from the best jobs. Consider tweaking your resume a bit for each new application. Use our guide for help:
2
How to Use the Best Job Search Engines
Two very different futures lie ahead.
In one, you complain on Reddit and Quora that even the best job search sites are full of spam. They're bogus. Shady.
In the other, you've got your feet up on the desk at your new dream job. You're trying to think what to do with all the extra money.
Want to get to future #2? The list of job search website tips below will seriously help.
Slam the spam: Consider opening a dedicated professional email account just for employment websites. You can also get a free, private Google Voice phone number for applications.
Don't pick just one job website. Top job sites like Indeed, Glassdoor, and Monster list many of the same jobs. Still, some employers post only on one site. Signing up for more than one can boost your chances.
Don't use all the job search engines. Signing up for all 15 of the top job finding websites would be exhausting, not to mention pointless. Try the 2–3 you like best to save your sanity.
It's not hard to register for all of the best job search sites, BUT—the more job hunting sites you register with, the more spam you'll face.
Don't rely only on automatic job application or one-click-apply. Auto-apply is sooo much easier, and sooo much less likely to get interviews. Your resume should be customized to every opening you try.
Don't apply to every job. 75% of candidates say they never hear back from even one employer on the job boards. Is it a coincidence that most candidates apply for every job, even when they aren't qualified? Or that most don't tailor resumes to the job offer? I think not.
Set up notifications. Almost every job site lets you set notifications for saved job searches. Use them by setting up criteria for location, salary, and other factors.
Organize your callbacks in a Google Sheet as they come in. Putting offers in a spreadsheet can save lots of time.
Pro Tip: Fake employers can pull your info from job search engines and harass you long after you've found a job. A disposable email address and Google Voice phone number prevents headaches down the road.
Need actionable advice to max out your job search? Once you've mastered the top job search sites, see tips here on reference letters, letters of interest, and so much more: 12 Job Search Resources to Put Your Job Hunt on the Fast Track to Success
Want to stand out on the best job search sites like Thor in a Kiton suit? Our guide can help: 42 Amazing Resume Tips That You Can Use in 30 Minutes [Examples]
So, now you know where and how to look for a job online. But do you know what to look for? Get inspired with help from these resources:
3
The 15 Best Niche Job Sites for Specific Industries
Imagine it's 3am.
You've been trolling through generic job sites postings for the past nine hours.
You've got to work at 8.
Wouldn't you rather look through a list of jobs you actually want?
The 15 job search engines below target specific careers.
Don't see your field listed? Just do a Google search for your career name + "job search site" or "job website."
Pro Tip: Did you find a job you love on one of the top job sites? Apply online, but also see if you can network into it. Search social networks to find a connection who already works there. Then start a conversation.
Should you create a PDF resume or Word format resume to use on job search websites? See our easy guide: Word vs PDF Resume: What is the Best Resume Format?
4
Alternatives to Job Websites
Want some alternatives to job search engines?
Who could blame you?
By the time you've applied to 700 maybe-bogus jobs, your eyes have burst a thousand capillaries and you're aging in dog years.
The job boards really work for crowds of applicants, but there are other—dare I say better?—ways.
Networking
You've heard it a million times, but have you tried it? Networking gets mad props because it works.
A few years back my wife was pregnant and I was broke. I lay awake in bed wondering what I was going to do.
Then I started calling friends—and friends of friends.
The tenth guy I called said he'd just vacated a job to get a better one. Did his ex-boss need a writer? Yes, he did.
You can't do that kind of thing with job sites. Call or message anyone you know who may have insights. You never know what it might lead to.
Walk In
Wait—Nobody walks in with a resume these days. Everyone uses job boards. Right?
Exactly.
See, anything on a computer is potential spam. A real, live, human being automatically moves ten steps up the hiring ladder.
Does walking in sound daunting? Good. That's why nobody does it, and why you'll stand out like a billion-watt-bulb.
Pick your favorite companies, even if they don't list jobs. Go in person. Ask to chat with a manager. Make sure to bring a resume and cover letter.
Go Direct
Here's another great alternative to even the best job websites:
Go straight to the company online.
Find the best companies in your field, then hit their jobs page. If they have an office near you, go in person.
At the very least, email a great cover letter and resume. Explain why you want to work there. If you can, try to have coffee with the boss.
Improve Your LinkedIn Profile
Did you know 87% of recruiters use LinkedIn to find job candidates?
Want to get 11x more LinkedIn profile hits? Add a professional photo.
Take time to optimize your profile. Write a custom URL, crisp summary, and an eye-catching experience section.
Need the how-to steps? See our guide: How To Optimize Your LinkedIn Summary & Profile To Get Jobs
Recruiters
Why use recruiters over job search engines? Like restaurant waitstaff, they already know what's on the menu.
Use a recruiter over job sites if:
Your field has a talent shortage.
You're an expert in your job.
You work for a very well-known company.
You work in a high-paying career.
For entry-level job seekers or those without unique skills, job hunting sites are still best.
Pro Tip: On LinkedIn, join groups of people who have jobs you like, to get the inside scoop. Connect and chat with company recruiters too.
Skipping the best job websites and going to the source? You'll want an awesome letter of interest. See our guide: How to Write a Letter of Interest [Complete Guide & 15+ Examples]
Key Takeaway
To recap the best job search sites and tips for using them:
The best job search engines are Indeed, Glassdoor, LinkedIn, and Google for Jobs.
Most of the top job search websites let you post a resume. They'll also notify you when they find jobs that match your saved job searches.
Sign up for 2–3 of the best job boards, but don't use all of them. Get a new email address and Google Voice phone number to cut the spam.
Don't forget alternatives to job websites. Try networking, direct company outreach, and walking in. They can be as powerful as online job hunting.
Do you have questions the best job sites and how to use them? Still not sure which job hunting website to sign up for? Give us a shout in the comments! Let's get you in that dream job.