How to Get an Internship & Where to Find Internships [2023]
How to get an internship the easy way. Discover how to find internships, the best internship finders + how to ask for an internship. Find internships fast and land the best now!
How to find internships? Where to find internships? If these questions are bugging you, you're in the right place.
Internships give you inside job knowledge, valuable, relevant experience, and networking worth its weight in gold. Finding internships is the most important thing a college grad can do.
Good news: it's easy once you know the steps. And in 7 minutes, you'll learn how to get an internship like it was made for you.
This guide will show you:
Where to find internships quickly.
How to get an internship fast, without a lot of wasted effort.
The best internship websites to find an internship and get you hired faster.
Tips and examples of how to find internships with networking and job fairs.
How to Google internships near me to fast-track your career.
Want to save time and have your resume ready in 5 minutes? Try our resume builder. It's fast and easy to use. Plus, you'll get ready-made content to add with one click. See 20+ resume templates and create your resume here.
Sample resume made with our builder—See more resume examples here.
Want to get an internship faster? A tailored resume and cover letter will help shortcut your job search. Once you've learned how to find an internship, use our free guides to beat the competition:
If you're considering applying for permanent, full-time entry level jobs, not internships only, see: Entry Level Resume Sample and Writing Guide
Looking for an internship to kick-start your brand new career? Not experienced enough to apply for full time jobs yet? Read: The Best Expert Tips for a Career Change Resume
1
How to Find and Get an Internship
Ready for the good news?
Knowing how to get internships isn't rocket science. You've got several weapons in your arsenal to help find an internship fast.
Here's a list of the best internship resources.
How to Find Internships
Use Internship Finders or internship search engines like internships.com. You can also Google internships for great results. Try adding your location to refine your search: internships near me, or internships california will do the trick. See a list of the best internship websites below.

Take Advantage of Social Media.

Make sure you follow companies you'd love to work for. Most organizations nowadays post information about available internships on their social media profiles.
Browse Regular Job Boards like Indeed Glassdoor, or Monster. As with Google, you can filter for your dream internship location: San Francisco, New York City, Washington, DC? Sky is the limit!
Go to Job Fairs. Sound outdated? That's why most graduates avoid them and why you'll stand out when you don't. Go late to the event to get more time with hiring managers.
Learn Networking. Most people think that means calling your dad's friends. Read up on informational interviews to supersize your social muscle and find internships fast.
Visit a Local Career Center and speak with career counselors—they'll tell you everything there is to know about about internship opportunities in your area. Plus, you can always count on free advice on the best career paths to choose.
Cold Call Companies You Love. Seem like a stuttering, sweating nightmare? Call 15–20 companies and shrug off "no" by asking, "Can I be your first?" and "Who else can I talk to?" Stick to smaller companies for better odds—and better summer internships.
How to Ask for an Internship
Is there really a special way to ask for an internship?
Well, yes.
Know how to find an internship coordinator first. Use LinkedIn's advanced people search to nail it quickly.
Ask politely. Hiring managers are busy. Respect their time by knowing how to email them.
Be brief, and take no for an answer. But—turn no into another opportunity by asking for another name.
Show You Are the Perfect Person for the Internship
Our HR statistics piece tells us 63% of hiring managers want personalized resumes. Why?
Customizing your resume—and your interview style—make you stand out like a klieg light.
Learn key facts about the enterprise and the internship on offer. Then tweak your resume to fit it like a tailored Zenga suit.
Stick around. We've got a list of 10 internship finders below, plus dozens of great tips for how to get an internship.
Pro Tip: Want to know how to get an internship at Google? Google "Google internships" Then use the methods in this article. Check out Google's student careers page too.
Writing a straight-up student resume? Need great advice for how to make it shine? See our guide: Student Resume Sample & Complete Writing Guide [with 20+ Examples]
What's the obvious answer for how to find an internship?
Internship sites.
Internship finders are powerful online resources. They list thousands of intern positions around the country and the world.
But—they pit you against a horde of other applicants.
Use them to find internships anyway. They're quick, and they give real results.
Dedicated Internship Websites
Below are the best internship search engines.
Also check regular job sites and even plain ol' Google.
Don't skip job fairs, networking, and cold calling the company, either. They're the most powerful internship search methods when you know how. (I'll share how to find internships with them next.)
Internships.com is a respected site listing over 6,000 high school and college internship listings. Is internships.com legit? The jobs are real. They're searchable by date and career. You can find both full-time and part-time internships there. Internships.com reviews online are largely positive.
InternshipFinder.com shows 3,500+ positions in the US and UK. It's a division of M&L Research, an industry-specific employment data firm.
Idealist.com is different among internships websites. It lists 800+ internships and 12,000+ unpaid internship programs and volunteer positions with firms that try to do good things in the world.
GlobalExperiences.com This internship site hosts 4,000 employers in 11 cities worldwide for an international experience.
Your School's Internship Website. Why this? Networking. On your college's career site, you'll find a small number of jobs posted by alumni. That puts you in the VIP line for the positions.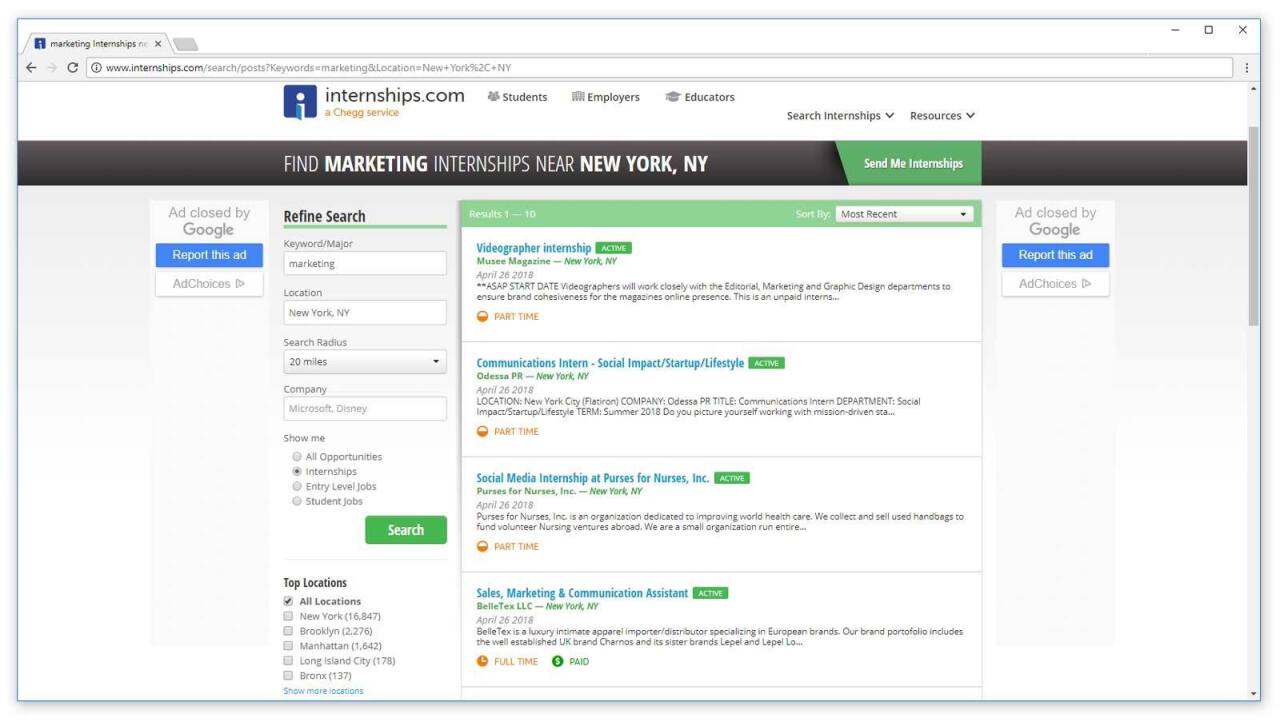 Pro Tip: How to Get an Internship with Internship Websites. Set your search criteria for career type, location, and date posted. (You can even search exclusively for online internships.) Set up SMS or email notifications so you don't miss opportunities. Last, take a few minutes to personalize each resume and cover letter you send.
Regular Job Sites and the Google Internships Feature
Google? Really?
Yep.
Google has a built-in internship search engine.
The regular job search sites do just fine as internship finders too.
Indeed Job Search. How to get an internship with Indeed? Type "internships" into the search field. (Or summer internships, engineering internships, marketing internships, etc.) Then specify a location. You'll get hundreds of internship and job listings.
Glassdoor Jobs can help you find job and internship positions. Use it like Indeed.com. As a bonus, it gives valuable info about companies from previous interns.
LinkedIn is the world's most popular networking site. It also packs in 76,000+ high school and college internships. Plus, it has a very clear and easy application process. I'll show you how to ask for an internship on LinkedIn below.
Google for Internships may come as a surprise. Just Google internships and you'll get thousands of results. Want to know how to find internships near me? Google knows where you live. You can also give it a hand by adding your location to the search. Refine your search by job type—for instance: public relations intership boston—and set up saved searches and alerts.
Monster works just like Indeed or Glassdoor for internship search. It's a traditional job search site with powerful intern capabilities.
Pro Tip: Not sure what internship jobs are right for you? You can use an "Internship Predictor" by Internship.com. Its purpose is to help you figure out what kind of internship and career field might suit you best. Even if you're looking for an internship just to get the required college credit, it might turn out to teach you a lot about various exciting career fields!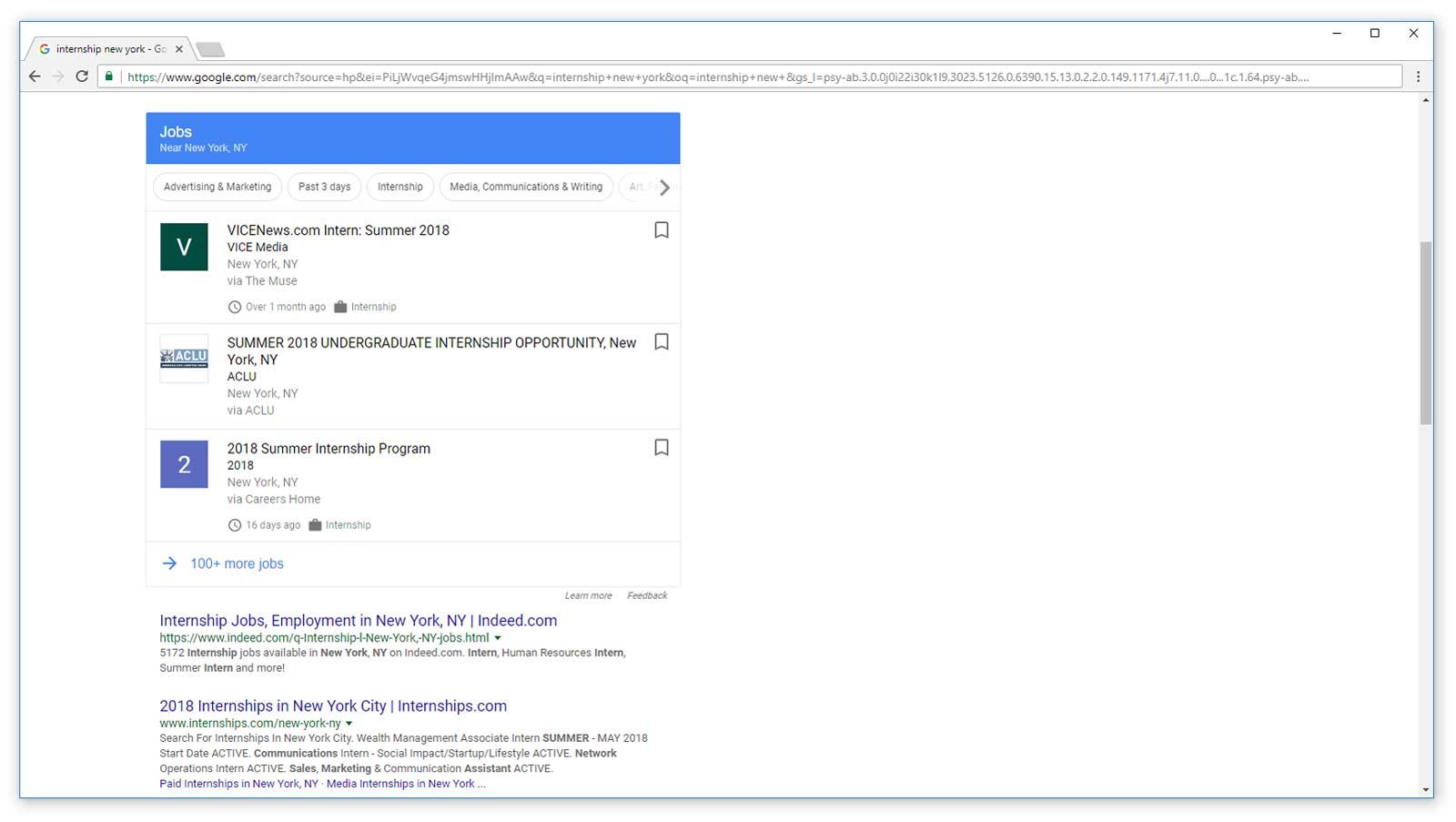 Skip These Internship Sites
The intern websites below are often searched, but aren't the right internship finders.
YouTern Uses Indeed's job search engine to find internships. Save your time and effort if you've already used Indeed.
Looksharp.com is a defunct internship site bought by Wayup. Is Looksharp.com legit? It was, but you can't find looking sharp internships anymore.
Internmatch.com is another internship website bought by Wayup, then abandoned.
Intern.com is an out-of-business former internship search site.
Pro Tip: Taking the time to learn how to find an internship? You're already ahead of the pack. A National Association of Colleges and employers study shows 91% rank job seekers' previous work experience as one of the most important factors for application success.
I showed you how to find internships with regular job sites above. So—want the 20 best job sites on the internet, plus expert tips for how to use them? See our guide: Job Sites: 15 Best Job Search Engines and How to Use Them Perfectly
3
How to Find Internships Fast with Job Fairs and Networking
Still wondering where to find internships?
Imagine it's five months from now.
You not only figured out how to find an internship—
You also got your dream job.
Maybe you found it on the internship websites.
But—it's even money you got it networking or at a job fair.
How to Find Internships at Job Fairs
Don't take my word for this.
Internship finders aren't the best way to get hired.
Here's how to get an internship at job fairs, according to the career services experts at UC Berkeley:
Come prepared. Bring lots of copies of your resume. Research openings on your school's career fair page. Learn as much as you can about your potential employer. Study the job description. Dress well. Prep an elevator speech to cover all the bases fast.
Plan to spend some time. Arriving early makes a good impression. Staying late gives more time with hiring managers after everybody else goes home.
Start with your alternates. That lets you hone your pitch with lesser internships. Move on to your favorites after you feel confident.
Be interested. Do more listening than talking to make the best impression. Answer questions, but don't drone on about yourself.
Visit job fairs at other schools. If even one lets you in, you'll double your odds to find an internship.
Pro Tip: Trying to find summer internships for high school students? Internships.com has great listings for summer internships for college students and high school students. Just type "high school" in the search box.
Internship finders and job fairs aren't the only ways to find an internship. Does networking sound old school? Not if you do it like this:
Networking to Get Internships
Here's the problem:
Networking is a buzzword. It doesn't mean anything.
You either have a great network or you don't. Right?
Well, no.
Done right, networking can be the best answer for how to find internships.
Use informational interviews to grow your network. That means calling the company you're interested in.
Career expert Steve Dalton, author of The 2-Hour Job Search, says: reach out to employees at companies you want to work for.
Ask if you can talk to them about their work.
Be interested. "Interested is interesting," says Dalton.
Being interested creates liking. That gives you an advocate within the company and multiplies your odds to get an internship.
Even informational interviews can be stressful, that's true. The fix? Practice mock interviews with your friends or family members. It will make you feel prepared when the real interview comes.
Up next: How to find an internship nobody else even heard of.
Pro Tip: Need more tips for how to get an internship? When you get an interview, send all materials promptly and offer to start right away. A speedy applicant impresses any hiring manager.
Did you get good leads from a job fair or networking outreach? Follow up! See our guide: How to Follow up on a Resume and Job Application [+Sample Email]
When making a resume in our builder, drag & drop bullet points, skills, and auto-fill the boring stuff. Spell check? Check. Start building a professional resume template here for free.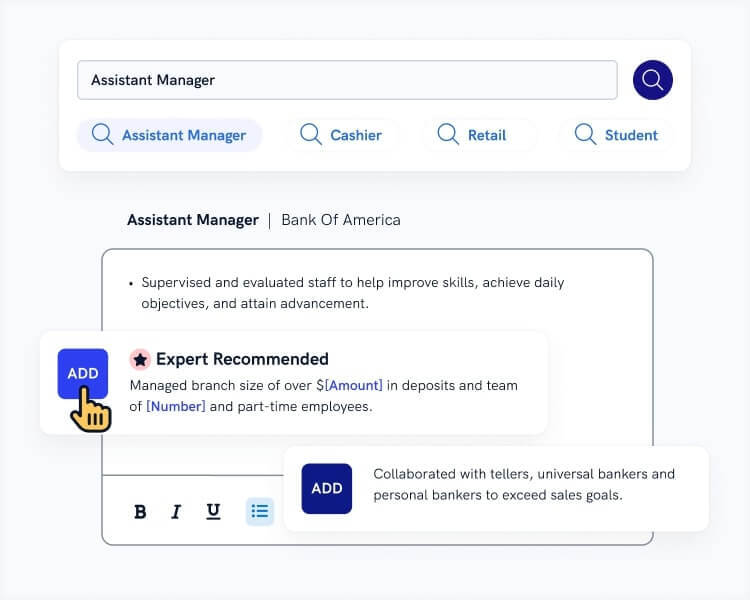 When you're done, our professional resume builder will score your resume and our resume checker will tell you exactly how to make it better.
4
How to Ask for an Internship When There Isn't One
Networking, job fairs, Internship websites—
They're popular ways for how to get an internship. Maybe too popular.
What do I mean?
On internship sites, you'll battle hundreds of others for the same positions.
So—don't rely on internship finders alone. Find internships nobody's trying for because they don't exist.
How to Get an Internship (When It's Unadvertised)
1. Identify Your Top 10–20 Companies
You won't find an internship at the first company you ask.
So—remember there's safety in numbers.
Target 15–20 different companies you'd like to intern at and call them all. Next step?
2. Find the Right Hiring Managers with LinkedIn
How to find internships without internship websites? Connect with the right person.
Use LinkedIn's advanced people search to locate the right hiring manager. Enter the company name and try several job titles.
You can also check the company's About Us page.
3. Go With Smaller Companies
At a big company, you might be sharpening the pencils. At a small one, you'll get more responsibility. And it's often easier to get your foot in the door!
I tried to intern at the BBC and didn't get in. So—I settled on a London marketing firm. The smaller company had me write commercials and radio dramas, plus produce and pitch shows to the BBC. I was shortlisted for a national award and for a full BBC comedy show. It was exhilarating.
Pro Tip: Set up the top internship finders to grab positions for you in the background first. Then start cold-calling. You'll double your intern search effectiveness.
4. Ask for an Internship
LinkedIn's InMail costs money. But a connection request with an included note is free.
You may find the manager's email address or phone number on the company website.
In your query, spend two sentences introducing yourself. Use one of them to share your biggest achievement that fits the company's needs.
5. If They Say "No," Ask Again
The experts say to "be persistent," but that doesn't mean just bullying the manager.
Here's how to get an internship without being pushy:
If employers tell you, "We don't hire interns," offer to be their first. I called the company I interned at and said, "How would you like a free employee for a year?" They acted like they'd won the lottery.
Yet it was still a paid internship. I applied for (and got) a Watson fellowship that shelled out a hefty stipend. A letter from the company accepting my internship helped me get the money.
6. Ask for an Informational Interview
Even "no" doesn't mean you won't find an internship with a company. When you get turned down, ask for an informational interview.
That's where you ask about the job and what it's like. Be as interested as possible. Talk almost none about yourself.
Why does this help with how to get internships? Being interested makes the hiring manager more likely to become your advocate.
7. Ask for Other Names
Is the answer still no? Great! That means the manager feels indebted to you.
So—ask for someone else who might hire you for an internship. Chances are, you'll get a couple contacts.
Then, tell them the first hiring manager referred you.
Now you know how to find internships using internship finders, job fairs, and networking. You've even learned how to ask for an internship that isn't there.
Next up: Learn how to get an internship a lot quicker with a personalized resume and interview.
Pro Tip: After you find an internship, wrap it up right. Ask for a letter of recommendation near the end. Then send handwritten thank-you notes for a networking bonus.
Using LinkedIn to find internships? Your profile is showing. Make sure it draws the hiring manager in like a $100 bill. See our guide: How To Optimize Your LinkedIn Summary & Profile To Get Jobs
5
How Tailoring Your Resume Can Help Find Internships
Now you know where to find internships.
But here's the problem:
You can have the best resume on the planet, apply to 200 summer internships, and not get one response.
It happens all the time. Why?
Pretend you're the one who's hiring. Let's say you need an assistant for your life.
You put ads in internship finders. You interview ten candidates. Nine give generic answers.
One names four achievements that exactly match your needs.
Which one do you hire?
To find an internship fast, tailor your resume to the position.
The example below shows how to find an internship using the customized approach:
Example
Let's say the internship values web app design, debugging, and Java skills.
Here's how your education section might look:
Excelled in Java classes.
Designed a web app to sell t-shirts for senior project.
Personal website shortlisted for an IEEE Student Website Design Award.
Assisted with debugging lessons as student TA, senior year.
If you don't find internships with a resume like that, leave a comment below. I want to hear it.
Just make sure to read the offer carefully and highlight the required skills.
Then, scour your past for achievements that show you are the one-and-only.
Do that, and you'll stand out like Superman in a sea of Kents and get any internship you want.
The above tip for how to find internships magnifies your odds of getting hired through job fairs, internship websites, networking, and cold-calling. Soon, you might need to write a job acceptance letter instead of an internship resume!
Pro Tip: Use the same personalization tip for interviews. Learn what the internship is looking for. Then drill with practice situational questions and real achievements from your past.
Are you personalizing your internship resume and interview style? See our guides: Six Tips on How to Personalize Your Resume to a Job Posting (Examples) AND Common Interview Questions and Answers to Nail Your Interview
Plus, a great cover letter that matches your resume will give you an advantage over other candidates. You can write it in our cover letter builder here. Here's what it may look like: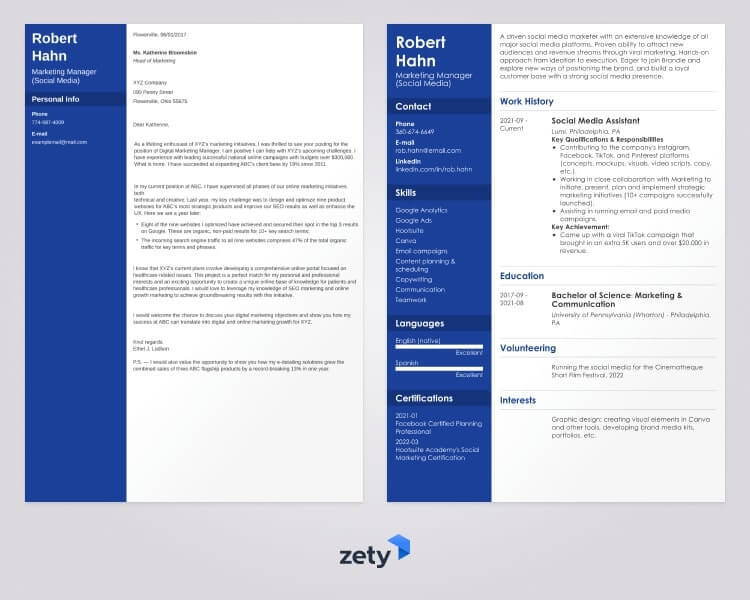 See more cover letter templates and start writing.
Key Takeaway
Here's a recap of how to get an internship:
Use internship finders, internship websites, and regular job sites to find internships. Also definitely check your school's internship website.
Take advantage of social media. Make sure you follow companies you'd love to work for. Most organizations nowadays post information about available internships on their social media profiles.
Go to job fairs at your school and others. Prep well, go during slow times, and start with your last picks first to hone your pitch.
Network smarter. Don't just reach out to friends and family. Find people in the jobs you want and do informational interviews with them.
Tailor your resume and interview style. You'll find an internship faster if you can prove you're the person for the job.
Do you have questions on how to get a good internship? Still not sure how to find internships? Give us a shout in the comments! Let's get you hired fast.
About Zety's Editorial Process
This article has been reviewed by our editorial team to make sure it follows Zety's editorial guidelines. We're committed to sharing our expertise and giving you trustworthy career advice tailored to your needs. High-quality content is what brings over 40 million readers to our site every year. But we don't stop there. Our team conducts original research to understand the job market better, and we pride ourselves on being quoted by top universities and prime media outlets from around the world.
Sources