Our customers have been hired by:
Yesterday, Karen from HR told you she got a new job offer on LinkedIn. Now you're thinking: Why is everyone else getting job offers via LinkedIn but not me?
I know why. It's because you set up your profile 5 years ago, posted one photo of you and your dog, and haven't updated it since. It's time for some serious LinkedIn profile optimization now. See how to optimize your LinkedIn profile and be like Karen.
This guide will show you:
What's the point of LinkedIn profile optimization efforts.
How to optimize a LinkedIn profile to make it more effective.
Tips on how to perform LinkedIn optimization regularly.
When you get a great job offer, you need to react quickly. Don't waste any time—create a resume in 15 minutes, so recruiters don't have to wait. See 20+ resume templates and create your resume here.
Sample resume made with our builder—See more resume examples here.
Need help finding a new job? Check these guides:
Continue reading and learn how to make your LinkedIn page more attractive to potential employers:
What Is an Optimized LinkedIn Profile?
Let's explain this mystery first!
An optimized LinkedIn profile is your personal page with every section filled out with information about who you are and what you specialize in. It's a LinkedIn profile that's polished to perfection so it can appear attractive to other users and rank higher in search results.
Hmm, but is it really worth spending time on improving your profile? Let's find out.
Why not add your profile to your resume? Learn how: The Best Way to Put a LinkedIn Icon on a Resume
Why Is LinkedIn Profile Optimization Necessary?
According to LinkedIn itself, there are over 200 million U.S. users on the platform. That's an impressive number, isn't it? So, imagine a headhunter going through these pages, trying to find a suitable candidate for a job. There's no way in the world they can see every single profile, so they need to be strategic about it.
And they are—when searching for candidates, they filter the search results. This way, they see profiles that fit the needed criteria. If your LinkedIn page doesn't include the information they're looking for, it won't pop up for a headhunter to see.
What does that mean for you? Every day, you might get fewer job offers than other people. It's likely that you miss out on the opportunities that other LinkedIn users with similar qualifications receive. And I'm not saying that just so you start feeling FOMO—it's your career that's at stake.
So, now you know why LinkedIn optimization is so important. And the next chapter will show you how to get it done.
Want to learn more about what influences hiring and other HR decisions? See here: Surprising HR Statistics for 2023
22 Tips on How to Optimize a LinkedIn Profile in 2023
Here's a handy collection of 20+ ideas on LinkedIn optimization. Some are quick and easy—you can get these steps done in just a few minutes. Others require much more effort on your part. But the good thing is, you don't have to do it all at once. Optimizing your LinkedIn page is an ongoing process. The important thing is that you start now.
1. Start with a Professional Profile Picture
No, you don't need perfect features to succeed in your chosen career. But humans can't help but judge others based on their looks. And the judgment goes beyond simple aesthetic preferences. In fact, your profile photo can say a lot about your personality, so there's a big chance a recruiter will try to predict your traits based on what you display.
First, the technicalities of a professional profile picture on LinkedIn:
The best size for a LinkedIn photo is 400x400 pixels. You can also upload bigger ones, but they can't exceed 8 MB.
Your face should cover around 60% of the photo.
The image should be sharp and well-lit. Make sure it's recent and that you're easily recognizable.
Now, the tricky part: your photo must convey who you are, professionally. And this depends on your chosen career. A fashion model's profile picture will be different from a corporate CEO's photo. So, unless you're a natural rule-breaker, pick a photo that matches people's expectations of someone working in your industry. Aim for a natural facial expression to appear serious or show a confident smile to project openness. If none of your photos is suitable, consider getting a professional headshot—yes, it's a bit pricy, but it's a good investment if it brings more job opportunities.
2. Add a Background Photo to Grab Attention
The background image on your LinkedIn page is free real estate that you can use to advertise your business persona. Of course, if you'd rather just add a photo of your favorite mountain view, that's cool. But I recommend uploading it to other social media platforms and optimizing the LinkedIn background image to make recruiters stay on your page longer.
Here's how to make an attention-grabbing background for your page:
Find a photo that represents your work: it can be an actual photo of you working, but it might also show your office, the services you offer, the city you live in, or something connected to your industry. If you're not good at taking shots, you can use an attribution-free image from websites such as Pexels or Pixabay.
Make a banner highlighting your personal brand: rather than uploading a photo, use it to create a banner with text. You can mention the proudest career achievement, add an inspirational quote, list services you specialize in, or display contact information. Think of it as a bigger business card. Try online apps like Canva to create your image.
Comply with technical requirements: your optimized LinkedIn profile image should be in a JPG or PNG file. The perfect dimensions are 1584x396 pixels, and it can't exceed 8 MB.
Once you upload your new image, always check if it displays properly on a computer and a smartphone screen. If it's blurry or has visible pixels, try a different image.
3. Create a Headline That Says It All
Your LinkedIn page headline can fit up to 220 characters. Use them wisely—don't waste this space saying: Hi, my name is Lisa, and I work in PR. Just like a catchy resume headline, this short introduction should include relevant keywords to highlight your strengths, qualifications, and proudest achievements.
Here's what to include in your LinkedIn headline:
Your current job title & company
What you can offer to an employer
Career achievements
Education level
Names of valuable certifications
Industry you work for
Lifelong passions
Here are a few examples of simple LinkedIn headlines:
LinkedIn Optimization: Example Headlines
Software Engineer | Java | Full-Stack Developer
Bachelor of Business Administration graduating in June 2023 | Seeking an entry-level opportunity
Technical Writer | Guest Author at TechCrunch | I Write Content That Converts
Head of Digital PR at WhiskMO | SEO Content Strategy Expert
Some people excel at creating clever headlines, but if that's not your strong suit, just stick to formulas that work. Here are a few:
Making X for Y, for example: Making smartphone applications more intuitive and accessible for everyone.
Helping X do Y, such as: Helping homeowners grow lush organic gardens with minimal yard work and maximum pleasure
Passionate about X, Y, and Z: Passionate about sustainable fashion, fair trade production, and empowering artisans.
If you need more inspiring examples, check our collection of resume headlines that you can easily adapt for your LinkedIn page.
4. Optimize Your LinkedIn Profile URL
If you haven't edited your profile URL yet, then you probably need to.. Does it include random numbers or letters? Then, you need to optimize your LinkedIn URL to make sure it shows your full name or brand name.
Here's how to do it:
View your profile page and click "Edit public profile & URL" in the top right corner.
On the new page, look at the section in the top right corner called "Edit your custom URL."
Click on the icon of a pencil next to the URL.
Fill it with your desired text—you can use up to 100 letters or numbers.
Once you optimize your LinkedIn profile's URL, you can proudly display it on your resume. See how: How to Add Your LinkedIn Page Address to a Resume
5. Use the LinkedIn Profile Summary to Introduce Yourself
If you've ever written a resume summary, you'll know how to tackle this one. And if you haven't, then it's a chance to learn. A LinkedIn profile is more than just a summary of your qualifications—it can also express your vision, goals, and passions.
A good (and optimized) LinkedIn summary should consist of 3–5 sentences that describe your professional experience, say what you specialize in, what businesses or organizations you worked for, and what makes you unique. It needs to fit 2,600 characters or around 370 words.
Here's an example of a simple yet effective profile summary:
Optimized LinkedIn Profile Summary Example
Interior design, art, and nature—these three things excite me beyond words. My creative vision combines these passions: I specialize in designing custom interiors inspired by natural landscapes. I work with local artisans and use sustainable materials to make homes and workplaces feel like a peaceful retreat into the wilderness.
As you see, there's no need to write your whole biography. Aim for an elevator pitch instead. However, if you feel a longer introduction is better for you—go for it! Just remember that most page viewers will, most likely, read just the first 2–3 sentences of your profile summary. If you want them to keep reading, you need to be captivating.
6. Show Career Highlights in the Experience Section
One of the core sections of your LinkedIn page is dedicated to professional experience—very similar to the work experience section of a resume. You can fill it with your current and previous positions and provide information about your work duties. However, adding details about all your past jobs and responsibilities might take a lot of effort, so it's better to approach this strategically.
Here's how to optimize your LinkedIn profile's Experience section:
Add positions that are relevant to your current career goals: for example, if you're a registered nurse with 10 years of experience, there's no need to mention the part-time babysitting job you had while in high school.
Demonstrate achievements straight away: if you add several jobs, your Experience section will show only 1–2 lines for each job, unless the reader clicks '...see more'. Include major accomplishments in the first line to make recruiters read everything.
Use action words and accomplishment statements: Add around 3–6 sentences describing your responsibilities in each job, and use facts & figures to show how great you performed in your roles.
Throw in industry keywords: if you want to get specific job offers, make sure you use relevant keywords in your Experience section. I will also talk more about keywords in the next section of this guide.
Use bullet points and special characters: you can copy and paste special characters, such as bullet points or arrows, and even add emojis to your Experience description. They can help separate the lines of text as well as make information easier to read. Of course, don't 🌺 go 🧁 overboard 🍏 with 😍 your 🎨 favorite 🦊 emojis!
It's also a good idea to check the profiles of people in your network to see what they've done. Search for influencers in your industry and read their profiles, too. They may have some unique and inspiring ideas that you can borrow.
7. Use Keywords to Make Your Page More Visible
Just like resume keywords help you pass applicant tracking systems, the keywords on your LinkedIn page help headhunters find you. As I've mentioned before, most recruiters use LinkedIn search to find interesting profiles, and they use filters to narrow down the candidate pool to a reasonable selection.
How to optimize a LinkedIn profile with keywords:
Brainstorm the words that represent you professionally: note down words that describe your job, your area of expertise, and the industry you work in.
Seek industry keywords: the easiest way is to Google search [industry] + keywords. Select the ones that apply to your experience.
Analyze job offers that interest you: job postings are the best source of keywords. The position name, location, required skills and experience, and description of duties—they're all keywords you can add to your LinkedIn page.
Add keywords to your LinkedIn summary: make bullet points listing your competencies as well as the opportunities you're seeking.
Use keywords in the experience section: for example, you can add your specialties right after your job title: Quality Analyst — SEO Content, UX Writing. And, of course, stuff descriptions of your duties with relevant keywords.
Publish posts that include keywords: share your wins, talk about industry news, and spread interesting information about your local area; just make sure your posts also include keywords relevant to business opportunities that interest you.
Adding keywords to your LinkedIn page is an ongoing process. It's a good idea to have a critical look at your profile from time to time and pick a thing or two that you can tweak easily.
8. Pick the Right Skills to Represent You
The skills section is another core part of your profile. You can add up to 50 competencies, which sounds like a lot. But what are the best skills for your LinkedIn page? You might go through dozens of online articles telling you which are most in demand, but ultimately, the truth is:
You should add skills that you can prove through your experience or education
Your skills must be relevant to the job opportunities you want to get
Here's how to optimize the LinkedIn profile's Skills section:
Add industry-related hard skills that you've mastered: if you filled other sections of your profile, LinkedIn will automatically suggest skills based on your information.
Read through job offers to find more skills to add: there's a chance you haven't thought of a competency that you think is obvious but is highly desirable at many companies.
Select soft skills that match your job profile: they complement your professional abilities nicely.
If you can't think of 50 skills to add straight away, that's perfectly fine. You can always add other competencies at another time.
9. Avoid LinkedIn Profile Clichés
If you scroll through your LinkedIn feed regularly, there's a chance you saw some good old clichés here and there. Like someone calling themselves a revolutionary innovator or a visionary girlboss. It's better to skip such meaningless phrases when optimizing your LinkedIn profile—just use keywords instead, as they bring much more value to your page.
If you really want to use hyperbolic words and phrases, be 100% sure you have enough achievements and professional experience to make it work. You can throw in one or two extra words to make your profile more unique. For example: "The coding ninja you need to make your mobile applications run on any device" can work as a headline, whereas "Synergy orchestration guru ready to evangelize catalysts for change" will make everyone cringe.
10. Add More People to Your Network
Did you know that you can add up to 30,000 1st-degree connections on LinkedIn? Thirty. Thousand. Connections. Not gonna lie, my own network is much smaller than that.
So, what's the point of growing your network, exactly? It makes you more visible in LinkedIn search results. That's because the results view only people from your 1st, 2nd, and 3rd-degree connections. A bigger network means more potential headhunters and employers will be able to find you when searching for potential candidates. And if you're a business owner or entrepreneur, more connections mean more prospective leads.
What's the number of connections you should aim for? That's not easy to say. Some business influencers advise 500, while others say 1,000–3,000 connections. If you start from zero, that's a lot. But the thing with LinkedIn is that many individuals are happy to accept connections even if they don't know you personally. You can connect not only with colleagues and school friends but also with your past clients, recruiters in your industry, influencers, and so on. Aim for 10 connections per day, and you'll have 300 more in a month. It's the easiest networking activity on the planet.
11. Promote Yourself Using Posts
Each LinkedIn user can write posts. But not that many do, even though it's a great way to show what you're great at.
Once you've done some LinkedIn optimization mentioned in the previous steps, start writing posts about your professional life. Got a promotion? Share the news. Completed work you're proud of? Write and post photos. Had a great business meeting with a client? Mention them. Completed a new online course? Brag about it. You can also recommend inspiring books, share interesting articles you found online, and even post a photo of your favorite coffee spot. And if you want to quit your current job and start anew, this is the best place to say you're seeking business opportunities.
Your LinkedIn posts reach beyond your network— and also appear on 2nd and 3rd-degree connections' feeds. So there's a good chance someone searching for job candidates will see your post.
12. Fill Out the Services Section
Are you a freelancer or a business owner? Then LinkedIn has a feature created just for you: the Services section. Select a few you specialize in and write up to 500 characters to say what makes you stand out from similar businesses. You can also add information about pricing and set up how clients can send requests.
13. Add More Sections to Make Up for No Work Experience
What's the best tip to write a resume with no work experience? Show you've got experience from nonwork activities. And the same goes for your LinkedIn page. If you're a fresh graduate, adding extra LinkedIn sections can be very beneficial.
How to optimize a LinkedIn page if you have no work experience:
Afterwards, remember to update your profile regularly to show that you're continuously trying to improve your knowledge and gain professional experience.
14. Try Skills Assessment Tests
LinkedIn offers different ways of proving your key skills. Many users opt for Skills Assessments quizzes, which are great for demonstrating your hard skills, such as Microsoft Excel knowledge or programming languages. To earn a skill badge, you must score in the top 30%.
A new feature allows you to prove your interpersonal skills. You can record a video or write a response to say what transferable skills you'd use in a specific industry. If you decide to use LinkedIn to apply for jobs, you'll be able to include these responses with your application.
15. Ask for Endorsement from Others
You've done some LinkedIn optimization and added 41 skills to your profile. But it looks kind of meh. Luckily, there's a way to make it better: get endorsements from other users. People from your LinkedIn network can endorse your skills to confirm that you're a true expert in this area. And you can do the same for others. It just takes a few clicks.
16. Ask for Recommendations
Reference letters are still a thing, but not everyone is a fan. Personally, I think it's an outdated practice that relies on an unfair power dynamic between an employee and an employer. But recommendations on LinkedIn are a different thing—they're much less formal and more democratic. You can give recommendations to bosses, colleagues, and subordinates. And you can also ask for recommendations from others.
Having a few recommendations on your page will make you more credible in recruiters' eyes. They will be able to see what others say about you and your work style.
17. Find Like-Minded Influencers
Even if you roll your eyes when you hear the word influencer, you need to accept that they exist and bring value to the area they specialize in. Each industry has its own pool of influential experts: thinkers, inventors, experienced professionals, authors of publications, podcasters, and so on. Try to find someone whose LinkedIn content you enjoy reading. Following influencers will help you stay up-to-date with industry trends, learn about job opportunities, and provide you with content you can share with your network.
18. Interact With Your Network
LinkedIn is a social network, so to make it work for you, you must interact with other users. React to their posts, comment on achievements, and congratulate them on new jobs. It will improve your visibility. Sharing your thoughts when commenting on other people's posts can also help you grow your network. And a bigger network = more business opportunities.
19. Write & Publish Longer Posts
If you enjoy writing about your business or your area of expertise, LinkedIn is the perfect place to do it. Use posts to publish your original content and build your authority as an expert. Of course, like any other type of online content, your longer posts must be interesting for readers. So, don't use excessive industry jargon that could make the text difficult to comprehend. Rather than publishing your 30-page research, write a post listing 5 reasons why this research is important and present the key results.
20. Show Off Continuous Learning Efforts
It's never been easier to gain knowledge. Online courses are accessible and affordable for most people. And LinkedIn has its own platform filled with development materials to the brim. Whenever you complete a new course, attend a workshop, or get a certificate, post about it. It will show recruiters that you're striving for perfection.
21. Share Your Ideas in the Publications Section
Do you regularly publish your work elsewhere? Maybe your research got into a prestigious journal? Add a Publications section to your LinkedIn page. Here, provide the details about your work, share a link to the website that published it, and add a description to say what it's all about.
22. Try the Creator Mode to Build an Audience
Let's say you've been using LinkedIn actively for a few months, and you find yourself publishing more and more posts. Consider switching to Creator mode. It won't automatically turn you into an influencer, but it will give you access to creator tools and analytics, as well as display your own content higher on your profile page.
OK, admit it—that's a lot of ideas you can use to optimize your LinkedIn page. What should you do now?I recommend going through the list and picking 3 ideas you can implement straight away, such as editing your profile headline, writing a new summary, and adding keywords. That will be a good starting point. Then, try to spend at least an hour each week on LinkedIn optimization efforts, plus a few minutes each day to interact with the people in your network. It will greatly improve your visibility for headhunters.
When making a resume in our builder, drag & drop bullet points, skills, and auto-fill the boring stuff. Spell check? Check. Start building a professional resume template here for free.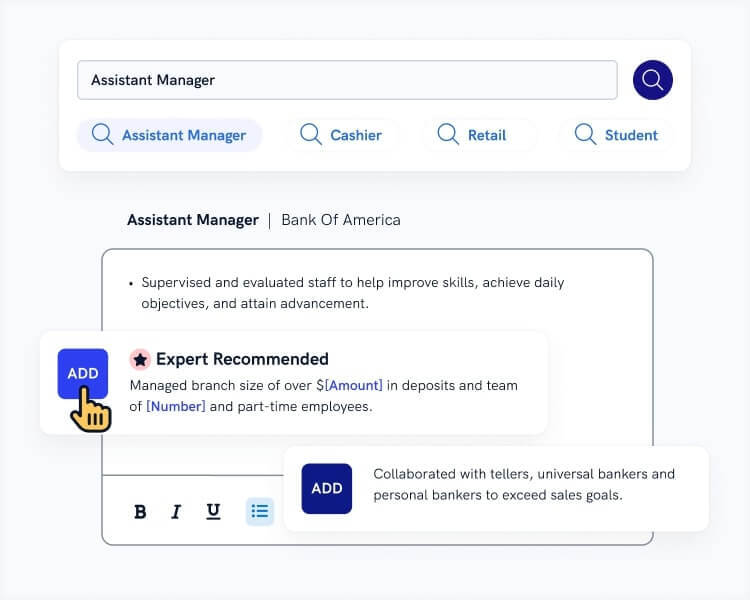 When you're done, Zety's resume builder will score your resume and our resume checker will tell you exactly how to make it better.
Key Takeaway
Here's a summary of the main points from this article:
LinkedIn profile optimization is essential to making your page attractive to prospective employers or business partners.
You can optimize a LinkedIn profile by using keywords in all sections and writing effective descriptions for your headline, summary, and experience sections.
LinkedIn optimization activities must go hand-in-hand with growing your connections and interacting with other users on the platform.
That's all!
Thank you for reading my LinkedIn optimization ideas. Do you have other suggestions that aren't included on the list? Would you like to share your thoughts on LinkedIn optimization with other readers? Feel free to comment below!
About Zety's Editorial Process

This article has been reviewed by our editorial team to make sure it follows Zety's editorial guidelines. We're committed to sharing our expertise and giving you trustworthy career advice tailored to your needs. High-quality content is what brings over 40 million readers to our site every year. But we don't stop there. Our team conducts original research to understand the job market better, and we pride ourselves on being quoted by top universities and prime media outlets from around the world.
src
Sources