Our customers have been hired by:
"Can you describe your current job responsibilities? Please, provide examples."
Interviews are stressful for most people, but how difficult can that question be, really? After all, you know your job duties top to bottom, don't you?
"Can you describe your current work responsibilities?" seems like a question you can't get wrong. But, there are right answers, and there are AWESOME answers. And only an awesome answer will ensure the interviewer won't want to hire anyone else.
This article will show you:
What job responsibilities are.
What the interviewer is asking when they say, "Describe your current position."
How to blow the interviewer's mind when you describe your job responsibilities.
Examples and samples of the best answers for describing your current position.
Want to save time and have your resume ready in 5 minutes? Try our resume builder. It's fast and easy to use. Plus, you'll get ready-made content to add with one click. See 20+ resume templates and create your resume here.
Sample resume made with our builder—See more resume examples here.
1
Why Would You Need to Describe Your Current Job Responsibilities?
It's a reasonable question. The hiring manager has read your resume right? But before we answer it let's take a look at another question.
What are job responsibilities?
Job responsibilities are what an organization uses to describe the work and functions that an employee needs to perform in a particular role.
And back to the first question, yes, the hiring manager has read your resume. Otherwise, you wouldn't be preparing for an interview. But there are a couple of reasons an interviewer might still ask you to briefly describe your current position.
They want to know that you weren't lying on your resume about your job responsibilities.
They want to check if your job responsibilities overlap with the role on offer.
They want to put you at ease. Let's face it. It's an easy question.
They want you to expand on the points that you included in your resume.
Okay, so let's say you sent a resume that was off the charts. You used a beautiful resume template. You followed all the best career advice you could find.
To top it all off, you just so happen to be the most talented candidate that applied for the job. You may not know it yet, but your skills and experience blew everyone else out of the water.
The hiring manager is thrilled. But she has her reservations. She needs to pinch herself and make sure you're not too good to be true. So, she asks you to briefly describe your current position.
Now, you've never lied on your resume. You've never inflated your skills. You've never made up numbers to illustrate your achievements or exaggerated your job responsibilities.
But there are those out there who do.
So, how do you reassure the interviewer that your resume is pure gold?
right
Start by giving a brief overview of what you do. Briefly describe one or two of the more fantastic job responsibilities from your resume. Then go into some details that didn't fit on your resume.
wrong
Ignore the achievements you listed on your resume. Go for something you've not shared with the interviewer yet instead.
What you want to achieve with your answer is a balance.
It's safe to assume that the interviewer is familiar with your resume experience section.
At the same time, you will want to go into greater detail about some of the things you have already included.
Remember that you want to keep your answer brief.
So, don't linger on your resume achievements.
The end goal is to paint a clear and compelling picture of what is that you do at your current or most recent job.
Keep in mind that the interviewer might phrase the interview question in a different way.
Here are some alternatives to the "could you describe your current position" question:
How would you describe your current employer?
Okay, not quite the same question. But you can answer it in a similar way.
Instead of starting with your job responsibilities, explain what your employer does. You can also mention the work culture. Draw on similarities between the two companies.
Then briefly describe how your current position fits into the scheme of things.
For example:
Sample description of your current employer:
My current employer is a mid-range retail chain that is a standard fixture in most malls. That means that we are a well-known brand and get a lot of foot traffic. That also means that most of the customers don't want help. They either know what they want, or they're browsing.
Sample transition to a description of your current role:
In my current position as a Sales Associate, one of my job responsibilities is to push new arrivals. Our target demographic is young, trendy women. So, to get customers to buy the more expensive items, I've developed a system. I put a couple of special pieces on hold. I target the big spender regulars, our "it" girls. And then I personalize the items on hold by putting their names on the hangers. How do I know when these girls will come in to shop? I don't. I have their names on index cards. When they come in, we mark the held items for that girl. The trick resulted in a 70% uptick in sales for new arrival items and a management position for me.
Pro Tip: Sometimes the interviewer will ask a direct question about your current job title, role or responsibility. So, it's best to practice what you might say about any of the bullet points you included in your experience section.
For example, "It says here that you're in charge of a team of 15+ people? Could you tell me more about that?"
Also, keep in mind that you might have to describe other jobs.
Want to know how to select professional achievements for both your resume and interview? Read our guide: "Achievements to Put on Resume - Complete Guide (+30 Examples)"
When making a resume in our builder, drag & drop bullet points, job skills, and auto-fill the boring stuff. Spell check? Check. Start building a professional resume template here for free.
When you're done, our online resume builder will score your resume and our resume checker will tell you exactly how to make it better.
2
How to Describe What Your Job Responsibilities During an Interview
Some of you might have a harder time preparing for this common interview question. For example, let's say you're a commodities trader or an astrophysicist.
You might struggle to explain your job responsibilities or what you do during the day so that outsiders can understand.
That's especially true if your interviewer is an external recruiter or an HR staff member. They may somewhat understand the role, but they aren't experts like you.
Here's what to do in the situation where your work is a bit obscure:
Write down a description of your current job off the top of your head. Don't think. Just write.
Now, do you notice any jargon? Do you see any complex words or phrases? Can you come up with simpler alternatives or layman's terms?
Now, imagine saying what you've written to someone at a party. They ask:
"So, what do you do?"
And you say what you've written down on your piece of paper.
Does the person understand?
Or does the person nod, smile, and excuse themselves?
Try to simplify your job overview so that most people would find it understandable.
Next, you're going to tailor your answer to the position.
Go back to the original job description. Look for matching duties and job responsibilities.
Are there any that you've already mentioned? Are there any that you can illustrate with achievements and success stories? Narrow it down to two or three.
Finally, you're going to use the STAR method to focus on the results.
Okay, so you have your list of current job responsibilities that match those you found on the job offer. And you've picked two or three that show off your skill set and come paired with a success story.
The STAR method helps you remember how to talk about your accomplishments.
STAR stands for Situation, Task, Action, Result:
Situation - You start by explaining a situation which required you to solve a problem, use a skill, or come up with a new idea.
Task - Next, you explain the action that your job requires in such a situation.
Action - After, you describe the action that you took. If it's different than the required task, you should also explain why you chose a different path.
Result - What happened in the end? How did the situation play out once you acted? It's best here to illustrate successes with numbers and details if you can. Numbers help reinforce the impact that your action had.
Here's an example of how to describe your current position using the STAR method:
Situation: I am currently a flight attendant with a major airline. I assist on longer trips down to New Zealand and Australia. That's why one of my key job responsibilities is to reassure passengers. On most flights, I check in with nervous passengers. I also serve food and drink and assist passengers with special needs. On longer flights, I have to use a unique skill set.
Task: That's because passengers can become distressed, restless, or upset. It's my responsibility to keep them calm and comfortable. Listening is the key.
Action: I use a soothing voice and active listening skills. I also try to find quick and easy solutions to soothe them. I am discreet about following up with other disturbed passengers. I am often called upon to help soothe young children, as I am the oldest in a family of five.
Result: I have yet to observe an incident on a flight that evolves into an emergency situation. My team and I place emphasis on passenger comfort and care. Because of this, we get consistent positive feedback from passengers.
Pro Tip: You might want to go into detail about some of the job responsibilities you've put on your resume. But don't use your resume like a script.
Hiring managers ask you to briefly describe your current position because they want to put you at ease. Once you're relaxed, they want to see if you'll say anything that indicates you're a good employee.
What they aren't asking is for you to brief them on your resume. So, while you may refer to some of your strengths from your resume, also keep in mind that you can go off script.
Tailoring your answers for a job interview is a lot like tailoring your resume. Find out how: 6 Proven Tips on How to Tailor Your Resume to the Job Description and also check out all our other Interview Tips & Advice.
3
Examples of "Describe Your Current Position" Best Answers
So, what does the best answer look like for the "can you describe your current position" interview question?
Here's an example of a job offer for a cocktail server: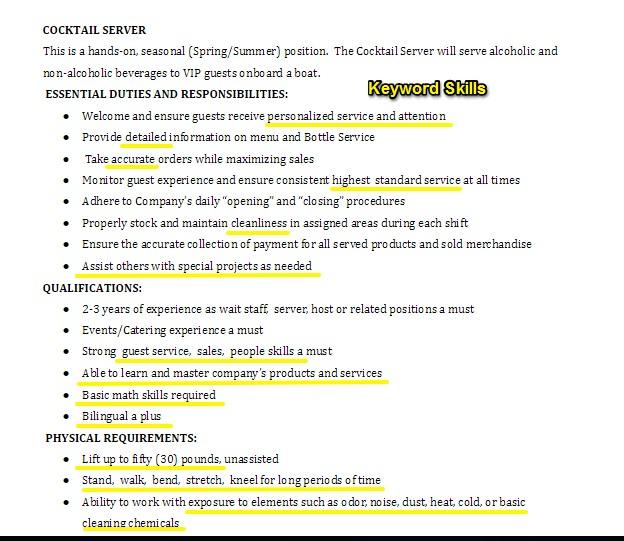 right
Describe a couple of job responsibilities that you tailor to match the job description. Choose duties that reflect your strengths and show what it's like when you get results.
My current position is a Server at a catering company. We handle black tie affairs and cocktail parties for well-to-do clients. That means that we must serve at the highest standard of service at all times. I have several years of experience providing wait service at such events.
One of the requirements in the job offer is to "ensure consistent highest standard service at all times." By mentioning that this is a part of her current role, the candidate has tailored her answer. Now, the interviewer knows that there is an overlap in job responsibilities.
Some of my job responsibilities include providing personalized services. I must also assist others with special projects as needed. For example, at one event a guest was allergic to the flowers in the centerpieces. My supervisor asked me to run out and buy another type of flower in the middle of the event. The host was busy, so I had no instructions about what to buy. I consulted with the florist. I returned with flowers that were least likely to cause an allergic reaction. They also did not compromise the aesthetics of the event. The host was so pleased that she became a regular client.
Here the candidate uses the STAR method. She elaborates on a couple of responsibility from the job offer.
I am also responsible for taking special orders and upholding standards of cleanliness. I have a great memory for wine pairings and extensive menus. I am part of a team that keeps events running while remaining invisible.
wrong
A laundry list of all the tasks you do day after day.
In my current position as a Dog Walker, I walk the dogs. I give the dogs water. I take the dogs to the dog park so they can play. At the dog park, I throw sticks. Sometimes I throw balls or frisbees if the owner provides one. I pet the dogs. I clean up after the dogs. I do some low-key grooming. For example, I groom them when they get sticks or brambles in their fur. I think that's everything. Oh wait, I forgot! I pick the dogs up and take them home.
Pro Tip: Keep it brief. One thing you don't want to do is rattle off a laundry list of job responsibilities.
The hiring manager wants to know more about that accomplishment from your resume and less about all the boring things you do.
You know the accomplishment that shows you're a whiz at optimizing filing systems? Such a wonderful whiz that you increased office productivity by 25%? That's what you should mention.
Now that you've aced your interview, what's next? Time to send a thank you email to the interviewer. Here's how: "How to Write a Thank You Email After an Interview(+10 Examples)"
Bonus: Download FREE step-by-step checklist of things to do before an interview. "Things You Need To Do Before Your Big Interview."
Plus, a great cover letter that matches your resume will give you an advantage over other candidates. You can write it in our cover letter builder here. Here's what it may look like: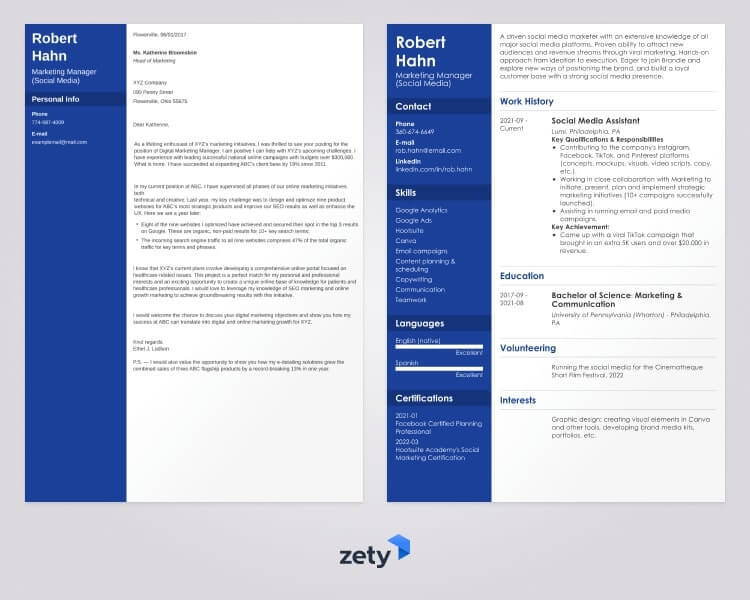 See more cover letter templates and start writing.
Answering the "can you describe your current position" question sounds like a piece of cake. But like all typical interview questions, it takes forethought, and it pays to prepare:
Take a few minutes to think about what you want to say and what the interviewer might be asking.
The hiring manager wants to know more about accomplishments from your resume, not the boring things you do.
Do that, and you can show up at your interview feeling prepared and at ease.
Still not sure how to describe your current position during an interview? We can help! Leave us a comment, and we will help you pinpoint what job responsibilities to describe before the big day.
About Zety's Editorial Process
This article has been reviewed by our editorial team to make sure it follows Zety's editorial guidelines. We're committed to sharing our expertise and giving you trustworthy career advice tailored to your needs. High-quality content is what brings over 40 million readers to our site every year. But we don't stop there. Our team conducts original research to understand the job market better, and we pride ourselves on being quoted by top universities and prime media outlets from around the world.