You came to the right place to learn all you need to know about cover letter formatting.
It all boils down to two things:
First of all, you need to format a cover letter so that it looks presentable and follows all the rules of business letter formatting etiquette.
Secondly, your cover letter has to be structured in a way that makes hiring managers grasp your value proposition fast.
See—
Most applicants don't know how to format a cover letter the right way. Their layouts are sloppy and the contents basically put readers to sleep.
In 7 minutes, you'll be well ahead of all your competition.
This guide will show you:
How to format a cover letter to impress employers with your attention to detail.
What is the best way to structure your cover letter.
Cover letter format examples better than 9 out of 10 others.
First, have a look at this simple cover letter format for reference. It's presented on a cover letter made with our fast online builder.
Want to write your perfectly formatted cover letter in 15 minutes? Use our cover letter templates and build your version here.
Cover Letter Format Template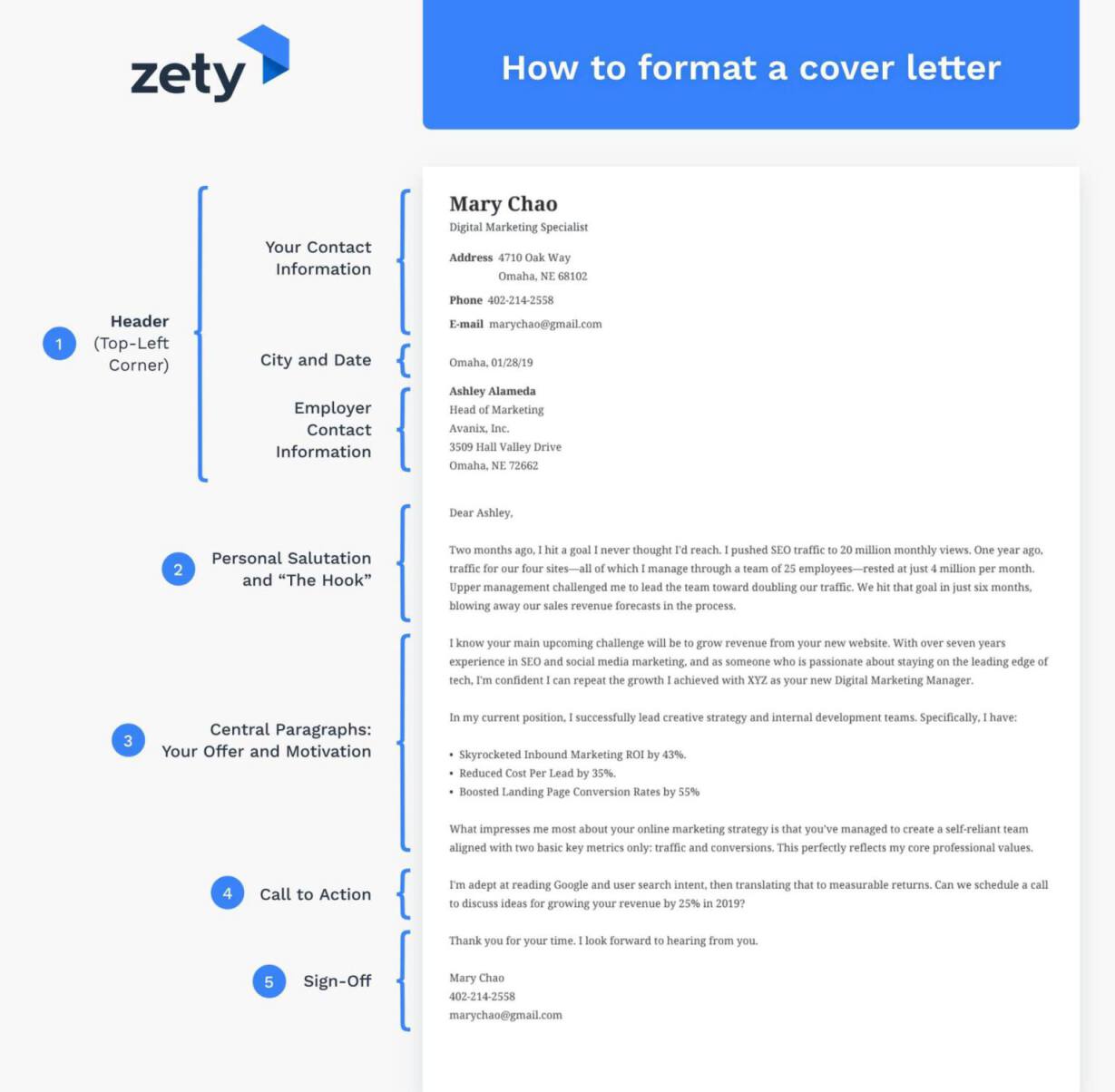 That's a perfect format for a cover letter. Let's walk through how you can structure your cover letter equally well.
Looking for some inspiration on how to craft the contents of your cover letter? Look no further. See: How to Write a Cover/Application Letter in No Time
If you want to learn more about the typographic setup of your cover letter, read Cover Letter Layout Tips
To find out about the best techniques for structuring your cover letter to get your message across effectively, check out: Cover Letter Structure (What to Include & What to Omit)
And don't forget to see tailor-made cover letter examples for every profession: Free Cover Letter Samples for Every Job
First, some super important basics:
How to Format a Cover Letter?
Set one-inch margins on all sides.
Left-align all contents. Don't use justification, it's against the standard rules of business letter formatting.
Use business letter format spacing: 1 or 1.15.
Put double spaces between paragraphs.
Optionally, include a digital copy of your handwritten signature in your sign-off. It will add a nice, professional touch.
Save your cover letter in PDF. It's the best electronic cover letter format because it keeps the layout intact.
What's the best cover letter font?
Simple, easy-to-read fonts are best for cover letters. Use a professional font like Arial, Calibri, Verdana, Helvetica, Cambria, or Times New Roman. Avoid custom fonts or special characters. Keep the cover letter font size between 11 and 12 pt.
Wondering what's a good cover letter format in an email body? Here's all you need to know about writing email cover letters: Email Cover Letter: How Is It Different?
All set? This is where the fun begins.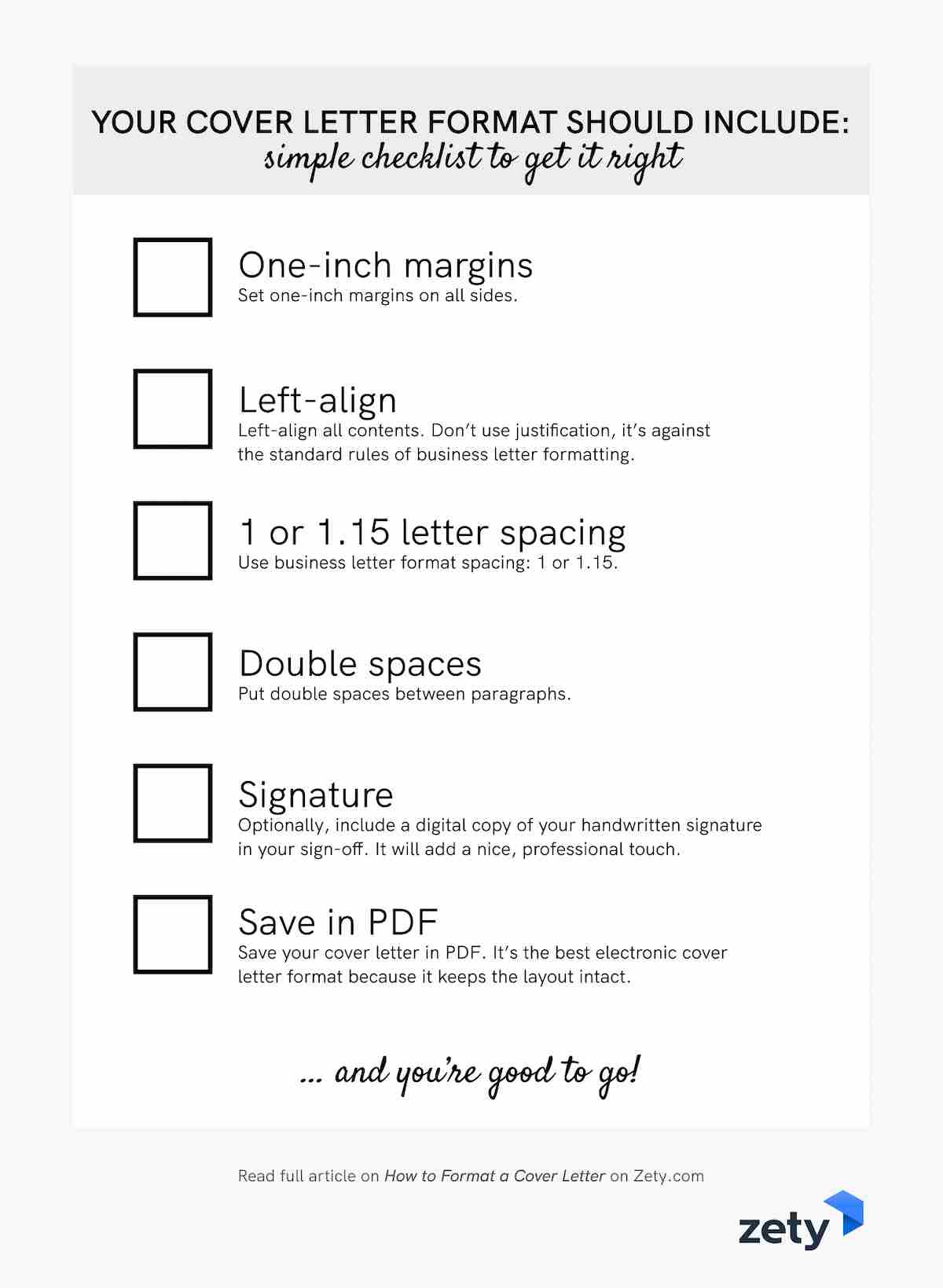 Here's how to format a cover letter step by step:
1. Create a Professional Cover Letter Header
2. Start With a Personal Salutation and a Strong Opening
3. Make an Offer and Explain Your Motivation in the Central Paragraphs
5. Finish with a Professional Sign-Off
In sections below you'll find a detailed explanation of how to follow the proper cover letter format.
1
Create a Professional Cover Letter Header
If you're writing a business cover letter for corporate positions or jobs in traditional industries, this part is especially important.
The thing is—nowadays surprisingly few people know the proper address format for formal letters. Getting it right will show your attention to detail.
Here's a correct way of formatting the cover letter header:
Cover Letter Format Example—Header
right
[Your Full Name]
[Your Job Title]
[Street,]
[City, State]
[Phone Number]
[Email]
[LinkedIn Profile]
[City, Date]
[Hiring Manager's Name]
[Hiring Manager's Job Title]
[Company Name]
[Street,]
City, State]
Put all of the above information in the top-left corner.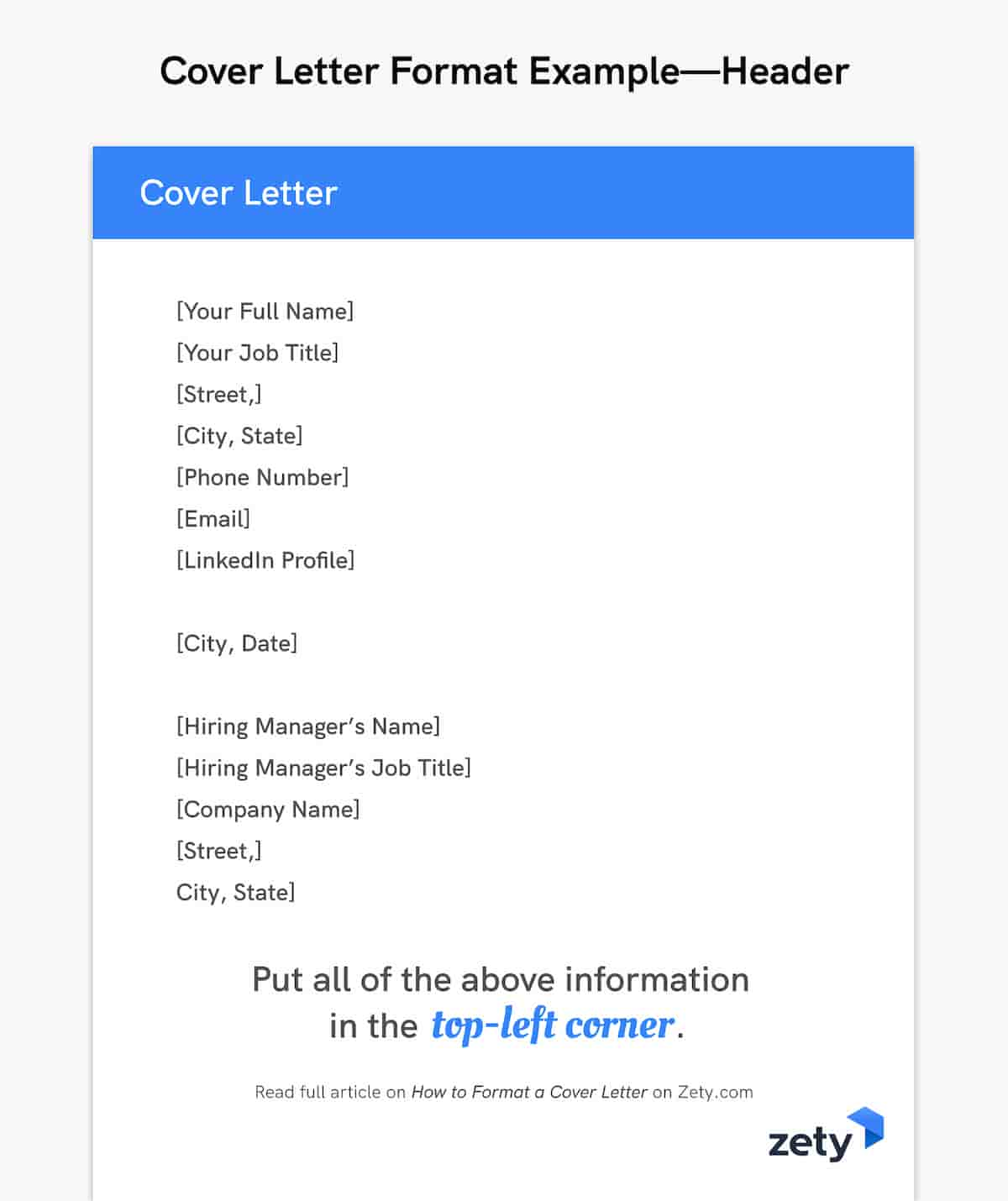 Don't have the address (or even the name) of the hiring manager? Need more tips on how to format the address on your cover letter. Here's a guide that will answer all your questions: How to Address a Cover Letter
2
Start With a Personal Salutation and a Strong Opening
Imagine the hiring manager sitting in her office. She's reviewing job applications and she's already bored out of her mind.
She starts reading your cover letter. And suddenly—
"WOW! I need to interview this one!" she screams.
How did you manage to accomplish that?
You gave her exactly what she wanted at the very top. You addressed her by her name and hooked her with your most shining achievement right after that.
See what I mean:
Sample Cover Letter Format: Salutations
right
Dear Ashley,
Dear Ashley Jones,
Dear Ms. Jones,
wrong
To Whom It May Concern,
Hey Team,
Dear Sir or Madam,
Dear Recruiter,
See? All of the right ones are personal. Why is it so important?
There's great research that shows nothing activates our brains as much as hearing or seeing our own name.
Pro Tip: If you can't find the name of the hiring manager by no means, don't open your cover letter with "Dear Sir or Madam" or "To Whom It Might Concern." Nothing screams "generic" more than these two. Instead, go for "Dear Hiring Manager," or "Dear [XYZ Team] Hiring Manager."
Open your resume cover letter with the right name and you'll automatically get attention. And once you get it…
Don't. Let. Go.
Use the "hook." A first paragraph that showcases your most relevant professional win.
Cover Letter Format Examples: Opening Paragraph
right
Two months ago, I hit a goal I never thought I'd reach. I pushed SEO traffic to 20 million monthly views. One year ago, traffic for our four sites—all of which I manage through a team of 25 employees—rested at just 4 million per month. Upper management challenged me to lead the team toward doubling our traffic. We hit that goal in just six months, blowing away our sales revenue forecasts in the process.
wrong
I'm writing in response to a job offer for a digital marketing manager. As an enthusiastic marketing professional with seven years of experience, I am sure I would be a perfect addition to your team.
Don't have achievements of that magnitude?

Don't nibble off your fingernails just yet.
Want your resume cover letter format to make a great impression? Showcase your attention to detail and create a cover letter that matches the format and layout of your resume.
Create a cover letter and a matching resume in your builder. Here's what it might look like: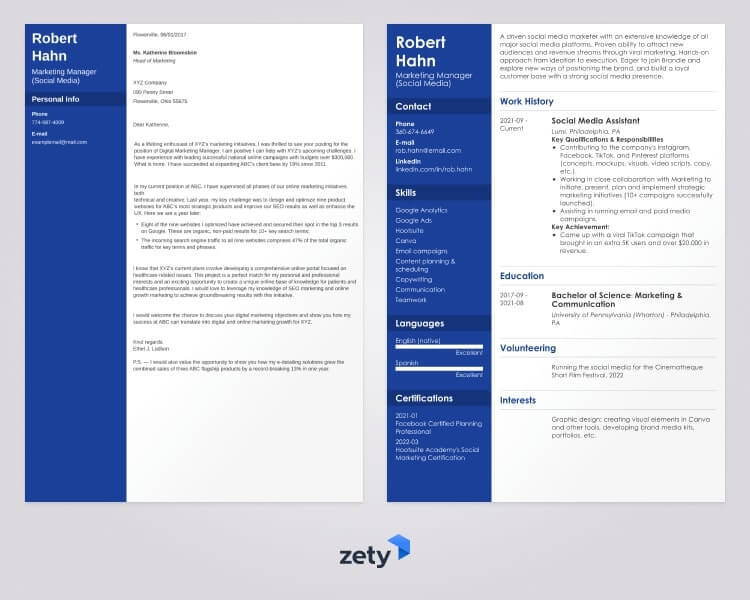 See more cover letter templates and start writing.
One of our users, Nikos, had this to say:
[I used] a nice template I found on Zety. My resume is now one page long, not three. With the same stuff.
For tons of ideas and tips for starting the cover letter in the best way possible, see this guide: How to Start a Cover Letter to Make It Irresistible to Read
3
Make an Offer and Explain Your Motivation in the Central Paragraphs
A professional format of a good cover letter has to follow the key rule—
It's more about them than it is about you.
In the main body of your cover letter, focus on what you have to offer, not what you want out of the job. And then—
Make them feel special. Say why exactly it is that you want to join them, not any other company.
How to Format a Basic Job Cover Letter: Central Paragraphs
Like in this example.
Cover Letter Format Example: Central Paragraphs
right
I know your main upcoming challenge will be to grow revenue from your new website (your employer's key challenge). With over seven years experience in SEO and social media marketing, and as someone who is passionate about staying on the leading edge of tech, I'm confident I can repeat the growth I achieved with XYZ as your new Digital Marketing Manager (your offer).
In my current position, I successfully lead creative strategy and internal development teams. Specifically, I have:
Skyrocketed Inbound Marketing ROI by 43%.
Reduced Cost Per Lead by 35%.
Boosted Landing Page Conversion Rates by 55% (bullet points to grab attention)
What impresses me most about your online marketing strategy is that you've managed to build a self-reliant team aligned with two basic key metrics only: traffic and conversions. This perfectly reflects my core professional values (your motivation to join the company).
How long should cover letters be? One paragraph? Two pages? Get the answers here: What the Ideal Cover Letter Length Is and Why It Can Make All the Difference
If your examples seem too intimidating and you feel you really have no relevant experience to showcase, see our cover letter guide for freshers: Cover Letter With No Experience: Examples and Writing Tips
4
Use a Clear Call to Action
The hiring manager kind of wants to give you a shot already.
Don't let her change her mind. Finish with a compelling call to action.
How to Format a Cover Letter Call to Action
Cover Letter Format Examples: Call to Action
right
I'm adept at reading Google and user search intent, then translating that to measurable returns. Can we schedule a call to discuss ideas for growing your revenue by 25% in 2018?
The hiring manager would have to be insane to say "no" to that!
wrong
I know I'll make a great employee. This opportunity is just perfect for me. It would mean the world to me if you gave me a shot. I'm looking forward for your call.
This one, in turn, is desperate and needy—and recruiters don't like such candidates.
There are more great strategies to finish a cover letter on a strong note. Learn about them from this handy guide: How to End a Cover Letter Right
5
Finish with a Professional Sign-Off
The format of a cover letter closing is the same as in any other formal business letter.
How to Format a Cover Letter Closing
And here's a handy cover letter closing format sample:
Cover Letter Closing Format Example
right
Thank you for your time. I look forward to hearing from you.
Mary Chao
402-214-2558
marychao@gmail.com
http://linkedin.com/in/maryzchao
Remember to make your cover letter title professional and memorable so you don't get lost in the sea of other candidate applications.
Pro Tip: Once you send your cover letter, don't just sit and wait. Remember to follow up on your job application to show that you're really enthusiastic about the job.
For more cover letter tips, tricks, and easy-to-use hacks that can boost your chances of landing that dream job, read this guide: Simple Cover Letter Tips and Insider Hacks from HR Pros
And if you're prefer to keep things short and sweet, take a look at this: Short Cover Letter Examples for a Speedy Job Application
Key Takeaway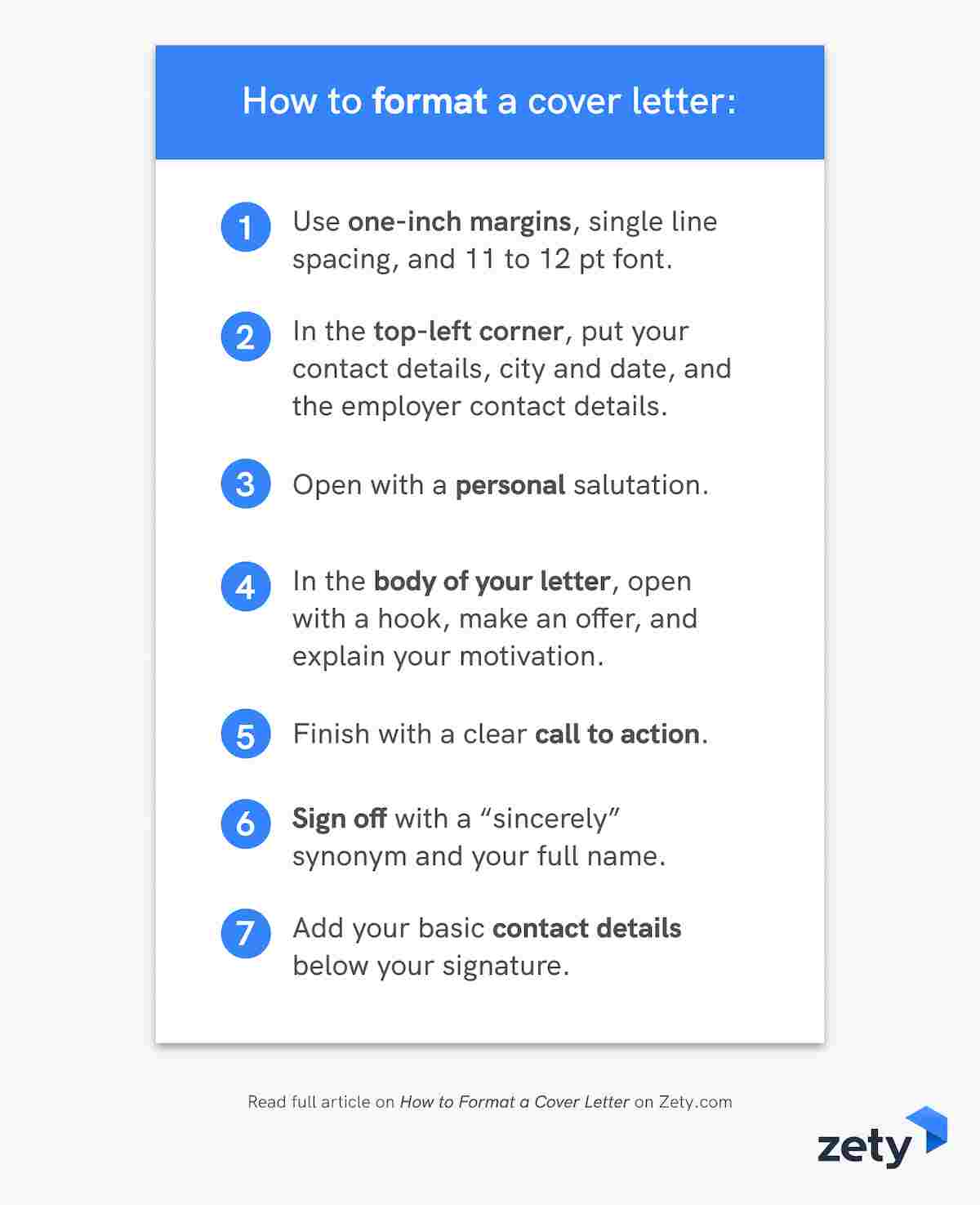 We've covered all you need to know about proper cover letter formatting. In a nutshell, this is how to format a cover letter:
Use one-inch margins, single line spacing, and 11 to 12 pt font.
In the top-left corner, put your contact details, city and date, and the employer contact details.
Open with a personal salutation.
In the body of your letter, open with the hook, make an offer, and explain your motivation.
Finish with a clear call to action.
Sign off with a "sincerely" synonym and your full name.
Add your basic contact details below your signature.
All check? Then you can be sure your cover letter for a job is formatted perfectly.
Want to learn more about cover letter setup? Have additional questions we didn't answer above? Drop me a line in the comments and I'll be happy to chat!