How to Format a Cover Letter: Layout Examples for 2023
You don't often get to write a standard or email cover letter. Yet to land that job, you have to do it. Here you'll see a cover letter format that secures it.
Designing the perfect layout, using the right paragraph order, and anything really that's connected to formatting a cover letter comes with a stressful act. No wonder. You're put under much scrutiny that weighs heavily on you.
But it doesn't have to because there's a set of rules that will help you get your head around it. And all of them are in this guide about a cover letter format.
You'll discover:
How to format a cover letter like a pro.
How to structure a standard and an email cover letter, coming with infographics.
What the best cover letter layout is for both.
And a series of cover letter format examples in different styles.
Want to see your perfectly written and formatted cover letter in 15 minutes? Use our cover letter builder. Choose from 20+ professional cover letter templates that match your resume. See actionable examples and get expert tips along the way.
Sample cover letter for a resume—See more cover letter examples here.
It's a detailed guide with a number of chapters. Here's a quick rundown (you can click the links to get to the desired sections):
What Is a Cover Letter
A cover letter is a letter attached to your job application along with your resume. It can be a standard business letter or an email. Each aims to complement the information on your resume and present you as the best candidate for a job.
Standard cover letter, or an application letter, is the most popular cover letter type. You send it as an attachment in response to a job ad.
Email cover letter is a shorter cover letter type that you write directly in the email message. It's less formal.
Choosing either depends on the type of job application process you're in. Most online applications allow you to upload your resume and cover letter, but that may not always be true. Sometimes, tools let you upload only your resume. In such cases, you'll be asked to email the recruiter or use a dedicated field in the app to write your short cover letter.
First, let's discuss how to format a standard cover letter.
Standard Cover Letter Format
You'll notice the distinction between layout and structure, meaning the look and feel and the order in which you write your standard cover letter.
Standard Cover Letter Layout
The below tips will let you create and maintain the best cover letter layout in terms of legibility and readability. Without further ado, here's everything you need to know:
Pick a legible cover letter font, like Arial, Calibri, or Verdana, and keep it between 10 and 12 font-size points.
Set margins to 1 inch on each side of the page.
Adjust cover letter spacing: double spacing between paragraphs and 1–1.15 between lines.
Left-align all contents.
Limit the length of your cover letter to one page.
Save your cover letter in PDF. It's the best choice to keep the cover letter layout intact.
Name your cover letter file like this YourName—JobTitle—CoverLetter.pdf.
Standard Cover Letter Structure
Let's talk order. See this infographic for the first idea of a correct standard cover letter structure: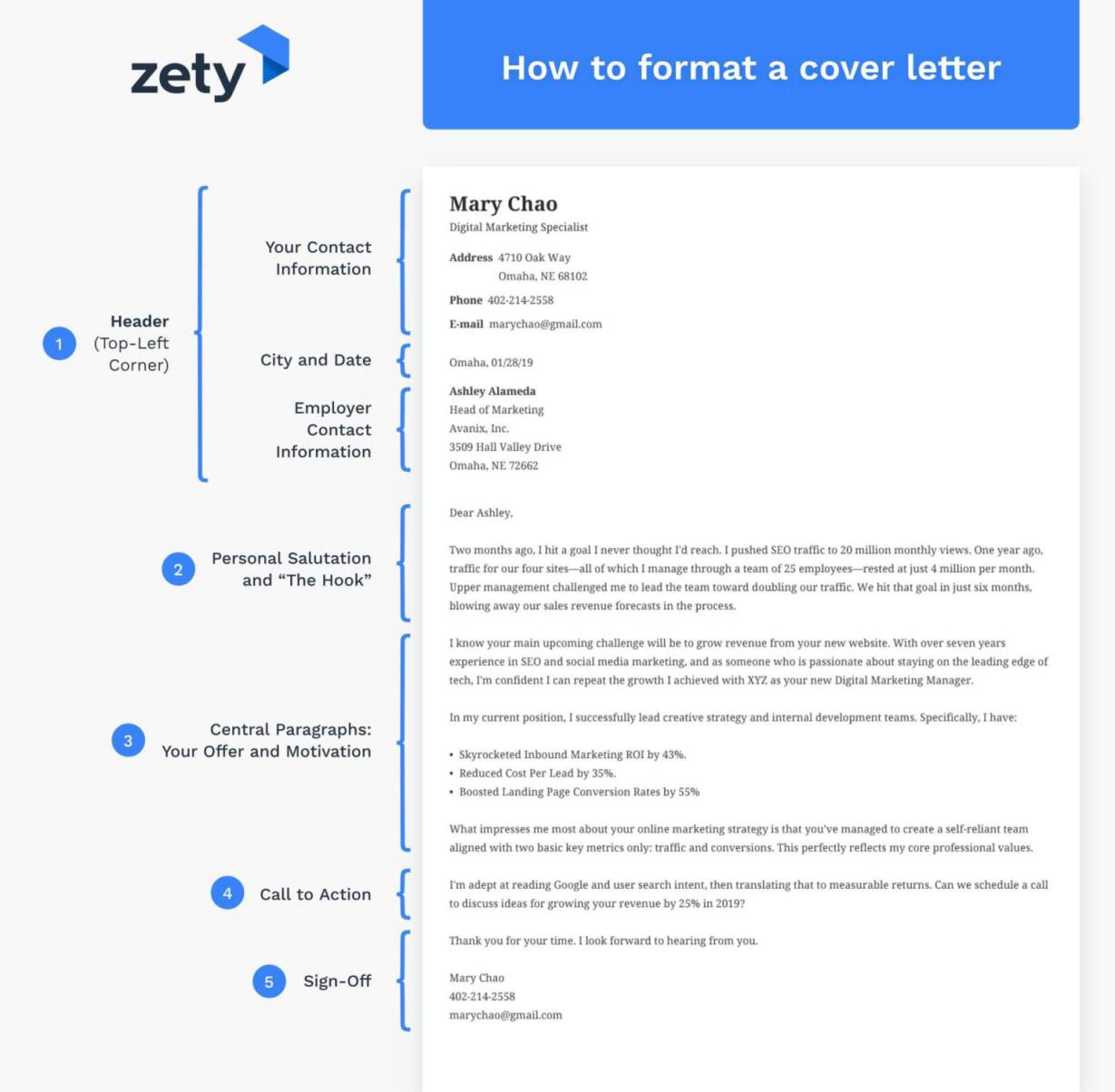 Header
A cover letter header is the first thing a hiring manager or recruiter sees, and it carries arguably the most important details of your application—your contact information. You need to have specific details handy to write it. They are:
Your contact information: full name, mailing address (optional), phone number, email, and LinkedIn profile handle (optional)
City and date of writing
Employer contact information: hiring manager's or recruiter's name, job title, company name, and location
See the below example:
Cover Letter Format—Header Example
Mary Chao
Digital Marketing Specialist
4710 Oak Way
Omaha, NE 68102
402-214-2558
marychao@gmail.com
linkedin.com/in/mary.chao
Omaha, 01/28/2019
Ashley Alameda
Head of Marketing
Avanix, Inc.
2509 Hall Valley Drive
Omaha, NE 72662
Pro tip: Leave a slightly larger space between your contact information and the city and date.
Personal Salutation and "The Hook"
There's research showing nothing activates your brain as much as hearing or seeing your name. So open your cover letter with the correct hiring manager's or recruiter's name, and you'll get the attention you deserve. Addressing the cover letter right is the single most crucial thing in cover letter writing.
You can look for their name in the job description, company website, or LinkedIn. Call the company and ask for the hiring manager's name if you struggle. By no means open your cover letter with "To Whom It May Concern" or "Dear Sir or Madam." Nothing screams generic more than these two. Go for "Dear Hiring Manager" if all strategies have failed.
Cover Letter Format—Salutation Examples
Dear Ashley,
Dear Ms. Jones,
Dear Ashley Jones,
Dear Hiring Manager,
Now that you have their attention, use one of those opening strategies to create the hook (something that will keep their attention for longer):
Mention a significant (yet relevant) accomplishment you're proud of.
Discuss something you love about the company you're applying to.
Comment on the recent award or news the company was honored by.
Showcase your passion, skill, or other outstanding quality.
Drop names.
See this example of a powerful opening paragraph with a hook using an accomplishment:
Cover Letter Format—Opening and Hook Example
Two months ago, I hit a goal I never thought I'd reach. I pushed SEO traffic to 20 million monthly views. One year ago, traffic for our four sites—all of which I manage through a team of 25 employees—rested at just 4 million per month. Upper management challenged me to lead the team toward doubling our traffic. We hit that goal in just six months, blowing away our sales revenue forecasts in the process.
Central Paragraphs: Your Offer and Motivation
In the body of your standard cover letter, focus on what you have to offer, not what you want from a job. Emphasize how your expertise will help solve their problems. (You can use bullet points to break up the text and highlight your achievements with numbers.) And then make them feel special. Your cover letter should say why you're motivated to join the company and not any other. Once your employer understands they want you, they'll want to know why you want them.
Cover Letter Format—Central Paragraphs Example
I know your main upcoming challenge will be to grow revenue from your new website. With over seven years of experience in SEO and social media marketing, and as someone who is passionate about staying on the leading edge of tech, I'm confident I can repeat the growth I achieved with XYZ as your new Digital Marketing Manager.
In my current position, I successfully lead creative strategy and internal development teams. Specifically, I have:
Skyrocketed Inbound Marketing ROI by 43%.
Reduced Cost Per Lead by 35%.
Boosted Landing Page Conversion Rates by 55%
What impresses me most about your online marketing strategy is that you've managed to build a self-reliant team aligned with two basic key metrics only: traffic and conversions. This perfectly reflects my core professional values.
Are you intimidated by those achievements? You must be at the beginning of your journey, then. Read more: Cover Letter Writing Tips for No-Experience Candidates.
Call to Action
The hiring manager wants to give you a shot already, so don't let them change their mind. Finish your cover letter with a compelling call to action. It should reiterate your value and summarize your qualifications in a single sentence. Then ask for a call or a meeting. Restate that you can help them achieve their objectives.
Cover Letter Format—Call to Action Example
I'm adept at reading Google and user search intent, then translating that into measurable returns. Can we schedule a call to discuss ideas for growing your revenue by 25% in 2024?
Sign-Off
The complimentary closing of a standard cover letter is the same as any other formal business letter. Write "Sincerely," "Regards," or "Respectfully," followed by your full name, one or two lines underneath. Optionally, include a digital copy of your handwritten signature.
Pro tip: When providing a paper copy of your cover letter, handwrite your full name between the signature line and your typed name.
When making a resume in our builder, drag & drop bullet points, skills, and auto-fill the boring stuff. Spell check? Check. Start building a professional resume template here for free.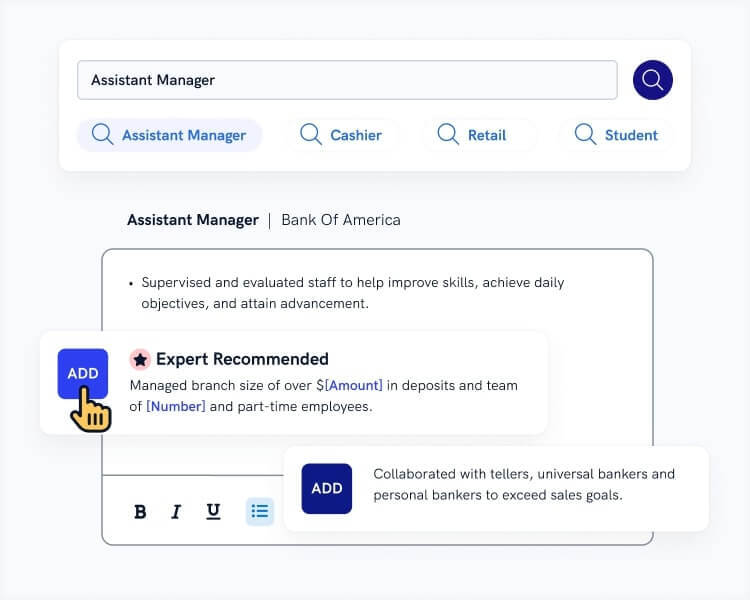 When you're done, Zety's resume builder will score your resume and our resume checker will tell you exactly how to make it better.
Email Cover Letter Format
If you reached this chapter, it means you're required to send a cover letter as an email message. Below you'll learn exactly how to do it.
There won't be a section on the layout because email software predetermines it, and you can use what their text editors offer you by default.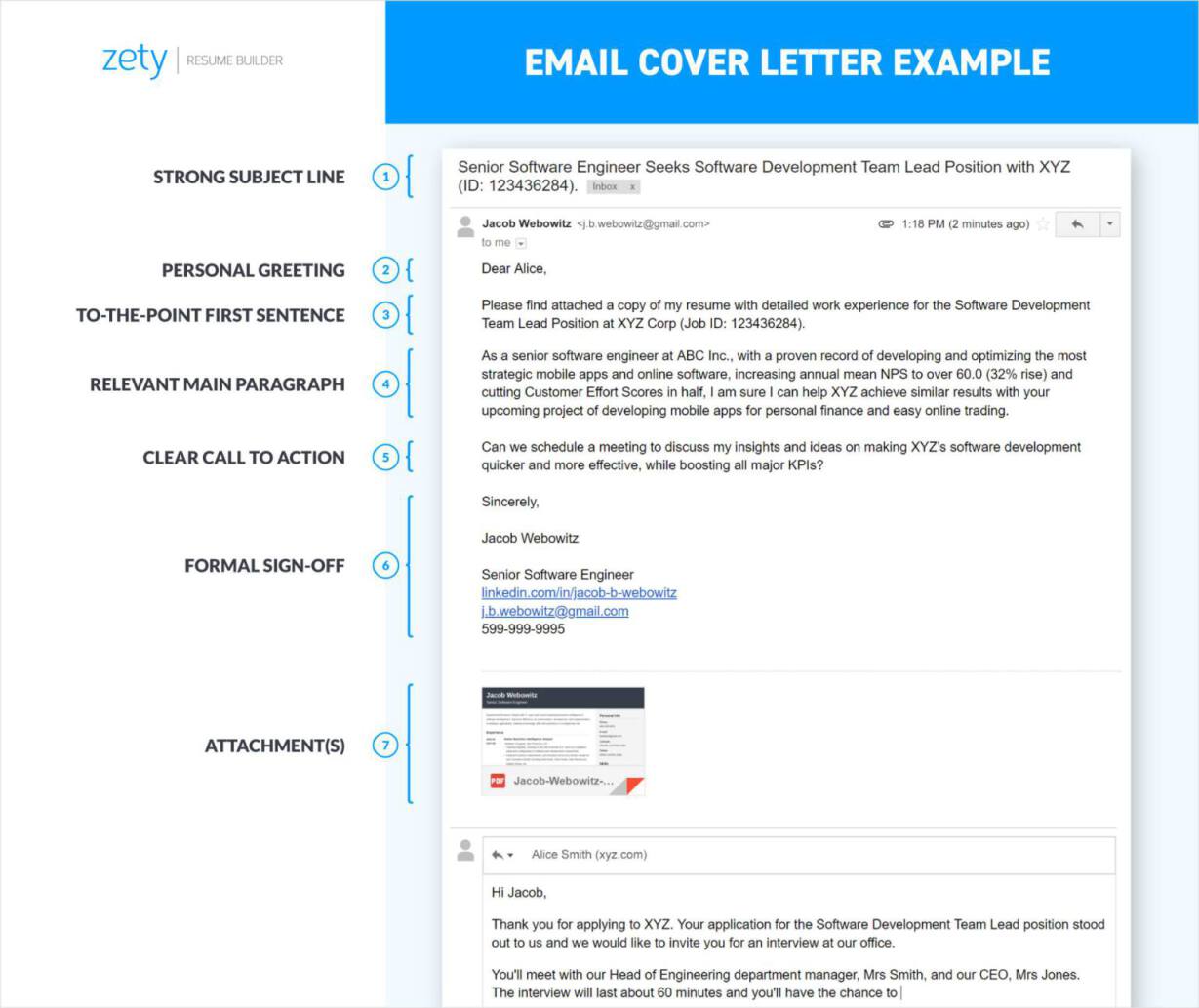 Strong Subject Line
Statistics show a continual growth in the number of emails sent and received daily. It means that also recruiters and hiring managers get their inboxes flooded. So how do you get through? By forging a solid subject line. Focus on the first few words to let the recipient know what you're about straight away.
In your case, the best approach is to name the position you're after and include the ID of the role, if it's available, along with your full name next to it. For example: Software Developer Position (ID:12345) — Johnny Smith.
Personal Greeting
Compared to a standard cover letter, you're not required to type your and your employer's contact information, but you can go directly to greeting them. Yet, again, address them by name.
To-The-Point First Sentence
No need for storytelling. Be precise about why you're sending them the email and what it is about as in: Attached you will find my resume with detailed work experience for the position of software developer.
Relevant Main Paragraph
To nail this part, read the job description carefully to identify the most pressing needs of your employer (growth objectives, skill set, qualifications) and prove with your professional acumen and accomplishments that you'll help them meet those needs.
Clear Call to Action
Ask them to contact you and restate your offer.
Formal Sign-Off
This is where you choose between "Thank You," "Sincerely," or "Best regards." In addition, you need to mention your contact information for them to contact you. So include your full name, cell phone number, and LinkedIn handle (optionally).
Attachment(s)
Cover letter enclosures make your email job application complete. Remember to name your files professionally and attach them to your email, for instance: Software-Developer_Johnny-Smith__Cover-Letter.pdf.
Cover Letter Format Examples
Now that you're stocked with cover letter formatting tips, see what the best cover letter looks like:
Professional Cover Letter Format
If you want to structure your cover letter to focus on what's important, you're right to choose this cover letter format. The darker sidebar covers the usual, leaving your hiring manager with the juicy and plenty of white space which they can rest their eyes on.
That format will also work for these cover letters:
Business Cover Letter Format
Looking at that cover letter format, you can tell this is a cover letter for C-suite professionals. It's elegant. It's neat. It's perfect. The heading is designed to highlight your position, so use it to your advantage if you're a senior candidate with an impressive resume.
That format will also work for these cover letters:
Modern Cover Letter Format
Entry-level candidates—here's something just for you. A splash of color and square icons will add personal vibes to the cover letter structure. It is precisely what employers are looking for in candidates like yourself.
That format will also work for these cover letters:
Creative Cover Letter Format
Are you recruiting to the creative industry? Then this is a perfect cover letter format for someone with a knack for design and communication. It'll help you tell your story thanks to a sleek layout that feels complete.
That format will also work for these cover letters:
Basic Cover Letter Format
Sometimes you want things to be uncomplicated, be direct, and put your thoughts down uninterrupted. This cover letter format gives you just that. It's a simple cover letter format that lets your words take the stage.
That format will also work for these cover letters:
Plus, a great cover letter that matches your resume will give you an advantage over other candidates. You can write it in our cover letter builder here. Here's what it may look like: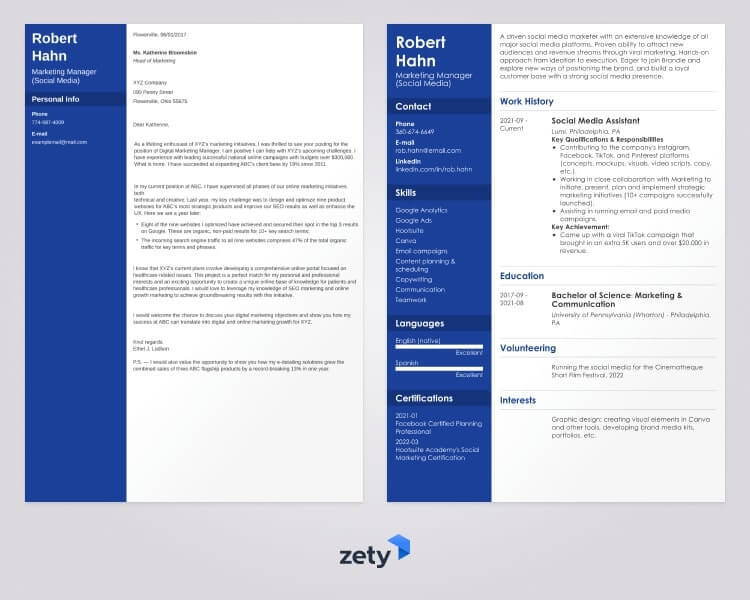 See more cover letter templates and start writing.
Key Takeaway
In this article, you've learned about the different cover letter formats and how to structure a cover letter to appear as professional as possible. Do you need a reminder of the main points?
In a nutshell, this is how to format a cover letter:
Use one-inch margins, single line spacing, and 11 to 12–pt font.
In the top-left corner, put your contact details, city and date, and the employer's contact details.
Open with a personal salutation.
In the body of your letter, open with the hook, make an offer, and explain your motivation.
Finish with a clear call to action.
Sign off with a "sincerely" and your full name.
All check? Then you can be sure you perfected the right cover letter format.
Want to learn more about cover letter structure? Have additional questions we didn't answer above? Drop me a line in the comments, and I'll be happy to chat!
About Zety's Editorial Process
This article has been reviewed by our editorial team to make sure it follows Zety's editorial guidelines. We're committed to sharing our expertise and giving you trustworthy career advice tailored to your needs. High-quality content is what brings over 40 million readers to our site every year. But we don't stop there. Our team conducts original research to understand the job market better, and we pride ourselves on being quoted by top universities and prime media outlets from around the world.
Frequently Asked Questions about Cover Letter Format
How to format a cover letter correctly?
Even if you know what a cover letter should say, it's still important to structure the message correctly:
Put your contact information at the top of the letter.
Address the cover letter to the hiring manager.
Add today's date.
Use a professional cover letter greeting and the hiring manager's name.
Explain why you're a good fit for the position in a few bullet points.
Add a cover letter closing and sign the letter.
How to format a cover letter for an internship?
Candidates applying for an internship can use a business cover letter format. The main difference is that instead of referring to their work experience, they should put emphasis on their academic accomplishments, extracurricular activities, and relevant knowledge they learned while studying—very similar to an entry-level cover letter.
This is how you should format a cover letter for an internship:
Put your name, field of study, and contact information at the top.
Address the cover letter to the hiring manager or internship coordinator.
Add the date.
Use a professional greeting and the hiring manager's name.
Introduce yourself and provide an attention-grabbing accomplishment.
Explain why you're interested in the internship and how well you fit the position.
Provide relevant examples of academic achievements, extracurricular activities, personal projects, etc.
Finish with a call to action.
Add a cover letter closing and sign the letter.
Remember to use a cover letter template matching your internship resume. And don't forget to get into the details of cover letters for internships here.
What's a good cover letter email format?
A good email cover letter format, or an online cover letter format, is shorter and less formal than a classic cover letter format. You can use such a format when the job advertisement doesn't specifically request a cover letter. This way, you can introduce yourself and present your qualifications for the job without spending extra time on making the layout for your cover letter or choosing a Word cover letter template.
Follow our guide to read more about the best email cover letter format.
What's the APA format for a cover letter?
The APA format for cover letters is used when submitting a manuscript for publication. It's quite different from a formal cover letter for a job.
APA-format cover letter for journal submissions includes:
Title of the manuscript
List of authors
Assurances stating that the authors agree with the content of the manuscript and the order of authorship
Assurances stating that the corresponding author takes responsibility for informing other authors of any editorial changes made to the manuscript
List of closely related manuscripts that have been submitted to the same or another journal
Information about conflicts of interest that could be seen as influencing the research
Request for review
Verification related to the ethical treatment of human or nonhuman participants
Copy of permissions needed to reproduce the copyrighted material
Contact information of the corresponding author
The APA-format cover letter must be addressed to the journal editor. APA, which stands for American Psychological Association, also defines the format of resumes for jobs in the psychology field.
What's the MLA format for a cover letter?
MLA-format cover letters follow the Modern Language Association style of academic writing. They can be used when applying for research positions or academic jobs. The difference between a business cover letter and an academic cover letter is that MLA cover letters emphasize the author's scholarly work, such as a thesis, dissertation, or research. You can send an MLA-formatted cover letter with an academic CV or a Ph.D. resume.
How to write an MLA-formatted cover letter:
Add your full name and contact information at the top of the letter.
List the employer's address.
Add the current date.
Address the letter to the hiring director or the hiring committee.
Mention the job you're applying for in the first paragraph.
Highlight why you're a good fit for the position.
Explain how your thesis, dissertation, or research relates to the offered position.
Mention how your background can help you fit into the academic institution or organization.
Finish your MLA-format cover letter with a call to action by proposing a meeting or a phone conversation.
End with 'Sincerely,' your full name, and credentials.
What's a T-format cover letter?
A T-format cover letter is a business cover letter that compares job requirements and a candidate's qualifications. The name stems from the T-shape lines that divide the page into two columns. The T-format cover letter can be easier to scan than a classic cover letter format.
Follow these steps to use the T format for a cover letter:
Pick a basic cover letter template or create one by yourself.
Start writing by adding your contact information, date, company information, and salutation.
Follow with the opening paragraph to introduce yourself.
Add a table with two columns and two rows.
Label the columns 'Job Requirements' and 'My Experience,' or something similar.
On the left side, add bullets with job requirements that mirror the ones listed in the job advertisement.
On the right, provide examples from your experience to prove that you have the skills needed for the job.
End the cover letter with a short closing paragraph and a professional salutation.
Some career experts claim that a T-format cover letter can help you sell yourself to the recruiter better than a classic cover letter format.
How to write a cover letter in block format?
A block format cover letter is the most common cover letter format. All the information on the page is aligned to the left side, and the text uses single-line spacing, with double-spacing between paragraphs. Most free cover letter templates for G-Docs and other programs follow the block format.