Human Resources Cover Letter Examples for Any Job in HR
Welcome to the only HR cover letter writing guide you'll ever need. Just give me 5 minutes of your time and I'll show you how to write a cover letter that will land you more interviews.
Picking the right candidate is fun! That's why you chose your career, after all. The thing is—now it's your HR cover letter that will be scrutinized. And you will be judged more harshly than any candidate. Because you should be goooood at this game.
Need some inspiration to craft your job-winning cover letter? You've come to the right place.
This guide will show you a sample HR cover letter plus the best tips on how to write a formal Human Resources cover letter step-by-step.
Want to write your cover letter fast? Use our cover letter builder. Choose from >20+ professional cover letter templates that match your resume. See actionable examples and get expert tips along the way.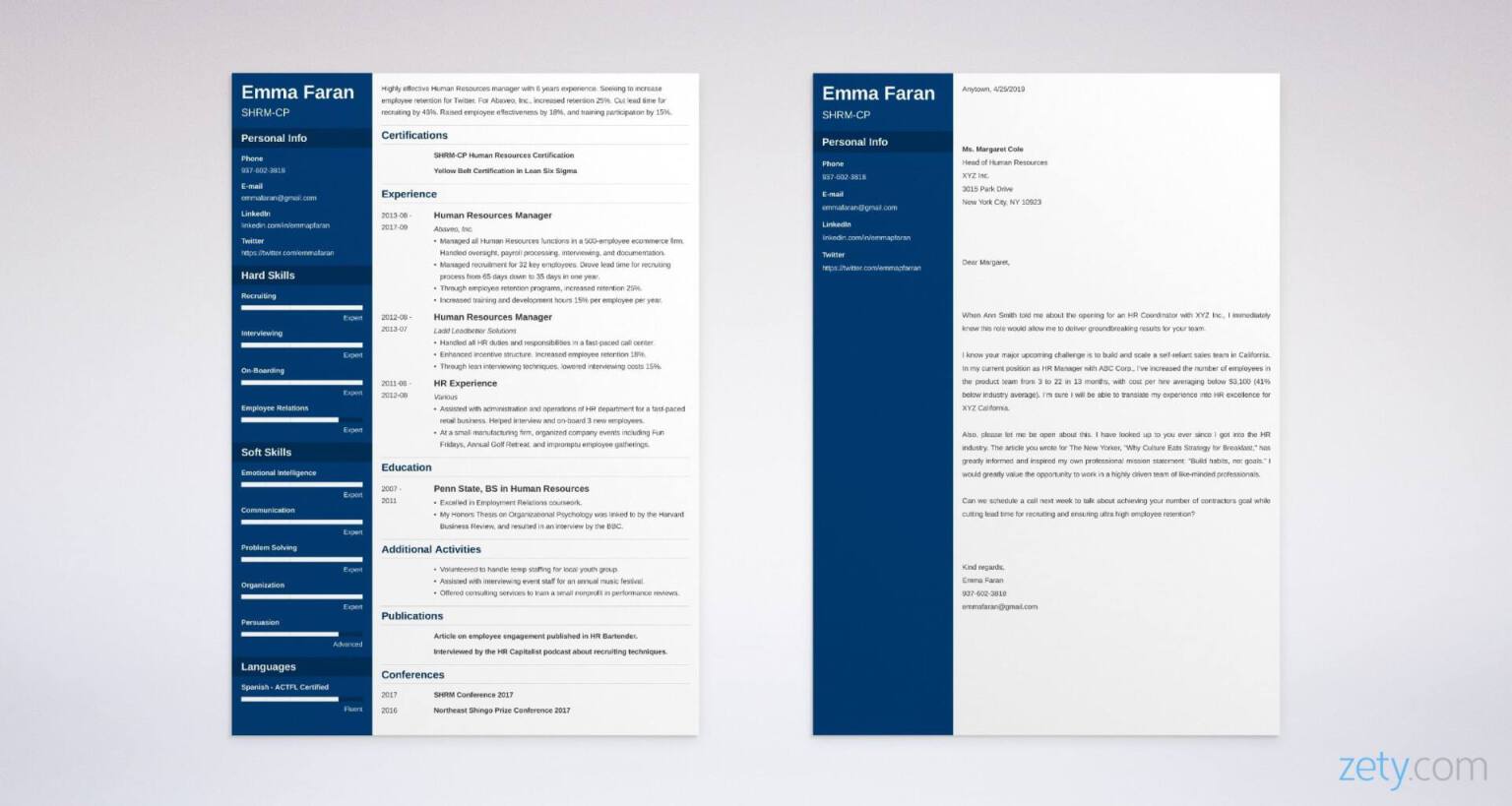 HR Cover Letter for a Resume—>See more cover letter examples and create your cover letter here.
Even the best HR cover letter is worthless without a great HR resume alongside. Read this guide to make sure yours is ready: Human Resources Resume Sample & Writing Guide.
Here are a few other cover letter examples to consider related to HR jobs:
Want to explore your options further? See our full selection of cover letter examples for every career: Cover Letter Examples.
Human Resources Cover Letter Sample
Emma Faran
SHRM-CP
937-602-3818
emmafaran@gmail.com
linkedin.com/in/emmapfaran
@EmmaPFaran
Anytown, 4/25/2019
Ms. Margaret Cole
Head of Human Resources
XYZ Inc.
3015 Park Drive
New York City, NY 10923
Dear Margaret,
When Ann Smith told me about the opening for an HR Coordinator with XYZ Inc., I immediately knew this role would allow me to deliver groundbreaking results for your team.
I know your major upcoming challenge is to build and scale a self-reliant sales team in California. In my current position as HR Manager with ABC Corp., I've increased the number of employees in the product team from 3 to 22 in 13 months, with cost per hire averaging below $3,100 (41% below industry average). I'm sure I will be able to translate my experience into HR excellence for XYZ California.
Also, please let me be open about this, I have looked up to you ever since I got into the HR industry. The article you wrote for The New Yorker, "Why Culture Eats Strategy for Breakfast," has greatly informed and inspired my own professional mission statement: "Build habits, not goals." I would greatly value the opportunity to work in a highly driven team of like-minded professionals.
Can we schedule a call next week to talk about achieving your number of contractors goal while cutting lead time for recruiting and ensuring ultra high employee retention?
Kind regards,
Emma Faran
937-602-3818
emmafaran@gmail.com
So you've seen a head-turning Human Resources cover letter example.
Time to learn how to write an equally good cover letter for an HR position yourself. (All the below tips apply whether you're writing an HR assistant cover letter, HR coordinator cover letter, or even an HR cover letter with little or no experience to list!)
Human Resources Cover Letter Template
Here's how to write a Human Resources cover letter for a job application:
1. Use the Human Resources cover letter format
One-inch margins on each side.
Single line spacing.
Elegant font: 11 to 12 pt size.
Learn more: Cover Letter Formatting Rules + Tips
2. Create a professional cover letter header
Start with your full name and contact details in the top-left corner.
Include your phone number, email address, LinkedIn profile. Optionally, link to other profiles on social media or add an URL of your personal website.
Adding city and date below your contact info is a tad old school, but employers in HR teams will appreciate this professional touch.
Finally, include the contact details of the hiring manager to whom you're addressing the letter.
Can't find the exact addressee? Do some research: see who posted the job ad on LinkedIn, check with the company website or simply call and ask.
Learn more: Who to Address a Cover Letter to (and How to Find Them!)
3. Open with a personalized salutation and a strong first paragraph
"Dear" + hiring manager's name works best.
Open with a "hook:" highlight your proudest relevant professional achievement. Make them want to read more.
Be clear about the position for which you're applying.
Learn more: Start a Cover Letter so the Hiring Manager Wants More
4. Show that you're the perfect candidate
Personalize, personalize, personalize. Pay close attention to the job ad. Show how your skills and experience will help them with their challenges.
Refer to a few other professional accomplishments you cannot afford to omit.
Add numbers and metrics to your achievements to validate them.
Do all this while not droning on for too long. So how long is too long? Check: How Long Should a Good Cover Letter Be?
5. Explain why you want in
Make them feel special. You want this HR job, not just a job with any Human Resources team.
Drop a compliment or two. Say what impresses you about the way they do business.
Make them believe you're likely to stay in this job for a long period of time. They know as well as you do that employee retention is a critical metric!
6. Make an offer and include a call to action
Suggest a time for a meeting or a call.
Remind them what's in it for them: make an offer to help them deliver their goals.
Learn more: The Best Cover Letter Closing Hacks and Ideas
7. Close with a professional sign-off
Sign with your full name + a digital copy of your signature.
In the footer, add your phone number and email.
All done? Great. Now you can just sit back, relax, and wait for the call in, right?

Not so fast. To show that you're really serious about landing that job, you'll need to follow up! Find out more: How to Follow Up on a Job Application to Get the Interview
And there you have it. Everything you need to know about writing a cover letter for HR jobs.
And sure, a great cover letter can be a game-changer, but to have a shot at that dream job, you still need to write a perfect resume.
When making a resume in our builder, drag & drop bullet points, skills, and auto-fill the boring stuff. Spell check? Check. Start building a professional resume template here for free.
When you're done, Zety's resume checker will score your resume and tell you exactly how to make it better.
Got any questions? Need help? Or maybe you'd like to share your tips for writing professional human resources cover letters? Leave me a comment, I'd love to know what you think!
About Zety's Editorial Process
This article has been reviewed by our editorial team to make sure it follows Zety's editorial guidelines. We're committed to sharing our expertise and giving you trustworthy career advice tailored to your needs. High-quality content is what brings over 40 million readers to our site every year. But we don't stop there. Our team conducts original research to understand the job market better, and we pride ourselves on being quoted by top universities and prime media outlets from around the world.