Marketing Manager Cover Letter Examples [+Template]
Whether you want to become a marketing manager, creative director, or advertising account executive, you need a cover letter that markets you right. Here's how to write it right.
You're ready to market yourself with a marketing manager cover letter. Whether it's a digital marketing manager cover letter or a marketing executive cover letter, it needs to be great.
You need a cover letter that converts like your campaigns always do. And you're in the right place!
This guide will show you an example manager cover letter for marketing jobs. Following that, we have awesome advice on how to write a marketing management cover letter of your own.
Want to write your cover letter fast? Use our cover letter builder. Choose from 20+ professional cover letter templates that match your resume. See actionable examples and get expert tips along the way.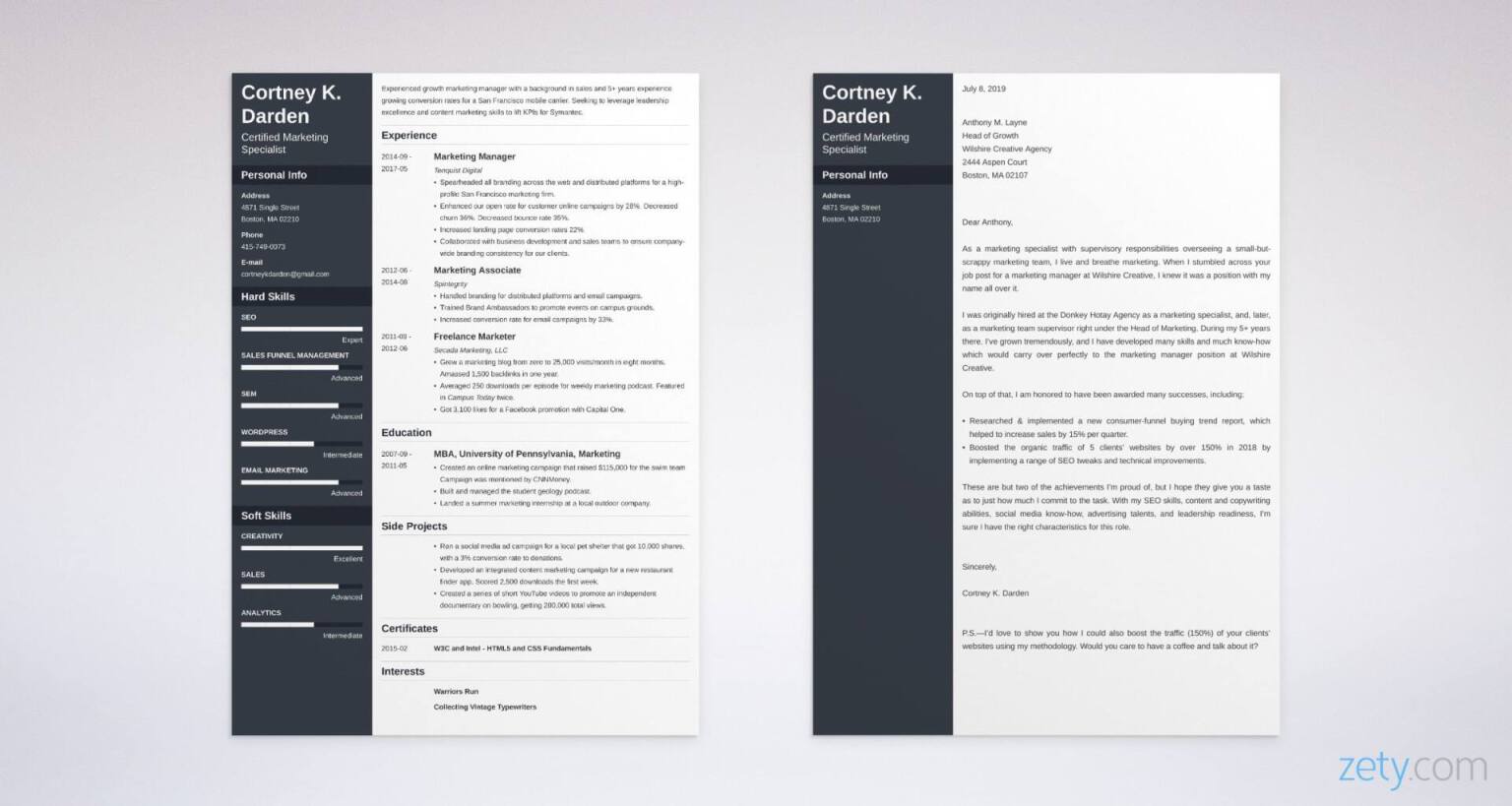 Sample cover letter for a resume—See more cover letter examples and create your cover letter here.
Want more marketing cover letter examples? Check these out:
Want to explore your options further? See our full selection of cover letter examples for every career: Best Cover Letter Examples for All Professions.
Let's get started—
Here's our idea of the perfect sample marketing manager cover letter:
Marketing Manager Cover Letter Sample
Cortney K. Darden
Certified Marketing Specialist
4871 Single Street
Boston, MA 02210

July 8, 2019

Anthony M. Layne
Head of Growth
Wilshire Creative Agency
2444 Aspen Court
Boston, MA 02107


Dear Anthony,

As a marketing specialist with supervisory responsibilities overseeing a small-but-scrappy marketing team, I live and breathe marketing. When I stumbled across your job post for a marketing manager at Wilshire Creative, I knew it was a position with my name all over it.
I was originally hired at the Donkey Hotay Agency as a marketing specialist, and, later, as a marketing team supervisor right under the Head of Marketing. During my 5+ years there, I've grown tremendously, and I have developed many skills and much know-how which would carry over perfectly to the marketing manager position at Wilshire Creative.
On top of that, I am honored to have been awarded many successes, including:
Researched & implemented a new consumer-funnel buying trend report, which helped to increase sales by 15% per quarter.
Boosted the organic traffic of 5 clients' websites by over 150% in 2018 by implementing a range of SEO tweaks and technical improvements.
These are but two of the achievements I'm proud of, but I hope they give you a taste as to just how much I commit to the task. With my SEO skills, content and copywriting abilities, social media know-how, advertising talents, and leadership readiness, I'm sure I have the right characteristics for this role.
Sincerely,

Cortney K. Darden
P.S.—I'd love to show you how I could also boost the traffic (150%) of your clients' websites using my methodology. Would you care to have a coffee and talk about it?
Above these links, you saw our take on a great marketing manager cover letter example.
To blow them away with your own, continue reading our expert tips below.
Keep in mind—
You can't score an interview without a marketing manager resume that wins them over, no matter how great your cover letter is. Read more to tweak your resume: Marketing Manager Resume Samples and Writing Guide
Marketing Manager Cover Letter Template
How to write a cover letter for marketing manager jobs:
1. Format the Marketing Manager Cover Letter Template Correctly
Whether you're a content marketing manager, digital marketing manager, or brand marketing manager, here's how to format your cover letter:
Choose an easy-to-read cover letter font, and type in 11pt or 12pt font size.
Make your cover letter's margin one inch on all four sides.
Select single line spacing over double line spacing.
Align everything, from address to closing, to the left.
Read about this more here: How to Decide on the Perfect Cover Letter Formatting
2. Create a Marketing Manager Cover Letter Heading That Looks Professional
Know how to make a marketing letter markedly better?
A marvelous header:
Include your full name and address first, perhaps including your professional job title, if appropriate.
Next, add the date of writing, as it is a standard business letter protocol.
Finally, add the company's details, including the hiring manager's name, job title, and the company's name and address.
Read about this more here: How to Include an Address on a Cover Letter
3. Start a Marketing Manager Cover Letter With a Captivating Opening
Start with a salutation that addresses the hiring manager or marketing director by name.
Write a brief two- or three-sentence paragraph introducing yourself and your professional background.
State your intention of applying for the specific marketing manager position.
Use "Dear Hiring Manager," or something equally neutral, if you're unable to find their name.
Read about this more here: How to Open a Cover Letter Correctly (Examples)
4. Show the Marketing Director You're the Best Applicant for This Marketing Manager Job
Take a look at the marketing manager job description to find the particular job responsibilities section.
In those responsibilities, you'll find exactly the skill set and background they're looking for in a new creative marketing manager.
Talk up those skills and experience which match the job duties first and foremost.
Include a few numbered wins to demonstrate you're the person they need to lead the marketing team.
You've got to sell yourself, but too long (or too short) just turns them off. Here's the definitive guide: How Long Should This Cover Letter Be?
5. Explain Why You're Applying for This Particular Marketing Agency or Department
Write with some passion and intensity to let the HR manager really feel that you want the job.
Don't write such a basic cover letter that could be sent to every company; instead, tailor it specifically to this one agency or company.
Show them you want to work for this marketing team and only this marketing team.
Certifications in marketing (especially in marketing management) can look better than any skills you tell them you have. Check these online certifications from top universities out:
If you have marketing credentials, add them to your cover letter!
6. Make The Head of Marketing an Offer They Can't Refuse
Write a closing statement in one or two sentences to wrap it up.
Reiterate the value you would bring as their next marketing manager.
Leave the ball in their court with a powerful call to action.
Read about this more here: How to End a Cover Letter (Examples)
7. Wind Up the Cover Letter for Marketing Manager Jobs With an Excellent Complimentary Closing
Use "sincerely" as a complimentary close, as it's the most common.
Your name goes under that, with a space in between—don't jam everything together.
A postscript below your signature is a great marketing trick which draws the reader's gaze effectively. Use it to bring up another proud achievement or request a meeting.
After you send it in, you've got to sit back and wait for a bit. However, don't wait too long or call them back 10 minutes later. Here's the right way to do it: How to Follow Up After Sending in a Job Application
When making a resume in our builder, drag & drop bullet points, skills, and auto-fill the boring stuff. Spell check? Check. Start building a professional resume template here for free.
When you're done, our professional resume builder will score your resume and our resume checker will tell you exactly how to make it better.
Have any questions on writing a cover letter for marketing manager jobs? Need help being more specific, like on a product marketing manager cover letter or content marketing manager cover letter? Let's chat in the comments, and thanks for reading!
About Zety's Editorial Process
This article has been reviewed by our editorial team to make sure it follows Zety's editorial guidelines. We're committed to sharing our expertise and giving you trustworthy career advice tailored to your needs. High-quality content is what brings over 40 million readers to our site every year. But we don't stop there. Our team conducts original research to understand the job market better, and we pride ourselves on being quoted by top universities and prime media outlets from around the world.
Sources