Sales Representative Cover Letter Samples
You can sell oh so well. But, before you sell products or services on behalf of the company, you need to sell them your sales candidacy by crafting the perfect cover letter.
Ready to craft a sales representative cover letter?
From promoting your company's wares to international clients to sealing the deal at the end, you are a sales pro.
But, at this job you're applying to, do they know it?
As with the way you portray your services and products, you've got to portray yourself in the right light here, as well.
No problem—
In this quick guide, we give you first the ideal sales rep cover letter example. After that, keep reading for our tips and advice on how you can prepare an awesome sales representative cover letter for yourself.
Want to write your cover letter fast? Use our cover letter builder. Choose from 20+ professional cover letter templates that match your resume. See actionable examples and get expert tips along the way.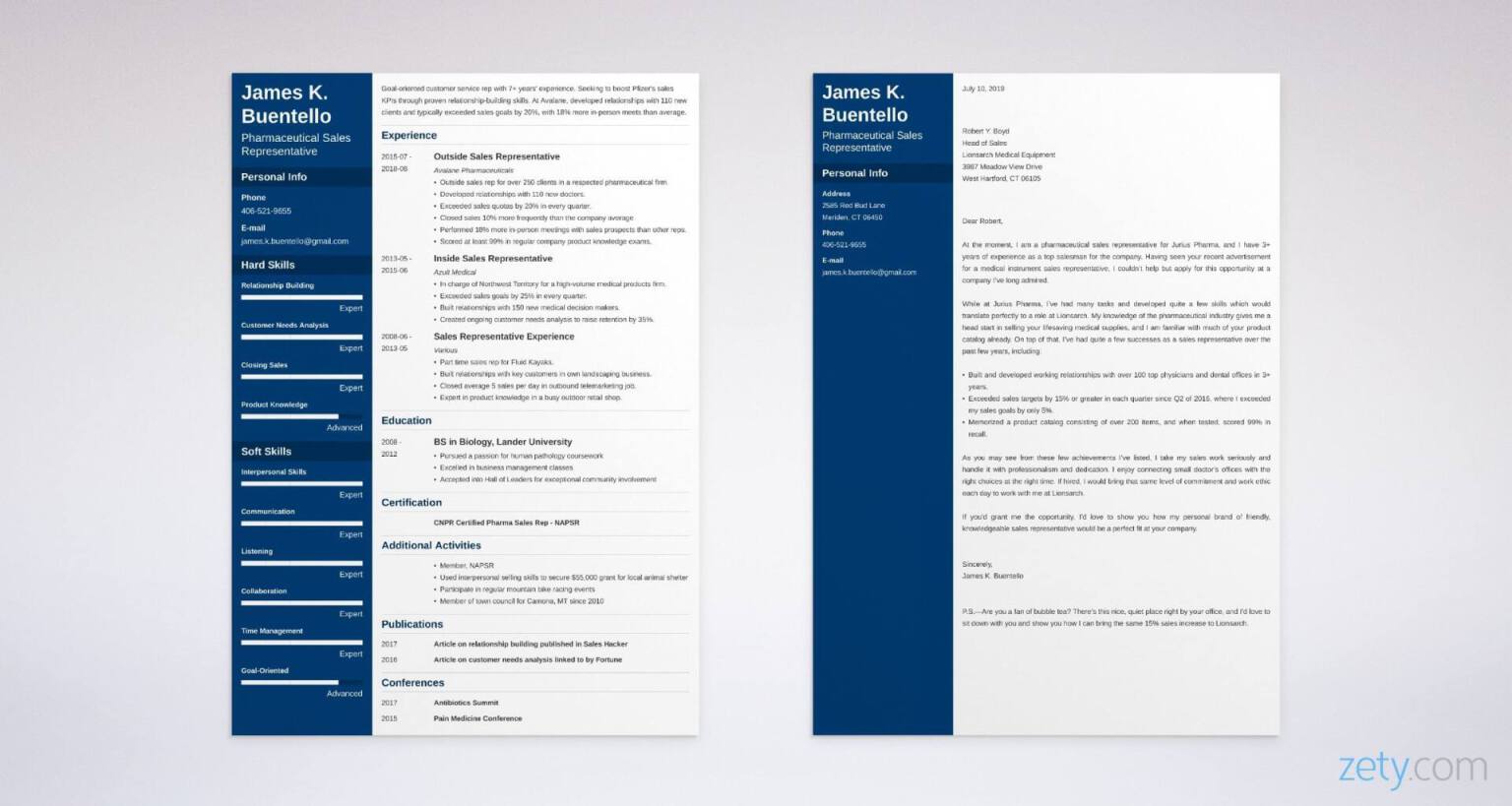 Sample cover letter for a resume—See more cover letter samples and create your cover letter here.
Just remember—
Writing a great outside or inside sales rep cover letter is necessary. However, it'll be useless if you don't send a top sales rep resume alongside. Here's how to fix that up: Sales Representative Resume Samples and Writing Guide
Need to make a cover letter for other areas in sales or marketing? Check these out:
Want to explore your options further? See our full selection of cover letter examples for every career: Best Cover Letter Examples for All Professions.
This is our version of the perfect sample cover letter for sales representative jobs:
Sales Representative Cover Letter Example
James K. Buentello
Pharmaceutical Sales Representative
2585 Red Bud Lane
Meriden, CT 06450

July 10, 2019

Robert Y. Boyd
Head of Sales
Lionsarch Medical Equipment
3987 Meadow View Drive
West Hartford, CT 06105


Dear Robert,

At the moment, I am a pharmaceutical sales representative for Jurius Pharma, and I have 3+ years of experience as a top salesman for the company. Having seen your recent advertisement for a medical instrument sales representative, I couldn't help but apply for this opportunity at a company I've long admired.
While at Jurius Pharma, I've had many tasks and developed quite a few skills which would translate perfectly to a role at Lionsarch. My knowledge of the pharmaceutical industry gives me a head start in selling your lifesaving medical supplies, and I am familiar with much of your product catalog already. On top of that, I've had quite a few successes as a sales representative over the past few years, including:
Built and developed working relationships with over 100 top physicians and dental offices in 3+ years.
Exceeded sales targets by 15% or greater in each quarter since Q2 of 2016, where I exceeded my sales goals by only 5%.
Memorized a product catalog consisting of over 200 items, and when tested, scored 99% in recall.
As you may see from these few achievements I've listed, I take my sales work seriously and handle it with professionalism and dedication. I enjoy connecting small doctor's offices with the right choices at the right time. If hired, I would bring that same level of commitment and work ethic each day to work with me at Lionsarch.
If you'd grant me the opportunity, I'd love to show you how my personal brand of friendly, knowledgeable sales representative would be a perfect fit at your company.
Sincerely,

James K. Buentello
P.S.—Are you a fan of bubble tea? There's this nice, quiet place right by your office, and I'd love to sit down with you and show you how I can bring the same 15% sales increase to Lionsarch.
So, you've just seen our take on a pharmaceutical sales representative cover letter sample aiming for a position as a medical sales rep. Let's start writing yours.
Sales Representative Cover Letter Template
How to write a sales representative cover letter for an application for employment:
1. Format a Cover Letter for Sales Rep Jobs Perfectly
Pick an elegant font for your cover letter, one that matches your sales representative resume. Stick to the popular 11–12pt font size in your body text.
Include a one-inch margin across all four sides of your sales rep cover letter.
Left-align everything on your cover letter for sales rep jobs, and never use the justified alignment.
Don't double-space in between lines within your cover letter body.
To learn more about cover letter formats, read this: How to Choose the Right Cover Letter Format
2. Create a Great Heading Area on your Sales Representative Cover Letter
Add your name, professional title, and address at the top left corner.
Next, include the date you are writing and sending the sales rep cover letter.
Finally, add the sales supervisor's or hiring manager's name, their title, and the organization's address.
To learn more about cover letter addresses, read this: How to Address a Cover Letter
3. Open Your Sales Rep Cover Letter With a Compelling Introduction
Use the agency's website or search LinkedIn to locate the name of the person in charge of your employment process.
Begin by addressing that specific person by name, as it's way more personal and inviting than a boring "dear sir or ma'am."
Introduce yourself and state your intention in applying for the sales representative job.
Is the name of the HR representative or sales manager eluding you? Go with a greeting like "Dear Hiring Manager," for its neutral qualities.
To learn more about cover letter openings, read this: How to Begin Writing a Cover Letter Right (Examples)
4. Show Them You're a Perfect Candidate for Sales Representative Jobs
Find the sales representative job description which lists the offer for which you're applying.
Explain to the reader, the sales manager or HR generalist, how you meet all those job requirements and then some.
Document a few key wins related to sales using numbers to prove them.
Not too long, not too short! Like any sales pitch, it needs to be delivered just right: What's the Perfect Length for a Cover Letter?
5. Explain to the Sales Manager Why You Want to Sell Their Particular Product or Service
Write a tailored sales rep cover letter, rather than a boilerplate generic cover letter.
Allow the hiring manager to feel that you want to work at this company only.
Display enthusiasm and excitement to be applying for this company and this exact position.
Are you a member of the National Association of Pharmaceutical Sales Representatives (NAPSR)? Earned your place as a Certified Inside Sales Professional (CISP)? Let them know on your cover letter to really impress them!
Is this a cover letter for medical sales representative with no experience or a first-time inside sales representative cover letter? We've got a great guide for you: How to Write a Cover Letter With No Experience
6. Make The Sales Director an Offer They Can't Refuse on Your Sales Rep Cover Letter
Craft a short, compelling ending statement to bring it to an end.
Reiterate your desire to be interviewed for the sales representative position.
Remind them of your value and sales potential.
To learn more about cover letter endings, read this: How to Wrap Up a Cover Letter (Examples)
7. Sign Off on the Sales Representative Cover Letter Professionally
Use a common complimentary closing, such as the popular "sincerely."
After adding a line break, type your full name below that.
Optionally, attach a postscript at the bottom of your sales rep cover letter, as it provides you with one more chance to catch their interest.
Following up on your employment application for sales rep jobs needs to be done strategically. Here's how: How to Follow Up on a Job Application
When making a resume in our builder, drag & drop bullet points, skills, and auto-fill the boring stuff. Spell check? Check. Start building a professional resume template here for free.
When you're done, Zety's resume builder will score your resume and tell you exactly how to make it better.
Got questions about writing a cover letter sales representatives love? Need more sales representative cover letter examples? Let's chat down there in the comment area, and thanks for reading!