Apple Cover Letter Example and Writing Guide
Apple is exclusive and you need a cover letter to match. Learn how to write an Apple cover letter that isn't bricked.
Apple is one of the top mobile device providers out there. If they're hiring, you know they're putting the same care into finding their next employee as they do into their next iProduct. Do you know what stands between you and landing that Apple job?
The perfect cover letter for an Apple position. Only you can change the answer you hear from "thanks for applying" to "we'd like to invite you for an interview." We'll show you how to write an Apple cover letter that will do just that.
This guide will show you a sample Apple cover letter for a position as an Apple specialist, plus the best tips on how to write a cover letter for the Apple store step-by-step.
Want to write your cover letter fast? Use our cover letter builder. Choose from 20+ professional cover letter templates that match your resume. See actionable examples and get expert tips along the way.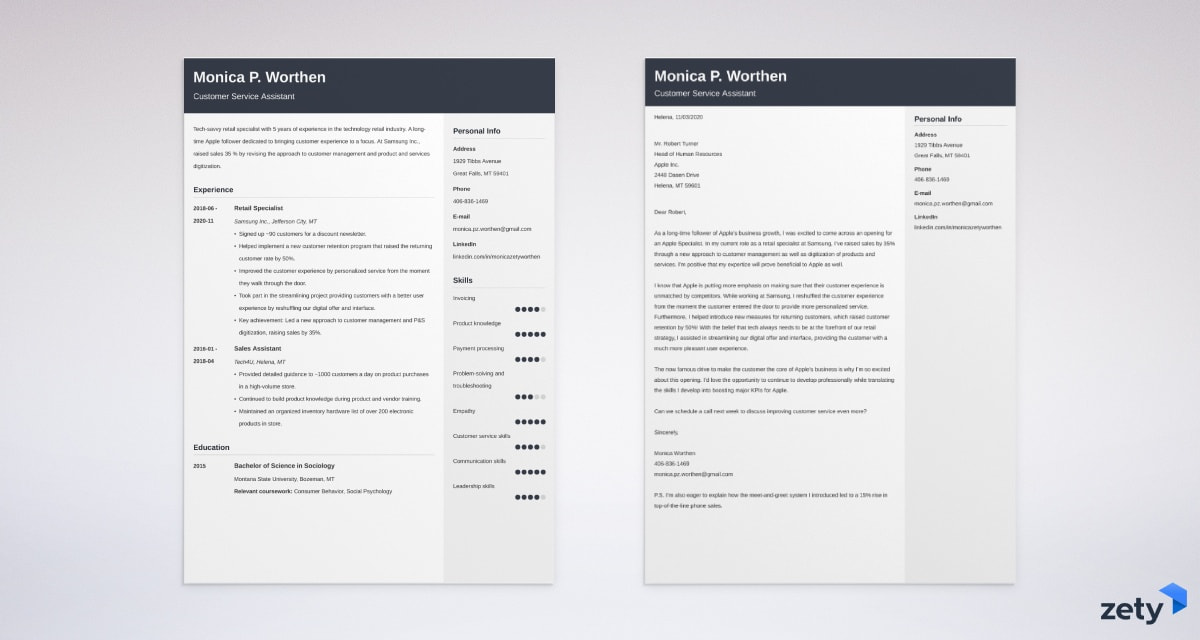 Sample cover letter for a resume—See more cover letter samples and create your cover letter here.
So you've just seen a jaw-dropping example of a cover letter for Apple. Read on to get a breakdown of how to write one just like this.
Are you looking for a cover letter for Apple Store jobs? See our customer service based writing guides here:
Want to explore your options further? See our full selection of cover letter examples for every career: Sample Cover Letters
Sample Cover Letter for Apple
Monica P. Worthen
Customer Service Assistant
1929 Tibbs Avenue
Great Falls, MT 59401
406-836-1469
monica.pz.worthen@gmail.com
linkedin.com/in/monicazetyworthen
Helena, 11/03/2020
Mr. Robert Turner
Head of Human Resources
Apple Inc.
2448 Dasen Drive
Helena, MT 59601
Dear Robert,
As a long-time follower of Apple's business growth, I was excited to come across an opening for an Apple Specialist. In my current role as a retail specialist at Samsung, I've raised sales by 35% through a new approach to customer management as well as digitization of products and services. I'm positive that my expertize will prove beneficial to Apple as well.
I know that Apple is putting more emphasis on making sure that their customer experience is unmatched by competitors. While working at Samsung, I reshuffled the customer experience from the moment the customer entered the door to provide more personalized service. Furthermore, I helped introduce new measures for returning customers, which raised customer retention by 50%! With the belief that tech always needs to be at the forefront of our retail strategy, I assisted in streamlining our digital offer and interface, providing the customer with a much more pleasant user experience.
The now famous drive to make the customer the core of Apple's business is why I'm so excited about this opening. I'd love the opportunity to continue to develop professionally while translating the skills I develop into boosting major KPIs for Apple.
Can we schedule a call next week to discuss improving customer service even more?
Sincerely,
Monica Worthen
406-836-1469
monica.pz.worthen@gmail.com
P.S. I'm also eager to explain how the meet-and-greet system I introduced led to a 15% rise in top-of-the-line phone sales.
Here's how to write a great cover letter for an Apple job application:
1. Use the proper Apple cover letter format
Read more: The Best Covering Letter Format
2. Create a professional Apple cover letter header
Write your cover letter header in the top left corner and include your name and complete contact information.
List your phone number, email, LinkedIn, and (optionally) other social media or websites. Just check your online profile first.
Add the city and date right below.
Include the addressee's details.
Having a hard time finding the name of the hiring manager? Check the company's website or do some research via LinkedIn. You can also just call up the Apple Store and ask.
Read more: How to Address a Cover Letter
3. Open with a personal greeting and a compelling first paragraph
Start with "Dear" and address the potential employer by name.
State what position you're applying for.
Open strong: highlight your most relevant achievements.
Read more: How to Start a Cover Letter With a Bang
4. Show that you're the candidate they're looking for
Refer back to the job ad and explain how your relevant experience can help Apple solve their problems.
Mention some interesting achievements that you're proud of.
Use numbers whenever you can: they draw attention!
5. Explain why this is the job you want
Include a couple of genuine compliments.
Make them understand why you want this job more than any other.
Make them realize that if they hire you, you'll want to stick around for longer.
6. Make an offer and include a call to action
Ask for a call or meeting and suggest a time.
Repeat how valuable you could be—make an offer to help them with their KPIs.
Read more: Great Cover Letter Closing Paragraph Examples
7. Close with a professional sign-off
Sign off with your full name.
Include a digital copy of your handwritten signature (if you have one) below your sign-off.
Add your basic contact details in the footer.
How long should a cover letter be? 200-400 words should be enough.
Don't just send out your cover letter and hope for the best. Remember to follow up on your job application. Here's how to do just that: Write a Great Follow Up Email to Your Application
And if you're asked to include salary requirements in your Apple cover letter, see how to add them correctly:How to Include Salary Requirements in a Cover Letter
As you can see, a great Apple cover letter can really propel you into the seat of your dream job. But make sure you don't end up falling short by also writing a fantastic resume. See: Best Resume Examples for Any Profession
When making a resume in our builder, drag & drop bullet points, skills, and auto-fill the boring stuff. Spell check? Check. Start building a professional resume template here for free.
When you're done, Zety's resume builder will score your resume and our resume checker will tell you exactly how to make it better.
Thanks for reading! What do you think of this Apple cover letter example? Are there any tips you think we've left out? Let us know in the comments below!
About Zety's Editorial Process
This article has been reviewed by our editorial team to make sure it follows Zety's editorial guidelines. We're committed to sharing our expertise and giving you trustworthy career advice tailored to your needs. High-quality content is what brings over 40 million readers to our site every year. But we don't stop there. Our team conducts original research to understand the job market better, and we pride ourselves on being quoted by top universities and prime media outlets from around the world.
Sources