Our customers have been hired by:
You're convinced of your abilities as an excellent negotiator, your diagnoses are always on point. And your callers are left breathless in amazement at how easily you deal with their seemingly impossible problems.
Better yet, your resume is spotless and right up to snuff. Can you say the same about your technical support cover letter, though? Time for us to do some troubleshooting.
Keep reading and you'll discover an incredible technical support cover letter example, and then, we'll walk you through how you can a cover letter for technical support to guarantee job success.
Want to write your cover letter fast? Use our cover letter builder. Choose from 20+ professional cover letter templates that match your resume. See actionable examples and get expert tips along the way.
Sample cover letter for a resume—See more cover letter templates and create your cover letter here.
Feel free to dive into some of our other, similar guides here:
Want to explore your options further? See our full selection of cover letter examples for every career: Best Cover Letter Examples
Sample Technical Support Cover Letter
Philip Vargas
Tech Support Specialist
3865 Bastin Drive
Philadelphia, PA 19103
484-698-5113
pvargas@cmail.com
Linkedin.com/in/PhilipVargas
08/20/2018
Elizabeth Vu
Hiring Manager
Lindley's
2322 Michigan Avenue
Pittsburgh, PA 15213
Dear Ms. Vu,
I was overcome with excitement to read the recent job opening for a technical support position over at Lindley's Emporium. At IntelligentEnterprises, I successfully resolved 98% of issues raised by customers across 4 years, responding to 30+ phone calls and emails per day. I'd be thrilled to apply my skills towards becoming a useful addition to your customer service team.
I understand that this role requires patience and excellent communication skills alongside the technical know-how. I'm pleased to offer all of these qualities: at IntelligentEnterprises, I solved over 2000 customer queries and complaints with zero unpleasant incidents. It's thanks to my reliability and calm approach that I received a commendation for Outstanding Performance and maintained a flawless troubleshooting record with 96% customer satisfaction.
One of the things that definitely drew me to Lindley's is your admirable devotion to ensuring quality service through and through. Good technical support, naturally, constitutes an important part of that. I always strive to deliver the best help whenever I'm assisting a client. I can confidently say the experience I collected so far is the #1 reason why 9/10 of my callers choose to stay with the company, even after threatening to leave.
I'm eager to discuss my suitability and skills in more detail, and I'd be very open to showing you exactly how I can transfer all of the above into my daily performance at Lindley's tech support team.
Best regards,
Phil Vargas, Technical Support Specialist
P.S.: I can't wait to share with you my 7-step plan to retain a greater number of customers through excellent technical support!
There you have it, there's no way you're not getting a call back with a cover letter like that!
And if you happen to be missing the other piece of the puzzle, we got you covered. Check out our Technical Support Resume Writing Guide.
Technical Support Cover Letter Template
Let's get down to business and show you how to write a tech support cover letter:
1. Go for the Perfect Technical Support Cover Letter Format
When problem solving, you probably don't just jump into the thick of it. You have to know the circumstances, the context, the software/hardware acting up, the whole shebang. Without doing so, you can't really give accurate advice.
The principle behind writing a cover letter is the same: first, it needs structure. If you divide your cover letter into parts, it's easier for you to write it, but also easier for the recruiter to navigate the text without getting confused. Here's how you do it:
Pick a professional, modern cover letter template.
Set margins to 1" on each side. It keeps the document looking elegant.
Use the right amount of cover letter spacing. Something between 1 and 1.15 for spacing between lines is the sweet spot. Go for double spacing to separate between paragraphs.
Choosing the right cover letter font is also important. Don't assume boring = bad. There are many ways you can use your cover letter to stand out, but your font choice isn't one of them. Go for something modern and clean, and keep it at 12 pt.
Speaking of standing out, no matter how outstanding you and your achievements are, your cover letter length should not go past 4 paragraphs.
Read more: What Does a Job-Winning Cover Letter Look Like?
2. Start with a Professional Header on Your Tech Support Cover Letter
Good news! Tech support jobs see some of the fastest growth when it comes to industry demand.
Bad news: this means more competition that you need to outshine. Some people just patchwork major portions of their cover letters—don't let that be you.
In the top left corner of your covering letter, also known as your cover letter header, include the following:
Your name, job title, and address (if you're applying by post)
Your telephone number
Your email address
The date of writing the letter
The name of the hiring manager
Company name and address
Optionally, you may also consider including a link to your LinkedIn profile on your cover letter and resume.
Read more: What to Include on a Cover Letter? Tips & Examples
3. Open Your Cover Letter with a Good Salutation and First Paragraph
Since first impressions often matter most, you need to write an excellent cover letter salutation. Leading off with "Dear [Name]" or "Dear Mr./Mrs. X" is never a bad idea.
At the same time, avoid using the phrase "To Whom It May Concern". It often does more harm than good, even though it sounds very formal and polite at first glance.
Then, transition to talking about the job, focusing on what makes you believe you're good enough to work there. In particular:
Mention a big, measurable professional achievement to immediately impress the recruiter.
Add a couple of your most important professional qualities, like your problem-solving skills, past help desk or customer service experience, or technical background.
Offer to use your skills to help the company achieve its goals.
Read more: How to Start a Cover Letter: Best Tips for Writing Your Opening Paragraph
4. Point to What Makes You the Best Candidate They Can Get
In the next section, your goal is to prove that you're the ideal candidate for the job. Show you have what it takes to exceed expectations, and you'll be good to go!
Here's how:
Take a long, hard look at the job posting. What do they need? A well-mannered individual who always keeps their cool? An analytical thinker with great attention to detail? Whatever they may be asking for, include some of these keywords in your cover letter.
Once you've got them pinned down, start highlighting some of your key professional achievements. Craft your sentences in a way that will make the recruiter think "Oh yeah, that's exactly what we need, actually".
As always, including numbers with your accomplishments helps bring some extra punch to the table.
Pro Tip: If you're changing careers, or you just graduated, you need to make sure the achievements show you have transferable experience that would come in handy in a help desk or call center environment.
5. Emphasize What Getting Hired Here Would Mean to You
The #1 reason that could cause your cover letter to flop—what is it?
Is it your lack of experience? No, not necessarily.
Is it messy formatting? That's up there, but not quite.
Actually, it's coming off as too self-centered.
Recruiters won't hire someone who only thinks about themselves (which is why you probably don't want to mention salary requirements on your cover letter, but that's another story).
Here's how you could show engagement in your technical support cover letter:
Mention your admiration toward the company's work ethic, reputation, product line, willingness to innovate, or something along those lines. Be positive!
Read about the goals the company has set for itself and how you could help in achieving them.
Pro tip: Did you know that studies show tech support to require similar qualities as teaching? If you're new to tech support, but you have teaching experience, you can use it to your advantage in your cover letter.
6. Include an Offer in the Final Paragraph
Time to close the ticket: get ready to write a show-stopping final paragraph! Rather than blandly asking for an interview, make the recruiter an offer they can't refuse:
To finish off strong, reiterate once again that you're convinced you'd fit in great, and mention what tangible thing you could do for the company, like ensure 100% customer satisfaction.
Cleverly ask for a "chance to prove you have an attack plan"—a.k.a. an interview. If you can, keep one professional achievement as an ace up your sleeve and include it as a P.S. That always seals the deal.
Read more: The Best Way to End a Cover Letter: Guide, Tips & Final Paragraph Examples
7. Close Your Technical Support Cover Letter the Right Way
Almost done! All that's left now is including a professional signature and completing your documentation:
Sign off with the phrase "Best regards".
Repeat your full name and job title.
Include cover letter enclosures if asked.
Save the file as a PDF, unless specified otherwise. Then, rename your cover letter to something clear and professional, like "[Your Name]_Tech_Support_Cover_Letter".
After a week or so has passed since your initial email, following up on your application may be a good idea. It ensures your message doesn't get buried in an avalanche of other applications.
Last but not least, make sure to resolve any critical issues with your tech support resume before applying!
When making a resume in our builder, drag & drop bullet points, skills, and auto-fill the boring stuff. Spell check? Check. Start building a professional resume template here for free.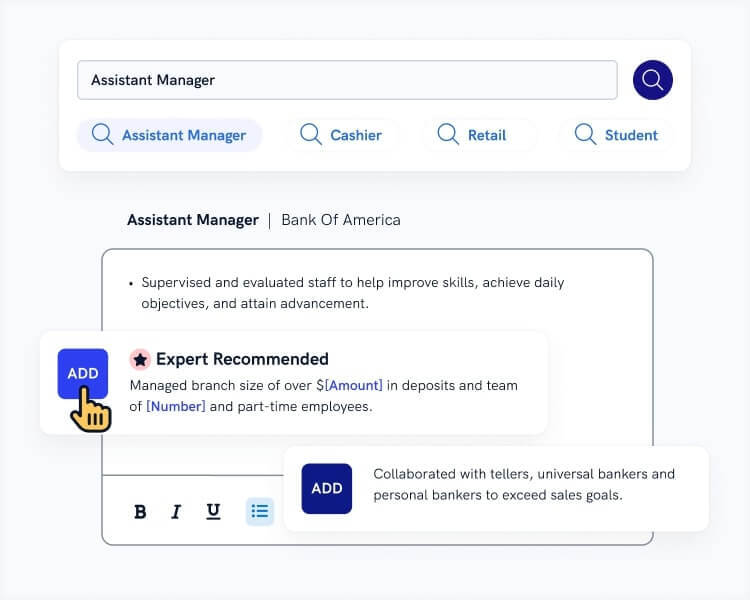 When you're done, our easy resume builder will score your resume and our resume checker will tell you exactly how to make it better.
And there you have it! Now get to writing! And if you have some lingering doubts about your technical support cover letter and need any help, we're ready for it. Just let us know in the comments!
About Zety's Editorial Process
This article has been reviewed by our editorial team to make sure it follows Zety's editorial guidelines. We're committed to sharing our expertise and giving you trustworthy career advice tailored to your needs. High-quality content is what brings over 40 million readers to our site every year. But we don't stop there. Our team conducts original research to understand the job market better, and we pride ourselves on being quoted by top universities and prime media outlets from around the world.
Sources