Our customers have been hired by:
You might have the tech skills, IT certifications, and network know-how to be the best IT technician they could possibly imagine. But a resume alone might now be enough to convince recruiters.
And since 50% of them still expect to receive a cover letter—turn in a computer technician cover letter that proves you're the best fit.
This quick guide gives you a sample IT technician cover letter. After that, we'll give you the very best tips on how to write a cover letter IT technician supervisors love.
Want to write your cover letter fast? Use our cover letter builder. Choose from 20+ professional cover letter templates that match your resume. See actionable examples and get expert tips along the way.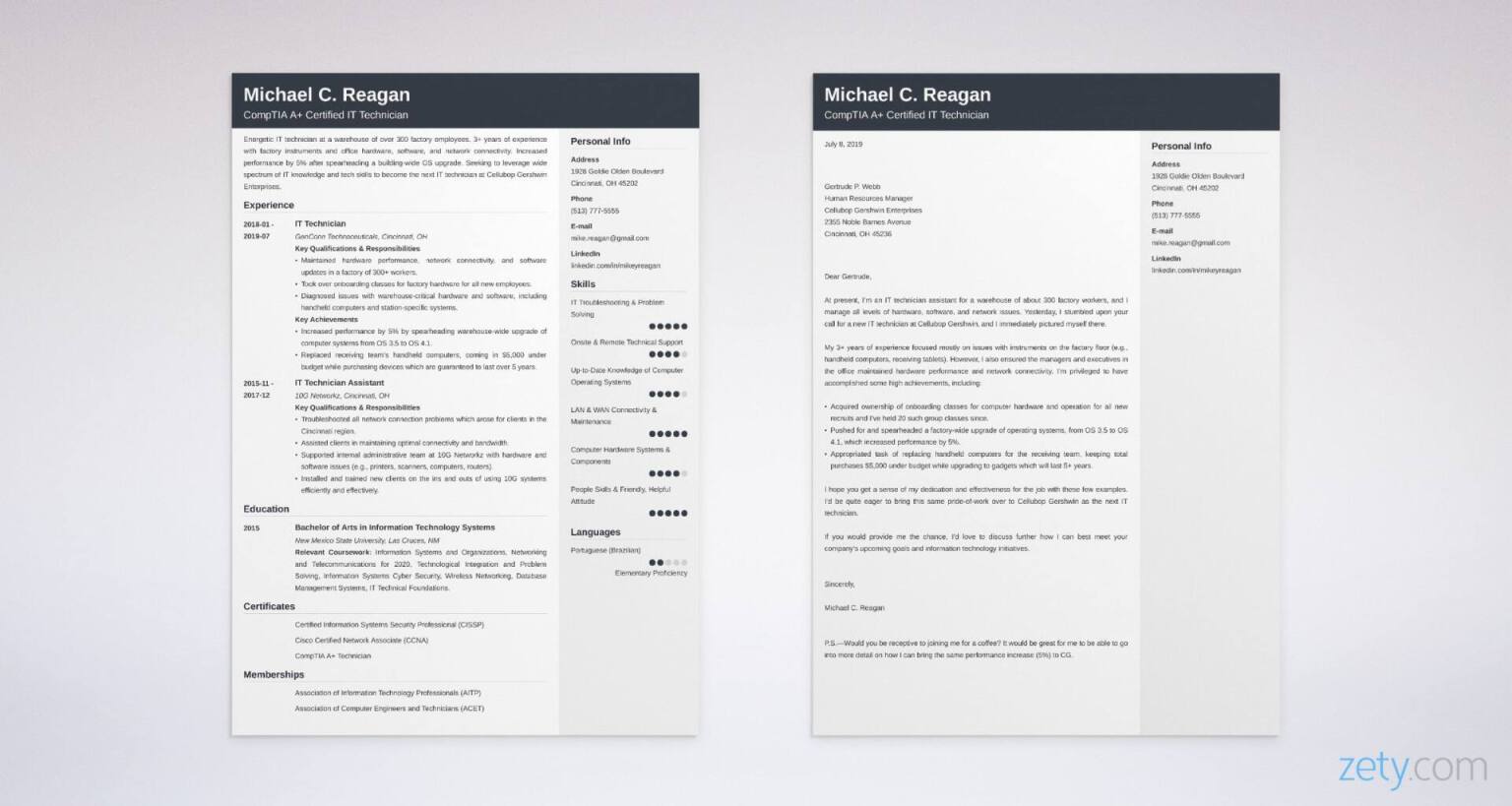 IT Technician Cover Letter for a Resume—See more cover letter examples and create your cover letter here.
Interested in checking out other IT cover letter examples? Here they are:
Want to explore your options further? See our full selection of cover letter examples for every career: Best Cover Letter Examples for Job.
Here's a Zety example of the best IT technician cover letter:
IT Technician Cover Letter Sample
Michael C. Reagan
CompTIA A+ Certified IT Technician Assistant
1928 Goldie Olden Boulevard
Cincinnati, OH 45202

July 8, 2019

Gertrude P. Webb
Human Resources Manager
Cellubop Gershwin Enterprises
2355 Noble Barnes Avenue
Cincinnati, OH 45236


Dear Gertrude,

At present, I'm an IT technician assistant for a warehouse of about 300 factory workers, and I manage all levels of hardware, software, and network issues. Yesterday, I stumbled upon your call for a new IT technician at Cellubop Gershwin, and I immediately pictured myself there.
My 3+ years of experience focused mostly on issues with instruments on the factory floor (e.g., handheld computers, receiving tablets). However, I also ensured the managers and executives in the office maintained hardware performance and network connectivity. I'm privileged to have accomplished some high achievements, including:
Acquired ownership of onboarding classes for computer hardware and operation for all new recruits and I've held 20 such group classes since.
Pushed for and spearheaded a factory-wide upgrade of operating systems, from OS 3.5 to OS 4.1, which increased performance by 5%.
Appropriated task of replacing handheld computers for the receiving team, keeping total purchases $5,000 under budget while upgrading to gadgets which will last 5+ years.
I hope you get a sense of my dedication and effectiveness for the job with these few examples. I'd be quite eager to bring this same pride-of-work over to Cellubop Gershwin as the next IT technician.
If you would provide me the chance, I'd love to discuss further how I can best meet your company's upcoming goals and information technology initiatives.
Sincerely,

Michael C. Reagan
P.S.—Would you be receptive to joining me for a coffee? It would be great for me to be able to go into more detail on how I can bring the same performance increase (5%) to CG.
That was our idea of a great computer technician cover letter sample.
Scroll down just a bit further to learn how to write your own just like it.
But keep in mind—IT Technician Resume: Sample & Guide.
IT Technician Cover Letter Template
Let's begin—
Here is how to make a cover letter for IT technician job applications:
1. Properly Format the IT Technician Cover Letter
Give a one-inch border margin around the entire cover letter page.
Choose single-line spacing over double-line spacing—it looks more professional and gives you more room to work with.
Choose the best font size (11–12pt font) and the best font style to make sure your application letter is easy to read.
Don't justify-align or right align anything; use a left-side alignment from top to bottom on your network or PC technician cover letter.
Go more in-depth with this post: How to Format Cover Letters Correctly
2. Create a Professional IT Technician Cover Letter Header
Start at the top-left corner by writing your full name and address.
Next, leave a space and add the date of writing on your cover letter for computer technician or IT tech jobs.
Finally, leave one more space and add the HR or IT manager's name, job title, and the company's address details.
Read more: How to Put an Address on a Cover Letter
3. Open the IT Technician Cover Letter in a Captivating Manner
In the opening greeting (salutation), address the Head of IT or hiring manager by name, as it's way more effective than "dear sir or ma'am."
Write a compelling opening paragraph of about two or three sentences in length that makes them interested enough to read further.
Introduce yourself and your intention in applying for the specific IT technician position.
Go more in-depth with this post: How to Start Cover Letters Correctly (10+ Examples)
4. Show Them You're a Perfect Candidate for IT Technician Jobs
Look closely at the IT technician job description, particularly around the "job responsibilities" section.
Explain in detail to the IT recruiter or tech executive that you meet and exceed the requirements they're looking for.
Give a few quantifiable achievements to verify your IT skills on a computer technician cover letter.
The CIO or CTO wants a desktop support technician cover letter that's not too short or too long. Here's how to get it just right: What's the Perfect Cover Letter Length?
5. Tell Them Why You're the Best IT Technician to Work for This Company
Tailor this IT tech cover letter to this one particular job, because generic cover letters are treated like spam.
Exude just how thrilled you are for the chance to work at this specific tech workplace.
Do you have certifications in IT, such as the CompTIA A+ certificate or Google's IT Support Professional certificate?
Don't be afraid to brag about them on your IT technician or computer technician cover letter!
Don't have job experience yet working as a paid IT technician or support specialist? It won't matter, as long as you do it correctly: How to Write a Cover Letter with No Experience
6. Make the IT Manager an Offer They Can't Refuse
Bring your IT support technician cover letter to a satisfying conclusion in one or two short sentences.
Remind them of your value as an IT technician.
Write a compelling call to action statement asking them to meet further to discuss what you'd bring to the table.
Find out more: How to Wrap Up Cover Letters (Examples)
7. End the Cover Letter for IT Technician Jobs With a Professional Sign-Off
Write a standard complimentary closing, such as "sincerely" (also known as a valediction).
Add a line break and then type your full name below that.
Optionally, add a "P.S." at the bottom of your cover letter for IT technician jobs to call attention to one more awesome fact about yourself.
After you send out your IT technician resume and letter of interest, you might have to follow up. Here's the answer for how long to wait: Following Up on an Employment Application
When making a resume in our builder, drag & drop bullet points, skills, and auto-fill the boring stuff. Spell check? Check. Choose a resume template here.
When you're done, our professional resume builder will score your resume and our resume checker will tell you exactly how to make it better.
Need help writing your network technician cover letter or computer technician cover letter? Want some assistance choosing the best traits and talents to really impress the hiring manager? Let's talk below in the comment area, and thanks for reading!
About Zety's Editorial Process
This article has been reviewed by our editorial team to make sure it follows Zety's editorial guidelines. We're committed to sharing our expertise and giving you trustworthy career advice tailored to your needs. High-quality content is what brings over 40 million readers to our site every year. But we don't stop there. Our team conducts original research to understand the job market better, and we pride ourselves on being quoted by top universities and prime media outlets from around the world.
Sources