You're an engineering whiz with the skills to tackle complex problems, but there is a large gap between you and your next big job. Fortunately, we have the materials you can use to whip out the best bridge ever—A great engineering cover letter.
In just a couple of minutes, you'll have a sturdy path that will help you reach every job interview.
In this guide, I'll show you:
An engineering cover letter example better than 9 out of 10 others.
A proven engineering cover letter template you can personalize to your needs.
How to write an engineering cover letter step-by-step (even if you have no experience).
How to describe your experience in a cover letter for engineering jobs and get any job you want.
Want to write your engineering cover letter fast? Use our cover letter builder. Choose from 20+ professional cover letter templates that match your engineering resume. See actionable examples and get expert tips along the way.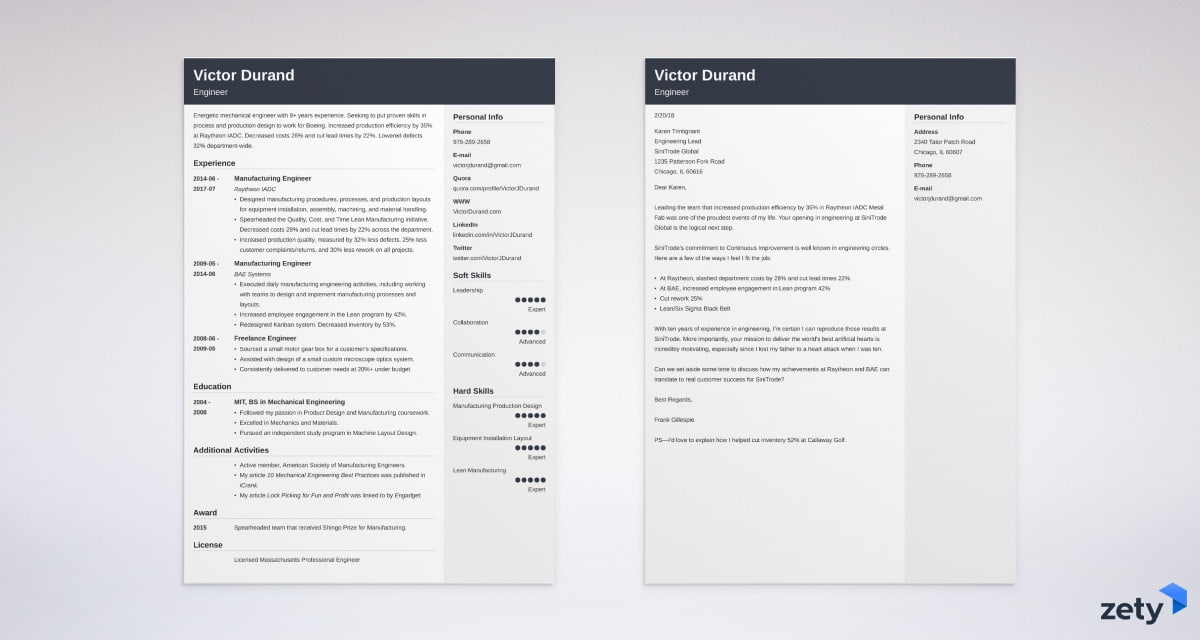 Sample cover letter for a resume—See more cover letter examples and create your cover letter here.
Make sure your engineering resume is up to par by reading: Engineering Resume: Sample and Complete Guide [+20 Examples].
This guide isn't exactly what you were looking for? See other cover letter examples for jobs in this industry:
Want to explore your options further? See our full selection of cover letter examples for every career: Example Cover Letters.
Now, here's how to write an engineering cover letter:
1
Edit & Adjust This Engineering Cover Letter Example
The engineering cover letter example below is picture-perfect. Want to reverse-engineer it? Nobody would blame you. Feel free to copy, paste, and meld it to your needs.
Engineering Cover Letter Template
Victor Durand
Engineer
2340 Tator Patch Road
Chicago, IL 60607
978-289-2658
victorjdurand@gmail.com
2/20/18
Karen Trintignant
Engineering Lead
SiniTrode Global
1235 Patterson Fork Road
Chicago, IL 60616
Dear Karen,
Leading the team that increased production efficiency by 35% in Raytheon IADC Metal Fab was one of the proudest events of my life. Your opening in engineering at SiniTrode Global is the logical next step.
SiniTrode's commitment to Continuous Improvement is well known in engineering circles. Here are a few of the ways I feel I fit the job:
At Raytheon, slashed department costs by 28% and cut lead times 22%
At BAE, increased employee engagement in Lean program 42%
Cut rework 25%
Lean/Six Sigma Black Belt
With ten years of experience in engineering, I'm certain I can reproduce those results at SiniTrode. More importantly, your mission to deliver the world's best artificial hearts is incredibly motivating, especially since I lost my father to a heart attack when I was ten.
Can we set aside some time to discuss how my achievements at Raytheon and BAE can translate to real customer success for SiniTrode?
Best Regards,
Frank Gillespie
PS—I'd love to explain how I helped cut inventory 52% at Callaway Golf.
Bam. The hiring manager will hold her breath as she reads Frank's resume.
Let's deconstruct that great sample engineering cover letter. Then you can write your own that's just as powerful.
What's the best engineering cover letter format? The three-paragraph style. Learn to nail it here: Cover Letter Format: How to Format a Cover Letter for Any Job
2
Grab the Manager's Attention with this Engineering Cover Letter Opener
There's a slim chance that anyone will even read your engineering cover letter. Many recruiters don't read cover letters. See, most cover letters are generic. They say, "Here's my resume. Please read it."
If you write a "To whom it may concern" cover letter for engineering jobs, you can kiss that golden interview goodbye.
Here's how to hook the hiring manager like a Mammoet Crane instead:
Start with the Right Heading. Name, title, email, and phone. One for you, and one for the manager. You can skip the snail mail address in email cover letters.
Use the Right Salutation. "Dear [Hiring Manager's Name]" is perfect. "Dear Engineering Team Hiring Manager" will do.
Add a Mouthwatering Opening Paragraph. Tell a quick story with a specific detail: An impressive achievement that fits the job to microscopic tolerances.
Want to see how that works? See these two engineering cover letter examples.
Engineering Cover Letter Examples—Opening Paragraph
wrong
I'm an engineering professional with 10 years of experience. I'm writing to apply for your engineering position, which you advertised on Indeed.
That fails QC. It's generic. It doesn't tell the manager a thing.
Compare it to his (infinitely better) engineering cover letter example:
right
Two years ago, if you'd told me I'd lead the team that cut customer complaints at HID by 55%, I'd never have believed you. (There's your big achievement, and your gripping story.) Today, the engineering opening at SiniTrode seems like the perfect fit for my experience and skills.
That first sentence in a cover letter for engineering is better than free Mathcad. The hiring manager will skip her kid's birthday party to call you.
Why is it so great? It shows a glimpse of superhero cape beneath the glasses and brown suit.
What if you don't have a great achievement? In short, what if you're writing an engineering cover letter with no experience?
Just focus on your best achievement. Maybe that's an attaboy from a professor. Maybe it's a side project you completed, or a transferable achievement from a non-engineering job.
Engineering Cover Letter Tips:
Don't use "Miss" or "Mrs." Use "Ms." instead. It avoids marital status.
Work hard to learn the hiring manager's name. Fully 84% of hiring managers skip resumes and cover letters that don't use their names.
Add your LinkedIn profile to your contact info for bonus functionality.
Even with great engineering cover letter examples, starting yours can cause a lot of rework. See our guide: How to Start a Cover Letter: Sample & Complete Guide [20+ Examples]
Don't skip vital details. Use our checklist guide: What to Include in a Cover Letter (15+ Examples & A Complete Guide)
3
Wow Them With This Engineering Cover Letter Main Body
OK, so your engineering cover letter is off to a good start. The hiring manager is excited. What's next? The sales pitch. I can hear you now. "Dammit, Jim, I'm an engineer, not a salesman!"
You only need to know one thing: The top 5% of engineering cover letters custom fit their message to the opening. The object is to show you're already a da Vinci at this job.
How to tailor your cover letter?
Read the job ad carefully.
Highlight the engineering skills and duties in it.
Demonstrate your understanding of those qualities.
Cherry-pick a couple past achievements that match them perfectly.
Add a "motivation statement" that shows why you'd work extra hard.
Here's how to do it right. The engineering cover letter examples below are targeted to senior and junior positions.
Engineering Cover Letter Examples—Main Body
Let's say the job ad asks for fostering engagement, cutting costs, and lowering defect rates.
Here's the perfect cover letter body for that engineering position:
RetsiGen's current quest to cut costs while boosting quality fire me up like nothing else. I had a lot of fun meeting similar goals at HID:
Slashed defects 32%
Decimated inventory costs by 48%
Won 99% engagement for company-wide Kanban system
Thanks to my ten years of experience as a PE, I've little doubt I can achieve similar success at RetsiGen. I'm intensely motivated by your mission statement to deliver constantly improving digital solutions to customers.
Can you imagine a manager who wouldn't want to hire that applicant? If so, he probably writes with his tongue out.
Notice the bullet points. They respect the hiring manager's time. How? By showing her the important info in a quick, sharp way.
Don't have that much experience? Don't worry. Just look at the sample engineering cover letter with no experience below.
Sample Engineering Cover Letter—No Experience
You're searching for a bright, quick-minded junior level engineer who's customer and cost-focused. (Company needs)
My Semiconductor professor called me "the curve blower" because he had to remake his grading scheme around my high exam scores. I've completed 5 freelance engineering projects with budgets in the $500 to $2000 range. I consistently delivered to customer needs at 15% under budget. (Relevant achievements)
I'm excited about using my communication and production design skills to reach real cost and quality improvements at Digispan Regional. (Offer something valuable)
That's no rookie engineer with no experience. That's Nikola Tesla in the rough.
The key point? Analyze the company's needs. Then prove how you can fill them in your cover letter for engineering jobs.
Pro Tip: The motivation statement can make the hiring manager decide to call you. Convince her why you'll outwork the rest, and you're as good as hired.
Want to save time and have your resume ready in 5 minutes? Try our resume builder. It's fast and easy to use. Plus, you'll get tips and right vs. wrong examples while writing your resume. See +20 resume templates and create your resume here.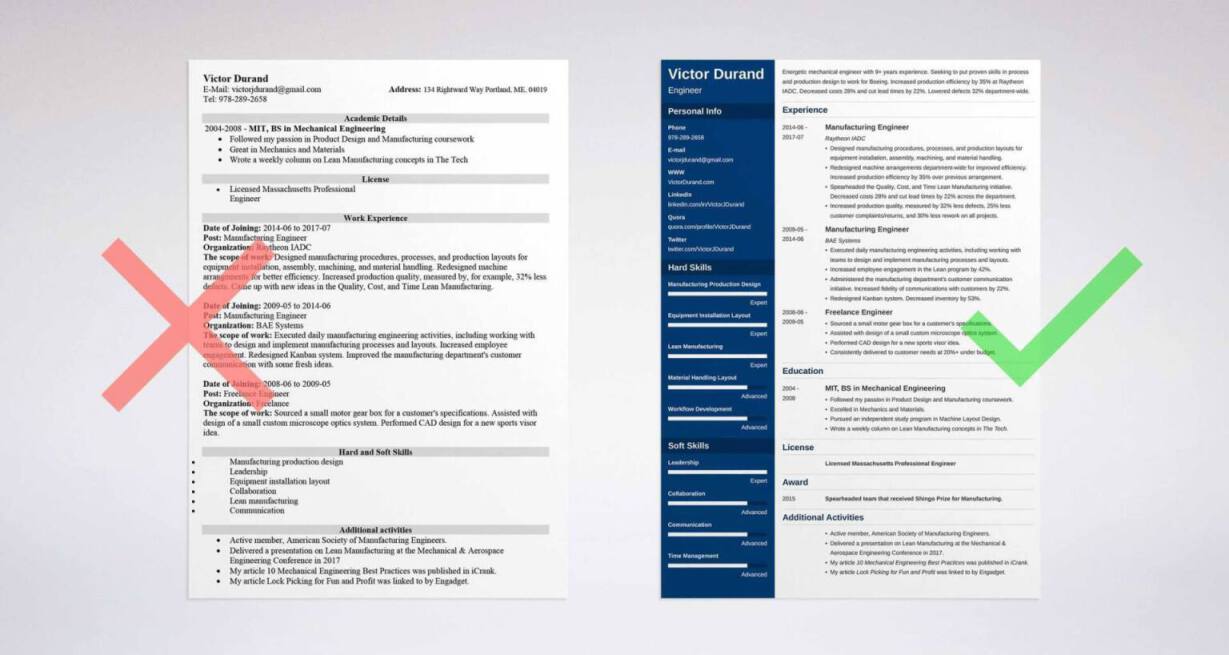 Engineering Resume Example - See +20 resume templates and create your resume here.
Are you writing an engineering internship cover letter, or an entry-level engineering cover letter? See our guide for all the best moves: How to Write a Cover Letter For an Internship [+20 Examples]
How long should a cover letter be for engineering jobs? That depends. See our guide: How Long Should a Cover Letter Be?
4
How to End Your Engineering Cover Letter So It Sticks Like Cyanoacrylate
What good would the Falcon Heavy be if it never lifted off? About the same as a cover letter for engineering without a solid ending: not much.
So, end your engineering cover letter so the manager can't possibly forget it.
Here's how:
Make an offer.
Close with a "sincerely" synonym.
Add a PS with another tantalizing achievement.
These engineering cover letter examples show that in action:
Cover Letter Examples for Engineering—Endings
wrong
If you hire me, I'll be a great employee. Please call me as soon as you can.
Thank you for your time.
Whew. Fatigue failure, right?
That engineering cover letter ending comes off needy. The hiring manager is picturing a whiny employee who's hard to please.
right
Can we schedule some time to talk about how my success at AlphaNode Solutions can translate to real value at GlobalPhan?
Best Regards,
Marc Halperin
PS—I would value the opportunity to tell you how I cut rework at AlphaNode by 18% in one month.
"Holy cow, this applicant is switched on like the Hadron Collider! I can't wait to talk to him!"
The difference? That example is offering to give, give, give. At the very least, you're promising an interesting conversation.
Pro Tip: Why does "PS" work so well? It pulls the eye like the strong nuclear force. Even the busiest hiring manager will read an achievement nested in a PS.
Want to drive home your engineering cover letter ending? Need more examples of solid offers that will make the manager pick up the phone? See our guide: How to End a Cover Letter: Sample & Complete Guide [+20 Examples]
Key Takeaway
What's the key best practice in writing a great cover letter for engineering?
Make it personal.
To do that, read the engineering job description carefully. Really learn the company's needs.
Then, analyze your past. Find evidence that you're the Alexander Graham Bell of all those qualities.
Show those items in your engineering cover letter's opener, main body, closing, and PS. Add a motivation statement to show why you'll work harder than the rest.
Do you have questions about how to make a good engineering internship cover letter? Want to share an example of an engineering cover letter that worked for you? Give us a shout in the comments. We'd be happy to reply!
About Zety's Editorial Process
This article has been reviewed by our editorial team to make sure it follows Zety's editorial guidelines. We're committed to sharing our expertise and giving you trustworthy career advice tailored to your needs. High-quality content is what brings over 40 million readers to our site every year. But we don't stop there. Our team conducts original research to understand the job market better, and we pride ourselves on being quoted by top universities and prime media outlets from around the world.