Engineering Internship Cover Letter Sample & Guide
Transition your engineering internship cover letter to Industry 4.0 and you will be applying college theory to hands-on practice in no time.
What do mechanical, software, civil, and electrical engineering internships have in common? They all need a great engineering internship cover letter to get you in. The competition is fierce, and it's not enough to say that you have no experience, but you're willing to learn. That's building with sand; your cover letter must be cast iron.
And you've come to the right place to discover how to turn your dream internship into a physical reality.
This guide will show you a cover letter for an engineering internship example, plus the best tips on how to write a cover letter for an engineering internship step-by-step.
Want to write your cover letter fast? Use our cover letter builder. Choose from 20+ professional cover letter templates that match your resume. See actionable examples and get expert tips along the way.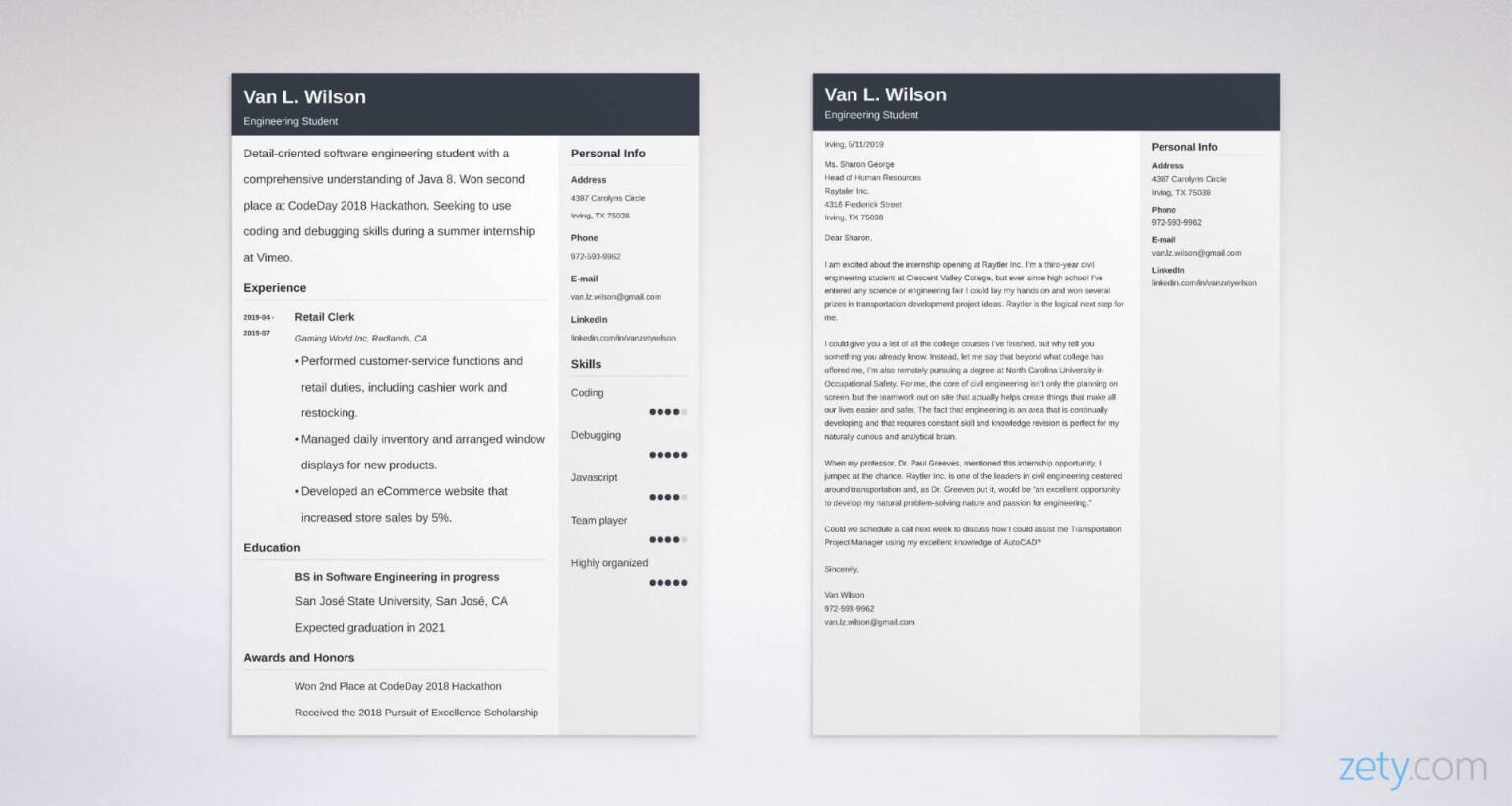 Sample cover letter for a resume—See more cover letter samples and create your cover letter here.
Remember—your cover letter will fall apart if it doesn't have a killer resume to brace it, like the one here: Engineering Internship Resume
See our other engineering-based writing guides here:
Want to explore your options further? See our full selection of cover letter examples for every career: Best Cover Letter Examples for All Professions
Okay, let's get moving to the good stuff.
Engineering Internship Cover Letter Sample
Van L. Wilson
Engineering Student
4387 Carolyns Circle
Irving, TX 75038
972-593-9962
van.lz.wilson@gmail.com
linkedin.com/in/vanzetywilson
Irving, 5/11/2019
Ms. Sharon George
Head of Human Resources
Raytaler Inc.
4316 Frederick Street
Irving, TX 75038
Dear Sharon,
I am excited about the internship opening at Raytler Inc. I'm a third-year civil engineering student at Crescent Valley College, but ever since high school I've entered any science or engineering fair I could lay my hands on and won several prizes in transportation development project ideas. Raytler is the logical next step for me.
I could give you a list of all the college courses I've finished, but why tell you something you already know. Instead, let me say that beyond what college has offered me, I'm also remotely pursuing a degree at North Carolina University in Occupational Safety. For me, the core of civil engineering isn't only the planning on screen, but the teamwork out on site that actually helps create things that make all our lives easier and safer. The fact that engineering is an area that is continually developing and that requires constant skill and knowledge revision is perfect for my naturally curious and analytical brain.
When my professor, Dr. Paul Greeves, mentioned this internship opportunity, I jumped at the chance. Raytler Inc. is one of the leaders in civil engineering centered around transportation and, as Dr. Greeves put it, would be "an excellent opportunity to develop my natural problem-solving nature and passion for engineering."
Could we schedule a call next week to discuss how I could assist the Transportation Project Manager using my excellent knowledge of AutoCAD?
Sincerely,
Van Wilson
972-593-9962
van.lz.wilson@gmail.com
So you've just seen a great example of a cover letter for an engineering internship. Read on to see just how you can write one just like this.
Engineering Internship Cover Letter Template
Here are the best tips on how to write a great cover letter for an engineering internship:
1. Use the proper engineering internship cover letter format
As an engineer, you know it's all about structure. These tips will having you building the perfect cover letter structure fast:
Use the correct cover letter spacing: a 1" margin on all sides and single or 1.15 line spacing.
Use a sleek cover letter font in 12 pt size.
Double-space between paragraphs for easier readability.
Read more: The Best Covering Letter Layout
2. Create a professional engineering internship cover letter header
Include your name and complete contact information in the top left corner.
List your phone number, email, LinkedIn, and (optionally) other social media or websites. Just check your online profile first.
Add the city and date right below.
Include the addressee's details.
Having a hard time finding the name of the hiring manager? Check the company's website or do some research via LinkedIn. You can also just call up the company and ask.
Read more: Cover Letter Header Examples
3. Open with a personal greeting and a compelling first paragraph
Start with a professional cover letter salutation and address the potential employer by name.
State what position you're applying for.
Highlight your most relevant achievements while keeping it simple.
Read more: How to Start a Cover Letter With a Bang
4. Show that you're the candidate they're looking for
Refer back to the job ad and explain how your relevant experience can help solve their problems.
Mention some interesting achievements that you're proud of. Don't just rehash your resume.
Use numbers whenever you can: they draw attention!
Read more: What Should a Cover Letter Say?
5. Explain why this is the job you want
Include a couple of genuine compliments.
Make them understand why you want this job more than any other.
Make them realize that if they hire you, you'll want to stick around for longer.
Read more: What to Include in a Cover Letter?
6. Make an offer and include a call to action
Ask for a call or meeting and suggest a time.
Repeat how valuable you could be—make an offer to help them with their KPIs.
Read more: Great Cover Letter Closing Paragraph Examples
7. Close with a professional sign-off
Sign off with your full name.
Include a digital copy of your handwritten signature (if you have one) below your sign-off.
Add any cover letter enclosures that might be required.
Add your basic contact details in the footer.
Save with proper cover letter title.
How long should a cover letter be? It definitely shouldn't go on for pages.
Once you're done writing, make sure that your cover letter has a design just as great as your accomplishments: Professional Cover Letter Design
Don't just send out your cover letter and cross your fingers. Remember to follow up on your job application. Here's how to do just that: Write a Great Follow Up Email to Your Application
As you can see, a great cover letter can really propel you into the seat of that internship everyone would kill for. But make sure your engineering internship application doesn't buckle by also writing a fantastic resume.
When making a resume in our builder, drag & drop bullet points, skills, and auto-fill the boring stuff. Spell check? Check. Choose a resume template here.
When you're done, our online resume builder will score your resume and our resume checker will tell you exactly how to make it better.
Thanks for reading! What do you think of this sample cover letter for an engineering internship? Are there any tips you think we've left out? Let us know in the comments below!
About Zety's Editorial Process
This article has been reviewed by our editorial team to make sure it follows Zety's editorial guidelines. We're committed to sharing our expertise and giving you trustworthy career advice tailored to your needs. High-quality content is what brings over 40 million readers to our site every year. But we don't stop there. Our team conducts original research to understand the job market better, and we pride ourselves on being quoted by top universities and prime media outlets from around the world.