Engineering Internship Resume Examples & Guide for Students
Getting experience is hard, but that's what internships are for. Follow your internship resume advice and strap rocket boosters to your application.
If you're looking for a guide to writing a flawless engineering internship resume, this is the right place. Engineering internships are a perfect opportunity to gain the first relevant experience—which is of fundamental importance to starting your career as an engineer.
But… That also means you'll face lots of competition for this intern job. Here, we will show you how to make your engineering internship resume stand out like a Texas Instruments calculator among baby counting frames.
This guide will show you:
An engineering internship resume example better than 9 out of 10 other resumes.
How to write an engineering internship resume that will make you stand out from the crowd.
Tips and examples of how to put skills and achievements on an engineering internship resume.
How to make your non-existent or limited experience sound great on your resume.
Want to save time and have your resume ready in 5 minutes? Try our resume builder. It's fast and easy to use. Plus, you'll get ready-made content to add with one click. See 20+ resume templates and create your resume here.
Sample resume made with our builder—See more resume samples here.
Wondering how to list engineering internship on your resume? We've got you covered: How to Put an Internship on a Resume for Maximum Impact
Looking for a different type of resume for students or entry-level candidates? Check out these guides:
Engineering Internship Resume Example
Jade Cindric
Engineering Intern
123-456-7890
jadecindric@email.com
linkedin.com/in/jade.cindric
Summary
Recent engineering graduate from South Dakota State University. Seeking an engineering internship at ElectraTech Solutions to leverage my project management, problem solving and communication skills to help create innovative solutions for the company's most challenging projects. My greatest accomplishment to date is winning a National Science Foundation (NSF) grant for groundbreaking research on energy efficiency that I conducted during my senior year in college.
Experience
Engineering Intern
TechVantage Solutions, Watertown, SD
June 2020–August 2020
Key Qualifications & Responsibilities:
Developed test plans and wrote code for software projects with minimal guidance from supervisors.
Managed customer interactions by providing technical support and troubleshooting assistance.
Provided engineering consultation to customers regarding product installation and best practices.
Created comprehensive documentation of all the tasks performed as part of the internship program.
Key Achievement:
Successfully developed 3 software modules on time according to the specifications provided by senior engineers.
Research Assistant
TechVantage Solutions, Watertown, SD
June 2019–May 2020
Key Qualifications & Responsibilities:
Conducted extensive research on renewable energy sources and their applications in various industries.
Prepared reports based on the findings by evaluating data from multiple sources.
Developed efficient algorithms to increase power output of existing systems and reduce energy consumption.
Key Achievement:
Awarded an NSF grant for research work completed as part of the summer program at South Dakota State University.
Education
Bachelor of Science in Electrical Engineering
South Dakota State University, Watertown, SD
August 2016–May 2020
Skills
Analytical Thinking
Project Management
Business Acumen
Microsoft Office Suite
Technical Troubleshooting
Data Analysis & Visualization
Team Collaboration & Leadership
Electrical Design & Development
Research & Development
CAD Software Programming
Strong written/verbal communication
Certificates
Certified Project Manager (CPM), Project Management Institute, 2018
Awards
Outstanding Student Achievement Award in Electrical Engineering, South Dakota State University, 2020
Memberships
Member of Institute of Electrical and Electronics Engineers (IEEE) since 2018
Participated as panelist in the IEEE Smart Grid Conference 2019 held in Denver
Languages
English—Native
Spanish—Advanced
Interests
Photography — Capturing nature's beauty while exploring new destinations.
Running — Completing 5K races every weekend.
Technology — Keeping up with latest trends in technology.
1. What's the Best Format for Your Engineering Internship Resume?
Almost 80% of resumes are rejected in an average of 11 seconds.
This might look like an issue in the beginning, but don't worry.
You're a future engineer, a problem solver.
Just as you can move the world with a lever, you can also get your dream internship with the perfect resume format.
More experienced engineers can choose between different resume formats.
But you're not an experienced engineer just yet.
Since you are an aspiring intern, you should stick to the reverse-chronological resume.
However, you will have to make some adjustments to make it shine.
Resume Format for Engineering Internship
Here's how to format your engineering internship resume:
Add all of your contact details in your engineering internship resume header.
Add a resume profile section. But don't include a resume summary. Write an engineering internship resume objective instead.
Pay special attention to your education and skills. Highlight your academic achievements and accomplishments.
Include your extracurricular activities, part-time summer jobs, and volunteer work.
Use relevant resume keywords and tailor your resume to match the engineering internship opening.
Write an engineering internship cover letter. This will significantly boost your chances of landing that intern position.
Also, use lots of white space, generous resume margins, and clear section headings to guide the recruiter through all your resume sections. And remember to choose the best resume fonts to keep it all legible.
Pro Tip: PDF is usually the preferred file format for engineering internship resumes. Just make sure to reach out with the company and double-check if they accept this file format—because some prefer resumes saved as DOCs.
There are a lot of things to keep in mind while writing a resume for an engineering internship, especially if it's the first time you do it.
But relax.
Our resume layout guide will provide some inspiration so you can craft the perfect design of your engineering internship resume.
2. How to Write an Engineering Internship Resume Objective?
Professionals often have to choose between writing a resume summary or a resume objective.
Luckily, as an aspiring intern, you don't have to make that choice at all.
A resume summary is only for those candidates with enough work experience. But you're writing your first job resume.
You're just starting your journey to become the next Tony Stark, so a resume objective will protect you like an iron suit against recruiters' indifference.
This section will highlight your goals.
It will also tell the hiring manager what you can offer to the company and why they should hire you for the intern job.
Engineering Internship Resume—Objective
RIGHT
Detail-oriented software engineering student with a comprehensive understanding of Java 8. Won second place at CodeDay 2018 Hackathon. Seeking to use coding and debugging skills during a summer internship at Vimeo.
WRONG
I am an undergraduate software engineering student looking for an internship at Plaid Technologies. I am a fast learner and a team player.
Can you see the problem?
Even though it emphasizes some aptitudes, it's a bit cliché. Also, it doesn't really tell the recruiter what you can do for the company.
Don't be afraid to let them know what your best assets and strengths are.
Remember to be as specific as you can and go straight to the point.
Pro Tip: Don't be afraid to mention the company by name in your resume objective. Doing it means that their internship is so important to you that you are taking the time to personalize your resume.
Out of ideas? We got you covered! Find the best tips and examples for your engineering internship resume objective with our guide:How to Write a Resume Objective: 50+ Samples for All Careers.
When making a resume in our builder, drag & drop bullet points, skills, and auto-fill the boring stuff. Spell check? Check. Start building a professional resume template here for free.
When you're done, our online resume builder will score your resume and our resume checker will tell you exactly how to make it better.
3. Highlight Your Education Instead of Your Work Experience
Getting a job requires experience. This creates a vicious circle: you need experience to get experience.
Sanity check: internships exist to give people that first boost.
For future engineers, employers have high expectations for relevant academic achievements.
When you are crafting an engineering internship resume with no experience, the education section gets the star position, just below your resume objective. Include your degree name, the name and location of your school, and expected graduation date.
Don't worry, we'll show you how to optimize the education you have—
Engineering Internship Resume Sample—Education Section
BS in Software Engineering in progress
San José State University, San José, CA
Expected graduation in 2021
You haven't started your college degree yet? No problem! Just include your most recent education like this:
2018 BS in Software Engineering
San José State University, San José, CA
4.0 GPA
Pro Tip: Only add your GPA on resume if it's above 3.0. And that's on the low side. Otherwise, you won't gain any brownie points with the hiring manager and you might even lose a few.
Want additional tips? Have a look at our guide: How to Put Your Education on a Resume
4. How to Write an Engineering Internship Resume With No Work Experience
As we mentioned before, your engineering student resume won't shine because of its experience section.
But that doesn't mean it shouldn't have one.
Including odd jobs and seasonal work is perfectly acceptable when writing an engineering internship resume.
Did you spend a summer lifeguarding at the communal swimming pool or scooping ice cream at the local parlor?
That's perfect!
It might seem irrelevant for your career, but remember: even Jeff Bezos spent some time cooking burgers at McDonald's!
So—
Relevant experience works best, but some experience is better than none.
You'll use it to show you're dependable, can work on a team and on your own.
Also, don't leave out any volunteer work or freelance gigs from your resume.
All of these will show that you are not afraid to work and that you've got some work-related skills.
And remember, it's very important to include your main responsibilities and achievements for all jobs you're listing.
Engineering Internship Resume Example—Experience
RIGHT
Retail Clerk
Gaming World Inc, Redlands, CA
Apr 2019–Jul 2019
Performed customer-service functions and retail duties, including cashier work and restocking. Managed daily inventory and arranged window displays for new products.
Developed an eCommerce website that increased store sales by 5%.
WRONG
Retail Clerk
Gaming World Inc, Redlands, CA
Apr 2019–Jul 2019
Sold items and provided answers to customers, handled the cash register and managed the store's inventory.
Hmm… Not very impressive, right?
Even if your experience as an engineer is very limited, you should try to highlight your skills and talent.
The wrong engineering internship resume example gave a very general description of the job and didn't include any achievements that indicated the candidate is willing to go the extra mile to fulfill their role.
The right one, however, was more explicit and provided measurable resume-worthy achievements.
Do you want to add a bit of flair to your engineering internship resume? Check out a list of resume action words you can use for every profession.
5. Make Your Skills Section Shine
Skills are like the superpowers of the job-hunting world.
That's why it's crucial to select them carefully.
Sure, you might be a gifted accordion player, or you could be a fluent elvish speaker.
But stop for a minute and think—
Will those abilities actually help you to get a dream engineering internship?
Highly unlikely.
When writing your engineering internship resume, you need to tailor your skills to the position.
A software engineering internship resume shouldn't have the same skill set as a civil engineering internship one.
You always need to target your resume:
Carefully read the internship listing and find the most relevant keywords.
Select the ones that match your profile.
Include them in important parts of your internship resume: objective, skills, experience.
Also, don't forget the soft skills!
At this stage it doesn't matter whether you're writing a chemical engineering internship resume or applying for a mechanical engineering internship position. Soft skills are appreciated universally, regardless of the field of work.
(As much as 92% of employers admit that the candidate's soft skills impact their hiring decisions.)
So if you're a great team player or have outstanding time management skills, do mention it on your resume. The point is to show you'll be a great person to work with.
Intrigued to see how your engineering internship resume skills section should look like?
Check out our example:
Resume Examples for Engineering Internship—Skills
RIGHT
Coding
Debugging
Javascript
Team player
Highly organized
WRONG
Microsoft Office
Leadership
Photoshop
HTML
Web development
Some of the skills in the wrong example could be valuable, but not necessarily for an engineering internship position.
Also, it doesn't hurt to order your skills by relevance. Starting the list with something as generic as "Microsoft Office skills" won't cause impress the hiring manager.
What to do instead?
Match the skills you have to the ones listed in the job description and list your key skills on the top.
Pro Tip: It might be tempting to write a huge list of skills, but don't overdo it. Create an Excel document with all your abilities and select the best 5 or 6 from the bunch.
Not sure which soft skills to include on your engineering internship resume? Our comprehensive guide with soft skills examples will help you out! As will our guide on how to get an internship.
6. Add Other Sections to Your Engineering Internship Resume
Worried that you still have some space left on your engineering internship resume?
That's awesome!
You can use it to add additional sections that demonstrate why you are the best candidate for this intern job.
There are many options to choose from. Just remember that you need to showcase transferable skills that are relevant to this exact internship.
Here are some additional sections that will make your engineering internship resume a masterpiece:
Awards and Honors
Graduated with latin honors? Did you get an excellence scholarship or won the first prize in a science fair? This is the place to brag about it. This section will show that you can excel in what you do and that you're not afraid of healthy competition.
Relevant Coursework
Employers dig smart interns. Show off any relevant coursework on your resume to prove that despite the limited hands-on experience, your know-how is up to par.
Extracurricular Activities
Extracurricular activities such as student clubs, sports teams, academic projects make for solid additions to your resume. Employers understand that interns don't have PhDs and 10+ years of experience. But a resume that just says "I went to school" won't pass the sniff test either.
Languages
Language skills on resumes impress everyone. Especially if you're looking to secure an engineering internship with an international company.
Hobbies and Interests
Be careful with showcasing hobbies simply to bulk up your resume. Some recruiters, don't mind them, others hate them.
Hobbies are great to show cultural fit—if you have the same passions as your future team, go for it. They're also great if you have a hobby that makes for an interesting conversation starter.
But don't simply say you like reading, listening to music, and travel… It's like saying you eat food and breathe air.
And resume projects can make a great addition too.
Engineering Internship Resume Examples—Other Sections
RIGHT
Awards and Honors
Won 2nd Place at CodeDay 2018 Hackathon
Received the 2018 Pursuit of Excellence Scholarship
WRONG
Awards and Honors
2nd place at 2018 Pompano Beach Fishing Rodeo
3rd place at the 2005 California State Elementary Spelling Bee
It might be tempting to add every award you have ever received, but your section will be much more powerful if you add recent achievements only.
Pro Tip: Remember to be as specific as you can in every section of your resume. That way, the hiring manager will have a better idea of your personality.
Want to know more about all the sections of a resume? Read our Resume Section & Item Order Guide.
7. Engineering Internship Cover Letter is Your Must-Have
Thought you were done?
That's what all other prospective interns think. But you'll be different—
You're serious about getting an internship that opens the door to a bright future in engineering.
And your cover letter will be a necessary proof here. Done right, it will make you shine like a carbon arc lamp in the middle of a forest.
At night.
Here are some tips for writing an outstanding cover letter for your engineering internship resume:
Pro Tip: Express your ideas clearly and double-check your cover letter for spelling and grammar mistakes. Why? An incredible 70% of hiring managers say they would reject a candidate if their cover letter has a typo.
Want to learn more details?
Find job-winning advice in our comprehensive internship cover letter writing guide.
Looking for more cover letter samples? We have them! Check out our cover letter examples for all types of jobs.
Plus, a great cover letter that matches your resume will give you an advantage over other candidates. You can write it in our cover letter builder here. Here's what it may look like: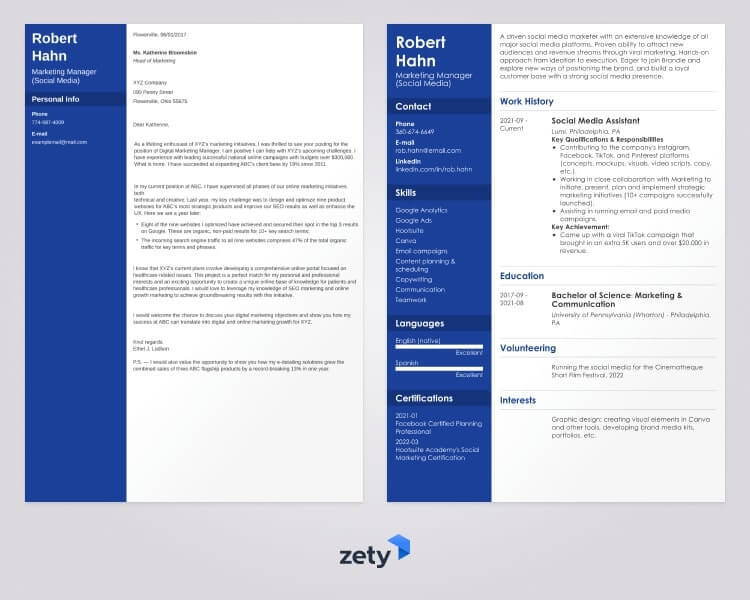 See more cover letter templates and start writing.
Key Takeaway
Crafting an engineering internship resume might seem overwhelming at the beginning, but with our examples and template you will get an intern position good enough to make Elon Musk jealous.
Here are just a few things for you to keep in mind:
Write an engineering internship resume objective instead of a summary. This will let the company know what your goals are and how you can help them achieve theirs.
Place your education section at the top of your engineering internship resume and add relevant coursework and achievements.
Include your experience, even if you don't have a lot of it. Add odd jobs and volunteer work if needed.
Mention your skills throughout your entire engineering internship resume.
Include additional sections like hobbies, languages, awards and extracurricular activities.
Still not sure if your engineering student resume for an internship is on point? Leave us a comment! We'll be happy to help and answer all your questions.
About Zety's Editorial Process
This article has been reviewed by our editorial team to make sure it follows Zety's editorial guidelines. We're committed to sharing our expertise and giving you trustworthy career advice tailored to your needs. High-quality content is what brings over 40 million readers to our site every year. But we don't stop there. Our team conducts original research to understand the job market better, and we pride ourselves on being quoted by top universities and prime media outlets from around the world.
Sources