I speak a second language—
—but should I include languages in my resume?
First of all, awesome.
Secondly, good question!
Psycholinguist Frank Smith once said, "One language sets you in a corridor for life. Two languages open every door along the way."
You want your resume to open doors and land you that job?
Then definitely add a language section to your resume.
(Basically, "if you got it, flaunt it.")
Here's how.
This language skills resume guide will show you:
How to write language skills in resumes to prove more valuable than the other candidates.
How to describe and determine your level of language proficiency
What to know about language proficiency levels, language scales, and frameworks.
Want to save time and have your resume ready in 5 minutes? Try our resume builder. It's fast and easy to use. Plus, you'll get tips and right vs. wrong examples while writing your resume. See +20 resume templates and create your resume here.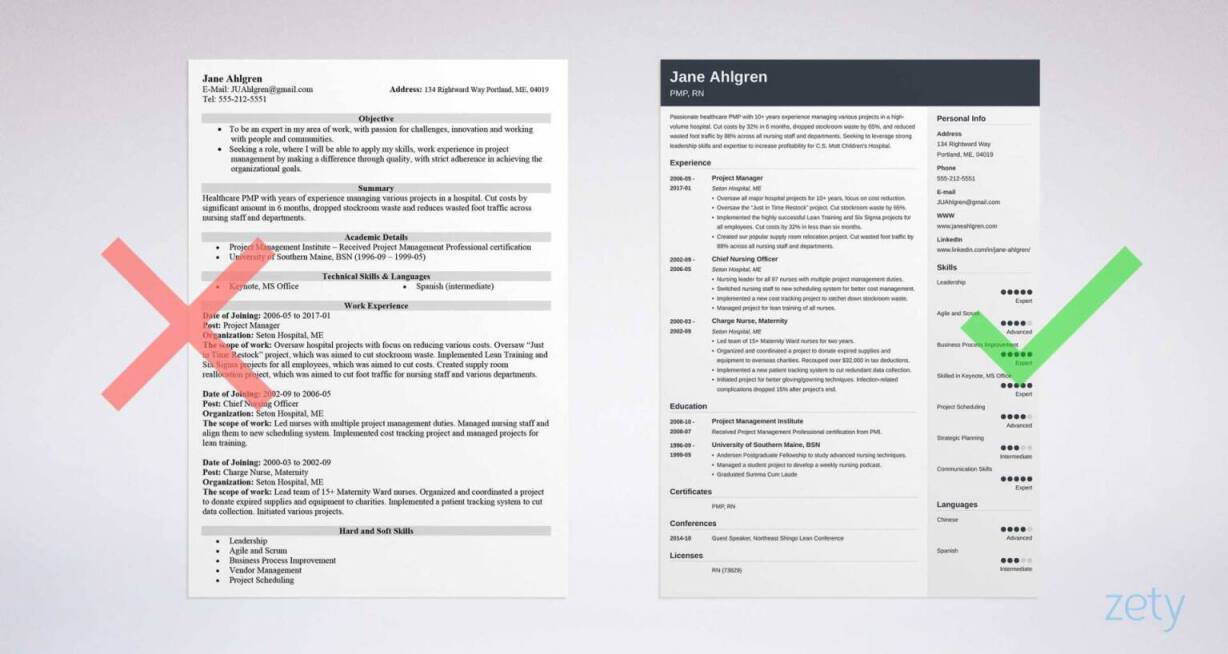 Sample Project Manager Resume - See more templates and create your resume here.
BTW, this article is about human languages. If you want to know how to list programming languages on resumes, check out:
1
How to List Languages on a Resume
Many people place their language skills and level proficiency within the resume skills section.
The result? They become invisible.
And you've invested hours and money to learn the language.
So don't make the hiring manager look for a needle in a haystack and give prominence to your language skills.
Here's how to write language skills in a resume:
Give your language skills its own section.
Add the language skills section after the core resume sections (heading, experience, skills, and education).
List languages with your level of proficiency using one language framework.
Start at the top with the language you are most proficient in.
Check out a brief example of how to put language skills on a resume:
Language Skills
American English—Native
Brazilian Portuguese—Fluent
Egyptian Arabic—Conversational
Bravanese Swahili—Beginner
Not much to it, right?
You can add a regional variant of each language (if one exists.) Though the language is the same, the variation may be useful for the hiring manager to know.
There are alternatives as far as the proficiency phrasing goes, as well:
Advanced: native, fluent, proficient, advanced, mother tongue, upper-intermediate.
Mid-range: intermediate, conversational, competent, professional.
Beginner: elementary, beginner, basic, pre-intermediate, limited working proficiency.
These alternatives aren't exactly the same—
For example, fluent vs conversational. Technically, you can be a native speaker who is fluent in their mother tongue, but not proficient (so you speak smoothly, but your vocabulary is somewhat limited.)
Pro Tip: Some people have put their years of language use when describing proficiency, but this is a big no-no. Your 3 years studying Spanish in high school is usually less effective than living in Costa Rica for 3 months.
Bilingual on a Resume?
Being bilingual is a skill on a resume, most definitely!
Mention it—especially that demand for bilingual employees has doubled in recent years.
Besides the language skills section, mention you're bilingual in your resume heading statement or resume introduction.
For example:
Bilingual medical receptionist with 5+ years of experience working in an international environment...
While we're on the topic of words, you've got to make sure to use the right language when writing your resume. Check out our guides on targeted resumes, resume keywords, and resume action words (and buzzwords to avoid.)
For more on communication skills switch over to: 20+ Effective Communication Skills for Resumes & Workplace Success
2
How to Describe Language Proficiency on a Resume
There's one problem with those language fluency levels, though.
See, the term native proficiency might be easy for an employer to understand.
However, things only get murkier from there.
For example:
What does it mean to be proficient in a language?
Is there a difference between proficient vs fluent?
Will an intermediate candidate be able to perform customer service?
Is a conversational level applicant able to read and write?
Those terms are all foreign to a hiring manager.
So enter the language proficiency scale.
A proficiency language scale is a framework put forth by an organization which segments people into grade levels based on language accuracy, fluency, and other factors.
It standardizes scoring so everyone is on the same page and there's less confusion.
Here are the most common proficiency frameworks:
Interagency Language Roundtable (ILR)—Developed for the US government, the ILR proficiency scale has 6 language skill levels (0-5), as well as an additional "+" designation for those pesky in-betweens.
Common European Framework of Reference for Languages (CEFR)—A set of European guidelines which are simple to understand and widely-recognized. Basic users are scored as A1 or A2, Independent users are B1 or B2, and Proficient users are C1 or C2.
American Council on the Teaching of Foreign Languages (ACTFL)—Another commonly-used proficiency levels language scale. The language fluency levels include Novice (Low, Mid, High), Intermediate (Low, Mid, High), Advanced (Low, Mid, High), Superior, and Distinguished.
LinkedIn—The premier business network uses their own levels of language proficiency. The LinkedIn language proficiency levels are essentially a copy of the ILR language scale.
And here's how the main language scales' scores compare to one another:
LinkedIn

ILR

CEFR

ACTFL

Native or bilingual proficiency

5

Distinguished

Full professional proficiency

4, 4+

C2

Superior

Professional working proficiency

3, 3+

C1

Advanced High

Limited working proficiency

2+

B2

Advanced Mid

2

B1

Intermediate High, Advanced Low

Elementary proficiency

1+

A2

Intermediate Mid

0+, 1

A1

Novice High, Intermediate Low

No proficiency

0

—

Novice Low, Novice Mid

Language Proficiency Scales
Don't put languages on your resume in which you have low levels of fluency. These might be fun to bring up on a first date or at a party, but employers will think you exaggerated or misrepresented your abilities—one step down from lying on a resume.
Pro Tip: If you aren't a native speaker or bilingual, but your language abilities are as good as a native speaker's, say you possess near native skills. You won't be lying and your resume might just pass the automated scan (if being a native speaker is critical for the position.)
A language resume skill section is makes for a great resume category section. If you have any certificated (more on that later), make sure you include them in the certifications and licenses section.
3
Resume Language Skills—Bringing It All Together
You have a better way to talk about being proficient in Spanish or conversationally fluent in the French language.
Now it's time to construct our language proficiency levels resume section.
Here's an example language levels resume section:
Language Skills
English—Level 5 (ILR)
Bengali—Level 4 (ILR)
Mandarin—Level 3 (ILR)
In this example, we simply added the ILR level next to each language. In parentheses, we added "ILR," just so the hiring manager knows which language scale we're using.
Simple and straightforward.
Here's one more languages resume skills section sample:
Language Skills
American English—Native/Bilingual (ILR Level 5)
Canadian French—Native/Bilingual (ILR Level 5)
Russian—Full Professional Proficiency (ILR Level 4+)
Malay—Professional Working Proficiency (ILR Level 3)
How about that?
What we did here is we gave the LinkedIn level of language proficiency, because it's more descriptive.
However, though it's based on ILR, it might still be open to interpretation, so we added the ILR language skills levels in parentheses, as well.
Here's one further example to show a different point:
Language Skills
British English—Native/Bilingual
Italian—C1 Certificate
Polish—B2 Level
That's for a resume in Europe using the CEFR scale.
Notice the difference in the Italian and Polish language?
What this means is that we earned an official certificate attesting to our Italian C2 level, but we self-assessed our Polish as a B2.
There's no single right way to add your levels of language fluency.
But!
There are some mistakes you can make, so be careful.
Be consistent. Don't mix and match language proficiency frameworks (telling them you are ILR 4+ in Hausa followed by saying you are C1 in Hungarian Magyar).
Also, use the most relevant system. For example, if you are applying for a job in the EU, use the CEFR levels.
Finally, start at the top with your most proficient language, then go in descending order from there.
Pro Tip: Do I add my native language? Yes! It takes just one extra line, but it might hurt to leave it off.
To avoid mistakes in other resume sections, make sure you familiarize yourself with our guide: Resume Dos and Don'ts
And find out how to deal with hard and soft skills with help from: Lists of Soft Skills & Hard Skills for a Job
4
How to Find Your Language Level of Fluency
Guesswork makes for less work.
Don't just speculate your resume skill levels regarding language—
Either you'll overestimate your abilities (which is almost lying), or you'll underestimate them (which doesn't sell yourself as well as you could have.
Instead, choose one of two options:
Self-assess or obtain an official language certificate.
If this second or third language is crucial to the job in more ways than just daily communication (e.g., proofreading, copywriting), get an official score of your abilities by paying for a test.
In all other cases, self-assessment should work just fine, as long as you use official guidelines and documentation to grade yourself.
For the ILR scale, the official website offers several PDFs and guidelines to help you judge your own abilities. Also, there are self-assessment questionnaires for reading, speaking, and listening.
For the CEFR scale, you can assess yourself with their official chart (PDF), which allows you to judge your skills in 5 areas: listening, reading, spoken interaction, spoken production, and writing.
The ACTFL Proficiency Guidelines is available on their site (PDF) and gets updated once every several years. Their 10-level scale is also segmented into reading, writing, speaking, and listening.
To figure out where you rank when adding languages to LinkedIn, use the ILR framework.
Pro Tip: What about dead languages? Proficiency in Latin is great for work which will use it, such as becoming a Latin professor or Robert Langdon. For all other work, leave it off your resume, as it's not relevant.
Speaking of LinkedIn, is your profile up to date and ready for the employer to view? Make sure by reading our guide: 99 LinkedIn Profile Tips: Background Photo, Headline, Summary & More
Key Takeaway
When adding language fluency levels to a resume skills section, keep in mind:
Add your levels of proficiency in languages to its own section.
Use a language framework instead of using your own wording for fluency.
Choose the most appropriate language scoring system for your job.
Remain consistent and relevant throughout your resume language section.
Self-assess your skills rather than estimating your competence.
Have any questions on how to write about language skills in resumes? Not sure which language proficiency framework or scale to use? Let's talk about this using the English language in the comments below, and, as always, thanks for reading!