I speak a second language, but should I include languages in my CV?
First of all, nice one.
Secondly, good question!
Psycholinguist Frank Smith once said, 'One language sets you in a corridor for life. Two languages open every door along the way.'
You want your CV to open doors and land you that job?
Then definitely add a language section to your CV.
(Basically, if you got it, flaunt it.)
Here's how.
This language skills CV guide will show you:
How to write language skills in CVs to prove more valuable than the other candidates.
How to describe and determine your level of language proficiency.
What to know about language proficiency levels, language scales, and frameworks.
Want to save time and have your CV ready in 5 minutes? Try our CV builder. It's fast and easy to use. Plus, you'll get ready-made content to add with one click. See 20+ CV templates and create your CV here.
Sample CV made with our builder—See more CV examples here.
Need to write about other employability skills on your CV? Check out our guides:
Language Skills on a CV Example
Richard Sinclair
Ph: 0777 777 7777
Email: rsinclair_zety@gmail.com
LinkedIn: linkedin.com/in/rsinclair_zety
Customer service focused receptionist with 6+ years experience in demanding corporate front desk roles. Perfect personal presentation with professional communication skills and an abiding passion for giving an outstanding first impression of the business. Looking to take on new challenges that enable my helpful and diligent approach to contribute to business growth and success.
Work Experience
Receptionist
The Brightman Agency, Southwark, London
July 2018–Present
Provided superb customer service by promptly dealing with all incoming phone calls and reducing call waiting time by 25%.
Ordered office supplies and office refreshments, achieving a 20% savings on budget through constant supplier price negotiation.
Performed wide-ranging general admin tasks including supporting accounts team in recording and processing invoicing and assisting HR team with payroll paperwork.
Recorded all incoming documents and sensitive client information in adherence with GDPR requirements.
Legal Receptionist
Epson and James Solicitors, London
September 2014–July 2018
Scheduled appointments managed the calendars of four solicitors and two paralegals at a busy high street practice.
Coordinated annual leave calendar, daily appointment calendar and duty schedule to ensure optimal staffing levels.
Answered incoming calls, ensuring call waiting time was kept below 5 minute target.
Maintained a tidy reception area that complied with relevant health and safety regulations.
Education
Level 2 Diploma in Reception Services, June 2014–September 2014
Northfields College, London, UK
A-levels: Business Studies, Dutch, Economics, September 2012–June 2014
Hammersmith Academy, London, UK
9 GCSEs including Mathematics and English, September 2010–June 2012
Easthill Academy, London, UK
Skills
Enterprise telephone systems: extensive knowledge of both VoIP and legacy IP PBX systems.
Corporate diary management: arranged schedules of senior staff members based on need and availability and booked corporate travel.
Conflict resolution: acted as first point of contact for phone and in-person client complaints, recorded details, resolved where possible and redirected when required.
Interpersonal communication: answered high volume external and internal queries via phone, email and in-person.

Written communication:

took meeting minutes and drafted company-wide memo emails and wrote newsletters according to strict corporate style guides.
Languages
1. How to List Languages on a CV
Many people place their language skills and level proficiency within the CV skills section.
The result? They become invisible.
And you've invested hours and money to learn the language.
So don't make the hiring manager look for a needle in a haystack. Give prominence to your language skills.
Here's how to write language skills in a CV:
Give your language skills its own section.
Add the language skills section after the core CV sections (CV introduction, work experience, skills, and education).
List languages with your level of proficiency using one language framework.
Start at the top with the language you are most proficient in.
Check out a brief example of how to put language skills on a CV:
CV Language Skills
Not much to it, right?
You can add a regional variant of each language, e.g. Brazilian Portuguese. Though the language is the same, the variation may be useful for the hiring manager to know.
There are alternatives as far as the proficiency phrasing goes, as well:
Advanced: native, fluent, proficient, advanced, mother tongue, upper-intermediate.
Mid-range: intermediate, conversational, competent, professional.
Beginner: elementary, beginner, basic, pre-intermediate, limited working proficiency.
These alternatives aren't exactly the same—
For example, fluent vs conversational. Technically, you can be a native speaker who is fluent in their mother tongue, but not proficient (so you speak smoothly, but your vocabulary is somewhat limited.)
Pro Tip: Some people put their years of language use when describing proficiency, but this is a big no-no. Your years studying Spanish at school are usually less effective than living on the Costa del Sol for three months. So time is rather meaningless.
Bilingual on a CV?
Being bilingual isn't just a CV skill, it's a CV superpower.
Mention it—especially that demand for bilingual employees has doubled in recent years.
Besides the language skills section, mention you're bilingual in your CV summary or CV profile.
For example:
Bilingual medical receptionist with 5+ years of experience working in an international environment.
When making a CV in our builder, drag & drop bullet points, skills, and auto-fill the boring stuff. Spell check? Check. Start building your CV here.
When you're done, Zety's CV builder will score your CV and tell you exactly how to make it better.
2. How to Describe Language Proficiency on a CV
There's one problem with those language fluency levels, though.
See, the term native proficiency might be easy for an employer to understand.
However, things only get murkier from there.
For example:
What does it mean to be proficient in a language?
Is there a difference between proficient vs fluent?
Will an intermediate candidate be able to perform customer service?
Is a conversational level applicant able to read and write?
Those terms are all foreign to a hiring manager.
So enter the language proficiency scale.
A proficiency language scale is a framework put forth by an organization which segments people into grade levels based on language accuracy, fluency, and other factors.
It standardizes scoring so everyone is on the same page and there's less confusion.
And when it comes to proficiency language scales there's pretty much only one game in town in the UK and Europe. Here it is:
And another thing, don't put languages on your CV in which you have low levels of fluency. These might be fun to bring up at a party, but employers will think you exaggerated or misrepresented your abilities—one step down from lying on a CV.
3. CV Language Skills—Bringing It All Together
You have a better way to talk about being proficient in Spanish or conversationally fluent in the French language.
Now it's time to construct our language proficiency levels CV section.
Here's an example language levels CV section:
Language Skills
English—Native
Italian—C1 Certificate
Polish—B2 Level
Notice the difference in the Italian and Polish language?
What this means is that we earned an official certificate attesting to our Italian C2 level, but we self-assessed our Polish as a B2.
There's no single right way to add your levels of language fluency.
But it's best to start at the top with your most proficient language, then go in descending order from there.
Pro Tip: Do I add my native language? Yes! It takes just one extra line, but it might hurt to leave it off.
4. How to Find Your Language Level of Fluency
Don't just speculate your CV skill levels regarding language—
Either you'll overestimate your abilities (which is almost lying), or you'll underestimate them (which doesn't sell yourself as well as you could have).
Instead, choose one of two options:
Self-assess or obtain an official language certificate.
If this second or third language is crucial to the job in more ways than just daily communication (e.g., proofreading, copywriting), get an official score of your abilities by paying for a test.
In all other cases, self-assessment should work just fine, as long as you use official guidelines and documentation to grade yourself.
For the CEFR scale, you can assess yourself with their official chart, which allows you to judge your skills in 5 areas: listening, reading, spoken interaction, spoken production, and writing.
Plus, a great cover letter that matches your CV will give you an advantage over other candidates. You can write it in our cover letter builder here. Here's what it may look like: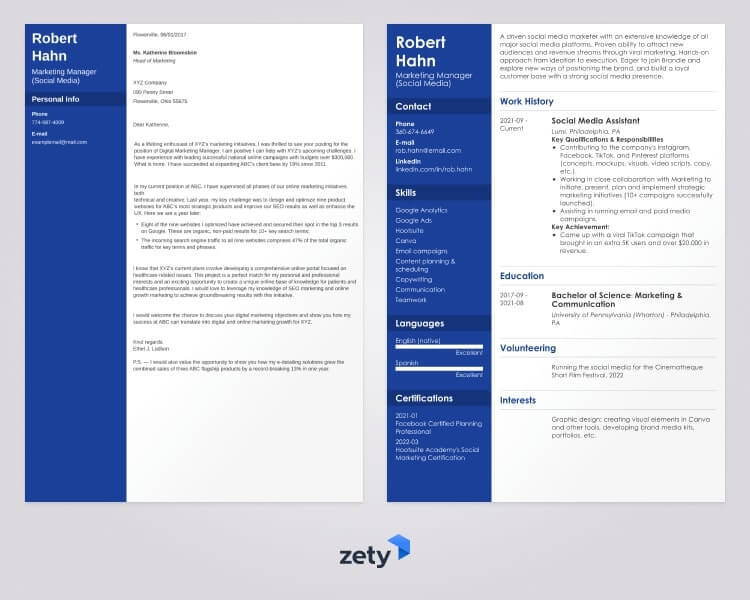 See more cover letter templates and start writing.
Key Takeaway
When adding language fluency levels to a CV skills section, keep in mind:
Add your levels of proficiency in languages to its own section.
Use a language framework instead of using your own wording for fluency.
Remain consistent and relevant throughout your CV language section.
Self-assess your skills rather than estimating your competence.
Have any questions on how to write about language skills in CVs? Not sure which language proficiency framework or scale to use? Let's talk about this using the English language in the comments below, and, as always, thanks for reading!