It goes without saying that you need a well-written CV to stand any chance of landing the job you want. Times are tough and competition is fierce. But one part of your CV stands head and shoulders above the rest in terms of its importance. Your CV work experience section.
Think of it as the beating heart of your CV, the engine that drives it forward. When recruiters ask to see your CV they're basically asking to see your work experience. It's that simple.
The key to an effective work experience CV section is to showcase your achievements not just list your responsibilities. You can't just say what you did, you have to show how well you did it.
And if you want any chance of getting an interview you have to tailor your CV work experience section to every job you apply for. But don't let that put you off. You're about to learn an easy way to get it right every time.
This guide will show you:
How to write a compelling CV work experience section that hiring managers will love.
A CV work experience example so you can see exactly how it should be done.
The best way to highlight your achievements in the work experience section of your CV.
How to tailor your work experience CV section to the job you're targeting
First up, take a look at this CV work experience section example written for a retail job. Then you'll learn the formula to do it yourself.
CV Work Experience Template
Want to save time and have your CV ready in 5 minutes? Try our CV builder. It's fast and easy to use. Plus, you'll get ready-made content to add with one click. See 20+ CV templates and create your CV here.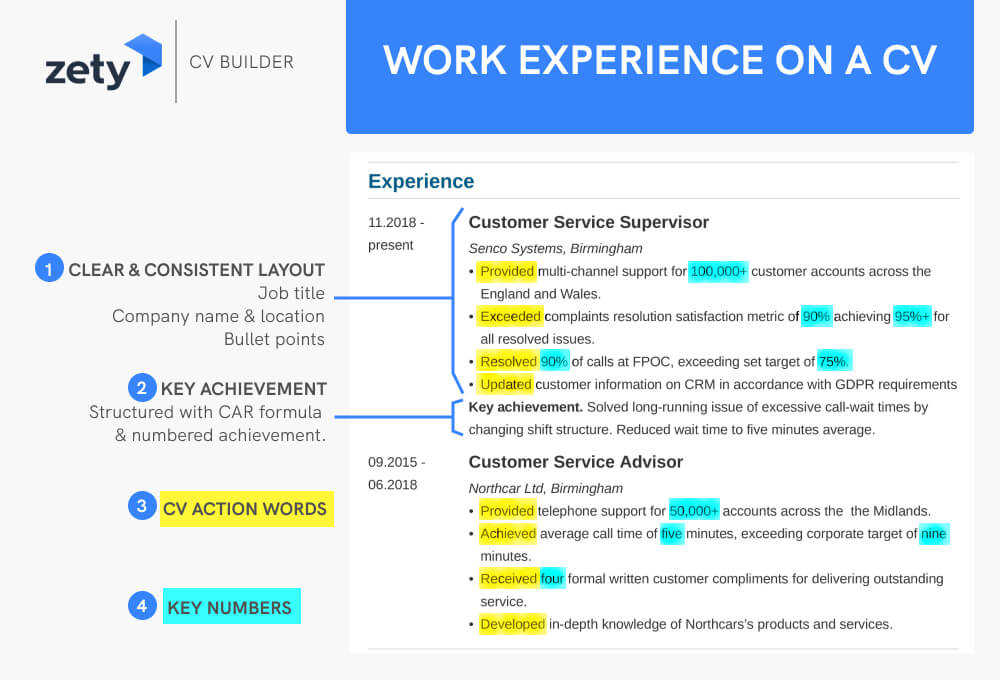 Sample CV made with our builder—See more CV examples here.
Want to learn how to write the rest of your CV? Read more: How to Write a CV: Professional UK Examples
7 Rules For Writing Your CV Work Experience Section
The work experience section of your CV is where you set out your professional history. It needs to showcase your achievements and include information that's targeted to prove you're the best candidate for the job.
Just follow these rules to structure your CV work experience section and you'll be all set to create the best CV template possible.
1. Use the Right Layout and Format
For each job, list your job title, the company name, the location you worked and your dates of employment. Start with your most recent job and work back in time from there, that's why this CV format is also referred to as reverse chronological. Check out this CV work experience example.
UX Designer
Ampersand Web Design, London
July 2018–Present
That example has all the essential information you need to include. It also makes use of two easy layout tweaks to make the entry more clear. The job title CV font is in bold to make it leap off the page. It's one of the most important pieces of info a recruiter looks for. Then the company name and location are in italics for emphasis. Just make sure you're consistent and follow the same pattern for every entry.
Read more: CV Layout: How to Lay Out a Professional CV
2. Write Bullet Points
Follow up the details of each job with bullet points. That seems obvious, but here are some tips to make them more effective. Use up to six bullet points for each role but use fewer bullet points for older jobs that are less relevant. That way you'll save page space and keep the work experience section on your CV lean and targeted. For the same reason keep each bullet point brief, two lines at most. It's another space saver and it makes it easier for the hiring manager to quickly scan each entry.
Here's an example:
Customer Service Advisor
Northcar Ltd, Birmingham
September 2015–June 2018
Provided telephone support for 50,000+ accounts across the Midlands.
Achieved average call time of five minutes, exceeding corporate target of nine minutes.
Received four formal written customer compliments for delivering outstanding service.
Developed in-depth knowledge of Northcars's products and services.
Brief, snappy, impactful and scannable in seconds. Just what a busy recruiter wants.
3. Start With Action Words
Start your bullet points with action words for added impact. Don't start each line with 'responsible for', you'll just put the reader to sleep. Use impactful action words instead, and I don't mean cliched buzzwords, those are just as bad. So to replace 'responsible for' you could use acted as, negotiated, executed, or prepared. It's all about being smart with your use of language.
Here are some suggestions:
Instead of 'responsible for' try accomplished, created, executed, made, performed or undertook.
To emphasise achievements try accelerated, boosted, delivered, enhanced, improved or optimised.
To highlight communication try advocated, convinced, explained, influenced or persuaded.
4. Highlight Your Achievements
Don't just write a shopping list of your duties. Include your professional achievements too. Don't just say what you did, demonstrate how well you did it. Compare these CV work experience examples to see what I mean.
WRONG
Responsible for managing the procurement of office supplies.
RIGHT
Resolved overspend on office supplies by procuring new supplier and using solid negotiation skills to achieve £5,000 cost saving.
As you can see, there's a huge difference between the two. It's the same candidate but the first example won't get you anywhere.
Compare it with the second example that starts off strong with an action word and includes an impressive numbered achievement. That shows the recruiter you're an accomplished candidate who can add value to the business. It's also cleverly structured and we'll cover that next.
5. Use The Challenge-Action-Result Formula
The CAR formula, also known as an accomplishment statement, is a great way to structure your bullet points. Let's see it in action using the CV work experience example I used in the previous section.
Resolved

overspend on office supplies

by

procuring new supplier and using solid negotiation skills

to achieve

£5,000 cost-saving

.
First comes the challenge, an overspend on office supplies. Then comes the action, procuring a new supplier and using negotiation skills. Last comes the result, a £5,000 cost-saving. It's impactful and provides clear proof of your abilities.
You don't need to structure every bullet point this way, but aim to include an accomplishment statement for at least one bullet point in your most recent and relevant job entries. You can include this as a 'Key achievement' in a separate line just below the last bullet point, like so.
Key achievement. Resolved overspend on office supplies by procuring new supplier and using solid negotiation skills to achieve £5,000 cost-saving.
6. Tailor Your CV Work Experience Section
Don't fall into the trap of sending out the same CV for every job application. To have any chance of success you need to customise the work experience on your CV for every application you send. Here's how.
Refer to the job description in the job advert. This is your cheat sheet for finding out exactly what experience and skills the hiring manager wants.
Research the company and consider the requirements of the role and the industry. There may be skills and experience needed that aren't explicitly mentioned in the job description.
Structure your own experience and achievements to match those in the job description along with any relevant additional information you discover through your research.
Rinse and repeat for each subsequent job application.
Take a look at how it should work. First a job advert, then the work experience section a candidate wrote in response.
Multiplex Customer Solutions seeks experienced customer service supervisor to assist with comprehensive service improvement program. We aim to become the best multi-channel customer support service in the Midlands. Key goals include improving customer complaint satisfaction and reducing call waiting times. Candidates must be experienced in managing personal data in adherence to GDPR.
Customer Service Supervisor
Senco Systems, Birmingham
Nov 2018–Present
Provided

multi-channel support for 100,000+ customer accounts

across the England and Wales.
Exceeded complaints resolution satisfaction metric of 90% achieving 95%+ for all resolved issues.
Resolved 90% of calls at FPOC, exceeding • set target of 75%.

Updated customer information on CRM in accordance with GDPR requirements
Key achievement. Solved long-running issue of excessive call-wait times by changing shift structure. Reduced wait time to five minutes average.
Now that's tailored to be a perfect fit. See how the highlighted text in the work experience section perfectly addresses the job requirements? It also adds an impressive 'key achievement', which really helps to emphasise important accomplishments.
7. Include Volunteer Work Experience in your CV
Should you include volunteer work in your work experience CV section? That depends on how much paid work experience you have.
If you have 5+ years of paid work experience on your CV, include voluntary work as a separate additional section along with languages, projects, and CV hobbies and interests.
For a CV with no work experience, or less than 5 years of paid work, include voluntary work in your work experience section. Structure it the same way as you would paid work.
Here's an example:
Volunteer
Watford Animal Home, Watford
April 2018–Present
Answered customer queries via telephone and email, achieving 100% compliance with set service level agreements.
Managed social media channels on Facebook and Instagram, posting information on new arrivals and donations, increasing followers by 20%.
Monitored inventory databases to ensure stock levels of essential supplies were maintained.
Adhered to HSE regulations to maintain a safe work environment, successfully completing HSE staff certification.
It might not be paid work but it's certainly valuable work experience. A worthy addition to a CV for less experienced candidates.
Read more: What to Include in a CV: Essential Sections
When making a resume in our builder, drag & drop bullet points, skills, and auto-fill the boring stuff. Spell check? Check. Start building a professional resume template here for free.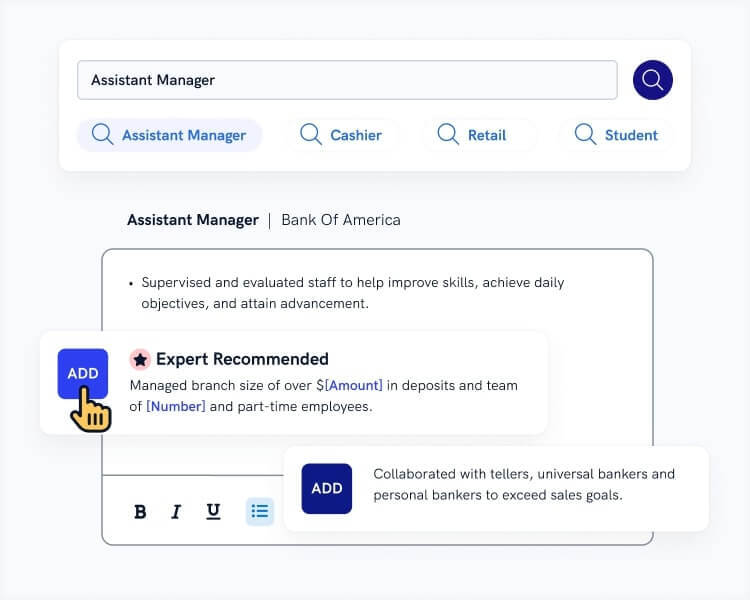 When you're done, Zety's resume builder will score your resume and tell you exactly how to make it better.
How to Write Work Experience in Your CV—The Numbers Game
You'll recall that I mentioned the importance of numbered achievements. But I bet a lot of you are thinking "I'm not a numbers person. I can't be expected to do that". You are a numbers person though, it just depends on using some smart approaches to include them. Here are some ideas.
1. Scale
It's not all about making money. Think of other numbers too. How big was the team you worked on, how many people did you manage, what was the budget you handled? These numbers are also important to employers.
Take a look at this example from a customer service CV.
CV Work Experience Example—Scale
Supervised a team of

30

customer service agents working via both traditional call centre operations and live online chat channels.
2. Frequency
Consider how much work you completed in a given timeframe and how often you completed particular tasks.
See this example from a waitress CV.
CV Work Experience Example—Frequency
Effectively managed two full sittings of 80 covers during weekend evening shifts.
3. Range
If you don't have an exact number, then feel free to give an informed estimate. It looks impressive but make sure you can explain your reasoning in case you're questioned at the interview stage.
See this example from a receptionist CV.
Acted as first point of contact in a busy front office with a high footfall of 70–80 visitors per day.
So that's the numbers game sorted. Read on to discover one more CV work experience issue that often leaves job-seekers confused.
Read more: 20+ Job-Winning CV Tips & Advice
CV Work Experience—How Far Back To Go
For more experienced candidates the question often shifts from what experience to add to where should you stop. Bear in mind that your maximum CV length should be no more than 2 pages, so you might not be able to include everything. A good rule of thumb is to go back 10–15 years.
But don't treat it as gospel. If you've had the same job for 15 years then you'll have room to include other roles. Likewise, feel free to include older jobs if they're particularly relevant to the one you're applying for now. And remember to keep it targeted and cut back on the number of bullet points for your older roles.
And one more tip, try to avoid badly designed free CV templates. Your work experience CV section will look much better in an expert designed Zety template.
Plus, a great cover letter that matches your resume will give you an advantage over other candidates. You can write it in our cover letter builder here. Here's what it may look like: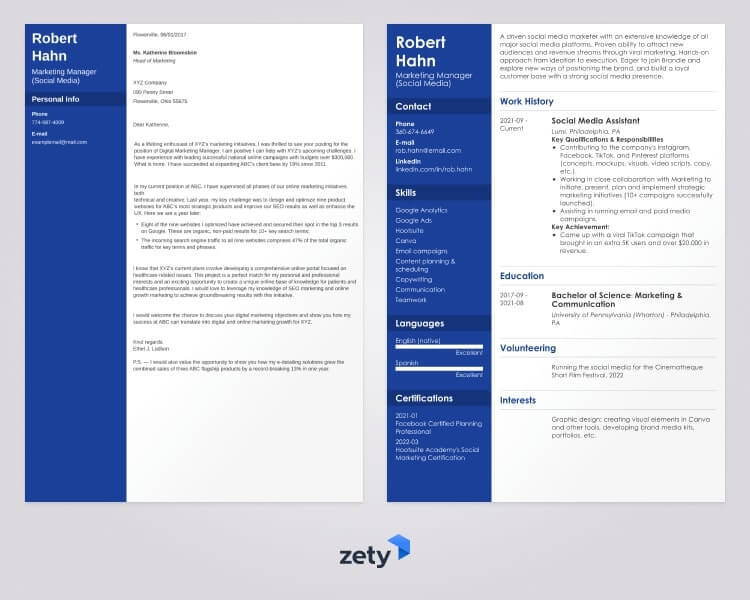 See more cover letter templates and start writing.
Key Takeaway
It's worth repeating, your CV work experience section is the single most important part of your job application. And you've just learned exactly what's needed to get it right. Here's a quick recap.
Include all the required information about each job using a clear and consistent layout.
Write short, snappy bullet points that begin with action words.
Highlight your achievements using accomplishment statements and the CAR formula.
Tailor your work experience CV section to each different job you apply for.
Think outside the box to discover impactful numbers to include.
Limit how far back you go if you're a more experienced candidate.
Thanks for reading. What else would you like to know? Would you like to learn more about a no work experience CV or a first CV with no work experience. Let me know in the comments section and I'll be happy to help.
About Zety's Editorial Process
Our editorial team has thoroughly reviewed this article to ensure it follows Zety's editorial guidelines. Our dedication lies in sharing our expertise and providing you with actionable career advice that offers you real value. Every year, the quality of our content attracts 40 million readers to our site. But that's not all – we conduct original research to gain a detailed understanding of the labour market. We take pride in being cited by top universities and leading media outlets in the UK and worldwide.
Sources