Receptionist CV Sample and Writing Guide
Pick up the phone to job-hunting success with our receptionist CV writing guide. Own the front desk with expert tips, examples and a professional CV template.
Here's the thing about being a receptionist. It's hard work. You're constantly multitasking juggling calls, visitors and constant additions to your admin task in-box. But when you try to actually describe all that in a CV, it just sounds dull. Hardly the sort of thing that'll make you the star candidate for the best receptionist jobs.
But once you've learned to write a receptionist CV as compelling as the one below, this problem will be a thing of the past.
Read on and you'll see a professional receptionist CV example you can adjust and make yours. Plus, you'll learn an easy formula for writing a CV for receptionist jobs that will land you 10x more interviews than any other CV you've written in the past.
Here's a receptionist CV example made with our builder.
Want to save time and have your CV ready in 5 minutes? Try our CV builder. It's fast and easy to use. Plus, you'll get ready-made content to add with one click. See 20+ CV templates and create your CV here.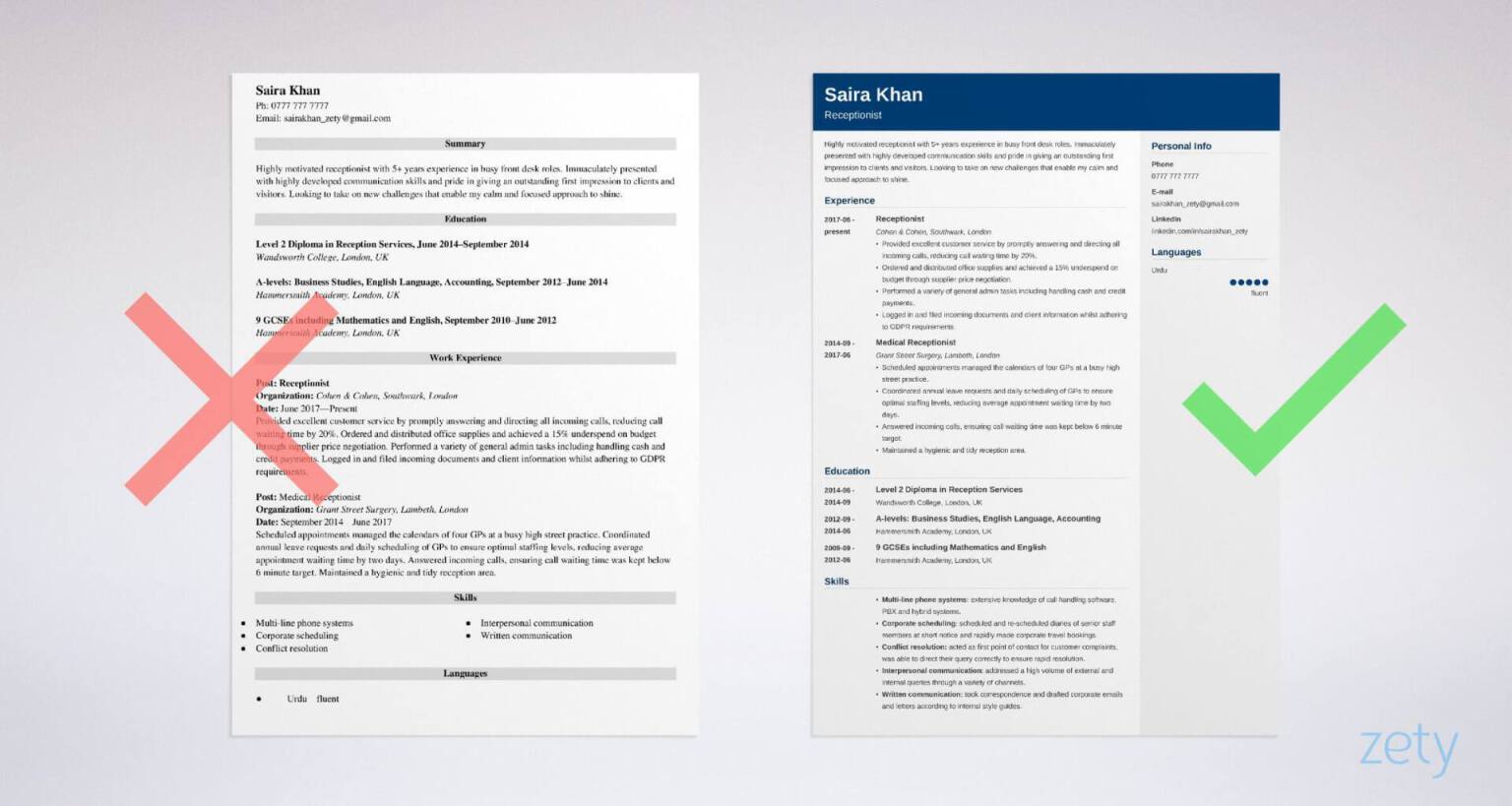 Receptionist CV made with our builder—See more CV examples here.
Looking for other CV writing advice? Read more here
Sample Receptionist CV Template
Saira Khan
Ph: 0777 777 7777
Email: sairakhan_zety@gmail.com
LinkedIn: linkedin.com/in/sairakhan_zety
Highly motivated receptionist with 5+ years experience in busy front desk roles. Immaculately presented with highly developed communication skills and pride in giving an outstanding first impression to clients and visitors. Looking to take on new challenges that enable my calm and focused approach to shine.
Work Experience
Receptionist
Cohen & Cohen, Southwark, London
June 2017—Present
Provided excellent customer service by promptly answering and directing all incoming calls, reducing call waiting time by 20%.
Ordered and distributed office supplies and achieved a 15% underspend on budget through supplier price negotiation.
Performed a variety of general admin tasks including handling cash and credit payments.
Logged in and filed incoming documents and client information whilst adhering to GDPR requirements.
Medical Receptionist
Grant Street Surgery, Lambeth, London
September 2014—June 2017
Scheduled appointments managed the calendars of four GPs at a busy high street practice.
Coordinated annual leave requests and daily scheduling of GPs to ensure optimal staffing levels, reducing average appointment waiting time by two days.
Answered incoming calls, ensuring call waiting time was kept below 6 minute target.
Maintained a hygienic and tidy reception area.
Education
Level 2 Diploma in Reception Services, June 2014–September 2014
Wandsworth College, London, UK
A-levels: Business Studies, English Language, Accounting, September 2012–June 2014
Hammersmith Academy, London, UK
9 GCSEs including Mathematics and English, September 2010–June 2012
Hammersmith Academy, London, UK
Skills
Multi-line phone systems: extensive knowledge of call handling software, PBX and hybrid systems.
Corporate scheduling: scheduled and re-scheduled diaries of senior staff members at short notice and rapidly made corporate travel bookings.
Conflict resolution: acted as first point of contact for customer complaints, was able to direct their query correctly to ensure rapid resolution.
Interpersonal communication: addressed a high volume of external and internal queries through a variety of channels.
Written communication: took correspondence and drafted corporate emails and letters according to internal style guides.
Languages
Now, here's the job-winning receptionist CV formula:
1. Use the Best Format for Your Receptionist CV
A receptionist is responsible for greeting visitors, resolving their queries and directing them to their destinations. The purpose of a receptionist CV is to show you can create a professional first impression of the company and handle all of the associated administrative tasks such as sorting correspondence and answering incoming calls and emails.
It's hard work convincing a hiring manager that you've got what it takes to be the face of their company. And you've only got 8 seconds to do it. Here's how to make those seconds count.
Choose the right type of CV format. The best choice for a receptionist CV is chronological format. It's the one hiring managers are most familiar with and highlights your top selling point. Your work experience.
Layout your CV correctly. Set the page margins to one inch on each side, left align the text (don't use justification) and double space between each section. This creates plenty of white space, which is easy on the eye and helps recruiters find what they need fast.
Choose a professional CV font that's easy to read. Arial, Helvetica and Cambria are three great choices.
Keep it concise. The best CV length is no more than two pages.
Save your CV as a PDF to keep your formatting intact.
Don't include a photo, or any personal info like your marital status or date of birth.
Read more about CV Layout: How to Layout a Professional CV
2. Write a Receptionist CV Personal Statement
Just like you make the first impression for your employer, a CV personal statement, or personal profile makes the first impression for your CV. It's a short paragraph that has to grab the hiring manager's attention and keep them engaged. 3–4 sentences is all that stands between you and "computer says no." But don't let it intimidate you, just answer these 3 questions and you'll be set.
Who are you?
What can you offer to the employer?
What are your career goals?
Answer the questions differently depending on how much experience you have. If you're an experienced receptionist then follow these tips.
Sit down and make a master list of all your selling points as a receptionist. Include all of the professional experience and skills and abilities that help you to excel.
Then refer to the job description in the advert, list the skills and experience it requires and match it up with 3–4 points from your own list.
Use these points to write a personal profile targeted to the receptionist job you're applying for.
If you're writing a student CV or applying for entry-level receptionist jobs then do this.
Again, make a master list of skills and experience. Think of your education and any other jobs you've had. Then list those that are transferable to being a receptionist, like customer service and administrative skills.
Choose 3–4 items from your list that are relevant to the job and combine them with passion for the role, and knowledge about the employer to prove that you'll be a good fit.
Put this all together into a personal profile targeted to the job.
Whatever your experience, you'll find this section easier to write if you leave it until last. It's much easier when you've got your experience, skills and education ready to refer to.
Now for the part where you really get to show off your receptionist superpowers. Your work experience section.
Check out this guide for even more tips on how to write your personal profile: How to Write a CV Personal Statement [20+ Examples]
3. Dial-Up an Impressive Receptionist Job Description
Unreasonable customers, even more unreasonable bosses, the life of a receptionist can be challenging. It takes experience to handle those challenges with aplomb. Here's how to show you can deal with everything that the job throws your way:
List your most recent role first and work back from there. That's why this type of CV format is called reverse chronological.
For each position, include your job title, the name of your employer, dates of employment (use "present" as the end date if you work there now), then up to six bullet points describing the job.
Start your bullet points with a CV action word like operated, performed or prepared, to give them maximum impact.
Write about measurable achievements, not just your duties. Don't just say what you did, prove how well you did it.
Use the PAR (Problem Action Result) formula and accomplishment statements to structure your bullet points.
Target your CV work experience section to the job description. Note the skills and experience the employer is looking for and match your experience to what's required.
Want even more good CV advice? Check out our guide: 20+ CV Tips and Advice for Job Application Success
4. Include an Education Section in Your Receptionist CV
It's an easy section to overlook, but hiring managers still expect to see an education section that's correctly laid out and contains the info they require. Here's how to get it right on your receptionist CV.
School leavers should include the name of the school, its location, and the years you attended. Include individual subjects for your A-levels. But for your GCSEs you only need to mention Maths and English, many employers look for passes in these subjects as a minimum requirement.
If you went to uni include the university name, years attended, and the name of your degree. If you're still studying include an expected graduation date.
Got a relevant qualification in admin or reception services? Then include the name of the institution, the name of the certificate including its NVQ level and your start and finish dates.
If you've just left school or graduated and don't have much experience then change the order of your CV and put this section before your work experience section.
5. Show Off Your Receptionist CV Skills
It's not easy to juggle constant phone calls, a stream of visitors and still keep up with your admin tasks. It takes a lot of skill to survive on the front line of the workplace battlefield. So don't sell yourself short. Write a CV skills section that shows the very best of your hard-won abilities.
Go back to the job advert, read the job description and list which skills are needed.
Now make a list of all of your own skills, check out your work experience and education sections for inspiration.
Then compare the two lists, see what matches, and list 5–10 of those on your CV.
Include a mix of soft skills, hard skills and technical skills.
For each skill, add a single sentence showing how you demonstrate it. Don't just show, tell. E.g. Multi-line phone systems: extensive knowledge of call handling software, PBX and hybrid systems.
These skills would look great on a receptionist CV:
Receptionist Skills for a CV
Office supply management
Multi-line phone systems
Corporate scheduling
Customer service
Interpersonal communication skills
Problem-solving
Conflict resolution
Initiative
Attention to detail
Reliability
Read More: Best List of Skills to Put on a CV [Top Skills & Examples]
When making a CV in our builder, drag & drop bullet points, skills, and auto-fill the boring stuff. Spell check? Check. Start building your CV here.
When you're done, Zety's CV builder will score your CV and tell you exactly how to make it better.
6. Add Additional Sections to Your Receptionist CV
Consider this. On average, 118 people apply for every job and only 20% of those get an interview. If you want to be part of the 20% you've got to make your CV stand out. Adding extra sections is a perfect way of getting your job application in the yes pile. Here are some suggestions.
Can you speak another language? Foreign language skills are needed at all levels of the workforce and are a great choice for a receptionist CV. Especially if your role involves dealing with international customers and clients.
Volunteering is also a surefire win. 82% of managers prefer to hire people with volunteering experience.
You could also include projects, achievements, awards and hobbies. Just keep it relevant to the job and ensure it helps you stand out as a candidate.
7. Consider a Cover Letter
As a receptionist, you've probably written a letter or two in your time. They're still part and parcel of office work and an important addition to your CV, too. More than half of employers say they're a must have.
This is how to write a cover letter.
Use the right cover letter format.
Start your cover letter with a 'hook'. Show passion for the role and the employer and include an impressive professional achievement.
Show how your skills and experience will help you to excel as a receptionist. Making sure you tailor this to the job you're applying for.
Include a cover letter ending with a call to action asking to meet or schedule a phone call to discuss the role further.
Stick to the right cover letter length.
Want a more detailed checklist for your cover letter? Read more: What to Include in a Cover Letter for a Job
One more tip for success. Follow up. If you haven't heard back within one week, follow up with the employer by email or phone about the status of your application. It's a simple gesture that can make all the difference.
And that's it. You're ready to take your pick of the best receptionist jobs going.
Plus, a great cover letter that matches your CV will give you an advantage over other candidates. You can write it in our cover letter builder here. Here's what it may look like: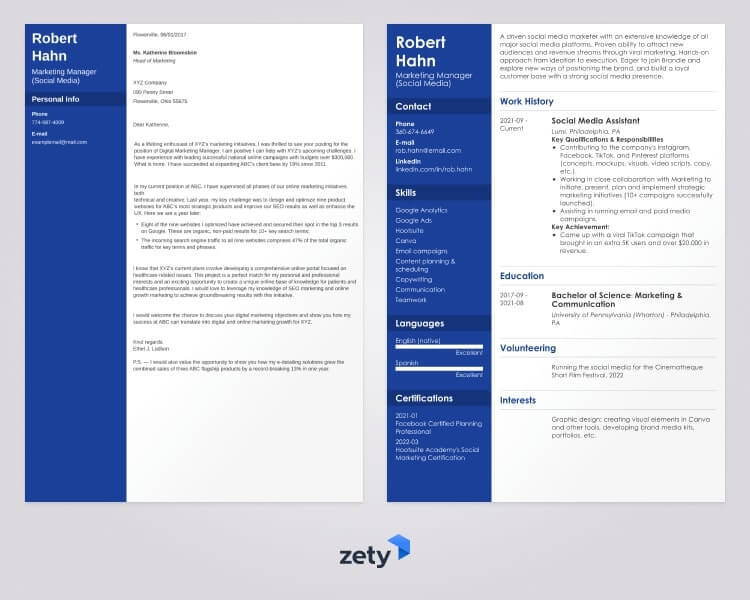 See more cover letter templates and start writing.
Thanks for reading. Got any job hunting tips and tricks you'd like to share? Maybe you're looking for a specialist role and writing a hotel receptionist CV or medical receptionist CV. Is there anything you'd like me to explain in more detail? If you've got any questions at all, please use the comments section below. I'm looking forward to hearing from you.
About Zety's Editorial Process
Our editorial team has thoroughly reviewed this article to ensure it follows Zety's editorial guidelines. Our dedication lies in sharing our expertise and providing you with actionable career advice that offers you real value. Every year, the quality of our content attracts 40 million readers to our site. But that's not all – we conduct original research to gain a detailed understanding of the labour market. We take pride in being cited by top universities and leading media outlets in the UK and worldwide.
Sources