What is it about a book that makes you turn it down? A bad intro, that's for sure.
Recruiters work the same way. They spend less than 10 seconds on average reading a CV, which means no hook = "no" pile.
There is a way to get them hooked, though. It's called a CV personal statement and it takes only a moment to write it.
This guide will show you:
What a CV personal profile is and why it's important, whatever your career.
An easy formula for writing a personal statement for any type of job.
How to start a personal statement, how to end it, and how long should a personal summary be.
A variety of examples of good personal statements for jobs.
Want to save time and have your CV ready in 5 minutes? Try our CV builder. It's fast and easy to use. Plus, you'll get ready-made content to add with one click. See 20+ CV templates and create your CV here.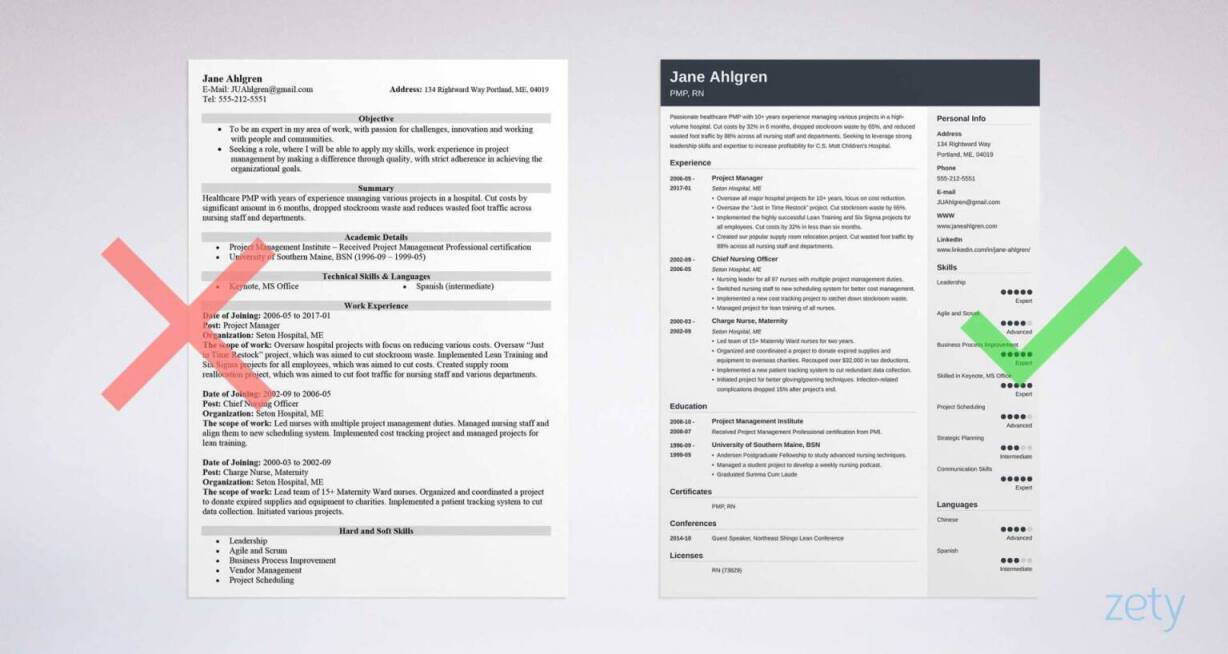 Sample CV made with our builder—See more CV examples here.
1
What is a CV Personal Profile & Why is it Important ?
A CV personal profile, CV personal statement or even personal summary is your CV's opening statement. It's a short introduction, telling the employer what sort of person you are, the attributes and qualities that you possess, and the work experience that you have.
It's the brief moment you have to sell yourself before the recruiter or hiring manager either bins you or keeps reading. By brief we mean seconds. On average recruiters spend 9 seconds reading your CV. Your personal statement has to pack a punch and do it fast.
How Long Should a Personal Statement Be for a Job?
A good personal statement is short and impactful. So no more than 200 words and around four lines of space on your CV. Put it directly underneath your contact details as it is the very first section of your CV.
Does My Personal Statement Need a Title?
It's flexible, you can use Personal Statement or Personal Profile. Alternatively, you can go for Professional Profile, Professional Summary or About Me. You can even omit the title if you wish and let it be a stand-alone section. It's the content that does the talking here.
What Font Should I Use for My Personal Profile?
Use the same type of font in the same size that you'll use in the body of your CV. Also remember to left align only with no justification to follow standard business format.
That's the layout sorted, read on for how to write it.
How about CV formatting? Read more here: Best CV Format for Job Application Success
2
How to Write a Personal Statement for a Job
Personal profiles vary as much as the people writing them and the jobs they're applying for. But there's an easy set of rules to follow that'll work for every job.
This is it.
How to Write a Personal Statement—Template
Target the job in question and never be generic, employers will see right through it.
Introduce yourself in the first sentence.
Offer value to the employer with relevant achievements, experience and skills.
Optimise for ATS.
Include your career goals.
Match those goals with passion.
Your personal statement has to answer three questions: Who are you? What can you offer? What are your goals? There's no better way to see this in action than diving right in and looking at an example of how to write a good personal statement.
Let me introduce you to Julie. She's an experienced career estate agent looking for new opportunities after rumoured redundancies following a buy out of her current employer. She's just found an exciting new opportunity advertised for a senior negotiator with a reputable agency within easy commute of her home. Let's check out the personal profile she's prepared alongside the job description she tailored it to.
Job Description
The position is for a Senior Negotiator who wants carve out their career in property. Must have good communication skills both face to face and over the phone and have a desire to meet targets in a competitive environment with a focus on the luxury homes market. You will be responsible for:
Actively seeking new sales properties and valuations.
Negotiating and closing sales
Weekly vendor updates
Sales progression
Taking photographs, writing property descriptions and creating floor plans
You will have estate agency experience and CPD qualification, be used to working in a targeted environment and enjoy over achieving targets and providing excellent levels of customer service.
Right
About Me
Target driven level 3 CPD qualified senior negotiator with 10+ years experience. Achieved 97% plus of asking price for all sales negotiated with current employer. Received customer service rating of 'Excellent' for all completed post-sale performance surveys, increasing office customer service ranking from '4 Star' to '5 Star' in the process. Awarded 'Negotiator of the Year' at Haus Group regional awards 2017 and 2018. Responsible for valuations, sales and sales progression. Looking to leverage sales skills in a luxury homes focused agency as Senior negotiator for Cavalier Borough.
With a personal statement like that Julie could get instructed to sell Windsor Castle! Don't take my word for it, though, let's break it down.
She knows how to start a personal statement, saying who she is in the first sentence. Then she moves on to offer some real value to the employer. She gets agreed prices above the national average and gets plaudits from both clients and employer alike.
It's also keyword-rich. That's important because 40% of companies use ATS. That's computer software that scans your CV before it reaches human eyes. ATS looks for words that are key to the job description. In a CV your keywords include qualifications, experience, job title and the name of the company you're applying to. This candidate has it sorted.
There's also a selection of tasty action words. Those are the snappy little verbs, adjectives and power words like leverage, responsible, increasing, achieved, etc. They instantly help the employer understand why they should choose you. Don't go overboard though, unsubstantiated adjectives and mindless buzzwords will have the opposite effect.
That's not all though. It also incorporates some important CV writing tips that you need to use, too. Not just in your personal profile, but your whole CV. Use active voice. It's the difference between "rabbits love carrots" and "carrots are loved by rabbits."
Active voice sounds strong and confident and passive voice is just the opposite. Fight your natural British reserve and put some steel in your CV. It'll really help you to stand out from the competition.
Another grammatical tip. It's written in the third person. There's no "I" or "she" or "he," all of the personal pronouns have been removed. Writing in the third person really helps in writing a personal statement as it makes it more concise and avoids being repetitive and starting every sentence with "I."
That's one great example, let's look at a few more.
When making a CV in our builder, drag & drop bullet points, skills, and auto-fill the boring stuff. Spell check? Check. Start building your CV here.
When you're done, Zety's CV builder will score your CV and tell you exactly how to make it better.
3
CV Personal Profile Examples—Four Bonus Jobs
We're not all estate agents, so here are four other examples of personal statements to inspire your own personal summary.
CV Personal Profile Example—IT Professional
RIGHT
Innovative Ruby on Rails Developer with 5+ years experience and Ruby Association Certified Ruby Programmer Gold version 2.1. Expert in HTML, CSS and SQL. Able to confidently work on multiple projects and deliver reliable back-end components in award-winning web applications. Seeking to make use of my expertise as Ruby on Rails Developer (Full Stack) with Hexperia.
WRONG
I'm an experienced developer with industry certification. I've worked extensively with HTML, CSS and SQL on multiple projects, mainly in web applications. I'm 100% committed to quality, customer-focussed and passionate about technology.
Just like our estate agent example the first developer knows how to start a personal statement. Keywords, qualifications and experience all accounted for in one sentence. The remainder is great too, following all of the rules we've discussed. The second example? That's more like Ruby on Fails.
CV Personal Statement Example—Graduate
RIGHT
A recent graduate with a 2:1 BSc in Economics from the London School of Economics and Political Science. My studies have given me a comprehensive knowledge of economic theory and its practical application through data analysis. Accomplished user of Stata, Matlab and SAS. Looking to use and improve existing skills and gain knowledge and experience in a fast-paced business environment in the role of Graduate Data Analyst with Equinox.
WRONG
I'm a BSc Economics graduate looking to make use of my educational attainment in a professional environment. I'm a team player with excellent communication skills and a confident user of data analysis software. Looking to gain experience as a data analyst.
By now you'll already know what's right about the first example. It answers the three big personal summary questions. It's written in the third person, and gives specific skills and educational experiences. The example also shows how to end a personal statement perfectly with that all-important coverage of the specific job role and company being applied to.
CV Personal Summary Example—Office Manager
RIGHT
Efficiency-driven office manager with 10+ years experience in medium-sized IT firms. Adept at cost-saving, procurement, contract negotiation and management consistently achieving year on year reductions in outlays. Skilled at multi-tasking and working under pressure, simultaneously managing scheduling for senior staff, organising company events, and assisting HR team with recruitment process and onboarding of new starters. Looking to step up and take on new challenges in a global corporate setting with Pexmatic Corp.
WRONG
Experienced office manager looking to take on new challenges in a larger corporate environment. I have great communication skills and enjoy working closely with other teams, such as HR, where required. I'm particularly good at making cost savings and delivering excellent internal customer service to colleagues.
The difference couldn't be starker. Take the lead from the first example and you'll be getting interviews in a flash.
CV Profile Example—Retail Manager
RIGHT
Customer service focussed retail manager with 8+ years experience in the specialist off-license wine sector. Holder of WSET Level 4 Diploma with a personal passion for wines of the Rhone Valley. Able to confidently use product knowledge to meet customer needs and increase sales, consistently achieving 10% annual growth in a challenging high street environment. Enhanced product knowledge of team members with regular training and tastings. Looking to grow sales and offer a superior customer experience in fine wine sales as Store Manager with Leamington's.
WRONG
Highly experienced off-license manager with excellent wine knowledge. Great customer service and staff management skills in a busy retail environment. Seeking to expand my knowledge in the sector with a greater focus on fine wine sales.
That's like a four quid Vino Collapso next to a First Growth Bordeaux.
Your personal statement needs to be short and impactful, so does your cover letter. Read more here: How Long Should a Cover Letter Be [Ideal Cover Letter Length]
And see some ideas for free CV templates here: 20+ Free CV Templates to Download and Use Now
Plus, a great cover letter that matches your CV will give you an advantage over other candidates. You can write it in our cover letter builder here. Here's what it may look like: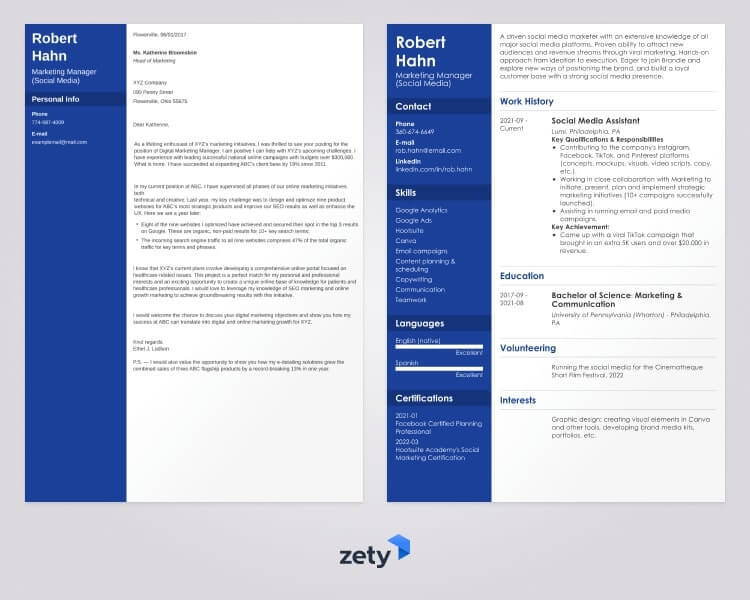 See more cover letter templates and start writing.
Key Takeaways
So now you know how to write a personal statement for a job that'll get your CV off to a flying start. Here's a recap:
Keep it concise. Your CV personal profile should be no more than 200 words.
Make your CV personal summary ATS-friendly. Create a new personal statement for every new application using keywords from the job description.
Remember the three simple questions to write your CV profile for a job: Who are you? What can you offer? What are your goals?
Use the right grammar to optimize your personal summary. Active voice, third person, no pronouns.
Still struggling with how to write a personal statement? Want advice on jobs we didn't cover? Don't be shy, use the comments section to ask whatever you want. We're here to help.
About Zety's Editorial Process
Our editorial team has thoroughly reviewed this article to ensure it follows Zety's editorial guidelines. Our dedication lies in sharing our expertise and providing you with actionable career advice that offers you real value. Every year, the quality of our content attracts 40 million readers to our site. But that's not all – we conduct original research to gain a detailed understanding of the labour market. We take pride in being cited by top universities and leading media outlets in the UK and worldwide.