Zety. The Best Cover Letter Builder Online.
Free to use. Developed by hiring professionals.
Say goodbye to the overwhelming feeling of writer's block and second-guessing every word. With the Zety cover letter maker, you'll write a job-winning cover letter in minutes!
Create your cover letter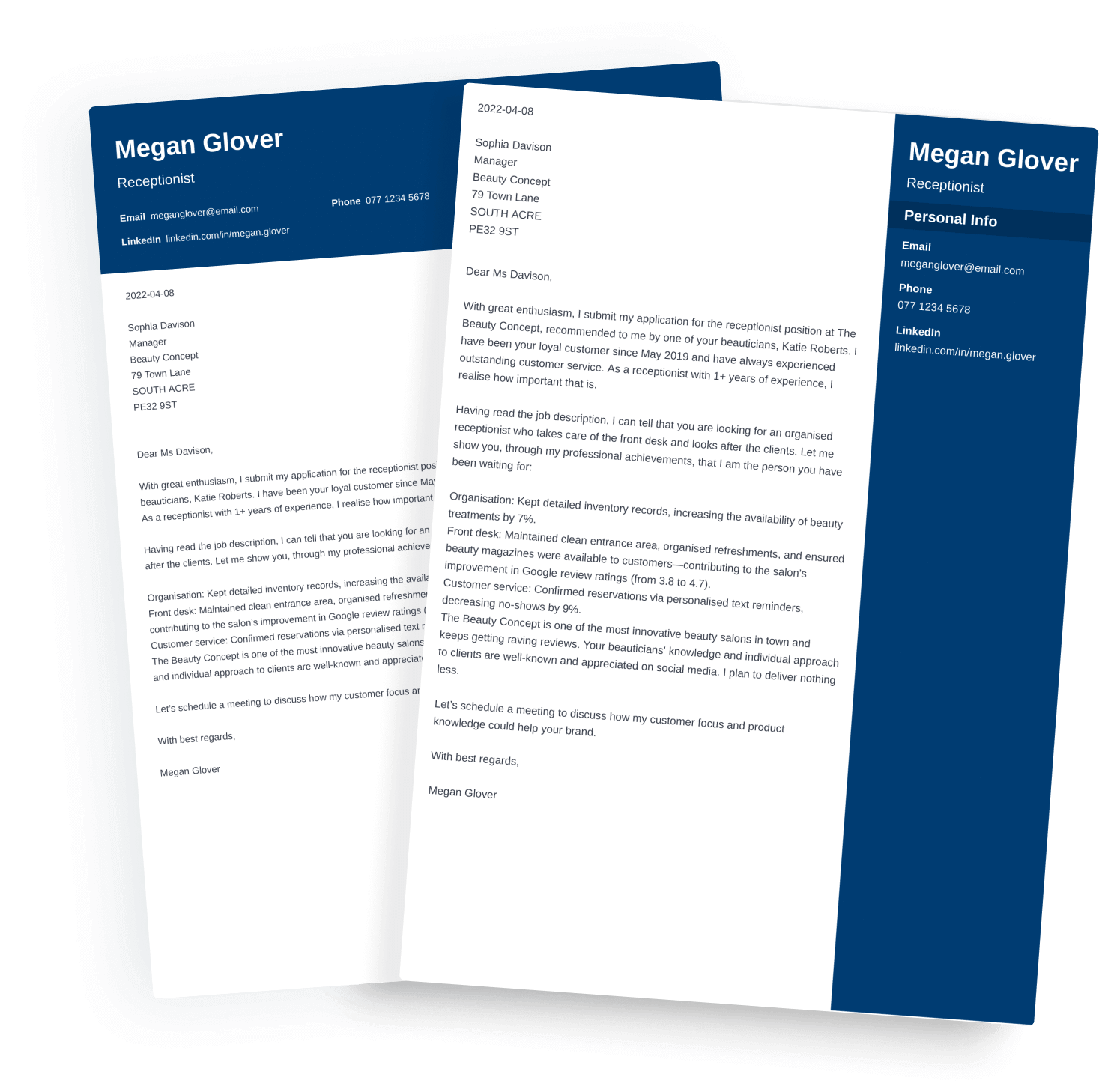 Just four easy steps to write a good cover letter: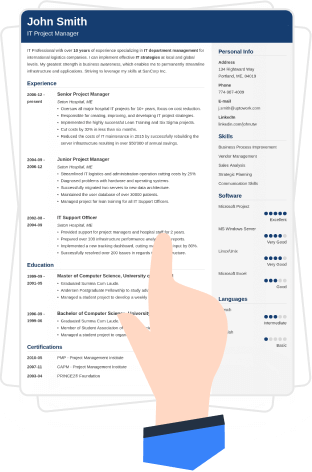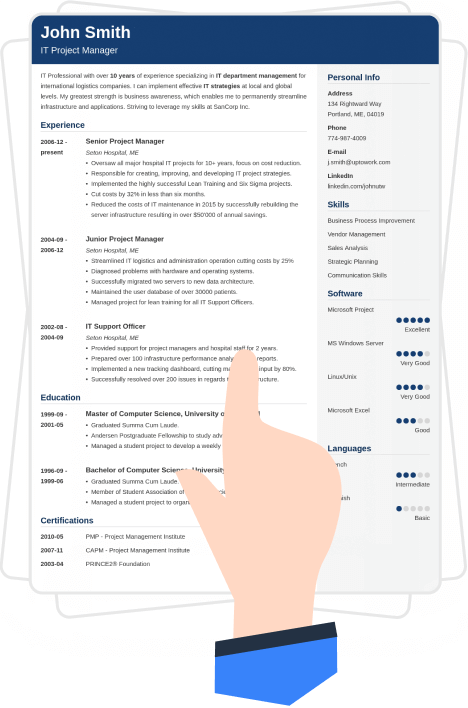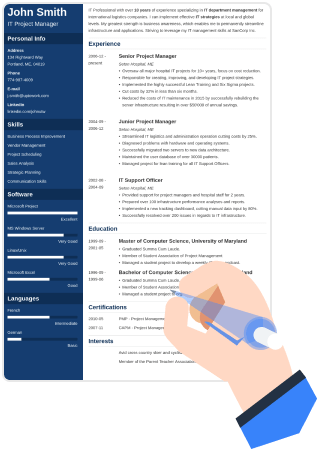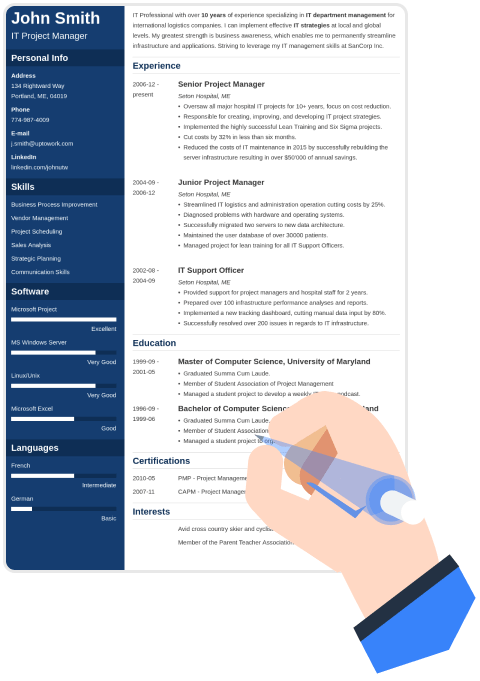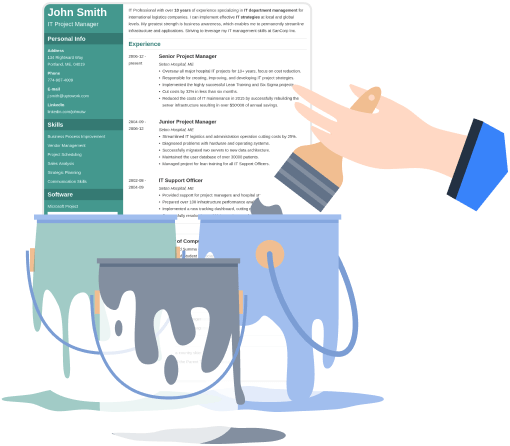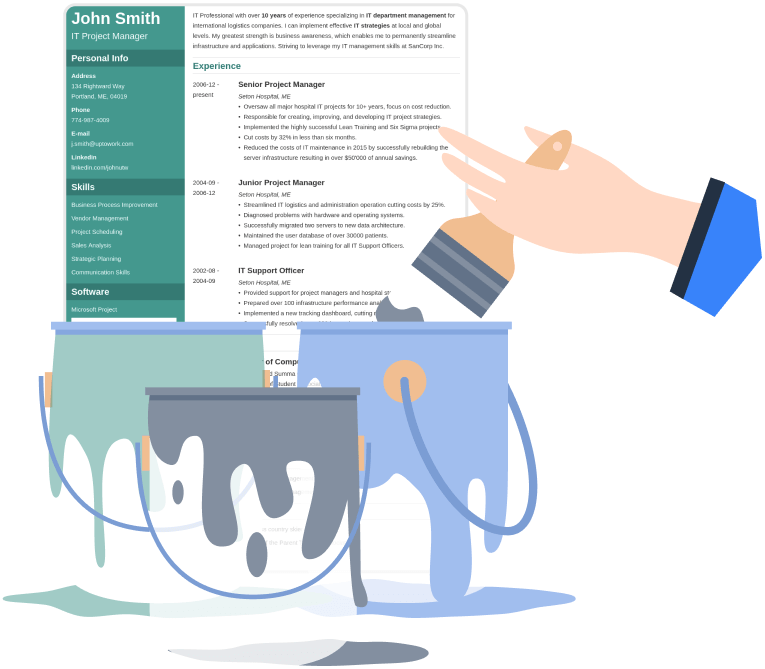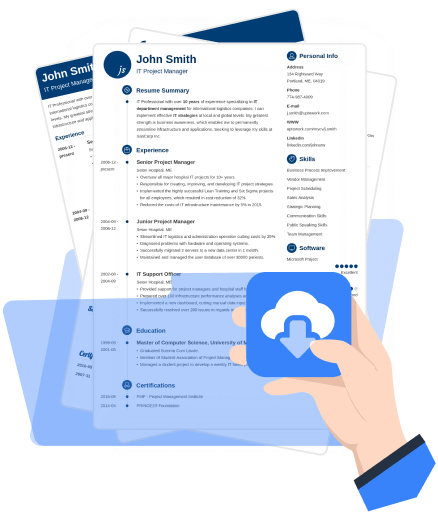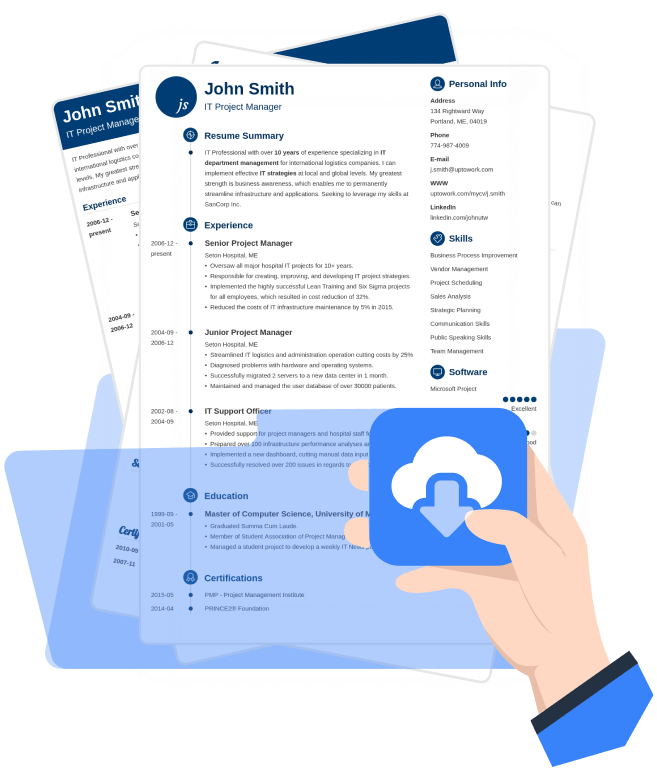 Choose the design.
Fill out the template.
Personalise.
Hit download.
Create your cover letter
See how your job application letter might look:
Writing a cover letter is not everyone's cup of tea and definitely not a piece of cake. But it doesn't have to be this way!

Zety's here to make it easy. With our cover letter builder, your letter will be ready in a few clicks.

Start by choosing a cover letter template. Once you've taken your pick, let the cover letter creator guide you through the writing process. Give away a few details about your experience to tailor your letter to the job and use the ready-made content written by hiring professionals to handle the rest.
Get your cover letter creator 14-day trial
Don't want to commit just yet?
Test the cover letter writing app for 14 days to explore possibilities for the best CV and cover letter builder.
Create your cover letter
What can you expect?
Here's what you get with our cover letter maker: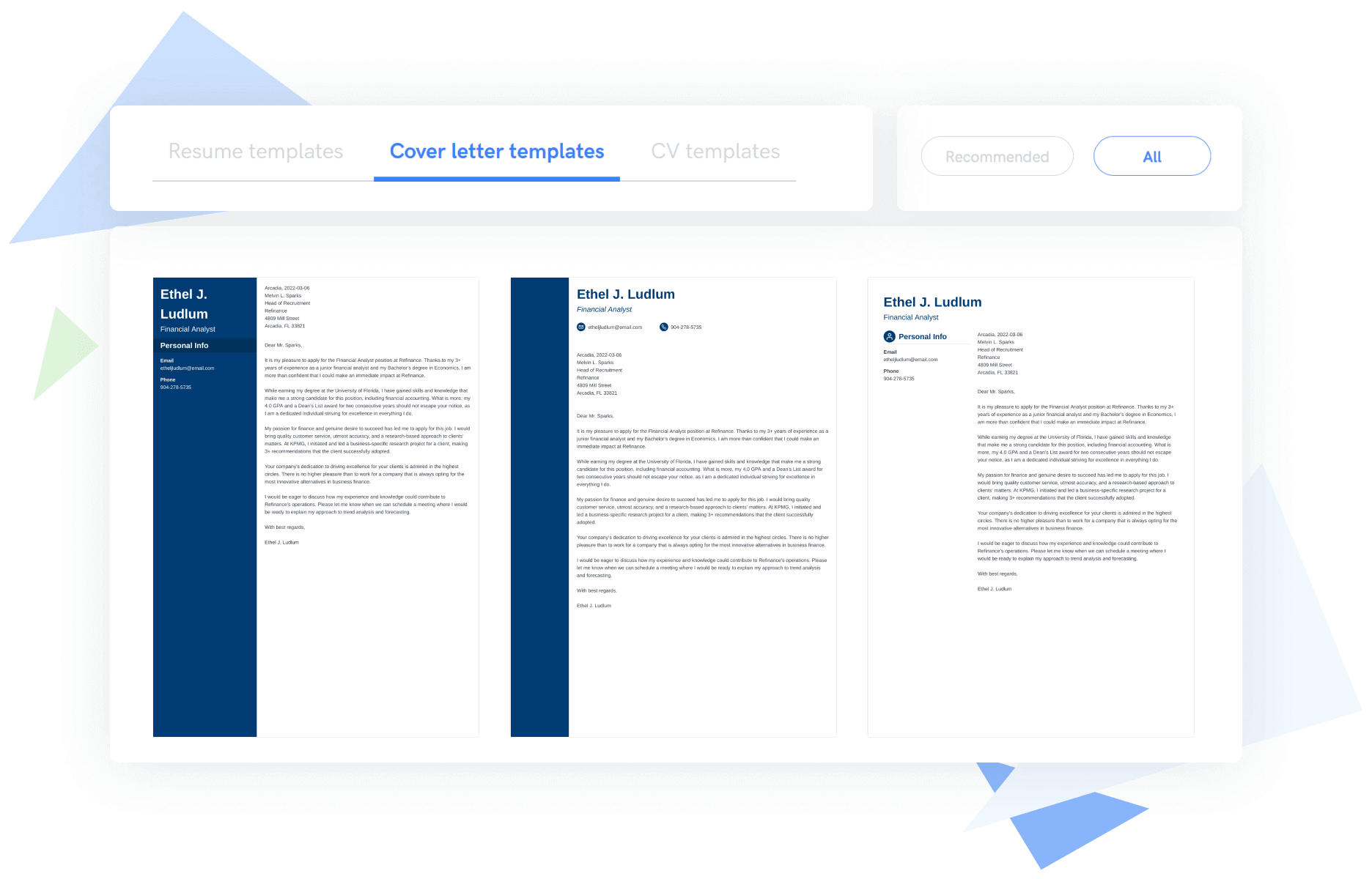 1. Cover letter templates for every experience level
No matter how much experience you have, you can always count on Zety cover letter templates to highlight what's most important in your job letter. Your work history, skills, or the two combined? You got it.
2. Personalised tone of voice
The Zety cover letter maker ensures your motivation letter sounds exactly like you, based on your experience and working style. After all, you've got an interview to ace, so it can't be any other way.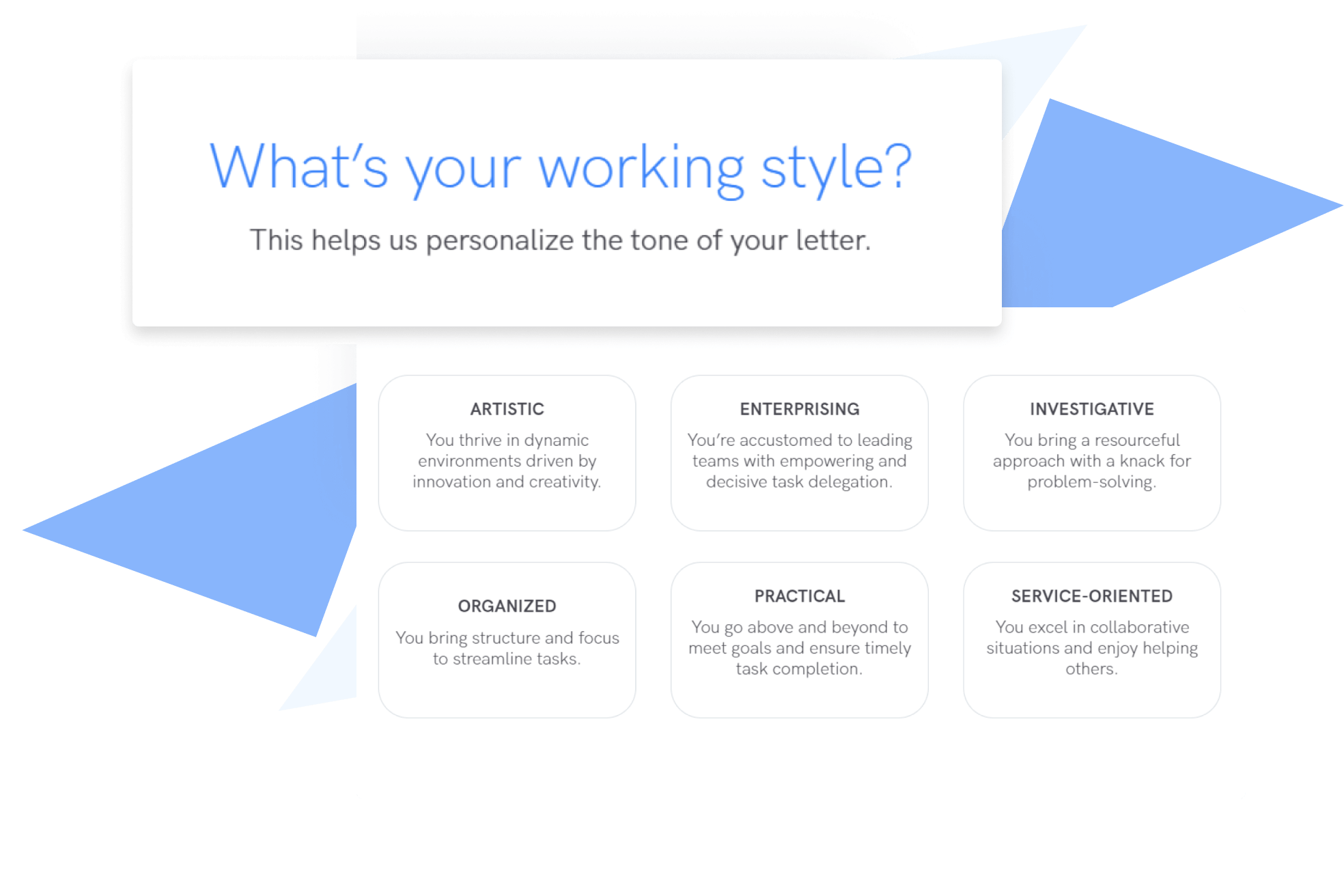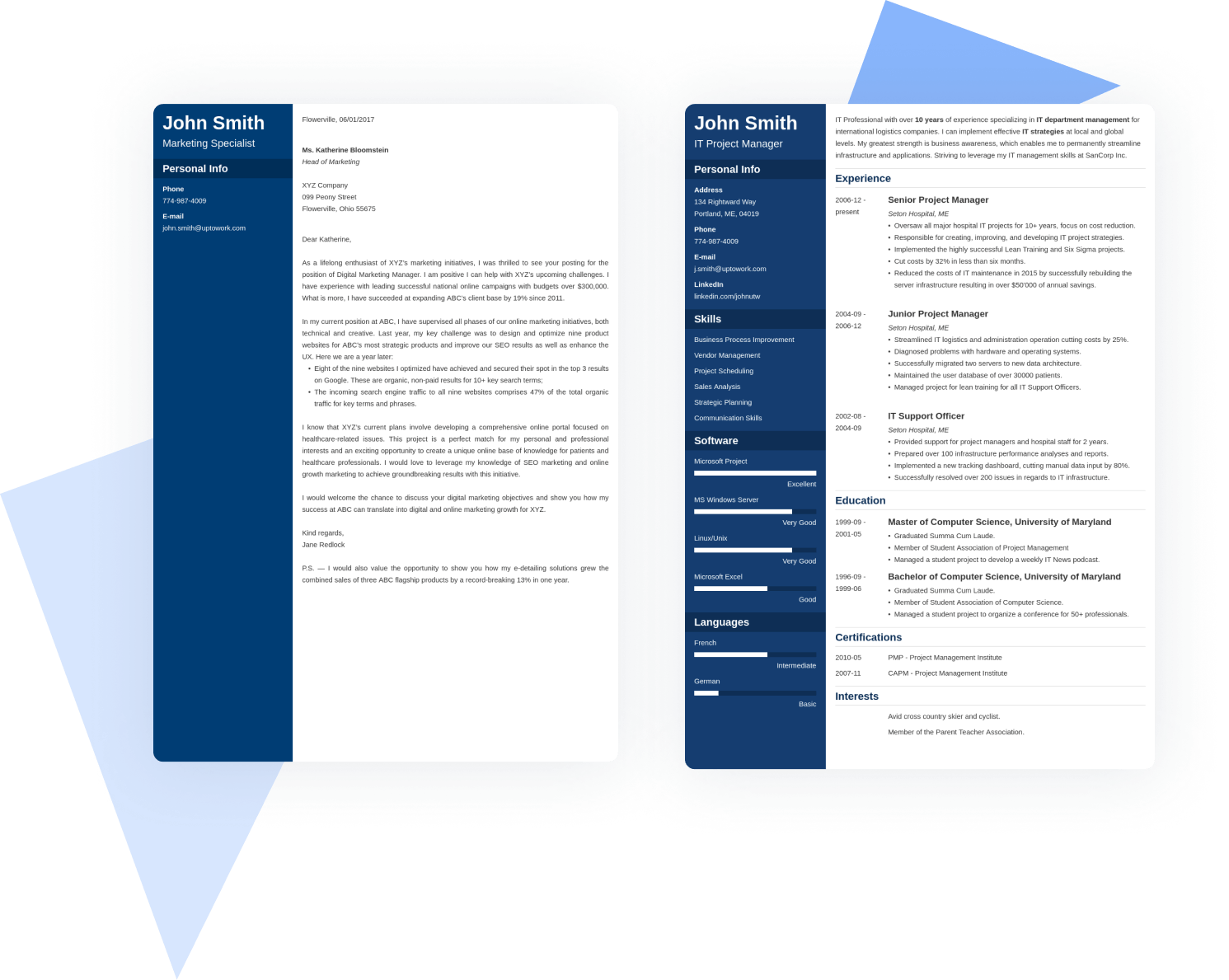 3. Integrated CV builder
You need consistency and branding to stand out, and Zety will give you both. Create or refresh your CV in the Zety CV builder. Then, use the same design in the cover letter generator to impress recruiters with a professional, matching set of documents worthy of a CEO. Learn more about our CV maker now.
4. Expert content suggestions
You must be out of ideas since you've been thinking of hiring a cover letter writer. First, try our cover letter maker that lets you simply drag and drop entire paragraphs onto your cover letter. Quick and easy!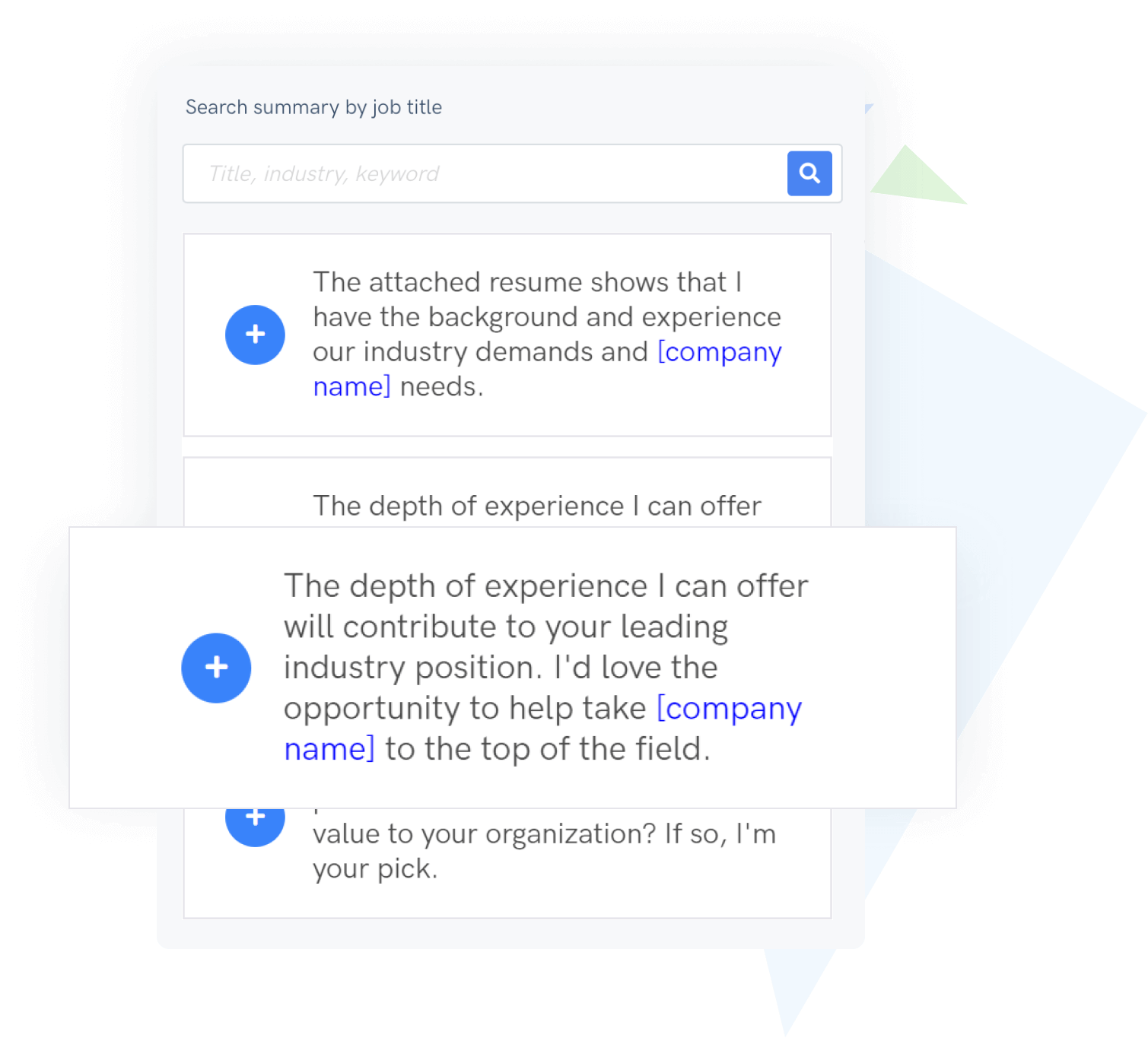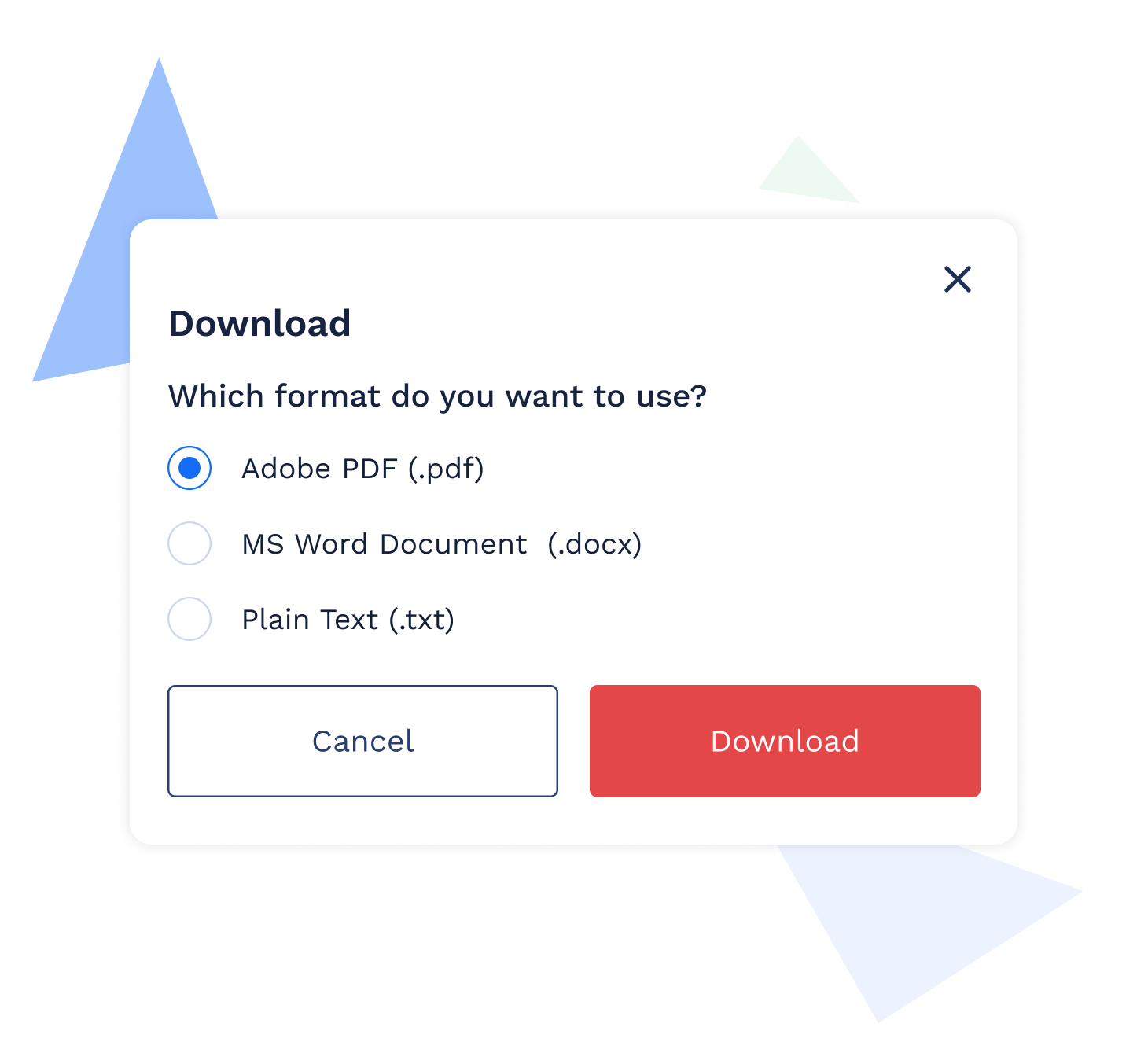 5. Various cover letter file formats
Download your cover letter file in whatever format you want. Do you fancy a PDF, Word, or maybe a TXT file for a particular reason? There you go! You get what you see.
6. Information import feature
Have you finished your CV? Splendid! Use it to automatically generate a cover letter, ready to send out. Upload it to the builder, and voilà! You don't have to write anything from scratch. All your achievements and skills are already there.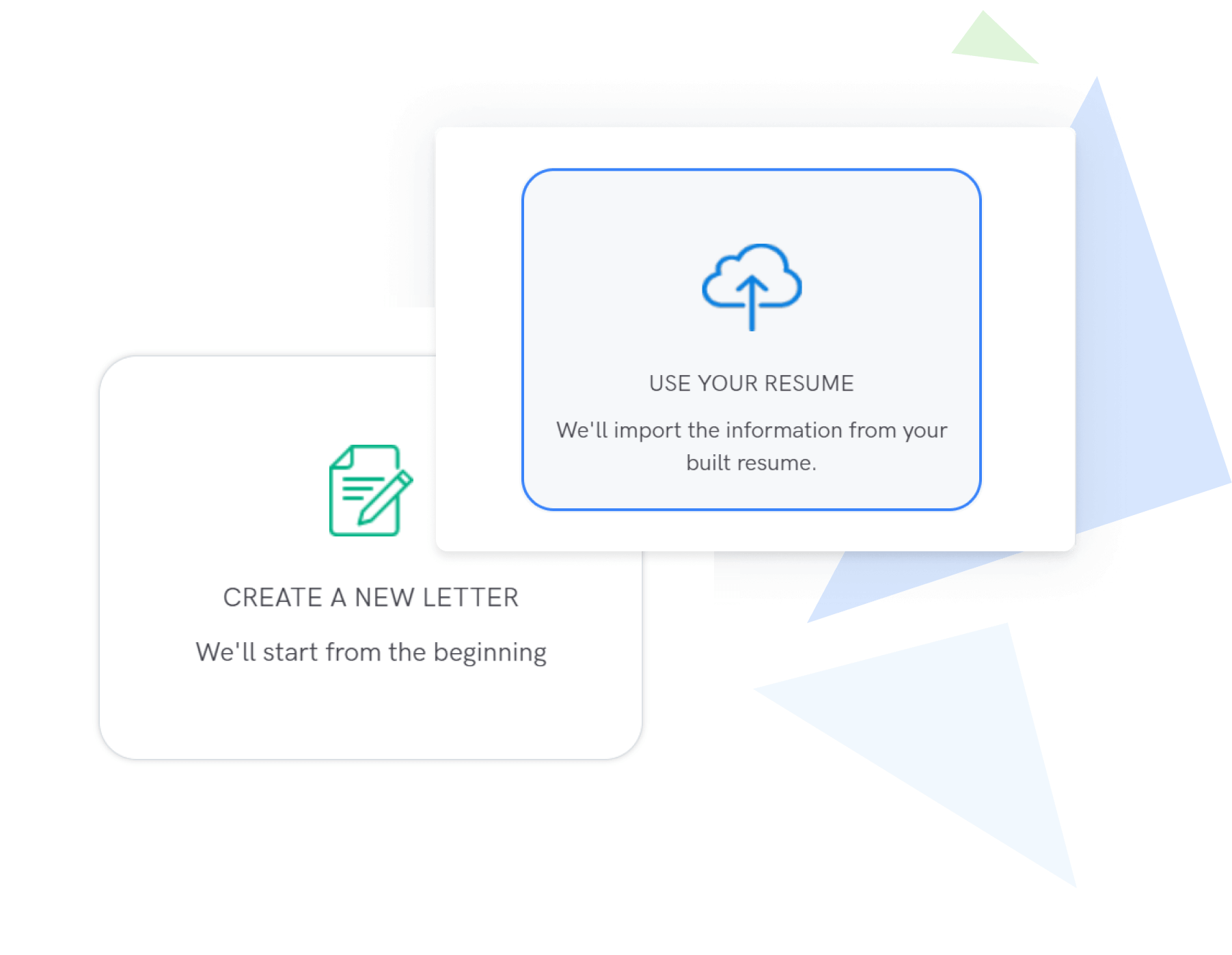 Read what people say about our cover letter generator:
If you don't know how to build your own cover letter from scratch, don't worry—the website walks you through the process step by step and tells you what information you need to input for each section… Zety is the best online [cover letter] builder overall.

The [Zety] cover letter maker is pretty powerful and offers a great degree of control without being overwhelming.

"Guess who's got the job!"
Imagine you open the email and see congratulations on having aced the recruitment process.
It doesn't have to be a dream. It can all become real! Use the Zety cover letter generator to make that happen.
Nemanja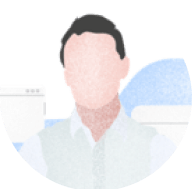 Zety helped me put together my new cover letter that got me two job interviews in one week.
Andres

Perfect cover letter maker. Landed a job on day 3.
Mercy

I had a cover letter before I came across Zety but it wasn't properly constructed. I searched for a cover letter generator and Zety popped up. Honestly, the job offers I have gotten since I reconstructed my cover letter is amazing. I definitely advise people to choose Zety to get the best out there.
Joe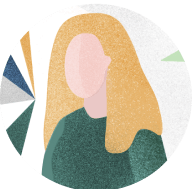 Zety is just...wow. I've been applying for jobs for a couple of days. But when I built my cover letter with Zety, one of the biggest IT companies called me for an interview.
…and what will your future be?
Create your cover letter
Frequently Asked Questions about Zety Cover Letter Maker
What is a cover letter builder?
A cover letter builder is an online tool that helps you generate a professional-looking and well-organized cover letter. With our creator, you will get access to numerous interactive templates, thanks to which your cover letter will put you one step ahead of other applicants on your way to a dream job.
What makes our cover letter creator so special? It's the fact that apart from taking care of your cover letter format, it also provides you with easy-to-follow guidance and suggestions as you write. And the cherry on top is that not only will it guide you through the process, but it will also generate entire paragraphs based on the information from your CV if you create one in our CV builder.
What is the best cover letter generator online?
The Zety cover letter creator is the best tool that you can use to come up with a job-winning cover letter. It combines a user-friendly interface with a variety of features that will make the writing process easy and stress-free. You will find:
numerous options to write and organize your cover letter;
18 cover letter templates with a variety of colours, fonts, and designs;
CV maker with professional CV templates matching your cover letter;
built-in content for your cover letter and suggestions tailored to your job title and industry;
various formats to download your cover letter, such as PDF, Word, and TXT;
the option to duplicate your document and make minor adjustments so that your cover letter matches different job ads;
real-time cover letter checker with improvement suggestions;
the ability to print documents directly from the app.
How to write a cover letter for 2023?
To write your perfect cover letter, remember to include the following parts:
cover letter heading;
cover letter greeting (remember to address your cover letter properly);
first paragraph with a catchy cover letter introduction;
second paragraph explaining why you are the perfect fit for the company;
third paragraph with a call to action to make the recruiter realize that they do want to get in touch with you;
To find out more about cover letters, read how to write a cover letter and what to include in a cover letter.
How long should my cover letter be?
Your cover letter should ideally be one page long, and preferably prepared in a professional cover letter template. A good cover letter should include 4 short paragraphs and no more than 400 words in total. Don't shower recruiters with too many irrelevant details - they read hundreds of cover letters every day, so the more concise you are, the better the chances of grabbing their attention.
For more information, read our guide on the ideal cover letter length.
What is the best cover letter format for 2023?
To get your cover letter format right, remember about the following rules:
Set one-inch margins on all sides.
Left-align all contents. Don't use justification, it's against the standard rules of business letter formatting.
Use business cover letter spacing: 1 or 1.15.
Put double spaces between paragraphs.
Use easy-to-read cover letter fonts, such as Arial, Calibri, Verdana, Helvetica, Cambria, or Times New Roman. Keep the font size between 11 and 12 pt.
Does Zety have CV templates to match my cover letter?
Our cover letter creator comes with a variety of matching CV and cover letter templates to set you on the path to professional success. Pick a template that you find the most suitable, use it both for your CV and cover letter, and fill your documents with relevant information on your professional experience and achievements.
If you want to find out more about CVs, read how to write a perfect CV and how to lay out a CV.
Do you have any cover letter examples that I could look at?
Drafting a compelling cover letter can be a tedious task. Do not underestimate this step, however, because a good cover letter may increase your chances of landing a job interview. If you're feeling a bit lost and don't know where to start, we suggest you have a look at our cover letter examples. Find a corresponding profession, tailor proposed content to your needs, and create a document that will give you an edge over other candidates. And if you're a fresh graduate, make sure to check how to write a cover letter for an internship.
Should I download my cover letter in PDF or Word?
The golden rule here is that if you send your CV in the PDF format, you should use the same format for your cover letter as well. Thanks to this, your cover letter will look good on any device and any operating system that the recruiters might be using. Check out our cover letter generator and see how quick and effortless creating a cover letter can be!
Are cover letters still necessary?
This question keeps coming back every now and then, but the answer is always the same - yes, you should write a cover letter if it's required in the job ad. A well-prepared and professional-looking cover letter complements your CV and provides more details about your previous job experience, achievements, and skills (both hard skills and soft skills). So don't hesitate to write one and use the Zety cover letter maker!
Do I need a separate cover letter for each application?
If you want to make a successful cover letter, you should always customize it for the position you are applying for. By writing a tailored cover letter, you show your interest and motivation to join the company of your choice. How to do it? Review your job ad, list the most important skills and abilities the company is seeking in an employee and describe them in your cover letter, focusing on your notable contributions. Don't forget about proper cover letter structure, and you're all set!
Is Zety cover letter maker free?
You can use the Zety cover letter builder for free to generate cover letters and CVs online. You only pay a small fee when you're 100% satisfied with the results and ready to download your document to send it to your potential employer.
Is Zety safe and legitimate?
Yes, Zety is a legitimate business you can learn more about on the About Zety page. The application is safe thanks to a secure SSL https encrypted connection. Your personal data is processed according to stringent policies you can learn more about in the Terms of Use, Privacy Policy, and Cookie Policy.