What to Include in a Cover Letter for a Job [15+ Examples]
Don't let writing a cover letter drive you to distraction. Learn exactly what you need to include in a cover letter to make yourself the star candidate for the job.
When writing a cover letter, you have to include specific information. You'll always need contact details, a professional salutation, an introduction, information on why you are qualified for the job, an interview-winning closing, and a complimentary close. The way you list this information depends on how you're sending your letter.
After all, applying for a job is still a formal process, with set expectations. Fail to structure your cover letter properly and you may as well not send one at all. Luckily, you're about to learn exactly what you need to include in a cover letter to turn it into an interview-generating machine. Let's take a look.
Want to write your cover letter fast? Use our cover letter builder. Choose from 20+ professional cover letter templates that match your CV. See actionable examples and get expert tips along the way.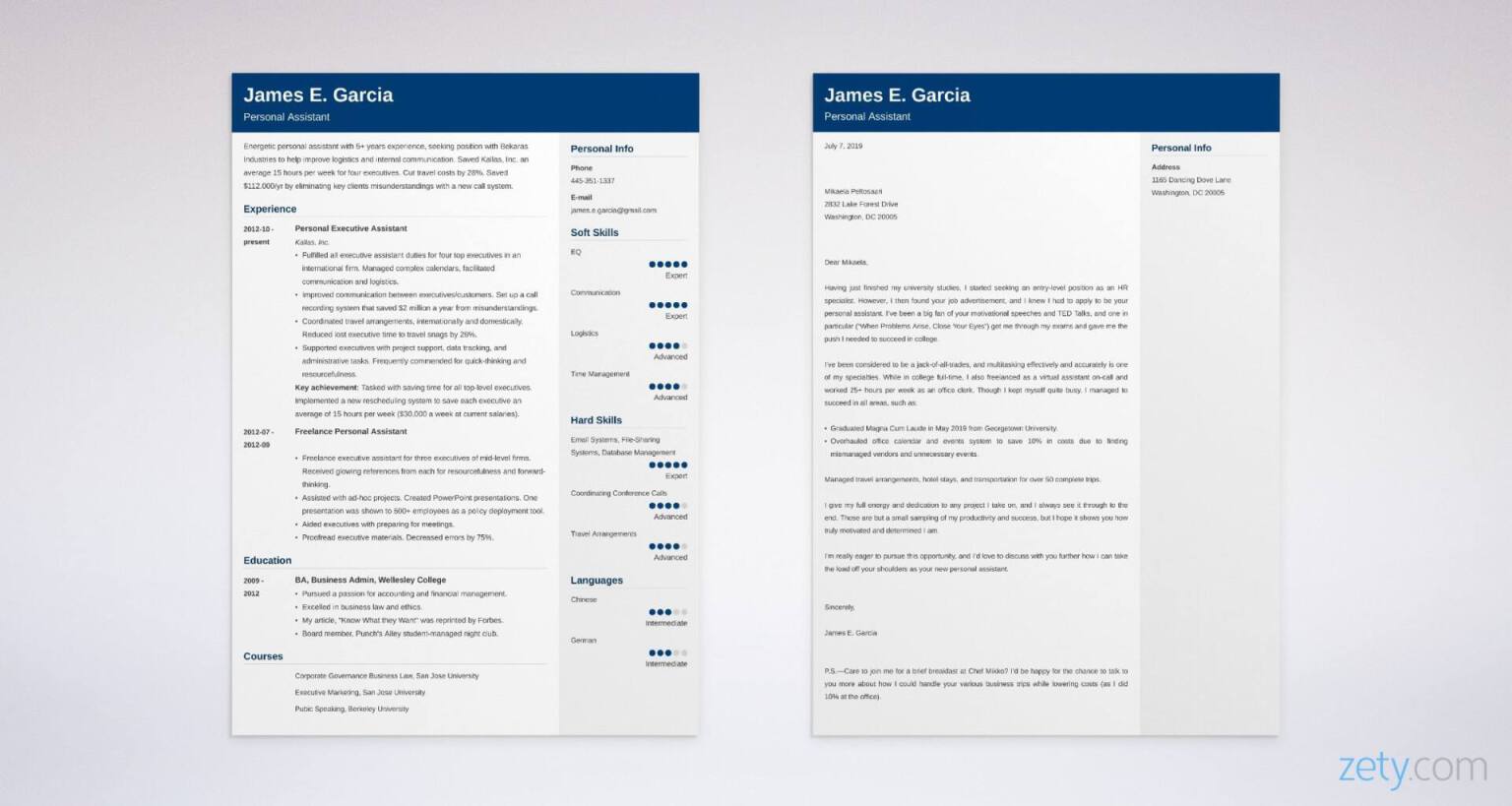 Sample Cover Letter for a CV—See more cover letter examples and create your cover letter here.
Once you've learned what to include in your cover letter, learn about everything you need to include in your CV. Read more:
When considering what to include in a cover letter always bear its purpose in mind. A cover letter should:
Introduce you as a candidate.
Mention the job role you're applying for.
Show that your skills and experience match the skills and experience required by the employer.
Encourage the reader to read your CV.
Finish with a call to action (by asking for an interview).
This is how a cover letter looks like: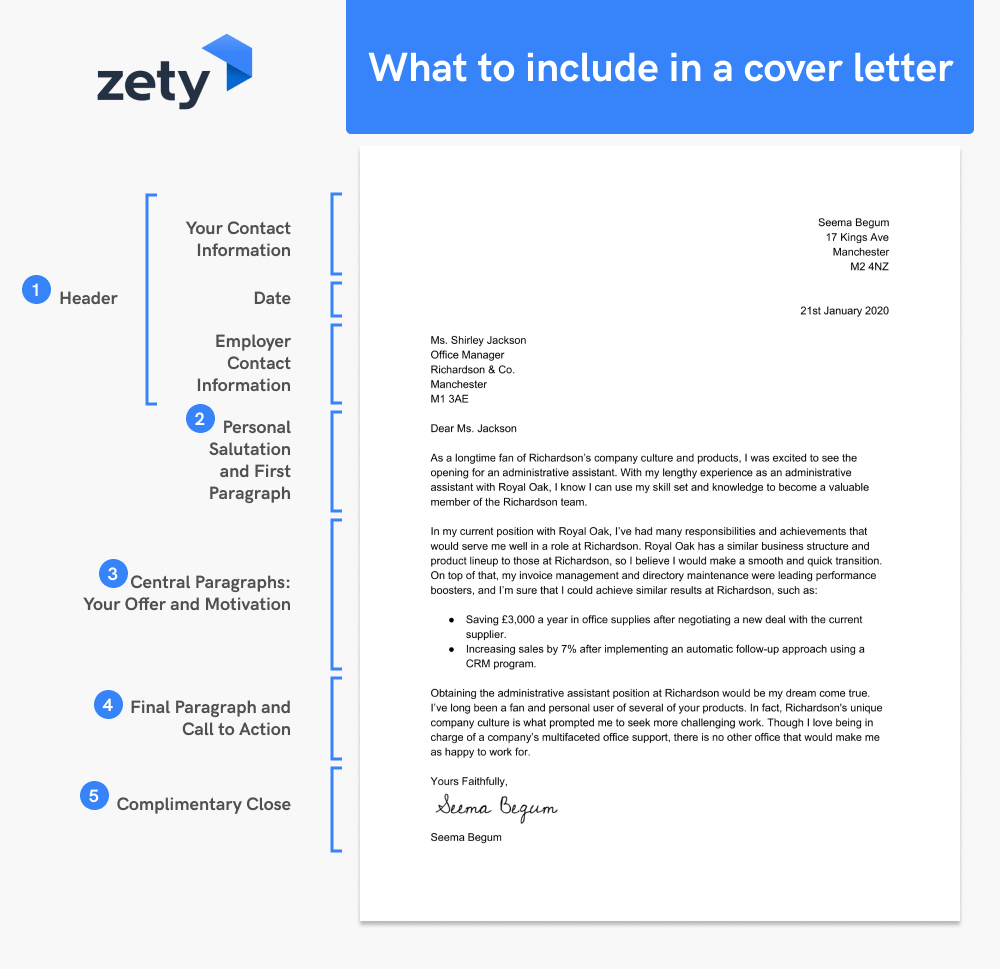 Now let's see everything you need to put in your cover letter.
What to Include in a Cover Letter
Put the following elements in your job-winning cover letter:
1. Add a Contact Section
Every cover letter needs to include contact information. This is how it should look in a standalone cover letter that you print out or upload/attach to a job application. Two important points to remember:
Right-align your contact details and the date.
Use the correct date format e.g. 25th February 2020.
Contact Section—Standalone Cover Letter
[Your First & Last Names]
[Your Postal Address]
[Your Phone Number]
[Your Email Address]
[Date of Writing]
[Manager's Name]
[Manager's Job Title]
[Company's Name]
[Company's Postal Address]
Contact Section—Email Cover Letter
The rules are different if you're sending the cover letter as the body of the email itself. There's no need to include contact details or the date in the header section. Instead, list your contact information in your email signature. For example.
Jenny Reed
Secondary School Teacher
jen_reedzety@gmail.com
0777 777 7777
www.linkedin.com/in/jenreedzety/
Forget adding your postal address—it's an email, your reply won't come in an envelope. And in both cases, make sure you include your email address and LinkedIn profile as a hyperlink so it's easy for the hiring manager to click on and get in touch.
Learn more about cover letter formatting: How to Format a Cover Letter [Step-By-Step Guide]
2. Include a Professional Salutation
Your salutation is simply the greeting that begins that body of your cover letter. It's very simple and the rules apply to both email and standalone cover letters. Keep it formal, try to use the hiring manager's name and don't be too generic. Let's start off with what you shouldn't use.
Never include these salutations:
To Whom It May Concern
Dear Sir/Madam
Painfully old-fashioned and far too generic. Always try to find the hiring manager's name and use it. It's scientifically proven that this has a powerful effect on the brain. Try these tips to discover it.
Look for a name in the contact email address in the job advert.
Email address doesn't give a full name? Let's use me as an example. If it's j.buffett@zety.com, then Google "J Buffett" and "Zety" to find out.
Use LinkedIn. LinkedIn job adverts often identify who posted the offer. Also, look at the company's LinkedIn page or do a LinkedIn company search to find a name.
Check the company's own website. Look for the manager of the team on the staff page.
If none of these work, call the receptionist and ask.
If you really can't find a name? A good fallback is 'Dear Hiring Manager'. In fact, a survey revealed it's an employer favourite as a salutation when you don't know who to send your letter to.
Salutations to Include in a Cover Letter for Employment
Dear Sir/Madam (never)
Dear Hiring Manager (better)
Dear Mr. Roberts (best)
3. Grab the Recruiter's Attention with Your Introduction
Now for the main course, the body of the cover letter. We start with your introductory paragraph, and this is where the magic happens. You've got to hook the hiring manager with compelling info about your skills and professional achievements. Make sure you grab their attention and make them hungry for more.
A good introductory paragraph should include:
Passion and enthusiasm.
Proof that you'd make a great addition to the company.
The name of the company and the role you're applying for.
Here's a great example from an experienced candidate. They're using an impressive professional achievement, expressed as an accomplishment statement, to hook the recruiter.
What to Include in a Cover Letter Introduction (Example)
I was delighted to hear of the opportunity to join the award-winning team at Saffron & Co in the role of office manager. In my current role at Schuster & May, I've been able to cut office supply costs by £10,000 per annum. This success comes from my ability to conduct robust supplier contract management and negotiation. I'd love to deliver the same successful approach to the team at Saffron.
And here's an equally effective example from a fresh graduate. Even without career experience you can still leverage passion and relevant achievements to show your worth.
What to Include in an Entry-Level Cover Letter Introduction (Sample)
I am writing to apply for the position of Junior UI Developer with Nascent Systems. While pursuing my BSc (Hons) in Computer Science at Kingston University I wrote an Android app for 4g signal strength detection. It won plaudits from my lecturers and experienced professionals on Github and has just surpassed 10,000 downloads on Google Play Store. It would be incredible to kick off my career with Nascent and hone my programming skills with your amazing team.
Next up, what to put in a cover letter middle paragraph.
4. Show How the Company Will Benefit from Hiring You
The last thing you want to do here is just rephrase your CV. The middle paragraphs of your cover letter have to provide evidence of why you're the best candidate. You've got to show, not just tell. The best way to do this is to use numbered achievements. For example:
What to Put In a Cover Letter Middle Paragraph (Example)
I've been working in administration and office management for more than 10 years, but at Schuster & May I've had some standout achievements that I'm very proud of:
Reduced call waiting times by 50% by introducing an overflow system to spread pick up duties to other teams.
Improve employee satisfaction with facilities by 60% by carrying out detailed surveys on services provided and areas for improvement.
Introduced a 360-degree annual performance review system for administrative assistants that has won the praise of the executive team.
Now for an example from a less experienced candidate.
What Should Your Cover Letter Body Include (Sample)
Whilst completing my degree, I obtained experience and achievements that would serve me well in this entry-level role at Nascent. I'm proud to have completed numerous projects for community organisations through my local volunteer centre. My proudest accomplishments included:
Carrying out A/B testing with a redesigned 'Donate Now' button for a charity website that increased donations by 200%.
Agreeing to project timelines and adhering to them for every project completed.
Two very different candidates, but both examples work brilliantly to show how qualified they are for the job.
When making a CV in our builder, drag & drop bullet points, skills, and auto-fill the boring stuff. Spell check? Check. Start building your CV here.
When you're done, Zety's CV builder will score your CV and tell you exactly how to make it better.
5. End With Gratitude and a Call to Action
Your final paragraph has the potential to seal the deal on an interview. Here's what our experienced candidate has included to end their cover letter.
What Should Be in a Cover Letter Ending (Example)
I would be delighted to show you how I was able to make a saving of £3,000 by a simple change to a key office supply item. Please give me a call on the number above, so we can discuss further and I can tell you more about what I can contribute to Saffron. Thank you so much for your time and I look forward to speaking to you.
This is why it works:
There's a money-saving promise. Who wouldn't want to find out more.
There's a call to action, you need to show your interest and encourage contact so you can proceed to the next stage.
It says thank you. Yes, it's good manners, but it's proven that gratitude motivates the recipient, so use that effect to your advantage.
And here's what our less experienced candidate has included.
Things to Include in a Cover Letter Ending
I am certain my programming skills will reach new heights in this role due to the industry-leading training and development opportunities offered by Nascent. I am available at your convenience to discuss how I can help Nascent continue to thrive. Many thanks for considering my application.
Instead of a money-saving promise they've demonstrated dedication to growth. That shows clearly defined goals and a commitment to develop within the role. Surefire wins for an entry-level graduate job.
6. Add a Complimentary Close and Your Signature
Always include a complimentary close in your cover letter. The classic approach is as follows:
"Yours sincerely" can be used if you know the person's name, e.g. 'Dear Mr Jones'.
"Yours faithfully" can be used if you don't, e.g. 'Dear Hiring Manager'.
Then include your signature. For a standalone cover letter a digital copy of your handwritten signature adds a nice touch. For an email cover letter, include your contact details in your signature. Take a look back at the first section of this guide for an example.
Read more: How to Format a Cover Letter
7. Include Keywords in Your Cover Letter
Your cover letter is likely to be read by an algorithm before a person. 90% of major companies use ATS software to scan job applications. These are automated systems that scan for keywords and reject any applications that don't meet requirements.
The keywords are words or phrases that describe desired experience, skills or traits and the job title. You'll find the keywords you need to include in the job description, so read it well. Here's an example.
A fantastic investment company based in Central London requires an Office Manager with 2+ years experience to join their team. Role requires proficiency in managing office assistants and accomplished supply management skills.
Everything in bold is a keyword. Do include them in your cover letter, but keep it grammatical and easy to read.
What Not to Include in Your Cover Letter
What you leave out can be just as important as what you include. Don't include the following in your cover letter.
Excessive detail. Don't waffle, the ideal cover letter length is no more than one page.
Spelling or grammatical errors. A study revealed these to be the biggest mistake you can make in a job application.
The wrong company name or contact person. It suggests you're copy-pasting identical responses to multiple job roles and shows a lack of attention to detail.
Negative comments about your current or past employer. Always a red flag as it indicates potential behavioral issues.
Dishonesty. Don't be tempted to lie or stretch the truth. Being found out will destroy your chances of securing the job or get you dismissed if the truth emerges later.
You've just learned what should a cover letter include, but for an even more detailed guide read more here: How to Write a Cover Letter [Complete Guide]
Key Takeaway
Getting your cover letter right is still an important part of the recruitment process and you've got to follow the standard structure. Here's what to include in a cover letter to maximise your chances of securing a job interview.
Include a cover letter address section, adapted to the type of cover letter you're sending.
Choose the right salutation, preferably naming the hiring manager.
Start off strong in your cover letter opening and hook the reader into continuing.
Sell your benefits to the company with passion and numbered achievements.
Make your cover letter ending a call to action.
Use a formal sign-off and include your signature.
Would you like to know anything else about what to put in a cover letter? Still not sure about which parts are essential or how to format your cover letter correctly? Any questions at all, please use the comments section and I'll be happy to help.
About Zety's Editorial Process
Our editorial team has thoroughly reviewed this article to ensure it follows Zety's editorial guidelines. Our dedication lies in sharing our expertise and providing you with actionable career advice that offers you real value. Every year, the quality of our content attracts 40 million readers to our site. But that's not all – we conduct original research to gain a detailed understanding of the labour market. We take pride in being cited by top universities and leading media outlets in the UK and worldwide.
Sources