Our customers have been hired by:
You know you need a cover letter… But what should be in a cover letter besides a desperate plea to give you a job? Your dream opportunity may slip by if you don't include the right things in your cover letter.
Cheer up! Writing one will be a breeze if you know what to put in a cover letter. Not only that—you'll write an attention-grabbing cover letter that will get employers on the phone ASAP.
So what should a cover letter include? Our brief cover letter guide will show you what should and shouldn't be in a cover letter and why.
This guide will tell you:
What to include in a cover letter to land the job you're after.
What NOT to include in a cover letter.
What are the elements that make a great cover letter.
Want to save time and have your cover letter ready in 5 minutes? Try our cover letter builder. It's fast and easy to use, and you'll get tips and right-vs-wrong examples while writing it. Choose from 20+ professional cover letter templates that match your resume.
Here's an infographic showing you what to include in a cover letter: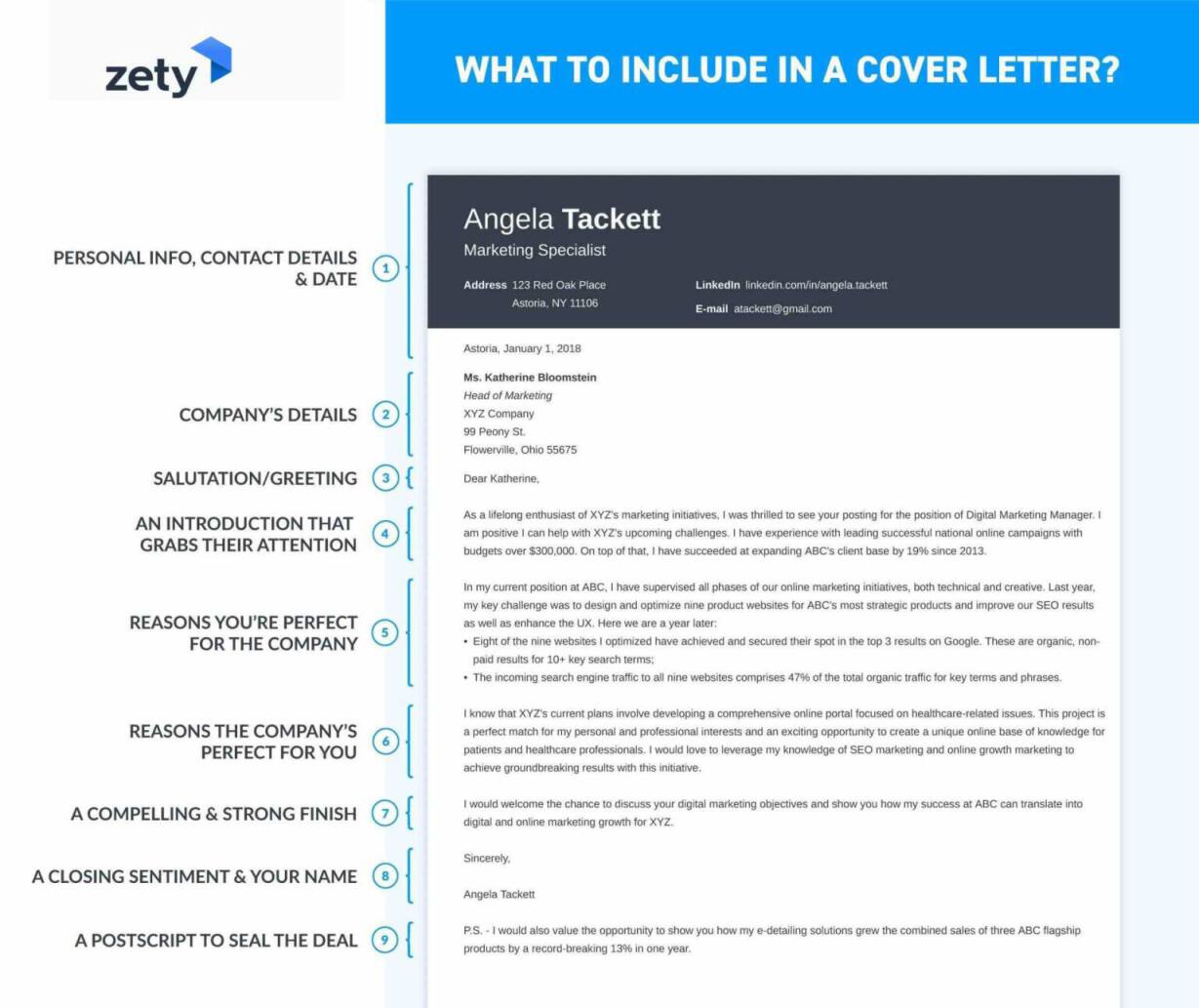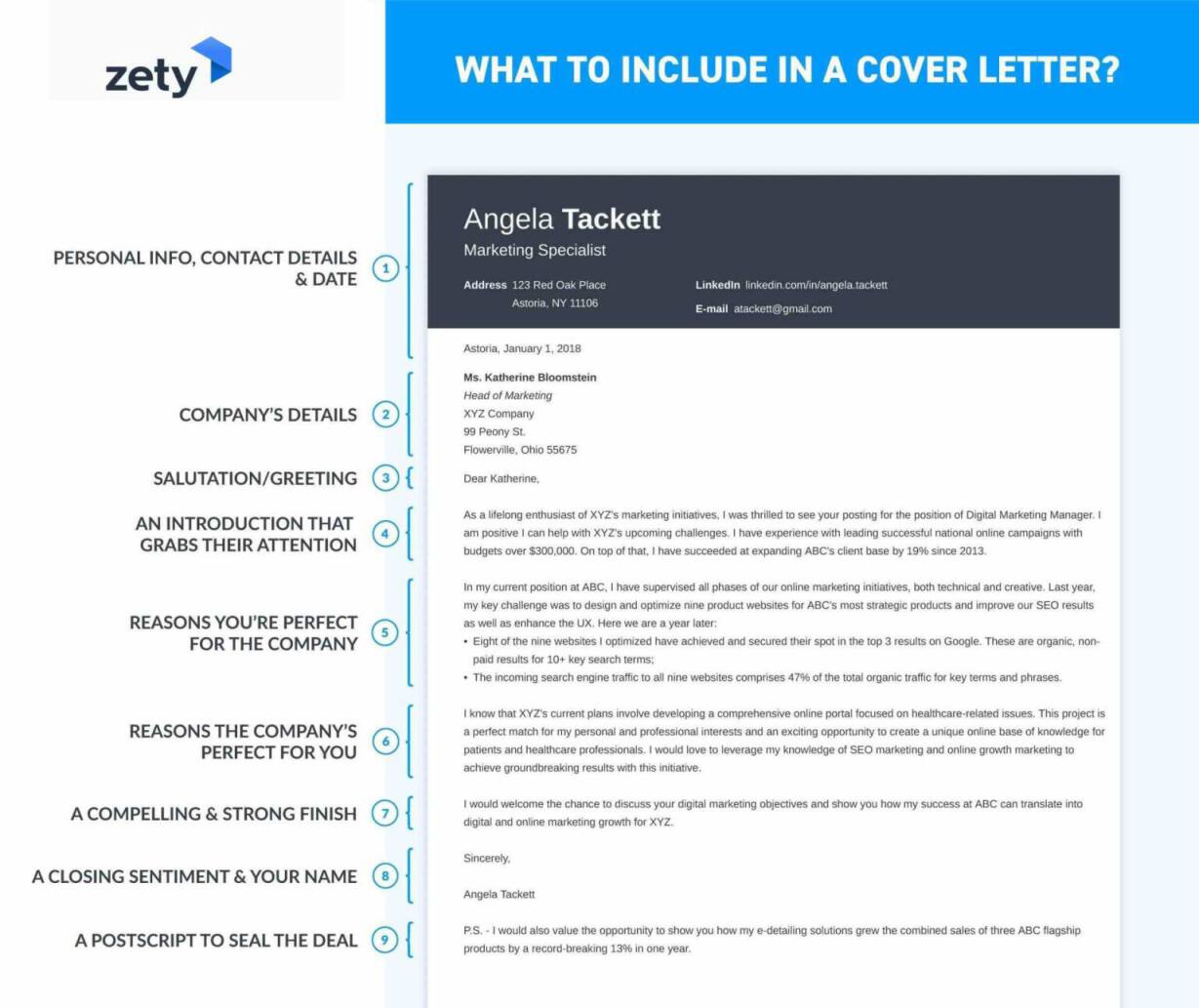 Sample cover letter for a resume—See more cover letter examples here.
Looking for some cover letter examples? See:
Need a detailed cover letter writing guide? Check here: How to Write a Cover Letter in 8 Simple Steps
Now, let's see what should be in a cover letter for a resume to make it successful:
What to Include in a Cover Letter?
The key to writing a successful job application is to know exactly what to put in a cover letter. With a good writing guide, it's just like following a cooking recipe. Think of each element of a cover letter as the necessary ingredients and your writing style as seasoning that adds a unique flavor.
Here are the key elements a cover letter should include:
Professional Cover Letter Format
Remember to use easy-to-read cover letter fonts that can make a good impression on recruiters. Set the spacing and margins of your cover letter to maintain a good balance between text and white space, and limit the cover letter length to one page.
Contact Information
What contact details should you add? Must-haves include your name, email address, and phone number. Nice-to-haves are your mailing address, branding statement, and LinkedIn profile.
Current Date
End your cover letter header by inserting the date of writing before moving on.
Company Information
You need to list the name of the person leading the recruitment process, their job title, and the company address.Research the company website, or a site like Glassdoor, to locate the hiring manager's name so that you can address your cover letter correctly.
Salutation
Dear is regarded as one of the best cover letter salutationsout there, as it is helpful whether the letter is formal or informal and whether you know the recruiter's name. Avoid cliché greetings such as Dear Sir or Madam, or To Whom It May Concern, as they're considered lazy and outdated.
Opening Line
What should the first paragraph of a cover letter include? Like the compelling first line in a great novel, the opening paragraph in a cover letter should immediately hook the reader in a way that makes them want to read further.
Your Interest in the Company and Position
Show your enthusiasm for the job by including attention-grabbing facts about the company or your respect for their products and services. A bit of praise can get you very far!
Reasons You're Great for the Job
Show them you are the perfect fit for the company and team by mentioning your professional achievements. Give specific examples of using the required skills in the past. This section of your cover letter shouldn't be a repetition of your resume but a tailored demonstration of your expertise.
Closing Paragraph With a CTA
Write an impressive closing paragraph of your cover letter by briefly summarizing everything, and add a Call To Action by proposing a meeting or a phone call.
Closing Sentiment and Your Name
Simple ones such as "Best Regards" or "Sincerely" with your full name are enough. Remember to add a cover letter enclosure to make sure the hiring manager knows you sent through a complete application.
Postscript
A P.S. at the bottom of your cover letter always draws the reader's attention, even if they don't care to read the rest. Include an original idea for the company, or show off an impressive achievement in a way that will make them want to learn more about you.
Now that you know what should be included in a cover letter, make sure to fill each element correctly. Remember what your cover letter should say: you can help the company succeed!
Sloppy cover letters don't land job interviews—they land in the trash can instead. Make sure your cover letter looks its best. Learn more: Formatting a Cover Letter Step-by-Step
When making a resume in our builder, drag & drop bullet points, skills, and auto-fill the boring stuff. Spell check? Check. Start building a professional resume template here for free.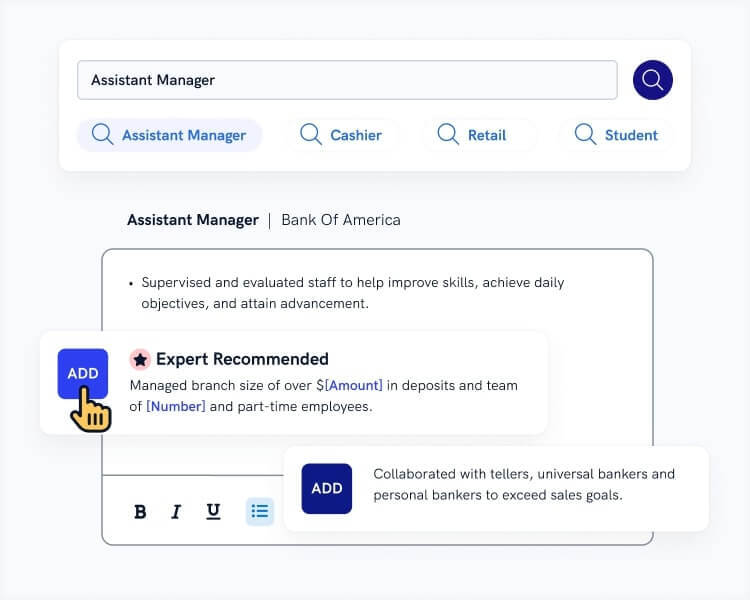 When you're done, our free resume builder will score your resume and our resume checker will tell you exactly how to make it better.
What Not to Include in a Cover Letter?
Maybe you've got a unique idea about what to include in a cover letter for a job. It's better to check if it's not against the rules. There's always a bit of freedom in writing a job application, but going too far won't make a good impression on recruiters.
What not to put in a cover letter:
Irrelevant Information
Your cover letter should include relevant experience that fits the advertised position. Skip anything that won't matter to the hiring manager.
Extensive Paragraphs
A cover letter is not an essay! Keep the paragraphs up to 5 sentences long to write a killer cover letter.
False Claims
It's the same as in a resume—lying on a job application is a big NO. If you claim something, make sure you have facts to back it up.
Salary Expectations
Generally, it's better not to include them. Mention your salary requirements in the cover letter only if the job advertisement tells you to do it.
Negative Remarks About Previous Jobs
Never say you hated your job. Whatever the circumstances of leaving a previous position are, keep all remarks professional.
Excuses
If you need to explain something in your cover letter, make sure you're not using unverifiable claims, such as: "I didn't get a promotion because the manager chose someone who slept with the boss."
Personal Information
Unless it's relevant to the position or the job advertisement, don't focus on details of your personal life. The recruiter doesn't need to know everything about you. In fact, providing irrelevant information may lead to unconscious bias and employment discrimination, even though it's against labor laws.
Social Links
Leave the socials, profile URLs, and portfolio to your resume unless the cover letter template of your choice has a place for them.
Excessive Flattery
You don't need to be like, "I love you guys!". Show your enthusiasm for the job, but don't go too far with flattery. Focus on the company's achievements rather than subjective opinions about it.
Your Wishes
It's perfectly fine that you expect certain things from the company. But in your cover letter, focus on saying what you can do for them.
Spelling or Grammar Errors
It's just common sense—use a spellchecking tool such as Grammarly to ensure you didn't make any mistakes.
Wrong Names
It's obvious, but make sure that you address the letter to the right company and person.
Strange File Name
Naming a cover letter is important. You don't want the file lost on the recruiter's hard drive. Always put your name and the position you apply for in the file name.
Remember that a cover letter should be formal. Unless you know for certain that the company culture is extremely relaxed, don't include jokes or puns.
got a wealth of tips on writing a cover letter that will let you stand out: 35+ Successful Cover Letter Tips, Advice & Guidelines
Plus, a great cover letter that matches your resume will give you an advantage over other candidates. You can write it in our cover letter builder here. Here's what it may look like: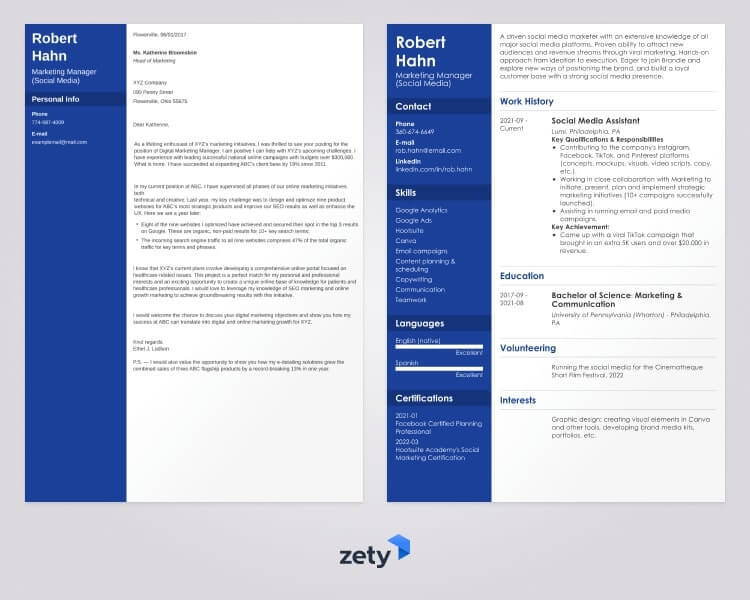 See more cover letter templates and start writing.
Key Takeaway
In a nutshell, here's what to put in a cover letter to get the job of your dreams:
Powerful start: Your opening sentence and the introductory paragraph on your cover letter are vital because they'll determine if the hiring manager continues reading. Mention your relevant skills and work achievements to grab their attention.
Strong middle: Use the second and third paragraphs to show that you are a perfect fit for the position on offer and the company and that they are the ideal place you'd love to work at.
Memorable finish: You kept their attention that far but have a compelling ending and an attention-grabbing postscript, so they'll be sure to move on to your resume.
Do you have any questions on what to put in a cover letter? Not sure what should be in a cover letter to make it effective? Get at us in the comments below, and we will answer your question. Thanks for reading!
About Zety's Editorial Process
This article has been reviewed by our editorial team to make sure it follows Zety's editorial guidelines. We're committed to sharing our expertise and giving you trustworthy career advice tailored to your needs. High-quality content is what brings over 40 million readers to our site every year. But we don't stop there. Our team conducts original research to understand the job market better, and we pride ourselves on being quoted by top universities and prime media outlets from around the world.
Sources
Frequently Asked Questions about What to Include in Cover Letters
What to include in a cover letter?
It's good that you know that cover letters are necessary. When writing a job application, it's also important to know what should a cover letter include. The purpose of a cover letter is to express your interest in the advertised position and present your qualifications for the job. In order to do that, you must include the essential cover letter information.
Here's what goes in a cover letter:
2. Date of the letter
3. Contact information of the hiring manager and the company
4. Salutation + the hiring manager's name
5. Attention-grabbing opening statement.
6. First paragraph, containing your enthusiasm for the position and the company
7. Second paragraph, containing an overview of your qualifications
8. Third paragraph, specifying why this position is perfect for you
9. Closing paragraph with a Call To Action
10. Greetings and optional P.S.
Remember that your cover letter layout should match the resume template—this makes your job application appear more professional! If you don't want to work with font sizes, cover letter spacing & margins, and all of that fluff, you can pick some simple cover letter templates to download, or a few free cover letter templates in Microsoft Word to make your life easier.
What are 3 things you should include in a cover letter?
While certain parts of a cover letter, such as contact information and salutations, are easy to remember, the contents of the cover letter's paragraphs are more difficult to write. However, once you remember what your cover letter should say in 3 short points, it will become easier to write one.
Here are the 3 things you should include in a cover letter:
Your enthusiasm for the job and the company
Your research about the position and the company's business goals
Your willingness to make a contribution
Why do these things matter to recruiters?
First, they want to see you are enthusiastic about the advertised position. By letting them know what attracts you to the job and the company, they can see that you didn't just send the same letter to 20 other businesses. For this reason, never address your cover letter with "To whom it may concern"—it really makes a bad impression on the reader!
Second, by doing research about the position and the business, you can learn about their current goals, history, achievements, and challenges to overcome. You can make a great impression by referring to a little-known fact or a significant achievement of the company in your cover letter.
Third, the hiring managers want to know what you can do for the company. Explain how you can contribute to the overall business goal and the goals of the department you'd work for. Be as specific as possible!
What are the 7 things you should include while formatting your cover letter?
Just like there are many recipes for apple pie, there are also many guidelines for cover letters. How are you supposed to know which ones matter? We tried to combine them into 7 points to make formatting a cover letter easier.
Here are the 7 things you should include in a cover letter:
1. Cover Letter Header: add your contact information and contact details of the company
2. Salutation: tailor the cover letter greeting and use the hiring manager's name instead of the cliché "Dear Sir or Madam"
3. Opening paragraph: grab the reader's attention by introducing yourself, stating why you want this job, and what attracts you to the company.
4. Second paragraph: present your qualifications by referring to the requirements from the job advertisement.
5. Third paragraph: show that you're the perfect candidate for this position by explaining how you can contribute to the company's success.
6. Closing paragraph: summarize your interest in the position and include a Call To Action.
7. Greetings and signature: use a professional closing and paste your scanned signature for a personal touch.
That's it!
Sometimes, the job advertisement may ask candidates to also include their salary expectations in cover letters. If that's the case, make sure to also mention them!
As for the ideal length of a cover letter, it's best to keep it short enough to fit a bit more than half of a page. Recruiters are busy people, they don't have time to read long essays.
What are the 4 parts of a cover letter?
It's not easy to find a general cover letter outline. But don't worry, writing a cover letter can be easier than finding the perfect answer to your question via Google. You just need to know what 4 parts to include in your cover letter.
Each cover letter has four distinct sections:
Header with contact information and salutation
Your introduction
Body of the letter
Closing statement
That's what a cover letter should look like.
The body is the longest section of a cover letter. It may consist of several paragraphs (though usually two are enough) dedicated to proving that you're the best fit for the advertised position. In this part, you should include an overview of your qualifications, refer to the requirements mentioned in the job ad, and explain how you can use your skills and knowledge to assist the employer and help the company achieve its goals. Remember that the goal of your cover letter is to sell yourself. It's important to be specific—vague promises are not convincing for recruiters!