Our customers have been hired by:
We're about to hit you with dozens of our best cover letter tips:
You've found your dream job. You qualify. You've built your resume to apply for it.
Just one final task before you can send that email off - you need a great cover letter.
But how do you write a good cover letter that will score you an interview?
Don't worry. It's not as hard as it seems.
With these professional cover letter tips and examples that we've compiled, you'll be on your way to writing an impressive cover letter that will grab their attention in no time.
These tips for cover letters will include:
Tips on how to write a cover letter that gets the job done.
Understanding what should be included in a cover letter for a job application.
Good cover letter tips and examples on writing a compelling story.
The best cover letter advice that you can put to work immediately.
Want to write your cover letter fast? Use our cover letter builder. Choose from 20+ professional cover letter templates that match your resume. See actionable examples and get expert tips along the way.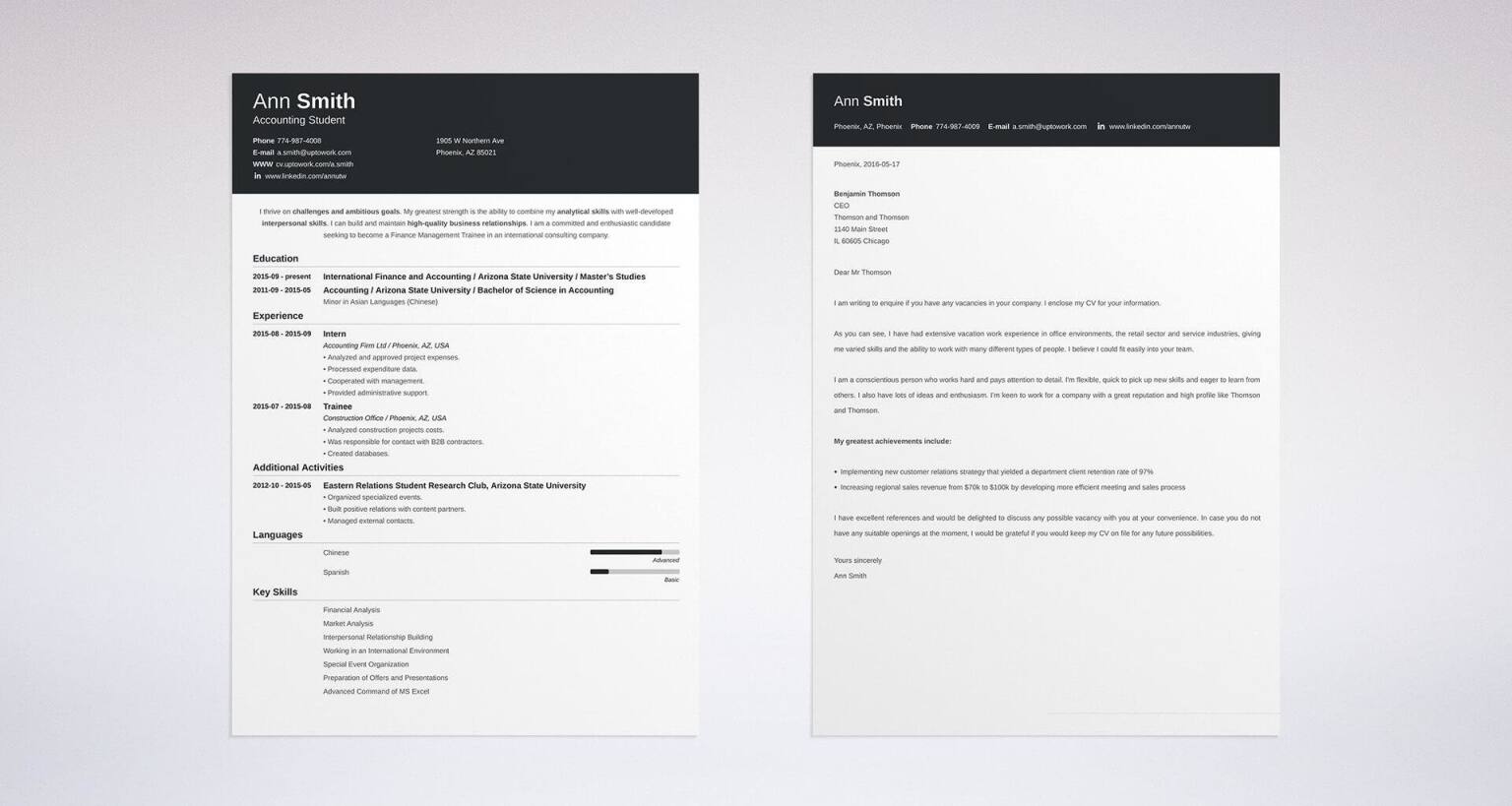 Sample cover letter for a resume—See more cover letter samples and create your cover letter here.
Are you looking for some cover letter examples? See:
Below you'll find tips, but nothing beats our guide on How to Write a Cover Letter for a Resume
1
Cover Letter Tips
1. Understand What Must be Included to Not Miss Any Opportunity
Importance: ✸✸✸✸✸
What should be included in a cover letter for a job application:
Write a tailored cover letter for each poistion you're applying to.
Include your name, address, and the date.
Add the hiring manager's name and the company's name and address.
Use a proper cover letter greeting/salutation (e.g., Dear Ms. Johnson,).
Write a killer opening statement - paragraph #1.
Showcase your skills and experience and explain what you can do for the company in a short body paragraph (or two) - paragraph #2 & #3.
Highlight your achievements in a closing statement - paragraph #3 or #4.
Add complimentary close (e.g., Regards, Sincerely) and your name/signature at the bottom as well as any cover letter enclosures.
You may notice that this is a similar formula to the business letters you may have learned to write in school - and that's right. Cover letters are formal letters, so they should follow the standard lettering structure.
Pro Tip: We said cover letter for a job application , but all of these tips work equally well as internship cover letter tips. Don't forget to read out our guide: How to Write a Cover Letter For an Internship [+20 Examples]
2. Research the Company to Be Their Perfect Candidate
Importance: ✸✸✸✸✸
Read the job description, and then reread it. Make sure you understand the perfect candidate which the recruiter has in mind. You had to do some preliminary research to get the name of the hiring manager, but go more in depth.
Research the company (try Glassdoor, for example) to understand their values, their goals, and what they want in a candidate. This will not only give you ammunition for writing a great cover letter, but it will also serve as great talking points for the interview. Then, write your cover letter draft as that perfect job applicant.
3. Choose the Right Cover Letter Format to Make the Best Impression
Importance: ✸✸✸✸
The basic cover letter format, or the cover letter template, is the foundation upon which you'll structure your cover letter. The format of cover letters includes the information you include, how you lay out that information (cover letter layout), and the design or template in which you'll deliver it.
4. Don't Include Your Social Links
Importance: ✸
You repeat your name, address, phone number, and email address in your cover letter, but there is no reason to add the rest of your social links, profile URLs, and portfolio information with your contact details. Save this for your resume.
However, if the styling of your resume suggests that your social media accounts and icons be included on your cover letter as well as your resume, by all means!
5. Customize Your Cover Letter For Each Job - Here's Why
Importance: ✸✸✸✸✸
Do you have a resume with cover letter already made from the last job you applied for?
Crumple it up, and throw that generic cover letter for any resume out.
right
I'm interested in the tier 2 help desk position at Carson Logistics because...
wrong
I'm interested in the opening at your company
You see, writing the best cover letter means to customize it for each job you apply to. You need to tailor your cover letter to the employer. Sure, there are going to be some parts from the last cover letter that you can reuse, but I'd say about 75% of it deserves to be redone.
6. Don't Echo Your Resume
Importance: ✸✸✸✸
Though you'll choose a cover letter format that complements your resume, you want to make sure that you don't echo exactly what you put inside your resume.
Your cover letter should not reiterate the information from your resume, but rather add to it. The purpose of a cover letter is to introduce yourself, like a master of ceremonies to your resume's main act.
right
What you don't see on my resume is my unique personable attitude and ambitious drive...
wrong
As I said in my resume...
Remember not to include all the same information and facts which you listed on your resume. You've already said a lot of this stuff, and a cover letter is not meant to be read instead of your resume.
Make it complement your resume by including extra details and really making the case for your employment. This is one of the most important tips on writing a cover letter.
7. Don't Be Too Formal - Show Your Human Side
Importance: ✸✸
Though we advise that your cover letter format or cover letter template should be structured like a formal business letter, don't be too formal with the actual words you choose to include on your cover letter.
wrong
Dear Sir or Madam
I wish to cordially express my sincere gratitude...
Use the first person on your cover letter (though not on your resume). Convey your enthusiasm for the job in colloquial, everyday language. Use your cover letter to show off your human side before they get to the point-by-point breakdown of your resume.
8. Choose the Perfect Font - One They'll be Sure to Read
Importance: ✸✸
There are a lot of great fonts out there. Choosing the best font for your cover letter is important. Serif fonts are said to be easier to read, though sans serif fonts are much more modern. Avoid cursive fonts or anything too fancy or weird on your cover letter.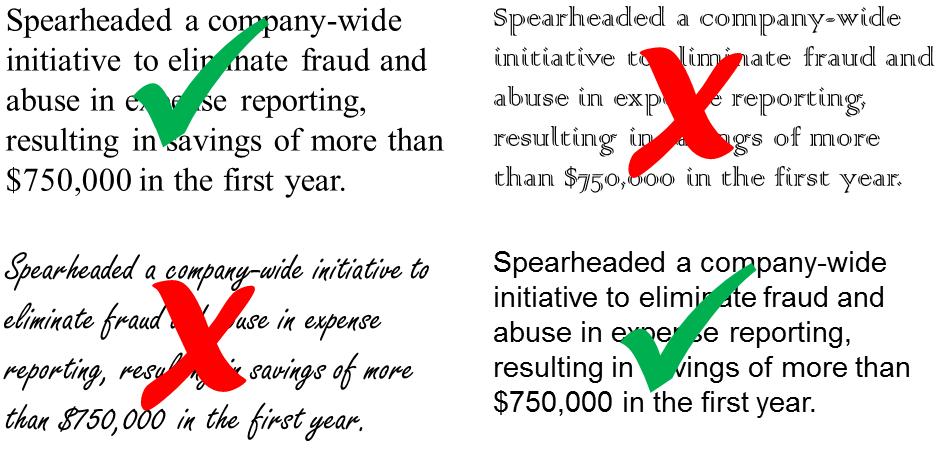 The best font according to our cover letter guidelines? The one that you chose for your resume! Keep it consistent. For more on picking a great font for the perfect cover letter style, see this article: What is the Best Cover Letter Font?
9. Use a Cover Letter to Explain An Employment Gap
Importance: ✸✸✸✸
Your resume might show that you have a gap in your work history between Job A and Job B. So guess what? Your cover letter is a great place to explain that!
You don't necessarily need to bring it to the employer's attention, but if you feel it is obvious, you could take the initiative, especially if you know that you have a solid reason behind the gap, such as a volunteering stint or a newborn child.
2
Cover Letter Tips for the Cover Letter Beginning
10. Don't Start With Your Name - Here's Why That's Lame
Importance: ✸✸✸
You can add your name at the very top, where your address, phone number, and email address are, but what I mean is this:
wrong
Hello! My name is John, and I am very interested...
They know your name from your email, from your cover letter details above, and from the resume. This is a benefit-free addition, at best.
11. Open Strong - Use a Powerful Opening Sentence
Importance: ✸✸✸✸
Get off on the right foot. A strong opening statement on a cover letter and an equally strong introductory paragraph will compel the hiring manager to keep reading - and hopefully move on to the resume.
As a longtime fan of Cisco's internal certifications, I was excited to see your project manager opening.
For the best opening statements on cover letters, read: How to Start a Cover Letter: Sample & Complete Guide [20+ Examples]
12. Call the Recruiter by Name to Grab Their Attention Immediately
Importance: ✸✸✸✸✸
One of the most successful cover letter tips I've come across is to call the recruiter (hiring manager) by name.
Why?
It's simple. Naming the person that will read your cover letter and glance at your resume gives them a jolt of familiarity, and it's more likely to make your cover letter stand out for them. It also makes them feel that you care about the job more, as you couldn't have sent this out to other companies.
| right | wrong |
| --- | --- |
| Dear John | To whom it may concern |
Where to include the recruiter's name? Add it at the top of the company's address (we'll talk more about that soon) - now that's an attention-grabbing cover letter!
13. Call the Company by Name - Here's Why It's a Must
Importance: ✸✸✸✸
Just like with the last cover letter tips, naming the company is a surefire way to let the hiring manager know that you are serious about this particular job.
Where do you call the company by name? You should do it twice, at least: once in the address (we'll talk more about that soon), and once or more in the body of your cover letter.
I'm very excited to submit my application to Carson Logistics because...
14. Address Your Cover Letter the Right Way
Importance: ✸✸
Learning how to address a cover letter is the key to beginning on the right foot. These are cover letter basics. The addresses are located at the top, as with most letters, after all.
Your name and address should go on the very top, and it can be left-, right-, or center-oriented. Include your phone number and email address.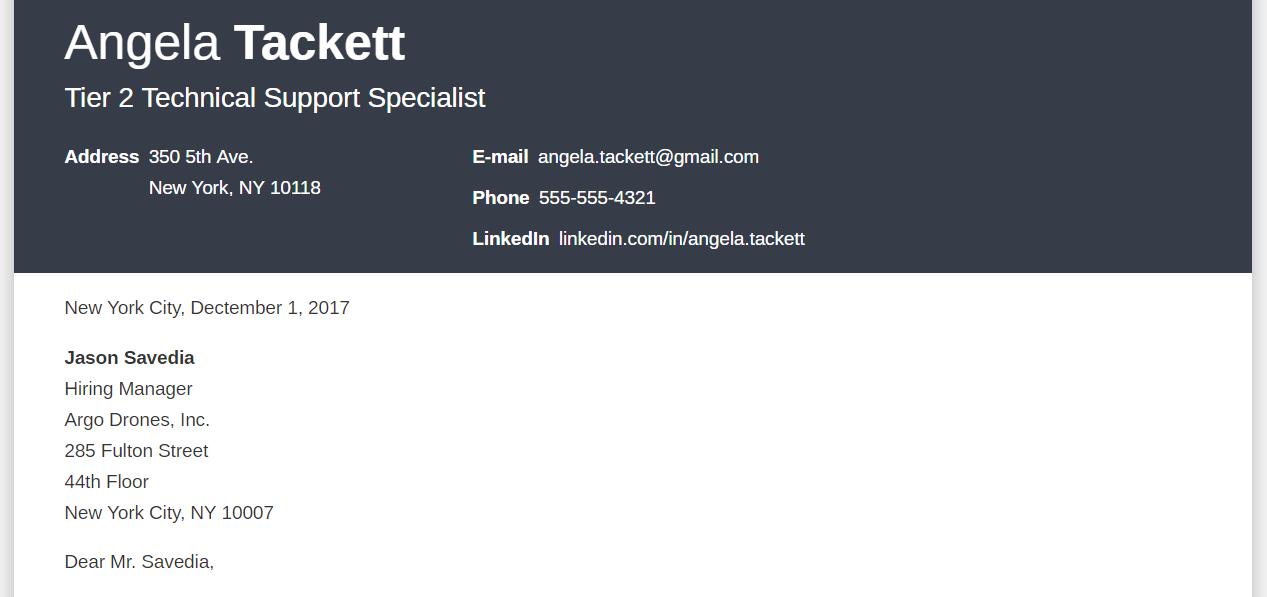 Follow that with the company address, left-aligned above your salutation of the cover letter: first the recruiter's name (if you have it), then the company's name, and then the company's address.
15. Address Your Cover Letter to Specific Person (if you have name)
Importance: ✸✸✸
You already (hopefully) found out the name of the hiring manager so that you can call them by name in the greeting/salutation of your cover letter. Avoid To Whom It May Concern like the plague.
But, don't stop there.
When you're adding an address, post it through to that hiring manager's department or exact office, so that it gets into the right hands right off the bat. However, don't do this if they instructed you to address it elsewhere in the job description, of course.
right
Jason Savedia, HR Mgr
16. Here's the Right Way to Address a Cover Letter If You Don't Have a Name
Importance: ✸✸✸
If you don't know the hiring manager's name, all hope is not lost.
In this case, there are generic salutations and greetings that work better than others. Choose something like Dear Hiring Manager:
Dear Hiring Manager:
For more tips to write a cover letter address, see our article: How to Address a Cover Letter: Sample & Guide [20+ Examples]
Plus, a great cover letter that matches your resume will give you an advantage over other candidates. You can write it in our cover letter builder here. Here's what it may look like: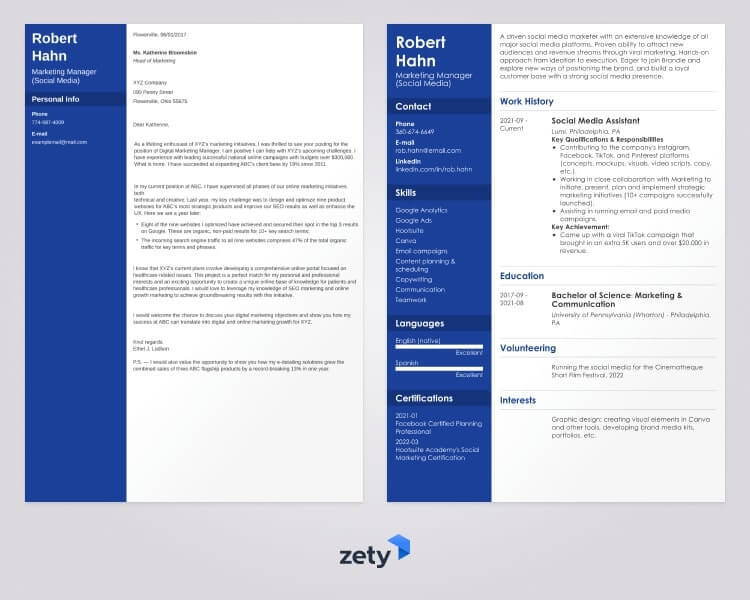 See more cover letter templates and start writing.
3
Cover Letter Tips for the Cover Letter Middle
17. Make Your Cover Letter More About Them, Less About You
Importance: ✸✸✸✸
To build on the last cover letter tips, one of the most important points you need to remember is that you must make your cover letter about them.
right
I believe that you will find me a perfect match for your company's culture and mission statement...
wrong
I am interested in this job because I like this and I want that...
Sure, you want the job. You'll tell them why you are the best person for it. And your address is listed at the top of the page.
These are all fine, but what I mean is that you need to list those things about you that are of consequence to them. If you are unsure about something you are thinking about putting in your cover letter, ask yourself: "Is this relevant to this company?"
18. Show Them Why You Are Interested
Importance: ✸✸✸
You're interested in the position they are offering, but convey just how enthusiastic and excited you are about this exact company. Finish that sentence you just started in the last cover letter tip by building on it and addressing something that is particular to this job:
I'm very excited to submit my application at Carson Logistics because I have been a big fan of the company's pioneering attitude when it comes to market research and expansion.
Make your positive attitude transcend the page and let them feel that you want it. Make them excited and enthusiastic at the prospect of hiring you by showing them that you know them. This will make a fine cover letter introduction.
19. Don't Forget to Include a Date - One Formality You Need to Keep
Importance: ✸
Cover letters for employment are professional and formal letters, so the structure of a cover letter should follow similar rules. A date is an integral part, and that's true with those informal ones, too, like birthday cards.

Add the date that you are sending the email, including month, day, and year. Most appropriately, choose to spell out the full month name rather than abbreviating it or giving its numeric equivalent. Add it near the top, above the greeting or salutation.
20. Use Keywords to Pass the ATS Gatekeeper
Importance: ✸✸✸✸
Any list of tips on resumes and cover letters has to mention resume keywords Not sure what we mean? Refresh your memory with our resume keywords article here.
Both the hiring manager and the ATS are searching for keywords as they look at each cover letter and resume. The ATS, or Applicant Tracking System, is software that larger recruiters employ specifically to parse for these keywords, reducing their workload and narrowing down the applicant pool to those who more-closely match their needs.
Here's an example of resume keywords on a job description: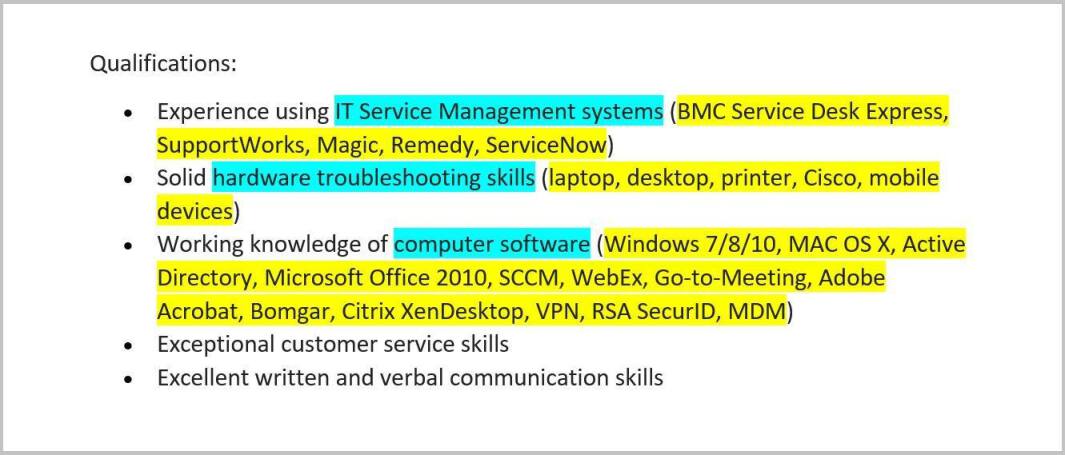 There are good descriptive keywords to include (blue-highlighted), as well as some great employer-specific ones (yellow-highlighted).
Cover letter keywords are important because the hiring manager and the ATS may reject your application if you don't include the most important keywords. Take a look at the job description and identify those keywords which seem most important to the employer - mention your knowledge of those keywords in your cover letter.
21. Tell a Story - But Keep It Short and Sweet
Importance: ✸✸
Use a cover letter as a short story about your candidacy. Unlike your resume, which follows more rigid structuring, a cover letter is a great way to narrate where you come from, where you stand now, and where you hope to be.
The key word here is short. Keep the entirety of your cover letter to about three or four paragraphs, using the middle paragraph or two for a brief story.
"At the start of my work history, I..."

"... which has led me to my current responsibilities and successes at..."
"I'd love to be able to show you how I can take my past experience and build on that to help your company..."
Show the recruiter that your past experience and present knowledge would be a perfect match for their company's future. Make it easy for them to imagine that your story and theirs can merge together, like the Avengers.
Your cover letter should serve as a brief, compelling introduction to your resume and your candidacy. The company and the hiring manager can learn more about you in the interview - that's what it's for!
Want some guidance on how to keep your whole cover letter short and snappy? Read more: Short Cover Letter Examples [5+ Samples for Job Application]
22. Convey Your Enthusiasm - Here's Why
Importance: ✸✸
While you're telling your short story, make sure to convey your enthusiasm. Employers don't just want someone willing to do the job; employers prefer candidates who would be enthusiastic to work at the company. Every applicant is willing to do the job, the resumes say that, but it's up to that story you tell within your cover letter to convey your enthusiasm.
Replace a statement like:
wrong
I'd be willing to come in for an interview...
With
right
I'd be honored and grateful for the opportunity to prove to you...
23. Be Logical & Chronological
Importance: ✸✸✸
Don't jump around from past to present back to past on your cover letter. Structure your cover letter so that is shows a logical progression in your employment and skill story. Keep it chronologically in order, like we talked about in telling your story:
Past history
Present state of affairs
How you will be perfect for the company's future
24. Explain Why You're the Best for the Job
Importance: ✸✸✸✸
Use the body of your cover letter to explain to the hiring manager what value you will add to the company should they hire you.
Just like the achievements of your resume's experience section, use quantifiable accomplishments from your previous work experience to show them that you are more than capable:
During my time at Siemens, I spearheaded a cost-reduction initiative which saw a 15% decrease in waste while adding 7% in productivity.
25. Don't You Dare Lie - You'll Get Caught
Importance: ✸✸✸✸
You might feel the need to jazz up your cover letter a bit by embellishment of some minor details or a little exaggeration. Some of the braver people out there may go all out and make up some alternate reality.
Don't lie.
This won't work, and it won't get you work. Lying on your cover letter will be found out sooner or later, and that could hurt your future. Even if you managed to get hired and work years, when the truth comes out, it will do great harm to your career, contacts in the industry, and your future prospects.
26. Don't Go Overboard
Importance: ✸✸✸
You should tell a compelling story, one that is unique and human in nature. However, don't go overboard - with your jokes, your flattery, or with begging for the job.
Show interest but don't turn them off - this is one of life's many dances, like dating. Also, most people don't like braggers, but your resume and cover letter are designed to showcase the best you have to offer.
Get over your distaste for bragging by including your achievements and wins - just don't go too far. Stay humble while portraying how great you are, something like:
I'm really proud to have led a team that was able to reduce costs while increasing efficiency...
27. Show You're a Cultural Fit for Their Team
Importance: ✸✸✸✸✸
You've now explained why you're the best for the job, but that was with numbers and experience and knowledge.
What you need to do now is to convince them that you are a cultural fit - that you have similar values as the company and that you will be a good match with your future coworkers and management team.
Take a look at Netflix Careers' Culture page, if you want an example. There, they give excellent documentation of what they expect from prospective candidates, as well as what future employees can expect from Netflix in return.
28. Be Yourself - Don't Pretend to be Something You're Not
Importance: ✸✸
Though we are giving you advice on what to put in a cover letter, don't feel as it is the only way.
Be honest, especially to who you are as a person. If you are creative, and especially if you are applying for a position that celebrates creativity, find your own unique way to deliver the best cover letter.
Feel free to have a little fun with your cover letter without going too far. What's too far? Well, that's up to you and the recruiter to decide, ultimately. Many modern employers will reward your creativity.
Another of my favorite tips for writing a good cover letter.
29. Choose Active Voice and Avoid Buzzwords
Importance: ✸✸✸
Just like when writing your resume, don't use over-the-top jargon, clichés, or meaningless buzzwords that are too specific. A study from Princeton says that you're probably overcompensating.
The only exception is when there are buzzwords in the job description, which effectively turn them into cover letter keywords. Also, don't use passive voice on cover letters. It feels evasive and unclear:
wrong
The seasonal department was managed by me.
Choose active voice when writing a cover letter, as it is more concise and to the point:
right
I managed seasonal department.
4
Cover Letter Tips for the Cover Letter Closing
30. Call the Recruiter by Name (Again)
Importance: ✸✸✸✸
I've told you the importance of calling the recruiter by name, both in the address and in your greeting/salutation.
However, one of my favorite cover letter writing tips is to call them by name once more. I would do this in your closing statement, like this:
John, I really appreciate the time that you've taken to consider my application...
This grabs their attention one last time before you close, and it doubles the benefit by really making it feel personalized.
But be careful! Doing this means you have one more word to find and replace if you decide you want to copy this cover letter on over to the next internship or job application.
31. Close Strong: How to End a Cover Letter
Importance: ✸✸✸✸✸
You came out of the gate with gusto, and you maintained that momentum throughout the body of your cover letter. Now, end your cover letter on a strong note so that you leave a pleasant aftertaste.

For great ideas on how to end a cover letter, see this article: How to End a Cover Letter: Sample & Complete Guide [+20 Examples]
32. Edit Your Cover Letter the Right Way - Here's How
Importance: ✸✸✸✸✸
This might go without saying, but if you are following these job cover letter tips as you are working on yours, a helpful reminder won't do any harm.
When you are finished writing your cover letter:
Ask a friend or relative to look over what you consider to be your final draft. Have them make sure that the logic is sound and that you are not missing anything important. They'll also check for grammar or spelling mistakes while they're at it.
33. Check to See If Something Specific Should be in the Email Subject Line
Importance: ✸✸✸✸
Before you send your cover letter and resume off as attachments on an email, check the job description once more to see if they ask applicants to send emails with something specific in the subject line of the email.
34. The P.S. Rule - One of the Best Tips for a Great Cover Letter
Importance: ✸✸✸
One final cover letter tip for the very bottom: always end a cover letter with a P.S.
This is a great cover letter hack, as a P.S. (postscript) at the bottom of your cover letter always draws the attention of the reader. Try something like this:
P.S. I'd love the opportunity to sit down with you and go over how I can bring similar results (12% productivity increase) to your office, as well.
35. Closing Sentiment - Complement Your Cover Letter with a Complimentary Close
Importance: ✸✸✸
That closing sentiment right before the end of any letter or card is called the complimentary close (or complimentary closing), though some refer to it as a closing salutation.
Don't just pick any complimentary close. Choose one that is formal and widely accepted:
Best regards,
Or
Sincerely,
Those two work best as a sign-off for any business letter or formal letter, and they do when writing the perfect cover letter, as well.
5
Tips for as You're About to Send Your Cover Letter
36. Save Your Files Properly - Here's How
Importance: ✸✸✸
Use a naming convention for your resume and cover letter title that includes your name, hyphens or underscores, the position you're targeting, and the word resume or cover letter:
john-smith-junior-brand-manager-cover-letter.pdf
Keep everything consistent and standardized. Also, if, for some strange reason, you feel compelled to send your cover letter and resume as an Office online link or Google Doc URL, don't forget to grant them the right permissions!
Without granting viewing permissions, they won't be able to view your document - that'd be a shame!
You could grant permissions to view to specific email addresses, if you know the email address of the hiring manager, but it could backfire should they want to view it from a different account or share it with someone else. The best thing to do is to "grant viewing permission to anyone with the URL" or just send your cover letter and resume as an email attachment.
37. Send Your Cover Letter Off The Right Way - Here's How
Importance: ✸✸✸
Optimize your cover letter for the ATS (applicant tracking system). Include a.DOC version, and include a PDF version only if you know that the text is able to be read by the ATS bots. For more advice, see: Word vs PDF Resume: What is the Best Resume Format?
38. Prepare for that Interview!
Importance: ✸✸
Well, that's it! You've created a great cover letter, and you followed all these tips for writing cover letters to ensure that you did it right.
Pat yourself on the back, cross your fingers, and wait for the interview invitation that's sure to come in any time now.
When making a resume in our builder, drag & drop bullet points, skills, and auto-fill the boring stuff. Spell check? Check. Start building a professional resume template here for free.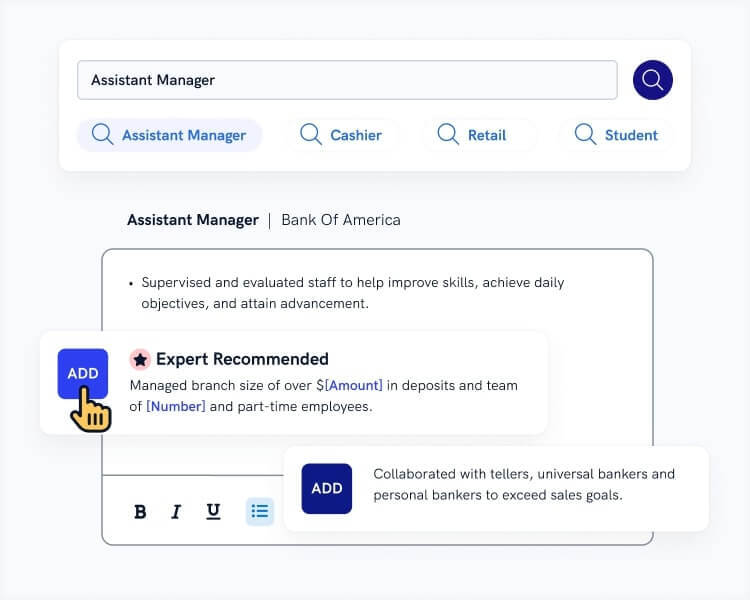 When you're done, our online resume builder will score your resume and our resume checker will tell you exactly how to make it better.
Key Takeaway
Just thinking of writing a cover letter will probably make you cringe, at best, or cause you to turn to a life of criminal employment, at worst.
However, if you keep these tested cover letter tips in mind, you'll soon have a cover letter that will be sure to catch the recruiter's attention:
Tailor - One of the main themes throughout these tips for a good cover letter, make sure to personalize your cover letter to the job description so that it reads as the exact candidate you're looking for.
Strength - You want to start strong, keep that momentum up, and then finish strong. Keep it short and sweet to help you keep them interested.
Names - Naming came up often in these cover letter tips, from naming the employer and company to the proper naming conventions when you save your file.
That's all! Now, as we said in the very last tip, sit back and wait for that meeting by brushing up on interview tips and advice and practicing the STAR interview method.
Do you have any questions on our cover letter tips? Got any more advice and tips on internship cover letters? Give us a shout in the comments below and we will answer your question. Thanks for reading!
About Zety's Editorial Process
This article has been reviewed by our editorial team to make sure it follows Zety's editorial guidelines. We're committed to sharing our expertise and giving you trustworthy career advice tailored to your needs. High-quality content is what brings over 40 million readers to our site every year. But we don't stop there. Our team conducts original research to understand the job market better, and we pride ourselves on being quoted by top universities and prime media outlets from around the world.
Sources