Our customers have been hired by:
You might be a da Vinci of Fine Arts, a Banksy of Graphic Design, or a Shakespeare of Copywriting. But "creativity" in the skills section might not be enough to prove that.
What you need is a creative cover letter. One that makes the hiring manager go: "Wow. I wanna meet that person ASAP." And we're here to show you how you can write a creative cover letter yourself!
This guide will show you:
Two creative cover letter examples better than 9 out of 10 others.
The step-by-step work plan for how to write a creative cover letter.
Creative cover letter templates that let you plug in your core strengths.
Want to write your cover letter fast? Use our cover letter builder. Choose from 20+ professional cover letter templates that match your resume. See actionable examples and get expert tips along the way.
Sample cover letter for a resume—See more cover letter examples and create your cover letter here.
Feeling creative, might apply later? See some examples of cover letters for creative thinkers:
Move quickly between sections with this table of contents:
Looking for something slightly different? See Zety's complete selection of cover letter samples:Cover Letter Examples for All Jobs
And now, let's check out the first example of a creative cover letter:
Creative Cover Letter Examples
Gary Butler
Narrative Designer
Chicago, IL 60007
501-145-2198
gary-butler-123@gmail.com
www.squarespace.com/customers/garybutler
December 1, 2023
Terry Flynn
Hiring Manager
Once Studios
West 103rd Place
Chicago, IL 60131
Dear Mr. Flynn,
In a development studio, called Once Studios, everything was perfect. Excellent graphic designers and a precious mockup production team accompanied a fantastic group of developers. However, it wasn't until then that they realized something was missing. They needed one more writer with an RPG background and storytelling skills of the highest quality. And so, they've sent a letter across the land, called LinkedIn, to find them. Many applied. But amongst those many, there was the one…
I'm a writer with over 10 years of professional and 25 years of amateur writing experience. Not only have I been writing short stories and RPG sessions since I was ten years old but also, in my professional career as a narrative writer, I:
Created over 2000 pages of dialogue, 400 quests, and 2000 pages of scripts.
Designed the narrative for various productions, "Tinker 2", "Knights of Lefros," and "Space Cops: Armada."
Won the 2021 Game Narrative Review competition during Game Developers Conference in San Francisco.
Writing is not only what I call my job but also my passion. It's impacting the way others view the world and themselves for me. I consider Once Studios the perfect place to continue on my journey, given its mission to unleash creative energy that builds games with lasting influence on people's lives.
During the last year's Gamicon, one of Once Studios' writers discussed why "Oracles" had to end that way and why the hero's son couldn't change after chapter 6. I would love to present you with a possible yet shocking alternative. Maybe next Thursday, noon, in the Once Studios headquarters?
Best regards,
Gary Butler
Narrative Designer
501-145-2198
gary-butler-123@gmail.com
It's easy to write a cover letter for a creative director, a narrative, or a graphic designer. But what about a job that isn't as creative? Such letters are also excellent for the hiring manager to remember you!
Let's see an example of a cover letter for a position that isn't necessarily so creative:
James McGregor
Data Analyst
Tallahassee, FL 32301
543-467-2324
james_mcgregor@gmail.com
December 1, 2023
Peter Pool
Hiring Manager
Data Lab
32 Lanier St
Tallahassee, FL 32305
Dear Mr. Pool,
Data analysts are like detectives trying to solve a mystery collecting evidence, looking for patterns, and drawing conclusions from the data. As a junior data analyst, I worked on over 20+ small- and large-scale projects in Bankello, which allowed me to expand my knowledge and investigative skills. Now I am ready for new challenges with the greatest player on the market, Data Lab.
My three-year experience gives me an excellent understanding of business practices, database management, systems analysis, new technologies, and IT project management. I created and presented data models facilitating 15% higher returns than our previous performance. Plus, I successfully built 100+ statistical analysis models and improved data collection by 120% during my first work year.
Data Lab is not only the leader in the industry. Your approach, goals, and how you achieve them make you a go-to organization for every ambitious data analyst, such as myself.
My passion for data analysis can be even more visible during a face-to-face meeting. Perhaps next Friday, 1 pm in Data Lab headquarters would suit you?
Sincerely,
James McGregor
P.S. I'd love to tell you more about how I also created a proprietary machine learning tool that integrated with our CRM software with almost 100% uptime during the transition within the first six months of implementation.
That's pretty creative, isn't it? But there's one more thing that's important here. It's very well-structured. So let's dig into that.
How to Write a Creative Cover Letter
See how to compose a creative cover letter step by step:
1. Choose the Best Creative Cover Letter Structure
Creative people can be considered a bit chaotic, which creates an unwelcome stereotype of structure-hating, keeping-heads-in-the-clouds individuals. So let's prove them wrong and show that structure is an ally of creative folk, shall we?
Let's do that by creating a simple cover letter structure. Use the below checklist for starters:
Creative Cover Letter—Checklist
Your contact info in the cover letter header. Put it at the top of the page so it's hard to miss.
Date of writing. Make enough space for it below the header.
The addressee and company's info. That's the first step of personalization and just good etiquette.
Dear Ms./Mr. + (recruiter's or hiring manager's name). There are many ways to address your cover letter properly, and using Dear Ms./Mr. + addressee's name is one of the best cover letter salutations you can use.
Paragraph #1: an opening line + a great job-fitting achievement.
Paragraph #2: your key skills + why you're the perfect fit for the job.
Paragraph #3: your passion + why you want the job you're applying for.
Paragraph #4: a call to action that will put the ball in their court.
Best regards + your name + your job title.
Postscript. Drop one more spectacular achievement that will help you end your creative cover letter with a bang!
Want to learn more about how you should format a cover letter for a creative job? Visit our guide: The Best Cover Letter Format
2. Begin Your Creative Cover Letter Impressively
According to a study, an average recruiter or hiring manager spends 6 to 8 seconds looking at an application. That leaves you little time to impress them with your creativity. That's why the opening lines of your cover letter should be like ads during the Super Bowl. Spectacular!
Here are some tips on how to start a cover letter and make a sensational first impression:
Mention the company's name.
Catch their eye by throwing in some job-fitting achievements and things you've done in the past so they know you're a good fit for the company.
Don't dwell on your successes too much here, as you will talk more about them in the further parts of your cover letter.
Okay, that's how you can start a creative cover letter. Let's move to the middle paragraphs, shall we?
Pro Tip: Avoid "To whom it may concern" as an opening salutation. It's generic and detached. Find out who you're addressing and make it personal right away!
3. Write a Perfect Middle of Your Creative Cover Letter
Some time ago, in a land not that far, far away—
Different CEOs were asked a question: "What is the skill you most value in your people?". Their answer was creativity. And the reason for that is simple. Creative people tend to be innovative and independent. They have a problem-solving attitude that can be useful in finding solutions and opportunities for different departments. These workers bring value to the company others might overlook.
However, you should first prove your value as a potential employee. The best way to do it is to use your past successes in the middle of your cover letter.
Read how to write a perfect middle for your creative cover letter:
Prove you understand the duties and responsibilities listed in the job posting. By referring specifically to what's in the job advertisement, you'll prove that you tick all the boxes.
Show how you've excelled by talking more about your achievements at previous jobs. And, talk achievements, not responsibilities. That's how you prove you've impacted the company's performance.
Speak more about why you want this job and not just any other job.
Okay, so we've got our creativity running. Time to end with a bang!
Want to keep it shorter? See our guide: How To Write a Short Cover Letter
4. Finish Your Creative Cover Letter Spectacularly
Every creative person is like an artist. And every artist knows well that the most important part is the ending. It's what you leave your audience with, whether they're your readers, viewers, or listeners.
So how should you end a cover letter?
Write about how your relevant experience, skills, and passion might help the company achieve its objectives. And talk about the company, not about yourself.
Highlight your excitement at the prospect of working for them.
Suggest a face-to-face meeting where you'll talk more about how you see your bright future together! Reinstate your motivation and indicate that both parties can gain something from the meeting.
Add a postscript where you finish off with a spectacular achievement of yours—the Grand Finale of your creative cover letter!
Pro tip: Attach your portfolio, if relevant. After a well-crafted creative cover letter, your hiring manager might have the impression you talk the talk. But delivering a great portfolio will prove that you also walk the walk!
When making a resume in our builder, drag & drop bullet points, skills, and auto-fill the boring stuff. Spell check? Check. Start building a professional resume template here for free.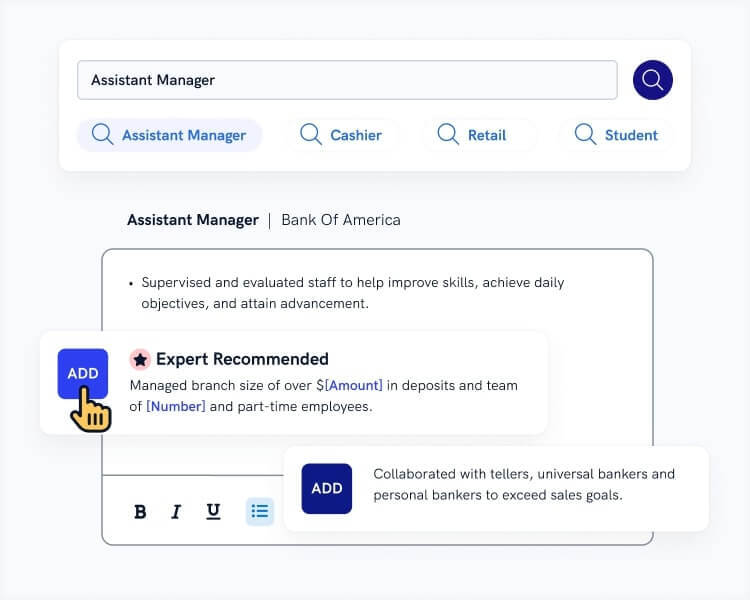 When you're done, Zety's resume builder will score your resume and tell you exactly how to make it better.
So now you know exactly what to say in a cover letter for creative jobs. So all you have to do now is give a proper name to your cover letter, and it's ready to go!
Well, almost.
There's one more thing you should consider before applying. It's the creative cover letter design. Let's talk about it for a while.
Creative Cover Letter Templates
There are plenty of creative templates out there, but they aren't always what recruiters and hiring managers expect from a job application. So we've curated a list of our top choices that are readable and eye-catching, simply just perfect:!
1. Initials by Zety
Looking for something creative yet minimalistic? Initials is your go-to template!
A perfect option for a cover letter for a creative job. It has a modern approach to creativity. Not too flashy but very classy. A mighty circle containing your quasi-handwritten initials catches the eye straight away. On the left, there's a professional header with your personal information that can't be missed. And a lot of space for your message. Elegant, with minimalistic icons, perfect for entry or mid-level candidates and for anyone trying to write a cover letter for an internship.
Pro tip: Keep your cover letter short. 3 to 4 paragraphs should do the trick.
2. Primo by Zety
Writing a cover letter for a creative director? Looking for a template that's great for an artist, such as a graphic designer? Or perhaps trying to come up with a creative marketing cover letter? Consider Primo as your primary choice!
Similarly to Initials, this creative cover letter template uses your initials as a logo for your document. Your personal information and relevant links can easily be found on the right side of your cover letter. While Initials is suggested for candidates with less experience, its twin, Primo, can be a good pick for experienced ones. It's a bit toned-down, with a classic structure and a slight creative twist. Fewer icons, more professionalism.
Looking for a good font that fits your experience? See our guide: Best Cover Letter Fonts
3. Character Cover Letter Template
One side for your message to the hiring manager, the other with your name, contact details, and cool, colorful, and attention-grabbing icons. All on the gray background makes it impossible to miss on the hiring officer's desk!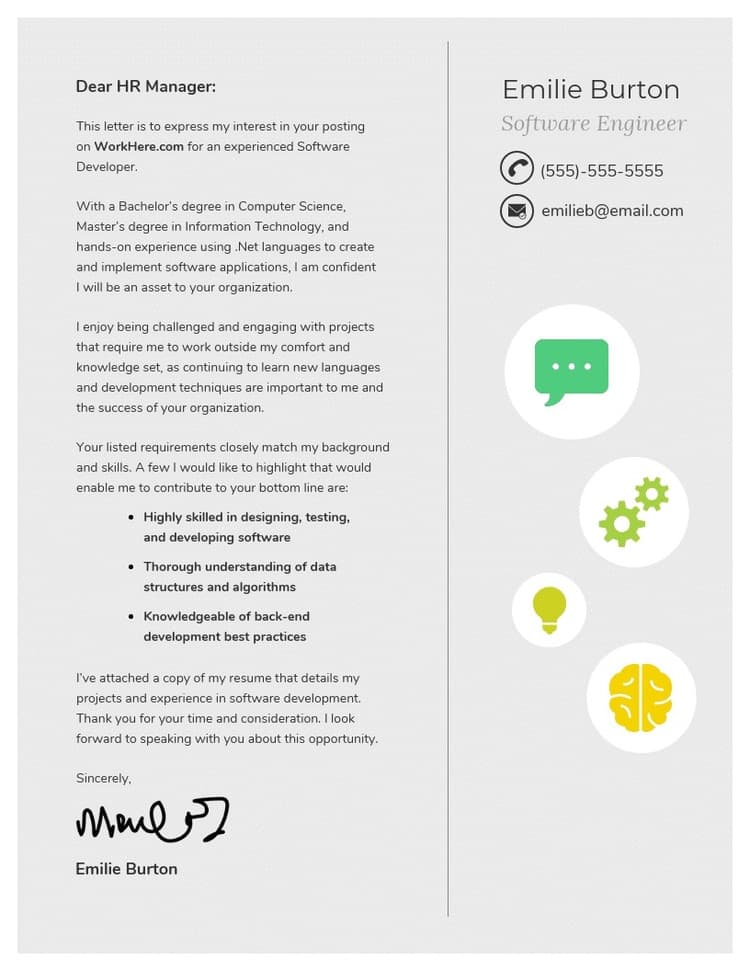 Find it here at Vengage.
4. Iconic by Zety
A cover letter for a creative position doesn't have to be flamboyant. But it can be Iconic.
The Iconic template is a perfect creative idea for your cover letter. It feels very professional yet creative. And it'll be hard to forget you, as your name is the largest element at the very top of the document. Your contact details are listed below with an elegant set of icons. And there's plenty of space for your message. An excellent choice for anyone who wants to keep it minimal, smart, and stand out at the same time. Perfect for writing both senior and entry-level cover letters.
5. Concept by Zety
Hard to miss. Easy to read. What's a better Concept for a cover letter?
The sleek dark column gives this classy and effective cover letter template a professional feel. The neat alignment of every piece of this puzzle makes a great choice for someone who wants to come across as reliable, professional, and with great organizational skills. Very experienced candidates might need help to fit all the information they want to share with hiring managers, so we recommend it to junior candidates, who want to make an impression, despite their lack of experience.
Read more: How to Write a Motivation Letter
6. Photography Cover Letter
There is a way to express your creativity with a photo background. Perfect for photographers (duh!), graphic designers, and everyone who wants to highlight their passion on a cover letter through photography. Also, there's plenty of space for your writing, so it's good for more experienced candidates!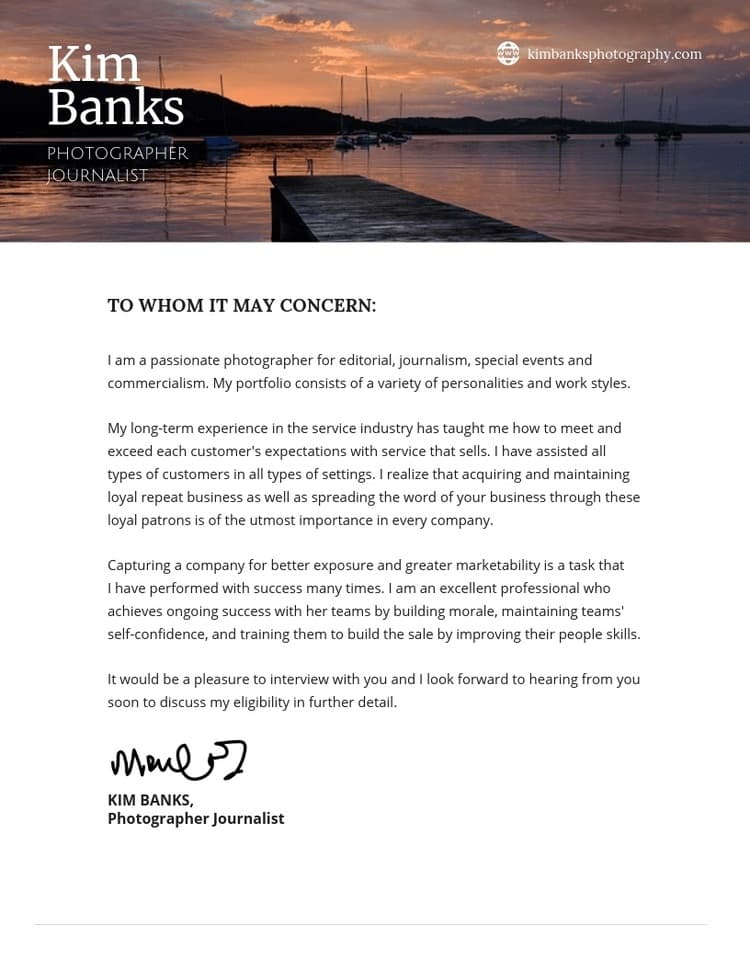 Find it here at Vengage.
7. Cubic by Zety
Our users can't be mistaken. Here's one of our most popular cover letter templates.
Cubic gives you modern simplicity. If your cover letter is super creative on the content level, you should keep the design minimalistic. Your contact information is located in a gray bar on the right side. The bar at the top is what makes you stand out amongst your competitors. Hard not to notice, right? Cubic is perfect for all, especially for candidates interested in writing any type of business cover letter.
Pro tip: Keep the correct cover letter line spacing and margins. Line spacing should be 1.15, and margins should be 1 inch on each page edge.
8. Resume & Cover Letter Template for Figma
This cover letter might not be printer-friendly, but it surely catches the eye. Very stylish. Unfortunately, the huge Hello leaves little place for the contact information, but you can perhaps put that in the heading once you download it and start playing with it. It comes in black, too, so it's also goth-friendly! And just look at this deep blackness!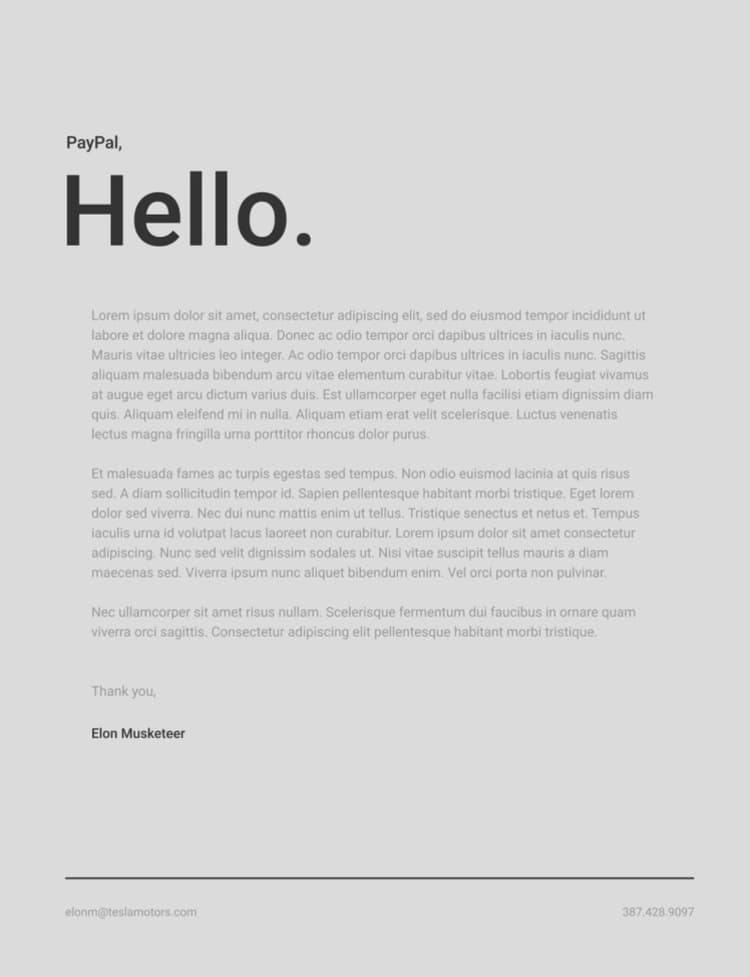 The template can be found here at Dribbble.
9. Diamond by Zety
Think about Cubic, but bigger. That's our Diamond.
That template is impossible to be missed. It's all thanks to an outstanding header right at the top of the document. It contains your name and contact details, so one quick glance at it and your hiring manager knows well who the author of the creative message is. The entire cover letter fits in a one-column layout, making it easy to navigate. Perfect choice for someone who wants to be noticed. Ideal for someone who's a professional.
Wondering if you mentioned everything that might impress a hiring manager? Read our guide: What to Put in a Cover Letter
10. Professional Cover Letter
Another perfect example that you don't need to add colors to have a creative cover letter template that will wow your recruiters. The lines of this one make a great, simple, minimalistic, and creative design that will not go unnoticed!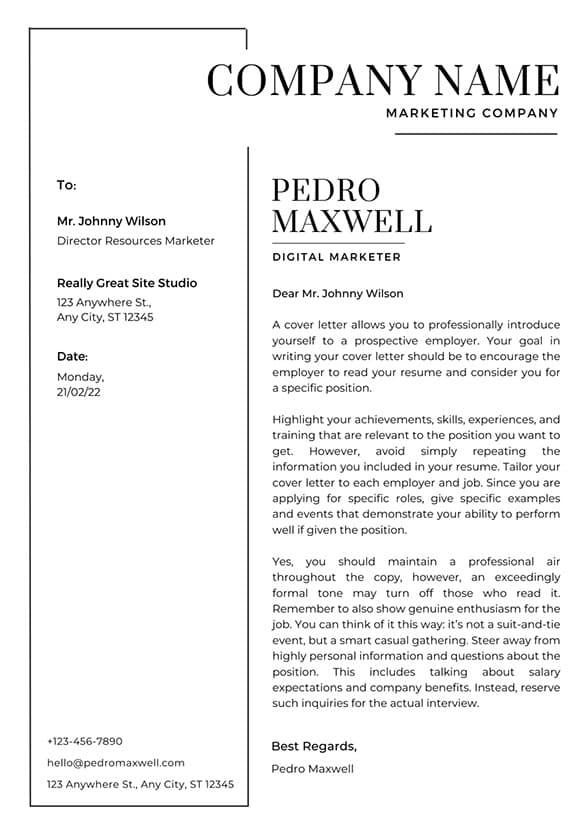 Find it here at Behance.
11. Minimo by Zety
Our focus in creating this template is in its name. Very minimalistic.
That minimalism makes Minimo perfect for experienced candidates and those applying for top management positions. It's the ultimate choice, with no bars, icons, or colors. Just the neatly formatted text. Perhaps it's not the best option for creative positions related to any sort of graphic design. But it's a good one when you apply for an opening in a non-creative industry, and yet you want to wow the hiring manager with the creative content of your cover letter.
Looking for some extra cover letter advice? Read more: Cover Letter Tips
12. Resume / CV Design Template
This creative cover letter template comes with a space for your personal information, which is quite an interesting approach. And it still leaves a lot of room for your message! With some orange touches and a big name in a black rectangle at the top, it makes your application unmissable for any recruiter!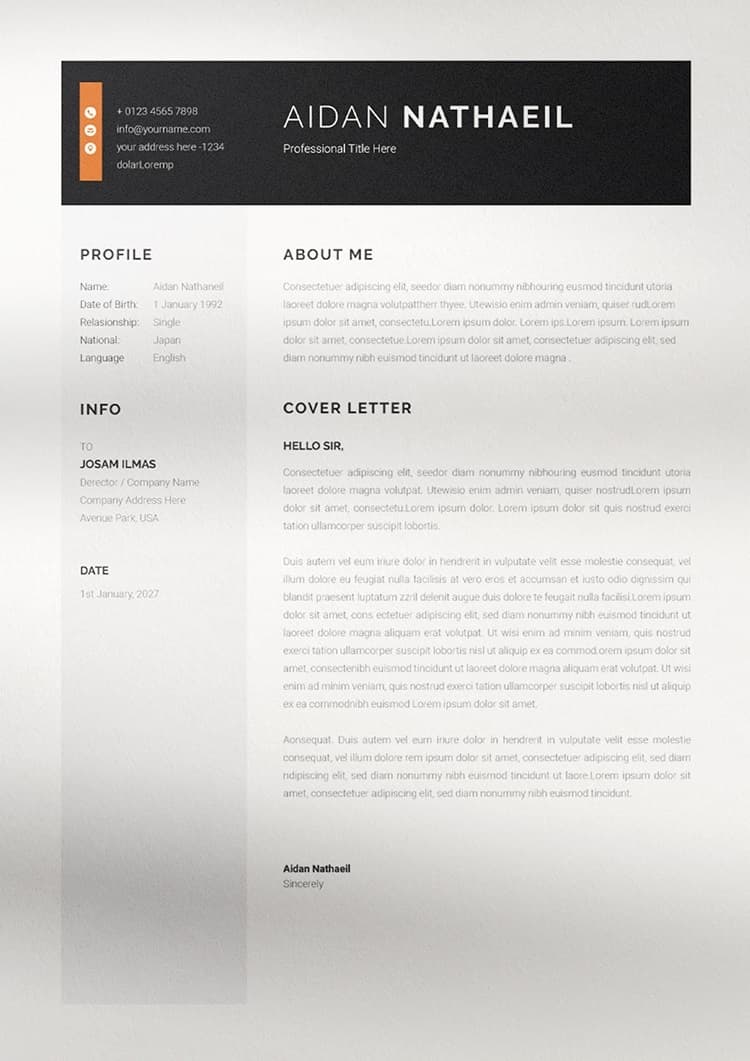 Find it here at Behance.
13. Cascade by Zety
Smart-looking, popular and modern. Cascade has it all.
The left-hand side of the page contains every information your hiring manager needs. There's your name, your job title, and your contact details. It all fits into a dark bar, impossible to miss. The rest of the page is yours to fill with the message to the recruiter. Plenty of space makes it perfect for any candidate to write a creative cover letter. It's also suitable for almost every industry, making it an ideal choice.
Pro tip: Some job-seekers wonder whether cover letters are necessary. Some recruiters might not read them, but it's a 50–50 chance, and it's better not to try your luck, wouldn't you agree?
Those were only a few creative templates that can work magic during your job application process. We've decided to select only those that don't include a profile picture since you shouldn't put a picture on your resume. They're also applicant tracking system (ATS) friendly, meaning no keywords get ignored during scanning.
Plus, a great cover letter that matches your resume will give you an advantage over other candidates. You can write it in our cover letter builder here. Here's what it may look like: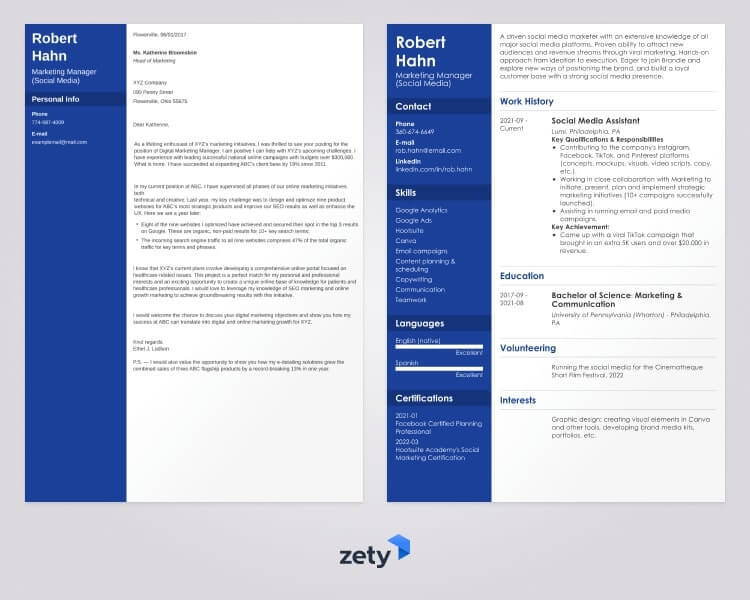 See more cover letter templates and start writing.
Key Takeaway
It seems like you know everything there is to know about writing a creative cover letter. All you need to do now is to feel inspired, call on your Muses, choose a template, and write! Good luck!
But first, just a quick recap on how to do it:
Select the right cover letter template. Use one from our builder, as it's ready to go in no time.
Stick to the correct format for your creative cover letter. It'll be easier to read.
Get noticed. Try catching your readers' attention with the first sentences. If you succeed, they'll keep on reading.
List your accomplishments. Your cover letter isn't a place to be unnecessarily modest. Use relevant achievements, support them with numbers, and help yourself land that job.
Show that you're the perfect candidate. Write about your experience and skills and reinforce your passion.
Mention the company you're applying to. Making it personal from the top is equal to making them feel special.
Conclude with a call to action. Propose a specific date and place for a job interview, and promise to leave them with added value.
Now you have all the information you need to create a creative cover letter. Good luck!
Want to know more about writing a fantastic cover letter that will surely be noticed and remembered? Visit our comment section below, and let's talk about it!
About Zety's Editorial Process
This article has been reviewed by our editorial team to make sure it follows Zety's editorial guidelines. We're committed to sharing our expertise and giving you trustworthy career advice tailored to your needs. High-quality content is what brings over 40 million readers to our site every year. But we don't stop there. Our team conducts original research to understand the job market better, and we pride ourselves on being quoted by top universities and prime media outlets from around the world.