Photographer Cover Letter: Example & Writing Tips [2023]
You rule the rule of thirds, and your use of lighting is NYU-ready. But the hiring manager doesn't have a clue—until they read your perfectly-exposed photographer cover letter.
You've got an eye for lead-in lines and backgrounds, and your work is National-Geographic-worthy. But every time you send a resume, you get no exposure. Don't panic. You can rise above the noise. With the right focus in your photographer cover letter, your application will stand out like Dalí Atomicus.
Below, you'll see a sample cover letter for photographer jobs that makes them catch their breath, with a step-by-step plan to adapt it to your life.
Want to write your cover letter fast? Use our cover letter builder. Choose from 20+ professional cover letter templates that match your resume. See actionable examples and get expert tips along the way.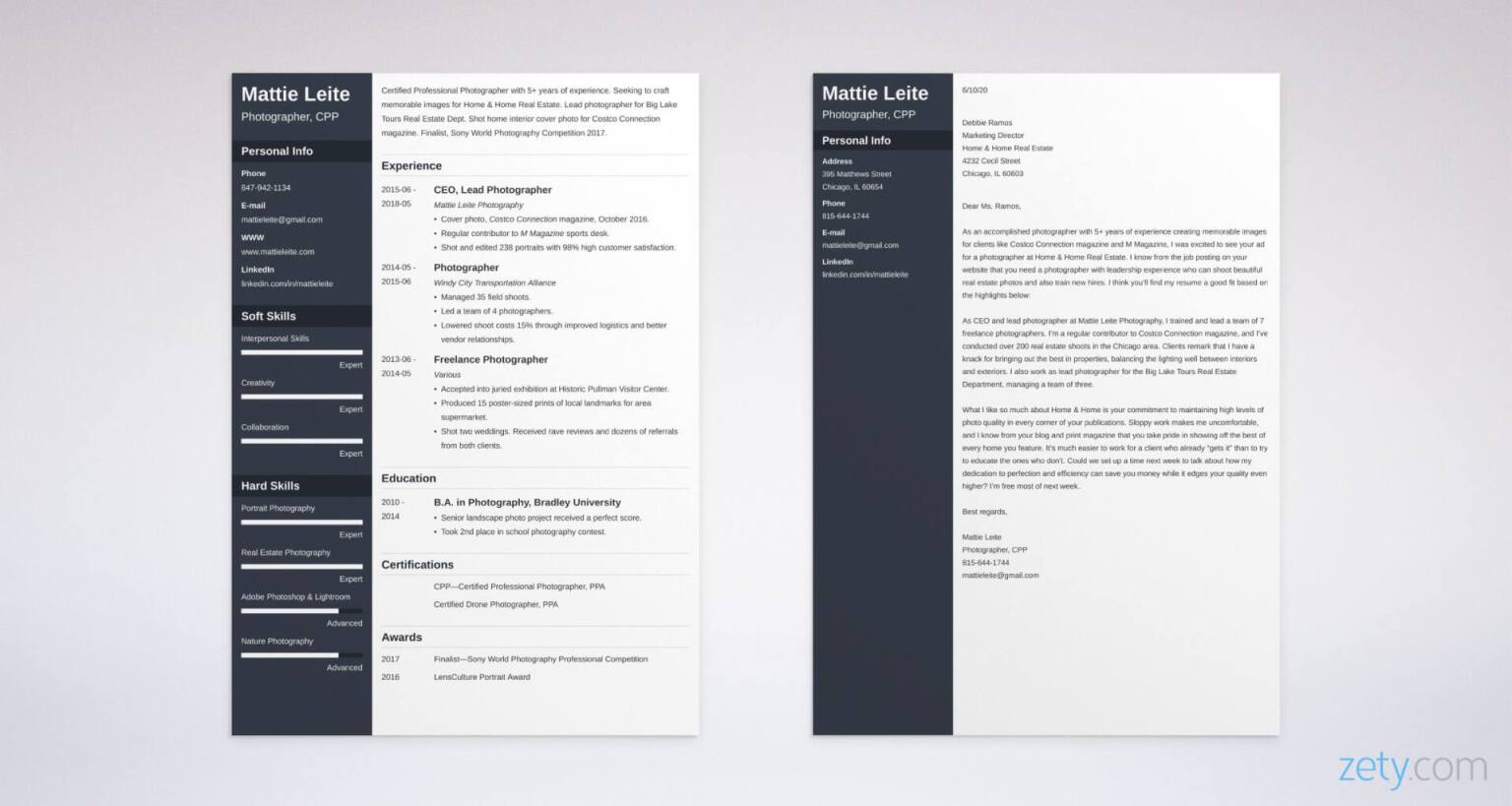 Sample cover letter for a resume—See more cover letter examples and create your cover letter here.
Photographer Cover Letter Sample
Mattie Leite
Photographer, CPP
395 Matthews Street
Chicago, IL 60654
815-644-1744
mattieleite@gmail.com
linkedin.com/in/mattieleite
6/10/20
Debbie Ramos
Marketing Director
Home & Home Real Estate
4232 Cecil Street
Chicago, IL 60603
Dear Ms. Ramos,
As an accomplished photographer with 5+ years of experience creating memorable images for clients like Costco Connection magazine and M Magazine, I was excited to see your ad for a photographer at Home & Home Real Estate. I know from the job posting on your website that you need a photographer with leadership experience who can shoot beautiful real estate photos and also train new hires. I think you'll find my resume a good fit based on the highlights below:
As CEO and lead photographer at Mattie Leite Photography, I trained and lead a team of 7 freelance photographers. I'm a regular contributor to Costco Connection magazine, and I've conducted over 200 real estate shoots in the Chicago area. Clients remark that I have a knack for bringing out the best in properties, balancing the lighting well between interiors and exteriors. I also work as lead photographer for the Big Lake Tours Real Estate Department, managing a team of three.
What I like so much about Home & Home is your commitment to maintaining high levels of photo quality in every corner of your publications. Sloppy work makes me uncomfortable, and I know from your blog and print magazine that you take pride in showing off the best of every home you feature. It's much easier to work for a client who already "gets it" than to try to educate the ones who don't. Could we set up a time next week to talk about how my dedication to perfection and efficiency can save you money while it edges your quality even higher? I'm free most of next week.
Best regards,
Mattie Leite
Photographer, CPP
815-644-1744
mattieleite@gmail.com
That photographer cover letter sample is Windblown Jackie level. But before you edit it for your career, see our guide: Photographer Resume Guide & Sample
Looking for other creative jobs? See these guides:
Photographer Cover Letter Template
Here's how to write a cover letter for a photographer job application:
1. Use a Respected Photographer Cover Letter Format and Layout
For a Harper's-ready cover letter structure, use these tips:
Cover letter outline: write a 3–4 paragraph photographer cover letter. Less seems clipped, and longer will bore managers to tears.
Cover letter line spacing: show off your eye for composition with 1.15 line spacing.
Cover letter layout: one inch margins on the top edge, bottom, and both sides will make things easy on the eye.
Cover letter font: no serifs, and use a professional font like Arial or Cambria so all your great accomplishments stand out.
Read more: Professional Cover Letter Design
2. Create a Professional Photographer Cover Letter Header
For best results, put your contact info at the top left. That's your name, job title, and your street address. Then add your phone number, email, and social media like LinkedIn or Instagram.
Skip a line and add the date. Then skip another line and add the hiring manager's info, including name, title, business name, and street address.
Use that same heading in your resume to make a well-matched application.
Read more: What Should a Cover Letter Heading Look Like?
3. Begin Your Photographer Cover Letter

With

a Candid First Paragraph
Avoid the dreaded To Whom It May Concern cover letter by learning the manager's name and using it in the cover letter salutation.
Don't beat around the bush. Tell them which job opening you want.
Get them interested fast by saying you know what photography job requirements they need.
Hint that you've got those skills, and point them to your resume and second paragraph.
Read more: How to Begin a Cover Letter
4. Show Relevant Photographer Achievements
Blend your talents with their needs in paragraph #2.
List your top resume accomplishments that fit the duties in the job ad. When they see you're skilled in their niche, they'll want to read your resume.
For instance? Let's say they need a real estate photographer. Tell them how many real estate shoots you've done.
Give scale to your photography achievements by adding numbers. How many people have you trained? How many clients have you served? Who are they?
In a cover letter for a photographer with no experience, show personal work or achievements from unrelated jobs.
Read more: Modern Cover Templates That Will Impress the Socks off Employers
5. Prove You Want This Photographer Job
Most employers are terrified you'll take a powder six months after they hire you. Soothe their fears:
In paragraph #3, tell them what makes this the perfect photographer job for you.
Make it something that speaks to your personality, skills, or career goals.
Fit it to their needs. If they want an exacting portrait photographer, speak to the exacting nature of their work, and why you like it.
Oh-oh. Photographer jobs are dropping like flies. They'll decline by 6% in the next decade. But don't fret. There's plenty of room for shooters who do the work.
6. End Your Photographer Cover Letter With an Offer
Reality check: employers don't know they're supposed to call you. They get so jaded reading dozens of cover letters they stop seeing each one as a person.
Wake them up by asking for the interview. But do it in a special way—
Promise to trade something they'd like to have. For instance, a chat about how your Photoshop skills can help their finished product.
What else should you include in a cover letter? Add a few more of your Burn Magazine-level skills.
Read more: Best Ways to End a Cover Letter
7. End Your Photographer Cover Letter With a Professional Sign-off
Finish up your cover sheet with, "Warm regards" or "Kind regards."
Include your printed name. Consider adding a digital copy of your signature.
Repeat your name, job title, phone number, and email.
Aaand I'm spent! But how should you name a cover letter file? "Cover_Letter_Your_Name" works best.
Read more: Cover Letter vs Resume: What's the Difference?
When making a resume in our builder, drag & drop bullet points, skills, and auto-fill the boring stuff. Spell check? Check. Select a resume template here.
When you're done, our free resume builder will score your resume and our resume checker will tell you exactly how to make it better.
Questions? Concerns? We're here for you. If you're still wondering how to write a cover letter for photographer jobs that fills the frame, drop me a line in the comments.
About Zety's Editorial Process
This article has been reviewed by our editorial team to make sure it follows Zety's editorial guidelines. We're committed to sharing our expertise and giving you trustworthy career advice tailored to your needs. High-quality content is what brings over 40 million readers to our site every year. But we don't stop there. Our team conducts original research to understand the job market better, and we pride ourselves on being quoted by top universities and prime media outlets from around the world.
Sources