Our customers have been hired by:
You're proud of the resume you've just written. But your buddy asked you: did you make a cover page for your resume? And now you're wondering what he's on about.
Don't worry, we've got you covered.
This guide will show you:
Example cover page for a resume that you can adapt to your needs.
What is a resume cover page and why you may want one.
How to make a cover page for a resume easily.
Want to write your cover letter fast? Use our cover letter builder. Choose from 20+ professional cover letter templates that match your resume. See actionable examples and get expert tips along the way.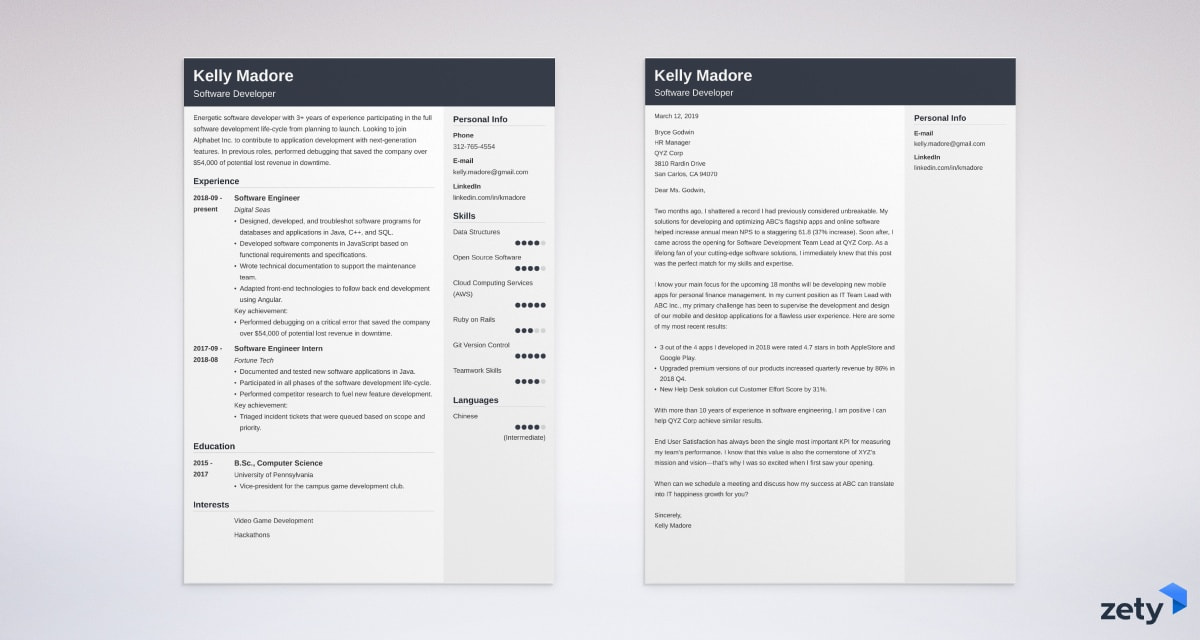 Sample cover letter for a resume—See more cover letter samples and create your cover letter here.
Looking for more guides on how to nail your job application? See:
What is a Resume Cover Page?
A resume cover page is a letter sent with your resume when you apply for a job. It gives more in-depth information on your experience and career skill set, and highlights why you're the perfect candidate for the job. A resume cover page is better known as a cover letter or covering letter.
Your cover page for a resume must make just as much of an impression as your resume. So, you need to know what a covering page should say. Let's dive into what it takes to mod up your job application with a resume cover page that'll knock the socks off hiring managers.
Read more: How to Write a Cover Letter
How to Write a Cover Page for a Resume?
It's essential to get the format of your resume cover page right if you want to make the best impression with your job application.
Here's how to make a resume cover page:
1. Create a professional cover letter header.
A cover letter header should include your current contact information, the employer contact information, the date, and a professional cover letter salutation. Be careful with choosing a "To Whom It May Concern" cover letter.
2. Start your cover letter strong in the first paragraph.
Start the cover letter with an achievement you're proud of, a recent award, or some interesting fact that shows your interest in the role. Hook the recruiter into reading more about your experience and skills.
3. Explain your motivation in the second paragraph.
Your cover page for a resume hooked the hiring manager, don't let them go! Emphasize how your expertise and career skills are just what the doctor ordered for their company pains.
4. End with a call to action.
Writing a generic "looking forward to hearing from you" at the end of a resume cover page isn't going to get you anywhere. Reiterate your value to the company and ask for a meeting or call.
5. Finish off with a professional cover letter closing.
Thank the hiring manager for their time, add a professional cover letter closing, sign your name, and add a cover letter enclosure if applicable.
Pro Tip: Sending your resume cover page as an email? The formatting of an email cover letter is a little simpler, and you can leave out the addresses from the top and just start from the salutation.
Read more: What to Put in a Cover Letter
When making a resume in our builder, drag & drop bullet points, skills, and auto-fill the boring stuff. Spell check? Check. Start building a professional resume template here for free.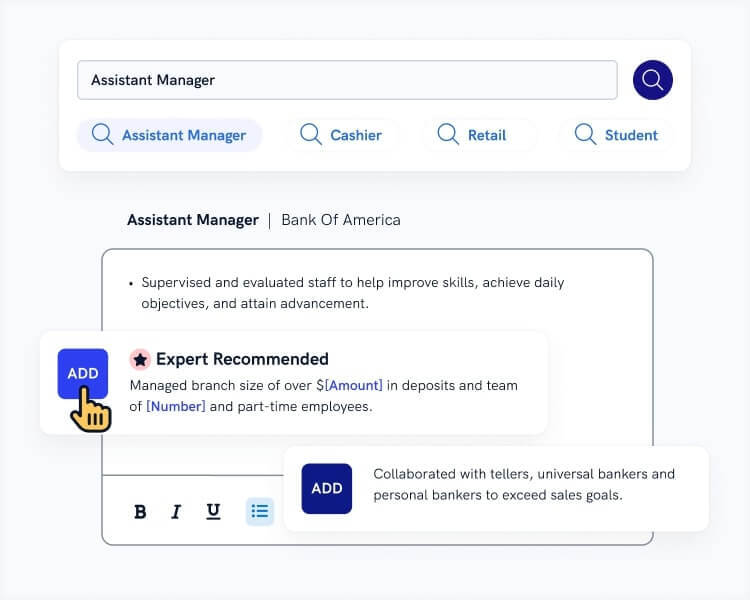 When you're done, our easy resume builder will score your resume and our resume checker will tell you exactly how to make it better.
How to Format a Resume Cover Page
Now that you know what a resume cover sheet is, you can turn your attention to the formatting. Your resume cover page needs to be just as stylish and professional as your resume. After all, they work best as a team.
Here are the best tips on how to format your resume cover sheet:
Use a 1" margin on all sides of the page.
Use left-align to adjust your page contents to the left side of the page.
Set your cover letter spacing to single or 1.15.
Include a digital copy of your signature (if you have one) for a nice, personal touch.
Use a modern, professional cover letter font throughout.
Save your cover letter in PDF format. This will keep it from looking like something the cat dragged in when opened.
Check that you have a formatted cover letter title so that your covering sheet doesn't get lost.
Read more: How Important is a Cover Letter?
Resume Cover Page Example
That may seem like a lot of information to take in, but rest easy, it's not as hard as it may look.
Take a look at the cover page for a resume example below to see how all those tips come together:
Cover Page for a Resume (Example)
Kelly Madore
Software Developer
kelly.madore@gmail.com
linkedin.com/in/kellyzetymadore
Bryce Godwin
HR Manager
QYZ Corp
3810 Rardin Drive
San Carlos, CA 94070
March 12, 2019
Dear Ms. Godwin,
Two months ago, I shattered a record I had previously considered unbreakable. My solutions for developing and optimizing ABC's flagship apps and online software helped increase annual mean NPS to a staggering 61.8 (37% increase). Soon after, I came across the opening for Software Development Team Lead at QYZ Corp. As a lifelong fan of your cutting-edge software solutions, I immediately knew that this post was the perfect match for my skills and expertise.
I know your main focus for the upcoming 18 months will be developing new mobile apps for personal finance management. In my current position as IT Team Lead with ABC Inc., my primary challenge has been to supervise the development and design of our mobile and desktop applications for a flawless user experience. Here are some of my most recent results:
3 out of the 4 apps I developed in 2018 were rated 4.7 stars in both AppleStore and Google Play.
Upgraded premium versions of our products increased quarterly revenue by 86% in 2018 Q4.
New Help Desk solution cut Customer Effort Score by 31%.
With more than 10 years of experience in software engineering, I am positive I can help QYZ Corp achieve similar results.
End User Satisfaction has always been the single most important KPI for measuring my team's performance. I know that this value is also the cornerstone of XYZ's mission and vision—that's why I was so excited when I first saw your opening.
When can we schedule a meeting and discuss how my success at ABC can translate into IT happiness growth for you?
Sincerely,
Kelly Madore
That's all there is to it! I told you resume cover pages weren't as daunting as they sound. Now you can write your own!
Thanks for reading. Do you have any questions about your resume cover page that weren't answered here? Let us know in the comments down below!
About Zety's Editorial Process
This article has been reviewed by our editorial team to make sure it follows Zety's editorial guidelines. We're committed to sharing our expertise and giving you trustworthy career advice tailored to your needs. High-quality content is what brings over 40 million readers to our site every year. But we don't stop there. Our team conducts original research to understand the job market better, and we pride ourselves on being quoted by top universities and prime media outlets from around the world.