Our customers have been hired by:
You know those times that you just can't deal with figuring out what to wear so you just throw on your favorite pair of sweats and consider it done?
That's kind of what a cover letter that starts with To Whom It May Concern is. You didn't know the hiring manager's name so you'll just go with this common phrase and call it a day.
But just like a pair of comfy sweats isn't the greatest idea for every situation, a To Whom It May Concern in a cover letter may sometimes cause a lot more harm than good.
This guide will show you:
Why this generic phrase is a poor choice.
Alternatives to To Whom It May Concern that work better.
The ideal way to address the reader to create rapport.
Want to write your cover letter fast? Use our cover letter builder. Choose from 20+ professional cover letter templates that match your resume. See actionable examples and get expert tips along the way.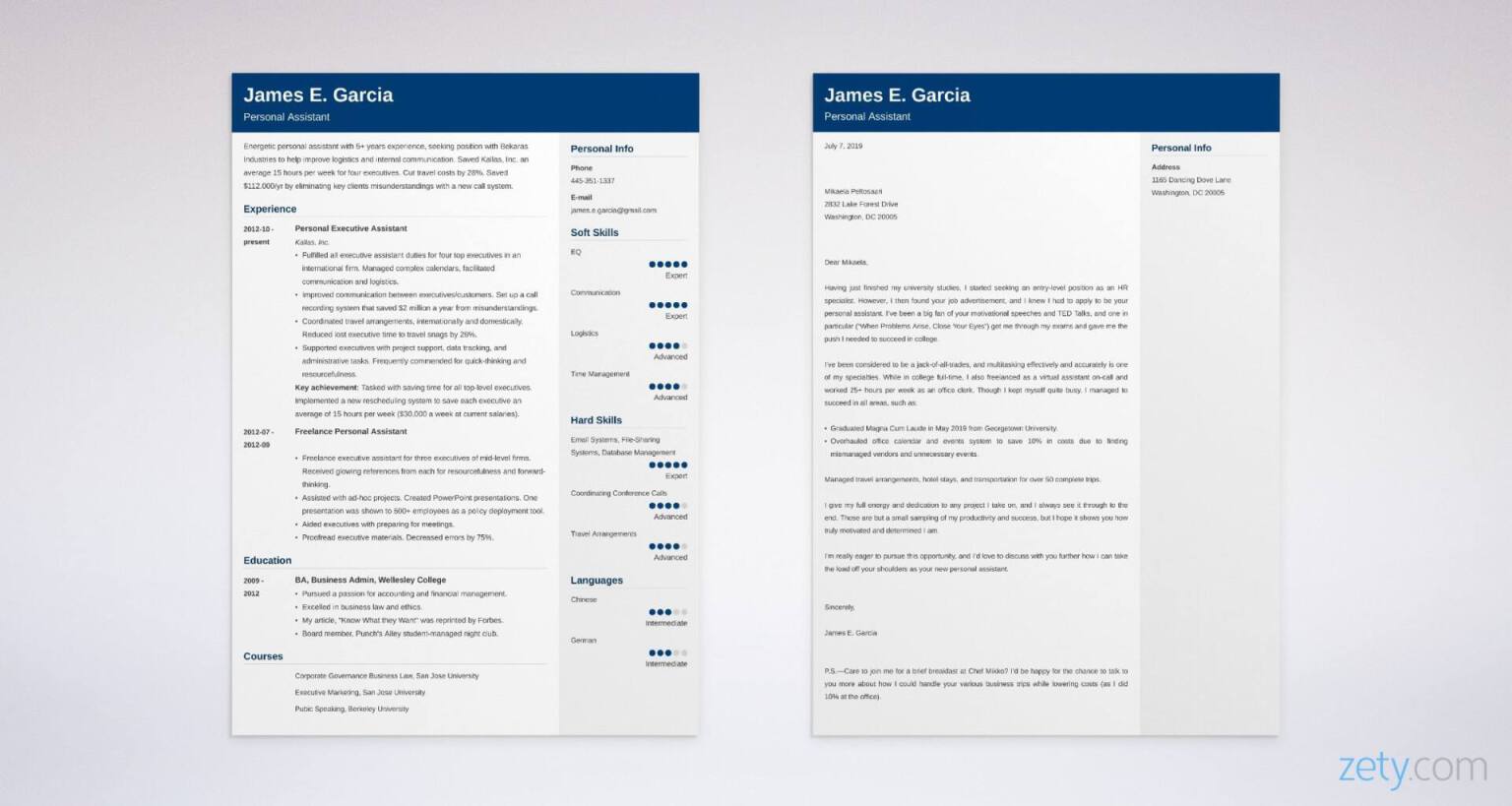 Sample cover letter for a resume—See more cover letter examples and create your cover letter here.
Take a look at these handy articles about cover letters:
"To Whom It May Concern" in a Cover Letter
To Whom It May Concern is a general way to address correspondence to a recipient whose name is unknown. It's a formal choice of words that hasn't dated well and comes off as impersonal, tired, and potentially irate or desperate.
To Whom It May Concern has been around so long that is has almost become a type of cover letter format. It's not. It's merely a phrase used in place of simply not knowing who you're sending your cover letter to. Now it's considered overused and archaic and makes you just look like you're too lazy to find a simple name.
That's where it gets tricky. What if you've searched and still have no idea what the hiring manager's name is? Or they have a gender neutral name? What then? What cover letter salutation do you use?
Let's go through each situation you might encounter when sending out your cover letter.
Why You Should Avoid Using "To Whom It May Concern"
Here's the thing—recruiters don't sit down to have a relaxed, pleasant read of your cover letter. They scan.
There's a good chance that if a hiring manager sees "To Whom It May Concern" at the top of their cover letter, they'll automatically toss it, thinking that you've sent them some generic "pls hire me" note.
To avoid that, try these tips to find a name to add to your cover letter salutation:
Scan the job ad if there isn't a name or title listed. Check the email you need to send your application to, sometimes there's a name there.
Read through the company's "about us" or "our team" pages to see if there's someone there who already works in or leads the department you want to get into.
Check LinkedIn to see if you can find some relevant employees of the company you're applying to.
Ask a friend or colleague in the company if they can supply you with a name.
Call the company and simply ask for the name of a person tied to the job opening.
All these strategies can not only end up giving you a name, but also demonstrate that you put in some effort to make your cover letter the best it can be and quality is what hiring managers are looking for.
Read more: How to Write an Effective Cover Letter
When making a resume in our builder, drag & drop bullet points, skills, and auto-fill the boring stuff. Spell check? Check. Choose a resume template here.
When you're done, our easy resume builder will score your resume and our resume checker will tell you exactly how to make it better.
"To Whom It May Concern" Alternatives
In all honesty, even though you can use "To Whom It May Concern" when you're addressing your cover letter to unknown recruiters, there are better options out there. And no, I'm not talking about "Dear Sir or Madam" since that's considered just as old fashioned. It's always better to be more specific.
Here are some better options for addressing a cover letter with no name:
Dear Recruiter
Dear [Department] Manager
Dear Recruiting Manager
Dear Hiring Team
Dear HR Manager
Dear HR
Dear [title of the person you would be reporting to]
The last tip is especially useful given that many job ads will mention who you would be reporting to if you're hired. Use that to target your salutation even if there are small chances that your future boss will actually be the one reading it. It shows that you at least made the effort.
Remember, make sure to get your whole cover letter heading format right—your salutation shouldn't be the first thing on your cover letter.
Read more: How to Address a Cover Letter
When Can You Use "To Whom It May Concern" in a Cover Letter
First, let's play devil's advocate. Arguably, you can use "To Whom It May Concern" in your cover letter only in the following situations:
1. The name of the hiring manager is nowhere to be found
That can be relatively common when applying through recruitment or headhunting agencies or some companies that have specific concerns with sharing employee information. This can also pop up if you're making an inquiry when no open position has been listed.
If you've done what you could and still come up nameless, a generic greeting is better than nothing at all (especially "Hello!"). That's when you can start your cover letter with "To Whom It May Concern".
2. The name of the hiring manager is gender neutral
Let's say the recruiter's name is Casey Waters. Great! You send out your cover letter that starts "Dear Mr. Waters." And Casey is actually a woman.
What happens next will depend on the sensitivity of the hiring manager, but why even put yourself in that position in the first place? Using "To Whom It May Concern" takes away the chance of unintentionally offending your potential employer.
3. The hiring manager is actually a group of people
There are times that the company is so large or the number of open positions so numerous that there will be a team of people dealing with recruiting. Obviously, it's next to impossible to get a name then and even if you do find one, you can't be sure that's the one who will read your cover letter.
But, like it or not, even in situations above the use of the phrase in question is discouraged.
How to Write "To Whom It May Concern"
If you're in a situation where you need to use "To Whom It May Concern" in your cover letter, you need to know how to add it to your covering letter format properly.
1. Capitalize the first letter of each word.
Mind you, even the minor words are capitalized.
2. Use a colon after "To Whom It May Concern".
A colon rather than a comma should follow the cover letter salutation.
3. Add a space or double space before the beginning of the letter.
Improve readability by ensuring your resume cover page has enough white space.
Here's how your cover letter intro should look like:
Spelling and Punctuation For "To Whom It May Concern"—Sample
To Whom It May Concern:
[space]
First paragraph of cover letter
Read more: How to Start a Cover Letter
Key Takeaway
Even though there are situations in which you have to address a cover letter with no name, using "To Whom It May Concern" isn't necessarily the best option.
When thinking about how to address your cover letter to an unknown recruiter, keep this in mind:
Using "To Whom It May Concern" is only acceptable in a few circumstances.
Always put in your best effort to find the hiring manager's name or title.
When using "To Whom It May Concern", remember to use proper capitalization and punctuation.
That's it! Not too hard, was it?
Have any questions about how to write a "To Whom It May Concern" cover letter? Drop a comment down below!
About Zety's Editorial Process
This article has been reviewed by our editorial team to make sure it follows Zety's editorial guidelines. We're committed to sharing our expertise and giving you trustworthy career advice tailored to your needs. High-quality content is what brings over 40 million readers to our site every year. But we don't stop there. Our team conducts original research to understand the job market better, and we pride ourselves on being quoted by top universities and prime media outlets from around the world.
Sources