Our customers have been hired by:
You're here because you already know you have to send a cover letter with your resume—
Because they're explicitly asking for it. Or because you've heard it helps.
In either case, your cover letter has to say why it's you they're looking for. And not those 250+ other candidates.
But how to say it exactly?
You'll learn it here.
In this article I'll show you:
What to say in a cover letter, step-by-step, section-by-section.
Tips and examples to help you start, develop and finish your cover letter like a pro.
How no to self-sabotage your efforts, i.e. what not to say in a cover letter.
Want to write your cover letter fast? Use our cover letter builder. See 20+ cover letter templates and create your cover letter here.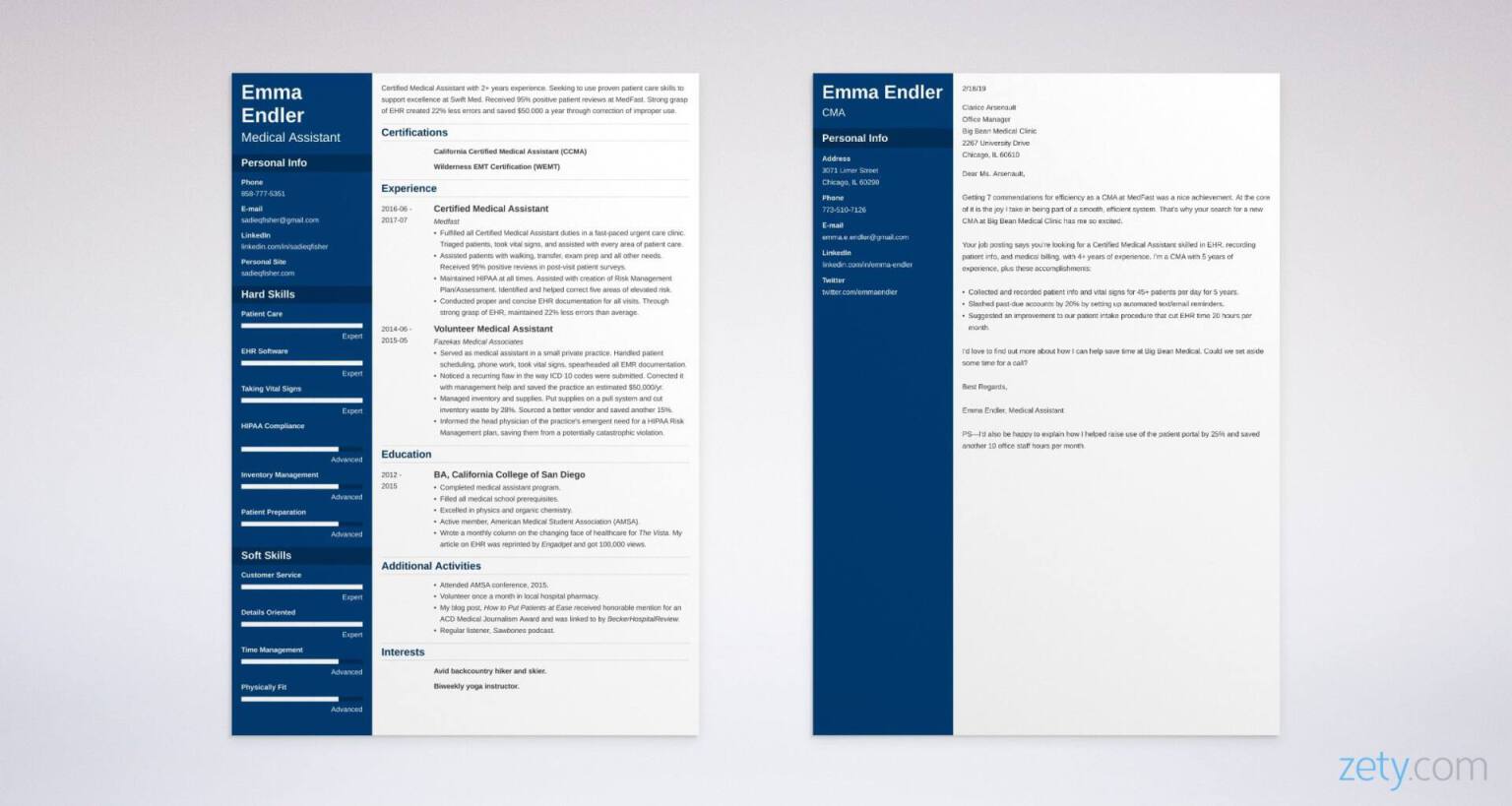 Sample cover letter for a resume—See more cover letter samples and create your cover letter here.
Want to see what makes a great cover letter? Read our guide: All You Need to Know About Cover Letter Writing
Looking for cover letter examples for different job titles? Visit: Free Cover Letter Examples for Jobs: 20+ Best Samples
Pressed for time? Check out: A General Cover Letter that Isn't Generic: Sample for Multiple Positions [Tips]
And here you'll get some last-minute tips you can apply in minutes: 35+ Job Winning Cover Letter Tips & Examples
Here's what a cover letter should say:
Who you are, and what position you're targeting.
What makes you a good fit for the job.
Why you want to join the company and what you have to offer.
That you're available for an interview.
Now, let's break it down section-by-section.
1
Create a Professional Header for Your Cover Letter
Your cover letter header is the first thing that will catch the recruiter's eye. That's why you have to get it right.
What to include in a professional cover letter header?
Look at the list of necessities below:
Cover letter personal info must-haves:
Your name
Your telephone number
Your email address
Cover letter personal info nice-to-haves:
Your professional title
LinkedIn profile
Links to your professional websites
Your home address
City of your residence (add only when your cover letter is meant to be very formal)
Cover letter addressee's details:
Hiring manager's name & professional title
The name of the company you're applying to
See the example below:
Cover Letter Header Example
right
Sarah Marley
Elementary Teacher
20904 Mississippi Road
Brimson, Missouri, MO64626
816-202-3300
sarah.marley@email.us
linkedin.com/in/sarahmarley
Brimson, 2/30/2019
Principal John Smith
Greenvillage Elementary School
3011 Creek Road
Brimson, MO64430
Pro Tip: If you can't find the hiring manager's name, include the name of the department you're targeting. For instance: "ABC Editorial Department."
Find out more about addressing cover letters in our dedicated guide: How to Address a Cover Letter: Sample & Guide [20+ Examples]
2
Use a Proper Greeting in Your Cover Letter Opening
How to properly open your cover letter?
Begin with a professional cover letter salutation. The rule is simple: address the hiring manager directly. You have two options:
If you're targeting corporate jobs, go for the more formal version like "Dear Ms. Jones,"
If you're applying to a more relaxed company, use the recruiter's first name, i.e."Dear Anna,"
When addressed directly, people get immediate interest in the issue. That's how our brains work.
And that's why you have to use the right greeting in your cover letter opening.
Plus, thanks to a personal salutation you'll prove you've tailored your cover letter to this specific company and no other.
If you're serious about getting that job, you have to tailor both your cover letter & resume to the job offer. Learn how to do it here: 6 Tips on How to Tailor Your Resume to a Job Description
3
Write a Compelling Cover Letter First Paragraph
The first paragraph of your cover letter has to be catchy.
Why? If it isn't, the hiring manager won't even read the rest.
So, what to say in your cover letter intro paragraph?
Put "your story" in the context of the company and grasp their pending needs. Mention one or two skills and achievements that show you've got what they're looking for.
You can also do the following:
Add a fact about the company to show the recruiter you did your research and you really care.
Show your enthusiasm. Recruiters love hiring people who are passionate about what they do.
Here's an example of a compelling cover letter first paragraph for an elementary teacher:
What to Say in a Cover Letter⁠—First Paragraph
right
As a devoted teacher with 4+ years of experience teaching at first- to third-graders, I was excited to see your opening for an elementary teacher position. I'm a great

fan of the cooperative teaching techniques you introduce at XYZ Elementary School

and I'm sure my

expertise may contribute to your institutio

n. In my previous position, I

designed a course of math and science activities that students performed in small teams. They had an opportunity to support each other and cooperate in a natural and creative way

.
Now take a close look at this:
wrong
I am writing in regards to your opening for an elementary teacher position. I have plenty of experience in teaching early graders. In my daily work I introduce a variety of modern teaching techniques. I also like to enhance kids' creativity.
What's so great about the first cover letter intro?
It doesn't just say "I'm the one you're looking for." Apart from the candidate's skills and experience, it brings a fact about the school and directly responds to their profile. Plus, there's loads of real enthusiasm—a must when you're a teacher.
The wrong example?
This cover letter opening paragraph is packed with generic statements that just don't tell anything about the candidate. It could fit any teaching position. And none at the same time.
Pro Tip: Always mention the company's name in your cover letter first paragraph, too. This way you'll highlight you've made a real effort to tailor your cover letter to their job posting specifically.
Looking for more tips on how to open a cover letter? Go to our dedicated guide: How to Start a Cover Letter: 20+ Great Opening Lines & Paragraphs
4
Prove You're The Perfect Fit for the Position
Okay, you've got their attention. Time to keep it.
Asking yourself what to say in a cover letter body? This and the next section will tell you everything.
The second paragraph of your cover letter has to explain how they'll benefit from hiring you. That's exactly what the hiring manager wants to hear.
Follow the steps below and show the recruiter you're the right candidate:
Read the job offer closely and identify the company's needs.
Review your work history. Pick duties and accomplishments that resonate with these needs.
In your cover letter second paragraph, list one or two examples of your relevant experience that fits the job offer requirements.
See the example below:
Cover Letter—Second Paragraph Example
right
At ABC School, I

designed state-level lesson plans

that combined various

curriculum elements

and

incorporated activities based on modern technology

. I

prepared a set of involving online tutorials and engaged students to prepare digital presentations on local culture and art

. I know you value modern approaches and context-based teaching methods. I followed these ideas when preparing students for class tests—which resulted in

20% test scores improvement in half a year

.
This second paragraph of a cover letter for a teaching position says it all:
They're looking for a person with a modern teaching approach who is familiar with the state curriculum. The candidate proves this and mentions the teaching methods she used improved the average test scores by 20%.
wrong
At ABC School, I followed standard lesson plans, plus I incorporated authorial online classes and activities. I encouraged students to participate in the classes and patiently prepared them for class tests. The test results improved towards the end of the school year.
Can you see the difference?
This cover letter paragraph is not terrible, but it's not impressive either. It doesn't resonate with the school's values, and it lacks quantifiable achievements.
Pro Tip: Avoid using clichés. Instead of saying "I'm the perfect fit for this position," prove that. Quantify your accomplishments using numbers and percentages.
A well-composed cover letter can double your chances of winning an interview. But even the best cover letter won't work without a perfect resume.
When making a resume in our builder, drag & drop bullet points, skills, and auto-fill the boring stuff. Spell check? Check. Start building a professional resume template here for free.
When you're done, our free resume builder will score your resume and our resume checker will tell you exactly how to make it better.
5
Explain Why You're Motivated to Join Them
Welcome to the third paragraph of your job-winning cover letter.
What should you say here? Why you want to join this company, and no other.
There's a simple pattern to show your motivation to the recruiter:
Mention a fact about the company, e.g. their recent project.
Say what you like about it.
Tell them how your experience resonates with what they do—and reiterate your value.
Check out these examples:
Cover Letter—Third Paragraph Example
right
I know that your school has currently

engaged in a teaching psychology project

that promotes positive reinforcement techniques and helps teachers recognize kids' learning needs.

What I love about teaching children

is that you can support their natural development on a daily basis. I'll be happy to

use my background in psychology to create an encouraging learning environment

that helps them obtain learning goals at their own pace.
This candidate has done her research. She's passionate about something that is valuable for the school she is applying for.
Now how about the example below?
wrong
I know that your school helps teachers recognize kids' learning needs. I always try to support kids' natural development and look at each student individually. I'm really into psychology, too. I attended various workshops on teaching-related topics, and I believe this could contribute to your school's needs.
Similar but less to the point. The school principal won't know what "various workshops on teaching-related topics" actually mean.
When addressing your potential employer's values you always need to be specific.
Pro Tip: Wondering how long should your cover letter be? Keep it short and sweet. Cover letters longer than three paragraphs or one page don't get the credit.
Your cover letter is almost ready but you've got the impression you're missing something? Use our checklist to make sure your cover letter has it all: What to Include in a Cover Letter (15+ Examples)
6
Close Your Cover Letter with a Call to Action
We're almost there.
Almost—because you need to close your cover letter in style.
What to say in a cover letter ending? Include a powerful call-to-action.
Like in the example below:
Cover Letter Closing Paragraph
right
I would be thrilled to discuss how my strong context-based teaching background and communication skills can further develop your students.
Sincerely,
Sarah Marley
Want to see more examples of professional cover letter endings? Check out this guide: How to End a Cover Letter [20+ Examples of Great Closing Paragraphs]
7
Use a Formal Cover Letter Closing
You might think that singing off a cover letter is easy peasy.
Well, you can still get it wrong.
Here's what a professional cover letter closing looks like:
Write "Sincerely" followed by your full name.
Add a hand-written signature below a digital sign-off. It's not compulsory but it looks good on formal applications.
Include a cover letter enclosure if applicable.
Optionally, repeat your phone number and email address to make it easier for the recruiter to find your contact details.
Instead of "Sincerely," you can use these alternative sing-offs:
Thank you,
Best regards,
With best regards,
Kind regards,
Respectfully,
Regards,
Sincerely yours,
Sent your cover letter a long time ago but you're still waiting for a reply? Follow-up! Here's how to do it right: How to Follow up on a Job Application in 6 Easy Steps
Last but not least, add a postscript to your cover letter.
It's not a must but it can be a real game changer.
Why?
A tasty PS works like a secret note. It's intriguing and makes the recruiter more curios. Fun fact is it may actually be the first thing they'll spot and read in your cover letter.
Your cover letter postscript doesn't have to be specifically related to the job ad. It just needs to tease them and show your value as their future employee.
But—
When writing a PS note, don't look too needy. Instead of imposing yourself, say you'd be happy to share more details about one more accomplishment of yours.
Here's an example
Cover Letter Postscript Note
right
PS—I would also value the opportunity to tell you how I helped my students win an annual Early Maths Olympiad competition.
wrong
PS—I would also be excited to tell you more about my other career gigs, including a wedding coordinator job and a retail position.
See the difference?
Make your postscript note exciting.
Pro Tip: Your cover letter demonstrates your writing skills. Always proofread it before sending your application. Typos and grammar errors will act against you.
Applying for a job via email not a job board? Send an email cover letter to remember. Here's how: Email Cover Letter: Sample & Proper Format [20+ Tips]
9
And Make Sure Not to Say This in Your Cover Letter
You already know each part of your cover letter has to sell you as their best pick.
But don't get carried away—
Some things you might be tempted to say in your cover letter will actually work against you.
To the point of botching your chances for this job.
Here's what not to say in a cover letter:
Avoid generic statements like "I'm looking for a job in an X sector." Are you looking for any job in the industry or you want this one? Show the recruiter that you target this position at this company—and no other.
Don't use meaningless buzzwords like "goal-oriented", "good communicator", "team player." These are just words. You need to prove your features with measurable accomplishments.
Don't oversell yourself. "I'm a perfect fit for the position," "You can always count on me," "I'm exactly what you're looking for" are subjective statements that make you look overconfident. You don't want this.
Now that you know what should a cover letter say—
Go and write a killer one yourself!
Here's a recap of what to say in a cover letter to get any job you want:
Create a professional cover letter header.
Address the hiring manager by their name and write a strong opening statement.
Show your proudest accomplishments and explain your motivation for applying for this specific.
Say how you can help the company with their goals.
Finish by making an offer (in a call-to-action) and add a tasty PS note with one more achievement relevant to the job opening.
And avoid writing clichés. They'll never work in your favour.
Still wondering what to say in a cover letter for a job? Writing a cover letter from scratch? Tweaking the one you already have? Give me a shout in the comments. We're happy to help!
About Zety's Editorial Process
This article has been reviewed by our editorial team to make sure it follows Zety's editorial guidelines. We're committed to sharing our expertise and giving you trustworthy career advice tailored to your needs. High-quality content is what brings over 40 million readers to our site every year. But we don't stop there. Our team conducts original research to understand the job market better, and we pride ourselves on being quoted by top universities and prime media outlets from around the world.