How to Follow Up on a Job Application (Email & Phone)
Once you've submitted your job application, don't just sit and wait. Employers expect you to follow up! Learn how to write a perfect follow-up email and get more interviews ASAP!
Want to learn how to follow up on a job application? I know it may feel like treading on very thin ice. You don't want to seem too pushy or impolite. But you also don't want another candidate to do it and fill your spot.

Luckily, there are some proven ways of following up on a job application that will boost your chances of getting hired. And we're about to share them with you, together with a killer job follow-up email sample.
This guide will show you:
A step-by-step formula for following up on every job application.
How to write a follow up email to land more interviews.
Sample follow-up email better than 9 out of 10 other ones.
How to follow up on a job application status by phone.
Want to save time and have your resume ready in 5 minutes? Try our resume builder. It's fast and easy to use. Plus, you'll get ready-made content to add with one click. See 20+ resume templates and create your resume here.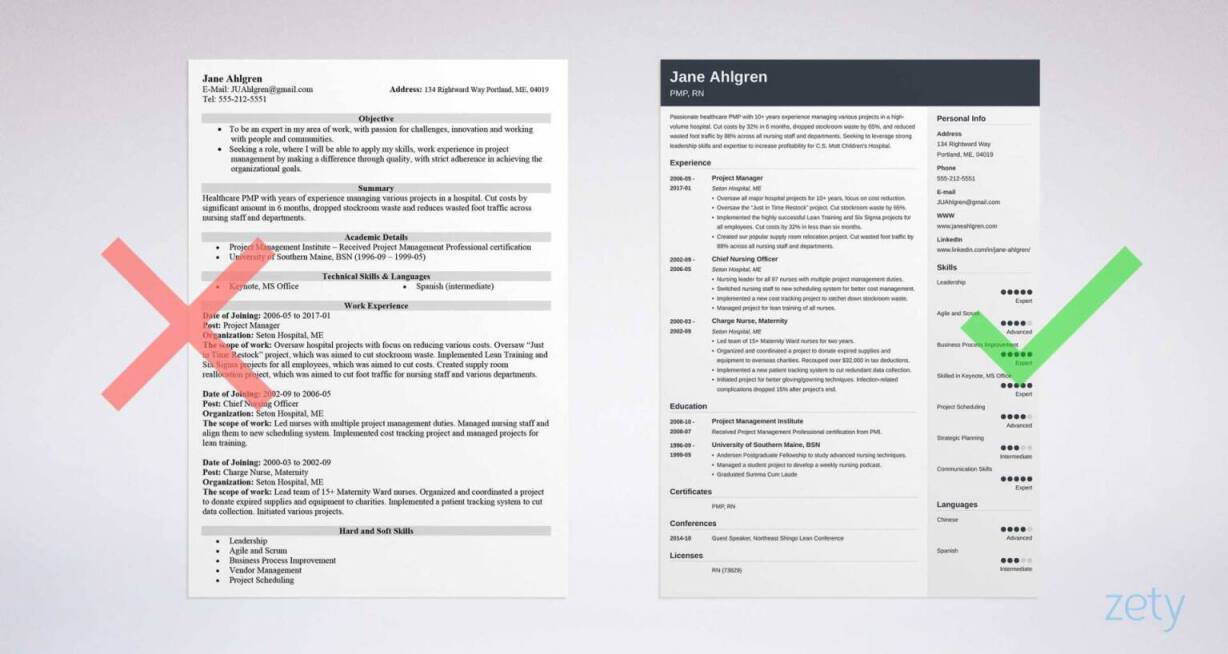 Sample resume made with our builder—See more resume examples here.
Already had your interview but still no response? Learn how to follow up from our handy guide: Follow-Up Email after an Interview: 10 Samples & Templates That Work
Are you still working on your letter of interest or cover letter? See:
1
Following up on a Job Application: The Basics
So you've submitted the best version of your resume. Congratulations! Yet, it's just the beginning of the hiring process.
The first step is the hardest:
You wait.
It's frustrating, I know. Yet you have to give the employers some time to review your application before you can follow up.
And yes, follow-ups are more than OK. A recent study asked how long should a job seeker wait to follow up with the hiring manager after submitting a resume. The answers?—
Less than one week: 19%
One to less than two weeks: 43%
Two to less than three weeks: 30%
Three weeks or more: 8%
They shouldn't follow up: 0%
When to follow up on a job application?
There's no fixed rule, but in general: no sooner than a week after submitting your resume.
Two weeks and no job offer letter coming your way? Now you definitely have to follow up.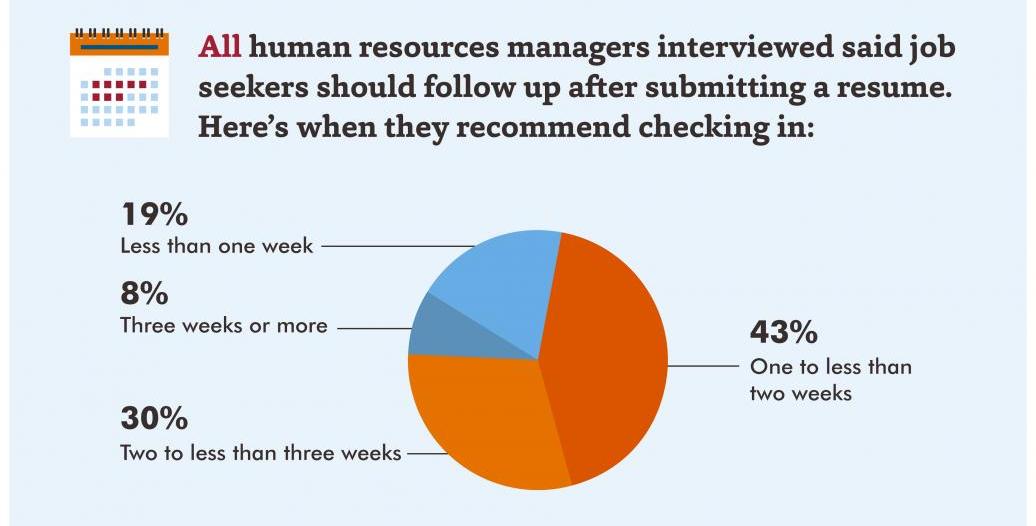 Pro Tip: Before you follow up, have another look at the job posting. Sometimes employers explicitly state that they do not want you to reach out to them to ask about your application status at this stage. In other cases, the exact response date is provided in the job ad. Play by the rules. Following up before the due date will be rude at best and will hamper your chances of landing the job at worst.
Alright, so you've waited. It's been a week or two since you applied and there's still no answer. Game on!
Here's how to follow up on a job application or resume:
1. Use Your Connections
Go through your business and professional contacts to see if you know anyone from the company.
If you do, ask them to inform the proper hiring manager about your application, or to put you in touch with someone in charge of the recruitment.
Don't have any contacts in the company?
2. Get the Hiring Manager's Contact Details
First, check if contact information is provided in the job offer.
If you've applied via a job board and there's no direct email address in the job posting, check the company's website for your hiring manager's email address.
Not there? Call the company's main desk and simply ask. That'll do the trick.
Then...
3. Write a Perfect Follow-Up Email
Open your follow-up email by thanking the recruiter for considering your candidacy.

Highlight details and specific aspects of the company or the position you apply for that resonate with you most.

Mention your qualifications briefly.

Explain why you're the perfect fit for the job.

Add that you're willing to provide additional information, such as references or a portfolio of your works.

Finalize your follow-up email by saying that you look forward to talking more about your qualifications and the opening you've applied for.
Let's see how it works in practice.
Sample Resume Follow-Up Email
Hello [Hiring Manager's Name],
Last week, I applied for the position of [position title]. I would like to kindly ask you if you could provide me with your decision timeline.
I am very enthusiastic at the prospect of joining your team and leveraging [your specific skills, knowledge, and experience] to help you [what profit you'd bring to the company].
Please let me know if you need any more details about my application. I look forward to speaking with you and sharing my ideas on how to help you with your upcoming challenges.
Kind regards,
[Your signature]
[Your LinkedIn profile]
[Your phone number]
You might feel tempted to try and impress the hiring manager by sending an old-school follow-up letter after an application, but it's really not a good idea.
We're living in a digital age where good communication means fast communication.
A paper follow-up letter for your job application status can reach the hiring manager too late to make any difference or, worse yet, it might be treated as some unsolicited junk mail and never get opened.
Writing a resume follow-up email is definitely your best option.
Another week gone and still no response?
4. Make a Phone Call
Begin with asking if it's a convenient time for the hiring manager to speak with you.
If not, ask when you can call them back.
Then—base your phone follow up on the sample script below:
What to Say When Following Up on a Job Application—Sample Follow Up-Phone Call Script
Hello [Hiring Manager's Name], my name is [Your Name]. I submitted my application for the [XYZ] position two weeks ago. I just wanted to make sure you received it and to let you know that I'm still interested in the position. I'd love to talk with you about how I can help you with your upcoming challenges. If you need any additional information, please let me know.
Voila!
The study cited before also found that 46% of hiring managers prefer to be contacted by email, however, 39% were open to follow-ups by phone. Why?
Working professionals get hundreds of emails every day (122 on average, to be precise).
Your job application and your follow-up might have gotten lost in the hiring manager's inbox (somewhere between a newsletter she barely cares for and an internal email about a corporate Christmas Eve.)
A quick phone call will help you solve this problem.
What's next?
5. Don't Get Creepy
Unless the hiring manager set a response deadline and failed to keep it, don't follow up more than twice.
Accept the fact that a given company might not be interested in you and just move on.
Calling or emailing every day or, worse than that, showing up in person to ask about your application will surely discourage the company from hiring you.
By the way, it's plain rude not to respond to any of your follow-ups. If a company doesn't treat you with respect now, why expect them to do it once you start working with them?
Remember, there's plenty of fish in the sea, so...
6. Keep Job Seeking
Even if you think you've found a perfect job for you, don't give up on applying to other companies while waiting for the response.
Don't obsess over one job posting. No matter how great a candidate you are, you might not make it for reasons beyond your control.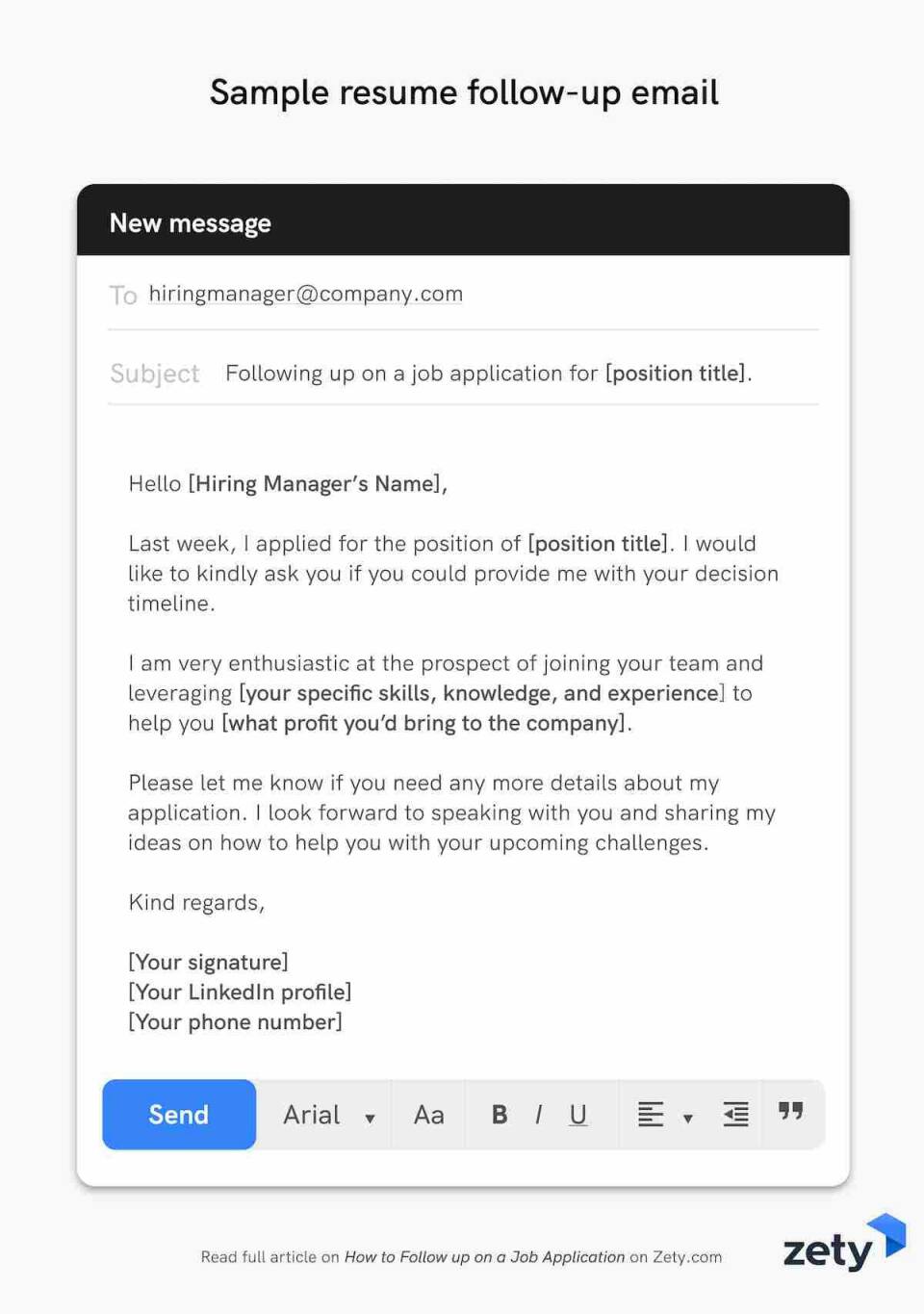 Already interviewed and want to write a perfect interview follow-up email? Have a look at our dedicated guide and learn how to make the most of it: How to Write a Thank You Email After an Interview (+10 Examples)
When making a resume in our builder, drag & drop bullet points, skills, and auto-fill the boring stuff. Spell check? Check. Start building a professional resume template here for free.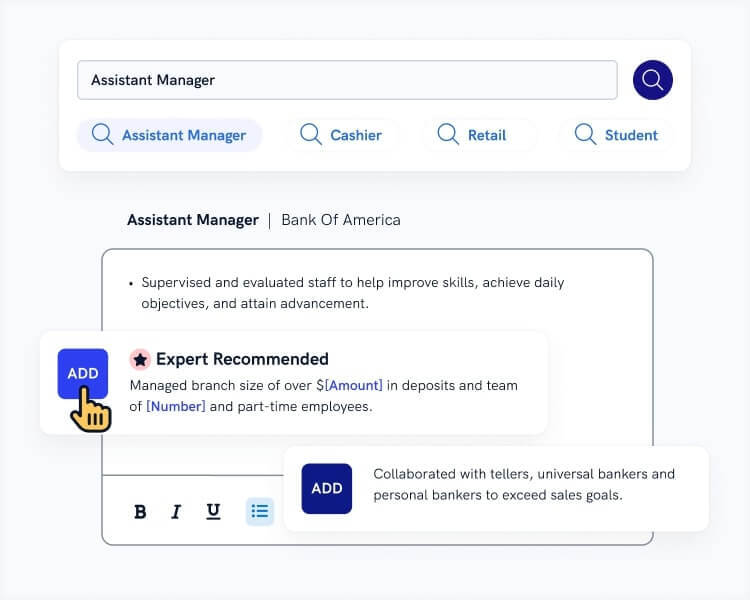 When you're done, our professional resume builder will score your resume and our resume checker will tell you exactly how to make it better.
2
Here's When To Follow Up Sooner
There's one instance in which you don't have to worry about timelines, employer preference or waiting "long enough".
It's when you're offered a position with a different company, but still haven't heard back from your top pick.
If such is the case, follow up straight away.
Message your dream employer and tell them:
That you've received another offer.
That you're ready to turn it down if you're still in the running.
Include a date you're expected to respond.
Sound like too much of a gamble?
Well, it might be. But sometimes it's worth it.
Here's a personal story—
I got my current job solely because of the right follow-up.
I received another offer, but didn't really want it. What did I do?
Here's the key: I provided value.
I wrote a sample article for the Zety blog. Then I attached it to the following email message:
Hi,
Please excuse my bothering you. I've just received a job offer which I'll be happy to turn down if you'd care to have a look at my writing and give me a go.
Please find attached a sample article for your blog. Free of charge! Let me know what you think.
The following day I got one of the shortest emails I've ever read: "When can we schedule an interview?"
Trust me, this strategy can work out for you as well. But remember: if you do it, you have to give your prospective employer a sneak peek of your skills.
Make them realize that they cannot afford to miss out on you.
Pro Tip: Not getting interview invites? Recruiters and hiring managers look up candidates on LinkedIn and other social media platforms. Your online presence might be to blame. When looking for a job, make sure that your LinkedIn profile is up to date and that you're not sharing anything inappropriate or unprofessional across your online accounts. Read our guide to make the most of your LinkedIn profile: How to Check Your Online Presence Before Recruiters Look You Up.
Want to learn how to email a resume the right way and get ahead of your competition? Read our guide: How to Email Your Resume to Get More Job Offers (Examples)
3
How to Know Exactly When to Follow Up
The job application follow-up has two purposes. First of all, to remind the hiring manager about your candidacy. Secondly, to help you put an end to the dreadful uncertainty.
Has my job application reached the hiring manager? Have they already seen my resume?
Guess what: you don't have to ask yourself these questions. There's an easy way to know if and when your resume has been opened.
First of all, you can start tracking your emails by using free email tracking software such as MailTag. Sure, knowing that your resume email has been opened doesn't guarantee that the hiring manager has actually read your resume. But you'll be able to make an better informed decision about following up.
Then again, there's one more thing you can do.
Make an online resume and include the link in your job application email. Imagine you no longer have to ask "Have you, by any chance, seen my resume already?" You'll know exactly when to follow up and what to say.
Plus, a great cover letter that matches your resume will give you an advantage over other candidates. You can write it in our cover letter builder here. Here's what it may look like: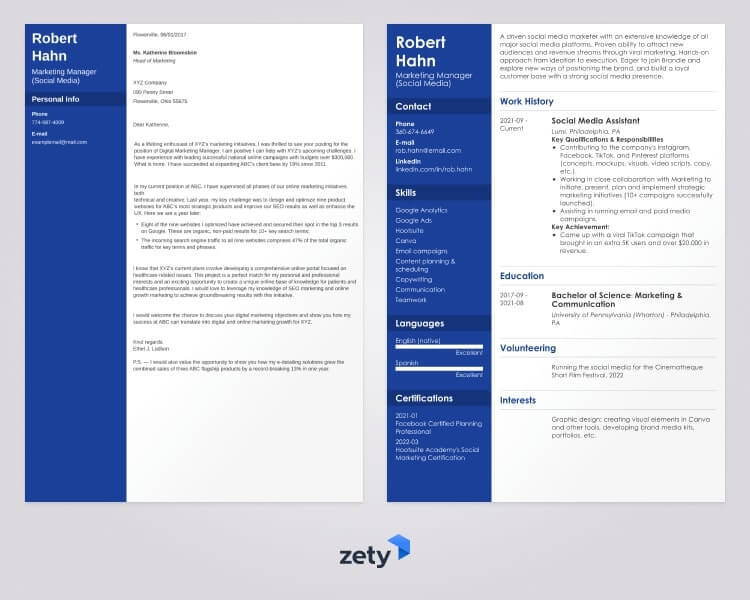 See more cover letter templates and start writing.
Key Takeaway
Following up on job applications might feel awkward, but it's expected of you. Don't think you're "bothering" the hiring manager - you really aren't.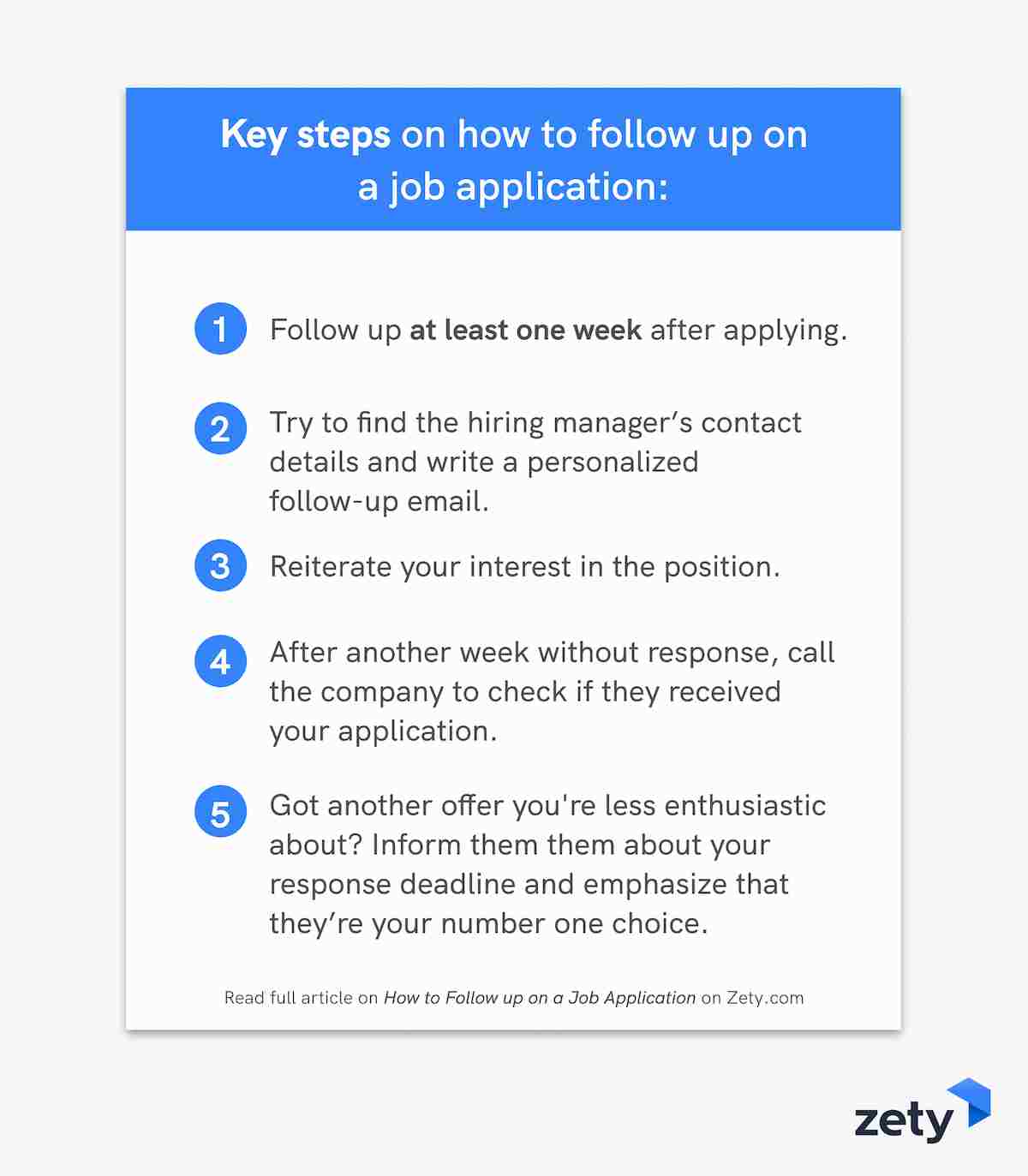 Here's a quick recap of the key steps on how to follow up on a job application or resume:
Follow up at least one week after applying.
Try to find the hiring manager's contact details and write a personalized follow-up email.
Reiterate your interest in the position and say why you'd perform well in the job.
After another week without response, call the company to check if they received your application.
If you're offered another job, follow up with your most desired employer right away.
Inform them about your response deadline and emphasize that they're your number one choice.
Do you have any additional questions on what to say when following up on a job application? Want to learn more about writing resume follow-up emails? Give us a shout in the comments and we'll answer you questions.
About Zety's Editorial Process
This article has been reviewed by our editorial team to make sure it follows Zety's editorial guidelines. We're committed to sharing our expertise and giving you trustworthy career advice tailored to your needs. High-quality content is what brings over 40 million readers to our site every year. But we don't stop there. Our team conducts original research to understand the job market better, and we pride ourselves on being quoted by top universities and prime media outlets from around the world.