You obviously have a lot to say about yourself.
The problem is that recruiters won't have time to read your cover letter—
Unless it has has just the right length.
In this article, you'll get to see an example of a cover letter with the right word count. Plus, we'll answer a couple of nagging questions about the length of a cover letter, like "Can a cover letter be 2 pages?" We'll also share tips on how to keep your cover letter length under control.
Interested? Read on.
Want to write your cover letter fast? Use our cover letter builder. Choose from 20+ professional cover letter templates that match your resume. See actionable examples and get expert tips along the way.
Sample Cover Letter for a Resume—See more cover letter templates and create your cover letter here.
If you have already found the answer to your question, you may want to explore other subjects related to cover letter writing:
1
How Long Should Cover Letters Be—Examples & Explanation
Before you sit down to typing up anything, you need to ask yourself:
What is the purpose of a cover letter in the first place?
Well—
Your cover letter introduces you to the recruiter and it's supposed to get them interested in you as a candidate. As such, it has to be brief and to-the-point—it must strike the right balance between the length and the message.
Recruiters receive dozens of job applications for each position. If instead of the information they're looking for, they come across a story of your life, they'll skip it without batting an eyelash.
So, here are the numbers to benchmark your cover letter against:
Ideal Cover Letter Length

Page count

Approx. 0.5

Paragraph count

3–4

Word count

200–400
And here's an example of a one-page cover letter with the right page, paragraph, and word count:
One Page Cover Letter—Example of a Cover With the Right Number of Words
Sample cover letter made with our builder: See more cover letter templates and create your cover letter here.
The example above shows a cover letter outline. Its length is perfect for a PDF file that you can send as an email attachment.
But—
You may want to write your cover letter in the body of the email you'll be sending to the hiring manager.
If that's the case, just skip the cover letter heading and start with Dear [Hiring Manager's Name]. Plus, make it as compact as possible—get rid of all the fluff and do your best to reduce the message to the absolute minimum. Take a look at how it's done in the example below where the main body is only 120 words:
Short Email Cover Letter—Example
Dear Anne,
I'm very excited about the software engineer position at Igatronix, Inc. I'm confident I can help you become the #1 SaaS video editing platform on the web. For one, I led the team that won the Bossie for an online video editing application.
To me, the Bossie wasn't just an award, but a culmination of:
Eight years as the CEO of a profitable video production firm.
Growing revenue for a SaaS business 22% through superior development.
Advanced product testing, pulling in client teams to boost customer ratings 32%.
I've been a huge fan of Igatronix products for several years. It's your commitment to letting employees guide the life cycle that delivers your success. You value self-motivated, highly creative software engineers, and my record speaks for itself.
Can we set up a time...
The trick is to use experience bullet points to your advantage. They not only make your strongest selling points prominent but also help you save a lot of space.
And, just like with a paper cover letter, make sure you sell:
Why this role.
Why this company.
Why you.
If you don't know how to write a good cover letter email, this article will guide you by the hand: How to Write an Email Cover Letter
When making a resume in our builder, drag & drop bullet points, skills, and auto-fill the boring stuff. Spell check? Check. Start building your resume here.
When you're done, Zety's resume builder will score your resume and tell you exactly how to make it better.
2
How to Arrange Your Cover Letter to Make the Most of Its Length
Here's a typical scenario:
You typed up your entire cover letter and… realized it's more of a novelette than a letter.
Don't worry, though, we're here to help.
First things first—
Can a cover letter be 2 pages?
No. If you ended up with a two-page cover letter, you must shorten it. As already mentioned above, recruiters are flooded with job applications. They simply don't have enough time to read long cover letters at all.
Is my cover letter too long?
Well, if you're somewhere in the ballpark of the figures from the table above, you have nothing to worry about. If, however, your cover letter word count is closer to 800 words… well, a bit of pruning would do it good.
Here are some proven tips to help you get your cover letter length just right:
Focus on the value you bring.
Identify what's relevant and ignore all the rest. How? Treat the job offer as a guide and only touch upon the things it mentions. Say what you can do to help the company in the areas specified by the recruiter in the ad.
Don't write a biography.
Cover letters introduce you to the recruiter. So make sure it's an introduction, not the story of your entire life. If you have no idea how to go about this, read our guide on how to write a cover letter.
Get a second opinion.
Have someone read your cover letter and ask them for a critique. The thing is that it's very hard to see redundancies and inconsistencies in your own piece of writing. Give it to someone who'll look at it with fresh eyes.
Observe the limits.
If the right cover letter length is about 400 words, do your best to stay below this limit. Also, double-check if the employer hasn't specified their own limits anywhere. If they did, stick to these.
Don't reveal everything.
Imposing a limit on the length of your cover letter will make you less likely to give everything away too soon. In other words, do show your best side on the cover letter, but keep some aces up your sleeve for the interview.
Get the formatting right.
White space is your friend, so don't fill up the entire page with densely packed paragraphs. Set one-inch margins all around, left-align the contents, choose an elegant cover letter font, and don't go below 11pt in terms of the font size. But don't overdo it. Adding double spaces between lines of text is not such a great idea—stick to single line spacing or 1.15 at the maximum.
Still not sure how to format your cover letter to optimize its length? Head straight to our guide on Proper Cover Letter Format
Plus, a great cover letter that matches your resume will give you an advantage over other candidates. You can write it in our cover letter builder here. Here's what it may look like: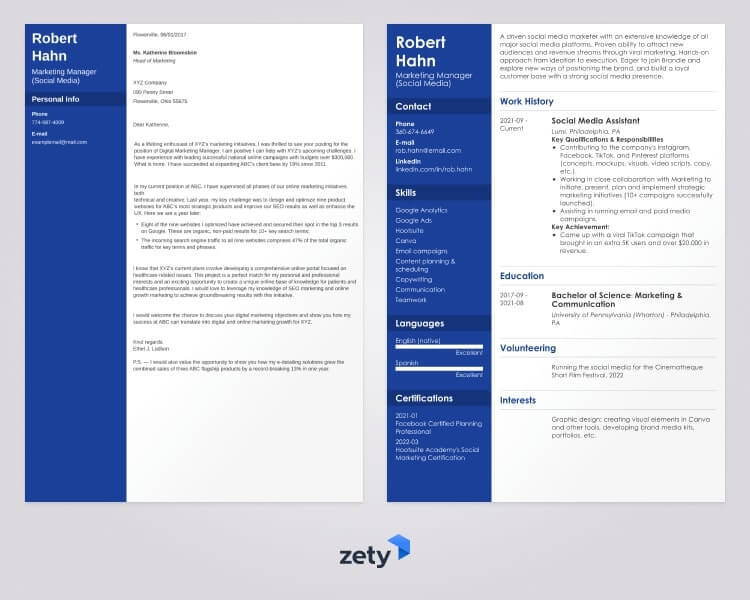 See more cover letter templates and start writing.
Key Takeaway
The ideal cover letter length is:
Less than a full-page
Longer than half a page
Word count: About 250-300 words
Format: 3 paragraphs
But it's the things that make it the right length that land the interview. Fluff should never add to cover letter length.
The ideal length of a cover letter should be decided by how long it takes to prove three things:
Why this job, why this company, and why you.
Want to know more about how long to make a cover letter? What frustrates you about the cover letter length? Give us a shout out in the comments! We love to help!