Cover Letter Spacing & Margins (Double Space or Not?)
You've written a great cover letter. But will the hiring team disqualify you if you flub your cover letter spacing? No, but use our guide to make sure you don't look sloppy.
Cover letter spacing and margins are important. You have to give the hiring team every reason to read your cover letter. And you're here because you have a nagging doubt.
Is your cover letter looking right? Should cover letters be double spaced or single spaced? Are your cover letter margins correct? Well, if you get it wrong, some recruiters will toss your application in the fire. But don't worry.
This guide will show you:
The 11 cover letter spacing rules and guidelines to follow.
Where to set your cover letter margins.
Why you shouldn't double space your cover letter.
Why we don't indent cover letters.
Want to write your cover letter fast? Use our cover letter builder. Choose from 20+ professional cover letter templates that match your resume. See actionable examples and get expert tips along the way.
Sample cover letter for a resume—See more cover letter templates and create your cover letter here.
Wondering how to write a cover letter? What about an email cover letter? What's the perfect cover letter format? See our guides:
1
Cover Letter Spacing Rules
Should a cover letter be double-spaced all over? What type of spacing should you use for a cover letter? Here are the rules of proper cover letter spacing:
Single space your cover letter.
Write your address first.
Skip a line. Add the date.
Skip again. Add their address.
Skip. Add "Dear [HIRING MANAGER],"
Skip. Write first paragraph.
Skip. Second paragraph.
Skip. Third paragraph.
Skip. Add, "Sincerely,"
Skip three lines.
Add your name & title.
Those cover letter spacing guidelines are based on tips from the Professional Association of Resume Writers & Career Coaches (PARWCC).
Rule of thumb:
Should a cover letter be double-spaced?
No. But they skip a line between each section. Then they skip three lines after "Sincerely," (That leaves room for a signature.)
Cover Letter Line Spacing
Line spacing for a cover letter should be 1.5. Shorter line spacing is hard to read. Taller spacing looks simplistic. Some experts say to adjust line spacing to fit the page. That's wrong. If you follow the 3-paragraph letter format, 1.5 is perfect.
Cover Letter Margins
Cover letter margins are 1". That's the universal business letter margin standard. Some experts say to tighten margins on a cover letter to fit your text on one page. That's wrong. If your cover letter doesn't fit one page with 1" margins, it's too long.
Pro Tip: Does your cover letter spacing look unbalanced? According to PARWCC, you can tweak the line spacing a bit to even up the layout.
Wondering exactly what your cover letter should look like? See our guide: What Does a Good Cover Letter Look Like? Format & Layout Tips
2
Snail Mail Cover Letter Spacing Sample [Copy-Paste]
Here's a cover letter spacing sample to start you on the right foot:
Theresa Ramirez
Project Manager PMP
2289 Moonlight Drive
Hamilton Square, NJ
609-969-2189
6/21/19
Ernest Holder
Operations Manager
Compaz IT Inc.
3282 Linda Street
Philadelphia, PA 19108
Dear Mr. Holder,
Cutting costs 25% while raising revenue $250,000 in 6 months at PointsNorthe Global was a rewarding experience. That's one of the reasons I'm excited to apply for the IT Project Manager position at Compaz IT Inc. I heard your talk on the Accidental Tech podcast about your quest to lower client costs while raising quality. It seems like an engaging challenge in line with my skills.
You said on the podcast that high quality and low costs come from an Agile workflow. You said standardized work is a must, along with vendor involvement. At PointsNorthe, I:
Developed the

Agile training

program that got all 37 employees trained in Agile workflow best practices.
Led a project to create

standardized work

for all 7 teams. Cut lead times 20%.
Gained support of

15 vendors

for our Agile program. Cut costs $50,000 per year.
I'd love to learn more about the position and your ideas for boosting quality while dropping costs. Could we set up a time to discuss it?
Best regards,
Theresa Ramirez, PMP
PS—I'd be glad to share how the idea-collection program I developed raised our quality measures 18% across the board.
Perfect.
That cover letter spacing is just right. Single-spaced, with an extra line between each section. (And three lines after "Best regards.") We'll repeat ourselves, but you usually shouldn't double-space your cover letter.
Pro Tip: Do you indent a cover letter? No. Don't use cover letter indents. Indents or tabs at the start of paragraphs are for books and (some) magazine articles.
Cover letter margins and spacing don't matter if you don't need a cover letter. Do you? See our guide: Do I Need a Cover Letter? Are Cover Letters Necessary?
3
Email Cover Letter Spacing Template [Copy-Paste]
Use this email cover letter spacing template to format your email cover letter right:
Dear Ms. Browning,
Raising our Net Promoter Score by a record-setting 28% at NetGlimmer was a nice achievement. Raising revenue by 17% was even better. I think I've got the skills to delight you as a software engineer at FiberCoast Worldwide.
FiberCoast seems like the perfect home for me because my skills fit so well with what you're looking for:
App development.

4 of the 5 apps I developed in 2018 are rated at or above 4.8 stars by 5,000+ customers in Google Play.
Efficiency. I led a workflow-improvement project that cut lead times 23%.
Security. My drive to validate all open-source components caused a 30% drop in vulnerabilities in all production code.
I'm excited about this position. Could you tell me more about it? Also I'd love to explain how my team raised customer retention by 20%.
Best regards,
Helen Whitcher
Software Engineer
917-721-0858
helen.q.whitcher@gmail.com
Nice.
It's short and value-packed. There's no difference between email cover letter spacing and snail mail. Just move your address to the end.
Pro Tip: You don't need to leave three lines after "Best regards" in an email cover letter. Two is plenty. Adding your digital signature is optional (and a bit showy).
Should you tweak cover letter margins to fix your letter's length? See our guide: How Long Should a Cover Letter Be? [Ideal Word Length & Page Count]
4
Cover Letter Spacing & Margins Notes
Did you notice?
Both of the cover letter spacing examples above are short.
A cover letter should be:
200–350 words
About half a page
Three paragraphs
Have line spacing of 1.5
Use 10–12 point font
Use an easy-reading font like Arial, Times New Roman, Calibri, or Georgia
Tailor your cover letter to the job.
You can also add a P.S. to your cover letter for extra eye candy.
Pro Tip: Use 1-inch cover letter margins all around: top, bottom, and both sides. Nobody will care if you make a mistake, but they'll notice something feels a little off.
Want your cover letter to stand out without looking kooky? See our guide: A General Cover Letter that Isn't Generic: Sample for Any Position
When making a resume in our builder, drag & drop bullet points, skills, and auto-fill the boring stuff. Spell check? Check. Start building a professional resume template here for free.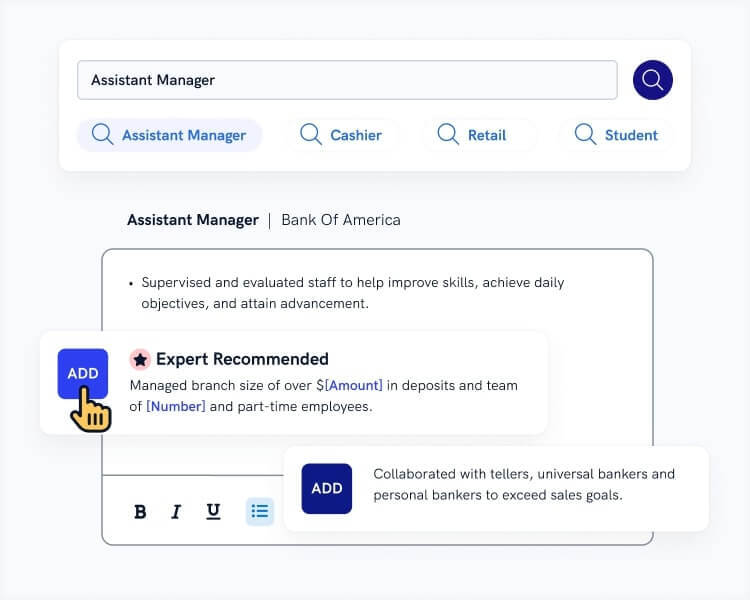 When you're done, Zety's resume builder will score your resume and our resume checker will tell you exactly how to make it better.
Here's all you need to know about cover letter spacing:
Single-space your cover letter. Cover letters shouldn't be double-spaced.
Add a blank line between each section of your cover letter. (After your address, the date, their address, your salutation, and each paragraph.)
Add three blank lines after "Best regards," or "Yours truly."
Cover letter margins are one inch. If you need to change them to fit your cover letter on a single page, it's too long.
Should cover letters be double spaced? Do you indent in a cover letter? We say "no" to both. Change our minds! Let us know if we missed any cover letter spacing tips or questions.
About Zety's Editorial Process
This article has been reviewed by our editorial team to make sure it follows Zety's editorial guidelines. We're committed to sharing our expertise and giving you trustworthy career advice tailored to your needs. High-quality content is what brings over 40 million readers to our site every year. But we don't stop there. Our team conducts original research to understand the job market better, and we pride ourselves on being quoted by top universities and prime media outlets from around the world.