General Resume Examples That Aren't Generic: 11 Templates
In this guide you'll learn *when* and *how* to use a general, universal resume. Plus, you'll see an easy-to-use template you can copy and tweak in no time.
You need a general resume, and you need it now. Perhaps you're going to a job fair where you'll give out copies to multiple employers. Or you need to apply for several positions, and you're pressed for time. The problem?
A generic resume will be a deal-breaker rather than a time-saver. But… You can create a general resume for multiple positions that gets you those jobs. And you've come to the right place to learn about writing one.
This guide will show you:
A general resume example you can copy, adjust, and use in minutes.
How to write a general resume that gets jobs.
Tips and hacks for making a general resume that reads personalized.
Step-by-step tips for creating a general master resume you'll be able to customize in no time.
Want to save time and have your resume ready in 5 minutes? Try our resume builder. It's fast and easy to use. Plus, you'll get ready-made content to add with one click. See 20+ resume templates and create your resume here.
Sample resume made with our builder—See more resume examples here.
Want to see general resume examples for specific industries? Look no further. Check out our dedicated guides for job seekers in the most popular occupations:
To check out samples for more specialized positions, see: Resume Example for Any Job
1
General Resume Template You Can Copy, Adjust, and Use
Here's a general resume sample you can adjust in minutes and apply for jobs straight away.

Just fill in the placeholders in [bold] with information relevant to your situation.
(To learn more about each specific resume section, click on the heading to switch over to a dedicated, step-by-step guide.)
Here's how to write a general resume:
[Your Name]
[Your Job Title]
[Email Address]
[Phone Number]
[LinkedIn]
[Optional: Personal Website, Twitter, Other Relevant Links]
Dependable/Detail-oriented/Creative[Your Job Title] with [X] years of experience in [Your Industry/Niche]. Helped [increase revenue/cut costs/train employees/other achievements] by [X]%. Looking to join [Company Name] to ensure[highest customer happiness scores/a steady boost in ROI/prompt project delivery/other metrics and KPIs you hope to deliver for the prospective employer].
[Your Job Title]
[Company Name]
[2012–2019]
Use bullet points to describe your work history.
Add up to 6 bullet points. Focus on what applies to the job you're trying to land, don't cram your resume with unnecessary details.
Don't just list your responsibilities. Focus on your achievements!
Maybe you saved your company money? Boosted sales? Optimized processes? Trained new employees? Show it off! Have a look:
Responsible for

[your responsibilities]

.

[Boosted sales/cut costs]

by

[X]

% through implementing a new system of

[invoicing/project management/procurement, etc.]
[Your Previous Job Title]
[Previous Company Name]
[2008–2012]
List your jobs in reverse-chronological order. Start with your current or most recent position, then follow it with the one before it, and so on.
As you go back in time, limit the number of bullet points under each entry. Employers are more interested in what you've been doing in the last few years, not in the dim and distant past.
Don't list over 15 years of relevant work experience on your resume.
[BA/MA in Your Major]
[University Name]
[Graduation Year]
Not much experience? Leverage your academic achievements. Include your GPA if it's higher than 3.5, mention extracurricular activities.
If you have a lot of professional experience, limit your education section to your highest degree.
[Skill #1: Advanced]
[Skill #2: Advanced]
[Skill #3: Basic]
[Conference Participation]
When making a resume in our builder, drag & drop bullet points, skills, and auto-fill the boring stuff. Spell check? Check. Start building a professional resume template here for free.
When you're done, our online resume builder will score your resume and our resume checker will tell you exactly how to make it better.
And there you have it. A universal, all-purpose, generic resume template you can tweak and use.

And hey, it mightland you a handful of jobs... But—
(Oh, it's a huge but.)
It won't help you land *the* job of your dreams.
The line between a general resume and an overly generic one is so thin, it barely exists at all.
To put it bluntly:
2
There's No Such Thing as a Good General Resume
"But a generic resume saves so much time! Instead of preparing a customized resume from scratch, I can send out 30 applications!"
Surprise, surprise—
Such thinking is against real numbers.

According to Indeed's data, people who submit the highest number of applications are 39% less likely to get a job.
In a CareerBuilder survey, 54% recruiters said they'd reject a resume that isn't customized to match the position.
The bottom line:
One-size-fits-all fits no one.
Generic looks lazy. Sloppy. Unprofessional. BAD.
Great employers will recognize generic the moment they see it, accept it.
Using too generic a resume will kill your chances of showing you're a perfect match.
But hey, don't you get so disheartened!
There's a great job search hack that will save you tons of time.
And—it helps land interviews with those unicorn companies everyone would kill to work for.
Here's what to do:
3
Create a "Master" Resume Instead
First things first:
What is a master resume?
A master resume is a comprehensive, long resume, outlining your whole work history and listing all of your skills. It serves as a basis for creating targeted resumes. Later on, you'll need to cut irrelevant information from your master resume and, voila: you'll have a personalized one.
I know what you might be thinking.
"I need an all-purpose general resume NOW. Ireally am in a hurry."
If so—
You've got the copy-pastable general resume template at the top of the page.
But it won't get you too far.
It will be best if you invest some time in creating a master resume today. In the future, you'll use it to create targeted job applications in a flash.
How to create a master resume?
1. Start with listing all the jobs you've held in the last 15 years and outlining every single duty and responsibility.
Putting more than 15 years' experience on a resume is overkill. You'll never need to include jobs this old.
In each entry, include:
Your job title
The name of the company
Dates worked
Bullet points describing your duties and, above all, achievements.
List your jobs chronologically descending:
Current or most recent one goes at the top, followed by the previous one, the one before that, and so on.
Pay attention to job titles.
On a general master resume, it's best if they're as broad as possible. Sure, sometimes your job title isn't flexible at all, but often there are small adjustments you can make.

For instance, if you work in data science, you might write: "Data Scientist: Machine Learning and Artificial Intelligence Specialist, Big Data Engineer." Later, when applying for a job with a focus on AI, you'll leave in only that part.
For inspiration, see this comprehensive list of job titles for every career and industry: 450 Best Job Titles for a Resume
Remember to list all your responsibilities, even if they weren't 100% related to the position:
Employed in software engineering, but performed occasional duties in product marketing too? Perhaps worked as a fill-in Scrum master for a few standups? You should put all those duties on a master resume.
(It will come in super handy if you write a career change resume!)
Don't mention only your duties. Focus on professional achievements. Use numbers to show how important your accomplishments were. Employers love to see quantified data on resumes!
2. Make a comprehensive list of all your professional skills.
This might mean entering 30+ skills in a skills section and it's perfectly fine.
When creating an all-purpose, general resume template, don't worry about your resume length.
List both your hard skills specifically tied to your job, soft skills and technical skills—such that can you can apply in any position or industry.
This study by Harvard's David Deming showed that job seekers have overlooked soft skills for the past decades, and yet, employers value them more than ever!

Having a solid profile of general, transferable skills on your resume will set you apart from the competition!
3. List all your higher education degrees.
Include:
List all degrees in reverse-chronological order. That means, if you have a PhD, start with that, follow it with your Master's degree, and then your Bachelor's.
Only have a high school diploma, or equivalent? Limit yourself to listing the diploma, school name, and graduation year.
4. Enter all your additional activities.
Everything related to your profession should be included on a master resume:
Certifications and courses
Conferences
Volunteering experience
Industry blog
Extra training
5. Write a summary of qualifications that reads like your elevator pitch and put it at the top.
Finally, craft a general resume profile. A short paragraph you put at the top of your general resume that brings attention to your best achievements.
Look at your whole resume and find your strongest selling points. Then, write a summary of qualifications. Include:
Your job title
4–6 achievements
4–6 professional skills
Follow the above steps and you'll have a strong general resume basis to work with.
You'll be able to cut certain parts and create a resume tailored to any position you apply for.
One that all recruiters get hooked on.
Learn more about tailoring your resume from this beast of a guide: Why a Targeted Resume Works Best
Plus, a great cover letter that matches your resume will give you an advantage over other candidates. You can write it in our cover letter builder here. Here's what it may look like: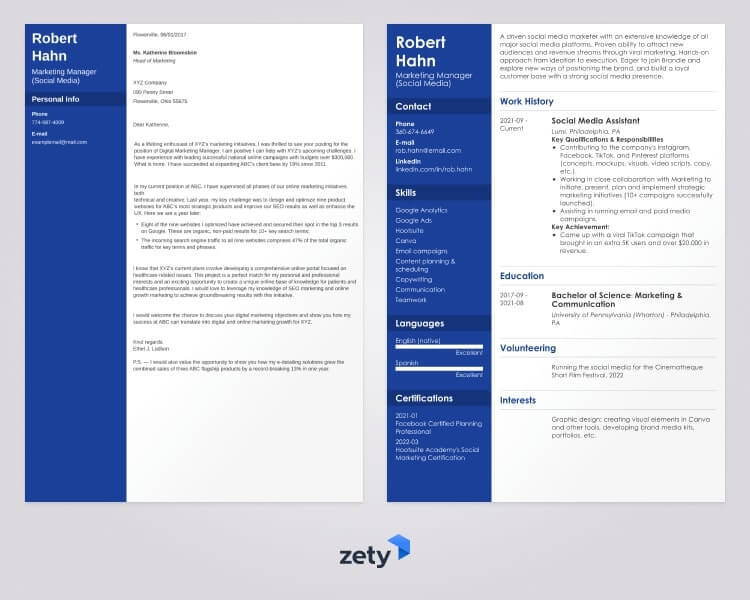 See more cover letter templates and start writing.
Key Takeaway
Here's how to write a general resume for multiple positions:
Create a strong "master" resume as a basis.
At the top, put a detailed summary of your skills and expertise.
Describe all your previous positions, use proper job titles, highlight achievements.
Include your highest degree of education only.
List all professional skills you have.
Add extra sections, for example: certifications, conference participation, or volunteer experience.
Cut the fluff and leave in only the details relevant for a specific position.
This way, you'll use a general resume to create a personalized resume in a matter of minutes.

Got questions? Need further help? Drop me a line in the comments, let's chat!
Article summary
The article titled "General Resume Examples That Aren't Generic: 11 Templates" provides tips and examples for creating a compelling resume that stands out to potential employers. The article emphasizes the importance of tailoring your resume to the specific job you're applying for, using keywords from the job posting, and highlighting relevant skills and accomplishments. It also provides 11 different resume templates for various industries and job types, each with specific tips and advice for customizing the template to fit your needs. The article concludes by encouraging job seekers to be creative and think outside the box when crafting their resumes, while still maintaining a professional and polished appearance.
About Zety's Editorial Process
This article has been reviewed by our editorial team to make sure it follows Zety's editorial guidelines. We're committed to sharing our expertise and giving you trustworthy career advice tailored to your needs. High-quality content is what brings over 40 million readers to our site every year. But we don't stop there. Our team conducts original research to understand the job market better, and we pride ourselves on being quoted by top universities and prime media outlets from around the world.
Sources