Every time you see a great job opening in the food industry, there are thousands of others looking at the same posting. Hundreds of them are going to apply. Some might have more experience than you do. Others—more varied skills sets.
But you are going to beat them. How? With a killer food service resume, naturally. Don't just settle for some random food service resume example you find online—learn how to write one yourself!
In this guide, I'll show you:
Food service resume samples better than 9 out of 10 other resumes.
How to write a food service resume even if you have no experience.
Tips and examples of how to put skills and achievements on a food service worker resume.
How to describe your experience on a resume for food service positions to get any job you want.
Want to save time and have your resume ready in 5 minutes? Try our resume builder. It's fast and easy to use. Plus, you'll get ready-made content to add with one click. See 20+ resume templates and create your resume here.
Sample resume made with our builder—See more resume samples here.
Looking for a more specific food service resume guide?
Here's a list of our comprehensive, profession-specific resume guides for the food service industry. If your profession is on the list, click on the link and get dedicated examples and advice!
Specialized Food Service Resume Samples
If you just want to see general food service resume examples and tips, read on! You'll get loads of samples you can copy straight to your resume.
Food-Service Resume Example
Claire Dalton
Food Service Worker
(123) 456-7890
claire.dalton@email.com
linkedin.com/in/claire.dalton
Summary
Efficient and customer-oriented food service worker with over 5+ years of experience in the hospitality industry. Eager to support Bites Cafe in creating an attractive dining atmosphere and delivering quality customer care. Increased overall sales at FreshFusion Grill by 20% through effective upselling techniques.
Experience
Food Service Worker
FreshFusion Grill, St. Petersburg, FL
June 2019–present
Key Qualifications & Responsibilities
Served customers in a friendly and efficient manner.
Executed high-quality food and beverage preparation.
Assisted in maintaining clean and functional facilities.
Participated in team efforts to increase customer satisfaction.
Key Achievement:
Increased overall sales by 20% through effective upselling techniques.
Server
FlavorfulFeast Restaurant, St. Petersburg, FL
March 2017–May 2019
Key Qualifications & Responsibilities
Provided customers with menus and assisted with food and beverage choices.
Ensured all food and beverages were served promptly and appealingly.
Maintained clean and stocked service areas.
Key Achievement:
Recognized as "Employee of the Month" 4 times due to exceptional customer service.
Education
High School Diploma
St. Petersburg High School, FL
August 2013–June 2017
Skills
Excellent customer service
Proficient in Point of Sale (POS) systems
Strong team collaboration
Effective communication
Food safety
Team management
Empathy
Multitasking
Certifications
Food Handler's Certificate, American Red Cross, 2017
Languages
English—Native
Spanish—Intermediate
Interests
Volunteering at the local food bank.
Participating in local culinary workshops.
1. What is the Best Food Service Resume Format?
Some food for thought:
According to our HR statistics report, every food industry resume that's sent out gets just 7 seconds of the recruiter's attention.
That's not enough to read the whole thing.
So—
What should you do?
Make it easy to find the most relevant details on your resume for food industry positions.
Choose the elegant reverse chronological resume format. Recruiters are familiar with it so they'll know where to look for what they need.
Plus, it lets you showcase the peak of your career—your current or most recent job.
Here's what to include in a reverse-chronological food service resume format, from top to bottom.
Food Service Resume Template
Contact information
Resume objective or summary
Work experience in reverse-chronological order
Education
Skills
Additional Sections (Certifications, Awards, Volunteer Experience, or Hobbies and Interests)
Pro Tip: Once you're done writing your professional resume for food service industry, save it in PDF. This way, you'll keep your resume layout intact. Just remember to double-check with the food server job description if the restaurant accepts PDFs. If not—send your resume in DOC.
Want more tips on the best serving resume format for you? Here's the only guide you'll need: The Best Resume Format for Any Job: How to Format a Resume for Greatest Impact
2
How to Write a Food Service Resume Objective or Summary?
Remember those 6 seconds of a recruiter's attention an average resume gets?
Exactly—
An average resume.
But not yours.
To begin with, put a carefully phrased food service resume objective or resume summary at the very top.

Use a food server resume summary if you've got relevant experience. Give an outline of your career and highlight your best achievements.
Writing a food service resume with no experience to list? Go for a resume objective. Explain how the skills you've developed so far will help you do well in your prospective role.
Now, for the key part—
Focus your serving resume objective or summary only on your employer's benefits, not what you want out of the job. Make an offer.
Have a look at these food service resume examples to get the picture.

Let's start with resume objectives.


Food Service Resume Example—Resume Objective
wrong
I am a high school senior eager to start my first job. I don't have experience in a regular restaurant yet, but I am enthusiastic and highly motivated. I look forward to joining your team to improve my serving skills.
right
Friendly and responsible high school senior with 5+ years serving experience for a school canteen. Obtained highest grades in two different Home Ec classes (100%). Seeking to jumpstart my career by helping the La Pancia Piena team grow and achieve their goals.
See the difference?
The first one basically says "I want a job cause I want to learn from you." That's not what the hiring manager expects from a top hire.
The second one? "I can use my skills to help your business grow."
This one's definitely getting a callback!
Now, take a look at two very different waitress resume summaries.
Waitress Resume Sample—Resume Summary
WRONG
Fine dining server with four years experience waiting tables and serving large parties.
Why is it so bad?
Because it's as generic as it gets. Doesn't include any specifics and promises no benefits.
Waitress Resume Sample—Resume Summary
RIGHT
Personable head waitress with 4+ years expertise in a fast-paced Italian restaurant. Achieved region-best culinary satisfaction rating according to national food critic (98.16%). Seeking to help the Bahari Restaurant team further improve their customer happiness scores.
Wow, right?
This food service resume summary would make Gordon Ramsay and Jamie Oliver fight over this candidate.
Pro Tip: In every resume summary or objective for food service positions, address the restaurant by name and indicate the position you're targeting. This means you can't spam out a generic food server resume to everyone around. And that's the point. Personalize every resume you send for miraculous results!
And here's one more, this one comes from a food service manager resume:
Food Service Manager Resume Sample—Resume Summary
RIGHT
Engaging restaurant manager with 7 years of experience. Seeking to help Legal Seafoods in reaching their goal of food service industry excellence as the new Restaurant Executive Manager. Managed 25 cooks and waitstaff in fast-paced, high-end restaurant. Handled inventory, vendors, and hiring. Reduced turnover by 25%.
Personalized, detailed, specific, and quantified—all check!
When making a resume in our builder, drag & drop bullet points, skills, and auto-fill the boring stuff. Spell check? Check. Start building a professional resume template here for free.
When you're done, our online resume builder will score your resume and our resume checker will tell you exactly how to make it better.
Writing the perfect food service resume objective or summary can be tricky. But it won't be for you. Check out these two handy guides to learn everything about it: How to Write a Resume Summary and How to Write a Resume Objective.
3
How to Describe Your Food Service Experience on a Resume?
Here it comes, the work experience section—the main course, the meat and potatoes of your resume, if you will.
Let's serve it as top sirloin with savoyarde!
How to describe your past serving jobs on a resume?
Have a look:
Food Service Worker Resume—Work Experience Section
Start with your current or most recent job.
Follow it with your previous position and the one before that, and so on.
List your position name, the name and location of the restaurant where you worked and your tenure dates.
Underneath each position, add up to 5 bullet points describing your duties and, more importantly, your achievements.
Quantify whenever possible. Don't say you "significantly increased customer satisfaction scores." Say how much exactly. Numbers pop!
At the bottom, add a "Key achievement" subsection where you show off your best win.
Last but not least—pick phrases from the job ad and refer to them in your work experience section. List relevant food server duties, not every single task you've performed. It's called tailoring a resume and it's super effective. Want to learn more about it? Go here: 6 Tips on How to Customize Your Resume to a Job Description
Hungry for some real-life food service resume examples?
There you go.
Sample Food Service Resume—Job Description
RIGHT
Bartender
The Bamboo Lounge 2008–2018
New York City, New York
Created 15 themed cocktails over the course of a 10 year tenure.
Maintained an extensive knowledge of New York hotel services and local activities.
Helped increase TripAdvisor customer review scores by 14%.
Key achievement: Curated various regional wines, resulting in a 15% increase in annual sales.
Pro Tip: Pack your work experience section full of action verbs. "Created," or "maintained" sound way better than "responsible for creating and maintaining."
Now, have a look at a restaurant resume sample.
Sample Food Service Resume—Job Description
right
Line Cook
The Melted Mermaid Restaurant 2014–2017
Philadelphia, PA
Covered all line cook duties for a high-end restaurant, including prep work, cooking food to order, and keeping food fresh.
Contributed to 95% customer satisfaction scores restaurant-wide.
Zero sick days in three years of dedicated line cook work.
Key achievement: Maintained a 98% on-time delivery score even during busy times.
Yup, that's the way the cookie crumbles!
One additional thing to keep in mind—
A recent study has shown that a staggering 8 out of 10 restaurant owners and 9 out of 10 restaurant managers started out on their food service career in entry level positions.
What does it mean for you?
That even if you're applying for a managerial or executive food service position, don't neglect past entry-level restaurant jobs.
You've got to know all the tricks of the trade to manage a food service business. Employers are well aware of that!
If you want to learn more useful tricks on how to make a flawless work experience section, check out this guide: How to List Work Experience on Your Resume
4
How to Pepper Skills onto a Food Server Resume?
Your skills are what's of most value to employers.
But that doesn't mean your resume should feature a list of 10+ skills listed in whatever order you see fit.
In fact, quite the contrary.
When talking about your skills on a food service resume, relevance is key.
Remember when I mentioned tailoring? You should use it here, too. Here's what I mean:
Food Service Skills on a Resume—How to List Them
Start with a spreadsheet that lists all your professional skills.
Read the job description carefully. Look for skills-related keywords.
Check how many of these are there in your spreadsheet. Quite a few? Great. That's your skills list.
Don't just put the names of your skills. Provide evidence that shows your level of proficiency.
Pro Tip: Don't put skills only in the skills section. Sprinkle them throughout your work experience and refer to one or two of your most important skills in your food service resume objective or summary.
Need some inspiration for your skills list?
Check out these skills for a food service resume examples.
Restaurant Resume Skills Examples

Food Service Skills for a Resume

Complex Problem Solving

Friendliness

Reading Comprehension

Customer Service

Communication

Monitoring Self Performance

POS

Detail Orientation

Stress Tolerance

Decision Making

Restaurant Intercom Operation

Listening

Safety Consciousness

Active Learning

Math Skills

High-energy

Physical Fitness
See more examples of job-winning skills sets that could spice up any food service resume here: 30+ Best Examples of What Skills to Put on a Resume (Proven Tips)
5
Is Your Education Section Underseasoned? It Might Be.
Good news!
Usually, listing education on a food service resume is the easiest part.
Just enter your highest degree of education. Here's what you have to include:
Food Service Resume Education Section Template
Degree type
Your major (and minors, if you've got them)
Institution name
Graduation date
That's what you have to do if you've got relevant food service experience.
Things get a bit tricky if you're writing a food service resume with no experience to show off. In that case, you should elaborate on your education a bit more.
Try to identify extracurricular activities or educational achievements that show you've got what it takes to work in the food service industry.
Like this candidate did:
Sample Food Service Resume—Education Section
RIGHT
Colquitt High School
2013-2017
Excelled in home economics classes, especially knife skills.
Worked as prep cook facilitating food safety for four major school events.
Avid football team member, all four years.
That's the way to do it. Even if the candidate doesn't have much experience, her education section shows the sense of purpose she has in pursuing her career.
Pro Tip: If you finished a semester or two of college, put it on your food server resume. You paid for those credits, and they belong to you. You can also add a coursework description to showcase relevant knowledge or skills. For working in the food service industry, basic math or communication classes would shine!
If you want to learn more about listing your education on a resume for food service positions, check out this piece: How to Put Education on a Resume [Tips & Examples]

6
How to Spice up Your Food Service Resume with Additional Sections?
People lie. Especially about themselves.
What does it have to do with your food service job application?
That most of your competition will lie on their resumes.
Easy—restaurant owners know that so they read everything with a pinch of salt.
But guess what—
You can make employers actually believe your resume. You can turn this pinch of salt into a dash of safrane.
How?
Add an extra section that highlights your verifiable wins. Show employers that you're the real deal. Need some ideas? Here you go.
Resumes for Food Service Jobs—Additional Sections
Courses Taken
Languages
Personal blog
Pro Tip: Got none of the above? Get some! Take an online class or two. Volunteer for a couple of days. Start blogging! It won't take much time or effort but will definitely make a fine addition to every food industry resume!
Not quite sure what to include in the extra section of a restaurant resume and what to leave off? Read our guide: Resume Sections to Include on Your Resume: Guide (+20 Examples)
7
How about a Food Service Cover Letter?
You might have heard that nobody reads cover letters nowadays.
It's anything but true.
In fact, almost half of recruiters won't open your resume if there's no cover letter attached.

Not really a risk you'd like to take, right?
Truth is, a food service cover letter is often expected even if the job description doesn't explicitly state so. And it can be used to your massive advantage.

If you attach a food server cover letter to your resume, you can explain why you're interested in pursuing a food industry career. You can give your past experience more context and tell a story. Believe me—hiring managers, just like any other group of people, love stories much more than raw data sheets.

So, long story short—

It doesn't matter if you're writing a waiter or waitress resume, fine dining server resume or any other type of a restaurant resume. Including a cover letter in your application doubles your chances of getting hired. Can't argue with the stats, can you?
Plus, a great cover letter that matches your resume will give you an advantage over other candidates. You can write it in our cover letter builder here. Here's what it may look like: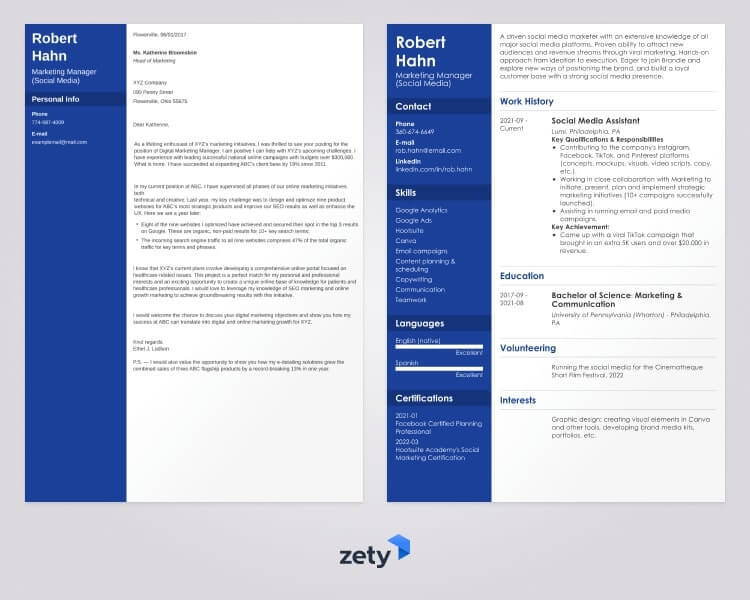 See more cover letter templates and start writing.
Pro Tip: Once you send your food service resume and a cover letter—follow up. A nudge by phone, email, or in person can prove your follow-through ability!
Want to learn the art of writing a jaw-dropping cover letter? Read this guide and become a cover letter writing pro in no time: How to Write a Cover Letter in 8 Simple Steps
Key Takeaway
Want to make a food service resume that wows every restaurant owner and gets you job offers? That's great, because you are going to have one. Just remember to follow the key steps we covered when you write your food service resume:
Open your food server resume with a resume objective or a resume summary. Say what makes you a great candidate and make an offer.
In the work experience section, focus on your achievements, not just responsibilities. Use action verbs and numbers.
Match your skills list with the skills required in the job posting.
Include additional sections that prove your value as a candidate.
Personalize every resume you send. Use the name of the restaurant you're applying to and tailor the contents of your resume to the requirements in the job description.
All check? Good luck with the interview!
Got any more questions? Need further help? Want to chat about writing your resume? That's great cause I can't wait to hear your thoughts! Drop me a line in the comments and I'll get back to you double-quick.
Here are some other resume writing guides that you may be interested in:
About Zety's Editorial Process
This article has been reviewed by our editorial team to make sure it follows Zety's editorial guidelines. We're committed to sharing our expertise and giving you trustworthy career advice tailored to your needs. High-quality content is what brings over 40 million readers to our site every year. But we don't stop there. Our team conducts original research to understand the job market better, and we pride ourselves on being quoted by top universities and prime media outlets from around the world.
Sources