I'm about to show you a pefect restaurant resume sample. Just picture this first:
You're under a blazing neon sign.
It says, "The Perfect Restaurant Worker."
Around you is a crowd of 300 others, in the dark.
You stand out like a cajun ribeye on a table with 300 Hot Pockets.
That's what we need your restaurant resume to do.
Bartenders, line cooks, waitresses, and restaurant managers all have one thing in common. They need resumes that get attention.
This guide will show you:
A basic restaurant resume example better than 9 out of 10 other resumes.
How to write a restaurant resume that wins more interviews.
Tips and examples of how to put skills and achievements on a restaurant resume.
How to describe your experience on a resume for restaurant workers to get any job you want.
Here's a sample resume for a restaurant made using our resume builder:
Want to save time and have your resume ready in 5 minutes? Try our resume builder. It's fast and easy to use. Plus, you'll get tips and right vs. wrong examples while writing your resume. See +20 resume templates and create your resume here.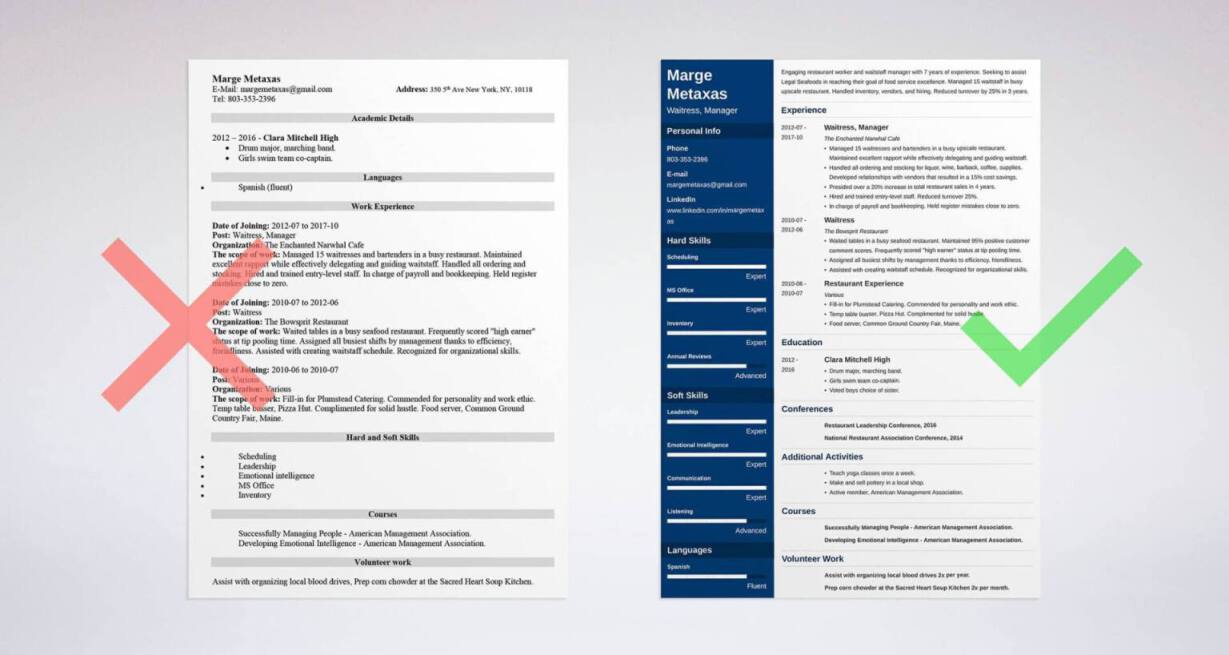 Restaurant Resume Example - See more templates and create your resume here.
Looking for a more specific position in the restaurant industry? Make sure to check out one of our dedicated guides:
1
What's the Best Format for a Restaurant Resume?
Say hello to Pete, the restaurant hiring manager.
He gets 300+ restaurant resumes a year.
Ready for a shock?
He spends just six seconds on each one.
That means your restaurant resume format really matters.
Reverse-chronological is best. Why?
Because it shows your most recent experience up front.
Use plenty of white space, big headings, and above all, clear fonts. No comic sans or (eek) papyrus.
Finally, save your restaurant server resume or manager resume as a PDF. That way, it won't turn to soup in transit.
Pro Tip: PDFs are the best choice, but check the job description in case they're off the menu. Some job offers reject restaurant resume PDFs.
Want some other professional restaurant resume format options? See our guide: 3 Resume Formats: How to Choose the Best One [Examples]
See these sample restaurant resumes for more detailed examples:
Want to make sure your resume will hook every recruiter and get you that interview? Get our free checklist and learn what makes a job-winning resume: 46 Things You Need To Do Before You Send Your Resume.
2
How to Write a Resume Summary or Resume Objective
"We should interview this one."
Your restaurant resume should make the hiring manager say the words above.
That starts with a standout resume summary or resume objective.
A resume summary is for food warriors with walk-ins full of experience.
A resume objective is for newbies, fresh off the truck.
The secret to each? Add measurable accomplishments.
These two restaurant manager resume samples show how it's done.
Basic Restaurant Resume Examples [Resume Summaries]
Look at these vastly different restaurant manager resume examples:
wrong
Restaurant manager with 7 years experience, seeking a new position. Managed employees, handled ordering, training and scheduling.
On its own, that isn't bad. But it melts into the other fine dining resumes on Pete's laptop.
Want the interview? Whip up something like this instead:
right
Engaging restaurant worker and manager with 7 years of experience. Seeking to assist Legal Seafoods in reaching their goal of food service industry excellence. Managed 25 cooks and waitstaff in fast-paced, high-end restaurant. Handled inventory, vendors, and hiring. Reduced turnover by 25%.
That could be from Rachel Ray or Bobby Flay. The details sell it.
Our resume builder (you can create your resume here) will give you tips and examples on how to write your resume summary or any other section. You can easily copy them straight into your resume - it will save you a ton of time.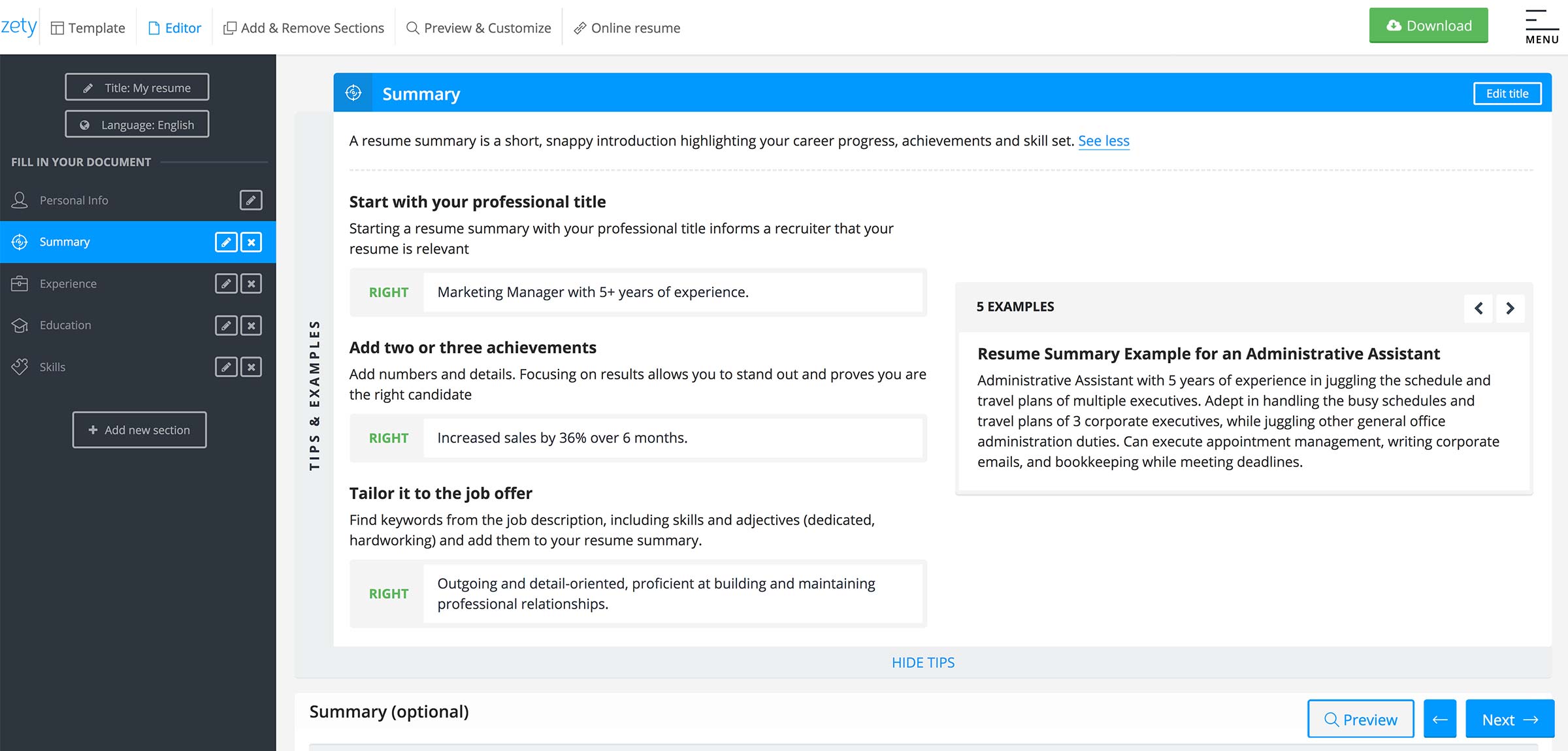 Inside our resume builder you will find tips and examples for your resume.
Don't have experience like that? Check out these restaurant server resume examples:
Two Entry-Level Restaurant Resume Objectives
No experience doesn't have to mean the trash bin.
Use a resume objective if you're an entry level applicant or if you're seeking a new niche.
wrong
Entry level restaurant worker. No real restaurant experience yet, but I'm anxious to start!
That misses the target like a pancake on the ceiling.
But here's a trick most applicants don't know: add instant details, and Bam! You're up in the Emeril zone:
right
Energetic waitress and restaurant worker. Have filled in for catering and festival food service, as well as fast food restaurant positions. Complimented for great personality, work ethic, and solid hustle.
Does that wait staff resume have 3+ years of experience? No. More like 3 days.
But a restaurant server resume with just a few small stints like that can sell your skills.
Even customer service experience looks great on a resume for restaurant positions.
Pro Tip: Your restaurant resume objective or resume summary is just an appetizer. Save the main course for your experience section.
Want to knock your food service resume out of the food court? See the template for a restaurant resume up top. Also, see these guides:
How To Write A Resume Summary: 21 Best Examples You Will See AND +20 Resume Objective Examples - Use Them on Your Resume (Tips)
3
How to Describe Your Restaurant Experience
Let's get back to Pete, the hiring manager.
He needs to know you can do the job like Anthony Bourdain.
That means experience.
Don't have any on your restaurant resume? Include customer service, festivals, catering, or similar work history.
Show your last job first. Add 3-5 bullet points with measurable achievements. Match them to the restaurant duties and responsibilities in the job offer.
Let these food service manager resume examples light the way:
Restaurant Resume Examples [Experience]
Take a peek at these two restaurant resume samples:
right
The Enchanted Narwhal Cafe
Waitress, Manager
2012 - 2017
Managed 15 waitresses and bartenders in a high volume restaurant.
Handled all ordering and stocking for liquor, wine, barback, coffee, supplies
Developed relationships with vendors that resulted in a 15% cost savings.
Presided over a 20% increase in total restaurant sales in 4 years.
Hired and trained entry-level staff. Reduced turnover 25%.
Wow. Five star. That's how to put restaurant experience on a resume. It works equally well on a restaurant general manager resume.
Don't do it like this:
wrong
The Enchanted Narwhal Cafe
Waitress, Manager
2012 - 2017
Responsible for managing waitstaff.
Handled ordering of inventory.
Supervised some staff training.
That first restaurant resume example is a Triple Chocolate Meltdown. The second is the wooden stick left after you eat a popsicle.
Without details, you're an empty plate.
But what if you don't have them?
Let these next two restaurant waiter/waitress resume examples be your guide.
How to Make a Resume for Restaurant Jobs with no Experience
There's no such thing as "no restaurant experience."
Anyone with any history with food or working with the public can list that on a restaurant resume.
Don't even have that? Consider a few days of temp work at restaurants, festivals, or catering companies.
Next, make it shine like the second of next two restaurant resume examples.
Two Restaurant Resume Samples [No Experience]
This first restaurant waitress resume example has gone past the sell by date:
Not good, right? It's like a box of generic cornflakes.
But add some measurable achievements and your restaurant waiter resume is back on the specials board:
right
Restaurant Experience
Various
2017
Fill-in for Plumstead Catering. Commended for personality and work ethic.
Temp table busser, Pizza Hut. Complimented for solid hustle.
Food server, Common Ground Country Fair, Maine.
Nice. Like Gordon Ramsay in the rough. But stop and do the math. That restaurant resume example only lists about three days of experience.
Pro Tip: Need to know how to describe restaurant work on a resume for other jobs? Match your achievements to duties and skills shown in the job description.
What's worse than boring food? Boring resume language. Put the flavor to your restaurant hostess resume with action words. Use these: +80 Examples of Resume Action Words for Every Profession
4
Is Your Education Section Flavorless? It Might Be
Restaurant work ain't about PhDs and fancy titles.
But if you don't make good use of your education section, you're serving up an empty plate.
Start with:
School Name and Location
Years in School
Degree
Then add accomplishments that match the job description.
These restaurant resume examples show how to make the grade:
Restaurant Resume Examples [Education]
The two sample restaurant resume education sections below are as alike as Ronald McDonald and Guy Fieri.
right
Clara Mitchell High
2012 - 2016
Drum major, marching band.
Girls swim team co-captain.
Voted boys choice of sister.
See that? It's not about the degree. It's about the restaurant worker achievements.
They all show responsibility and interpersonal skills.
But in this next restaurant resume example, we're back in the Krusty Krab category:
wrong
Clara Mitchell High
2012 - 2016
Why bother, right? You could just say, "Graduated high school."
On a resume for a restaurant worker, that example looks like imitation seafood.
But add back the details, and you're serving up a feast again.
Pro Tip: Are you writing a restaurant general manager resume? If so, your education matters a lot more. Focus on school achievements that show leadership.
Want your fast food restaurant manager resume to stand out like a Habanero pepper? See our guide: How to Put Your Education on a Resume [Tips & Examples]
5
How to Put Skills on a Resume for Restaurants
Let's sneak into the back office after hours.
There's Pete, the hiring manager. He keeps throwing breadsticks at the wall.
He's angry. Why?
Every one of the 300+ restaurant resumes he's looked at shows the same skill set.
Yet not one of them shows proof.
Then he gets to yours. His frown vanishes like a plate of bacon-wrapped anything.
Your secret?
You proved your skills. Check out the first of these fast food restaurant resume examples:
Restaurant Resume Examples [Skills]
These skills were in Pete's job description:
Speed, customer satisfaction, reliability.
So you listed them. But then you proved them in your food prep resume bullet points:
Red Lobster
Line Cook
2014 - 2017
Received three commendations from management for speed and efficiency.
Zero sick days in four years of enthusiastic cooking.
Assisted in creating 96% customer satisfaction scores throughout the restaurant.
Ding! You matched your skills to your experience like a great side dish to a fantastic entree.
Need some restaurant server resume skills or manager skills? Start with this food service skills list:
List of Skills to Put on a Restaurant Resume
Let's get you grooving.
Kick off with these professional restaurant resume skills. Add to them from online job descriptions.
The skills you pick depend if you're a bartender, server or waiter, cook, or restaurant manager.
Restaurant Resume Skills List
Restaurant Resume Skills List

| | |
| --- | --- |
| Soft Skills | Hard Skills |
| Teamwork | Serving Food |
| Communication | CPR and First Aid |
| Interpersonal Skills | Restocking |
| Self Motivated | Inventory |
| Dependable | Mixing Drinks |
| Physically Fit | Register Skills |
| Listening | Cooking |
| Problem Solving | Knife Skills |
| Leadership | Scheduling |
| Detail Oriented | Vendor Management |
Use the tips above, and your good restaurant resume will sizzle like an entree from Hell's Kitchen.
Pro Tip: A resume for a restaurant worker doesn't need every skill in the book. It just needs the ones in the job description, plus a couple extra.
Want to give your restaurant gm resume skills section a total menu makeover? See this guide: +30 Best Examples of What Skills to Put on a Resume (Proven Tips)
6
How to Add Other Sections for an Effective Resume
Experience will get you 75% hired.
But you can't earn a living on "almost."
To put your restaurant resume over the top, prove you're more than just a sheet of paper.
Show your passion with "other" sections that work like marinated mozzarella.
Watch how that's well done in two more restaurant manager resume examples.
Restaurant Resume Examples [Other Sections]
This first sample restaurant resume "other" section is as unwelcome as a big party 5 minutes before closing.
wrong
I score very high at Pokemon GO.
I love clubbing.
I'm into doing cleanses.
What's the problem with clubbing, cleanses, and Pokemon?
Nothing!
But they don't make you a better restaurant worker.
But feast your eyes on this (much tastier) restaurant resume example:
right
Conferences
Restaurant Leadership Conference, 2016
National Restaurant Association Conference, 2014
Additional Activities
Teach yoga classes once a week.
Make and sell pottery in a local shop.
Active member, American Management Association.
Courses
Successfully Managing People - American Management Association.
Developing Emotional Intelligence - American Management Association.
Volunteer Work
Assist with organizing local blood drives 2x per year.
Prep corn chowder at the Sacred Heart Soup Kitchen 2x per month.
My compliments to the chef. You've heard the saying, "If you need help, ask a busy person." The same goes for hiring one.
This resume for a restaurant worker paints a picture of someone you can depend on in a clinch.
Pro Tip: Don't have achievements like the ones above? Start some! Most don't take long. They look great on a high end restaurant resume, and who knows. You might have fun.
Feeling kind of light on content for your restaurant waiter resume "other" sections? See our guide: +20 Best Examples of Hobbies & Interests To Put on a Resume (5 Tips)
7
Here's the Most Common Myth About Cover Letters
It's not true that nobody will read your restaurant cover letter.
What the "experts" mean is, nobody will read a boring cover letter.
So, don't be boring. Don't say, "Here's my resume. Please read it."
That's like telling customers their food will be delicious.
Instead, give them an appetizer. Like this:
Restaurant Cover Letter Example
Dear Rick,
I've wanted to work at Faccibene's Grill for the last 3 years. Your commitment to creative and intriguing cuisine is well known. I've been eating here on Sundays and I love the team you've built. I think my creative cooking style and easy-going personality would mesh nicely with your business.
That example restaurant cover letter satisfies.
First, it uses the hiring manager's name.
Second, it's detailed and personal, and it proves how you can help.
Now, close it with a request. "Can we schedule some time to discuss how I can help [XYZ Restaurant] reach [XYZ goal]" works great.
Pro Tip: Follow up on your restaurant resume and cover letter. That hiring manager is busy. She'll appreciate your hustle, and the reminder will improve your chances.
Plus, a great cover letter that matches your resume will give you an advantage over other candidates. You can write it in our cover letter builder here. Here's what it may look like: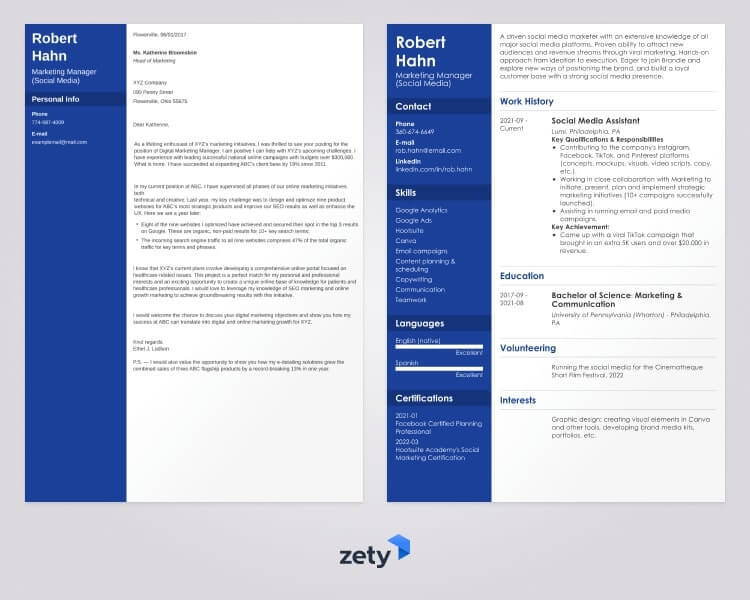 See more cover letter templates and start writing.
Want a fully baked example for your restaurant cover letter? See our guide: How To Write A Cover Letter [Complete Guide With Examples]
8
How to Add Contact Info to Your Resume
This is not your first rodeo.
You know to add the basic contact info:
Full Name
Updated Phone Number
Professional Email Address
Like this:
Marge Metaxas, Waitress, Manager, margemetaxas@gmail.com, 803-353-2396
But what about your LinkedIn profile? Did you know 87% of recruiters use LinkedIn to find applicants?
You need a great LinkedIn profile as much as you need a great restaurant resume. Then, make sure you put the address with your contact info.
Pro Tip: Your LinkedIn profile is as important as unlocking the front door. Make sure it hits the spot. Use this guide to LinkedIn profile excellence.
Want more tips to make the best nursing student resume you can? See our guide here: How to Make a Resume: A Step-by-Step Guide (+30 Examples)
Key Takeaway
This guide has given you the ingredients of a flawless restaurant resume. Remember these key tips:
Your restaurant resume summary or resume objective is an appetizer. Stuff it with the most mouth-watering achievements from your past.
Read the job description carefully, then use it. A resume for a restaurant worker needs to brim with thirst-quenching bullet points that prove

your skills.

Sprinkle liberally with dedicated "other" sections. They should prove your passion for feeding the hungry masses goes beyond the quest for money.
Do you have questions on how to write a great resume for a restaurant worker? Not sure how to describe your skills or achievements? Give us a shout in the comments! We love to help!