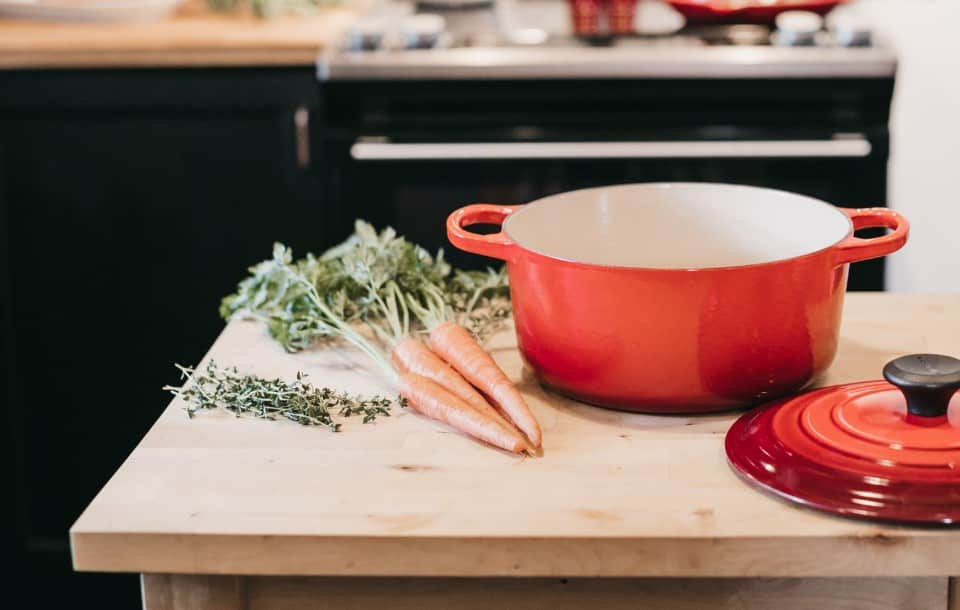 Cook Resume Examples [+Job Description and Objective]
Looking to write the three-course meal equivalent to a cook resume? Get your resume looking sharper than a freshly whetted knife with our guide.
Say you've been working in the same restaurant or bistro for plenty of time, and your manager can't run the place very well. You're tired, you're annoyed, you need change. But… For some reason, your resume just isn't landing.
Wipe those onion-induced tears and pick yourself up! It's time to get your cook resume up to 3-star Michelin standards!
In this guide, you will learn:
How to write an excellent cook resume, based on our example.
Several ways that will help your cook resume get you more interviews.
Tips on how best to show experience on a cook resume.
The most important skills on a cook resume that you need to implement to impress.
Want to save time and have your resume ready in 5 minutes? Try our resume builder. It's fast and easy to use. Plus, you'll get ready-made content to add with one click. See 20+ resume templates and create your resume here.
Sample resume made with our builder—See more resume examples here.
Interested in more? Check out our other guides below:
Cook Resume Example
Jonathan Arledge
Cook
1-212-893-7184
arledgejon@gmail.com
linkedin.com/in/arledgejonathan
Summary
Skilled cook with 2+ years' experience. Extensive knowledge of food industry and its relation to the day-to-day busy kitchen restaurant setting. Very good attention to detail, both in cooking and inventory management. Effective at communicating with other staff, manager, and chef during 60+ guest rush hour.
Experience
Sous chef
Burgerzen, Raleigh, NC
September 2020 – Now
Supervised the preparation of dishes. Often managed a kitchen staff of 9.
Provided customers with five-star meals from a constantly perfected menu.
Served under the most recognized burger chef in the city (per Raleigh Daily's food column). Got frequent praise and commendation for my work from my superior.
Received nearly daily compliments from clients on recipes personally introduced to the restaurant menu. Restaurant star rating increased from 4.3 to 4.7.
Key achievement: Pioneered a solution to prevent food waste in the restaurant, reducing monthly costs by roughly 12%.
Fast food cook
TacoShack, Charlotte, NC
January 2019 – August 2020
Prepared dishes in an utmost effective manner, according to both strict restaurant guidelines and customers' dietary requests.
Onboarded of over 20 new staff members, including proper safety and sanitization training.
Cooperated with delivery services to ensure proper order dispatch (97% order correctness).
Education
Bachelor of Culinary Arts
North Carolina State University, Raleigh, NC
2019
Skills
Intermediate cooking
Presentation
Adaptability
Multitasking
Communication
Taking inventory
Coordination
Planning ahead
Stress management
Interests
Running personal culinary blog with over 3,500 followers online
Frequent hosting of cook-offs among friends
Here's how you go about writing a five-star cook resume:
1. Select the Optimal Format for your Cook Resume
A cook knows how to prepare several high-quality dishes at the same time at different workstations, garnish and serve food elegantly all the while maintaining proper workplace hygiene. The purpose of your cook resume is to show your multitasking abilities and cooking prowess.
That said—
How do you accomplish that quickly and efficiently?
In order to be successful, there arecertain resume formatting guidelines you can follow. So:
Volume-wise, the golden rule of keeping it to one page in length applies. Unless you're literally Gordon Ramsay's long lost sibling, you likely won't need more.
Read more: Best Resume Types
2. Write a Cook Resume Objective or Resume Summary
Choosing the right resume profile is an important step. You can't skip it, just like you wouldn't skip the seasoning before serving a meal.
Simply put, a personal profile, is a way of presenting your biggest wins to show you're exactly that one, perfect ingredient missing from their pantry.
Got experience? Great, it's aresume summary for you. Display your greatest assets upfront and prove your worth with hard numbers and real accomplishments.
And if you're just starting out, try aresume objective. Here, you showcase skills that can also apply to working as a cook (transferable skills). Accentuate what you know and how you think it makes you stand out among other applicants.
Read more: Resume Intro Paragraphs Examples
3. Write a Perfect Cook Resume Job Description
Sure, salt and pepper are staples. But you're going to have to use a little more to show you're a well-seasoned chef.
Here's how to craft the perfect resume job description:
Lead off with your most recent work experience.
Make sure you include such information as your title, the name of the place you worked at, dates worked, and up to 6 bullet points.
Spice your cook job description up by stating some of your accomplishments. Don't just list cook duties. Provide numbers to give your resume that extra oomph factor (use % or $ to show your impact).
Start each bullet point with an action word such as improved or directed.
Target your resume to the job ad. If they mention required years of experience, show you have them.
Read more: Should You Include Irrelevant Experience on a Resume
4. Polish Up Your Education Section in Your Cook Resume
Turn your education into a reason to hire you even if you didn't go to culinary school. Add:
school name and location
years in school
degree
And if you're writing a resume with no experience, you can add some extras such as coursework and extracurriculars.
Have any cooking certifications? Highlight them in a separate "Certifications" resume section.
Read more: How to Add Education to a Resume
5. Include the Right Skills for a Cook Resume
Cooks need to be versatile. This applies to your skills portfolio as well. So state your technical, hard, and soft skills. Add anything in between that comes to mind, if it's relevant.
Top Cook Resume Skills
Kitchen safety
Knowledge of food industry
Presentation
Sourcing quality produce
Food quality
Supplier relations
Training junior employees
Delegating tasks
Remember: Don't copy-paste this list onto your resume. Instead, tailor it to the job ad. If the job ad mentions "collaboration" instead of "teamwork", use "collaboration". This way you will make your resume ATS-friendly.
When making a resume in our builder, drag & drop bullet points, skills, and auto-fill the boring stuff. Spell check? Check. Start building a professional resume template here for free.
When you're done, Zety's resume builder will score your resume and our resume checker will tell you exactly how to make it better.
6. Add Other Sections to Your Cook Resume
If you want to land a cooking job, the best way to find one is to show your diversity. A varied skillset proves you're a veteran chef in the kitchen.
Name the heading "Hobbies", "Interests", or "Other" and show your colors. According to studies, being passionate for your job is likely to increase performance. Who wouldn't want that?
If you run a food blog, an Instagram cooking page, a YouTube channel—definitely include it in your resume. Your recruiters are bound to say "That's some passion my restaurant could really use!"
Pro Tip: If you've won a cooking competition or completed specialized courses, don't forget to include them!
7. Finish Your Resume off with a Cover Letter
No, don't close the page just yet. Resume cover pages can be a bother, sure. After all, you don't even know if your potential employer will open it. Some of them definitely don't.
But a lot of them do. And that same lot is more likely to reject your resume outright if you don't attach a cover letter. So don't risk it.
To write a great cook cover letter, you can follow these steps:
We recommend keeping the length of your cover letter at about half a page. See here for more of our general tips on writing cover letters!
Plus, a great cover letter that matches your resume will give you an advantage over other candidates. You can write it in our cover letter builder here. Here's what it may look like: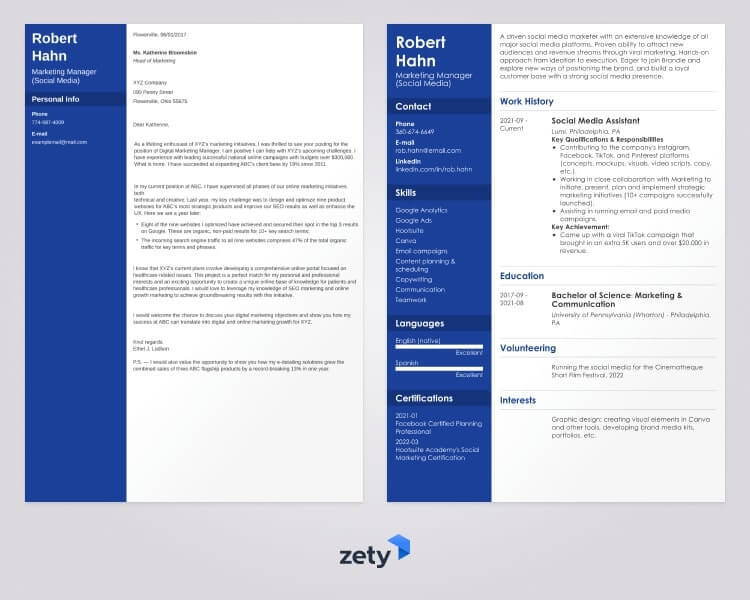 See more cover letter templates and start writing.
Boom! You're done.
This is how you write a great cook resume.
Got a few tricks up your own sleeve? Did we miss any of the 11 herbs and spices for a perfect cook resume? Let us know in the comments below!
About Zety's Editorial Process
This article has been reviewed by our editorial team to make sure it follows Zety's editorial guidelines. We're committed to sharing our expertise and giving you trustworthy career advice tailored to your needs. High-quality content is what brings over 40 million readers to our site every year. But we don't stop there. Our team conducts original research to understand the job market better, and we pride ourselves on being quoted by top universities and prime media outlets from around the world.