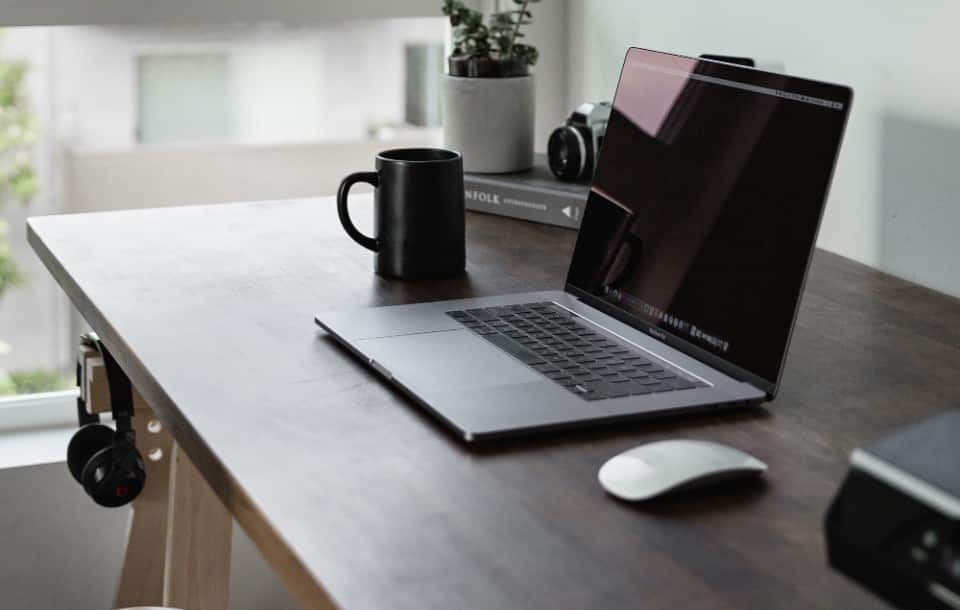 +10 High Income Skills to Learn for 2023
Some jobs just pay more than others. And to get the big money gigs you need the right set of high income skills. See a list of the best skills to learn to earn more.
Plenty of people work hard but still struggle with money. The hard truth is that some abilities attract better remuneration than others.
They're called high income skills. High value skills are in demand and attract lucrative pay from employers and clients. Developing these talents and knowledge dramatically increases your earning potential and improves your financial situation.
We will explore what high income skills are and list some of the best skills to learn. So, let's get started and set you on the path to getting the salary you deserve.
Want to save time and have your resume ready in 5 minutes? Try our resume builder. It's fast and easy to use. Plus, you'll get ready-made content to add with one click. See 20+ resume templates and create your resume here.
Sample resume made with our builder—See more resume examples here.
Take a look at these guides to see more examples of skills you need for a high income and other ways of improving your resume and your paycheck:
High Income Skills Example Resume
Thomas Bangalter
202-555-0179
tbangalter_zety@gmail.com
linkedin.com/in/tbangalter
Innovative and energetic marketing coordinator with 5+ years experience building digitally led campaigns for a major multi-national corporation. Spearheaded introduction of cutting-edge competitive analysis and trend reporting to boost sales by 20% year-on-year.
Work Experience
Marketing Coordinator
September 2015–Present
Riparian Web Services, San Francisco, CA
Analyzed opportunities and executed improvements for marketing processes, content creation, and lead generation.
Worked in partnership with content and outreach specialists to promote blog posts and guest posts in industry leading outlets.
Spearheaded new methods for market research, performance forecasting, and consumer trends.
Implemented new competitor analysis methods that increased annual sales by 20%.
Introduced new SEO tools which improved average page ranking by two positions.
Education
BS in New Media & Internet Marketing
University of Southern California, Los Angeles, CA
Relevant Coursework: Marketing Strategy and Planning, Buyer Behavior Theory, Global Marketing.
Skills
Analytics Tools (e.g., Amplitude)
Collaboration Skills
Content Creation & Automation
Copywriting & Copyediting
Email Marketing
Problem Solving
Search Engine Marketing
Search Engine Optimization
Certifications
AMA Certified Professional Marketer
Google Analytics Individual Qualification (IQ)
HubSpot Content Marketing Certification
What Are High Income Skills?
High income skills are the professional abilities and knowledge that could earn you a six-figure annual salary. The definition of high-income varies from location to location due to differences in living expenses, but a six-figure annual paycheck is a good benchmark for defining high value skills.
And if you want to break down the definition of high income further, the Pew Research Center has calculated that around 19% of Americans are in upper income households.
Here are the high income skills to learn if you want to join the top fifth of earners.
List of High Income Skills to Learn: 20+ Examples
This list of high income skills is presented in no particular order. You'll notice though that there's a strong focus on IT skills and computer skills, reflecting the ever-increasing influence of tech-based abilities on the world of work.
Each skill you'll see is also in high-demand and set to remain so for the foreseeable future. So let's make a start and see what you should learn if you want to earn.
1. Software Development
It was hard to know where to start, but software development is certainly a worthy choice for our number one spot. Software is essentially the programs and other operating information used by a computer or electronic device. And with so many aspects of life being computerized there's a strong demand for people who can create the code that runs it all.
What's more it doesn't even necessarily require a university degree to get coding. Online coding bootcamps from the likes of EdX and Udemy can get you up to speed in months, rather than years.
And what's the pay-off? The median salary for a software developer currently stands at $107,510 per annum, with top-ranking professionals earning upwards of twice that. A very lucrative skill indeed.
Once you've learned this high income skill, learn how to write your resume here: Software Engineer Template (+Developer Examples)
2. UX Design
UX designers ensure products, services and devices offer a seamless and pleasant user experience. They focus on the experience of the end user and their work is critical to a product or device's commercial success.
UX design incorporates aspects of psychology and design, bound together with commercial awareness and market research. Good UX designers are easily earning in excess of $100k per annum and there's a great choice of training available online.
Once you've learned this high income skill, learn how to write your resume here: User Experience (UX) Designer Resume Sample
3. SEO
SEO or search engine optimization is another incredibly valuable technical skill. So what is SEO exactly? Search engine optimization is the practice of ensuring a company's website appears as high up as possible in search engine results, usually Google. The higher up in the search results a web page is, the more visitors it gets, which translates into more business.
As you can imagine, every business with an online presence wants a piece of the action so professionals with SEO skills are in high demand.
Once you've learned this high income skill, learn how to write your resume here: SEO Specialist Resume Sample & Guide
4. Video Production
Video content is king. Just witness the explosive growth of YouTube and TikTok. It's more engaging, richer in information and more compelling than plain written content. Businesses are increasingly looking for skilled video production professionals to strengthen their marketing output.
As with the other skills we've discussed there are plenty of options available for learning about video production and editing. An investment in the right knowledge and good equipment will pay off nicely.
Once you've learned this high income skill, learn how to write your resume here: Video Editor Resume Example: Template & Guide
5. Copywriting
Copywriting is a specialized form of writing skill focusing on creating promotional and marketing materials with the intention of selling a product or service. It's a high income skill that is valued in pretty much every industry and is particularly well suited for freelance work.
The best copywriters can earn significant sums by negotiating to be paid a percentage of the sales that their copy generates so it can be very profitable indeed if you're successful.
Once you've learned this high income skill, learn how to write your resume here: Copywriter Resume Example & Guide (20+ Tips)
6. Entrepreneurship
Perhaps you'd prefer to strike it out on your own rather than put your skills to use for someone else? In that case you'll need to develop entrepreneurial skills. They're tough to define because they cover everything from interpersonal skills to leadership and management skills, marketing skills and more.
Entrepreneurship combines creativity, innovation and taking risks. It's about turning ideas into reality and building new business opportunities. And there are plenty of resources available for the entrepreneurial-minded person to hone their abilities. Look for training in business management and entrepreneurial advice from other successful innovators. There's a high risk in
Once you've learned this high income skill, learn how to write your resume here: Entrepreneur Resume Sample & Guide
7. Digital Marketing
Digital marketing refers to advertising delivered through digital channels such as search engines, apps, social media and email. Even if you're not a marketing professional you'll know these channels are becoming the most important way to market products and services. And traditional media based marketing continues to fall out of favor.
Digital marketing is therefore a smart choice to develop as a high income skill. It also has plenty of niche areas to specialize in such as content marketing, social media marketing and online advertising.
Once you've learned this high income skill, learn how to write your resume here: Digital Marketing Resume Examples: Guide & Best Template
8. Audio Engineering
We've already discussed video production, but audio production is also in high demand. The podcast business is booming and the big players in the corporate world want in on the action. Then there are the traditional sectors for audio engineers such as radio and the music business.

You might be thinking radio is a dying form of media, but it's not. In fact, radio has actually increased in popularity due to the COVID-19 pandemic. So demand for audio engineering professionals in the radio business is set to stay strong.
Once you've learned this high income skill, learn how to write your resume here: Audio Engineer Resume Example: + Live Sound Production
9. Mobile App Development
This high income skill is closely related to software development which we've already mentioned. But it's definitely worth mentioning as a separate skill to learn, and here's why. Mobile market share for internet consumption worldwide has surpassed traditional desktop computers. In January 2021, mobile's market share stood at about 55% and was on an upward trend.
Factor in the increasing use of mobile devices for online shopping, banking, lifestyle apps and more, and there's an almost endless list of opportunities for mobile app development. Developing your skills in this particular field opens up plenty of opportunities.
Once you've learned this high income skill, learn how to write your resume here: Android Developer Resume: Example & Guide
10. Business Analysis
Business analysis is another high-demand, high-growth skill that'll help you boost your earning potential. Business analysts help companies improve their products, services and processes through data analysis. And it's a skill that's in demand in every industry.
The median wage is close to $100,000 and projected job growth is much faster than average. So all in all an excellent choice if you want a better pay day.
Once you've learned this high income skill, learn how to write your resume here: Business Analyst Resume Samples +Summary Examples
When making a resume in our builder, drag & drop bullet points, skills, and auto-fill the boring stuff. Spell check? Check. Start building a professional resume template here for free.
When you're done, our online resume builder will score your resume and our resume checker will tell you exactly how to make it better.
11. Program Management
Project management skills are another universally valued ability that will help you earn a high income. In short, they're the abilities that enable you to complete work on time, within budget and with efficient use of resources. And specializing in project management offers good earning potential and excellent growth in employment prospects.
Once you've learned this high income skill, learn how to write your resume here: Best Project Manager Resume Examples
12. IT Skills
As I mentioned right at the start there's a strong focus on IT skills if you want to develop abilities that'll earn you a high income. So let's take a look at some of the other IT skills that are currently in high demand and offer good earning potential.
Cybersecurity: Companies and organizations need to protect their digital information and infrastructure. Cybersecurity is in high demand, but short supply so well worth pursuing as a high income skill.
Artificial intelligence: AI is set to transform the world of work. More and more businesses are incorporating AI into their processes and demand for AI experts will remain strong.
Cloud computing: It's simply the delivery of computing services over the internet. In 2020, it generated more than $200 billion annually to the US economy, a figure that's set to keep growing.
Blockchain: It isn't just Bitcoin. Blockchain is set to transform online payments, file storage, identity management, secure voting, smart contracts and more. Demand is high and job growth is faster than average in the blockchain engineering industry too, so there are plenty of opportunities to earn well.
Internet of Things (IoT): IoT refers to devices that use technologies that connect with other objects and systems using the internet. For example a fridge that can automatically order groceries when you start to run low. With a future market set to run into the trillions of dollars, IoT offers a bright future for skilled professionals.
Programming: Knowing how to code underpins pretty much every facet of IT. Develop a good working knowledge of the most in-demand programming languages and you'll definitely be able to increase your earnings.
Learn how to write an IT resume here: 25+ Information Technology (IT) Resume Examples
13. Soft Skills
All of the high income skills we've mentioned so far are hard skills, specific technical abilities that enable you to carry out your job. But you shouldn't neglect soft skills, the attributes that define the way you work with other people, such as interpersonal skills. Developing these abilities can help you earn a high income too. Here are a few examples:
Leadership and management skills: To advance in your career and increase your income you'll need to lead and manage others effectively.
Problem-solving skills: Coming up with innovative solutions to business problems, and preventing problems from happening in the first place is a highly-valued ability.
Adaptability: If you're able to adapt to the changing nature of work and develop your abilities to meet growing demands then you'll keep your earning potential on track.
Transferable skills: Developing skills that are portable across different jobs and industries will give you the flexibility to pursue new and more lucrative opportunities. Transferable skills are a must have to earn well.
Collaboration skills: To earn well, you'll need to work well with others. Good collaboration skills mean better performance overall at work and that'll translate into your pay packet too.
Once you've developed your management skills, learn how to write your resume here: 40 Management Resume Examples
And if you're planning a career change, take a look here: Career Change Resume Example: Guide with Sample & Tips
How to Learn High Income Skills
So now what high income skills to pursue, how do you go about developing them? The good news is that we live in a golden age for acquiring knowledge. Here are a few ideas to help get you started.
1. Make Use of Free Resources
From YouTube to blogs to dedicated "how to" communities, there's a huge wealth of free knowledge out there. Use it to gain a foothold in your chosen area of high income knowledge.
2. Invest in Paid Courses
Once you've exhausted your free options you may want to take it to the next level. Take a look at online training providers like Udemy, Coursera, and EdX. Don't forget traditional educational institutions either. Universities and adult learning providers are offering an ever-increasing range of training courses, many of them available to complete online.
3. Get a Mentor
Making the right contacts is incredibly important for overall career success. And when you're pursuing new high income skills having a mentor who's been there and done that will give you invaluable guidance.
4. Put Your New Skills to Use
Once you've done the learning you'll need to put your high income skills to practical use. And that's not just finding full-time work or becoming an entrepreneur in your chosen field. Freelancing will enable you to start putting your new-found knowledge into practice. Take a look at freelancing platforms like Fiverr and Upwork to get started.
Here's how to list freelance work on your resume: Freelance Work on a Resume [Freelancer Resume Examples]
Plus, a great cover letter that matches your resume will give you an advantage over other candidates. You can write it in our cover letter builder here. Here's what it may look like: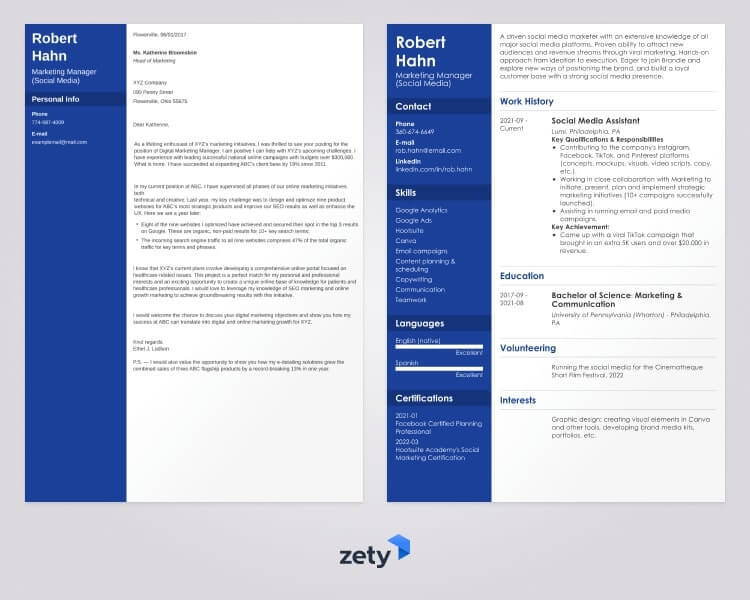 See more cover letter templates and start writing.
Key Takeaway
The best high income skills to learn include software development, UX design, video production, copywriting and entrepreneurship. Many of them are focused on IT, but there are also important soft skills you need to earn a high income.
To develop your skills, explore the learning opportunities available, both free and paid. Ideally, you should find a mentor as well to help guide you on your way. And put your skills to use, whether it's through full-time paid work, entrepreneurship or freelancing.
Thanks for reading. If you'd like to know more about the best high income skills to learn then please ask away in the comments section and we'll be happy to help.
About Zety's Editorial Process
This article has been reviewed by our editorial team to make sure it follows Zety's editorial guidelines. We're committed to sharing our expertise and giving you trustworthy career advice tailored to your needs. High-quality content is what brings over 40 million readers to our site every year. But we don't stop there. Our team conducts original research to understand the job market better, and we pride ourselves on being quoted by top universities and prime media outlets from around the world.
Sources