Our customers have been hired by:
Listing programming languages on a resume sounds like something super easy— you just list them and move on.
But not so fast.
Hiring managers know that anyone can cram some coding language into their resume. They're going to want proof not only that you know the programming language, but that you can actually create something stellar out of it.
Luckily for you, our guide will tell you how to list programming languages on a resume to show just that.
Want to save time and have your resume ready in 5 minutes? Try our resume builder. It's fast and easy to use. Plus, you'll get ready-made content to add with one click. See 20+ resume templates and create your resume here.
Sample resume made with our builder—See more resume examples here.
Interested in how to write a killer resume in full? These dedicated IT guides will show you how:
How to List Programming Languages on a Resume
You can obviously just make a long list of programming languages you know, chuck them on your resume, and you're done.
But then every recruiter's computer will say no.
Just like with code, it's all about where you put something in order to make it work.
Choose Which Programming Languages to List
List the programming languages that you know. It's a total cowboy scenario, right?
The sad truth is a lot of people lie on their resume in hopes of snagging that dream job. Here's another truth though—if you list a programming language on your resume, the hiring manager will ask about it or test it later on.
It can be hard figuring out how well you've "mastered" a programming language. Just making a list of programming languages might make it look like you know them all at the same level.
Back up that list with examples that you put in other resume sections: your work experience, volunteering, projects, education. These examples will show your coding skills in context and give the hiring manager a better idea of your proficiency.
If you already have some experience in IT then list programming languages should be rather simple.
But what if you're writing a resume with no experience or a resume for an internship?
You don't have to just choose programming languages that you used for a paid job. Think about any workshops, coding bootcamps, or personal projects you've done where you used a programming language. They all count as experience!
Now that you know where to find them, it's time for some epic placement.
Read more: Computer and Software Skills for a Resume
Create a Separate Skills Section on Your Resume
Programming languages can be added to several different sections in your resume, but the most popular one is your skills section.
Here's how to add programming languages to the skills section of your resume:
List the programming languages you know, one line for one language, if you know just a couple of languages.
List the programming languages you know all on one line if you know several languages.
Your skills section isn't just dedicated to your IT skills, but to all the hard skills and soft skills you have so you don't want that list ending up looking like a website source code.
But just listing the programming languages you know isn't enough. You need to tailor your resume to make those languages look like more than just a laundry list of words.
You can do that by using the job ad as a cheat sheet. Use the resume keywords in the ad and include them in your resume where appropriate. It lets you focus on what the recruiter is most interested in. It has an added bonus of making your resume more ATS-friendly which is as much a win as bug-free code.
Read more: What to Include in a Resume
Add Them to Your Resume Profile
Your resume profile is one of the first places you can add your programming language knowledge since this section is at the top of your resume.
Add the programming languages that you know best in either your resume summary (if you have lots of job experience) or your resume objective (if you're just starting off your career.
When making a resume in our builder, drag & drop bullet points, skills, and auto-fill the boring stuff. Spell check? Check. Start building a professional resume template here for free.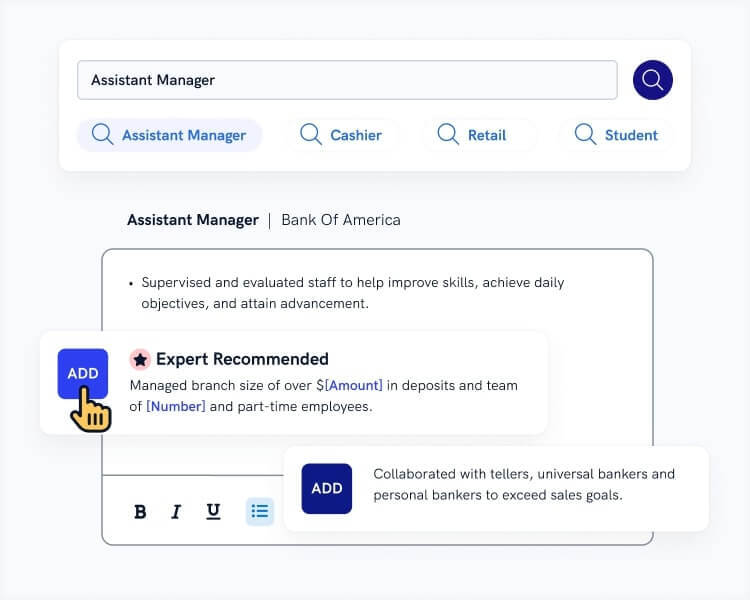 When you're done, our professional resume builder will score your resume and our resume checker will tell you exactly how to make it better.
Include Them in Your Work Experience Section
Your work experience section gives you a multitude of opportunities to drop some Python or C++ to impress recruiters.
Add the programming languages you use within your job responsibilities and key work achievements. This way you can show your language knowledge in practice.
Mention Them in Your Education Section
This probably doesn't seem all that intuitive, but your education section can be a great place to mention programming language knowledge.
Include languages you learned in class, in school assignments/projects, or extracurricular activities.
Add Additional Sections to Highlight Your Programming Knowledge
There are several ways to prove your programming language knowledge that just don't really fit into the other resume sections that were listed. So what do you do then? Create an additional section.
Include the programming languages you learned or used when volunteering, in work or personal projects, or in any certification courses. This way, they'll get the attention they deserve.
Read more: The Best Checklist for a Resume Review
Programming Languages on a Resume Examples
Here's how to list programming languages in different sections of your resume:
Resume profile:
Knowledgeable and creative software developer with 2 years of experience in gaming software development and production. Excels at Ruby on Rails framework as well as C++ and Java for larger scale projects. Interested in leveraging skills and experience at Rockstar Games.
Work experience:
Junior Gameplay Programmer
Salem, OR
Jan- Nov 2019
Developed and audited 80+ online gameplay features using C++ on the Unreal Engine.
Tested and optimized new code strings.
Collaborated with team members on creating and optimizing the best UI for gameplay experience.
Skills section:
Python
C++
Java
JavaScript
.NET
Additional section:
Volunteer
Pierce, SD
Feb-Oct 2019
Re-coded NGO website from HTML to JavaScript. Finished project 3 weeks ahead of schedule.
No matter where you include your programming proficiency, adding it correctly will majorly upgrade your resume and catch the recruiter's eye.
Read more: How to Structure a Resume Professionally
Plus, a great cover letter that matches your resume will give you an advantage over other candidates. You can write it in our cover letter builder here. Here's what it may look like: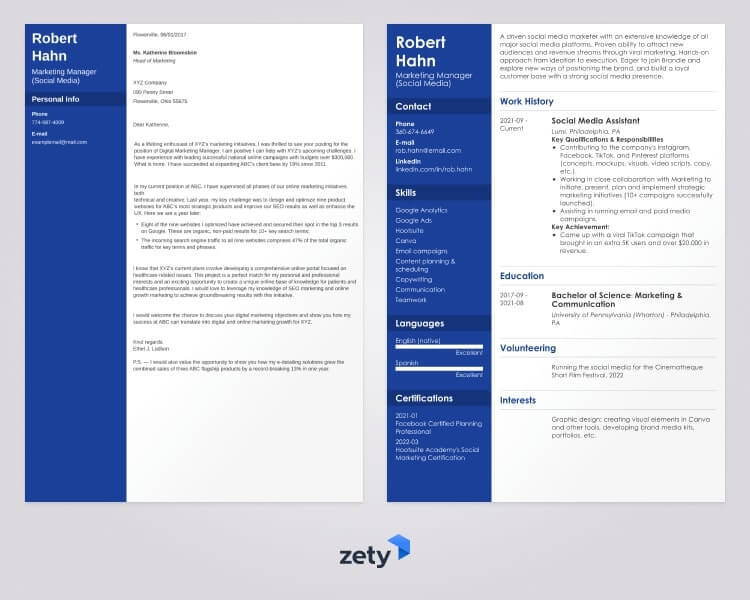 See more cover letter templates and start writing.
Key Takeaway
Programming is today's top tech skill, so it can really reboot your resume when added correctly.
Remember to:
List programming languages individually if you know only a few languages and in one line if you know several.
Use the job ad to find which languages the hiring manager is looking for.
Add programming languages to the relevant sections in your resume: resume profile, work experience, skills, education, or additional sections.
That's it!
Thanks for reading! Have any questions regarding how to list programming languages on a resume? Let us know down in the comments!
About Zety's Editorial Process
This article has been reviewed by our editorial team to make sure it follows Zety's editorial guidelines. We're committed to sharing our expertise and giving you trustworthy career advice tailored to your needs. High-quality content is what brings over 40 million readers to our site every year. But we don't stop there. Our team conducts original research to understand the job market better, and we pride ourselves on being quoted by top universities and prime media outlets from around the world.
Sources