You're about to write the best system administrator resume out there. But first let's get this straight:
You could pull apart the Death Star, run some diagnostics and upgrades, and get that thing flying right.
With a lot of coffee.
That's what your system administrator resume needs to prove.
The problem?
You're up against 300 other sysadmins, all vying for the job.
So, how can you stand out and get the interview?
This guide will show you:
A system administrator resume example better than 9 out of 10 other resumes.
How to write a system administrator resume that lands more interviews.
Tips and examples of how to put skills and achievements on a systems administrator resume.
How to describe your experience on a resume for a system administrator to get any job you want.
Here's a sample resume for a system administrator made using our resume builder.
Want to save time and have your resume ready in 5 minutes? Try our resume builder. It's fast and easy to use. Plus, you'll get tips and right vs. wrong examples while writing your resume. See 20+ resume templates and create your resume here.
System Administrator Resume Example - See +20 resume templates and create your resume here
1
What's the Best Format for a System Administrator Resume?
Picture a hiring manager named Jennie.
She's got nothing but free time to read 300+ system admin resumes. She'll take her time and pick the best.
But she doesn't exist.
Your hiring manager is Steve. He's got 4 hours to read that stack of resumes. He'll skim them all, then read the interesting ones.
Be interesting.
How?
By starting with the chronological resume format. It's the best systems administrator resume format.
It puts your newest achievements first.
That's vital in an industry where yesterday's tech is as popular as floppy disks and light pens.
Set it up right with the best resume fonts. Connect them with eye-catching headings and approachable white space.
What about PDF vs Word resumes?
Back before radio, Windows system admin resumes in PDF form didn't work. Applicant Tracking Software didn't like them. That's not true today, with machine-readable PDFs.
So, send a system administrator resume PDF unless the job ad says not to.
Pro Tip: Switching careers? Consider a system engineer resume in the combination resume format. It'll let you show sys admin skills you used in non-admin jobs.
Not ready to deploy the chronological format just yet for your active directory resume? See our guide: 3 Resume Formats: How to Choose the Best One [Examples]
2
System Administrator Resume Summary or Resume Objective?
Remember our IT manager, Steve?
He's at his wraparound desk, trying to hire for that unicorn job.
What's to stop him from skimming your great system administrator resume and moving on?
A resume summary or resume objective, that's what.
It's the glue that sticks him to your skills.
A resume summary works for old hands. Use it if you've got terabytes of experience.
A resume objective is for fresh graduates. Use it if your work history has yet to be configured.
Either way, pack both with relevant sysadmin achievements.
Here are two systems administrator resume examples to demonstrate.
System Administrator Resume Examples [Resume Summaries]
Why does one of these sysadmin resume examples outperform the other?
wrong
Engaged system administrator looking for new job with room for advancement. Very skilled in security, cloud management, and decision making. Can start immediately.
That's not a total shutdown, but it won't overflow your stack with interviews either.
So, go for something like this senior system administrator resume summary:
right
Results-driven system administrator with 5 years of experience, seeking to use proven scripting and problem solving skills to improve cost and performance at AT&T. Saved $50K a year at Obbla with automated system monitoring. Created user training site that slashed trouble tickets by 18%.
That's a single pane of glass for your career. The IT manager will put down his shawarma to get at your contact info.
But what if your experience is still in the bubble wrap?
If that's you, use the entry-level system admin resume examples below.
Two Entry-Level System Administrator Resume Objectives
Are you writing a junior system administrator resume? They used to say to show your passion in a resume objective. That advice is deprecated.
wrong
Junior system administrator looking for entry-level sysadmin job. Haven't yet worked as an admin, but will work exceptionally hard for the right position.
Passion's great, but the IT manager wants to know if you can do the job.
Answer "yes" with details that fit the offer like a cable to a port.
An interview-getting Linux system administrator resume needs numbers like this:
right
Goal-oriented system administrator, seeking to increase performance and lower cost for AccuRalt Global. Have set up network system administration for small local firms. All were 15% under-budget and finished before due date. Have maintained high tech Uinux home lab for 5 years.
The IT manager would have to have a dongle loose to skip your systems engineer resume.
But hold up a second—how can a total novice get a system administrator resume objective like that?
Find the answer in the next section, on experience.
Pro Tip: A system administrator professional summary should be short. Three sentences is plenty. Show the manager a glimpse of your experience and achievements.
Don't write a systems administrator resume objective or summary that reads like a spaghetti pile of cables. See our guides: How To Write a Professional Resume Summary: 21 Best Examples and +20 Resume Career Objective Examples (with Tips)
3
How to Describe Your System Administrator Experience
One thing, and one thing only, will convince the hiring manager to interview you.
It's how you show resume experience on a Windows system admin resume.
Your IT administrator resume experience must tie you to the job like a front panel connector.
Start with your most recent job. Then plug in 3-5 bullet points.
But not just any bullet points.
Make sure they show achievements compatible with the job ad.
If you're writing an AWS resume, cram it with AWS resume points.
Here are two systems administrator resume examples to work from.
System Administrator Resume Examples [Experience]
Can you see why the first of these system administrator resume samples works?
right
ObblaTools, Inc.
System Administrator
2015–2018
Systems administrator for popular SaaS business.
Planned all system design. Saved $50,000 a year in lost time and materials thanks to strategic hardware location and automated system monitoring.
Created user training hub that cut trouble tickets by 18%.
That'll make the IT manager drop his copy of Start with Why. It's got metrics and measures that match the job ad.
For contrast, look at a more generic systems administrator resume example:
wrong
ObblaTools, Inc.
System Administrator
2015–2018
Systems administrator in SaaS firm.
Planned all system design, including hardware location and monitoring.
In charge of handling all trouble tickets.
That's like writing "I can do computers" on your resume for servers. Really? Which computers? What successes have you had?
Sadly, some of us don't have experience to list.
Are you more like Peter Parker, not yet bitten by the spider?
Feast your optic inputs on the next two system administrator resume examples.
How to Write a Resume for a System Administrator with no Experience
Can fixing a friend's computer get you into the best system administrator jobs?
Nope.
It takes at least six months of full time enterprise work to be a skilled sysadmin.
But entry-level system administrator jobs are different.
For those jobs, you can list:
Side projects
Your own home lab
Help Desk jobs
System admin tasks from non-sysadmin jobs
Short term freelance jobs
So, let's say you waited tables. Meanwhile, you helped maintain the restaurant's computer system. Definitely put that on your entry-level systems admin resume.
See that in operation in the entry-level system admin resume examples below.
Two System Administrator Resume Samples [No Experience]
This first sample system administration resume experience section BSODs:
wrong
System Administrator Experience: Still looking for first sysadmin job.
Other Experience:
Talk about user error.
You need details, like in this junior Windows system administrator resume example:
right
System Administrator Experience
2017–2018
Set up in-house computer system for small web design firm. Completed work 15% under budget and 10 days before due date.
Created and maintained cutting-edge home lab, fully automated via PowerShell.
Worked as fill-in Help Desk tech for Oberlin College.
In waitstaff job, installed and maintained Windows 10 System with order station.
That's worthy of Evi Nemeth. But you probably already have the chops to write a system Windows system admin resume like that.
Pro Tip: Need more experience for an entry-level system administrator resume? Not sure where to start? Check out this great rookie system admin bootcamp post on Reddit.
Our resume builder (you can create your resume here) will give you tips and examples on how to write your resume summary or any other section. You can easily copy them straight into your resume - it will save you a ton of time.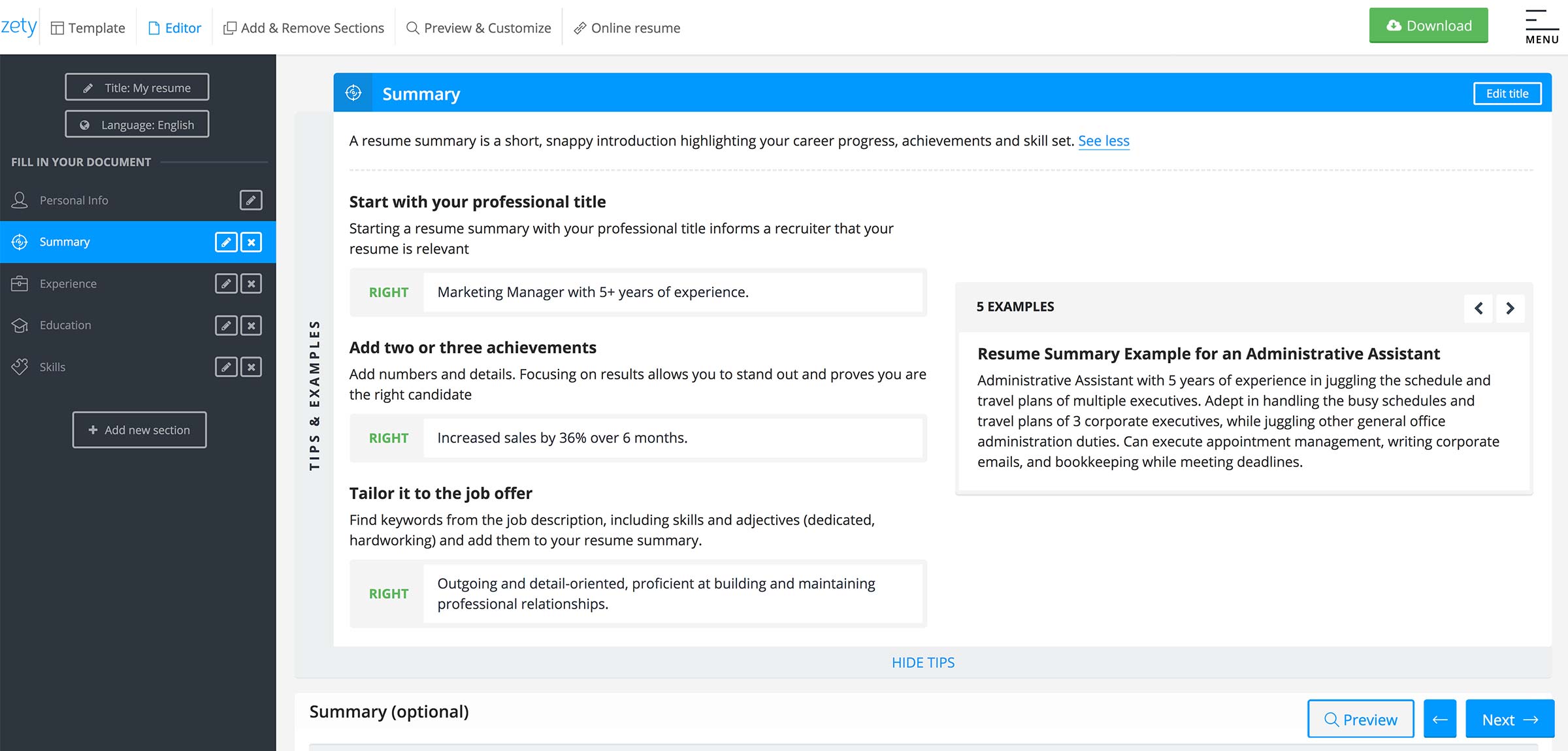 Inside Zety's resume tool you will find tips and examples for your resume.
Don't let your Windows systems admin resume read like a million lines of "Hello, World" script. Juice it up with action words. See our guide: +80 Examples of Resume Action Words for Every Profession
4
Is Your Education Section Nonfunctional? It Might Be
We all know experience beats education in a shell-scripting resume or AWS administrator resume.
But you have to show education. So use it right.
It's like repurposing unneeded CPU time to mine Bitcoin or help SETI.
Start with:
College Name and Location.
Years in School.
Degree.
Then add compatible achievements.
Here are two system administration resume examples as a guide.
System Administrator Resume Examples [Education]
These sample system administrator resume sections target the same job. It needs someone who knows Security and 3D Printing..
right
BS in Computer Science
Oberlin College, 2009–2013
Pursued a passion for IT coursework.
Excelled in security classes.
President, 3D Print Club.
Blammo. Like a glove. That's basically Thomas Limoncelli, back in school.
That's not true for the next of our system administrator resume examples:
wrong
BS in Computer Science
Oberlin College, 2009–2013
Completed all core computer science coursework
GPA 2.8
Wow, CompTIA F+. You must have played a lot of Beer Pong.
But add details, and you've turned your Unix resume off and on again.
Pro Tip: Education matters most on entry-level system administrator resumes. If you're new, spend more time on educational achievements.
When should you leave GPA off a resume for system administration? Find that and other best practices in our guide: How to List Education on a Resume [Tips & Examples]
5
How to Put Skills on a Resume for a System Administrator
Journey with me into the IT manager's mind.
He cares about one thing: "Have you got the skills?"
"Yes," you answer on your systems administrator resume. "I've got lots of skills. In fact, here's a list of every IT skill there is."
Bad move.
You must prioritize the skills shown in the job ad.
Then, prove them.
Let's see the difference in two IT administrator resume examples. They both try for a job that wants skills in Windows installation, configuration, monitoring, automation and script writing.
System Administrator Resume Examples [Skills]
This sample system administrator resume quote needs a password reset:
wrong
System Administrator Skills: Windows, Linux, Unix, configuring, monitoring, cloud management, security, decision making, project management, automation, interpersonal skills, collaboration, troubleshooting, problem solving, assessing the situation and acting accordingly...
Yuck. Who brought the malware?
Zero in mostly on the skills from the system administrator job description:
right
Maintained 250+ Windows computers, including configuring and monitoring. Worked with vendors to cut equipment costs 20%.
Installed 200+ desktop computers during company-wide upgrade.
Wrote scripts to automate scheduled system patching. Saved 4 hours/week.
That's not just a systems administrator resume skills list. It fills the manager's trouble ticket.
Need some skills to start your perfect systems administrator resume? Try these:
List of Skills to Put on a System Administrator Resume
The table below is chock-a-block with system administrator keywords on a resume.
You can add to this system administrator skills list from job descriptions online.
System Administrator Resume Skill List

| | |
| --- | --- |
| Soft Skills | Hard Skills |
| Interpersonal Skills | Scripting |
| Collaboration | Access Management |
| Communication | Networking |
| Troubleshooting | Cloud Skills |
| Problem Solving | Automation |
| Customer Service | Security |
| Perceptiveness | Monitoring |
| Critical Thinking | Project Management |
| Detail Oriented | HTML/Javascript |
| Decision Making | Windows/Unix/Linux |
Do the above, and your resume for a system administrator will look like Tom Carpenter's.
Pro Tip: How many pages should a resume be for a system administrator? Learn when to use one page, and when a short resume can actually hurt you: 2 Page Resume: Will It Crush Your Chances? (Format & Expert Advice)
Did you know LinkedIn is a great resource for Windows system admin resume skills? See our guide: +30 Best Skills to Put on a Resume (Proven Tips)
6
How to Show Certifications on a Resume
What's the best certification for a system administrator resume?
CCNA? CompTIA A+? RHCE? MCSE?
It all depends what job you're going for.
Basically, a cert will help you stand out from other entry-level system administrator resumes.
So, show it prominently. Put it in your Linux resume summary, and in a special certifications section.
This systems administrator resume example shows how:
That way, no matter where the hiring manager glances first, he'll know you're qualified.
Pro Tip: If your system resume is thin, you can list certification exam scores, if they're high. Anything that will impress the IT manager is fair game.
How exactly should you write your certifications on a resume for systems administration? See our guide: How to Include Certifications on a Resume: Guide (+20 Examples)
7
How to Add Other Sections for an Effective Resume
How will the IT manager pick the best applicant?
He'll start with the 100 or so resumes with the right skills and experience.
But then he'll need a tiebreaker.
That comes down to personality.
How can you show that in a systems administrator resume?
With special "other" sections that tell your story like the title crawl at the beginning of Star Wars.
See these Windows system admin resume examples for details.
System Administrator Resume Examples [Other Sections]
Hey, everybody needs a hobby. But those don't explain why you're the perfect sysadmin.
Now, what about this system resume for servers example:
right
Conferences
2017 Interop ITX - Spoke on a panel about business alignment
2016 SpiceWorld IT Conference
Publications
"CloudBerry Backup Review" appeared in 4sysops
"The Hidden Enterprise Vendor Service Goldmine" appeared in Geek Speak
Awards
Runner Up, IT Pro System Administrator of the Year 2016
Additional Activities
Member, CompTIA
Volunteer monthly in Foreside Soup Kitchen
That's Æleen Frisch league. You're obviously not just in it because you need money to buy cheese curls.
But it only takes a little reflection to build a system administrator resume like that.
Pro Tip: Awards, conferences, publications, and even management commendations make great systems administrator resume material.
Need tips for other system resume additions? You may have achievements you don't even think of as achievements. See our guide: What Resume Sections to Include on Your Resume: (20+ Examples)
8
How About a Cover Letter for a System Administrator?
Do you really need a cover letter for system administration?
Yes, you do.
Think of it like a trouble ticket that gets the manager to read your systems administrator resume
To do it right, start your cover letter for system engineers with the manager's name.
Then, show you understand the need.
Last, prove how you can fill it.
This sample system administrator cover letter paints the picture:
System Administrator Cover Letter Example
I've wanted to work at AT&T since my first days as a system administrator. The company's commitment to innovation dovetail with my quest for continuous learning. This constant hunger for a better way is why I saved $50,000 a year at ObblaTools, through strategic monitoring and hardware location projects. My success at...
Close your cover letter with an offer. Try, "I'd relish the chance to show how I designed a user training portal that slashed trouble tickets by almost 20%."
Pro Tip: A system administrator cover letter shouldn't be a carbon copy of your AWS experience resume. Stick to one or two achievements and talk mostly about the company and job.
Plus, a great cover letter that matches your resume will give you an advantage over other candidates. You can write your cover letter in our resume builder here. Here's what it may look like: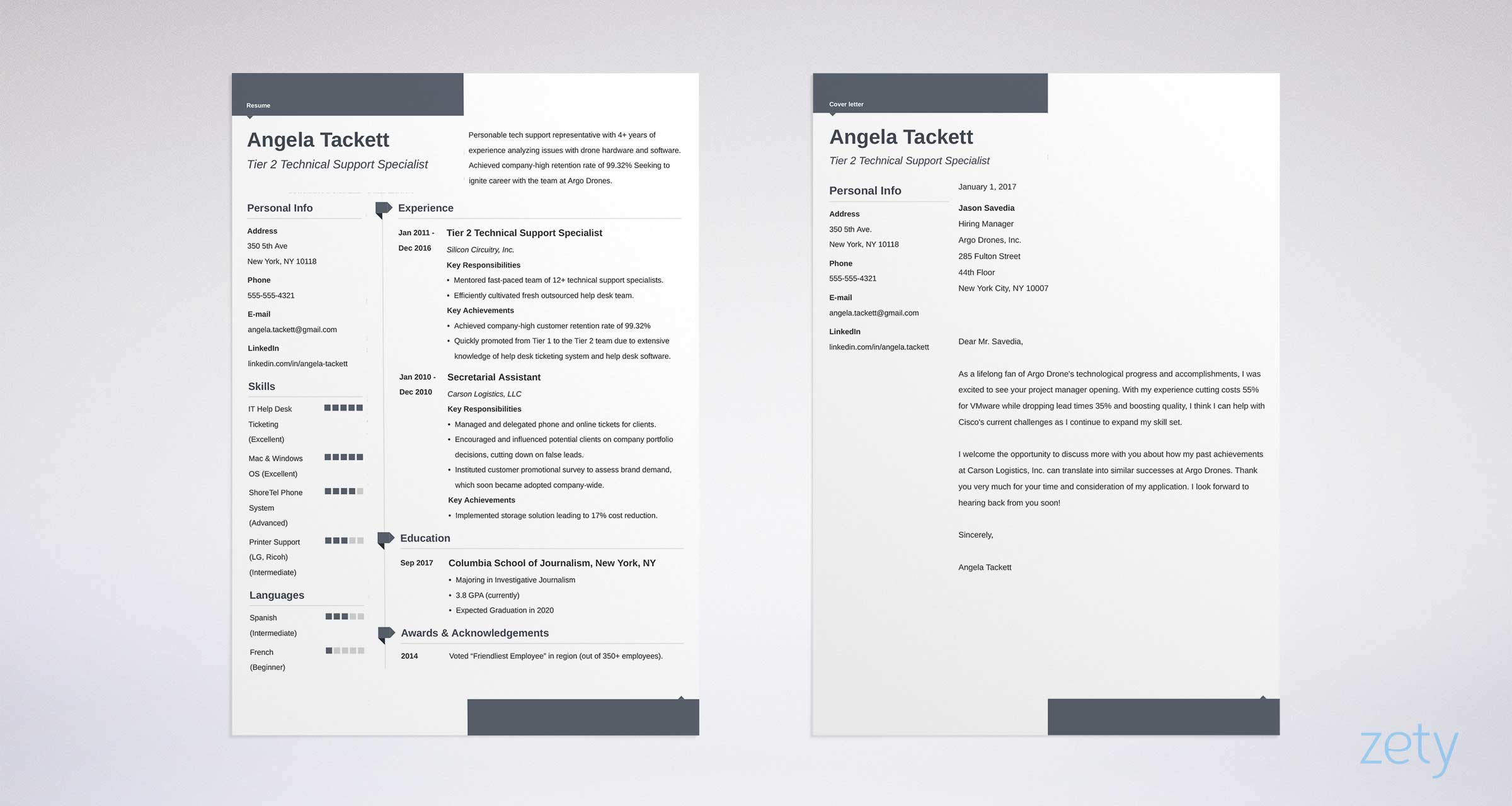 See more templates and create your resume and cover letter here.
How exactly should your full systems administrator cover letter look? See our guide: How To Write A Cover Letter in 8 Simple Steps (+12 Examples)
9
How to Add Contact Info to Your Resume
What contact info should you add to a resume for system admins? What should you leave off?
Of course start with:
Full Name
Updated Phone Number
Professional Email Address
Like this:
Paul McAllan, System Administrator, paulqmcallan@gmail.com, 440-488-5183
But ditch the snail mail address. Add the company's city if you like.
Then, include social media profile links like LinkedIn or ServerFault. Both can give the hiring manager a better picture of your admin powers.
Pro Tip: Don't let your strong opinions about string cheese scuttle a perfect system administrator resume. Make your Facebook posts visible only to your friends.
Want more detailed advice to write the best resume you can? See our guide: How to Make a Resume: A Step-by-Step Guide (+30 Examples)
Key Takeaway
Now you've got the tools to write a great system administrator resume. Make sure to use these key strategies:
Tie your system admin resume to the job as if with 40,000 zip ties. Use bullet points that match the job description.
Find skills and qualities in the job ad. Then find times in your work history when you've nailed those things. Voila, instant interview.
Finally, use dedicated "other" sections to show you live and breathe sysadmin work. That can mean continuing ed, volunteer work, or just an "attaboy" from management.
Do you have questions on how to write a great resume for a system administrator? Not sure how to describe your skills or achievements? Give us a shout in the comments! We're glad to help!