Information Security Analyst Resume: Sample & Guide
Are you on the hunt for weak points causing your applications to fail? We have you covered with a guide for the perfect information security analyst resume!
Strap yourself in, you'll see a perfect resume for an information security analyst in just a moment.
First, however—
You're a beast at your job, and you know it. You plug leaks before they even spring up. The 2014 iCloud leak? Yeah, had you been their information security analyst, you would have prevented it all like it's nothing.
Now, a question for you:
How do you convincingly put that amount of proficiency on paper to snatch that job?
The answer lies within a jaw-dropping resume.
This guide will show you:
An information security analyst resume better than 9 out of 10 other resumes.
How to write an information security analyst resume that will land you more interviews.
Tips and examples of how to put skills and achievements on an information security analyst resume.
How to describe your experience on a resume for information security analysts to get any infosec job you want.
Want to save time and have your resume ready in 5 minutes? Try our resume builder. It's fast and easy to use. Plus, you'll get ready-made content to add with one click. See 20+ resume templates and create your resume here.
Sample resume made with our builder—See more resume examples here.
Targeting other jobs in the IT sector? We got you covered with these guides below:
Sample Resume for Information Security Analyst Jobs
Thomas Munn
Information Security Analyst
631-768-1734
Tommunn@hotmail.com
Linkedin.com/in/munnthomas
Summary
Driven and meticulous InfoSec analyst providing top-notch service for over 9 years. Skilled at providing security consulting, guidance, and assessing potential risks. Forced through a robust yet necessary security overhaul at EdgeTech, eliminating 10+ critical threats and reducing incidence by 99%. Looking to join GoldenLead's excellent team of InfoSec standard-setters.
Work Experience
Information Security Analyst
EdgeTech Industries, Reno, NV
October 2015–May 2021
Provided information security support for 30+ customers using different security products for varied purposes.
Conducted bi-weekly system security reports.
Promoted company-wide informational campaigns to educate a base of 2.5M+ end-users on security threats and their prevention.
Introduced digital restructuring of information systems to embrace electronic format and save over $20,000 in costs.
Prepared training material and served as senior training consultant to new lower-level infosec employees.
Security Engineer
Doomus&Partners, Spokane, WA
November 2012–September 2015
Performed security audits, finding several previously unidentified potential leak causes.
Collaborated with IT teams to implement 2-factor authentication across 200+
Campaigned for OS baselines for 7 system types, resulting in increased testing efficiency by 100%.
Education
MSc in Information Assurance
University of South Carolina, Columbia, SC
2010–2012
Skills
Security testing & evaluation
PCI, GLBA, HIPAA standard compliance
Security plan design & implementation
Rapid incidence response
Cisco equipment
Strong foresight and analytical skills
Multitasking
Teamwork
Communication and interpersonal skills
Certifications
ISCAA's Certified Information Security Manager (CISM), 2018
(ISC)² Certified Information Systems Security Professional (CISSP), 2016
Awards
ROCK Award for Employee Excellence, 2019
Programming Languages
Get ready to write the best information security analyst resume in your life:
1. Start by Plugging the Leaks in Your Resume Format
Information security analysts work to prevent information leaking out from their networks. They monitor systems for security breaches and potential risks, and prepare detailed reports. An information security analyst resume should show excellent attention to detail alongside relevant experience.
InfoSec analysis is far from easy. Hackers get faster and more efficient and creative by the day. You could even learn a thing or two from them, unrelated to network security:
See, if your resume is creative, efficient, and quick at showing off your biggest strengths, recruiters will notice—and you'll dramatically increase your interview chances.
So, the first step lies in identifying potential leaks in the formatting of your resume:
Read more: Best Resume Formats: Detailed Guide to Proper Resume Formatting
2. Write a Compelling Information Security Analyst Resume Summary or Objective
It's Sunday, and your grandpa asks you to help fix his computer because it's been acting slow lately.
You show up and oh my God look at that security threat of a browser toolbar.
That horrifying, cringe-worthy moment is what recruiters experience every time they see a messy resume.
To help them (and help yourself), write a snappy resume profile. It's just 3 or 4 sentences about you, with your most prominent strengths and the reasons why hiring you is the obvious choice.
Experienced in information security? Write an effective resume summary with your proudest moments, backed up by numbers, and superlative self-descriptions.
And, if you haven't worked in InfoSec, a strong resume objective works best. Cast the light on any useful transferable skills you have that fit the profile of an entry-level information analyst, and state your career goals.
Read more: How to Write a Resume with No Experience
3. Describe Your Information Security Analyst Experience
To show you're capable at InfoSec, the best attack vector is an awesome work experience section on your resume. Follow these tips to get there:
List your past jobs in reverse chronological order, starting from the most recent. Each entry should come with a job title, company name, and years spent there.
For the first one, go for between 4 and 6 bullet points describing your professional achievements. The others can do away with about three.
Speaking of achievements, whenever you talk about those, add numbers! They go a long way in making your work seem tangible and quantifiable, plus it's way better to say "Raised X metric by Y%" instead of "Did X".
By that same token, action words also increase engagement. Start each statement exactly that way; you're a proactive security engineer, not a passive observer.
And finally, perhaps the most important tip of them all: the key to succeeding is tailoring the resume to each individual job. Mass-sent resumes get a critical-level CVSS score and fail scan results.
No experience? Switching careers? Fresh graduate? Swap the position of your work and education sections to place the more important one higher up.
Read more: How to Use Bullet Points on Your Resume for Maximum Impact
4. Secure the Education Section of Your Information Security Analyst Resume
The biggest security threat in the education section of your resume is… not including it at all.
Believe it or not, some people actually do that, and that's just no good.
Here's the basic rundown:
Read more: How to Add an Unfinished College Degree to Your Resume
5. Flaunt Your Information Security Analyst Skills
80% of senior IT leaders believe their organizations are at risk of financial loss due to improper information security measures. Needless to say, your prospective employer wants none of that.
So—
The hiring manager will look to your skills to determine your value and ability to prevent them from hemorrhaging money, no questions here.
How to convince them you have what it takes?
By proving it, how else!
Get yourself a spreadsheet, and write down each and every one of your professional skills. A good idea is to divide them into separate categories, like soft skills, hard skills, technical skills, computer skills, and programming languages, for example.
Then, open the job application you're interested in. Zero in on the requirements section—you should find important resume keywords that signify exactly what the company is looking for in an ideal candidate.
Cross-reference with your list and look for matches. See any? Great, choose 10 and put them on your resume. It's a much better strategy than blindly listing a whole bunch of (possibly irrelevant) stuff.
When composing the experience section and highlighting your achievements, weave in those skills as well!
Below is a sample list of good-to-have skills for information security analysts:
Information Security Analyst Resume Skills
Security architecture
Networking protocol expertise
Cisco equipment
Risk & security analysis
Risk mitigation
Programming
Encryption
Incident response
System & data management
Identity management
Firewall management
DNS implementation
Attention to detail
Working under pressure
When making a resume in our builder, drag & drop bullet points, skills, and auto-fill the boring stuff. Spell check? Check. Start building a professional resume template here for free.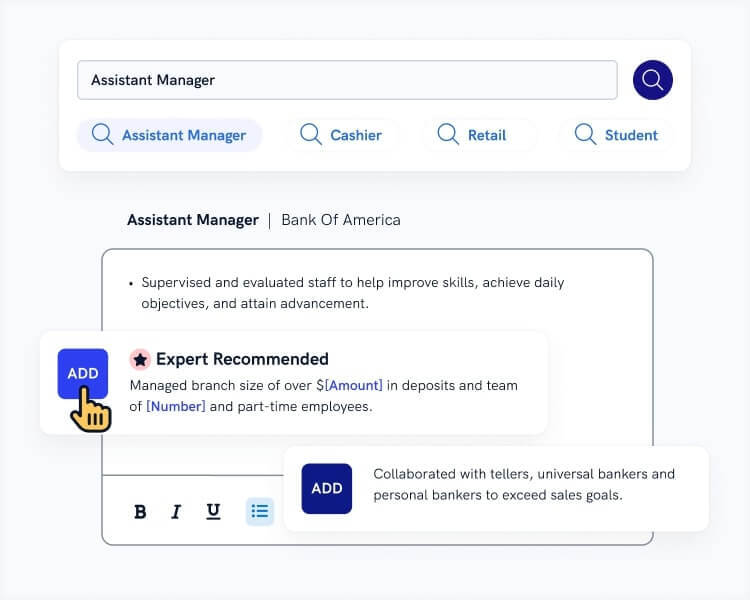 When you're done, our professional resume builder will score your resume and our resume checker will tell you exactly how to make it better.
6. Include Extra Sections on a Resume for Your Information Security Analysts
Generic, non-specific resumes have a lot in common with unspecialized, derelict network systems that haven't been updated since the mid 2000s.
Sooner or later, someone will find a breach and screw over the owner.
One way to fix this in a resume is to include additional sections. Here are a few ideas to set yourself apart from the boring, copy-pasted resumes of your competition:
By adding these sections, you make yourself look more personable, natural, and trustworthy. It may not seem like it, but these are critical qualities—statistics show that most information security threats come from inside companies, so being trustworthy is incredibly important in your role.
Pro Tip: You know how you run security checks? Recruiters also do that, in the form of background checks on their candidates.Make sure your online profiles are scrubbed clean before you apply.
7. Attach a Cover Letter
Statistics don't lie when they say yes, they are. Almost 50% of recruiters don't bother opening an application when they don't see a cover letter.
Authenticate your cover letter with these cover letter tips:
Before beginning, familiarize yourself with cover letter formatting best practices.
Include your contact info in the cover letter heading.
Open the cover letter by mentioning what drew you to apply, like the company culture, or stellar reputation on the market. Add a measurable achievement to draw the reader's attention.
Proceed to enumerate your knowledge, skills, and strengths and explain how they fit the company's profile.
Finalize the cover letter by boldly promising that having you on their team would lead to their gains.
A perfect way to close out is by adding a P.S. with an additional achievement at the end.
As for cover letter length, stick to 3 or 4 paragraphs that don't go over one page in total.
Pro Tip: A great way to make a good impression and make sure your resume didn't get stuck in a security loop is to send a follow-up email after your job application. Give it a few days, though!
Plus, a great cover letter that matches your resume will give you an advantage over other candidates. You can write it in our cover letter builder here. Here's what it may look like: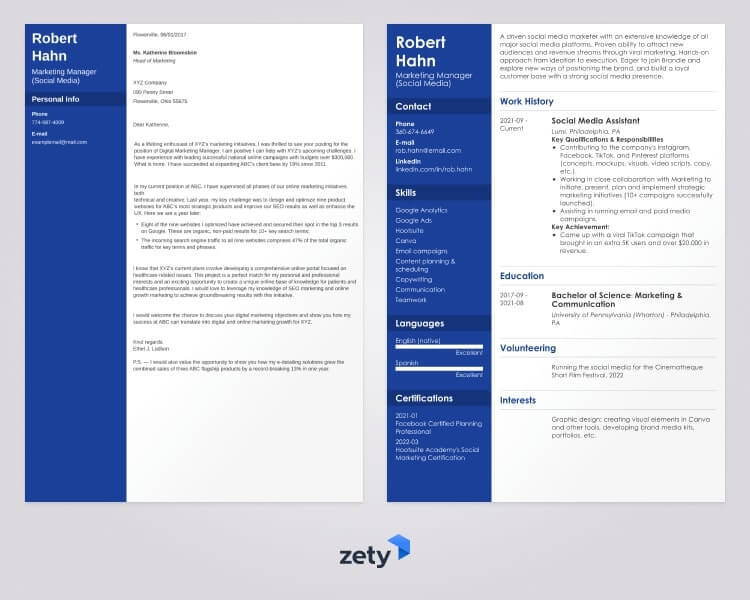 See more cover letter templates and start writing.
Now that's a hack-resistant resume!
Still hazy on anything related to writing an information security analyst resume? Need help talking up your security assurance skills? Come talk to us in the comment section below! Thanks for reading!
About Zety's Editorial Process
This article has been reviewed by our editorial team to make sure it follows Zety's editorial guidelines. We're committed to sharing our expertise and giving you trustworthy career advice tailored to your needs. High-quality content is what brings over 40 million readers to our site every year. But we don't stop there. Our team conducts original research to understand the job market better, and we pride ourselves on being quoted by top universities and prime media outlets from around the world.