Cum Laude on a Resume: How to List Latin Honors & Tips
So, you graduated cum laude and want to show it off to prospective employers. Here's how to list latin honors on your resume.
In the eyes of the recruiter your experience matters the most—
But—
You can boost your chances of getting a job by making your academic background count.
Especially, if you graduated with honors.
Putting cum laude on a resume can give you the edge over the other candidates, and show the recruiter you're above the average.
This article will show you:
How to put summa and magna cum laude on a resume.
Where to put your Latin honors and awards on resume.
Graduated with honors resume examples.
Want to save time and have your resume ready in 5 minutes? Try our resume builder. It's fast and easy to use. Plus, you'll get ready-made content to add with one click. See 20+ resume templates and create your resume here.
Sample resume made with our builder—See more resume examples here.
Looking for other resume writing resources? Check out our guides:
1
When to Put Latin Honors on a Resume
Before we look at the examples of Latin honors on a resume, let's consider—
Why would you want to put magna cum laude on a resume?
Your resume is supposed to wow the recruiter. But according to this NACE study, your educational achievements will not impress them as much as your previous experience.
Sorry.
It doesn't mean, though, there's no room for adding cum laude to your resume, no.
Putting your academic honors and awards on a resume makes sense when preparing your first resume with no experience, making a student resume, or a recent graduate resume.
It's just that the more experienced you become, the more attention you'll need to devote to your professional experience on a resume rather than education.
That said—
There are certain jobs where a strong academic background is prerequisite. For example, if you're writing an investment banker resume, putting your GPA on a resume along with Latin honors is pretty much standard.
Conclusion: always tailor your resume to the job offer and the employer's specific requirements.
Pro Tip: Depending on how much (or little) experience you have, your resume education section can come before or after the experience section.
2
How to Put Latin Honors on a Resume
Listen:
Even if some employers might not pay too much attention to cum laude on your resume, graduating with honors testifies to one thing—
Your commitment to excellence.
Which is more than welcome by any employer.
So, show how committed to excellence you are by presenting cum laude on a resume—
Just the way it should.
Take a look at how you can put cum laude on your resume:
Graduated with Honors on a Resume—Examples
2012
BSc in Mathematics, magna cum laude
UCLA, Los Angeles, CA
2013
Honors BA in English, magna cum laude (GPA 3.75)
UCLA, Los Angeles, CA
2014
BA in Psychology, summa cum laude
UCLA, Los Angeles, CA
2015
BA in Business
Honors: summa cum laude (GPA 3.95)
UCLA, Los Angeles, CA
2016
BSc in Engineering, Graduated with Highest Honors
UCLA, Los Angeles, CA
2017
BA with High Honors in Political Science
UCLA, Los Angeles, CA
In the next section, we'll take a closer look at some basic formatting rules.
Pro Tip: If your school doesn't use the cum laude phrase, but rather "with High Honors" or other phrasing, do not change it. Use the exact same wording as you see on your diploma.
When making a resume in our builder, drag & drop bullet points, skills, and auto-fill the boring stuff. Spell check? Check. Start building a professional resume template here for free.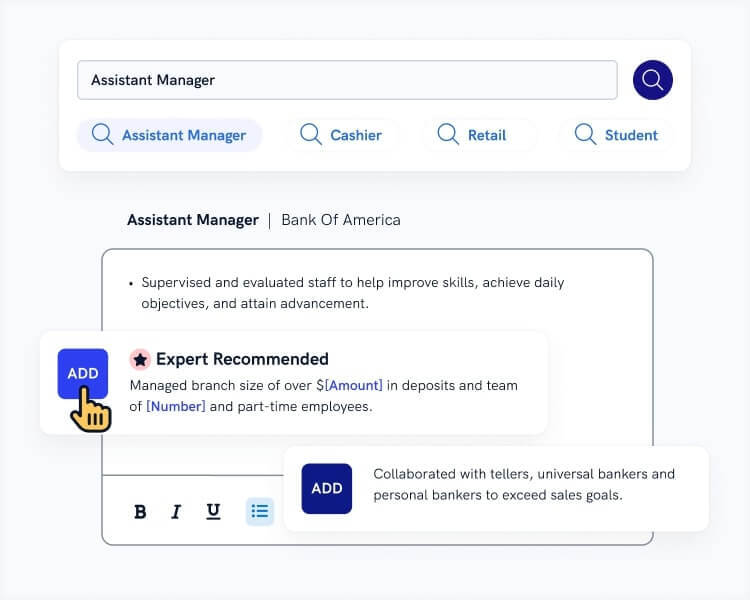 When you're done, our online resume builder will score your resume and our resume checker will tell you exactly how to make it better.
3
How to Format Latin Honors on a Resume
The examples above show that you can write cum laude on your resume in several ways.
But before you actually start listing Latin honors on your resume, you need to decide—
Where to put cum laude on your resume.
There are two options:
Create a separate section for your academic awards and achievements, and list cum laude as a bullet point among your other accomplishments.
List cum laude in your resume education section.
Pro Tip: Latin honors should be italicized and in lower case.
Now—
Making a separate section for honors and awards on your resume is a good option if you want to present several academic accomplishments but you're afraid they may get drowned out in your education section.
Here's an example of what the honors and awards resume section could look like:
Honors and Awards on a Resume—Example
Graduated magna cum laude
Cumulative GPA 3.98/4.00
Dean's List all semesters
U.C. Berkeley Golden Key Member
1st Prize in Student Essay Contest
Mind you though—
Your resume is about presenting your top achievements, not all of them. So, limit yourself to listing up to 3-5 academic awards on your resume.
Most of the time, though, it will be perfectly enough to simply add information on having graduated with honors to the education section.
You can put cum laude on your resume in the same line as your degree, or add an extra line of text.
In fact, listing cum laude in the education section of a resume has been suggested by the official Harvard Law School resume writing guide.
Seriously, all you need to do is take another look at the examples in the previous section, and choose the format you find to your liking.
Simple as that.
And one more thing.
If you put cum laude on a resume, consider leaving out your GPA. After all, it stands to reason that without a high GPA you wouldn't have earned your Latin honor.
Remember: don't clutter your resume.
But—
If the employer requires you to put the GPA score on your resume, do put it by all means.
You can also consider including both cum laude and GPA on your resume if your school has particularly high requirements for earning a distinction, and you want to draw the recruiter's attention to this fact.
Plus, a great cover letter that matches your resume will give you an advantage over other candidates. You can write it in our cover letter builder here. Here's what it may look like: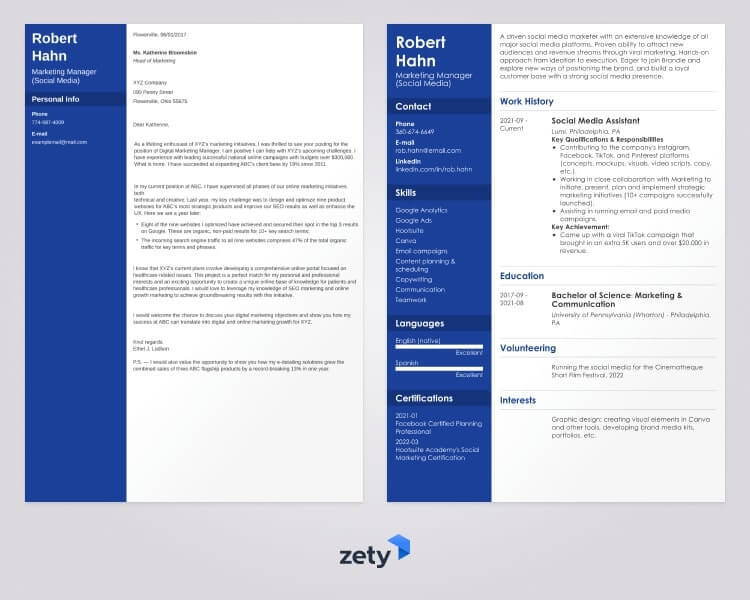 See more cover letter templates and start writing.
Key Takeaways
Here's how to put cum laude on a resume:
Put cum laude on your resume if you're making an entry-level resume.
Add Latin honors to your resume when applying for jobs requiring strong academic background.
Put cum laude in your resume's education section or in a separate section for honors and awards on a resume.
If you list cum laude on a resume, you might want to skip adding information on your GPA.
Use the phrasing from your diploma. Don't convert graduated with honors into cum laude and vice versa.
Always tailor your resume to the job posting. If the employer wants a detailed education section, make sure your resume delivers it.

Not sure whether or not you should include cum laude on your resume? Give us a shout out in the comments below! Always happy to help.
About Zety's Editorial Process
This article has been reviewed by our editorial team to make sure it follows Zety's editorial guidelines. We're committed to sharing our expertise and giving you trustworthy career advice tailored to your needs. High-quality content is what brings over 40 million readers to our site every year. But we don't stop there. Our team conducts original research to understand the job market better, and we pride ourselves on being quoted by top universities and prime media outlets from around the world.
Sources