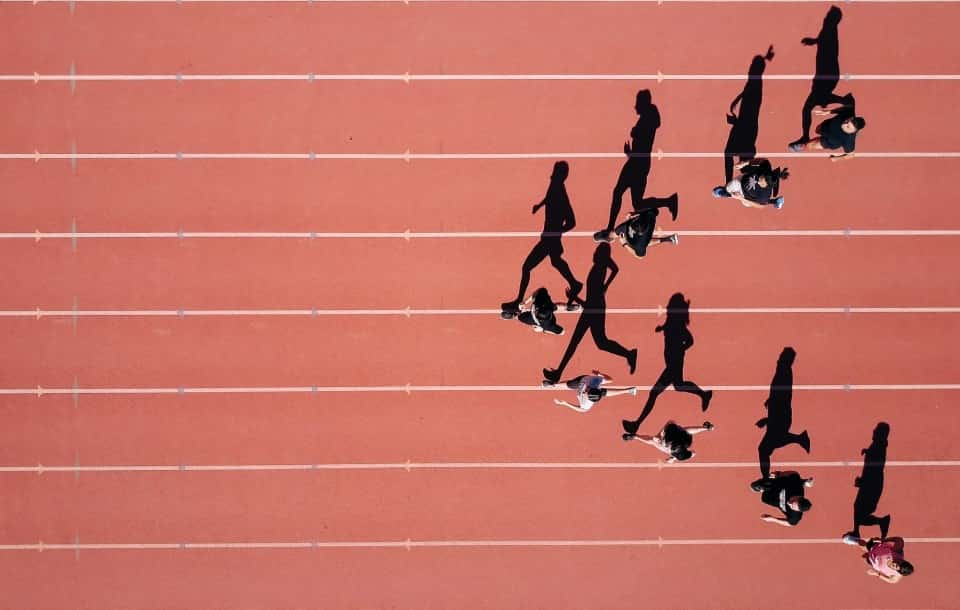 Athlete Resume: How to Put Athletics on a Resume [+College]
So, athletics on resumes—do they belong only on athlete resumes, or are they fair game for any job? Find out how to put athletics on a resume to score an interview!
Athletics can be a huge part of your life while you're in high school or college—
But is it really important enough to mention on your resume? Will recruiters care? Maybe it can even hurt your chances of getting the job?
After all, writing a resume is a game of inches:
Even the smallest detail could make or break your application, and you only have a few seconds to impress the recruiter.
What if you say the wrong thing and get your resume slam-dunked into the nearest waste paper basket?
Don't worry—
You're about to find out everything you need to know about adding athletics to your resume. You can make it work to your advantage—you just need to know how.
This guide will show you:
A college athlete resume example better than 9 out of 10 other resumes.
How and where to put athletics on your resume.
Tips and examples of how to describe athletics experience on a resume to get any job you want.
Examples of an athlete's transferable skills that you can use for every job.
Want to save time and have your resume ready in 5 minutes? Try our resume builder. It's fast and easy to use. Plus, you'll get ready-made content to add with one click. See 20+ resume templates and create your resume here.
Sample resume made with our builder—See more resume examples here.
Looking for more resume advice? You may be interested in some of our other guides:
Also, check out some of our resume samples and guides for specific positions:
Let's take a look at a sample college athlete resume, applying for an entry-level personal trainer job:
Student Athlete Resume Example
William Caraway
Personal Trainer
303-712-8802
will.j.caraway@gmail.com
twitter.com/will.j.caraway
Summary
Goal-oriented entry-level personal trainer with a BSc in Sports Management. Division I student-athlete, captain and QB of the University of Minnesota football team. Led the team to 20 victories, achieved a 119+ passer rating and scored 90+ passing touchdowns in 4 seasons. Seeking to apply my theoretical knowledge and proven workout techniques to helping Good Vibe Gym's clients achieve their fitness goals in healthy, efficient ways.
Experience
NCAA Division I Football Team Captain
University of Minnesota
September 2019–May 2021
Key Qualifications & Responsibilities
Led the team to 20 victories, achieving an >80% win percentage.
Supported 4 team members with their individual training schedules, ensuring that they met 100% of their personal goals.
Assisted the coach with targeted diet planning for the team and with scheduling 10+ hours of practice/week.
Maintained a positive attitude and ensured open communication within the team.
NCAA Division I Football Team Quarterback
University of Minnesota
June 2016–May 2021
Achieved a 119+ passer rating.
Reached 90+ passing touchdowns (1.5 per game on average).
Maintained a 5,000-calorie, high-protein diet and completed 3.5 hours of training daily.
Elected team captain after 2 seasons as QB.
Education
BSc in Sport Management, University of Minnesota
2016–2021
Achieved a 3.5 GPA
Active member of the Sports Analytics Club
Relevant coursework: Conditioning, Weight Training, Lifetime Health and Wellness, Sport and Exercise Psychology
Skills
Conditioning & Weight loss
Diet planning
Communication
Leadership
Teamwork
Problem-solving
Negotiation
Time management
Analytical skills
Detail-oriented
Languages
American English - Native
Spanish - Intermediate
See?
It's perfectly possible to write an excellent resume with no experience other than college athletics!
Now, here's how to put athletics on a resume:
1. Create the Perfect Experience Section for Athlete Resumes
The work experience section forms the bulk of your resume. It's where you'll list your biggest professional achievements from each job, in reverse chronological order.
So, is it ever okay to use athletics as your work experience?
Yes—
When you have no other experience and you're applying for a job that's somehow relevant to your athletic activity or fitness level. Examples could include:
Entry-level jobs directly related to sports and fitness—like personal trainer, gym staff, or fitness attendant positions
Jobs that require candidates to be physically fit—like firefigther, lifeguard, or construction worker positions
...in short, jobs where fitness, athletic ability, and/or physical strength are key requirements.
If you're applying for one of those, good for you—
Here's how to describe your experience on athlete resumes:
List your most recent experience first, and work your way back. This way, your biggest achievements will be on the top of the page.
For each entry, add up to six bullet points describing your proudest moments as an athlete.
Start each bullet point with a resume action verb for maximum impact, e.g. achieved, led, reached, won, etc. As the saying goes, "Actions speak louder than our coach"!
Use numbers to quantify your achievements whenever possible, e.g. achieved a 95% win ratio or beat the college 100-meter dash record by 0.5s.
Tailor your resume to the job description. For example, you should mention your diet or conditioning achievements if applying for a personal trainer job, but not necessarily if you want to be a lifeguard.
So, in some cases, you can put college athletics as work experience on your resume.
However:
If you already have relevant work experience, there's no need to mention athletics here. Describing your professional accomplishments will be a much better use of this space.
Similarly, if you don't have experience and your target job is not relevant to athletics, don't describe your sports achievements as work history. (Here's a guide for you: How to Write a Great Resume with Zero Experience).
But hey—
Don't worry! We haven't even reached halftime:
You can still mention your athletics in another section of your resume. Keep reading to find out where!
Read more: How to Put Work Experience on a Resume: Expert Tips & Examples
2. Add College Athletics to Your Resume Education Section
Ready for the next part of our training session?
Next up on your resume is the education section. It's where you'll list your highest level of schooling—
And for most candidates, it's also the best place to mention student athletics.
So, if you couldn't add athletics to your work experience section—
Here's how to add athletics to your resume education section:
List the details of your most recent education. If you went to college, this means adding your degree, the name of the institution, and your years of attendance. For high school diplomas, it's enough to list the name of the school and the year you graduated.
Add a few bullet points with highlights from your education. These can include your GPA (if it was 3.5+), relevant coursework, extracurricular activities, and—you guessed it—your athletic achievements.
A couple of points to bear in mind:
If you already described your athletic career in your work experience section, there's no need to mention it again under education.
Only add bullet points to your education section if you have fewer than 5 years of relevant work experience. Your work history is much more important, and recruiters won't care about your extracurriculars from 10 years ago (sorry!).
Never quite made it to the goal line? Find out How to Add an Unfinished Degree to Your Resume
3. List Your Athletic Abilities in the Skills Resume Section
Here's where the play gets really interesting:
Your resume skills section.
This is where you'll list up to 10 of your best skills relevant to the job description. Why? Well—
Firstly, it shows you understand what skills are needed to succeed in the role. Secondly, it makes your resume ATS-friendly. ATS is a type of computer software that companies use to screen resumes for keywords.
So—
If you're applying for a job relevant to your athletic experience (such as a coach or personal trainer position), include specific skills. For instance, you could mention diet planning, resistance training, or weight lifting. Remember to throw in some soft skills, too!
So—here's a simple technique for coming up with a great skills list for your resume:
Write down every skill you've gained through your athletics and your education.
Review the job ad and highlight any skills it mentions.
On your resume, include the skills that appear both on your list and in the job ad.
Here's an example from someone applying for a coaching job:
Athlete Resumes [Skills]
Conditioning & Weight loss
Diet planning
Baseball (Outfielder)
Football (QB)
Communication
Leadership
Teamwork
Problem-solving
Time management
If you're going for jobs that have nothing to do with sports, don't worry—
You can still use the skills you've gained through your athletic training and practice, no matter what industry you're targeting.
You just have to be a bit sneaky about it.
Sports provide you with lots of transferable skills—meaning skills that can be used in a range of professions.
Examples of transferable skills you can gain through athletics include:
Teamwork (particularly for team sports)
Analytical skills and strategic thinking
Performing well under pressure
Time management (especially if you achieved a high GPA alongside athletic success)
Negotiation
Motivated
Disciplined
Goal-oriented
Responsive to feedback
When making a resume in our builder, drag & drop bullet points, skills, and auto-fill the boring stuff. Spell check? Check. Start building a professional resume template here for free.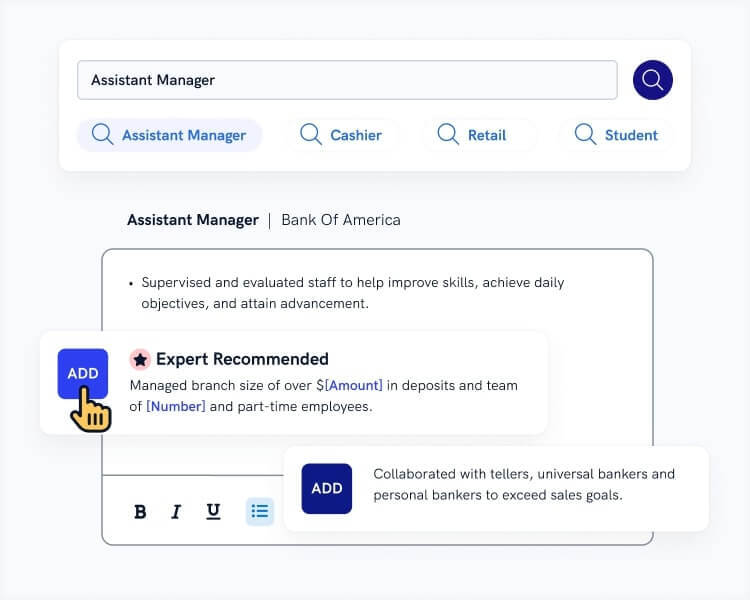 When you're done, Zety's resume builder will score your resume and tell you exactly how to make it better.
4. Use Athletics as a Hobby on Your Resume
We're almost at the finish line—
But there's one more place where you could mention athletics on your resume.
If your sports achievements didn't qualify for the work experience or education leagues, add athletics to the hobbies and interests section at the end of your resume.
Not every pastime makes for good resume material—
But as it happens, sport works great on job applications: it shows you're motivated and focused on self-improvement.
As for professional athlete resumes, you can include other sports-related sections, such as:
Certifications: a list of your sports-related certs and licenses, e.g. NASM Certified Personal Trainer.
Awards: a place for your medals and other recognized achievements.
Volunteer work: helping non-profits shows you're proactive and open to incorporating CSR principles into your work.
Memberships in relevant organizations: such as professional associations specific to your sport or profession.
If you have nothing to put in those sections, it's never too late to get the ball rolling:
Join an association, do some non-profit work, or invest in a professional cert to make yourself stand out like Barry Bonds at a Little League game!
Read more: The Correct Order for Resume Sections + What to Include in Each Section
5. Mention Athletics in Your Resume Objective or Resume Summary
Let's go over the ground rules:
All Major League resumes start with an impressive introduction. Known as a resume profile, this short paragraph at the top of the page is the condensed version of the best bits of your resume. Think of it as a lifetime highlight reel.
Resume profiles come in two types, depending on your starting position. Experienced professionals write a resume summary, while entry-level candidates write a resume objective. Both are focused on immediately impressing the recruiter to get them to read the rest of your resume.
So:
If athletics is one of your main selling points and it's relevant to the job, you can (and should!) mention it in the profile section of your resume.
Here's what to include:
A brief introduction with your job title and years of experience
One or two key achievements, like a personal best, an impressive win, or mention of a leadership position (e.g. team captain)
An offer to apply your skills and experience towards helping the company achieve a specific goal
Read more: How to Write a Job-Winning Resume Introduction: Guide & Examples
6. Use Your Experience as an Athlete in Your Cover Letter
Congrats!
You now have a championship-level resume that mentions your athletic accomplishments in all the right places.
But before you apply for your chosen job, there's one more hurdle to clear:
Writing a cover letter to match your resume.
The bad news is that yes, you do need a cover letter if you want a shot at getting the job. The good news?
You can use athletics in your cover letter, too!
Just like with your resume, the amount of focus on athletics in your cover letter will depend on the job you are applying for and your level of experience:
If you're applying for a sports-related job, you can describe your athletic skills in detail.
If sport isn't relevant to your future job, just mention it as a source of transferable skills.
Here's how to write a winning cover letter:
Format your cover letter in accordance with the accepted regulations.
Describe your best professional achievement in your cover letter introduction to grab the reader's attention.
Prove you understand the role and have the right skills to succeed.
End your cover letter with an offer to discuss your skills and experience further. It's better than just asking for an interview!
Stick to the standard pitch measurements: the best length for a cover letter is under one page.
Plus, a great cover letter that matches your resume will give you an advantage over other candidates. You can write it in our cover letter builder here. Here's what it may look like: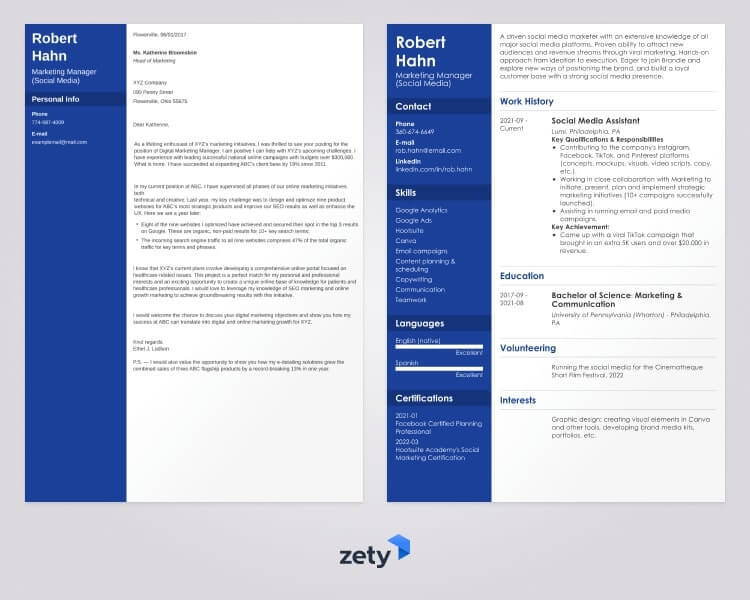 See more cover letter templates and start writing.
7. Key Takeaway
So, can you put athletics on a resume?
Sure! You just need to stay on the ball and make sure to include it in the correct section for your circumstances, with the right amount of detail.
Here's a quick summary of where to put athletics on your resume:
Resume profile—if athletics is one of your main selling points.
Work experience section—if you have no other relevant work experience, and you're applying for a job where physical fitness is a key requirement.
Education section—if you have under 5 years of professional experience and want to enhance your resume with additional achievements from your college or high school years.
Skills—only if the job requires you to have specific athletic abilities. Otherwise, focus on transferable skills.
Hobbies—if none of the above applies to you, but you still want to mention athletics or sports on your resume.
Thanks for reading! Still not sure whether you should put athletics on your resume? Perhaps you can offer some advice of your own? Drop us a line in the comments below!