Sports Resume Template & Guide: Coach, Player & More
Quarterback, coach, or even umpire—doesn't matter! When it comes to securing the bag, everyone needs to get the ball rolling with a proper sports resume.
Trying to get your sports career to take off, but nobody will play ball with you? If making it big on the pitch has been your dream your whole life, you've come to the right place.
You might think resumes are just for pencil pushers, but we call foul on that one. Big sponsorships, franchises, stadiums, all the limelight—it's a different world, sure, but professionalism is still a necessity.
And a perfect sports resume might just give you the edge you need over your opponents.
This guide will show you:

A sports resume example better than 9 out of 10 other resumes.
How to write a sports resume that will land you more interviews.
Tips and examples of how to put skills and achievements on a sports resume.
How to describe your experience on a resume for a position in the sports industry to get any job you want.
Want to save time and have your resume ready in 5 minutes? Try our resume builder. It's fast and easy to use. Plus, you'll get ready-made content to add with one click. See 20+ resume templates and create your resume here.
Sample resume made with our builder—See more resume examples here.
Looking to shoot for a different target? If so, you may be interested in these:
Sports Resume Template
Michael N. Sills
Sports Agent
334-321-7237
MichaelNSills@zetymail.com
Career Summary
Responsible sports agent with 4 years of experience managing a roster of 17 highly competitive athletes, gymnasts, and players. Negotiated and represented signed athletes' contracts with over $45 million in value. Seeking to join Bulls Olympic Center to increase scouting efforts and promote sports excellence.
Work Experience
Sports Agent
Hype General, Austin, TX
February 2017–March 2021
Managed a roster of 17 highly competitive athletes.
Prospected and generated leads via cold calling and networking.
Marketed clients through use of exciting highlight videos and presentations, reducing overall clients spent team-/sponsorless by 19%.
Operated within Hype General's yearly budget of $75 million.
Coach/Analyst
MLS Network, Marina, CA
March 2012–November 2016
Developed, assisted, and supervised progress of 150+ athletes through 2–12 week strength/athleticism coaching programs.
Established a safe training environment with emphasis on longevity in sports.
Increased the number of active memberships by 10% in consecutive years.
Education
Bachelor of Science in Sport Management
Eastern Kentucky University, Richmond
2007–2011
2x recipient of "Top Dog" award for participation in regional college football championships as team captain.
Collaborated with school staff to create local "Sports Days" for young adults and teens.
Relevant coursework: Sport in American Society, Psychology of Coaching, Sport Communication, Management of Sport Organizations, Event Planning, Player Management
Key Skills
Physical Fitness
Teamwork & Leadership
Performance Optimization
Diet & Nutrition
Weight Training
Communication Skills
Analytical Skills
Marketing
Sports Achievements
Captain of Eastern Kentucky University football team in 2009–2010.
Runner-up in NCAA Division II 2009 season.
Runner-up in 2016 Arnold Sports Festival—Powerlifting Event
Language Skills
Time to get your head in the game! This is how to write a perfect sports resume:
1. Prepare Your Sports Resume Using the Right Format
Careers in the sports industry range from players to coaches to analysts, so all will depend on the sport and the role you want to play. Generally, though, a good sports resume shows dedication, performance in and knowledge of the relevant sport & the ability to work in a team on and off the field.
And just as a fitness program requires a plan, your resume needs to have clear structure, too. Here's how to format your resume to make it easy to read:
How many pages should a resume be, you may be wondering—
One page is ideal, two are fine if you have 15+ years of experience in sports and tons of relevant achievements.
Read more: What Should a Resume Look Like?
2. Use a Sports Resume Profile to Excite Them
The manager/administrator won't give you the time.
They can't afford to spare it.
In sports, you often need that dynamic, athletic power to explode in any direction, and blitz through opponents.
Here, you need to do the same with your resume profile. In a lightning-fast breakdown of about 3 or 4 sentences, you have to score the reader's attention.
Write a resume summary if you've been around the block. Mention your best skills and numbered achievements using high-impact statements, like "led team to playoffs in 75% of tournaments."
If you're writing an entry-level job application, though, create an objective for your resume. The goal is to utilize your experience in the most appropriate way possible—like maybe you coached a Town Team baseball squad, or can run a mile in 4 minutes—and sprinkle in some competitive spirit and drive to succeed.
Read more: How to Make a Resume Stand Out
3. Attack Their Expectations with a Proper Work Experience Section
You know it, I know it, everybody knows it: the sports industry is brutal.
It attracts millions, but only lets a few succeed.
That's because you need professional athletes who are at the top of their game to perform their very best. No one remembers the second place or the first loser. Only the winner.
To get in with their (extremely expensive, by the way) sports management and coaching staff, you need a work experience section that rivals Gretzky's prime.
Pro tip: One more way of upping the energy of your resume is to use numbers next to your accomplishments. "Improved regional results by 25%" sounds way better than "Coached team to play better", doesn't it?
4. Show off Your Sports Education
Sure, this one's a bit more finicky. Sports players often don't go past high school on their educational ladder—talent and determination are far more important than theoretical knowledge. But even if, as is often the case, formal education is not required for your chosen role—
An education section on your resume is still a must.
It's the best form of injury prevention for when you'll be kicking yourself you didn't write one and they rejected you for it.
The breakdown here is easy, though, we won't even need a telestrator:
5+ years doing what you've been doing (out of school)? List your highest level of schooling, the name and location of the school, and years of attendance.
Otherwise, if you have less than 5 years of experience, include more information. Stuff like relevant coursework, extracurricular activities, school competitions, scholarships you received, et cetera.
Now, let's sort out the final burning question—do you need to put high school on your resume?
Only if you haven't completed any other degree higher than that.
Read more: Listing Your Degree on a Resume
When making a resume in our builder, drag & drop bullet points, skills, and auto-fill the boring stuff. Spell check? Check. Start building a professional resume template here for free.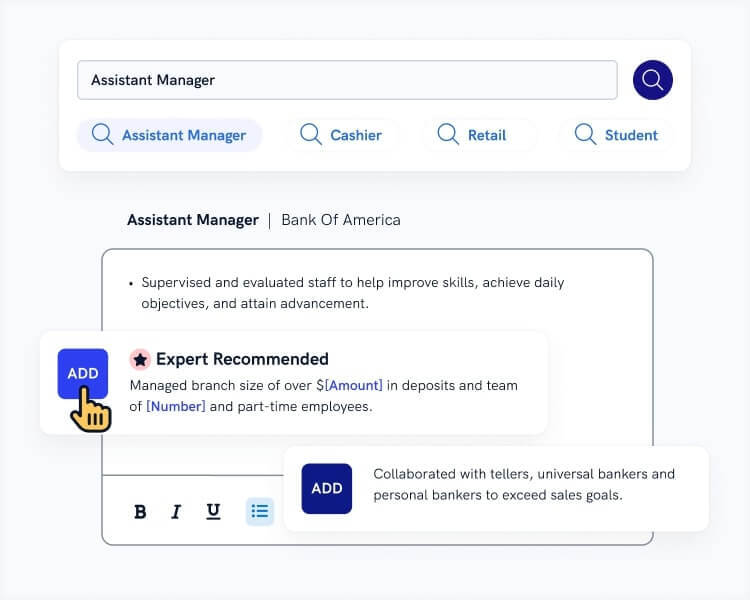 When you're done, our easy resume builder will score your resume and our resume checker will tell you exactly how to make it better.
5. Prove Your Relevant Skills on a Sports Resume
What skills do you need on a resume for sports roles?
Well, that depends on so many factors I can't even begin to list them all.
Instead, check out this general list:
Resume Skills for Sports Positions
Dedication
Communication Skills
Perseverance
Discipline
Leadership Skills
Resilience
Taking & Giving Feedback
Motivation
Coaching
Inspiring Others
Physical Fitness
Working Under Pressure
Only problem is, they'll think you're the entire FC Barcelona lineup condensed into one, applying for a baseball team if you come at them with a list that long. And they're not likely to believe you.
You have to trim your list of skills. To know which ones should stick to warming the bench, look at the job posting, and see what resume keywords seem to pop up the most. Using those is the safest tactic to score extra points on your application.
Pick 5–10 of the most relevant skills that you have and that are mentioned in the job ad—those are going on your resume.
Read more: What Skills Do Employers Look For?
6. Throw in Additional Sections on Your Sports Resume
Whether your goal is to become the organization's star player or their ace-in-the-hole analyst-coach hybrid, one thing your sports resume needs is that intangible X factor.
Think about it.
With competition being stacked all the way to the ceiling, if you don't stand out, what's going to make the recruiter do that double-take?
Not much.
Extra resume sections can help make you resemble Babe Ruth in 1919. Think about adding some of these champion-worthy sections:
Pro tip: The point of extra sections isn't to clump random stuff and call it a day, but rather to show yourself as a driven competitor who will stop at nothing to reach any goal. Try to think outside the box, and analyze what quality an extra addition really represents.
7. Write a Cover Letter for the Sports Position of Your Dreams
The facts don't lie, a cover letter increases your chances of getting signed.
Without one, they won't let you actually get on the field and start carrying your team on your back to victory.
This is how to write a great cover letter in a nutshell:
Read more: Modern Cover Letter Templates to Use in 2022
Plus, a great cover letter that matches your resume will give you an advantage over other candidates. You can write it in our cover letter builder here. Here's what it may look like: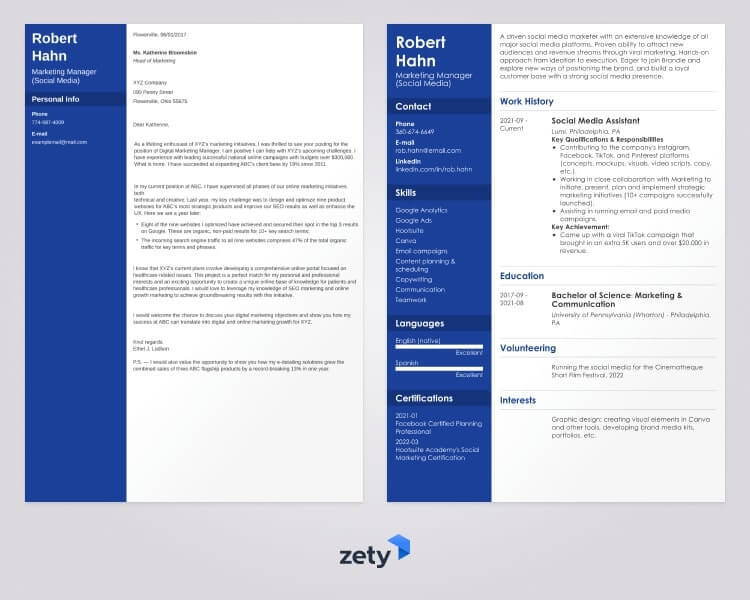 See more cover letter templates and start writing.
That's a gold-medal sports resume!
Thanks for the read. What did you think of this sample sports resume? Any thoughts and tips of your own to add? Give us a shout in the comments below!
About Zety's Editorial Process
This article has been reviewed by our editorial team to make sure it follows Zety's editorial guidelines. We're committed to sharing our expertise and giving you trustworthy career advice tailored to your needs. High-quality content is what brings over 40 million readers to our site every year. But we don't stop there. Our team conducts original research to understand the job market better, and we pride ourselves on being quoted by top universities and prime media outlets from around the world.