Yoga Teacher Resume & Yoga Instructor Resume Samples
Take a deep breath, align your yoga resume sections and get ready for that yoga studio interview.
Writing a perfect yoga teacher resume might seem hard at first, but it's quite the opposite. It's definitely easier than the Handstand Scorpion.
You don't need to stress at all. By following this guide, you'll nail your yoga teacher resume.
But if you do stress, let's do a quick breathing exercise before diving in. My favorite one is Ocean's Breath, but you're free to choose whichever one you like.
Ready? Then let's dive right in!
This guide will show you:
A yoga teacher resume example better than 9 out of 10 other resumes.
How to write a yoga teacher resume that will land you more interviews.
Tips and examples of how to put skills and achievements on a yoga teacher resume.
How to describe your experience on a resume for a yoga teacher to get any job you want
Want to save time and have your resume ready in 5 minutes? Try our resume builder. It's fast and easy to use. Plus, you'll get ready-made content to add with one click. See 20+ resume templates and create your resume here.
Sample resume made with our builder—See more resume examples here.
Yoga Teacher Resume Sample
Lara Rose
Yoga Teacher
lararose@email.us
564-875-2996
linkedin.com/in/lararose33
Summary of Qualifications
Passionate yoga teacher with over 3+ years of professional experience in designing and leading flow and vinyasa yoga classes. In June 2018, completed an Advanced 300-Hour Yoga Teacher Training in Bali, Indonesia, and acquired an in-depth knowledge about postures, breathing techniques, and spiritual elements of yoga teaching. At VinYoga Studio in New York worked as a support teacher during a 200-hour yoga teacher training. Eager to share my expertise and passion with students at Mind&Soul Yoga Studio.
Work Experience
Flow and Vinyasa Yoga Instructor
VinYoga Studio, New York, NY
July 2017–March 2019
Promoted holistic wellbeing through teaching and consultation.
Designed yoga class sequences and integrated lesson plans, including vinyasa and flow formats for beginner and advanced students.
Demonstrated postures to students and supported them in finding their right poses.
Helped students develop their body and mind awareness, as well as physical strength.
Mentored beginner trainees on their yoga path.
Ensured safety and students comfort during the classes.
Lead group meditation sessions and flow yoga projects.
Maintained positive relationships with students and immediately addressed any concerns.
Key Achievement
Became a support teacher in a 200-hour yoga teacher training where shared knowledge and practice experience with aspiring yoga teachers.
Vinyasa Yoga Instructor
Yoga for the Soul Studio, New York, NY
January 2016–June 2017
Planned and instructed a variety of Vinyasa-based yoga classes.
Provided a welcoming training space by taking care of lighting and room arrangements.
Instructed students on how to safely get into poses and how to breathe correctly.
Shared the knowledge of yoga and helped to resolve any doubts regarding physical and spiritual aspects of the practice.
Controlled students postures to help them avoid any injuries.
Supported marketing operations of the studio.
Key Achievement
Thanks to maintaining positive atmosphere during the classes helped to increase attendance by 40% in the course of 6 months.
Education and Certificates
Advanced 300-Hour Yoga Teacher Training
The Mind Temple Yoga School, Bali, Indonesia
Completion: June 2018
200-Hour Vinyasa Immersion Yoga Teacher Training (Yoga Alliance- Registered)
The Lotus Yoga, New York, NY
Completion: July 2015
Skills
Physical skills
Versatility
Adaptability
Stress management
Breathing techniques
Creativity
Self-motivation
CPR, first aid
Knowledge of anatomy
Mentoring
Communication
Time management
Activities
Performed a TED Talk Seattle—The Power of Breath in Yoga, May 2018
Developed a website on Vinyasa yoga: www.myvinyasayoga.com
Here's how to write a yoga resume that proves you're the perfect fit for the position:
1. Choose the Best Format for Your Yoga Teacher Resume
Yoga teachers lead group and individual classes and guide students through the secrets of various yoga styles, techniques, and philosophy. Your yoga teacher resume is to demonstrate that you're an expert instructor with extensive knowledge of yoga poses, breathing patterns, and anatomy.
How to show all these to the recruiter?
Plan the right sequence—
Just as you do for each of the classes. And the right sequence for your resume is the reverse-chronological layout. It usually works best as it presents your recent accomplishments first.
Follow these extra trips to format your resume in a thoughtful way:
Pro Tip: Don't cram your yoga teacher resume — let your it breathe. It will prevent the recruiter from any reading distractions.
2. Write a Yoga Teacher Resume Objective or Summary
You have a great technique and you're ready to share your passion with the world.
But first—
You need to illuminate a studio manager to hire you.
Write a compelling professional profile. It serves as your yoga teacher bio.
There are two types of resume profiles, a resume summary and a resume objective.
If you have 2+ years of professional experience, write a resume summary. It will compile the best moments of your practice.
If you've just set out on your yoga teaching path, choose a resume objective. It will put the focus on your skills and on what you've learned so far.
Pro Tip: If you lack professional yoga teaching experience, don't attempt headstands. Instead, show the hiring manager that you really care. In your yoga resume objective, reveal the motivation behind your career choice.
3. Create the Perfect Yoga Teacher Job Description for a Resume
With a good yoga instructor job description, you can show the hiring manager your middle name is Patanjali.
There's a painless way to do it.
Take a look at the tips below and write your resume experience section in no time:
Start with your latest or current job. Then follow up with previous positions.
List your job titles, names of yoga studios, locations, and dates worked.
For each position, add around 6 bullet points that describe your duties.
Use resume action verbs wherever possible. These are the likes of: provided, assisted, developed, supported, etc.
Pro Tip: Don't make your yoga teacher job description overstretch. Show only relevant experience gigs. Don't delve deep into those 10 years in advertising.
4. Make Your Yoga Instructor Resume Education Section Great
Is a resume education section a must for a professional yogi?
If you write it well, you will convince the studio hiring manager you were a disciple of B. K. S. Iyengar himself.
But—
Focus on what's relevant to your future employer—yoga teaching programs and certifications.
How to show these on a resume?
If you already have some yoga instructor experience, list your courses using this pattern: course name and hours covered, school name and location, course completion time.
If you attended any type of yoga studies and you hold a degree, list: your college or university name and location, years in school, degree, major, minors.
If you're less experienced in yoga teaching or you want to start off: elaborate on the fields of expertise your courses covered, plus list your achievements.
Note: There are no legally required yoga licenses in the United States but you can get a Registered Yoga Teacher (RYT) credential or even a yogic studies degree.
Libby Creagh, the owner of Essential You Yoga, who has been teaching and sharing yoga for over 20 years, advises on how to get a RYT credential:
"Look for a 200-hour Yoga Alliance accredited program. There are several to choose from, in the country and out, but the key is finding a school that is Yoga Alliance-accredited. That means that you will be able to register your hours with a certifying body that is recognized by yoga studios, gyms, and most importantly—other yoga schools with which you might want to continue your education."
Pro Tip: One of the key responsibilities of a yoga teacher is taking care of the students safety during classes. If you hold certificates in CPR, first aid, physiotherapy, or psychology—list them on your resume.
5. Highlight Your Yoga Teacher Skills
Using your yoga skills in practice feels natural but naming them poses a problem?
Don't hunch over the keyboard for hours. Pick relevant skills from the list below.
Yoga Skills for a Resume
Yoga styles (Vinyasa, Ashtanga, Hatha, Bikram, etc.)
Physical skills
Versatility
Attention to detail
Intuition
Adaptability
Instructional skills
Focus
Stress management
Breathing techniques
Imagination
Flexibility
Persistence
Self-motivation
CPR
First Aide
Anatomy
Presentation skills
Safety and sanitation policies
Mentoring
See? Your yoga teacher skills list combines both the technical skills and soft skills.
Pro Tip: Tailor your skills list to the position you're after. If you want to teach a specific yoga style, focus on the skills which this particular style requires.
When making a resume in our builder, drag & drop bullet points, skills, and auto-fill the boring stuff. Spell check? Check. Start building a professional resume template here for free.
When you're done, Zety's resume builder will score your resume and tell you exactly how to make it better.
6. Add Other Sections to Your Yoga Resume
Want to inspire the recruiter with more than your professional self?
Or maybe there are still some things to say about your yoga expertise?
Consider adding the following sections to your resume:
Activities
Conferences
Membership/Associations
7. Attach a Yoga Teacher Resume Cover Letter
Your yoga resume is hot!

Do you need a cover letter then?
Since yoga continues to gain popularity in the US, the competition amongst instructors is growing too. Your cover letter can be a great way to stand out from the crowd.
Also, cover letters give you a little bit more freedom. You can address the hiring manager directly and explain why you want to work in this place and no other.
Use the tips below to write a cover letter that makes a difference:
Pro Tip: After you've sent your resume and cover letter, wait a bit, and follow up on your job application. This will show the recruiter that you're really motivated to work with them.
Plus, a great cover letter that matches your resume will give you an advantage over other candidates. You can write it in our cover letter builder here. Here's what it may look like: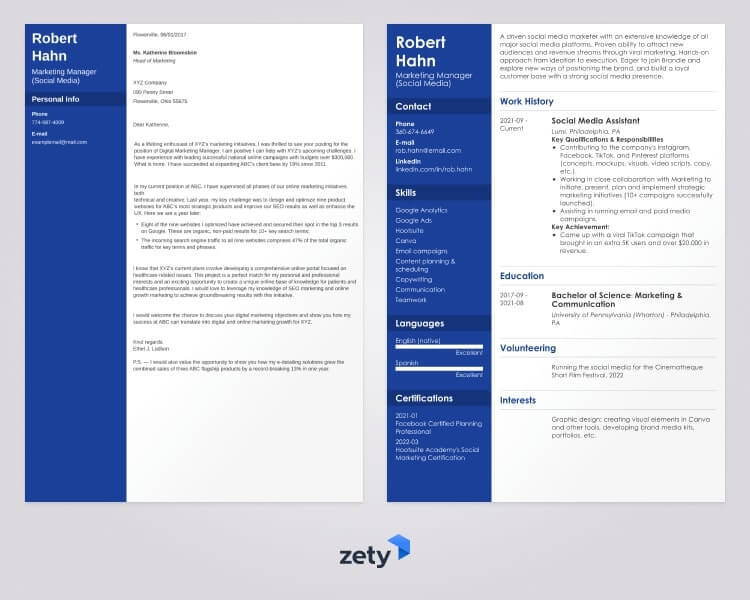 See more cover letter templates and start writing.
Now?
Strong posture and deep breath—
You're having a job interview!
How did you like our yoga teacher resume example? We'd love to hear from you, leave your comment below!