Physical Therapy Aide Resume Samples & Job Description
Assisting senior physical therapists is one of the first steps in your own PTA career. The first step, however, needs to include writing a perfect physical therapy aide resume.
What makes a good PTA?
Providing emotional support? Cleaning & preparing the treatment area? Being a caregiver devoted to patient wellbeing? Well, it's likely all of that and more.
The real challenge isn't enumerating these things, it's effectively translating it onto a physical therapy aide resume. And today, you get to find out how.
This guide will show you:

A physical therapy aide resume example better than 9 out of 10 other resumes.
How to write a physical therapy aide resume that will land you more interviews.
Tips and examples of how to put skills and achievements on a physical therapy aide resume.
How to describe your experience on a resume for a physical therapy aide to get any job you want.
Want to save time and have your resume ready in 5 minutes? Try our resume builder. It's fast and easy to use. Plus, you'll get ready-made content to add with one click. See 20+ resume templates and create your resume here.
Sample resume made with our builder—See more resume examples here.
See our other PTA resume guides (and others!) below:
Physical Therapy Aide Resume Sample
Jerome M. Barrett
Physical Therapy Aide
620-342-0492
JeromeBarrett@zetymail.com
Linkedin.com/in/12jerome.m.barrett
Summary of Qualifications
Empathetic and supportive physical therapy aide with over 2 years' experience in rehabilitation services. Provided effective therapy treatment under supervision of therapist to over 120 patients. Maintained records and documentation of Navarro Clinic's 800 patients. Seeking to leverage experience to assist others in Enclave Health.
Work Experience
Physical Therapy Aide
Navarro Clinic, Springfield, IL
November 2018–January 2021
Utilized forms, schedules, and other methods to optimize patient flow, reducing occurrences of tardiness in patient admission by 75%.
Provided effective treatment as delegated by therapist to over 120 patients.
Answered patient questions and educated them in proper use of equipment and technique of rehabilitative exercises.
Maintained physical therapy supplies inventories for up to 7 different therapist practices.
Student Physical Therapy Assistant
Healthtower PA, Champaign, IL
January 2017–July 2017
Transported patients to and from their appointments.
Collaborated with nurses and therapists in formation of discharge plans for each individual patient.
Assisted in customizing conventional physical therapy techniques to make treatment plans adjustable to the needs of individual patients.
Education
Associate's Degree in Kinesiology
Parkland College, Champaign, IL
2014–2016
Graduated summa cum laude
Relevant Coursework: Exercise Physiology, Fundamentals of Nutrition, Strength Training, Human Movement, Health Education
Skills
Empathy
Customer Service
Assisting Patients
Anatomy
Observation Skills
Interpersonal Skills
Physical Stamina & Strength
Certification
Physical Therapy Technician, CHCP, 2017
Languages
Spanish—Advanced
Portuguese—Beginner
Now, let's show you how to write the best physical therapy aide resume:
1. Begin by Formatting Your Physical Therapy Aide Resume Properly
Physical therapy aides come second-in-command to PTAs and assist them in taking care of patients, helping perform exercises with or without equipment, as well as being in charge of clerical tasks. Your physical therapy aide resume should show all of that, plus a degree of reliability and empathy.
How do you show that with a piece of paper, though?
Let's take it one step at a time. The first one is getting your resume format right, like so:
Pro Tip: Save your resume as a PDF! It's a good way to ensure the layout of your resume remains intact.
2. Write a Physical Therapy Aide Resume Profile
How do you mess up a patient visit?
Well, for one, you could adopt a holier-than-thou attitude and completely ignore your patient, not listening to what they're trying to communicate.
You know as well as anyone that some PTAs or their aides indeed do assume that approach. Don't be like them.
If you arrange your resume profile appropriately, the 3 or 4 to-the-point sentences should be enough to paint your own, more empathetic picture.
First, decide if you need a resume objective or a resume summary.
The former works best for beginner physical therapy aides without experience or those who've just changed careers.
On the flip side, the latter option should be picked if you've got at least some (2+ years) experience.
Regardless, describe yourself as motivated, driven, empathetic, or any other positive and professional adjective. Then, outline your most impressive skills and achievements, back them up with numbers, and mention a goal you want to help the clinic achieve.
Read more: How to Write a Resume Introduction
3. Create a Strong Physical Therapy Aide Job Description for Your Resume
There is no better way to prove your aptitude in treating your patients and providing them with emotional support than with a well-written resume work experience section.
Unsurprisingly, though, even if you are the champion of disinfecting equipment and setting up treatment areas, not knowing how to properly talk about your skills on the resume won't get you hired.
Here's how to fix that problem once and for all with a stellar physical therapy aide job description:
With the reverse-chronological format, put your most recent job at the top and go back from there.
Provide your job title, the name of the company or clinic, and the years worked.
Write down a few bullet points outlining your major tasks and achievements for each entry. Subsequent ones need fewer bullet points.
Make plenty of use of action words. Instead of saying Did or Responsible for, go with impactful words like performed, examined, increased, or spearheaded—they help highlight your real input.
Adapt. Your resume should always be tailored to the job. The clinic most likely uses an Applicant Tracking System, or ATS, to scan for certain resume keywords. If you send a generic resume, you'll likely miss out on those, and as such, the job.
Don't have experience in physical therapy? Not to worry. Switching the positions of your work experience and education sections is a good move if you're able to outfit the latter with more impressive feats.
Read more: How to Write a Resume With No Experience
4. Outline Your Education on Your Physical Therapy Aide Resume
Your degree on your resume won't be the thing that gets you hired by itself, that much is true.
But it's a hell of malpractice to ignore it altogether. You can totally squeeze some juicy details from your school or university life to embellish your resume a little if it needs that kind of treatment plan.
To make up for any lacks in professional experience, add things like relevant coursework, extracurricular activities, internships or scholarships. Include your GPA on your resume if it was high enough to brag about (3.5+), and remember to mention any honors on your diploma.
Alternatively, for those of you with more than 5 years in physical therapy, you can just mention the school, degree, and graduation year and proceed to the next section.
Read more: How to Talk About Your Education on a Resume
When making a resume in our builder, drag & drop bullet points, skills, and auto-fill the boring stuff. Spell check? Check. Start building a professional resume template here for free.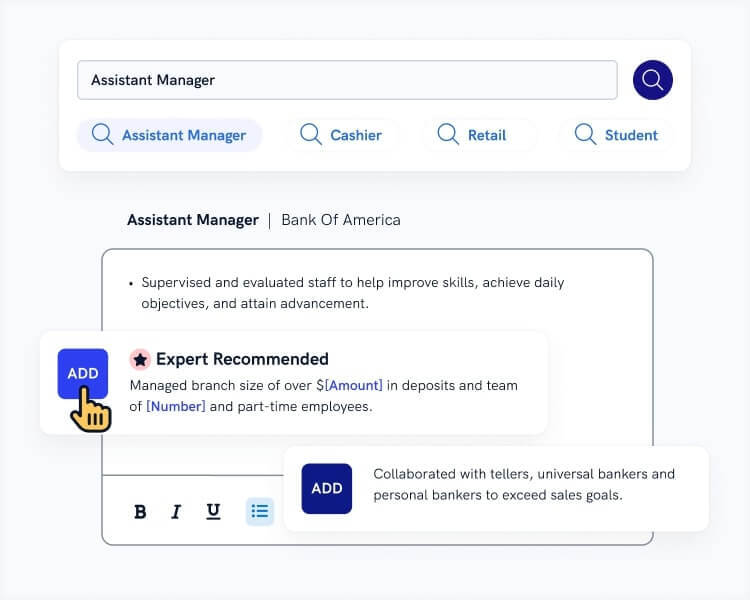 When you're done, our free resume builder will score your resume and our resume checker will tell you exactly how to make it better.
5. Prove Your Physical Therapy Skills
Take a look at this sample list of good-to-have physical therapy aide skills:
Physical Therapy Aide Resume Skills
Observe Instructions
Knowledge of PT Stretches & Exercises
Human Anatomy
Follow Physical Therapist
Consult with Families
Emotional Support
Treatment Area Preparation & Cleanup
Documentation & Record Keeping
Assisting Patients with Exercises
Using Therapy Equipment
Keeping Inventory
Listening Skills
Patience
Physical Strength
Assertiveness
But the only emergency response you'll be asked to assist with if your skills section looks like that will have to be self-administered. Here's a better replacement exercise:
Write down all of your professional skills in a list or spreadsheet. Hard skills, soft skills, technical skills, all are welcome.
Then, open the job opening and infer from it what the clinic or practice is looking for in an ideal candidate. These are the aforementioned resume keywords you're looking for.
Any keywords that match between the job ad and the skills you wrote down should find their way onto your resume. They make you look like a godsend of a candidate.
Pro Tip: Though it may not be obvious, a lot of people who end up in physical therapy exhibit symptoms of depression. If you're trained to deal with that as a medical professional, your value goes up tremendously.
6. Add Something Extra to Your Resume for Physical Therapy Aides
Although your current resume is nothing to sneeze at, it lacks one defining quality:
Humanity.
All you've mentioned thus far could've been pretty much computer-generated.
Can a computer stretch out an injured hip abductor? Assist in fixing a sciatica issue?
Don't think so, and neither do your prospective superior. They don't need a computer, they need a living, breathing human. Someone with passion, flair, feelings.
The more you do to show off your personality in the miscellaneous sections of your resume, the better. Mention volunteer work or relevant certifications on your resume. Listing your foreign language skills is always a good idea, too. Mention your hobbies on your resume if they show your PT skills or knowledge in some way.
Read more: What to Put on a Resume: Examples & Full Guide
7. Write a Physical Therapy Aide Cover Letter
Let's set the record straight—according to our HR stats, nearly every other recruiter expects a cover letter. What does that mean in practice?
It means that by not including one, you're running a 50% risk of getting instantly rejected for no other reason.
As tough a pill to swallow as it is (though I'm sure you're ready to hand those out on the daily), take the time to write a strong cover letter, and you'll be fine. Not sure how? Here you go:
Address the cover letter directly to the recruiter, using their name if possible.
Start your cover letter with a compelling introduction of your skills and achievements. Convey a strong message that you discovered the opening and felt almost destined to apply.
In the middle, highlight some of your best accomplishments.
Then, when ending your cover letter, reiterate your motivation, and include a call to action.
In total, your cover letter should be one page in length. It doesn't need to be a full page, either—3 to 4 paragraphs will suffice.
Read more: What Should a Cover Letter Say? Experts Answer
Plus, a great cover letter that matches your resume will give you an advantage over other candidates. You can write it in our cover letter builder here. Here's what it may look like: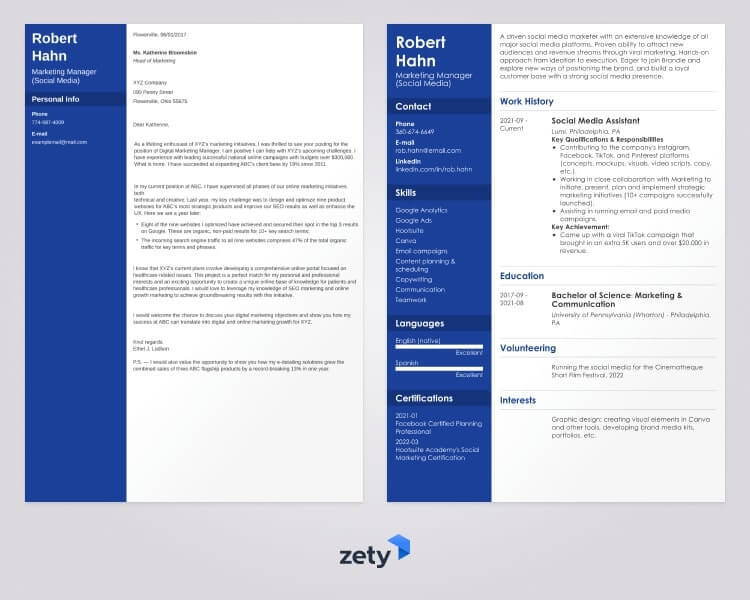 See more cover letter templates and start writing.
With a physical therapy aide like that, you'll get hired in no time!
Got any extra questions or advice? Still not sure how to write a resume for physical therapy aide jobs? The comments section is open to all, so come on in!
About Zety's Editorial Process
This article has been reviewed by our editorial team to make sure it follows Zety's editorial guidelines. We're committed to sharing our expertise and giving you trustworthy career advice tailored to your needs. High-quality content is what brings over 40 million readers to our site every year. But we don't stop there. Our team conducts original research to understand the job market better, and we pride ourselves on being quoted by top universities and prime media outlets from around the world.
Sources