You've heard it before: "You never get a second chance to make a first impression." Physical therapy jobs may be on the rise, but is your resume ready to ride the wave?
Let's build a physical therapy resume that flexes your skills like a well-toned muscle and makes hiring managers eager to book an appointment. Ready to stretch your potential and reach new heights in your career?
This guide will show you:
A physical therapy resume example better than 9 out of 10 other resumes.
How to write a physical therapist resume that lands more interviews.
Tips and examples of how to put skills and achievements on a PT resume.
How to describe your experience on a resume for a physical therapist to get any job you want.
Want to save time and have your resume ready in 5 minutes? Try our resume builder. It's fast and easy to use. Plus, you'll get ready-made content to add with one click. See 20+ resume templates and create your resume here.
Sample resume made with our builder—See more resume examples here.
Physical therapist resume example isn't quite what you're searching for, but you're still targeting other jobs in wellbeing and healthcare, too? See some of our other guides:
Physical therapy resume example
Greg Kenseth
Physical Therapist
123-456-7890
greg.kenseth@email.com
linkedin.com/in/greg.kenseth
Summary
Highly effective Physical Therapist with over 6 years of experience delivering patient-centered care. Eager to support ActiveMotion Physical Therapy Clinic in rehabilitating patients with physical injuries and improving operational efficiency. Significantly reduced patient recovery time by 20% at VitalCare Rehabilitation Services by developing a unique therapeutic approach that was adopted by other therapists in the facility.
Experience
Senior Physical Therapist
VitalCare Rehabilitation Services, Los Angeles, CA
June 2016–Present
Key Qualifications & Responsibilities
Developed individualized treatment plans to address specific patient needs.
Provided training in exercises, stretches, aquatic therapy, and usage of therapy equipment.
Coordinated with other healthcare professionals to provide holistic care to patients.
Documented the case and progress of each patient.
Key Achievement:
Innovated a unique therapeutic approach, reducing patient recovery time by 20%.
Physical Therapist
FlexWell Physical Therapy Center, Los Angeles, CA
July 2012–June 2016
Key Qualifications & Responsibilities
Evaluated patient conditions and formulated therapy objectives.
Provided physical therapy to patients using a variety of techniques.
Educated patients and their families about treatment plans and progress.
Key Achievement:
Recognized as 'Therapist of the Year' for delivering exceptional patient services.
Education
Bachelor of Science in Physical Therapy
University of Southern California, Los Angeles, CA
August 2008–June 2012
Relevant extracurricular activities
Volunteered at local hospitals to provide physical therapy.
Academic achievements
Skills
Manual Therapy
Therapeutic Exercises & Stretches
Posture Rebalancing
Physical Rehabilitation & Kinesiology
Pain Management Techniques
Gait Analysis & Training
Patient Education & Counseling
Documentation and Recordkeeping
Health Promotion & Wellness Strategies
Certifications
Certified Clinical Specialist in Orthopedic Physical Therapy (OCS), American Board of Physical Therapy Specialties, 2015
Awards
2018, Therapist of the Year, FlexWell Physical Therapy Center
Memberships
Member of the American Physical Therapy Association since 2012
Presented a lecture on Innovative Therapies in Physiotherapy during the 2019 APTA Conference, San Diego.
Languages
English–Native
Italian–Intermediate
Interests
Conducting free weekend therapy sessions for the underprivileged.
Reading physical therapy research papers.
1
What's the Best Format for a Physical Therapist Resume?
Picture a hiring manager. Her name's Clara.
Nice "I get paid to hurt people" coffee mug.
Near the mug, she's got a stack of 249 PT resumes.
If only you could find some way to make your resume stand out.
You can.
Just start with the right layout.
The chronological resume format is the best physical therapy resume format. Why?
Because it doesn't waste time showing your best skills and achievements.
Guide the reader's eyes with soothing white space and clear headings. Use only the best resume fonts.
Finally, save it as a PDF.
"But I've heard PDF resumes confuse Applicant Tracking Software."
That was true five years ago. Modern PDFs are machine-readable. Always send a physical therapist resume PDF unless the job offer says otherwise.
Pro Tip: Switching careers? Got resume gaps? Consider the combination resume format for your healthcare resume. It shows your relevant experience from lots of different sources.
Want to browse the full program of physical therapist resume formats? See our guide: How to Format a Resume: The Best Formatting Guide with Examples
2
Physical Therapy Resume Objective or Summary
Imagine you've got six seconds in an elevator with the hiring manager.
That's not far off. HR statistics show most managers spend that long on each resume.
How can you grab her attention like you're doing bodywork on her?
Answer: With a resume summary or a resume objective.
A resume summary impresses the manager with your achievements. Use one if you're no stranger to arthritis and CTS.
A resume objective wows them with your passion. Use it if you haven't even started payments on your $120,000 college debt.
Stuff either with enough achievements to stun Eric Robertson or Karen Litzy.
The experienced physical therapy resume examples below show how.
Physical Therapist Resume Examples [Resume Summaries]
Which of these experienced physical therapist resume samples would you rather use?
wrong
Registered physical therapist looking for new position with room for advancement. Excellent attitude. Skilled in patient assessment, creating plan of care, and therapy intervention. Ready to start immediately and will work very hard.
That's not exactly a hip replacement, but it won't bathe you in interviews.
The next of our physical therapy resume summary examples will:
right
Engaged, licensed PT with 3 years of experience, seeking to employ proven pediatric PT and assessment skills to deliver excellent patient experience at Sunny Creek Wellness. Received 98% positive ratings from 40 regulars at Active G Pediatrics. Achieved 85% success to patient goals.
Wow. The manager would have to have a surgical screw loose to skip that resume.
"But I don't have that much experience."
If you're writing a PT or physical therapy aide resume with no experience, see the examples below.
Two Entry-Level Physical Therapist Resume Objectives
Still a rookie PT with no experience?
The old advice said, lead with passion. That's what the next of our PT resume examples tries to do:
wrong
Entry-level physical therapist with no actual on-the-job experience, but I'm a fast learner and a hard worker. Skilled in geriatrics and patient assessment.
That's as helpful as tennis elbow.
So, add details. Even an entry-level physical therapist resume objective can do it:
right
Licensed physical therapist skilled in pediatrics and patient family education. Scored top of the class in Movement Science at Florida Gulf Coast U. Volunteered at Cypress Stream Nursing Home and St. Bonaventure Clinic. Commended multiple times by management for compassion and efficiency.
What a comeback! Remember our manager, Clara? She's impressed.
And yet that even works in a physical therapy school resume or physical therapist assistant resume.
Pro Tip: Keep your PT resume summary or objective short. It just needs to share 1-2 achievements that will make the manager read on.
When making a resume in our builder, drag & drop bullet points, skills, and auto-fill the boring stuff. Spell check? Check. Start building a professional resume template here for free.
When you're done, our free resume builder will score your resume and our resume checker will tell you exactly how to make it better.
Want to write a physical therapy resume summary or objective good enough to give the reader whiplash? See our guides: How To Write A Resume Summary: 21 Best Examples You Will See and +20 Resume Objective Examples - Use Them on Your Resume (Tips)
3
How to Describe Your Physical Therapist Experience
Who gets the best physical therapist jobs?
The applicants with the most experience?
Or the ones who show it best on a resume for physical therapy?
Would you be shocked to know it's option #2?
See, showing lots of experience is good. But the hiring manager is faced with lots of "good."
She'll pick the applicant who fits the job description like a custom exercise routine.
Here's how to do it:
Read the job ad carefully.
Make note of the duties and responsibilities you see.
Build your experience section from bullet points that match those things.
The experienced physical therapy resume examples below show how.
Physical Therapist Resume Examples [Experience]
Let's picture a PT job that values patient education, likeability, and creating plan of care.
The first of our physical therapy resume samples gets the right prescription:
right
Active G Pediatrics
Physical Therapist
2015–2018
Pediatric PT in busy clinic. Commended by management for patient education.
Maintained 40 regular clients. Received 98% positive parent scores.
Created plan of care for 200+ clients. Earned 85% success to patient goals.

That's better than a full body massage. The applicant could have picked dozens of other bullet points. She chose to focus on the ones that fit the job.
But don't do it like this next clip from a resume for a physical therapist.
wrong
Active G Pediatrics
Registered Physical Therapist
2015–2018
Pediatric PT in busy clinic. Performed all PT duties, including family education, assessment, and all documentation.
Performed therapy interventions on a roster of regular clients.
In charge of creating plan of care for all my patients.

See that? Where are the details? This could be anyone, applying to any PT job.
A great physical therapist resume needs measurable accomplishments that fit.
"But I don't have any measurable accomplishments," you say.
Like a discouraged patient, you're not giving yourself enough credit.
Want proof? It's in the next two new grad physical therapy resume examples.
How to Write a Resume for Physical Therapist with no Experience
Need experience for a resume for physical therapists?
You've got solid options:
Volunteer work. Local clinics and senior care centers are often short-staffed and welcome volunteers. Even a few days can save a sagging PT resume.
Physical Therapist Internships. Are you fresh out of physical therapy school? n (often unpaid) short-term internship makes great experience. You might also want to write a physical therapist assistant resume for that!
Observation hours. While obviously not as good as two years of experience, you can list these on your resume.
Transferable experience. List any time you worked with the public, gave instruction, or worked in healthcare on your PTA resume. Even coaching gym members can count.
Let's run through this with two entry-level physical therapist resume examples.
Two Physical Therapy Resume Examples [No Experience]
This first sample physical therapy resume for new grads pulls a muscle:
wrong
Physical Therapist Experience: Just graduated and haven't held a job yet.
Other Experience:

Ouch, RICE that, will you?
You need measurable achievements for a physical therapist resume sample like this:
right
Freelance Physical Therapy Experience
2017–2018
Volunteer PT, Cypress Stream Nursing Home. Commended for efficiency.
Volunteer pediatric PT, St. Bonaventure Clinic. Assessed 10 patients.
Personal Trainer, Gilly's Gym. Instructed 200+ clients in key training practices.

Full recovery. Yet it even works on physical therapy assistant resumes with no experience.
Pro Tip: Does all this tailoring sound hard? Once you've got a good physical therapy resume template, it'll only take a few minutes to adjust to each offer.
Don't fatigue the hiring manager with boring words in a physical therapy school resume. Use action words instead. See our guide: +80 Examples of Resume Action Words for Every Profession
4
Highlight Your Education on Your Physical Therapy Resume
How much does education matter on a PT resume?
A lot.
That doctorate and license are no joke.
But with a small adjustment, you can make yours unlock a flood of interviews.
Start with:
College Name and Location.
Years in School.
Degree.
Then add achievements that link you to the job like cable weights.
Physical Therapist Resume Examples [Education]
Picture you're applying for a job that asks for movement science and pediatrics.
Which of these new grad physical therapy resume examples does it right?
right
Doctor of Physical Therapy (DPT)
Florida Gulf Coast University, 2012–2015
Scored top of the class in Movement Science.
Conducted independent research project into childhood obesity countermeasures.
Excelled in pediatrics classes

That's not just "blah, blah, blah, I got my doctorate." That's someone who was born to do this job.
Compare it to the next of our new grad physical therapist resume examples:
wrong
DPT
Florida Gulf Coast University, 2012–2015

That's like a repetitive stress injury in paper form.
But add those details, and you're back up to the Kyle Ridgeway level.
Pro Tip: Did you score really high on the NPTE exam? A high score makes a good addition to an entry-level physical therapy resume.
Should you show GPA on a resume for physical therapy? Find out (plus other tips) in our guide: How to Include Your Education on a Resume [Tips & Examples]
5
How to Put Skills on a Resume for a Physical Therapist
What if you convinced the hiring manager you're the most skilled PT on earth?
That's kind of what you have to do.
Here's how not to do it:
Don't write a long list of skills and say you've got them all.
You might as well replace your resume with, "I'm exactly what you're looking for." It would work if everyone believed it. But they won't.
Your PT resume must do more than listing skills.
It has to focus on the few skills the manager is looking for.
It must show "snapshots" of you using those skills well.
Let's look at how that works, in two outpatient physical therapy resume examples.
They're for a job that looks for interpersonal skills, creating plan of care, and performing therapy interventions.
Physical Therapist Resume Examples [Skills]
This sample physical therapist resume snippet is like untreated sciatica:
wrong
Physical Therapist Skills: Communication, collaboration, listening, physical stamina, interpersonal skills, pediatric PT, documentation, therapy interventions, family education, patient education, patient assessment, manual resume manipulation...

That's just a list of all the physical therapist skills there are. You know how that PT hiring manager can spot a rookie? A resume skills list just like that.
So, find the crucial skills in the PT or physical therapist assistant job description.
Then, paint a picture of yourself succeeding at them.
Here's a professional physical therapist resume sample that does just that:
right
Worked as outpatient physical therapist in busy clinic. Commended by management for interpersonal skills.
Created plan of care for 35 regular clients, with 5 new 5-star ratings on Healthgrades.
Performed therapy interventions, increasing mobility by at least 30% for 95% of injury patients.
That's no mere skills list. That's someone who knows her way around an ultrasound unit.
Need some sample physical therapy resume skills to get you going? See below.
List of Skills to Put on a Physical Therapist Resume
This physical therapist resume keywords list should get you started.
Find more skills in job offers online, and in your own experience.
Physical Therapist Skills for Resume

| | | |
| --- | --- | --- |
| Soft Skills | Hard Skills | Specialties |
| Interpersonal Skills | Health Care Instruction | Orthopedic |
| Communication | Assessment | Geriatric |
| Active Listening | Plan of Care Design | Pediatric |
| | Therapy Intervention | Cardiopulmonary |
| Collaboration | Collect Patient History | Neurological |
| Persuasion | Diagnosis | Oncology |
| | Prognosis | Sports |
| Decision Making | CPR and First Aid | Women's Health |
| Compassion | Documentation | Electrophysiology |
| Physical Stamina | HIPAA Compliance | |
Use the plan above, and your resume for physical therapy will bounce like an exercise ball.
Pro Tip: You may have millions of PT skills. Even so, your resume needs focus. It's hard, but dropping most of what the manager's not interested in will get you to the interview.
Want to rehabilitate your physical therapist resume skills section? See our guide: What Skills to Put on a Resume? +30 Best Examples & Proven Tips
6
How to Show a Physical Therapy License on a Resume
How hard did you work for that physical therapist license?
Hard enough to cause half the illnesses you treat?
You need to make that license stand out like a hydrotherapy tub full of $100 bills.
So, put it after your name.
Add it to your resume summary.
Then, show it proudly in a "license" section, like in this physical therapist resume example:
License
Licensed Physical Therapist, Florida State License #PT81987
Certifications
Pediatrics Specialist Certification, ABPTS
First Aid & CPR, American Heart Association
Notice we've put certifications in a separate section. We don't want to lose that $120,000 license near a $30 cert.
Pro Tip: Should you put your license number on a PT resume, or keep it confidential? It's publicly available on the FSBPT website, so by all means, add it.
Need help placing your license on your resume? See the outpatient physical therapy resume template up top. Then, see our guide: Certifications on a Resume and How to List Them (Guide with 20+ Examples)
7
How to Add Other Sections for an Effective Physical Therapist Resume
Think all your physical therapy resume needs is experience and education?
Think again.
Our hiring manager, Clara, wants to read a resume.
She wants to hire a person.
Show her you're the kind who goes the extra mile, with special "other" sections.
Two pediatric physical therapist resume examples do it right:
Physical Therapist Resume Examples [Other Sections]
wrong
Interests
Longaberger Baskets
Word Art Tattoos

No judgement here. But do those prove the manager will be glad she hired you?
To nail it, see this exceptional physical therapy resume example:
right
Conferences
2017 APTA Conference, Spoke on a panel about gaining child engagement
2016 APTA Conference
Publications
Article on patient education appeared in "Evidence in Motion" blog
Interviewed about creating plan of care for PT Pintcast podcast
Additional Activities
Active member, APTA
Volunteer 2x per month walking dogs at local animal shelter.
Teach weekly yoga classes.
That provides electrical stimulation to the hiring manager. It shows a PT who cares enough to get involved.
Pro Tip: Should you join the APTA? It looks great on a physical therapy resume. Plus, the networking alone can get you interviews and jobs.
Do you have awards? Other languages? Tech skills? Learn to show them on a resume for physical therapists. See our guide: Resume Sections to Include on Your Resume: Guide (+20 Examples)
8
Add a Cover Letter to Your Physical Therapy Resume
Wait, most recruiters don't read cover letters, so do you really need a physical therapist cover letter?
Yes, you do.
You don't need one that says, "Please throw this piece of paper away."
"Hello, I'm applying for the job and here's my physical therapist resume," will do just that.
What's the key to a great cover letter for physical therapy jobs?
Make it personal—use the hiring manager's name.
Show you understand the job.
Show how you can help.
Prove you're motivated.
This shortened sample physical therapy cover letter shows how:
Some would say handling 40 regular clients with 98% positive patient reviews is impossible. I call it a life-affirming challenge. I'm applying to the PT opening at Sunny Creek Wellness precisely because I know we share the same goal. Namely, we both love the satisfaction of making lives more enjoyable. With my 3 years of experience in...

End your cover letter with an offer. "I'd welcome the chance to show you how I earned 7 5-star ratings on Healthgrades" works great.
Pro Tip: If you can prove you're motivated to work hard at this job, you're a lot closer to getting hired. Find something you love about the job goal and put it in your physical therapy cover letter.
Plus, a great cover letter that matches your resume will give you an advantage over other candidates. You can write it in our cover letter builder here. Here's what it may look like: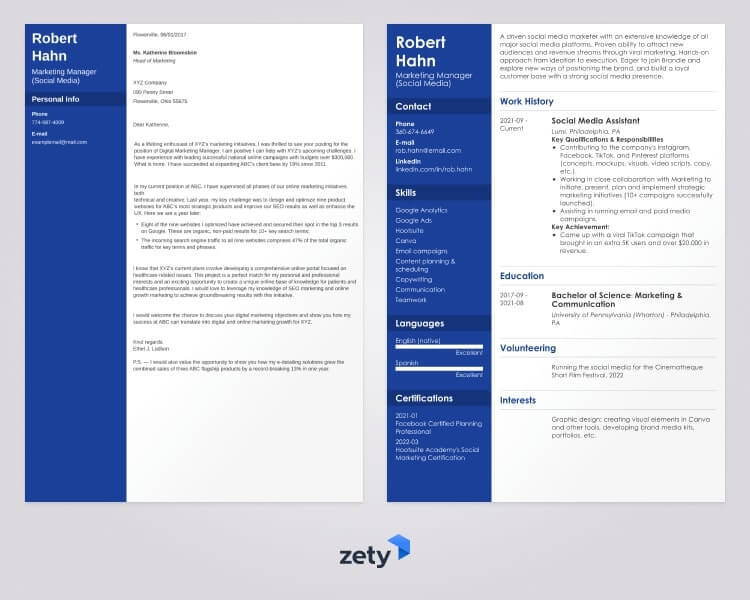 See more cover letter templates and start writing.
A "PS" in your physical therapist cover letter can be the one detail that lands the interview. Find out how it works in our guide: How To Write A Cover Letter for Any Job: 8 Simple Steps
9
How to Add Contact Info to Your Physical Therapist Resume
It's nightmare time.
Let's say you wrote the perfect physical therapy resume. It's so good it cured the recruiter's bursitis.
The problem? You goofed your contact info. The manager got peeved and moved on to another applicant.
Start with:
Full Name
Updated Phone Number
Professional Email Address
Like this:
Sara Kramer, PT, thesarakramer@gmail.com, 352-800-1076
But also add your LinkedIn profile.
A great physical therapy professional profile on LinkedIn can energize your interview rate.
That's because 87% of recruiters hire from LinkedIn.
But: know now how to pick a profile photo, write a LinkedIn summary, and rack up the right endorsements. It's all in our dedicated guide to LinkedIn excellence.
Pro Tip: Are you afraid the hiring manager will look you up on Facebook? Be afraid. Be very afraid. Check your online presence before you even think of sending out that PT resume.
Want the steps to build a healthy physical therapy resume? See our guide: How to Make a Resume for Any Job: A Step-by-Step Guide
Key Takeaway
Now you know how to write a professional physical therapist resume that gets a lot of interviews:
It all starts with the job description. Read it and highlight what they're looking for before you even start your physical therapy resume.
Craft your bullet points so they plug into the job ad like a brand new hip joint. Add plenty of measurable achievements.
Include other sections to your resume for physical therapy. Show you thrive on this stuff. List volunteer work, APTA status, and of course your license number.
Do you have questions on how to write a great resume for a physical therapist? Not sure how to describe your skills or achievements? Give us a shout in the comments! We love to help!
About Zety's Editorial Process
This article has been reviewed by our editorial team to make sure it follows Zety's editorial guidelines. We're committed to sharing our expertise and giving you trustworthy career advice tailored to your needs. High-quality content is what brings over 40 million readers to our site every year. But we don't stop there. Our team conducts original research to understand the job market better, and we pride ourselves on being quoted by top universities and prime media outlets from around the world.