How to List Licenses & Certifications on Resume in 2023
Certifications on a resume can prove experience, knowledge, and skills. But there is no course on how to list certifications on a resume. Luckily for you, there's this guide!
Certifications on a resume—do you really need them? The short answer is yes: listing certifications on a resume is the number one way to attract hiring managers. Certifications prove you're a valuable hire.
But what if you don't have certifications? What if your resume certification section is overflowing? How do you even put certifications on a resume?
Well, this article will tell you:
What are some of the licenses and certifications to put on a resume.
When and where should you put certifications and licenses on a resume
How to properly list your licenses and certifications on a resume
Want to save time and have your resume ready in 5 minutes? Try our resume builder. It's fast and easy to use. Plus, you'll get ready-made content to add with one click. See 20+ resume templates and create your resume here.
Sample resume made with our builder—See more resume examples here.
Looking for more guides on writing the perfect resume? See:
What Are Certifications?
A certification proves that you have the knowledge and skills to do things. To get that proof, you often must pass a test or course in which you enroll via an accredited institution. These could include organizations like universities or industry associations.
Professional certifications are different from honors and awards. Also, there's a difference between training and certification. Training results in certification, but not always.
Almost every profession has certifications you can get. Whether you work for McDonald's or Google, certifications go a long way to prove you've got skills and knowledge. Here are some of them:
Certified ScrumMaster (CSM) administered by the Scrum Alliance is highly recommended for current and aspiring Scrum Leaders working in various industries.
Online Course vs. Online Certification Course
Online courses are like university classes. You can learn everything from psychology to physics. And finishing such classes can earn you credits the same way as at a university. The catch? Online classes don't always translate to certifications. To get it, you need to ensure the third party issues a certificate upon completion and that it comes with proper authority.
When to Put Certifications On a Resume?
There are certain situations in which you should include your certifications on a resume:
Employer Requires It
Sometimes a job offer lists required certifications to put on a resume. In this case, not adding them can lead to rejection within the initial six seconds that an average recruiter takes to look at your application.
To Highlight Your Skills & Industry Knowledge
Think of it that way: your resume and a similar one are on the recruiter's desk. It is obvious that if you include certifications that will show you have industry-related knowledge and some useful skills confirmed by these certifications, you become the more interesting candidate.
To Better Your Chances If You Have Little Professional Experience
If you're wondering how to make a resume with little to no experience, adding relevant certifications is a way to go. It's a great way to show your recruiter that you're ambitious and hard-working!
Did you know that adding hobbies and interests to your resume can help you land a job? Find out how. Read our guide: +20 Best Examples of Hobbies & Interests to Put on a Resume (5 Tips)
When NOT to Put Certifications on a Resume?
Let's say you're a certified lifeguard. You're also CPR certified and ServSafe certified from when you worked at McDonald's in high school. These are not the easiest certifications to get. Congratulations! But now you're writing an administrative assistant resume.
Should you put all your other certifications on the resume? No. ServSafe isn't going to boost that resume.
Include only relevant certifications to the job you're applying for. And add licenses and certifications that you find listed in the job ad.
How to List Certifications on a Resume?
You want your recruiter to know all the necessary details about your certification immediately. That's why it is crucial not only to include its name, which often can be either confusing, too general, or might just not ring a bell, but you also need to share the following:
How to Format a Certifications Entry on a Resume
Name of Certification
Name of Certifying Agency or Body
Dates of Obtainment (And Expiration Date, If Applicable)
Location (If Applicable)
RIGHT
Project Management Professional (PMP) Certification, Project Management Institute, 2013
Pro Tip: Don't only write "PMP," but check the job ad. If you see acronyms, then you need to write each acronym at least once. The point? It helps Applicant Tracking System (ATS) software and humans read your resume.
The location is only important if the certification is state-specific. Good examples are teaching and nursing licenses and certifications.
RIGHT
Registered Nurse, Colorado Board of Nursing, License #123456
WRONG
Registered Nurse (CO)
If your certification has an expiration date, you'll need to add that as well. List only those certificates that haven't expired yet.
RIGHT
First Aid Certification, American Red Cross, Expires: September 2025
But what if you're in the middle of getting certified?
How to List In-Progress Certifications on a Resume
List certifications in progress on your resume by adding "in progress" to the description and the anticipated finishing date.
RIGHT
Certified Registered Nurse Anesthetist (CRNA)
Anticipated Finishing Date: September 2023
WRONG
Certified Registered Nurse Anesthetist (CRNA)
Ongoing
Want to know more about ATS and how to tailor your resume to land your dream job? Read our guide: 6 Tips on How to Tailor Your Resume to a Job Description (Examples)
When making a resume in our builder, drag & drop bullet points, skills, and auto-fill the boring stuff. Spell check? Check. Start building a professional resume template here for free.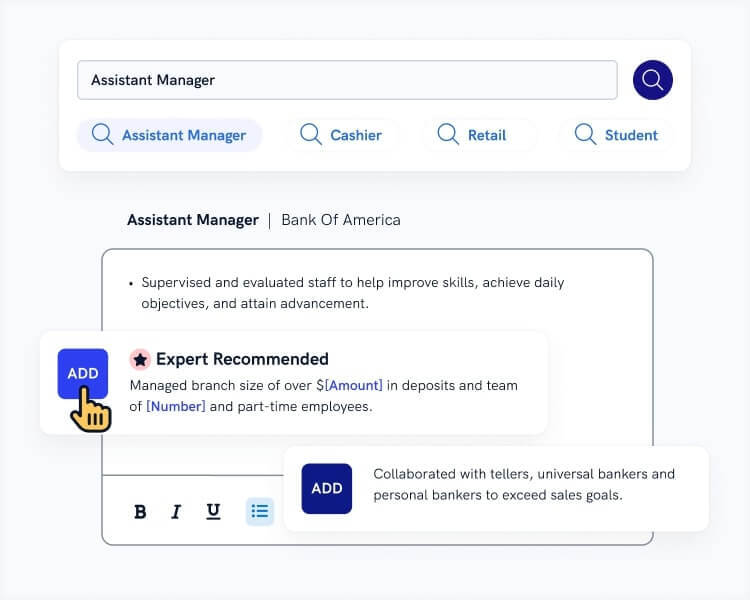 When you're done, Zety's resume builder will score your resume and our resume checker will tell you exactly how to make it better.
Where to Put Certifications on a Resume?
The place where recruiters will find your certifications depends on how important the certification is for your job. You can place them in your contact information section, resume summary or career objective, and education section. Sometimes, however, you can create an additional section on your resume that's only for your certifications.
List Certifications in the Contact Information Section
Let's say you're a registered nurse or a public accountant. You must have certificates and licenses. That means it's best to put these credentials in your contact information section next to your name.
RIGHT
Alexandra Rothschild, RN
Gary Nowak, CPA
List Certifications in the Resume Summary or Objective
Let's say you're a professional with one important certification. That certification is also listed in the job offer as a necessary qualification for the role. In that case, it's important to draw attention to your certification on your resume immediately. You can do that by adding one line in your resume summary or resume objective.
RIGHT
Charming Bartender with 5+ years of experience working as a high-end nightclub bartender in major metropolitan areas with a bartending certificate valid in six states. Excellent memory and relationship-building skills resulting in a 10% increase in upselling for all regulars.
WRONG
Certified Bartender with 5+ years of experience working in nightclubs. Seeking to leverage skills for a bartending job at the KittyKat Lounge.
List Certifications in the Education Section
Let's say you took your certification courses through your university. Or you got certified for your profession after attending high school or college. You only have that one certificate. In that case, you can add your most recent certification to your education section.
RIGHT
Bartending Certification, 2011
New York Bartending School, New York, NY
Learned bar set-up, classic drink recipes, wine knowledge, and service
Bachelor of Arts in English
Ohio State University, Columbus, OH
2005–2007
WRONG
Ohio State University, Columbus, OH
2005 -2007 Completed 60 credits toward a BA in English
New York Bartending School, New York, NY
Bartending Certification 2011
Always list certifications on a resume in reverse-chronological order. Even if you went to an Ivy League school, put your certification first if it was more recent.
List Certifications in a Separate Certifications & Licenses Section
Sometimes you can't do the job without the certification. In that case, certifications can go before your education and after your experience. Or simply in a separate certifications & licenses section.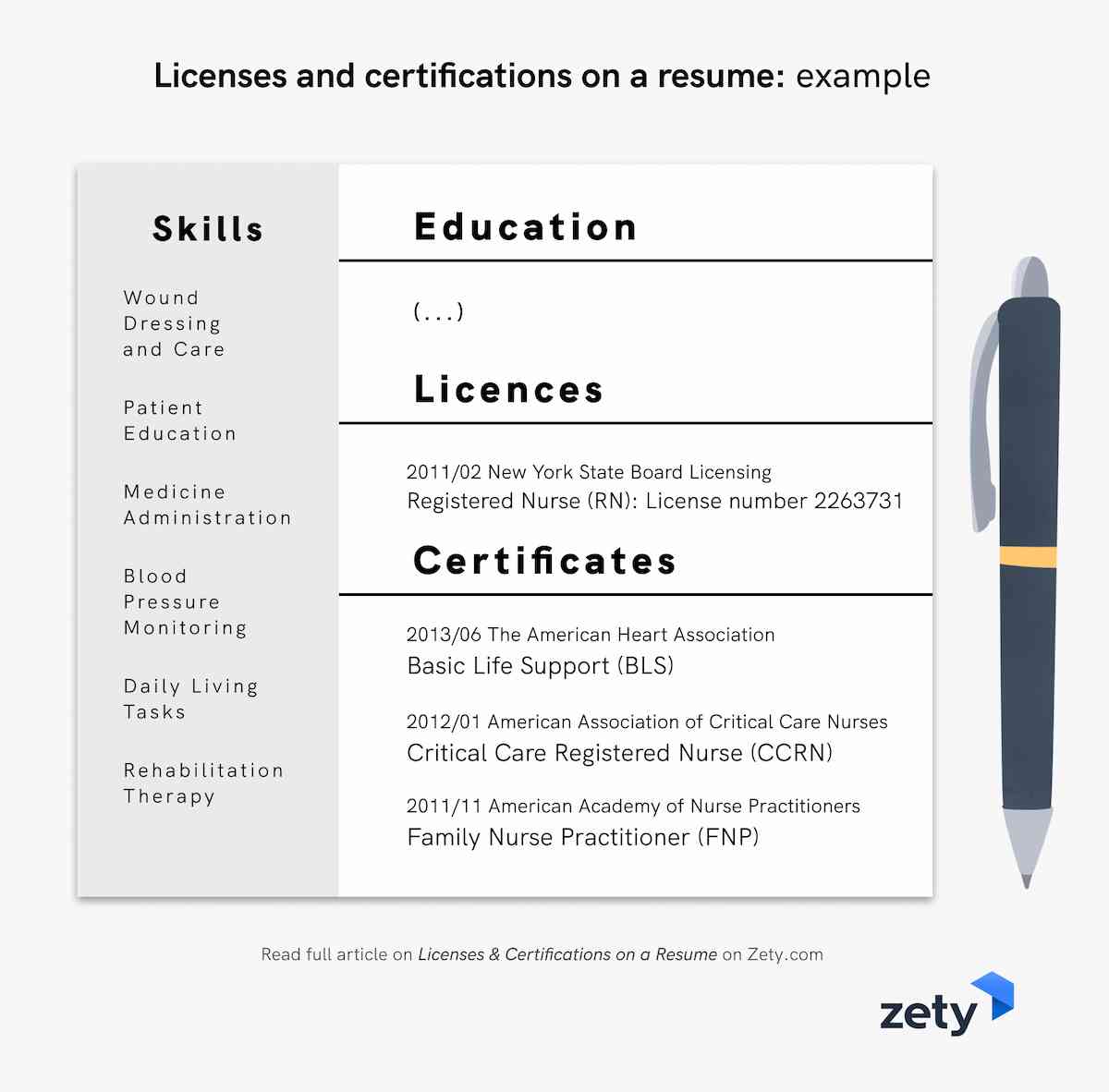 Want to know what else you can put on your resume? Read our guide: What to Put on a Resume to Make It Perfect [Tips & Examples]
Key Takeaway
Remember these points:
When you're looking for something extra to spice up your resume, licenses and certifications are the thing. The good news is that there are all kinds of things to get certified in.
There are some reasons why you should include your certifications on a resume. They can show your skills and knowledge, compensate for your little experience, or simply be required in the job offer.
The extra good news is that listing great certifications on a resume isn't hard. You just have to know which job certification programs are best and how to include certifications on a resume.
The key is getting your professional certifications front and center. That way, hiring managers know right away that you're a relevant and valuable hire.